Folding Chair Resin Slat Seat
Blossom Furnishings, one of the leading event tables and chairs manufacturers, provide plastic folding chair wholesale for wedding companies and party rental companies. If you want to buy plastic chairs in bulk, we will provide you with the best product and service.
The White Resin Folding Chair combines comfort and elegance that looks good at all your special events, whether it's a backyard BBQ, a formal banquet, or a beach wedding. These foldable plastic chairs are based on conventional
resin folding chair, with slight changes
Main Features:
1. This plastic table and chairs are made from ultra-strong resin that's very lightweight.
2. yet extremely strong and can hold up to 1000 pounds.
3. The smooth frame is double-braced for added stability
4. the front brace can be used as a footrest. The color of the frame is the same all the way through, so you don't have to worry about nicks and scratches.
5.  No re-painting or staining is ever needed; your fold-up plastic chairs will look great for years to come.
6. The plastic folding chair wholesale comes with a detachable, washable, waterproof seat cushion filled with fire-retardant foam.
7. The easy-to-clean, durable design of these plastic tables and chairs for sale makes them the ideal choice for indoor and outdoor use.
8. The plastic wedding chairs are portable and fold compactly to transport and store.
9. MOQ: 300 Pieces
10. Production time: 2 weeks to 3 weeks
Description
Start Your Order to Buy Plastic Chairs in Bulk
Almost of Wholesaler like to Buy Plastic Chairs in Bulk and at discount pricing, and if you choose us, you can Buy
Plastic Chairs in Bulk at very competitive pricing. As we discussed with you before, we can produce Resin folding chairs  
of more than 26800 pieces weekly when we are full of production.
These resin folding chairs wholesale with slat seats are based on the conventional resin folding chair, with slight changes, we just
changed one new design of seat as well. A large number of customers, more than 40% of them, will purchase conventional
leather cushions when purchasing the slatted PVC folding chairs wholesale, and use these cushions alternately in the future use process.
Weight Capacity of resin folding chairs slat seats:
Let's introduce the load-bearing capacity of these cheap plastic folding chairs. Generally speaking, the load-bearing capacity
of this plastic event chair is about 250 kg, equivalent to 551 pounds, equivalent to the weight of three normal adults, so even if
a person with a large body size sits on it, there is no safety problem. Every portable plastic folding chair wholesale is equipped with a safety
warning bar code, which tells people not to jump on the chair at will.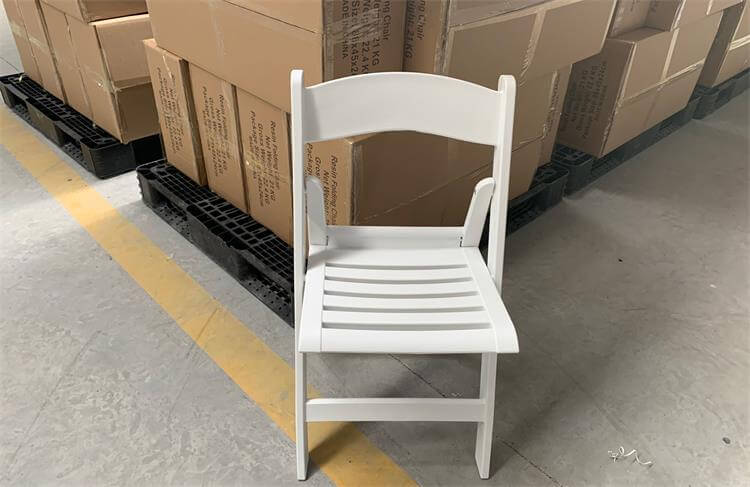 If you read more about the production process of our conventional white plastic folding chairs wholesale, you will be impressed by our
production process. These white plastic folding chairs wholesale use the same production process, using the same imported resin raw materials,
production of raw materials, various accessories, hardware, assembly, and packaging, In every process we have
strict quality control to ensure that every A chair to the customer's hand is of good quality.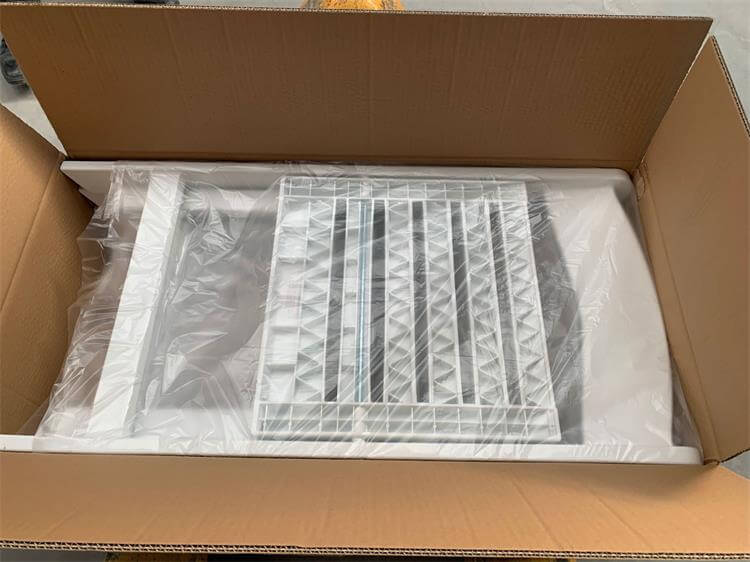 The traditional packing method is adopted for the packing of slatted chairs. Four chairs are placed in a carton, and
each chair is packed in a separate plastic bag, which can prevent friction between chairs and the entry of dust.
And the size of the carton is very suitable for pallets and containers.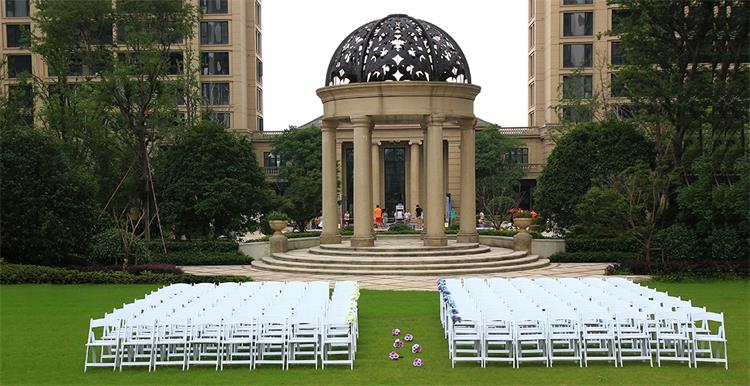 If you're interested in our wholesale plastic folding chair price, please feel free to contact us.