---
Royal Chair Purchase Guide
With royal chairs widely used in a variety of scenarios, such chairs are very popular, so what is a royal chair? What are the benefits of these chairs? Which scenarios are available? As well as about the production process of this product, I believe readers like to know. Now I will introduce the above, and how to choose a good wooden royal chair as a topic, to share seriously, I hope to help you and can search, buy their favorite quality products.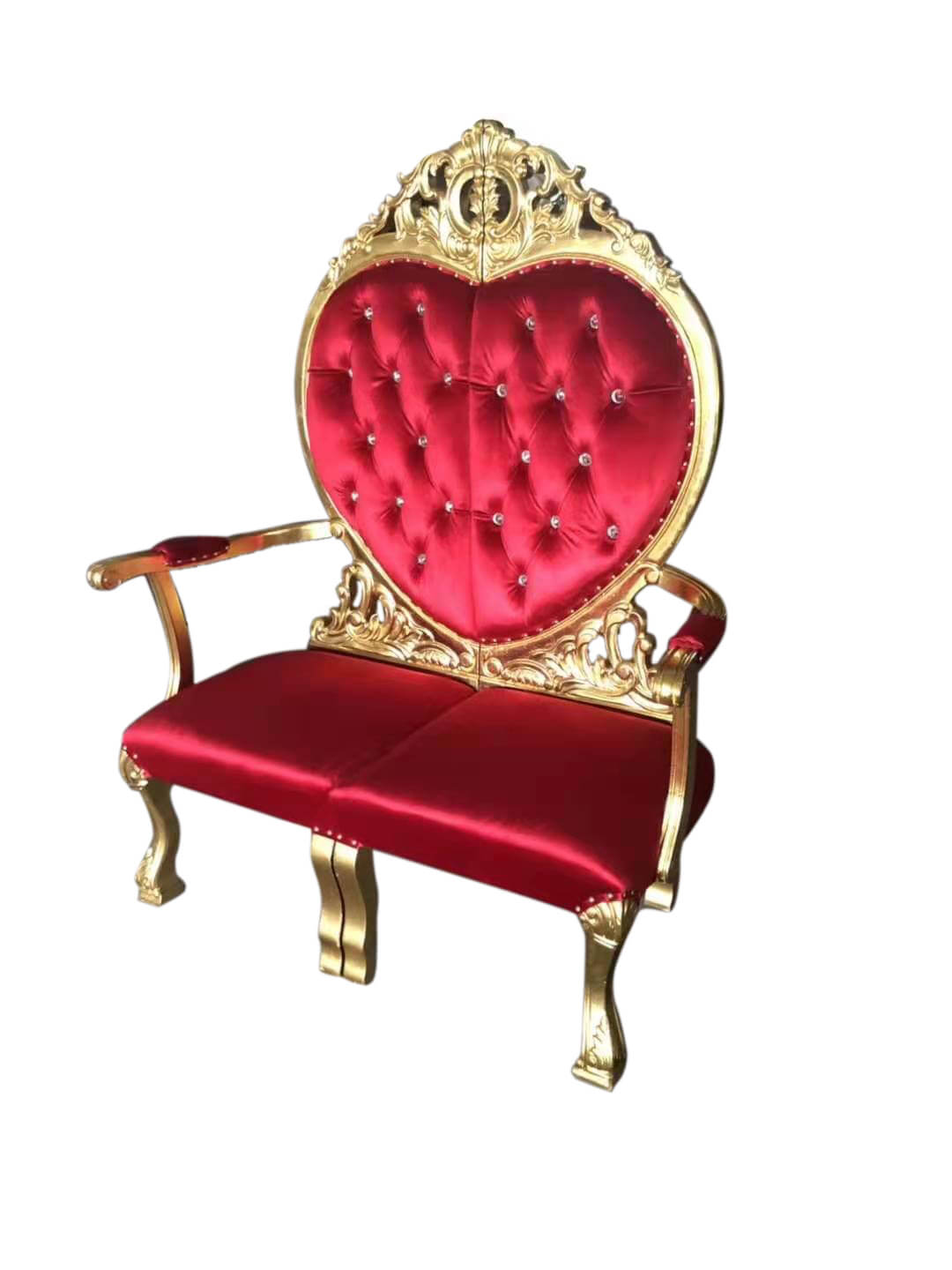 show more
1. What is a royal chair?
Royal Chair, also known as throne chair, king chair, as the name implies, there are royal temperament and characteristics of the chair, these noble chairs before almost only used in the royal family, so-called the royal chair.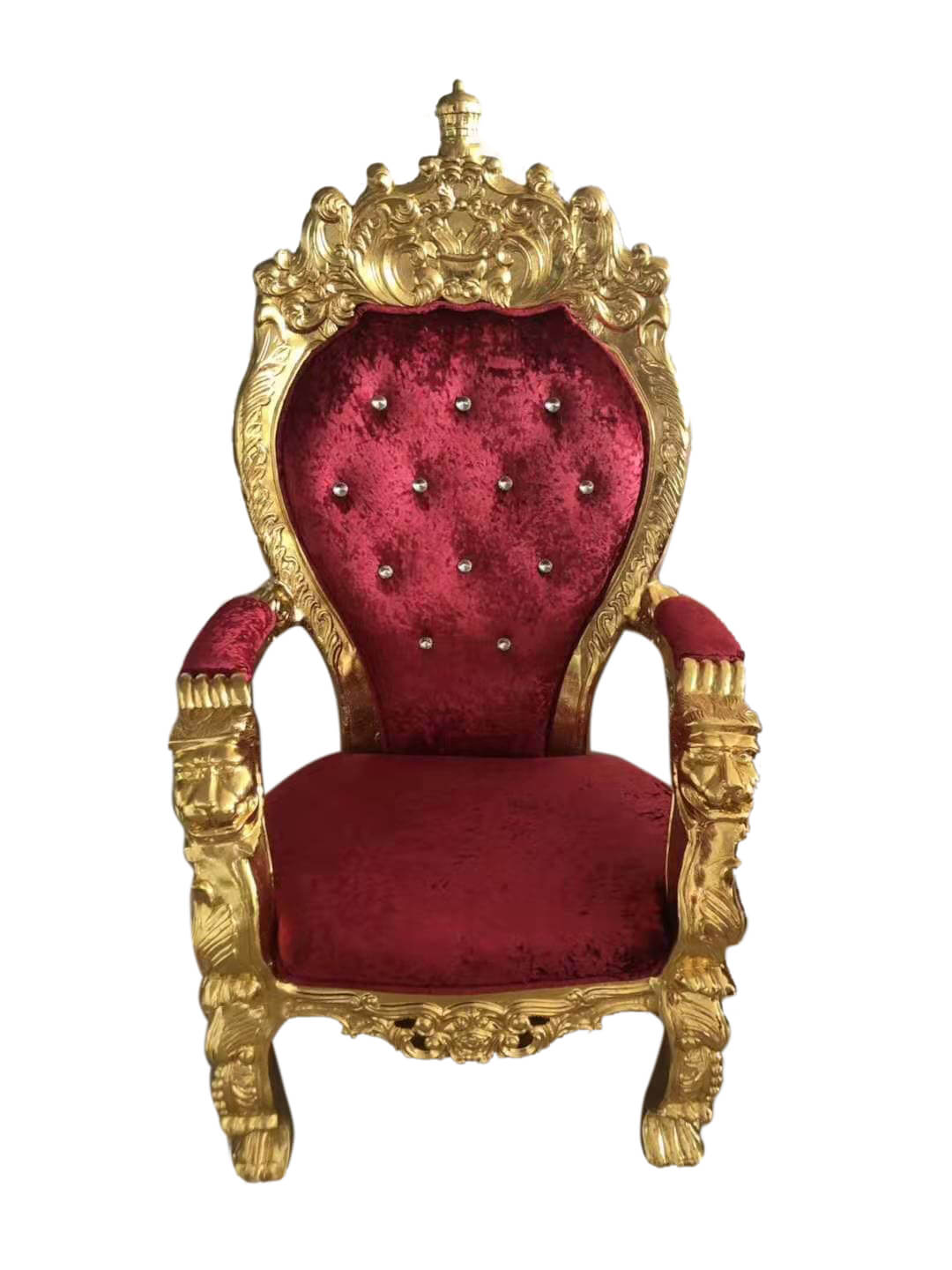 King Throne Chairs Wholesale
But with the development of modern times, this furniture has already entered various use scenes, loved by the people and used.  Now the royal chair is not only noble, royal products, anyone can buy and use.  The royal chair is the collective name of the series, the emperor's chair, the queen's chair, the noble chair, the crown chair, are some of the others.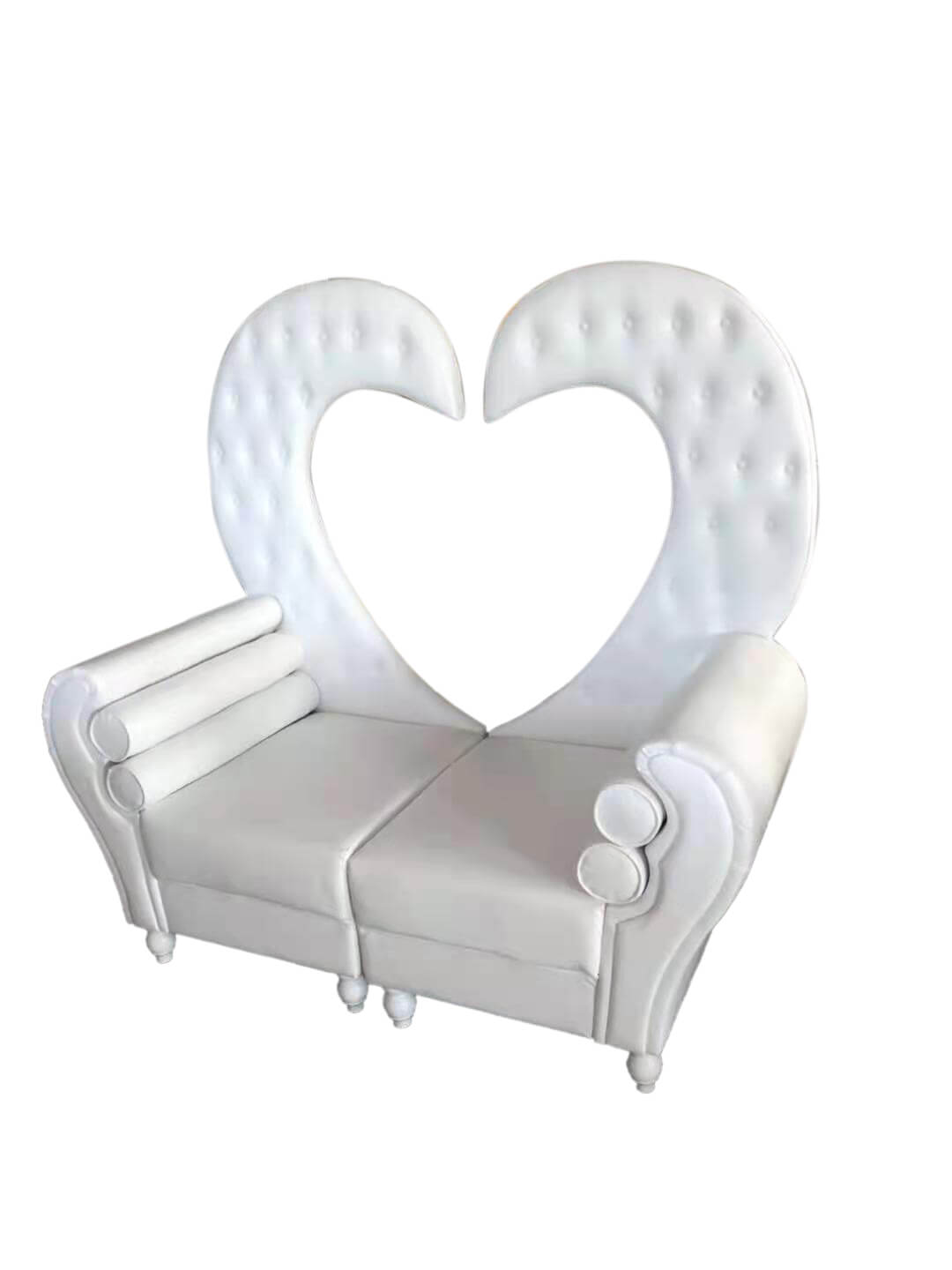 Wedding Throne Chairs Wholesale
2. Why is it called a royal chair?
Called the Royal Chair, we can illustrate this problem in four ways, from the scene of the chair, the size of the product, the color of the frame,  and the overall feeling.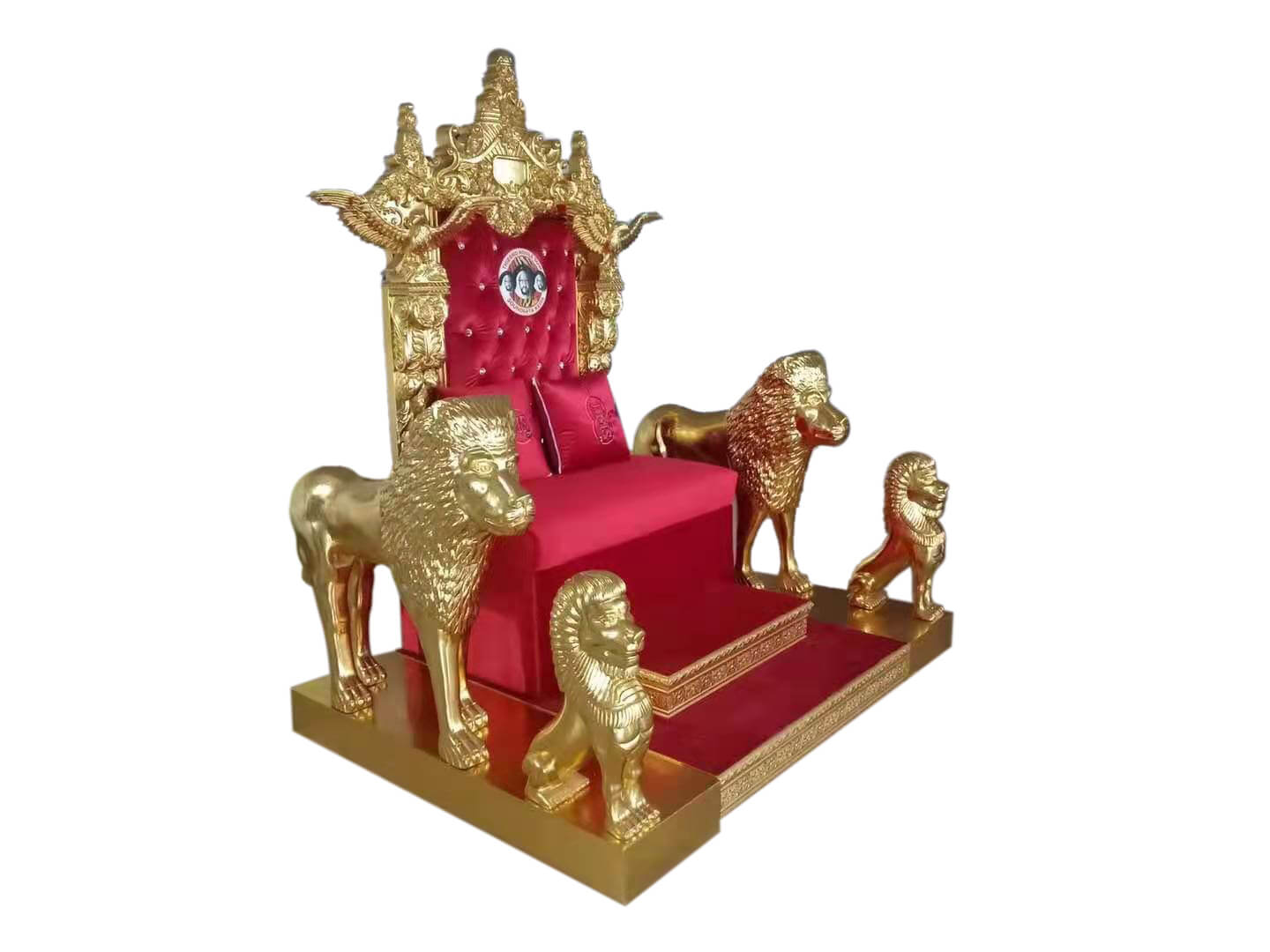 Wholesale Throne Chairs
Spread scene: Because it was used in the royal family before, and from the royal family popular style, the name is also related to this,  it is said that the Louis era these chairs are the most popular.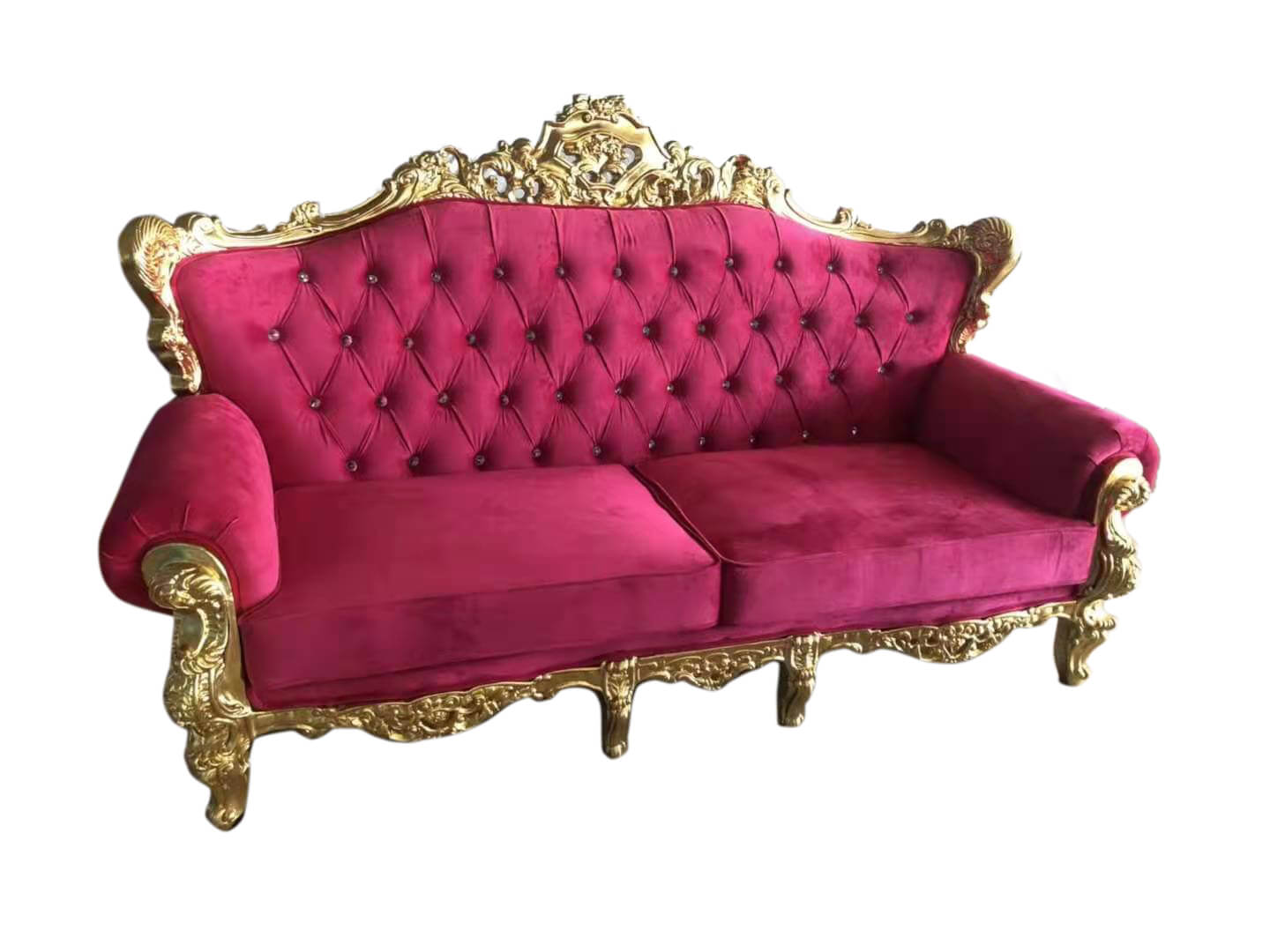 Wholesale Throne Chair Manufacturer
Color: The King's Chair Is mostly a magnificent gold, silver, or black wooden frame with red, white velvet fabric, or leather color, and is a chair in a very court tone.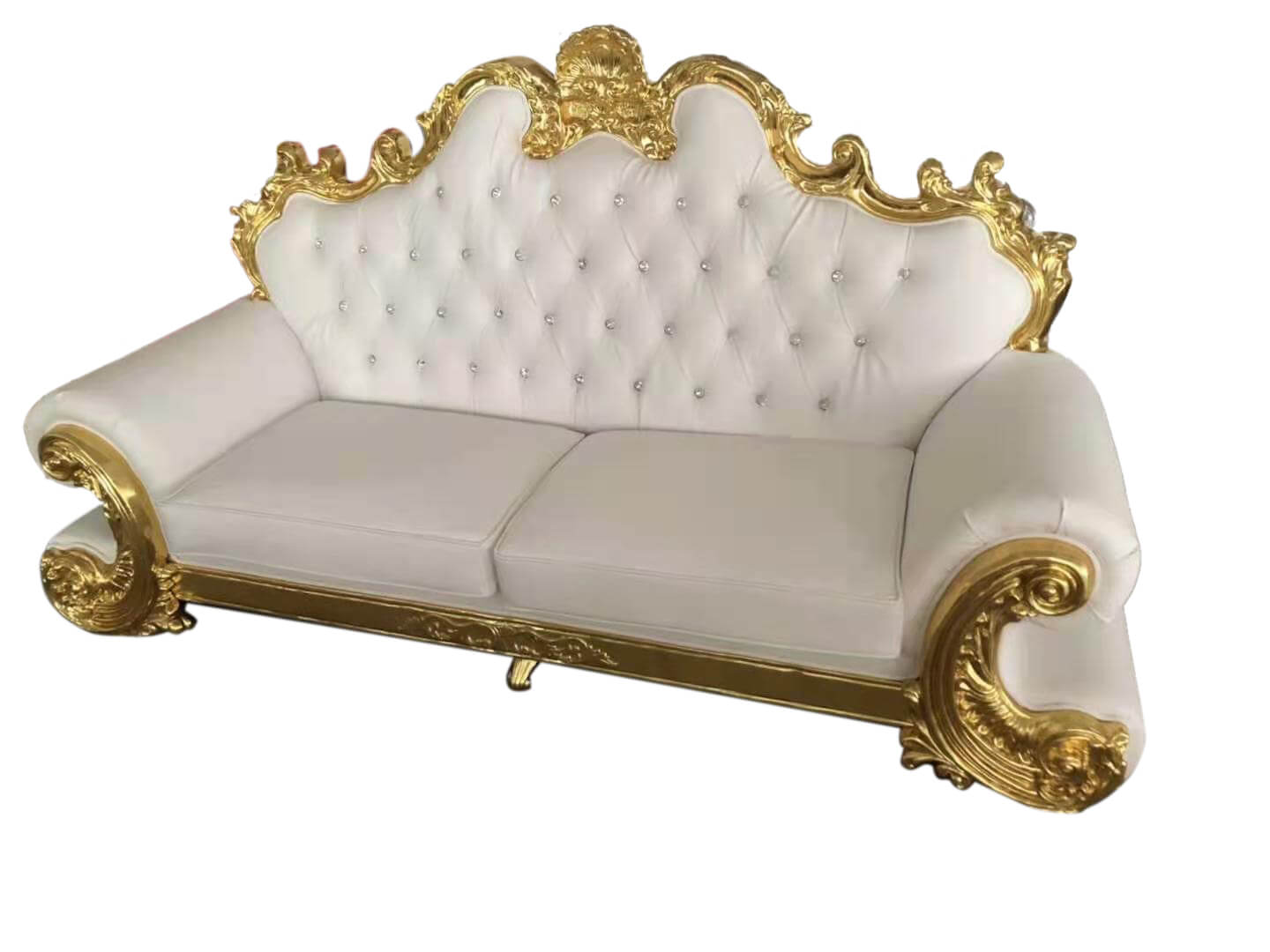 Bride And Groom Throne Chairs
Size Specifications: Compared to conventional chairs, these products are quite tall, more powerful than conventional chairs, and extremely comfortable to sit in.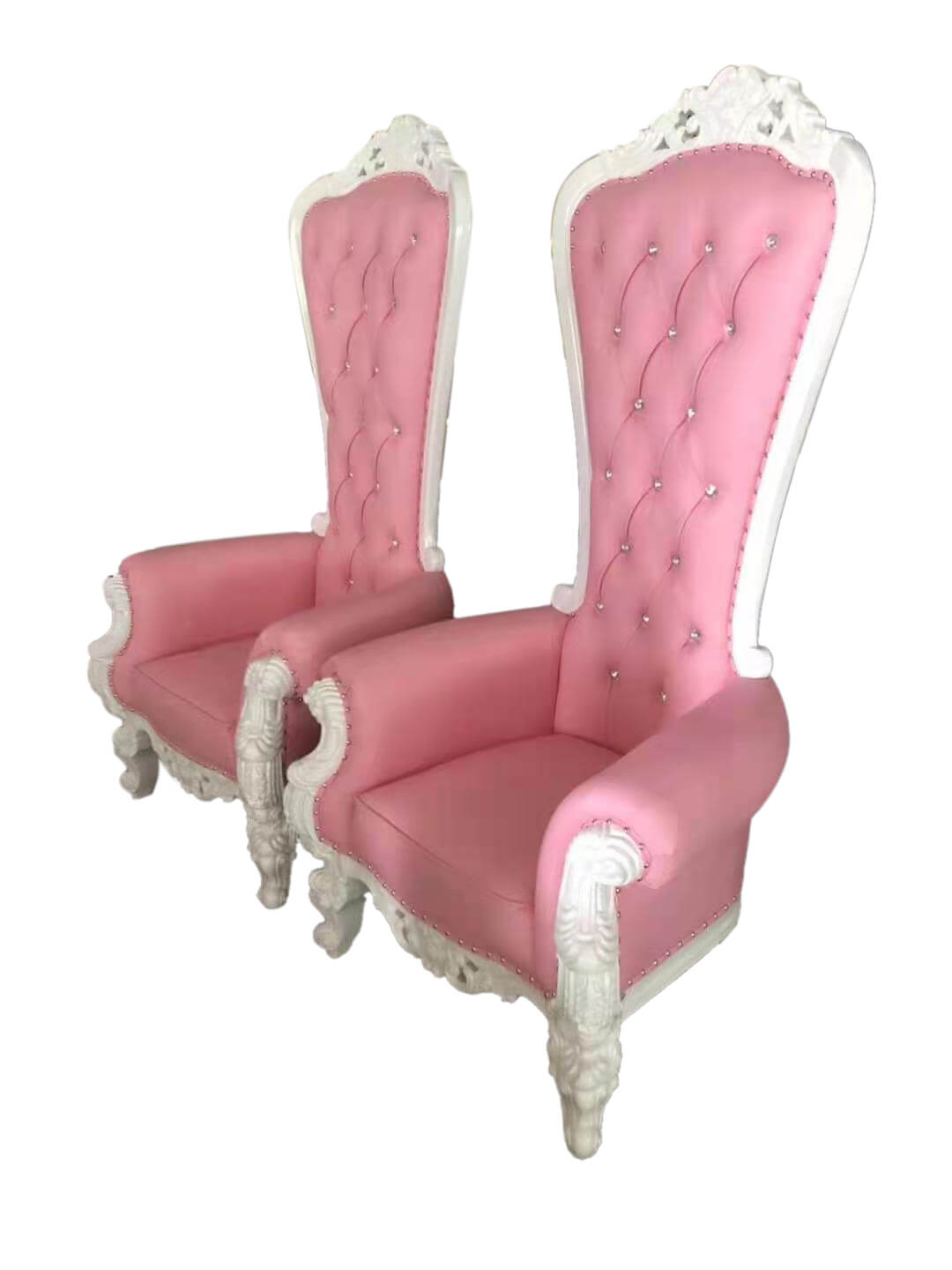 Overall feeling: suitable for large space, can always produce people's admiration and respect for the feeling.  So some of these products have aliases such as King's Chair, Queen's Chair, High Chair, Mermaid Chair, Dog Head Chair, Glass and Steel Chair, King Chair, Judge Chair, etc.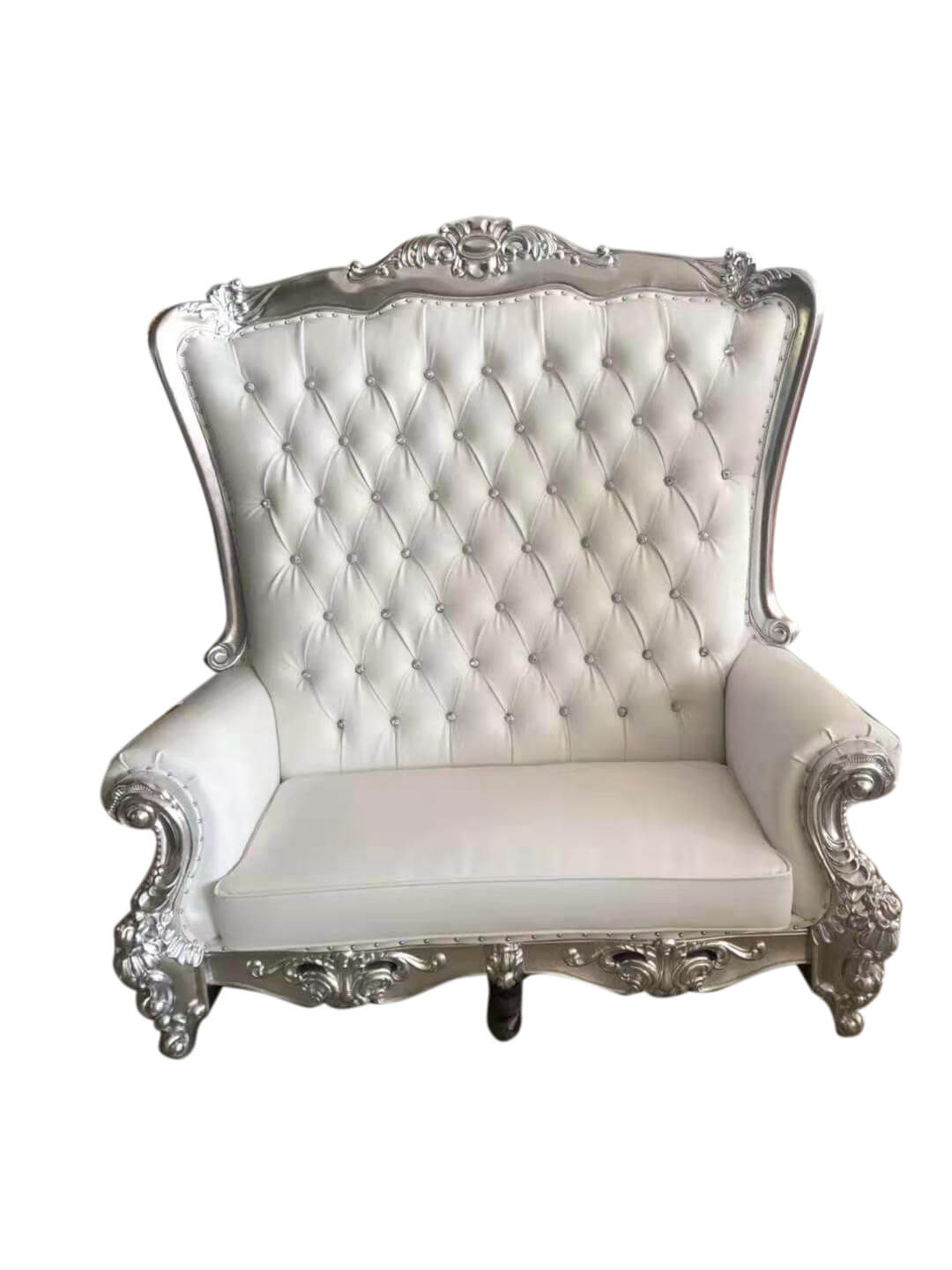 3. The main material of the royal chair
These grand-looking, beautiful and distinguished chairs consist mainly of the following: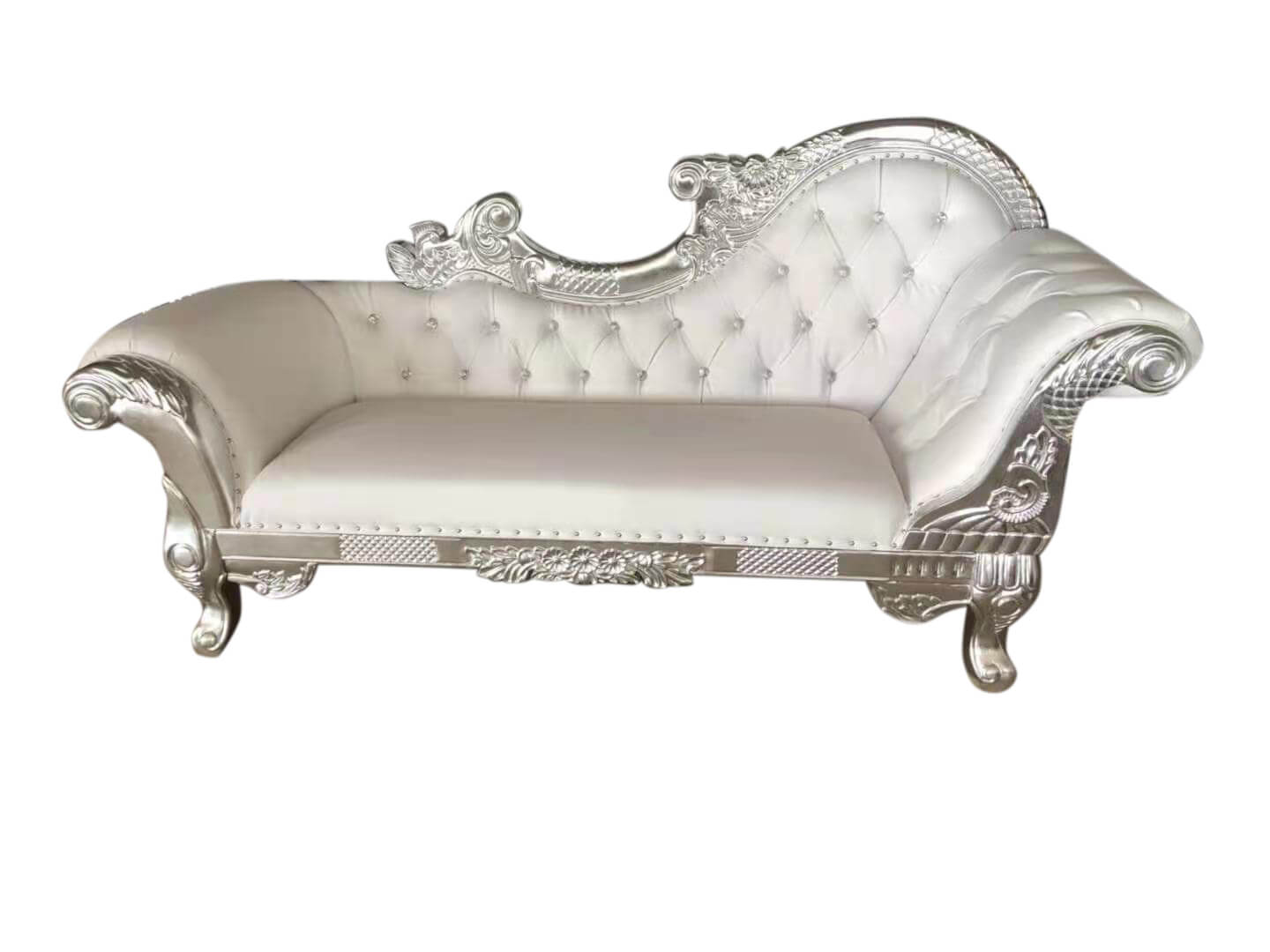 Wooden part:

The chair's two large handrails, as well as the overall frame, are usually made of solid wood and carved.
Because of the hardness of the solid wood, can be carved out in a good pattern, and for a long time will not fall off, some can even use for decades.  Birch and OAK are commonly used materials.
Aluminum keel:

In order to prevent wood frame deformation, in the production, a high-quality factory will add some aluminum frames on the basis of the wooden frame, the biggest benefit of this is that the chair in the future use of the process, the overall frame will not change.
In addition, aluminum alloy because the material is lightweight, does not increase the weight of the chair, easy to handle.
Gold part:

the whole wooden frame above need to make the effect of gold, gold part is the embodiment of the royal chair temperament is an important part, generally we use Taiwan's gold foil or silver foil mainly.

Fabric or leather:

In addition to the wooden frame section, different colors of wedding chairs will choose different cloth or leather.  Because of the huge product size, the choice of leather or cloth should be high-quality, durable products.

Sponge:

Sponges are an important part of ride comfort, and people test their elasticity when they buy them. High-quality sponges not only guarantee good weight but also ensure good bounce. Normally, sponges are more than 50 in density, and important components are sponges with new materials, with very little use of recycled cotton.

Buttons:

For better looks, most, more than 90% of large chairs use crystal buckles.  These transparent buttons or other color buckles make the whole back of the chair look particularly good.

Other parts:

There are also a lot of giant chairs that will have character-coded product parts. For example, you can make your own company Logo up there, and there are some massage venues where chairs connect taps and washbasins.
There are also some aroma shops that add some smoke or therapeutic drugs to the sofa chair, which of course requires the addition of professional insulation to the chair.  For others, such as hardware screws, and plastic accessories, I do not make a statement.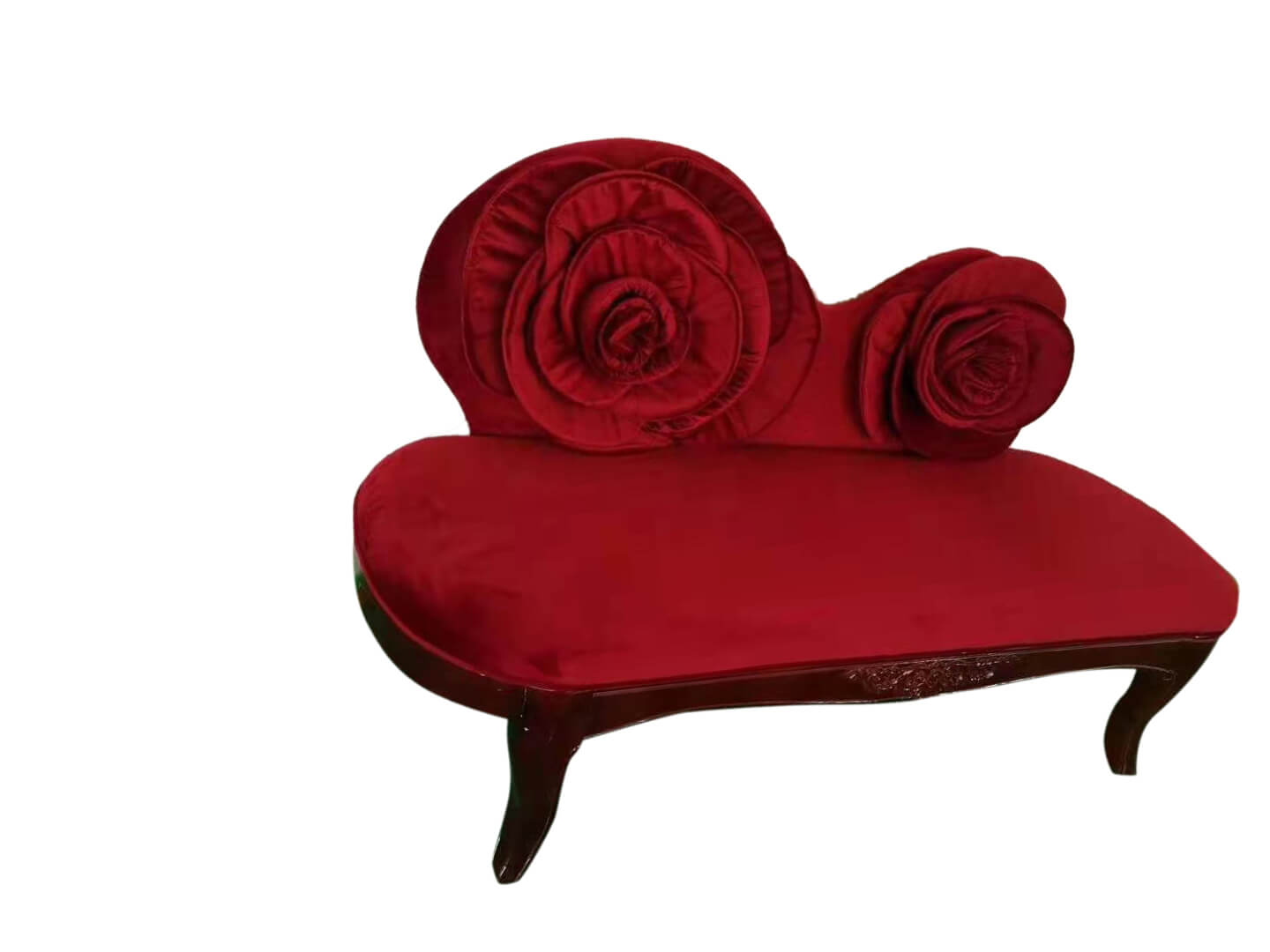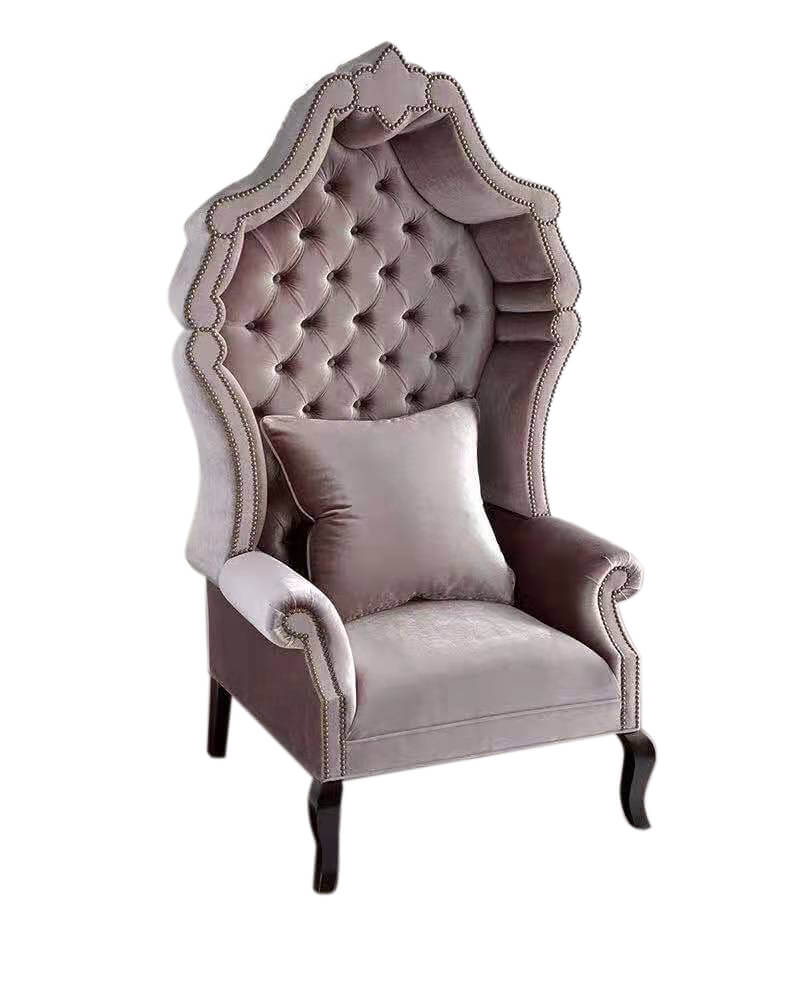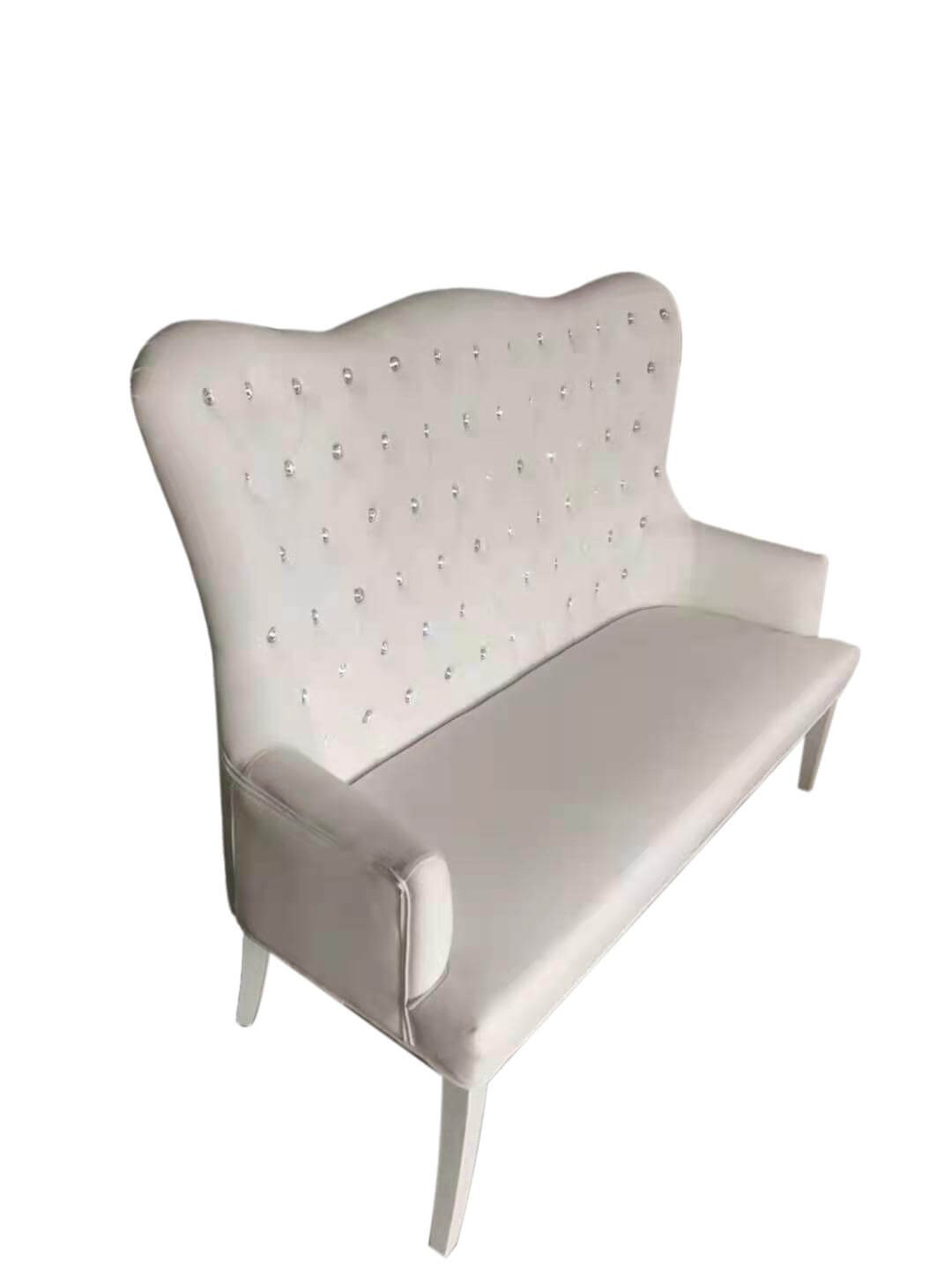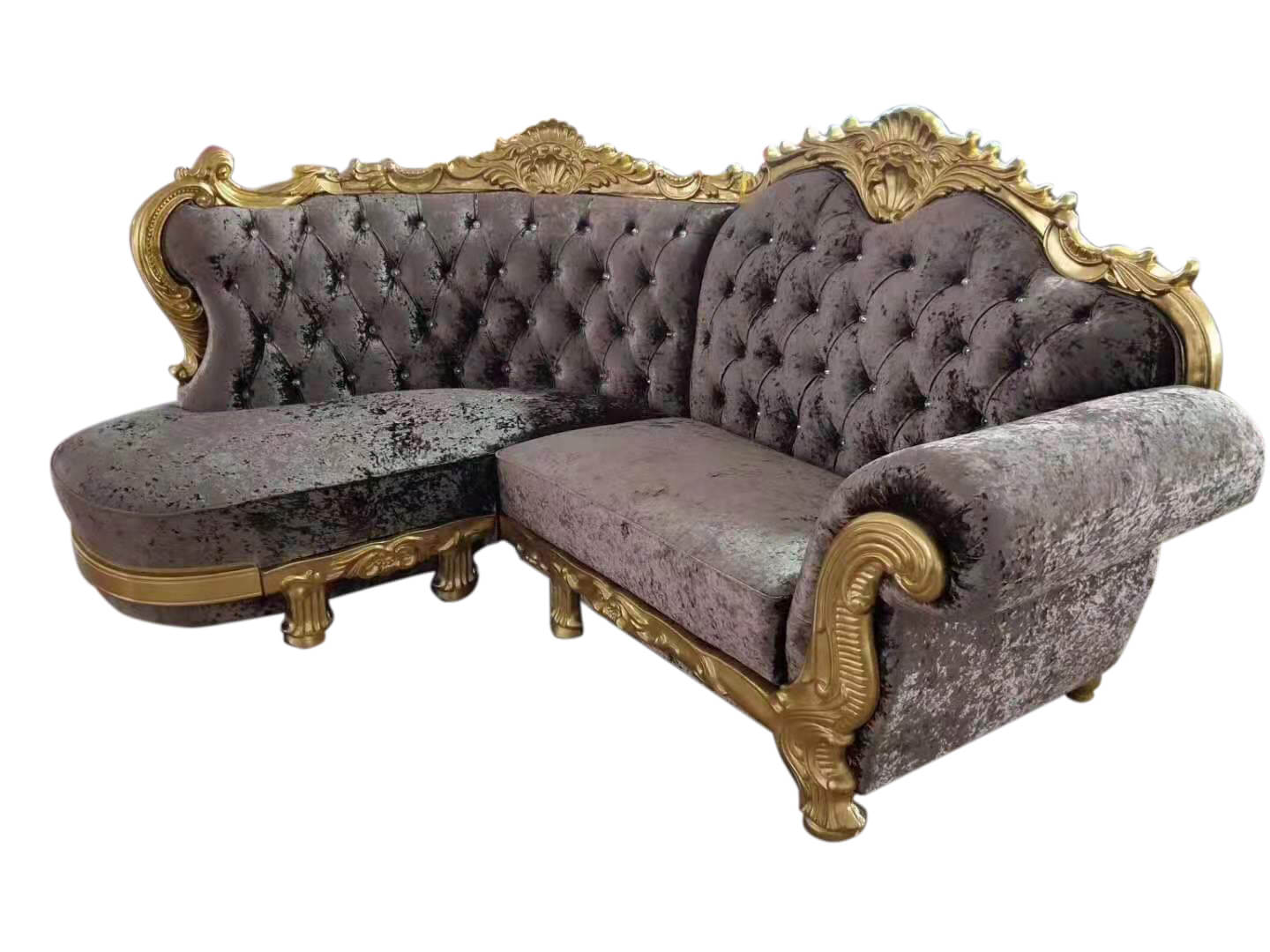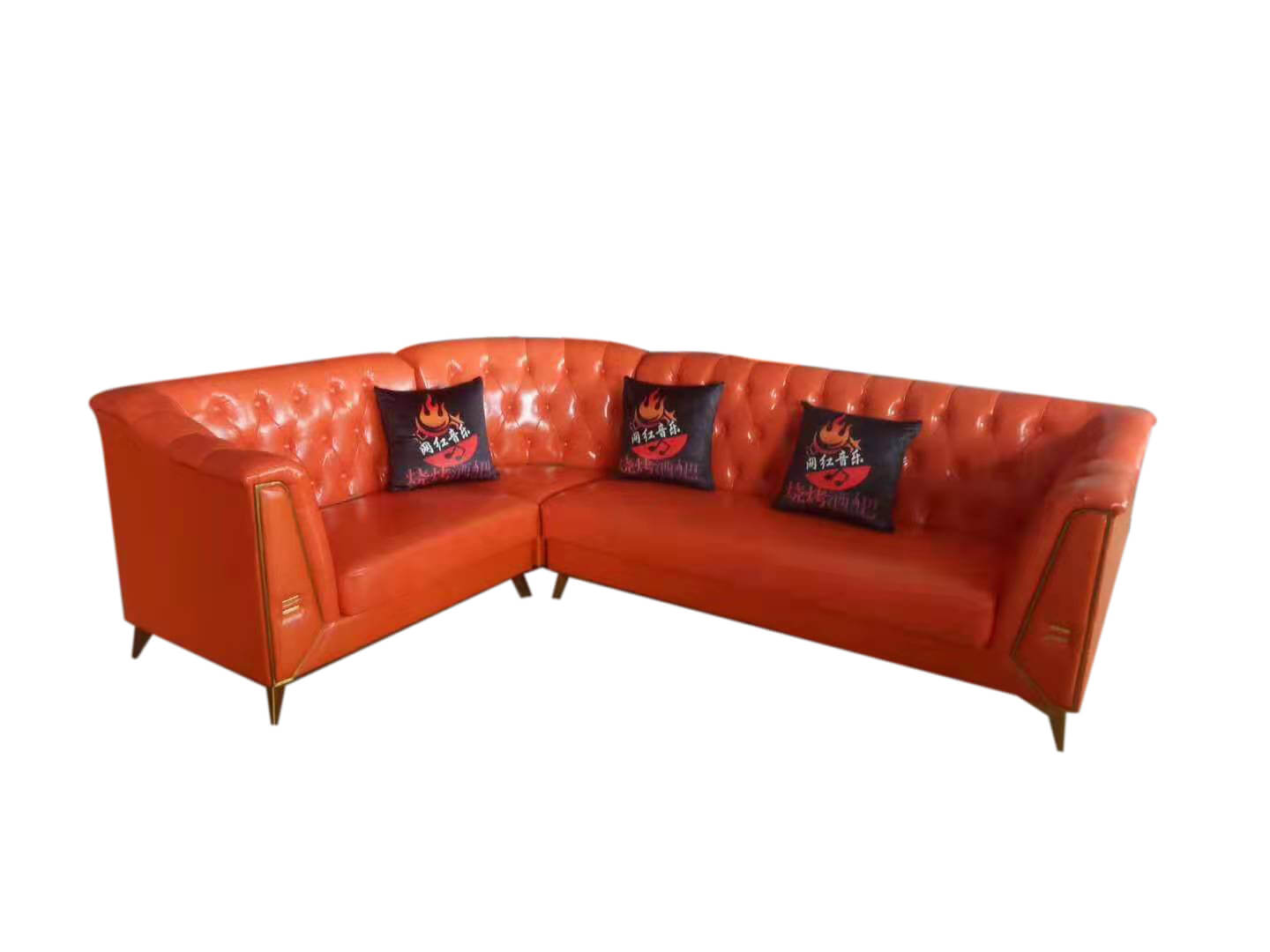 Simple summary: material: fiberglass frame, paste Taiwan gold foil silver foil, seat bag is a combination of high-density sponge and independent spring bag, back pull crystal buckle, conventional use of high-quality velvet or PU (fabric style and frame color can be adapted according to guest requirements).
4. The production process of the royal chair
I believe that through the above material on such chairs, we have a general understanding of the composition of the product, it will be the production process of the product will have a very quick understanding. The overall production process for these chairs is roughly divided into the following sections:
Wooden carvings:

The tops and armrests of these crown chairs, as well as the legs of the chairs, must have a detailed carved section.
Carving is mainly divided into artificial carving and machine carving two kinds, artificial carving needs a very experienced carpentry master, the cost of artificial carving will be slightly higher than mechanical carving, but the reality is better.
Machine carving, on the other hand, greatly improves work efficiency, production speed, and accuracy of patterns on different chairs.  Wood generally has several options, OAK, rubber wood, and other local hardwoods.
Components:

No matter which wooden part of the chair, after the production of the components, will be assembled together to form the overall internal frame of the king's chair.
With this framework, like the human bone structure, the production links behind the nine tails have laid a good foundation. Of course, this must also include a sturdy seat frame.
Stainless steel keel:

In introducing the material above, we mentioned the stainless steel keel part, the main role of this part is a stronger fixed frame part, and to a certain extent to reduce the final weight of the entire chair, to achieve a lightweight, easy to handle the role.

After assembly polishing:

After the whole Queen's chair is assembled, according to normal production procedures, we will polish the whole chair.
Grinding is divided into machine grinding and artificial grinding combined, for the machine part that is not good at grinding corner part, must take manual sandpaper for careful grinding, the back of the paint will be more smooth.
Frame paint:

Because of the late sponge embedding and the involvement of cloth and leather, the spray paint is arranged in the first step after the frame is polished. Experienced painters will carefully paint the entire chair frame of the ditch, without missing a beat, ensuring the overall effect of the later stage.

Sponge cropping:

The back of the entire chair requires a large sponge, which needs to be the right size for later embedding and covering with leather or fabric.
Usually, we cut with the machine, the sides of the skateboard will be manually cropped, the entire chair will be surrounded by sponges, showing comfort.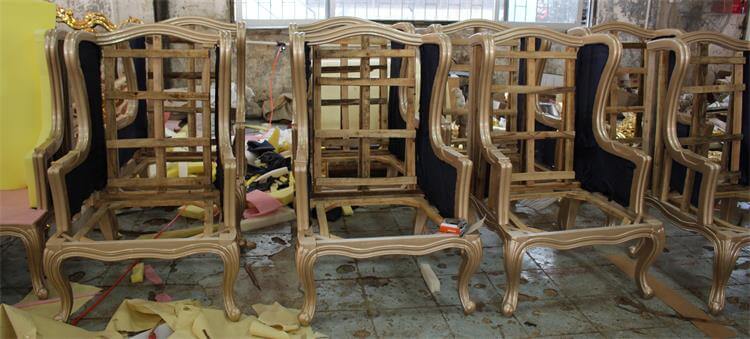 Leather or fabric cutting:

 Whether you choose cloth or leather, always avoid the cloth in this step, each step of cutting is related to the cost, so we will be based on the width of the cloth, and length, to match the right chair, the effective combination will make full use of these fabrics to prevent material waste.  Velvet fabrics and some patterned leather are good choices.

Sponge Fill:  

When the sponge is cropped and accepted, it is crammed into the frame of the overall chair and properly secured.  Normally we use high-density sponges, and rebound speed, to deal with a variety of tests.

Leather and nail buckles: 

 Thickened velvet cloth or high-end leather is secured to sponges and wooden frames with nail buckles.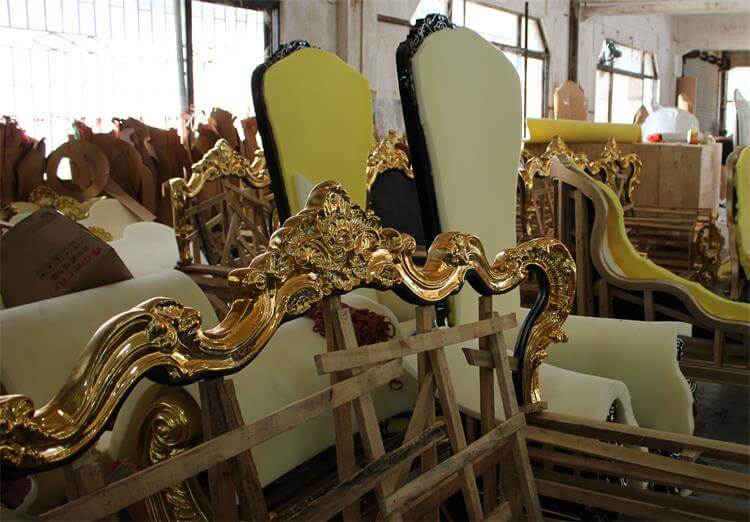 This is very technical, normal a leatherworker, needs to go through hundreds of training to reach the level of proficiency.
It usually takes 1to2 years for the technology to mature, take up this important position, and start working on leather attachments for the customer.
Because this is related to the quality of the final product and is beautiful, not only to ensure that the leather adhesion is good, buttons can not fall off, but also to be neat and uniform, of course, this requires strong technology and repeated exercise.
Of course, buttons in addition to the dense color can also use green, blue, black, gold, and other different button colors.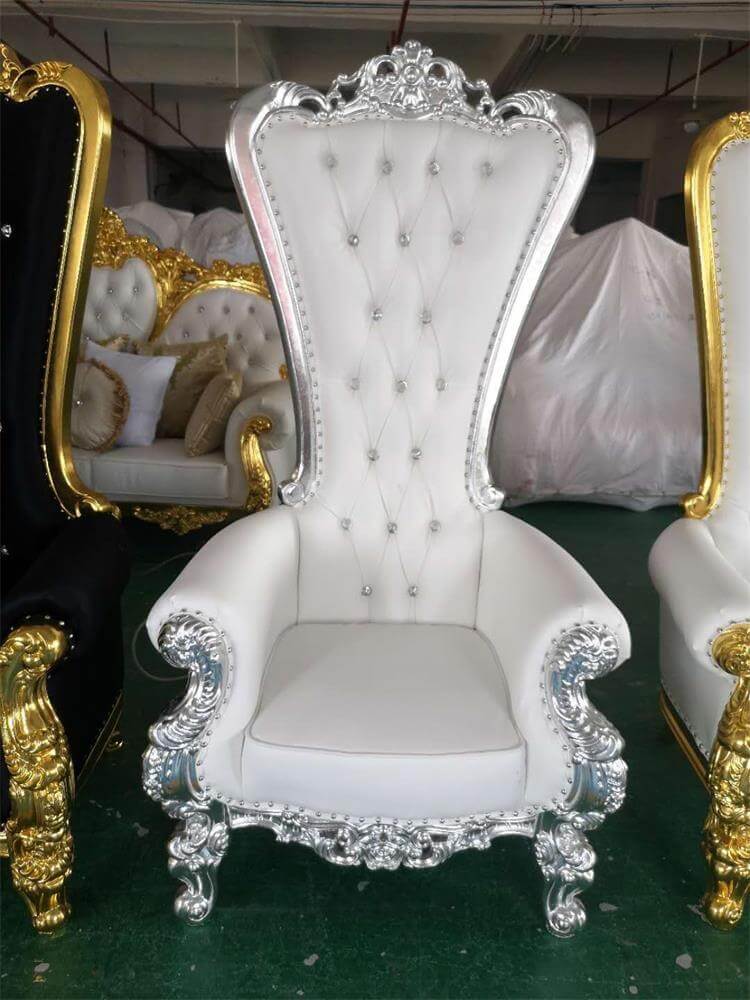 Protective packaging:

 such sophisticated and meticulous products, both paint, and leather, to do their packaging is essential, usually do a good job of products will have careful protective packagings, such as PE film, or some felt, will play a very good protective role, in order to prevent friction between the chair and the chair, these packaging materials will also be tape fixed to the chair, when used need to be removed.

Outer box packaging:

 sea or air transport, as well as inland transport process, it is inevitable that some falls or bumps, so a good outer box packaging is more important. Wood rack packaging and wooden box packaging are a good choices, wood rack packaging costs are relatively low, while wooden boxes can be 100% to ensure adequate transportation safety.
5. Use the scene
People will consider using these beautiful chairs in the following scenarios, and we'll introduce them one by one and use the scene diagrams:
Wedding:

The most important protagonists in the wedding will be taken for granted to ride in these two symbolically distinguished chairs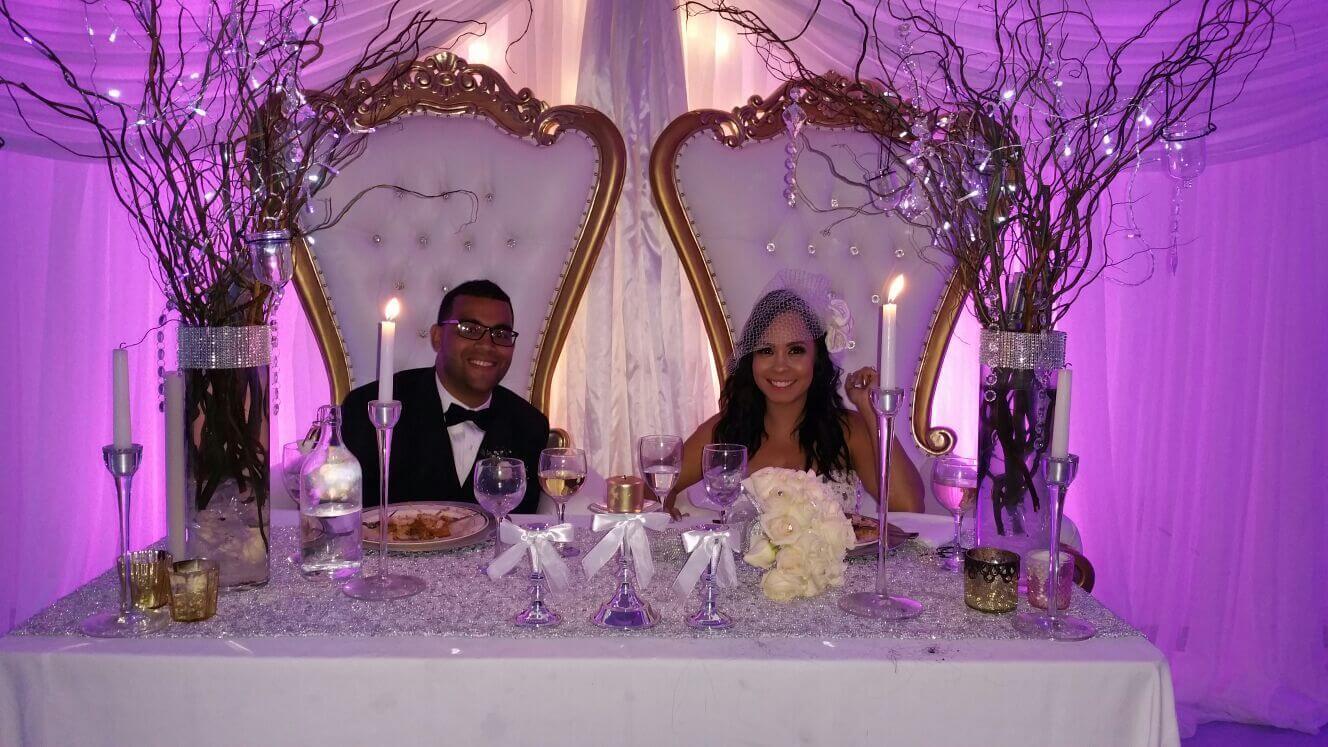 Villas:

Many luxury villas will also be equipped with such chairs, some outdoors or indoor use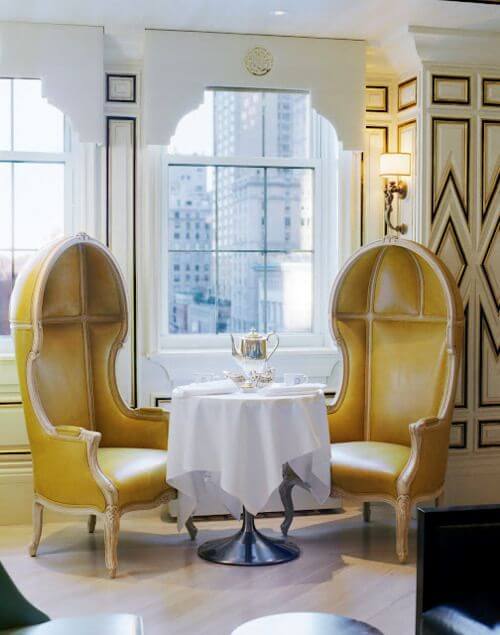 Hotel lobby:

Hotel lobby, and customer rest area also often see similar crown chairs, so we e-don't welcome hotel engineering orders.

Indoor rooms:

Some casual-loving people live in spacious rooms, and people like to place individual chairs or piles of king chairs at home.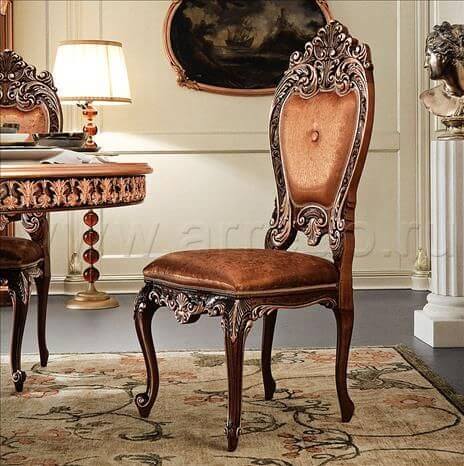 KTV:

 This is better understood, leisure places this chair is used more frequently.
Health club lounge and reception areas are available:

Birthday party:

especially the child's birthday party, the children's royal chair with suitable clothes, is the most perfect.

Movie Scenes:

 Sometimes the director uses this kind of chair when making a movie

Restaurant Reception Area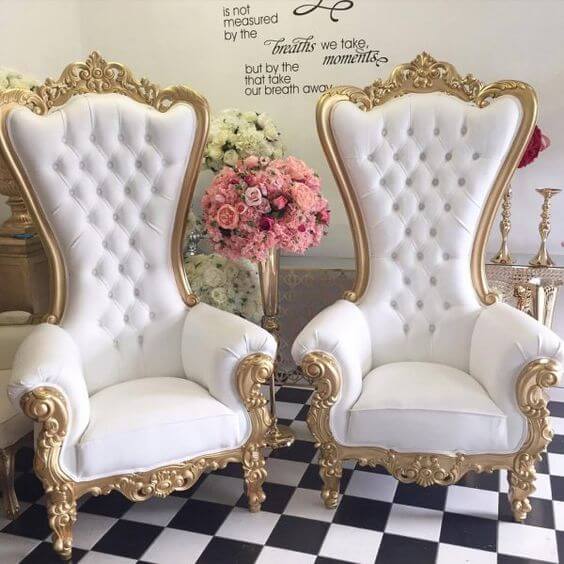 Private party scene layout

Cafe

Lounges,

lounge promenades with similar sofas, and high-backed chairs can be seen everywhere

Office:

It's not surprising that one or two royal chairs appear in some personalized office areas.

Model room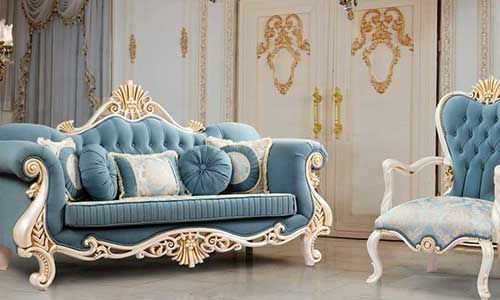 bar

Chinese and Western restaurants
6. Color selection and matching
For the color of the royal chair, we can choose the right color through a variety of combinations of wooden frame color and leather color, and as we introduce the color, you can choose from pictures.

Frame color:

gold, silver, black, white, gray, brown,

Leather or fabric colors:

more than dozens of coffee colors, dark brown, white, black, orange, red, purple, green, khaki, like tooth white, pink, blue. Of course, the market cloth or leather color is too much, basically can buy the color, we can make the color of the royal chair.




7. How many styles to choose from
In fact, in this large category of chairs, a lot of styles, regardless of the complexity of the flower type, in terms of simple distinction, we have a single model,   double,  three people, multi-person, shaped,   heart-shaped, swan style,  children's version, long version, round sofa, shaped corner and other styles for you to choose from. We choose representative styles, and with pictures for you to choose from, I believe that every style is a classic, whether it is retro style or beautiful style, there is his favorite group.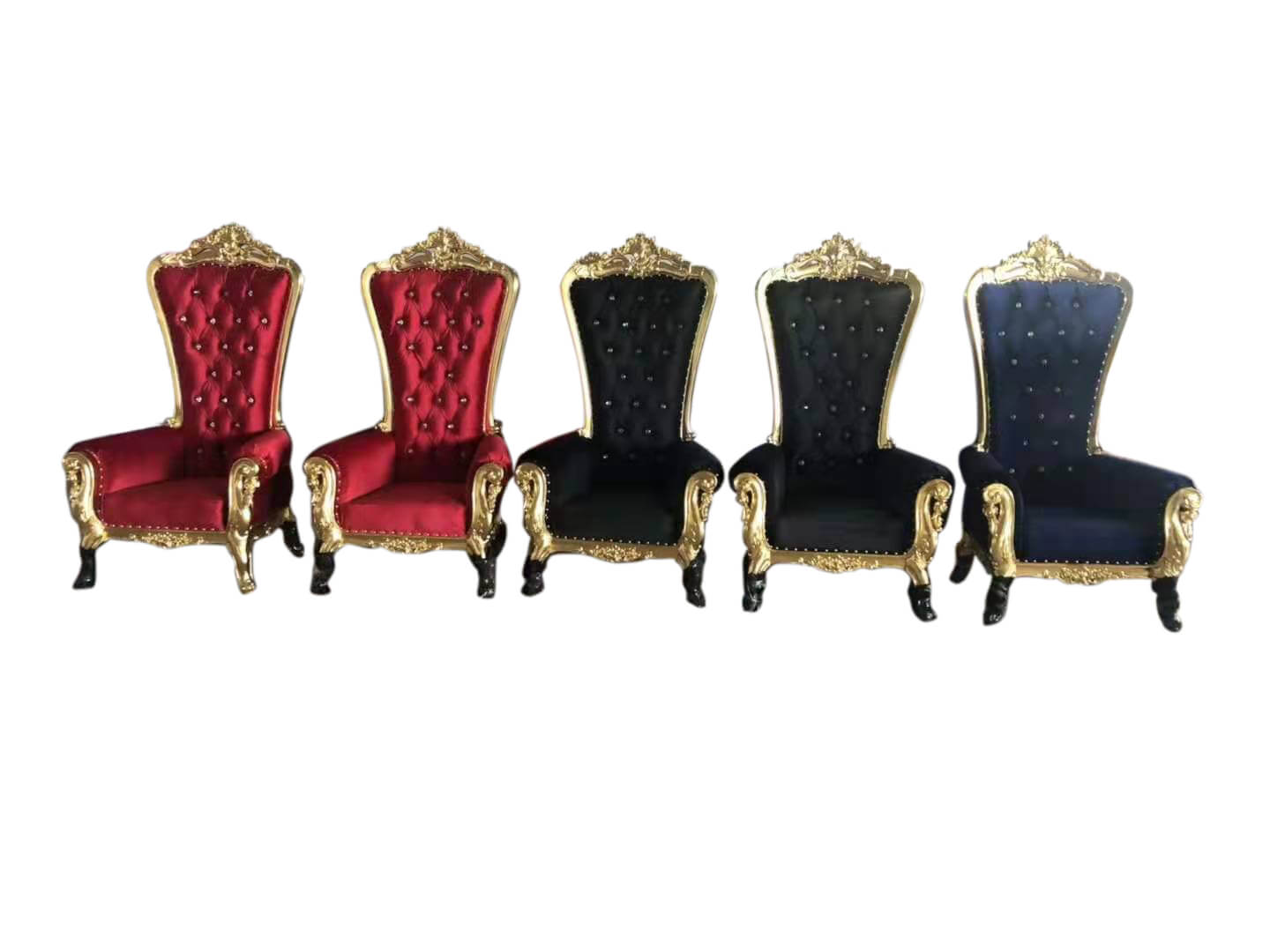 8. The 7 most popular royal chairs of 2021
2021 surveyed through a variety of channels, including positive feedback from our valued guests, friend choices, etc.  We were pleasantly surprised to find the following 7  high-back chairs, which are very popular:
1, Queen's chair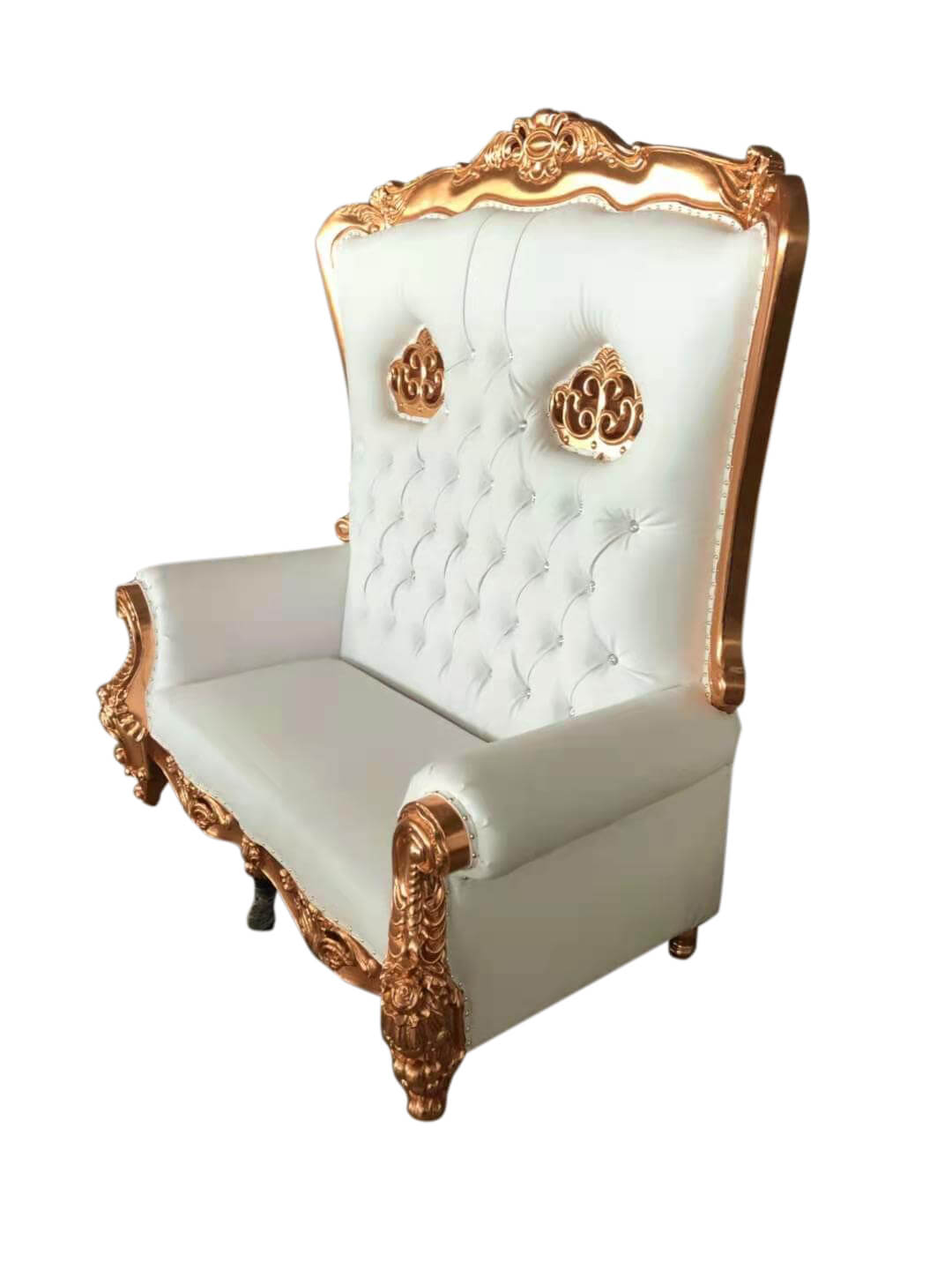 2, King's Chair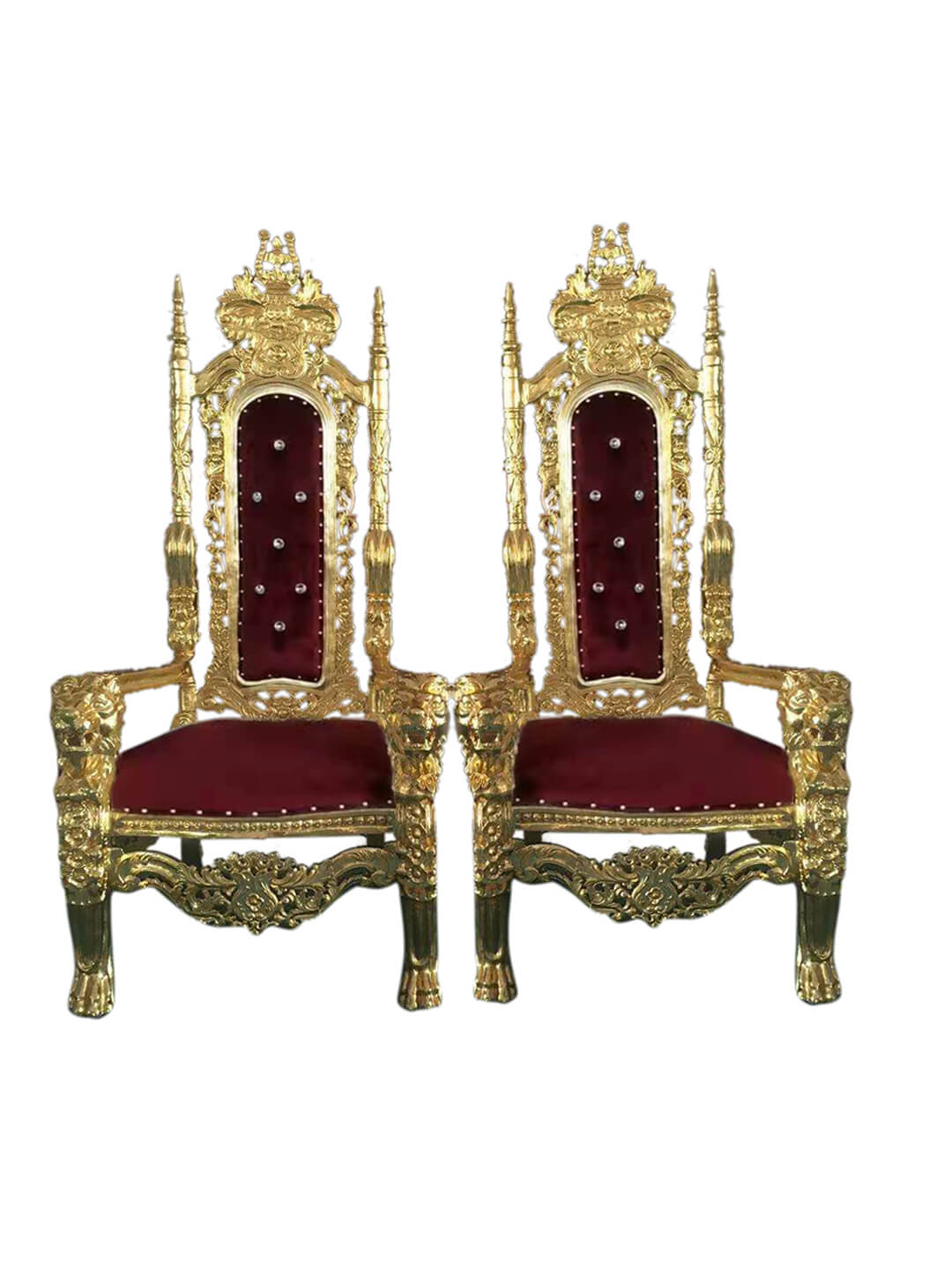 3, double LOVE SEAT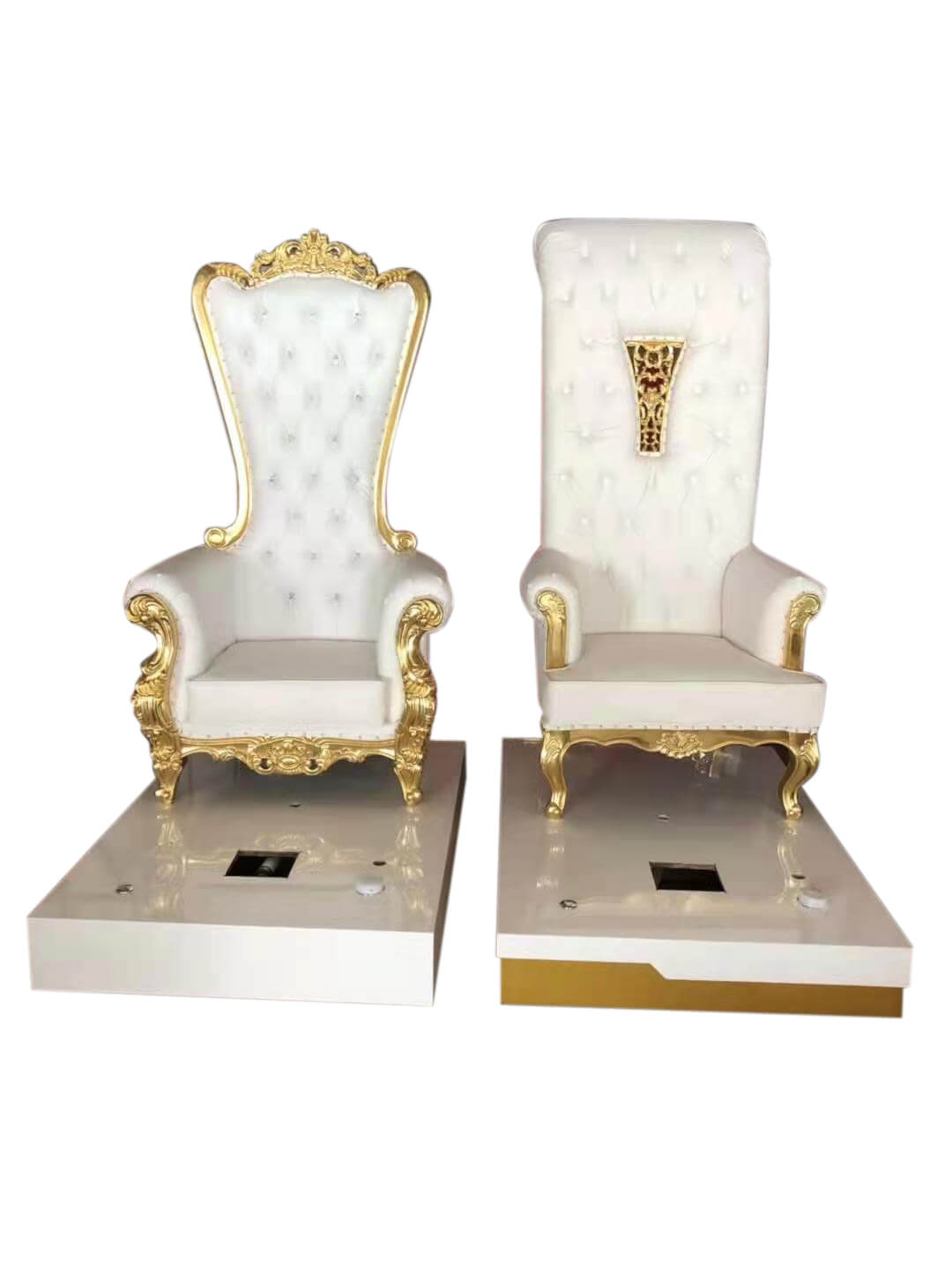 4, children's royal chair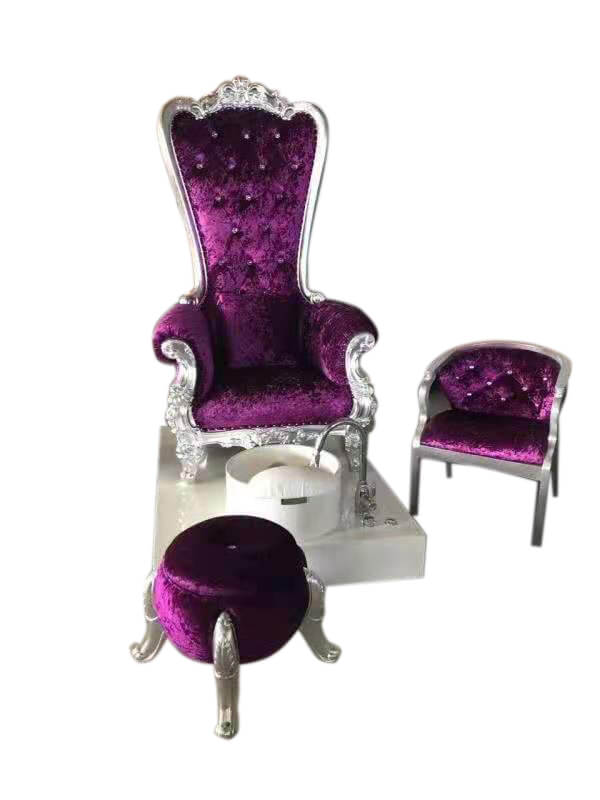 5, children's double chair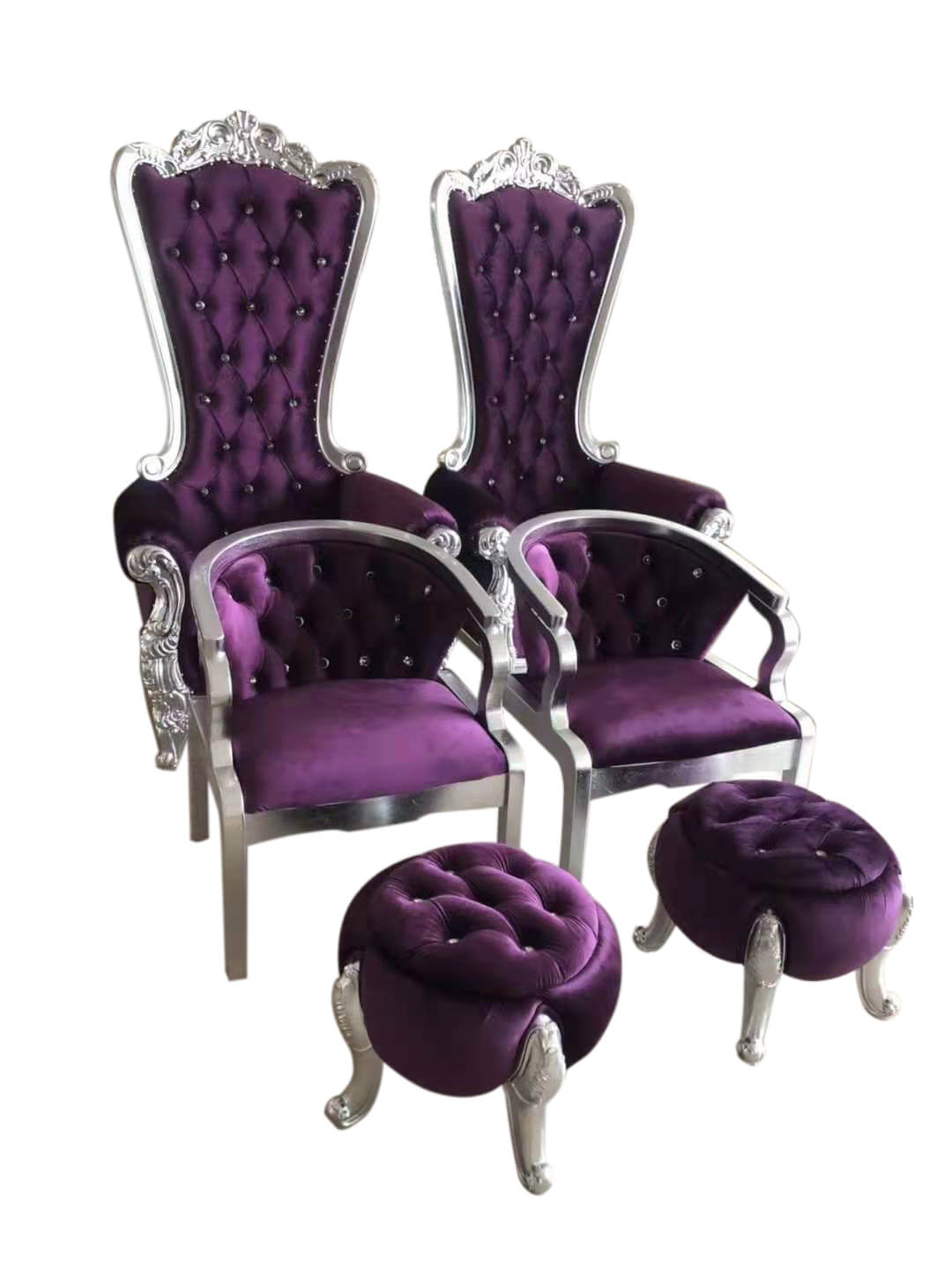 6, heart-shaped chair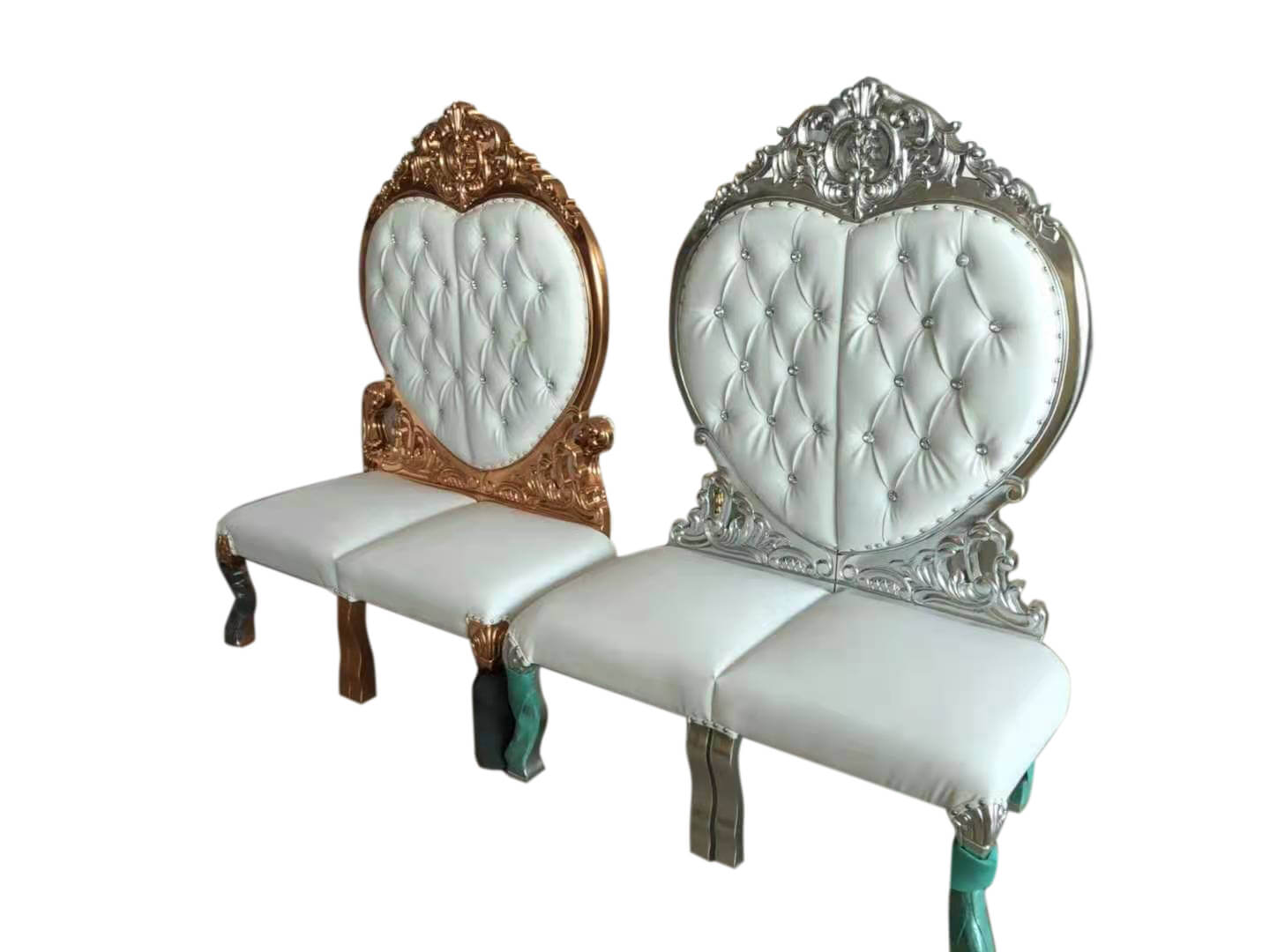 7, raise the back chair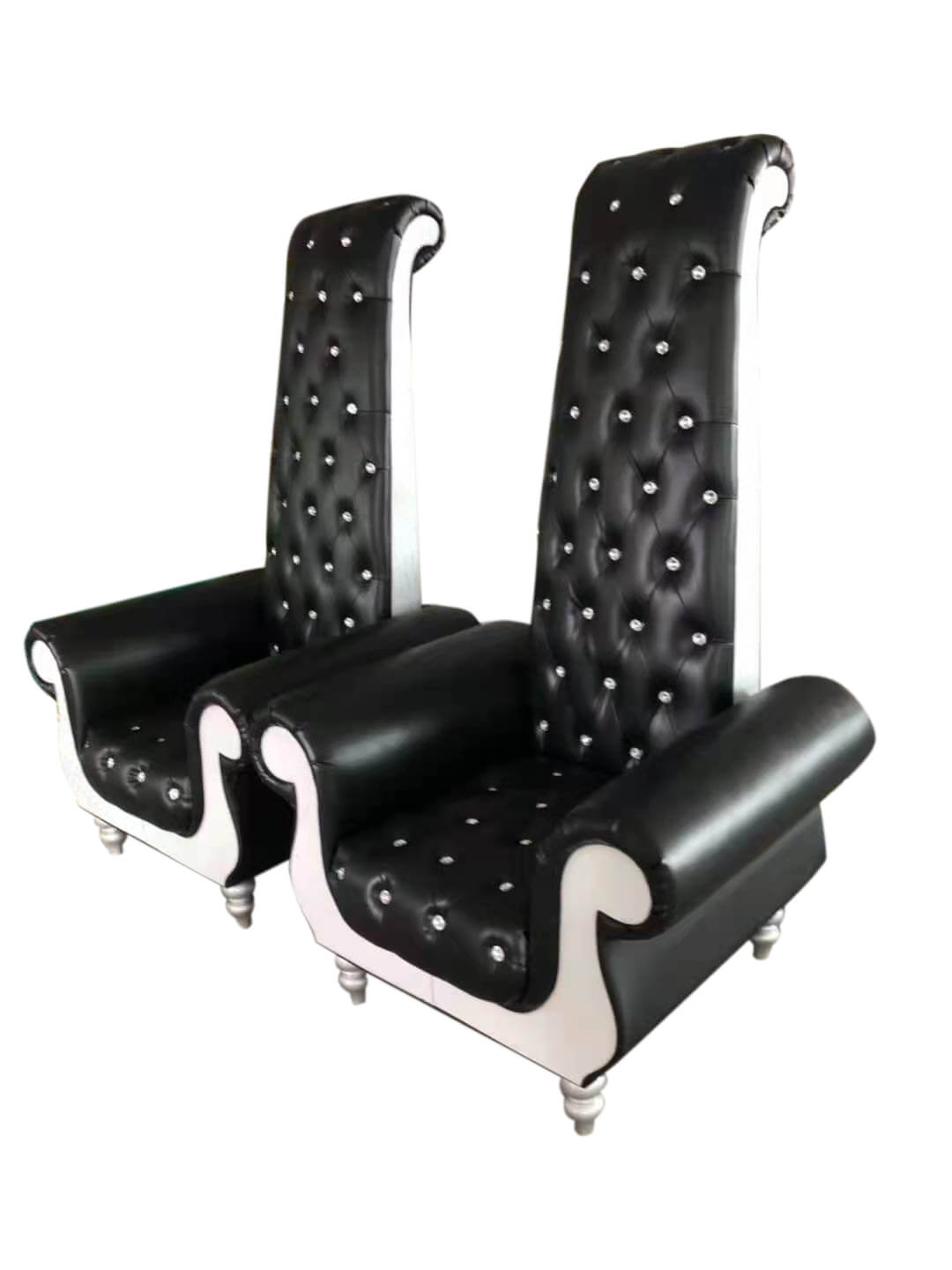 9. How to Pack Royal Chair
Such a beautiful chair is worth having a good package

Inner packaging with multi-layer PE film focus protection
The inner packaging has two layers, the first layer is a special pearl mian chair wrapped up to act as a buffer, the second layer is woven bags, to prevent sharp items in transit scratched the chair.
 Outer packaging, using wooden frame or wooden box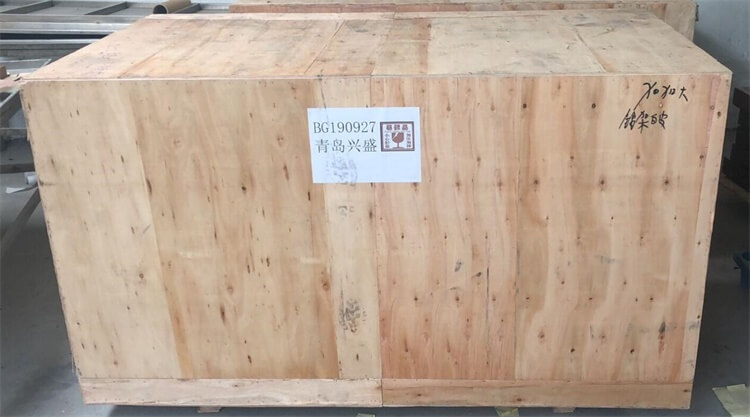 10. What are the sizes of the royal chairs?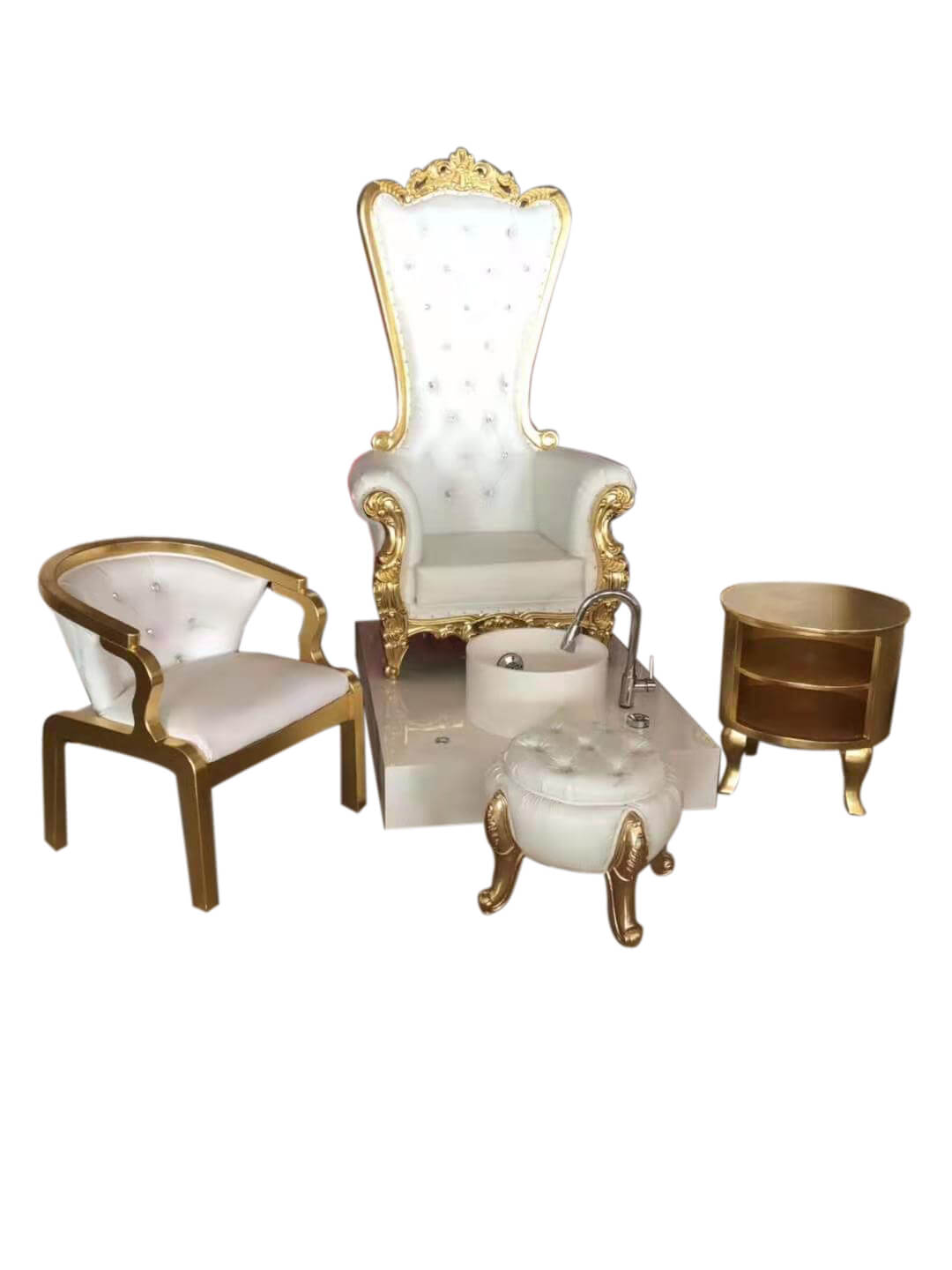 regular size and standard
lengthening and higher
mini children's
In general, the regular size is 950/800/1760MM and the MINI size is 750/700/1250MM
11. How to Transport Royal Chairs to Your Country
In order to ensure that no damage is caused in transport, we recommend that protection be taken at all times before and during transport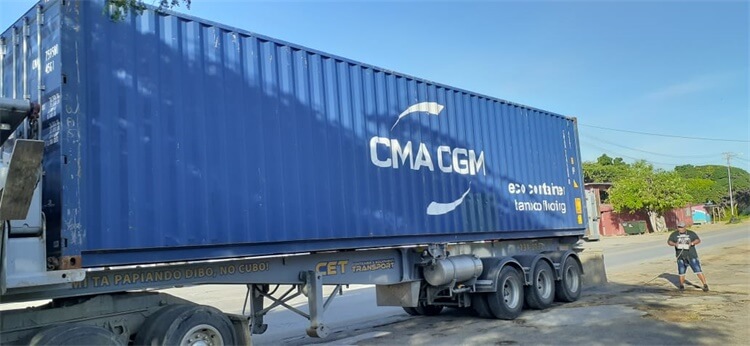 the use of forklift handling
pay attention to the wooden box packaging and protection
pay attention to prevent falling
12. Whether you can customize your style and color
We currently have more than 60 of these chairs to choose from, and of course, we are willing to accept new styles and work together to create molds to meet the needs of our customers.  If you have a new style and we don't produce much, you can send us pictures and detailed size specifications, and we will make samples based on the pictures and sizes for you to confirm.  Whether you need a lion pattern, a dragon pattern, or a crown pattern, we can meet your requirements.




13. What are the royal chairs, quality standards and precautions?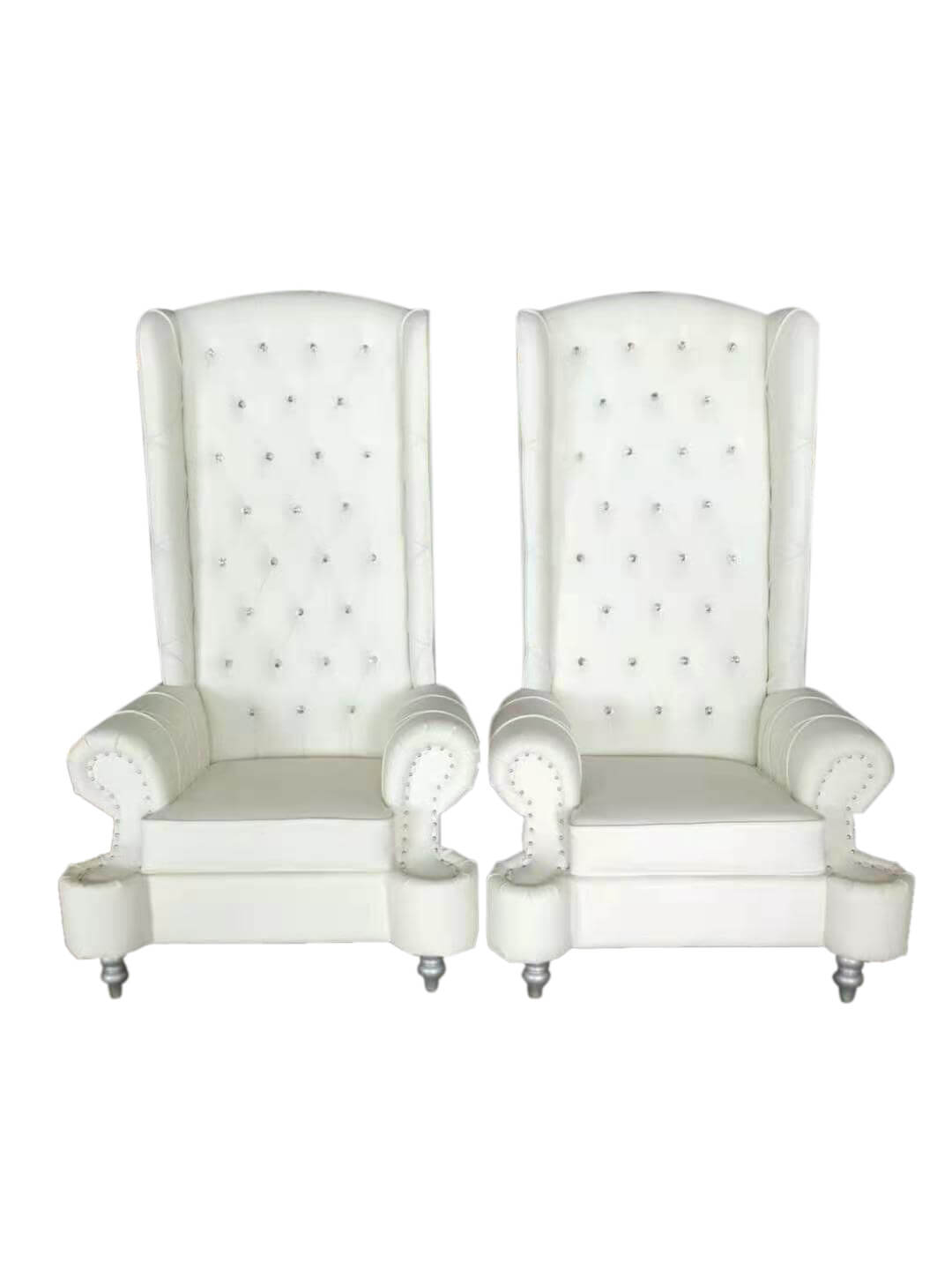 The first is the structure to be strong, the finished product standing to be stable, can not have a sense of wiggle, which is also the minimum safety requirements.
Do not crack, so as to ensure the overall aesthetic feeling
Do not drop the paint, that is, the adhesion of the paint is good
Leather is of good quality and does not explode.
The color should be correct and uniform
Size to be standard, the same batch of production of chair size to be unified, there can be no obvious error.
Sponge density is better, rebound speed is fast, do not deform.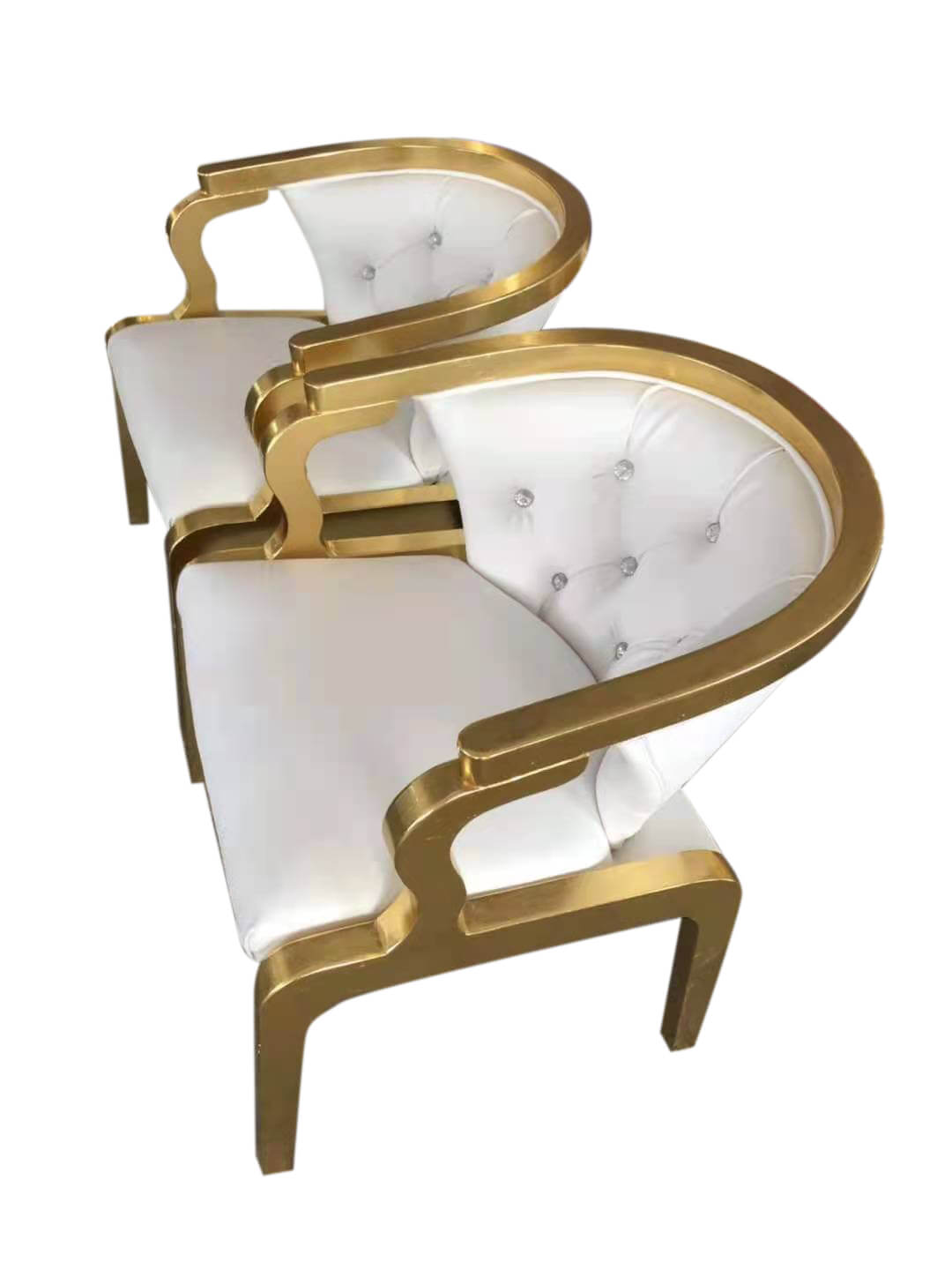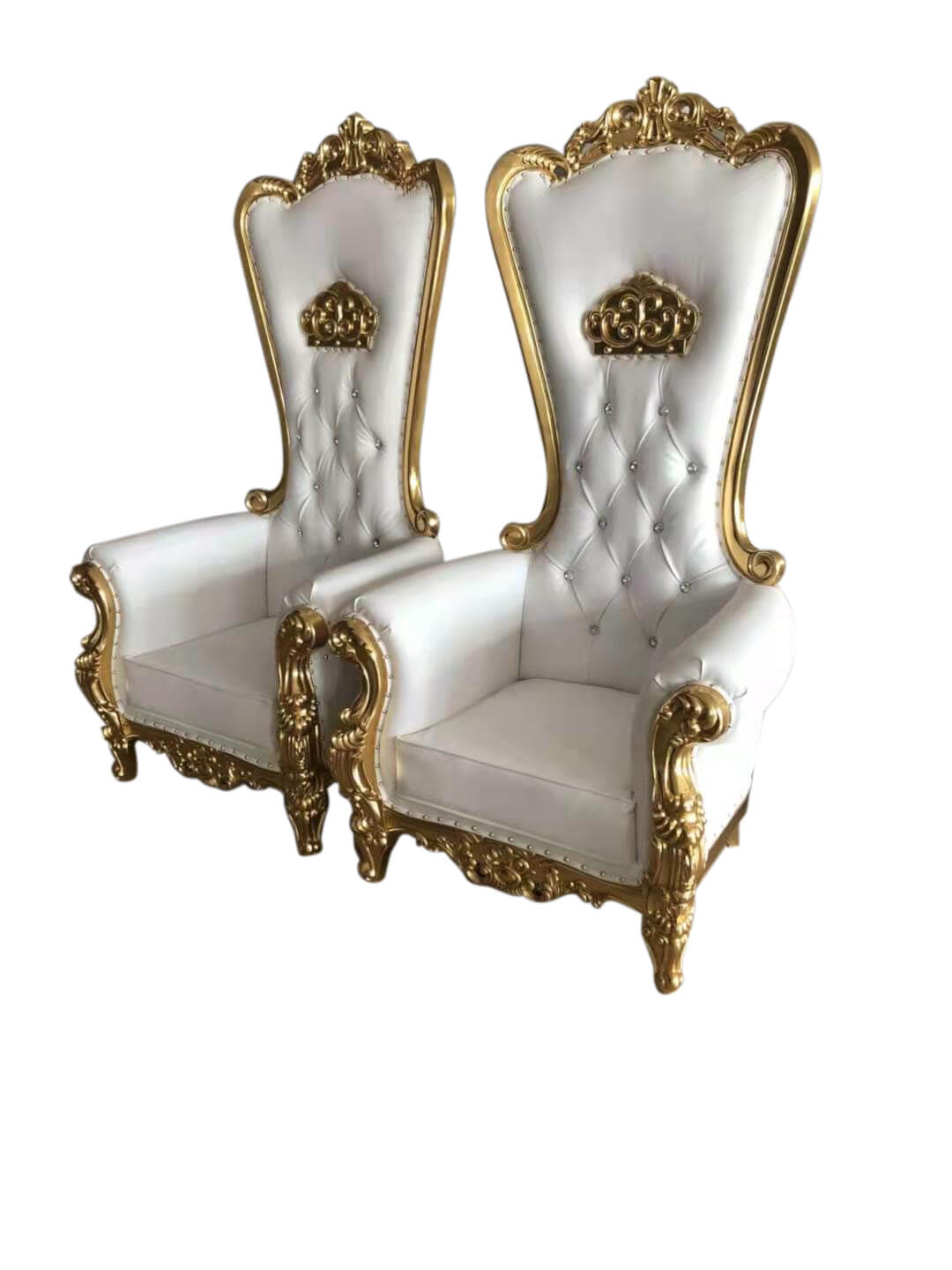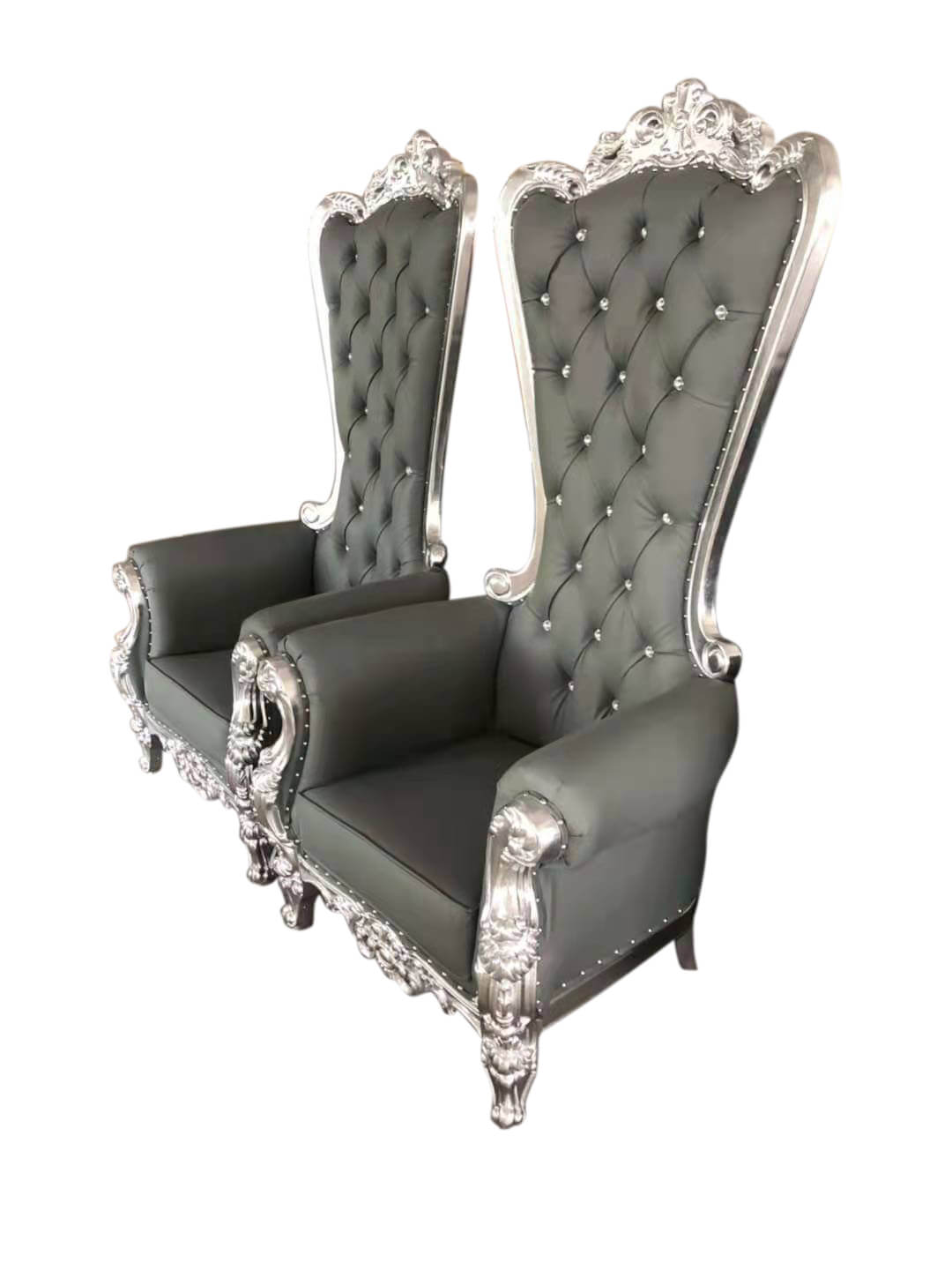 14. How to be lightweight and easy to handle?
The knowledge of material selection, can start from the choice of wood, choose light wood, and to ensure that strong, and lightweight aluminum keel, will make the entire chair light and easy to handle.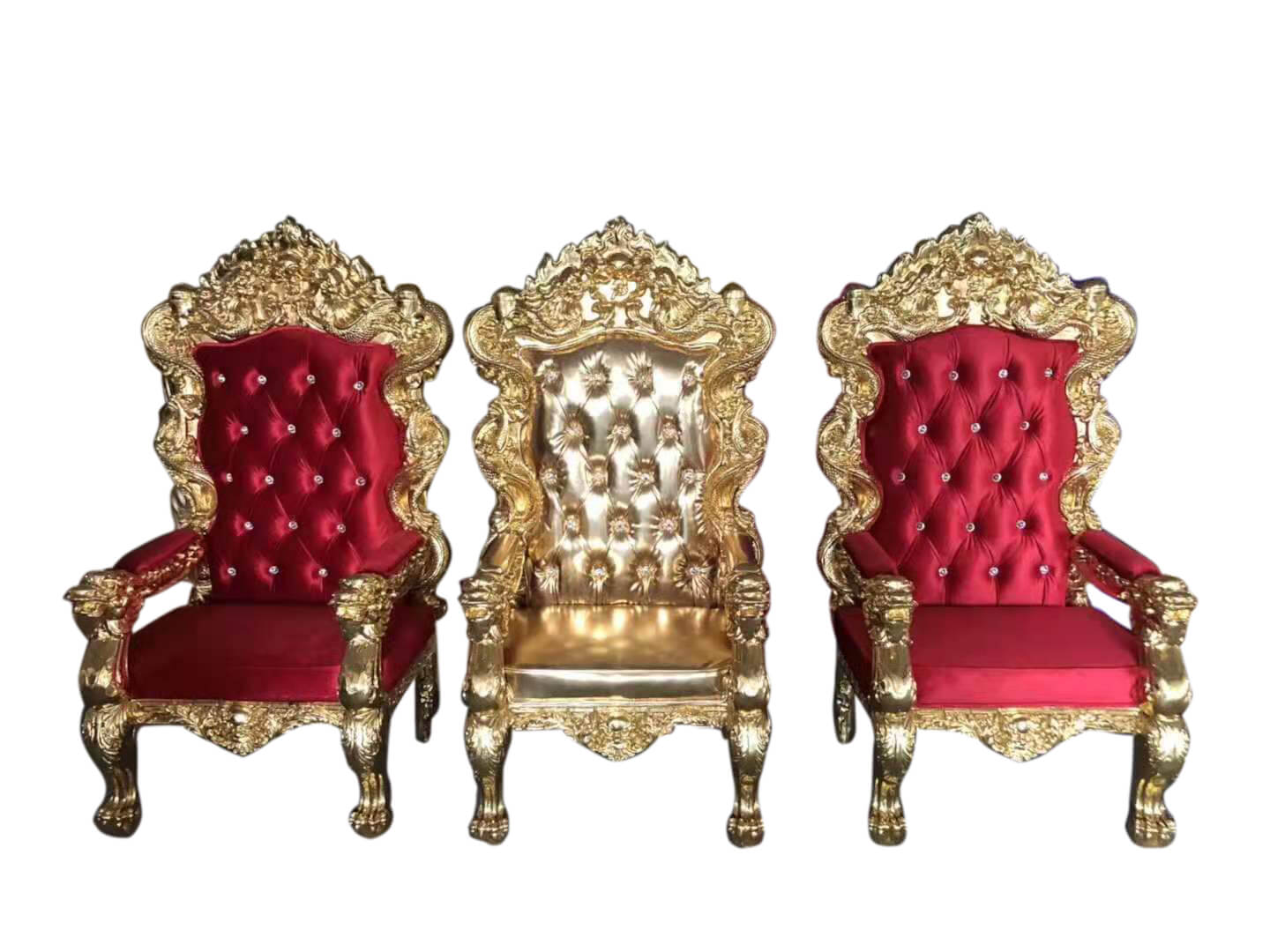 15. Whether it can be disassembled
These royal chairs are huge and have increased transportation costs to some extent, and we've been looking at whether they can be disassembled. At present, a single royal chair cannot be disassembled
However, the double can be disassembled, but also to a certain extent to save some transport costs. Hopefully, in the future we can work out a single sofa that will be disassembled and guaranteed quality, thus greatly reducing transportation costs.
16. Whether it can be fitted with cushions
Yes, we can have cushions of the same color, or cushions of different colors, which is perfect.  In fact, more than 65% of buyers will consider buying cushions, which are generally made to match the fabric and color of the chair. Of course, you can make your favorite patterns and markings on the upholstery.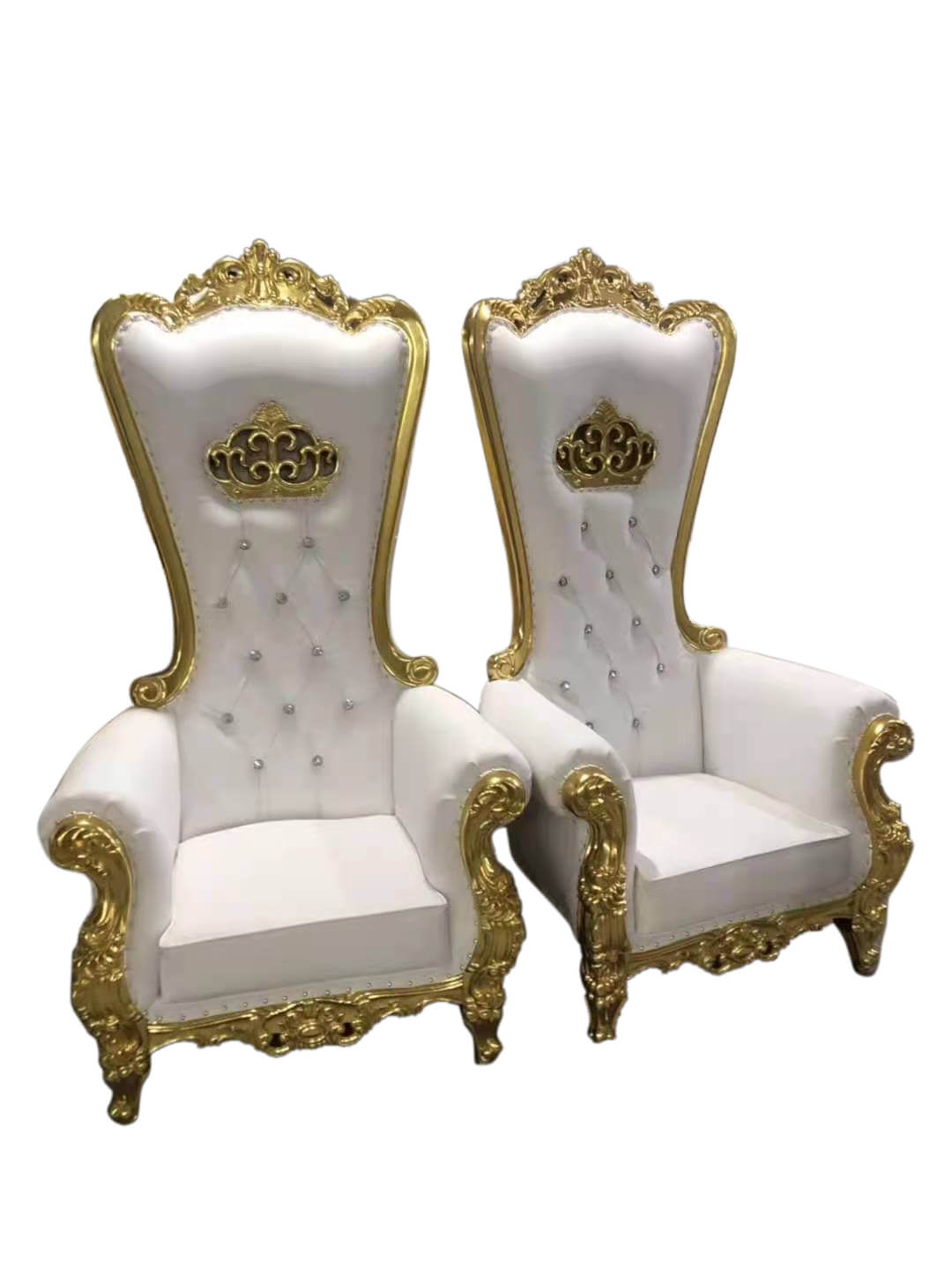 17. Is there a spot, no spot, how long is the production time?
In order to ensure timely delivery, and consider long-distance transportation, shipping time, etc., we will prepare a portion of the stock. Especially those conventional colors and popular styles, we will have an in-stock supply. Even those products that are not in stock will prepare a lot of wooden shelves to lay the foundation for quick delivery later because the production of wooden frames takes time and the later process is faster. Even with 100 large chairs, we can ensure delivery within 20 days.
18. Minimum order size
We are committed to meeting the needs of the vast majority of our customers, so it makes sense to have a minimum order of 2 at the moment, as two wooden boxes can help you save money.  Of course, we welcome buyers and wholesalers of container purchases, and we are also looking for new cooperative wholesalers or distributors to help us deliver to end-users.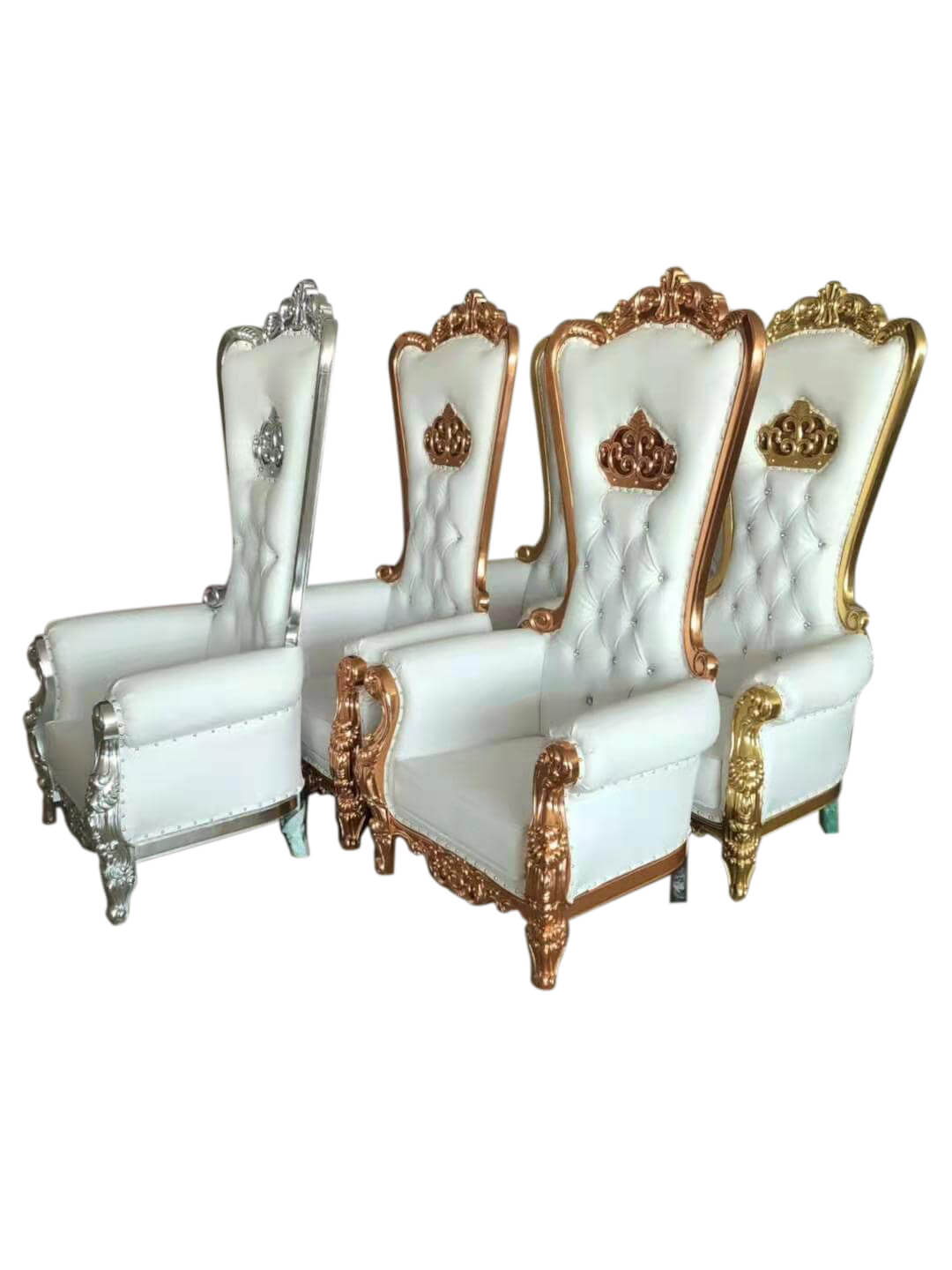 19. Do you accept customization?
Yes, we accept customization, whether it is the shape, the color of the fabric, or the color of the frame, it can be customized according to your needs and preferences. There are also buttons on the royal chairs above, which can be customized with buttons or without holes. For example, the chair below is customized by our customer, with a silver frame and white fabric.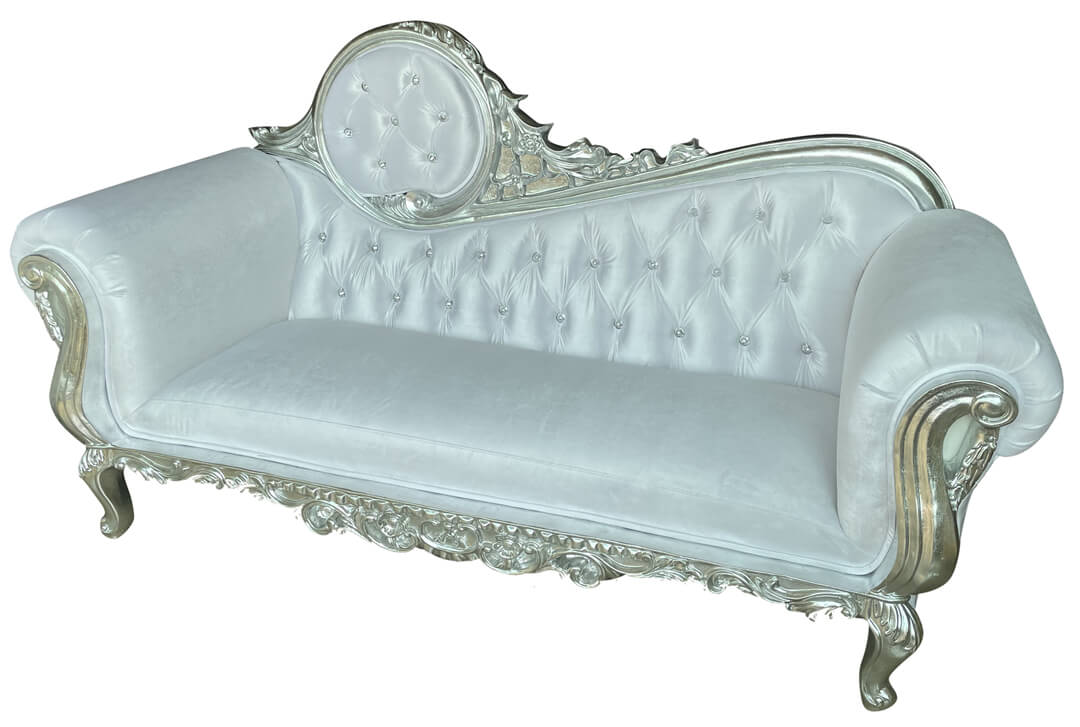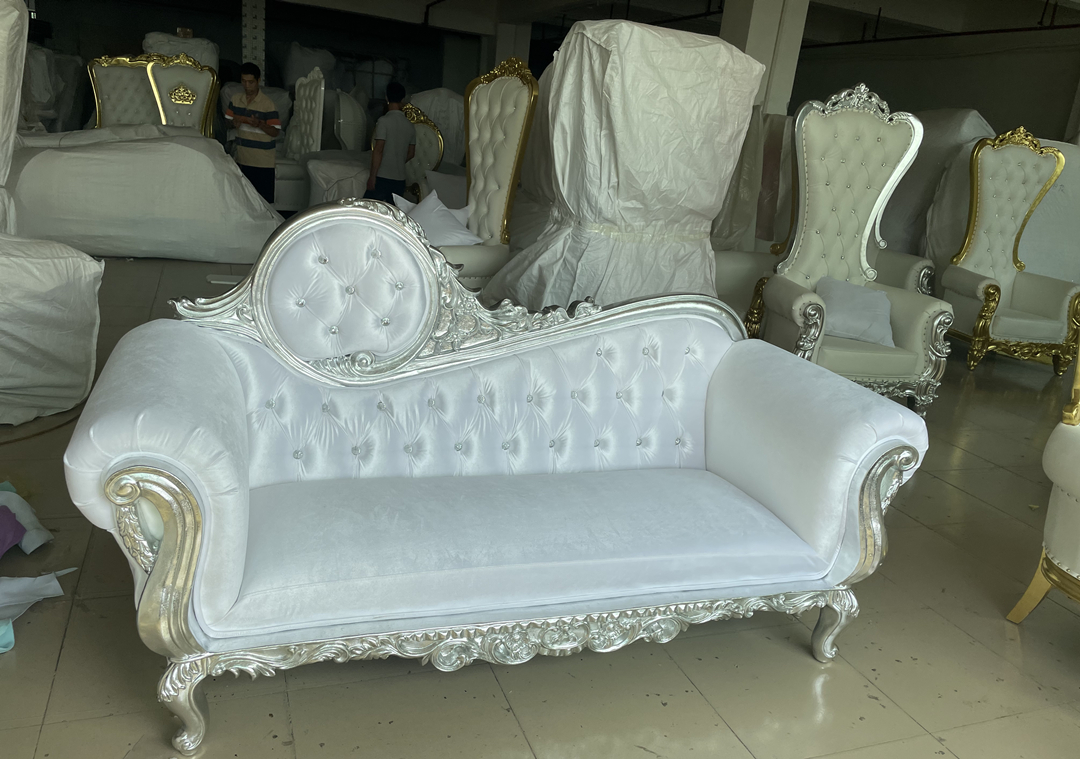 The one below is another one of our custom-made backrests without buttons.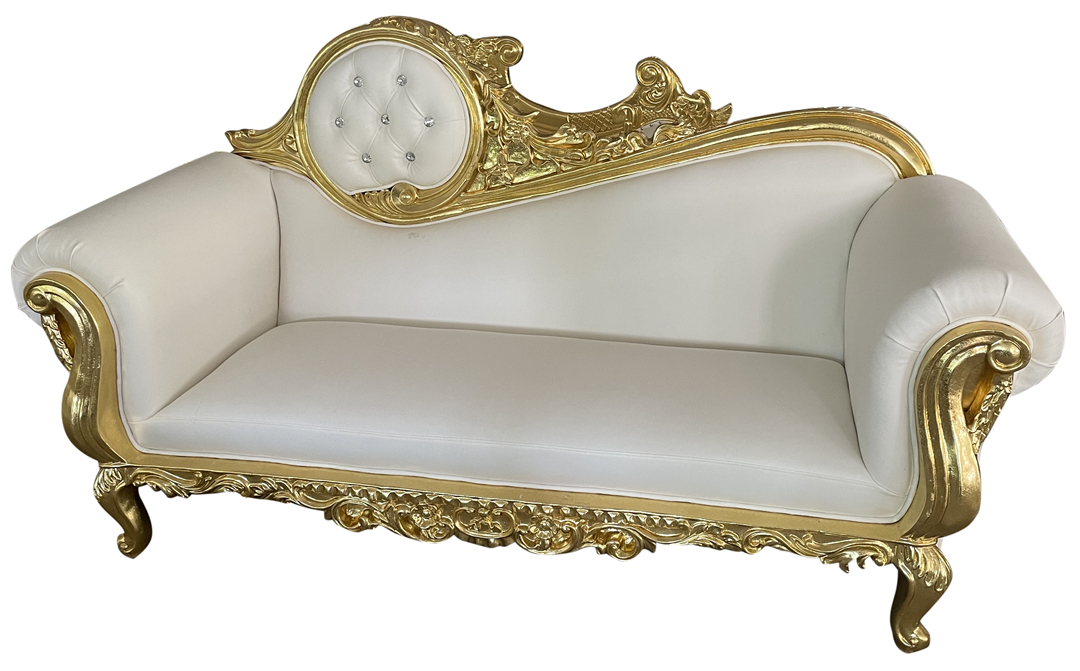 20. How do I make an order?
Please tell me the model, quantity, and color you want to choose, and tell me the address, and we will give you an ALL-IN price, and delivery to the door.  If you want to buy cheap and good quality chairs, please contact us.  Believe that if you rent a few times the money is enough to buy our chairs.
show less