Welcome To Qingdao Blossom Furnishings
Wholesale Tables And Chairs For Events
Blossom Furnishings, one of the leading event table and chair company, provide wholesale tables and chairs for events/party/wedding.
One of the biggest wedding chair manufacturers in China
Since 2003, Qingdao Blossom Furnishings Limited is one of the biggest event tables and chairs manufacturers in China. Specializing in producing chivari chairs, cross back chairs, Louis chairs, kinds of folding chairs, and banquet tables farm tables.
Qingdao Blossom Furnishings Limited design, manufacture, export, and wholesale tables and chairs for events/party rental companies all over the world, offering these great companies the best products and service and event chairs using widely on weddings, parties, restaurants, ballrooms, meeting rooms, hotels, churches, outdoor vineyards and so on.
One of the biggest banquet chair factory in Shandong Province China for wholesale wedding chairs and tables manufacturing, Also we offer one-stop wedding products solutions!Such as chair cover, table cloth, charger plates, candle holder, tableware, napkin, and so on.
Click here to know our wholesale tables and chairs for events now!
2023 Best Banquet Chairs For Sale Wholesale
According to customer requirements, we have compiled the most popular wholesale tables and chairs for events in 2022, hope it will be helpful to you.
Video Center
If you are interested in our tables and chairs manufacturing process of our factory, welcome to our video center to know more.

We are an Australian furniture wholesaler. The products we import involve indoor furniture and outdoor furniture. We buy a lot of restaurant and hotel furniture. We have warehouses in three different cities for the whole of Australia. In the more than ten years of knowing BOB TAN, we have watched his factory from small scale to medium scale step by step, and the product range continues to expand, not only all kinds of wooden tables and chairs, but also in recent years, the BLOSOM factory has also begun to produce plastics. The chairs are stylish and fashionable. This summer and before the summer of 2021, we cannot go to China in person due to the epidemic. We have finalized the orders for outdoor chairs and bar chairs through video conferences. Three ultra-high containers, they only took 2 weeks to produce them, so that we can start our marketing plan before the arrival of summer. Before shipment, we received their beautiful photos so that we can make advance sales on the Internet. We mainly value their company's three points, one is the right price, the other is professional and timely response, and the third is the perfect communication and after-sales service.
As a buyer of event furniture in Ecuador, we often purchase products in China with the purchase needs of customers. This time we help a retro-style barn wedding venue to purchase tables and chairs. The whole design style requires some wooden cross chairs, crosses Chair bar chairs, long farm tables, and round farm tables. In order to meet the needs of different customers, the barn also adds the same number of stacked wooden thonet chairs to keep rotating.
When we entered wooden cross back chairs wholesale in the Google search field, a BLOSSOM company caught our attention. We quickly browsed their website and downloaded the Free catalog by ourselves. We confirmed the number of good intentions with our customers and After the style, we will leave a message through the website. In a short time, about 4 hours later, we received an email reply from the factory and asked if we have a job WHATSAPP. And on the same day, we received a detailed professional quotation from the factory, as well as the SGS test report of the cross chair, as well as the test video of the farm table and the detailed pictures and video of the production of the Sonnet chair. AMAZING!
Based on the recognition and trust of both parties, we quickly reached an order intent. They did not want to get a deposit as eagerly as other Chinese suppliers. On the contrary, their sales staff will carefully connect with us for the details of each order, such as The size of the round table, the color of the long table, the color of some rattan, the use of hardware, etc., make us feel very professional and relieved. We implement each product's material, color, size, style, and cushion type one by one. What we are most worried about is the capacity of the table. At this point, BOB arranged a special shooting and demonstrated the tables that can seat 8, 10, and 12, which is very conducive to the final decision of the customer.ToAfter paying the deposit, in the entire production process, especially in terms of color, we can receive a separate color application from the other party before each batch of bulk goods is produced. After we confirm the color, the other party will paint the bulk goods. Avoid mistakes and improve efficiency. We are happy that we have found a suitable supplier on Google, and we will submit a five-star review.

As the owner of a small leasing company in the United States, my name is LYNN WOLF. We have not been in business for long. We have purchased small products online several times before. Our import experience is not much. We are eager for more help. In fact, we want a one-stop service, that is, we select good products, and then the sellers directly deliver them. Then, we don't need to do the customs clearance and other tasks.
However, we have not tried such bulky goods as chairs and tables. After all, they are very bulky. But BLOSSOM's offer to us is very reasonable. Our order this time includes 17 plastic tables, 200 plastic chiavari chairs, and 200 plastic folding chairs. All quotations include import duties, ocean freight, inland freight and customs clearance costs.
After we paid the purchase price, we can see the update records of their company every once in a while. After the goods arrive in the United States, UPS will deliver them to us, and the time is relatively fast. So I like this one-stop service to avoid my unprofessionalism.

For many years, Honduras has been relying heavily on imports for daily necessities. Many of our imported goods are transferred through the United States. By chance, we found a chair manufacturer through Google. Their name is BLOSSOM FURNISHINGS. Our tropical climate area In some places, we need some outdoor tables and chairs, and they should be waterproof and sunscreen, so we thought of buying this channel from abroad, because we don't have much experience, we hold the attitude of giving it a try. Our first experimental order is very small. Our main purpose is to be familiar with the entire import process. Our order includes 250 resin folding chairs, 30 plastic outdoor tables, and 100 food stall chairs. The entire import process has become very simple. We calculated it carefully and it is much cheaper than our purchase from the United States. Although we need to wait for a while, during the waiting period, we do our own house construction and the goods arrive, and we are smooth After opening for business, we will also introduce more friends to buy their other products. I think we will buy the matching chair covers, napkins and tablecloths from there in the future.
We are in Mozambique in Africa. Before, I had been looking for suppliers through exhibitions. As time passed, we paid more attention to searching for new suppliers on the Internet. In fact, we did find some good suppliers. As an importer, we often receive some customized orders. So we need a lot of factories with a high degree of cooperation. This time we mainly developed several wooden retro chairs. There are three models in total, and there are no actual samples. We searched for blossom furnishings on the Internet, we passed the pictures to them, they made changes, size ratios, and then started to make samples. Thinking that the cause of the epidemic, we can only use video meetings to continuously correct every detail and optimize the product. Finally, make a satisfactory sample. Regarding the conventional banquet table, the general factory uses plywood as the tabletop. We are going to change to the solid wood tabletop this time. Many factories can't do it, and the cost is very high. But the BLOSSOM team did it, the cost is also very advantageous, the structure is strong, and there is a folding function. So after the samples were confirmed, we purchased two containers, including victoria chairs, wooden Louis chairs, Italian classic chairs, solid wood tables, etc. I believe we can cooperate for a long time.

When we do the event, we will encounter some problems when we set up the site. We use different chairs to match our farm table. Different customers often put forward different matching requirements, folding chairs, cross chairs, is the most commonly used choice. According to the needs of the venue and personnel, we will often purchase some benches, which can be used in some strip-shaped areas. The benches can match the farm table very well. Sometimes, you need to buy some new benches to match the original farm table, which is faced with the problem of color matching. Our problem has been well solved because Mr. Bob asked us to express a small wooden block of a farm table to him. Then their painters made an overall bench effect according to the color of the small wooden block, and let us confirm. The color match is perfect, so that our customized new batch of benches have no difference with the original color, and our whole leasing business can be carried out smoothly. If you need this kind of color matching service, or you want to add some tables and chairs to match your stock color, you can feel free to contact bloom furniture.
The epidemic situation has just improved. At present, we can't wait to contact Demi. We need to order some tables and chairs. This order is mainly for three styles of stainless steel chairs, as well as some winding tables and new farm tables. The main reason why we choose to reorder is that the quality of the tables and chairs we ordered last time is very good, and the delivery time is also very timely. We know the details and technical parameters of each product. This company is very trustworthy, a good supplier can save a lot of valuable time, and they know your requirements for product quality. And when we order more than 6 categories, it's very difficult for us to get together in one company. Here we can meet your requirements very well. So, when you asked me whether I would like to be a reference customer of their company and whether I would like to share my purchasing experience and cooperation experience with blossom, I happily agreed, and I am very willing to.

As a cross chair distributor in Rio de Janeiro, Brazil, we mainly import tiffany chairs and x back chairs. Our requirements for the selection of chair materials and colors are relatively strict. Take the original color chair as an example. The oak we choose is basically the same color as the original color wood. We are trying to find a suitable manufacturer. Bob and his production team solved this problem very well. From the first production process, they selected wood with basically the same color and proceeded to the next step. Although this was time-consuming and costly. However, the original color chairs produced in the later stage are particularly outstanding. And the rattan seats of the seat cushions have also been color contrasted and selected. We are very satisfied with this supplier. Although Brazil's economy is not particularly good, there are always customers who are in demand for these tables and chairs.
I am Mark from Guangzhou and I run a trading company of my own. Mainly to provide customers with good service and good products. My main market is Mauritius in Africa. We sell metal chairs there. An old customer asked me to help find some wooden Napoleon chairs. After a friend introduced me, I met Sophia and started our cooperation. We have been working together for 6 years so far. Every time a new customer asks about these wedding products, I will be the first to communicate with Sophia. She will give me the most detailed data, including product size, packaging quantity, and color selection. Of course, there are some small production videos and production pictures, she will also send me, so that customers can see the real products, which greatly enhances the sense of trust. Together, we helped customers bid, get orders, and won the customer's approval. Although the Mauritius market is good, it also faces the problem of price competition, but the blossoms give me very good prices and allow me to have price profit margins, which is very good.

Our company has grown from a small company to a large one. We not only have a large warehouse and company in Cyprus, but also have a branch in Miami, USA. All of these, I have to say, thanks to the help of blossom factory all the time, from the beginning, we pay attention to every small demand, so that we have a strong competitive edge in the market, whether it is product quality or price. Companies like ours have developed entirely on credit. We once ordered 5000 chiavari chairs at a time. In order to catch up with the peak season, they finished the production in only four weeks. And the quality is very good, because they have some white stubble of chairs for a long time. After receiving our order, they directly arrange painting, so the production will be faster. And some other workers are unable to pay. In recent years, they also began to make resin dining chairs, so they can adapt to the development of the market. And the wooden folding chair is gradually replaced by the resin folding chair. The mechanized production makes the delivery time faster.
Spain Ibiza island has a beautiful scenery, here is Chopin's hometown, there are many historical sites. Of course, the rich nightlife and electronic music are also famous, so many events were born. My family and I have a larger company like this. We prefer one-stop shopping, including tables and chairs, napkins, cushions, seat covers, small tents and other products, put together in a container, even plates and so on. And all of our seat covers are required to have our own logo on them. Demi's company can provide such a one-stop service. And the delivery time is also very punctual, so we don't have to wait too long. I remember one time when we were in urgent need of many chairs, they arranged for workers to work overtime to catch up the goods, which made us very moved. We hope that we can cooperate again after the epidemic situation improves in the future.
Spain Ibiza island has a beautiful scenery, here is Chopin's hometown, there are many historical sites. Of course, the rich nightlife and electronic music are also famous, so many events were born. My family and I have a larger company like this. We prefer one-stop shopping, including tables and chairs, napkins, cushions, seat covers, small tents and other products, put together in a container, even plates and so on. And all of our seat covers are required to have our own logo on them. Demi's company can provide such a one-stop service. And the delivery time is also very punctual, so we don't have to wait too long. I remember one time when we were in urgent need of many chairs, they arranged for workers to work overtime to catch up the goods, which made us very moved. We hope that we can cooperate again after the epidemic situation improves in the future.
In fact, our annual orders are not many, but blossom takes them seriously. Usually, we will use our own freight company to arrange transportation. I mainly sell wooden rocking chairs. I usually buy them every four months, and the quantity is about 600 each time. As for the color of the rocking chair, I will order it according to the data of online sales. Generally speaking, white will account for 60%, while gray or brown will account for the remaining 40%. This supplier will basically prepare a general material in advance according to our order rules to ensure good delivery date. They will also mark the cartons cognitively, because we can see the color of the logo and some other information on the outside of the cartons. The most important thing is that their production team optimizes the product very well, especially in terms of assembly. Ordinary customers can completely assemble the product according to the instructions. Of course, the structure is relatively simple, because after the product is extremely optimized, the packaging and installation become very reasonable.

As a Belgian leasing company, we have cooperated with jeska since 2014. We not only rent event furniture, but also sell all kinds of wedding chairs, so our orders will be regular.
In 2016, after an appointment, Mr. Bob drove to our company from Brussels. We were very happy. This is a very successful meeting. We talked about the details of long-term cooperation and some popular European styles. Especially for some outdoor folding chairs made of metal and wood, there is a great demand in our market. This kind of face-to-face meeting has promoted in-depth exchanges between the two sides, and we can see our actual situation. Slowly, we have a greater demand for wooden dining chairs, dining tables, some leisure sofas and furniture in the reception area. At present, our six-year cooperation is very smooth.charles

Ghana is the country with the best economy in Africa. There are many EVENTS companies here. Our company has been here for 12 years. We know everything here. Including the new popular styles and colors each year, I visited DEMI and their factories in 2018, personally watched the production process of wooden dining chairs and resin dining chairs, and took many actual videos. They give me very good prices and make me very competitive here.
At present, I only purchase wooden phoenix chairs and wooden Louis chairs from this company. Sometimes, I find new styles, and I will be the first to think of them. I will ask them if they are producing this style before I go Choose another manufacturer. Take the wooden Lewis chair as an example. Their rattan weaving technology is very good, and they never fall off. In the choice of wood, they will choose some harder wood to ensure that the structure is strong enough. Of course, we will cooperate well, thank you for your support.

As a well-known wedding company in New Zealand, we got to know the chair manufacturer BLOSSOM through a tent factory we have cooperated with for several years. Our first negotiation on the prerequisite for cooperation took about a month. Because we needed to adjust the quantity, we packed the remaining space of the tent in a container and put some chairs. This includes 300 white resin folding chairs, 300 black resin folding chairs, and 300 brown resin folding chairs. There are also 40 resin Chiavari chairs for children, and 40 resin folding chairs for children. At the same time, we also ordered 9,000 rubber feet for our folding chairs. There are also three samples of the banquet table, a bench, and a cross chair sample, so if we order in the future, there will be a good manufacturer. Such a one-stop service and such a comprehensive product guarantee our time.

It was at the San Diego Fair in 2019. I met Mr. BOB. At that time, in front of his booth, many people were looking at the tables, chairs, cushions, and swatches of various colors displayed by his company. Some customers go under the table to see the structure of the table. I used to buy from the United States. Before coming to the booth, I had carefully browsed their website and prepared a purchase list to facilitate progress. On the first day, I gave the purchase list to BOB. In the evening, he listed the detailed quotation, including the freight, and helped me make suggestions to ensure a more reasonable shipping of the containers. Due to the close look at the quality of their products and the previous online understanding, we quickly paid the deposit, and now we are still cooperating again. I believe that as the epidemic situation improves, our wedding market will pick up, and we will continue to add new style
I am 67 years old this year. I always know that in our ancient Australian country, we will continue some classic styles. Whether it is a wedding chair or a dining chair, we rarely change the style and rarely accept new styles. We have been cooperating with the same suppliers for many years, unless they encounter difficulties in production and cannot guarantee our delivery time and quality, we will replace them. The original bentwood chairs and cross back chairs are very popular. People like products in primary colors, as well as brown. Due to the slow progress of our supplier in Zhejiang this year, we gave part of the order to the company where DEMI is located, as well as our customized outdoor farm table, and handed it over to them for production. They pay attention to every detail, color, structure, packaging, size marking, and other details, and will communicate with us seriously. Australia is also very good at fumigating wood products, and they provide many documents that fully comply with customs requirements to ensure that we can get the goods smoothly.

After being introduced by our American counterparts, we learned that Blossom can not only produce high-quality wooden chairs, but they are already producing the most popular stainless steel chairs. Of course, including those mirrored tables and even some dining chairs with soft bags, they can all produce. This surprised us very much. We are located in northern Atlanta. The shiny stainless steel chairs have a big market. People like them very much and there are many styles. Later, this factory gave us many suggestions, such as improving and optimizing the stacking method of the chairs. Of course, it also includes the color of the seat cushion, whether the seat cushion can be removed, and whether the back of the chair can be interchanged. Through these suggestions, we can not only save costs, but also pack more chairs and tables in the container. As you know, the current sea freight is very crazy, so if you pack a little more cargo, you can share the cost evenly. We have our own choices, and we are also very happy to accept these pertinent suggestions.

As a Canadian company familiar with the industrial chain of Chinese suppliers, we know very well that Chinese manufacturers can produce products with low prices and good quality. However, sometimes we also worry about the factory being shoddy and delaying the delivery. But since we ordered aluminum chiavari chairs from BLOSSOM, the factory has always kept interacting with us and invited our Chinese quality inspectors , Participate in the supervision of product quality. We conducted inspections in two parts. After welding and assembly were completed in the factory, our QC inspections were conducted and a full score was given. The structure of the entire chair is perfectly welded and uses top quality raw materials. After electroplating, we conducted another inspection, and found no unqualified products, and the manufacturer installed about 3% of excess foot nail accessories in the container. The container is also loaded with 1450 metal CHIAVARI CHAIRS as much as possible. At present, we are still using these lightweight, stackable chairs. We also recommend surrounding buyers to buy from here.

As a place for a farm celebration, this farm was previously leased to others. My family and I run a motorcycle club. We are next to the highway. After my tenant moved out, after a long period of inspection, we decided to re-use the farm, so we decided to make it a wedding venue. In the UK, the English bamboo chair and the oak cross chair have been used for nearly ten years. Unchanging classic tables and chairs. While we are building, we are purchasing wedding tables and chairs. Among the 5 suppliers we contacted, Betty's response is always the fastest and most professional. Regarding the price, their prices are also moderate. Because we are importing for the first time, we found a local import agent. Fortunately, during the production process, we can always receive a lot of photos and videos to help us understand more of the production schedule, process, and Let us dispel a lot of doubts. Of course, we have also ordered corresponding cushions to match these chairs, and hope we can cooperate with them for a long time.

I am a German furniture rental company. We have always been hoping to find a banquet chair supplier that can customize the color. In 2018, we found the banquet tables and chairs manufacturer BLOSSOM through a Google search, and we sent them a try Several photos of cross chairs, their sales staff clearly told us how such a chair was produced, how to operate the color, and made three color panels with similar colors for us to help us Courier to the office in Germany, we chose a color. Then they made a sample of the chair and sent it to us through multiple videos. We thought the effect was very good, so we ordered 800 pieces, divided into two styles. In addition, we contacted the China-Europe Express, and we were very satisfied with the smooth transportation here.

Hi My name is Angelo from Italy, we cooperated business with Bob Tan from 2008, and mainly buying wooden chiavary chairs for white color, as you know, their white chiavary chairs never changed yellow 5 years later, they use nice quality painting work. And during improvement, Bob Tan improved too much with his company. Great manufacturer and nice service. He always said the customer is king. If you want to wholesale tables and chairs for events, choose Blossom, please.

I am Christos from Greece, we do business since 2011, it was a very deep impression, when I asked the quotation, they respond very quickly and professional answers about quality control, loading quantity, products size, when I asked the samples for checking quality, they send the sample also very quickly. Also, they accepted one 40ft HQ container mixed difference color and difference models, as you know, this is not easy. Also, they offer nice custom clearance and document service. Thanks so much for all the support from Blossom

My dad and I cooperated with Ms. Jeska From Qingdao blossom from 2015, we just inspected the container one time in December 2015, after that we did not come here. Jeska always sends us detailed pictures and videos of wholesale tables and chairs for events, our eyes in the factory, so we know everything about production processing. Fantastic !!!! Total is the best thing that has ever happened to my small business. They helped me offer great coverage to all my employees at an affordable price, saving me time & money.
Buyer's Guide About Wholesale Tables And Chairs For Events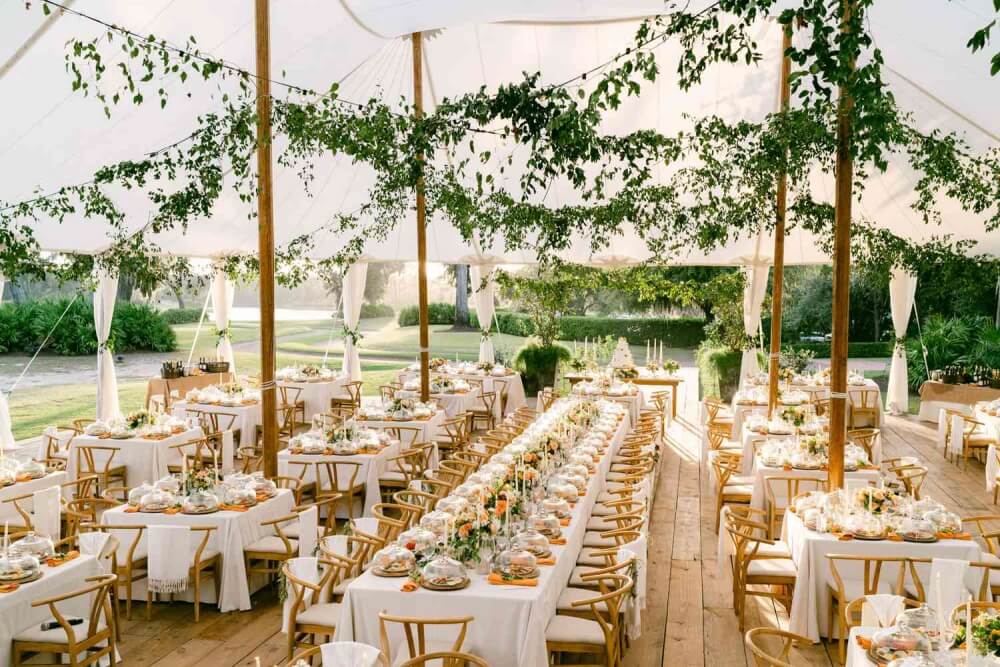 November 24, 2023
Introduction Every detail, including the choice of tables, is crucial when planning a wedding. Farmhouse…