Stainless Steel Table Manufacturer
Qingdao Blossom Furnishings Limited is located in Qingdao City, Shandong Province, China. It is a set design, production, sales as one, specializing in high-grade hotels, wedding parties, and event of furniture enterprises. Our company is face to the world, constantly perfecting and innovating. Have a professional sales team and a perfect service system. We can provide the overall supporting engineering project. Our main products include stainless steel tables and chairs, hotel banquet tables and chairs, Chiavari wedding chairs, metal chairs, western-style dining chairs, sofa, and other hotel furniture. Suitable for the clubhouse, restaurant, hotel banquet, hotel suite, and so on.
Stainless Steel Table Feature
Stainless steel has a long adaptation time
The desktop color can be many kinds, black glass, white MDF, clear glass
Frame color, the base color can also be silver, white, etc.
Our stainless steel tables can be removed at any time and are easy to install.
Popular size: 60" (5 ft), 153 cm dia
Minimum order quantity: 4 pieces
Description
The unique metal wire frame is particularly smooth and durable. The round-tempered glass top cover
highlights the outstanding design of the base frame. The base frame of our table is made of stainless steel
with good materials. We first cut the material with a professional machine.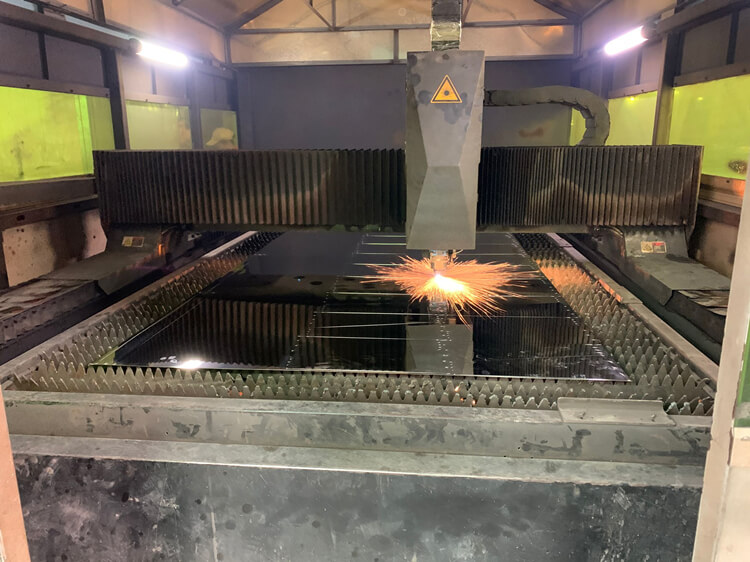 The stylish brushed stainless steel mirror frame, coupled with a clear tempered glass top cover, is an ideal
choice for restaurants, making this dining table an ideal choice for any room in the house.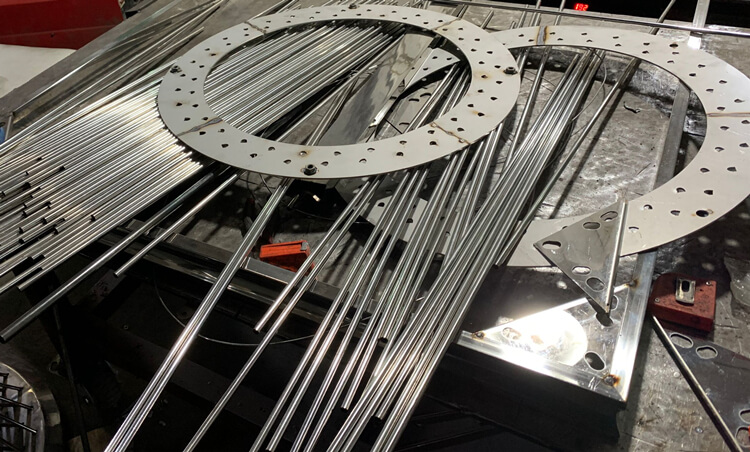 The polished metal base is formed by metal strips that are cleverly arranged in a visually attractive
overlapping design. And, The product size is 48 inches wide x 48 inches deep x 28 inches high.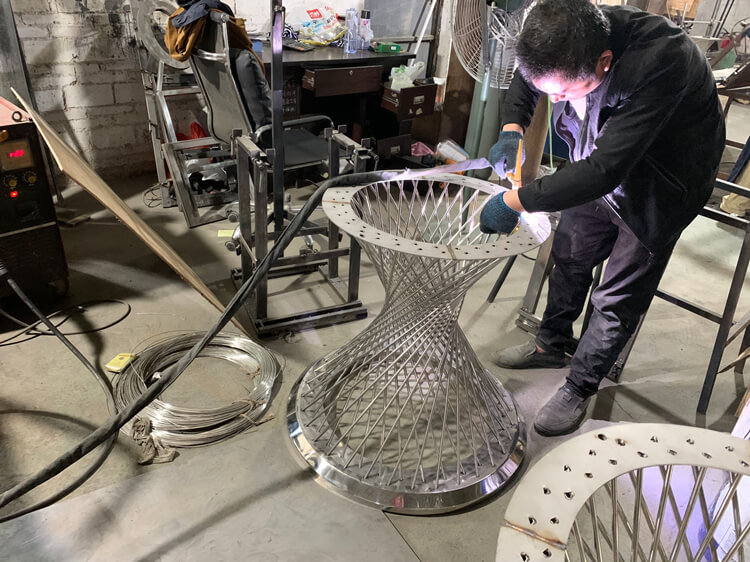 We have selected high-quality stainless steel materials to bring superior durability and modern aesthetics to
the dining table base. The base is uniquely designed and the table legs are ingeniously designed to be rotatable.
This ingenious innovation allows the table to be easily rotated and folded when not in use, which greatly
facilitates storage and saves storage space to the greatest extent. This design not only makes your dining place
more tidy and organized but also brings you unparalleled convenience. Whether in a busy restaurant
environment or an occasion where frequent adjustments to the dining layout are required, our plinth designs
can meet your various needs, bringing more flexibility and comfort to your dining space.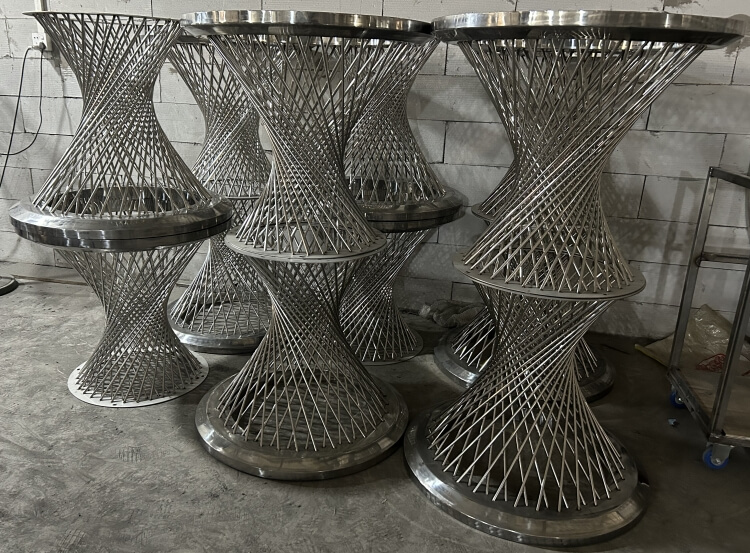 We carefully design our table frames, using high-quality materials that meet exacting standards of use,
ensuring a sturdy and durable structure. Not only that, but we also provide you with customization options,
which can increase the thickness and width of the shelf according to your specific needs, further enhancing
the stability and load-bearing capacity of the table frame. Whether you are pursuing higher usage requirements
or the needs of special occasions, we can tailor the most suitable table frame design for you, providing a
comprehensive guarantee for your dining experience.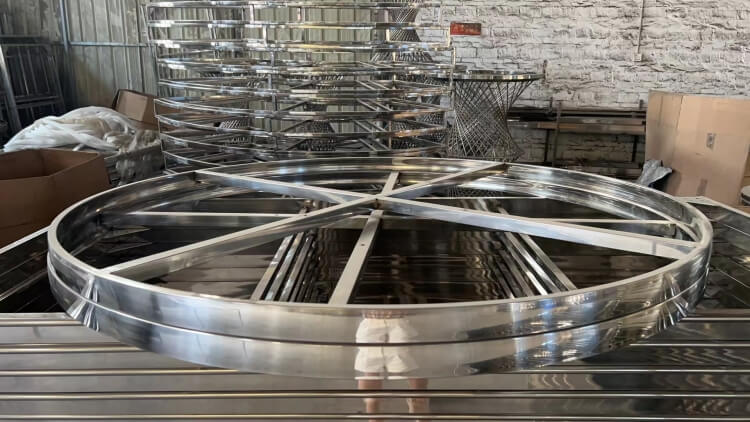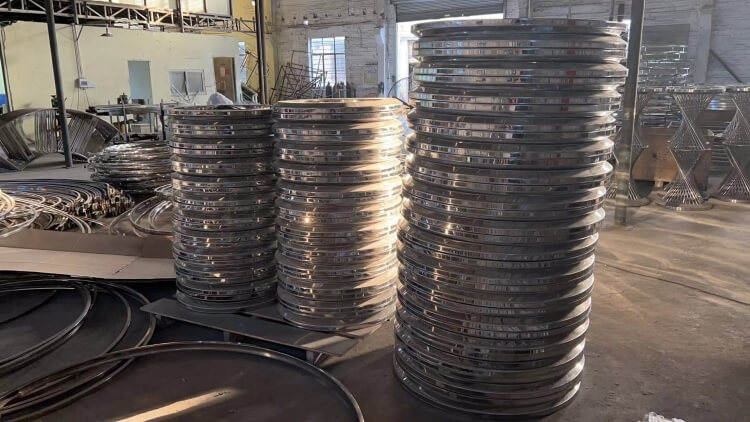 The table adopts a gorgeous round, strong, and transparent tempered glass tabletop, which is completely
supported by a modern and bright chrome-plated cross base.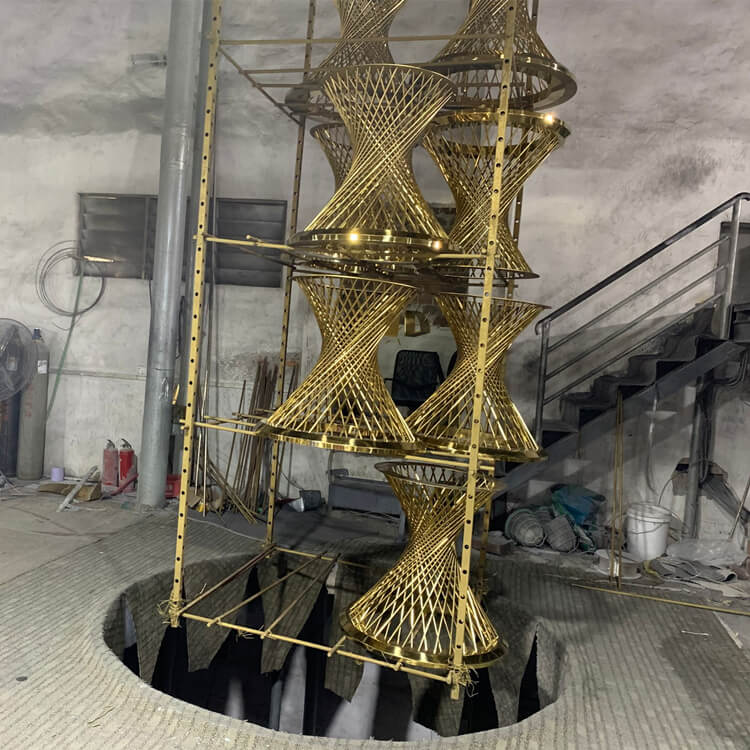 The top is a clear glass finish. The bottom plate adopts different metal colors. There are two sizes to choose
from. This stainless steel table is smart and stylish, can accommodate four people, and reflects light when not
in use to visually enlarge the room as well.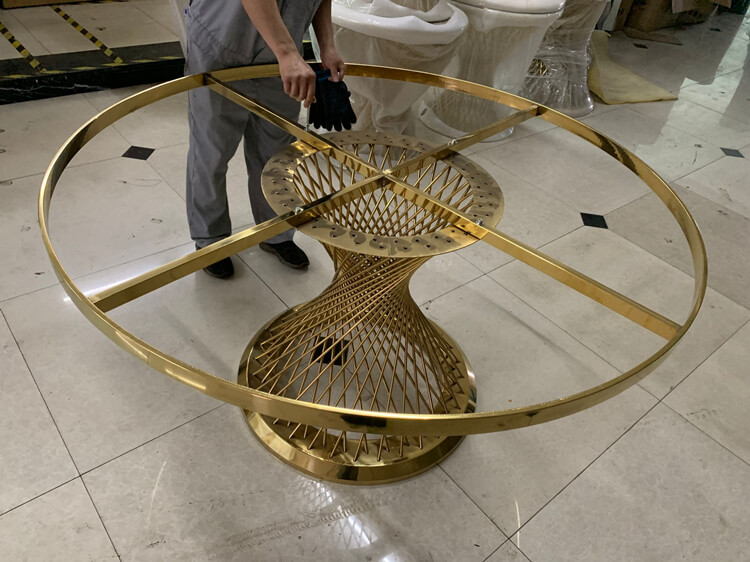 This exquisite dining table can transform your restaurant into a charming space for formal dinners. The
the chrome-plated surface on the stainless steel base is eye-catching, while the black tempered glass top cover
exudes a luxurious atmosphere. The bar is designed into a cage-like design and the polished stainless steel
frame echoes the roundness of the top, and adds a modern touch, which closely combines the appearance to
create a cool metal texture.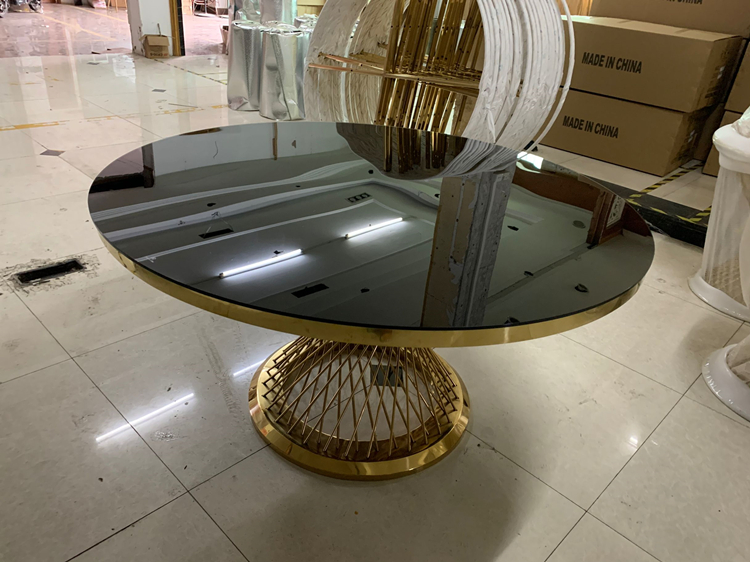 The stainless steel dining table, as a versatile tableware option, is widely used in various occasions including
restaurants, banquets, and wedding venues, adding a touch of modern style to the dining experience. Its size
can be customized according to needs, with multiple options including 4ft, 5ft, and 6ft, while the standard
height of 76cm ensures a comfortable dining position.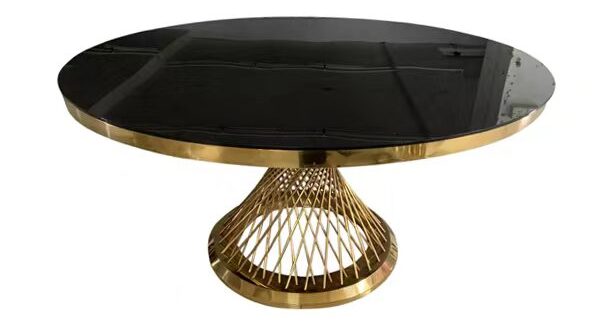 The design of the stainless steel dining table also makes the choice of countertops more diverse. You can
choose transparent and bright glass countertops to create a light and transparent atmosphere according
to your personal preferences and the style of the place, or you can choose gorgeous marble countertops
to add dignity and uniqueness to the dining place. The variety of these top options allows each table to
be personalized according to the needs of the client and the character of the occasion.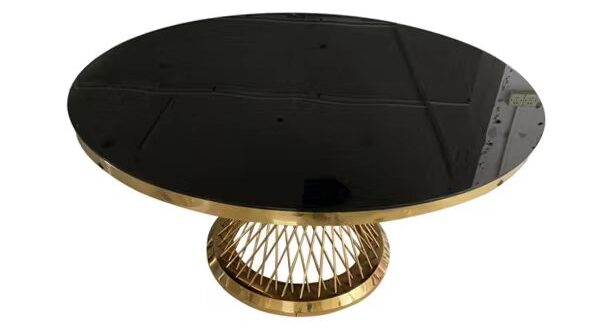 Whether you're after modern simplicity or classic luxury, a stainless steel dining table can bring unique
charm and functionality to your dining setting. Its robust and durable nature makes it ideal for long-term
use, adding a touch of quality to every dining moment.
Stainless Steel Table Manufacturing Process