Fireproof Cushion Crossback Chair
Qingdao Blossom Furnishings limited is a fireproof cushion crossback chair manufacturer. We have our own wood chair factory in China. The wooden cross-back chair is the perfect example of rustic charm. The French country chair uses a unique antique finish that will surely set off your theme. x-back is both supportive and stylish and complements the curved design. The wooden cross-back chair has its own ivory-colored cushion. This accent design is exactly what your event needs! The monthly output of our cross chair factory is 9000pcs, and the lead time is 5 weeks.
Fireproof Cushion Crossback Chair Feature
Up to 9 chairs can be stacked
Our cross-back chair cushion is a fireproof cushion.
Floor Protector Plastic Glides
Ships Fully Assembled
400 lb. Weight Capacity
per chair is 4.40 kg around
With fire detection report
Fire Cushion Cross Chair Cushion is replaceable. You can use rattan seat cushions in summer and velvet soft cushions in winter, which are easy to replace.
Our Fire Cushioned Cross Chairs fit European standards and currently, the main market is the UK.
Crossback chair materials can choose birch and oak
Can be primary color or other colors, according to your needs.
Description
1.100% Solid Wood
A fireproof cushion crossback chair is made of high-quality beech or locust wood, durable, sturdy,
and durable, and can be used indoors or outdoors for a long time.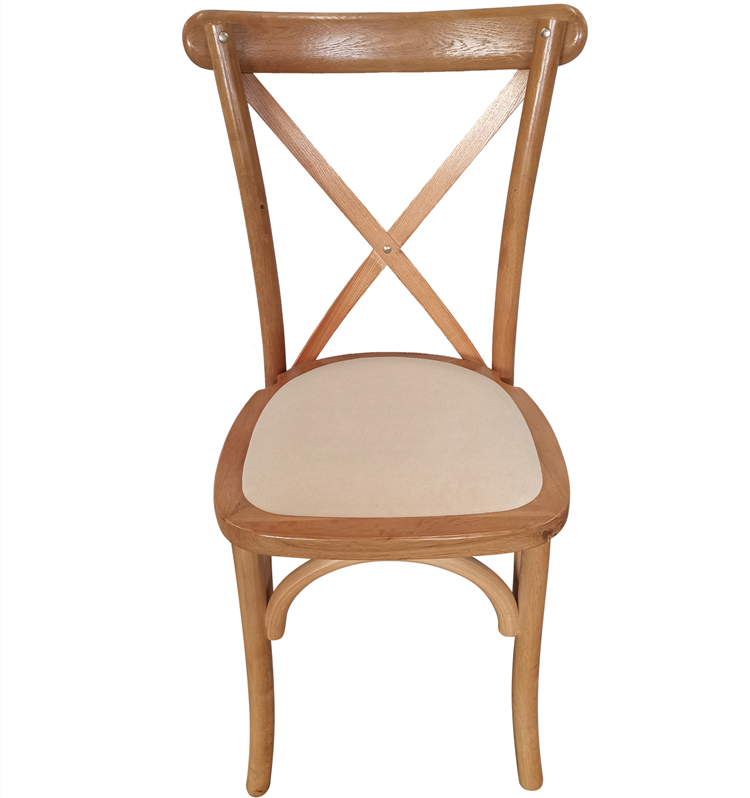 2. Special Painting
Each chair has 5 times of environmentally friendly PU paint, including 3 times for the bottom surface and
2 times for the surface. It has high adhesion and is not easy to peel off. The surface treatment of the chair
is very beautiful.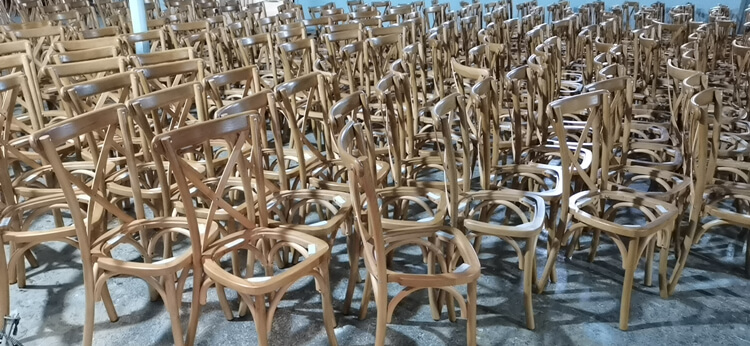 3. Metal Bracket
Four steel connectors are used between the bottom of the seat and the legs to tighten the chair, making it
safer to use and not easy to break.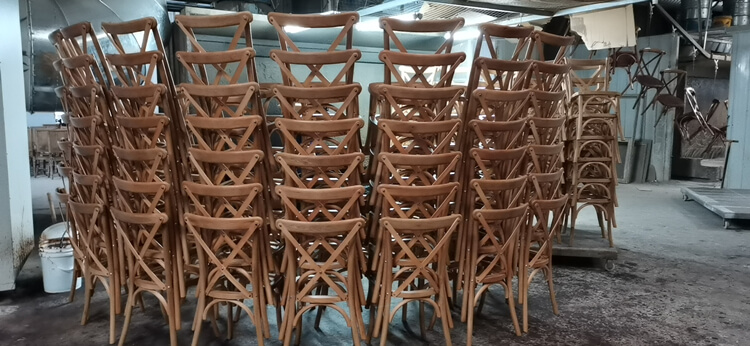 The wooden cross-back chair is made of beech wood and is an excellent addition to your rental inventory,
banquet hall, or restaurant. Depending on the look you want, you can buy cushions with or without cushions.
These whitewashed wooden cross-back chairs are the perfect embellishment for various event themes.
Due to their design, they hug the back of a person's body and provide a comfortable seating experience.
Stacks up to nine chairs. All our fireproof cushion crossback chair is equipped with protective foam coverings.
After receiving the chair, you need to remove the foam strip to use the product. Please include this in your
plan before using it.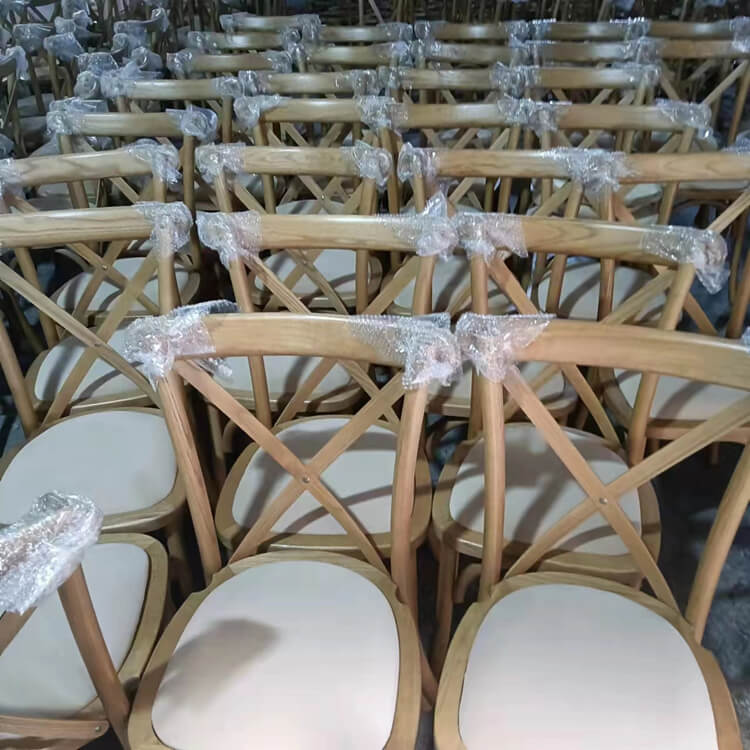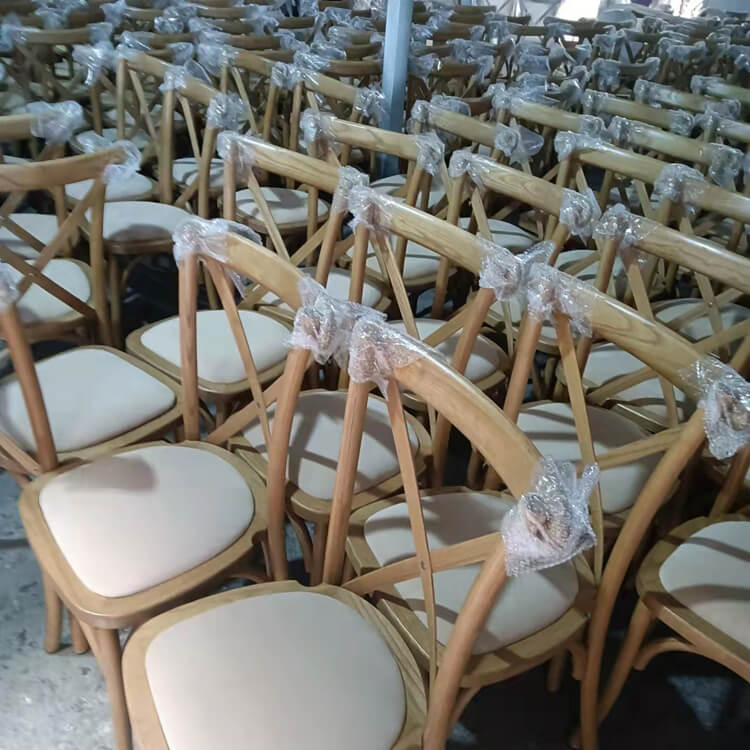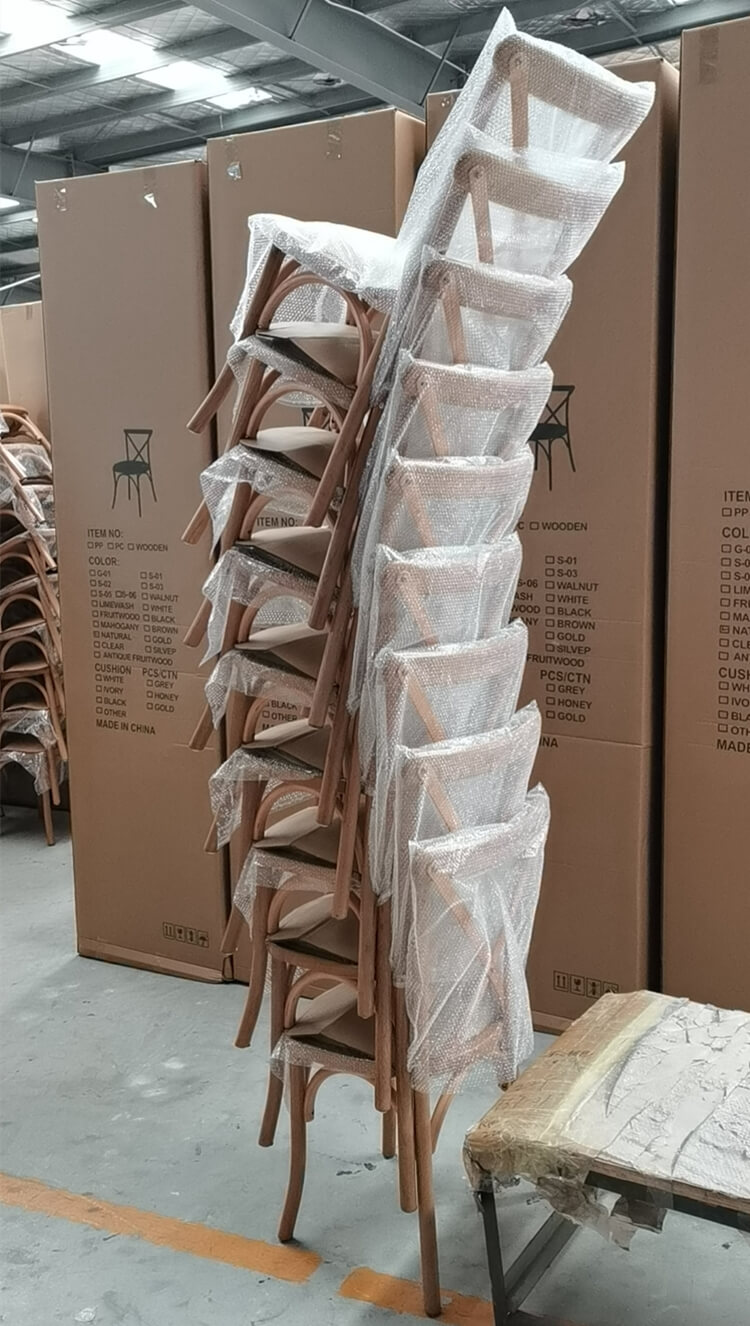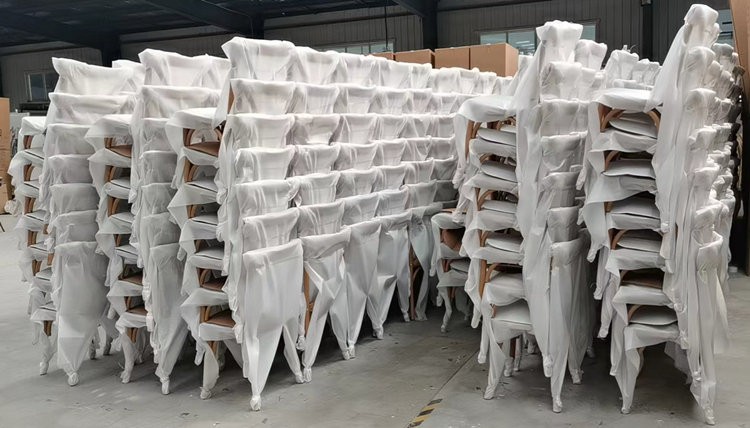 These sturdy hand-made chairs and charming matching table and chair products are not only designed for
indoor and outdoor use such as weddings, birthday celebrations, and formal wedding dining. It is also used
for all types of ceremonies and can be used with modern dining areas and wine barn locations. All our
wooden chairs can be stacked up to 9 chairs high-saving space, storage, and transportation.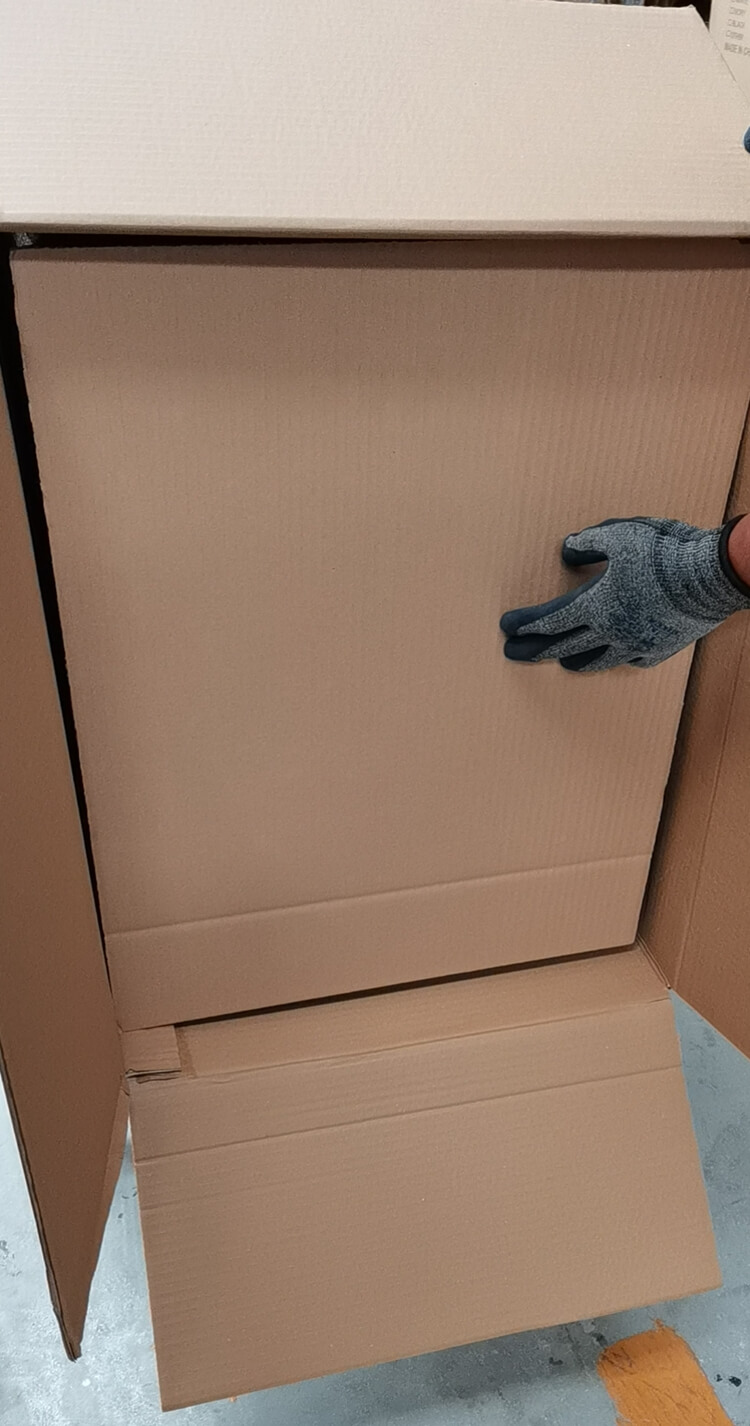 The wooden Cross Back top rod design not only has a wider and stronger curved backrest that spans the
back of the chair, but also has a variety of colors and/or colors to choose from, or can match the color of
our country dining table. We also offer to match the color of all our products with the color of your
existing high-gloss or semi-gloss coating.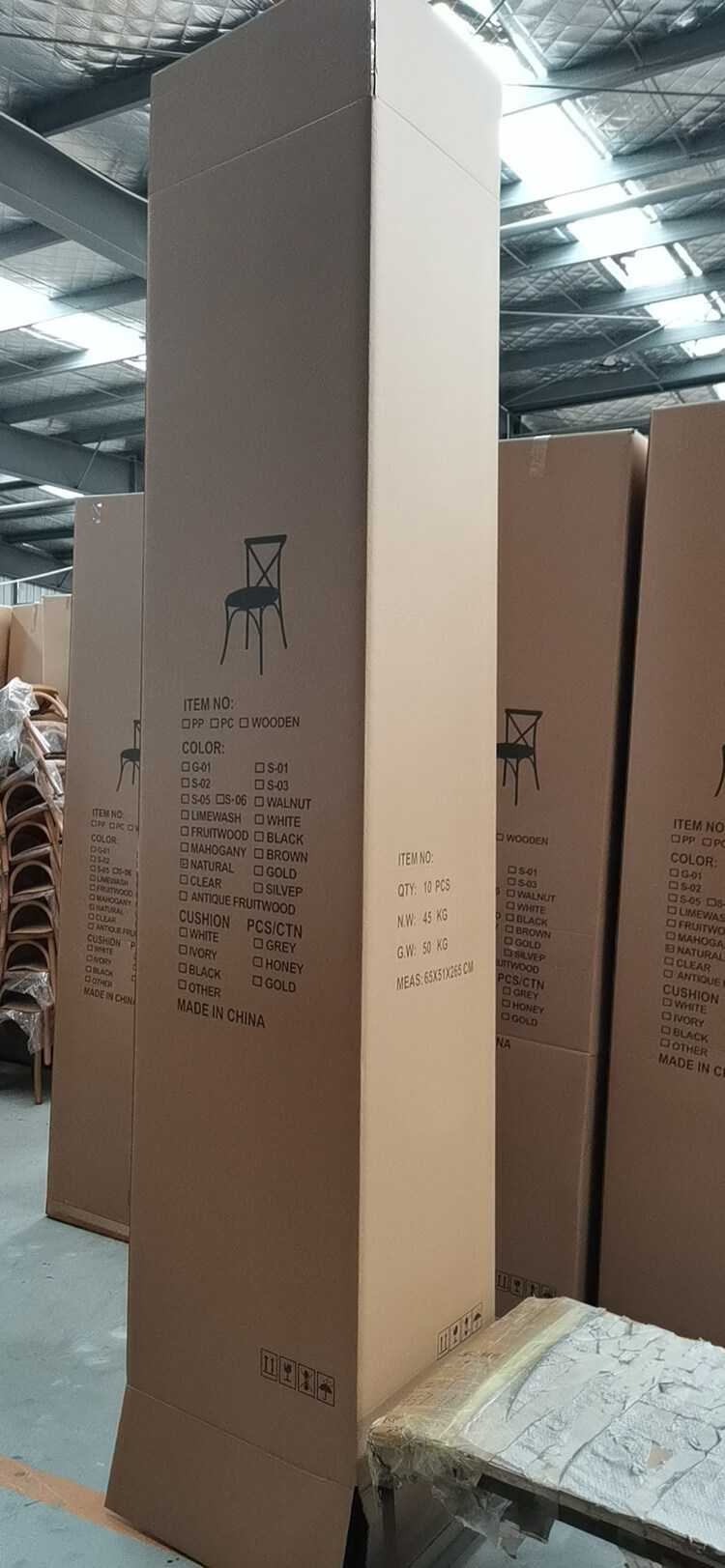 This is our old British customer who bought our fireproof cushion cross chair and likes our product very much.
It is said that the quality of our products has always been very good.