Stackable X Back Chair Rattan Seat
Qingdao Blossom Furnishings as the leader of Stackable Wooden Chair Manufacturers in our area, we can produce more than 25600 pieces of X Back Dining Chairs Wholesale monthly in different colors. Our wooden antique x back chairs can be made of solid beechwood or solid Oakwood. Limewash color is popular in the UK market.
Wooden X Back Dining Chairs Wholesale Main Features:
Solid wood frame: solid beechwood or solid oakwood
Stack ables for 9 chairs no fall
Seat style: Solid wooden seats or natural rattan seats
Chair size: 48*48*90cm
Chair seat size: 41*41cm
Rattan parts size:34*34cm
Chair weight: Around 4.3 kgs
MOQ: 200 Pieces
Color Available: limewash, natural, brown, white and so on
Without Carton Loading Quantity:
396 pcs  per 20 GP container
792 pcs  per 40 GP  container
930 pcs  per 40HQ container
[su_button url="https://blossomfurnishings.com/contact/" style="soft" background="#ef2d49″ color="#ffffff" size="16″ wide="yes" center="yes"]Get Quote[/su_button]
Description
Start Your Order For X Back Dining Chairs Wholesale

In our area, there are more than 3 big Stackable Wooden Chair Manufacturers, we are one of the biggest and
professional wooden Chair Manufacturers for more than 15 years.  These popular stackable X back dining chairs
wholesale with rattan seats can be produced more than 11 colors as well. We only do X Back Dining Chairs Wholesale.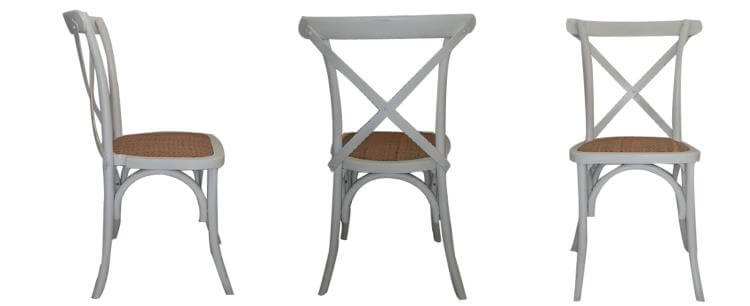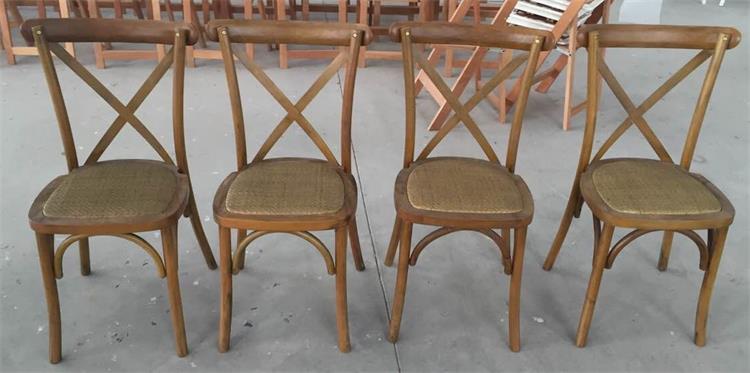 If clients just asking for painting work, we will assemble the chairs first, then we do painting work.
Regarding the stain color, we have to stain the spare parts of chairs first, then, we assemble them together.

Chair back tops parts

Wooden legs showing the wood grain as well
Wooden X parts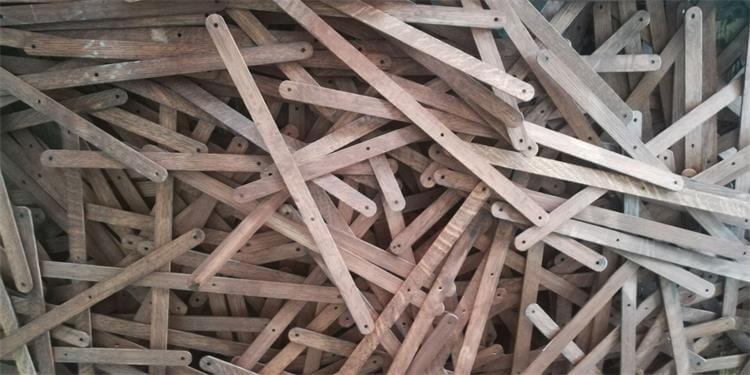 Stain works for wooden seats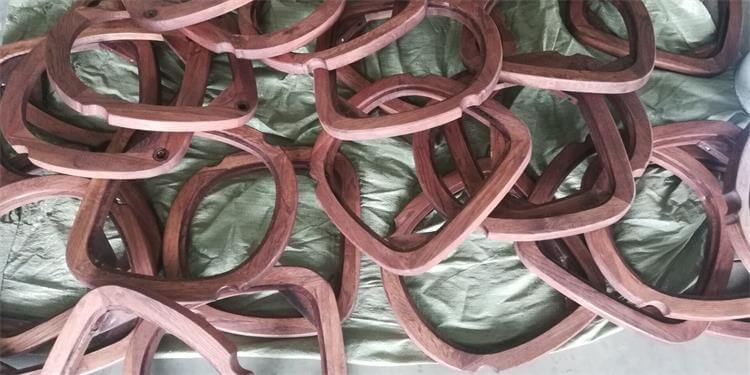 Our workers drop the wooden parts into oil paint and stain again, 3 times as well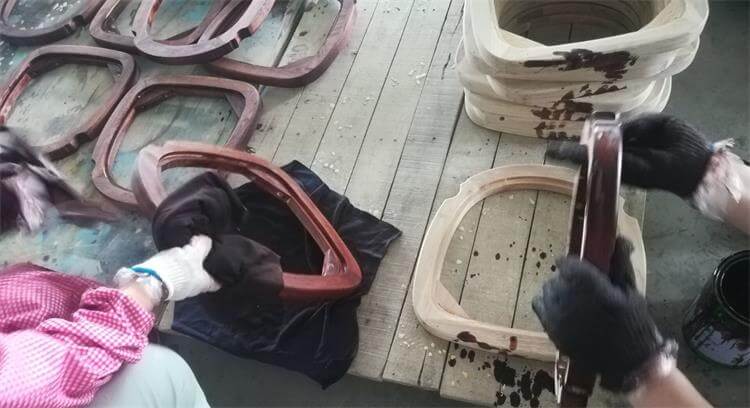 Front chair legs stain works as following: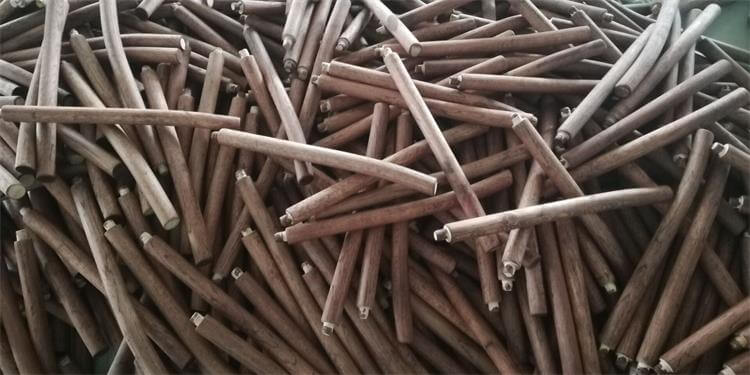 Then we assemble the spare parts together, and our workers will stain 3 times and make the surface painting
one more time.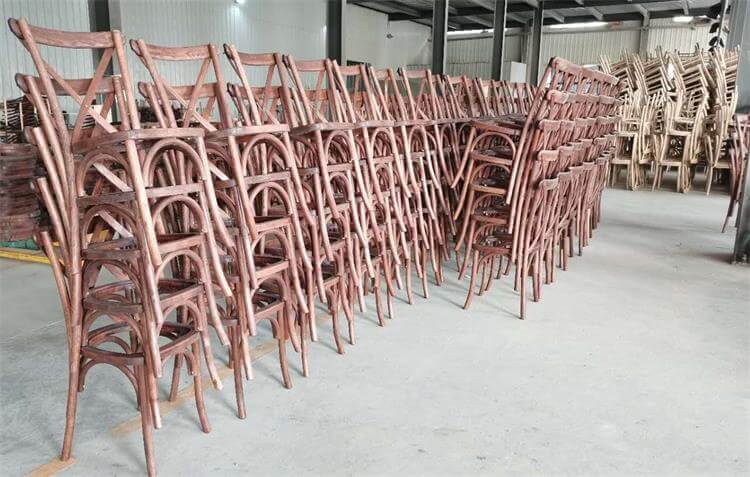 This is the last time painting before we assemble the rattan seats as well.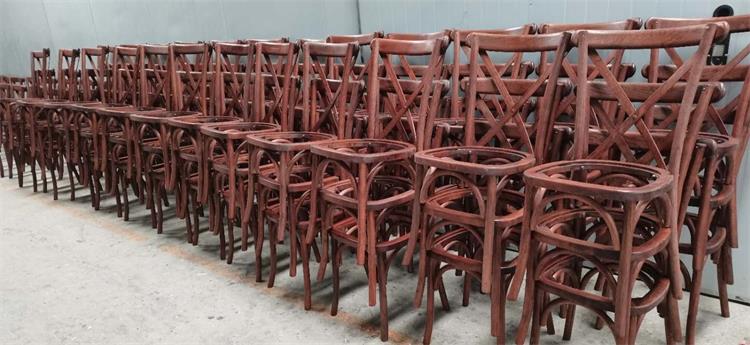 We selling these cross back chairs with natural seats to one Germany client as well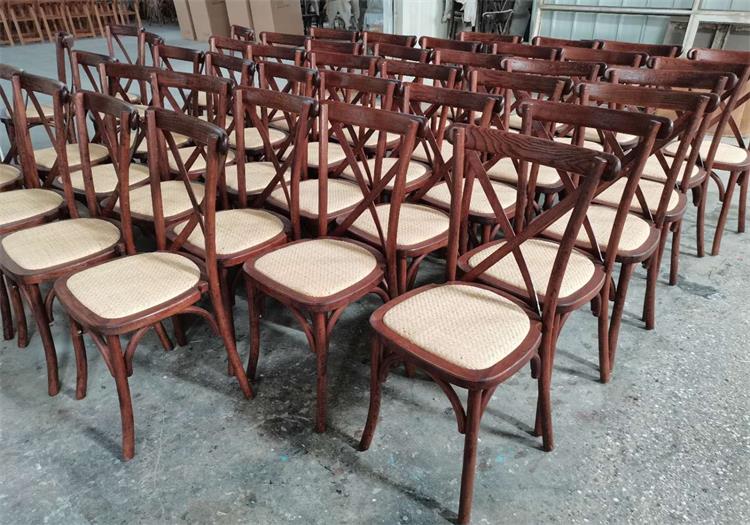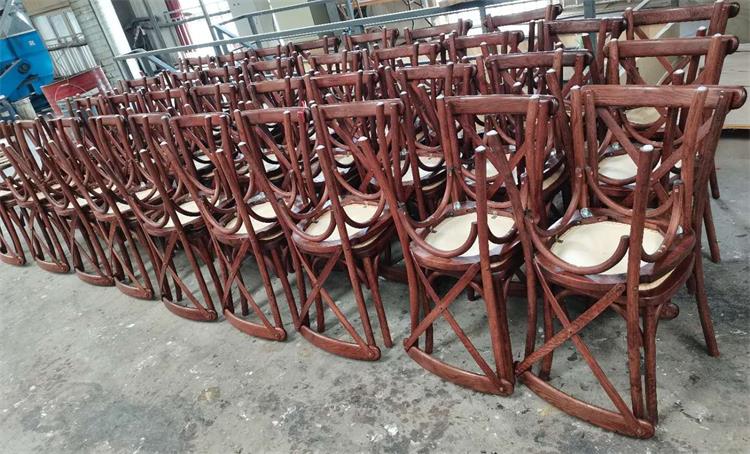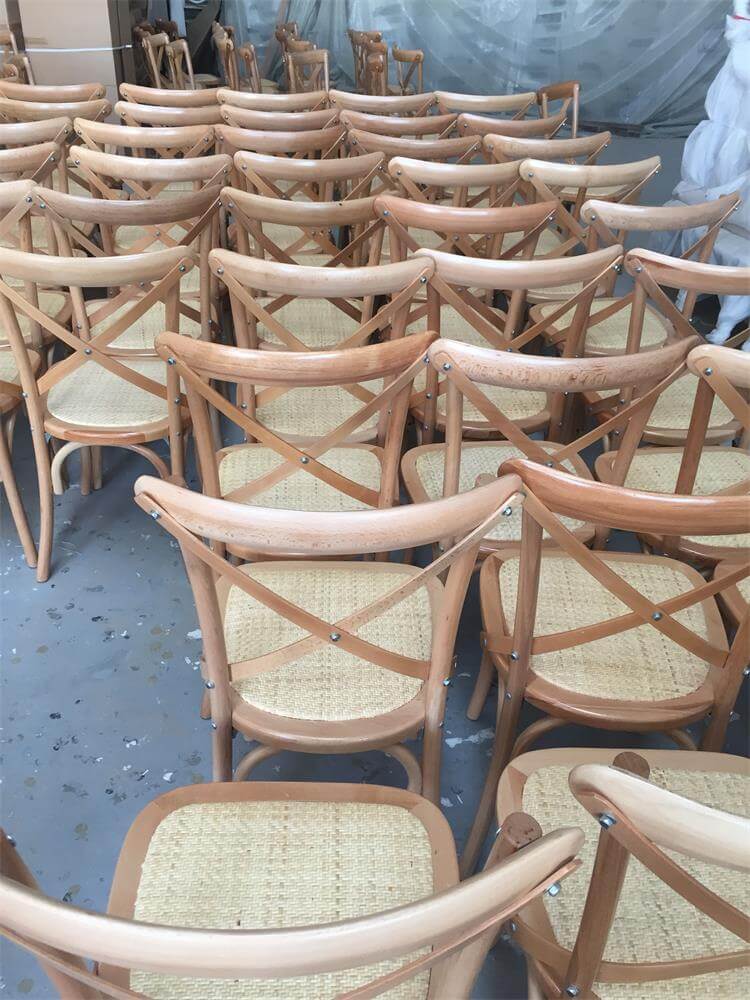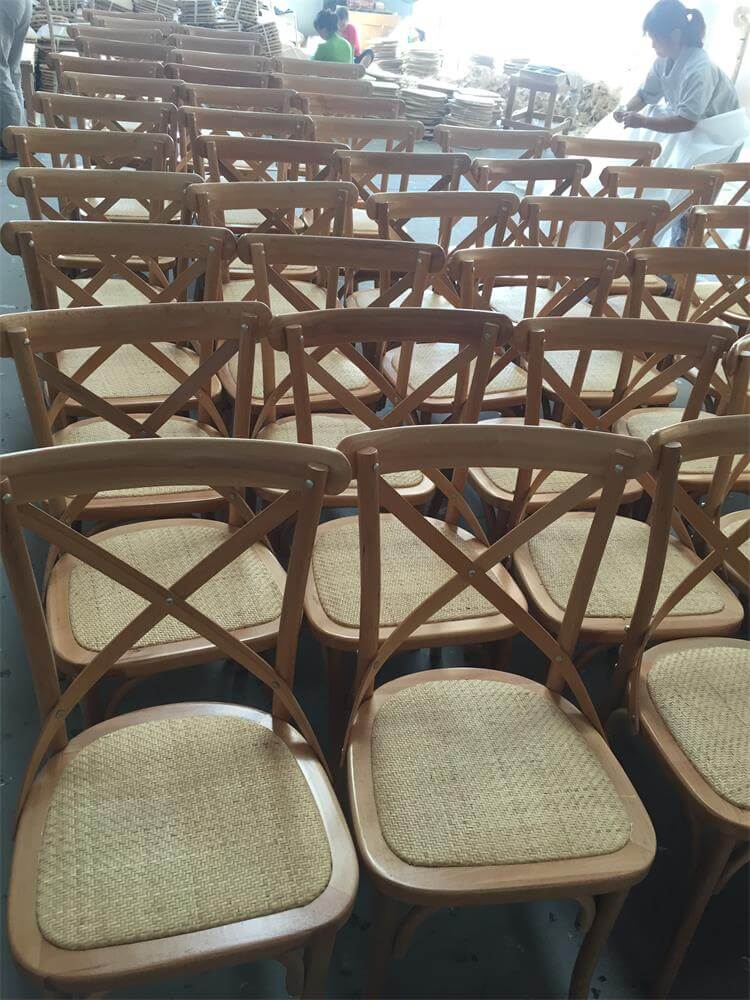 Stackable beech wood x back chairs construction as same as Oak stackable x chairs as well.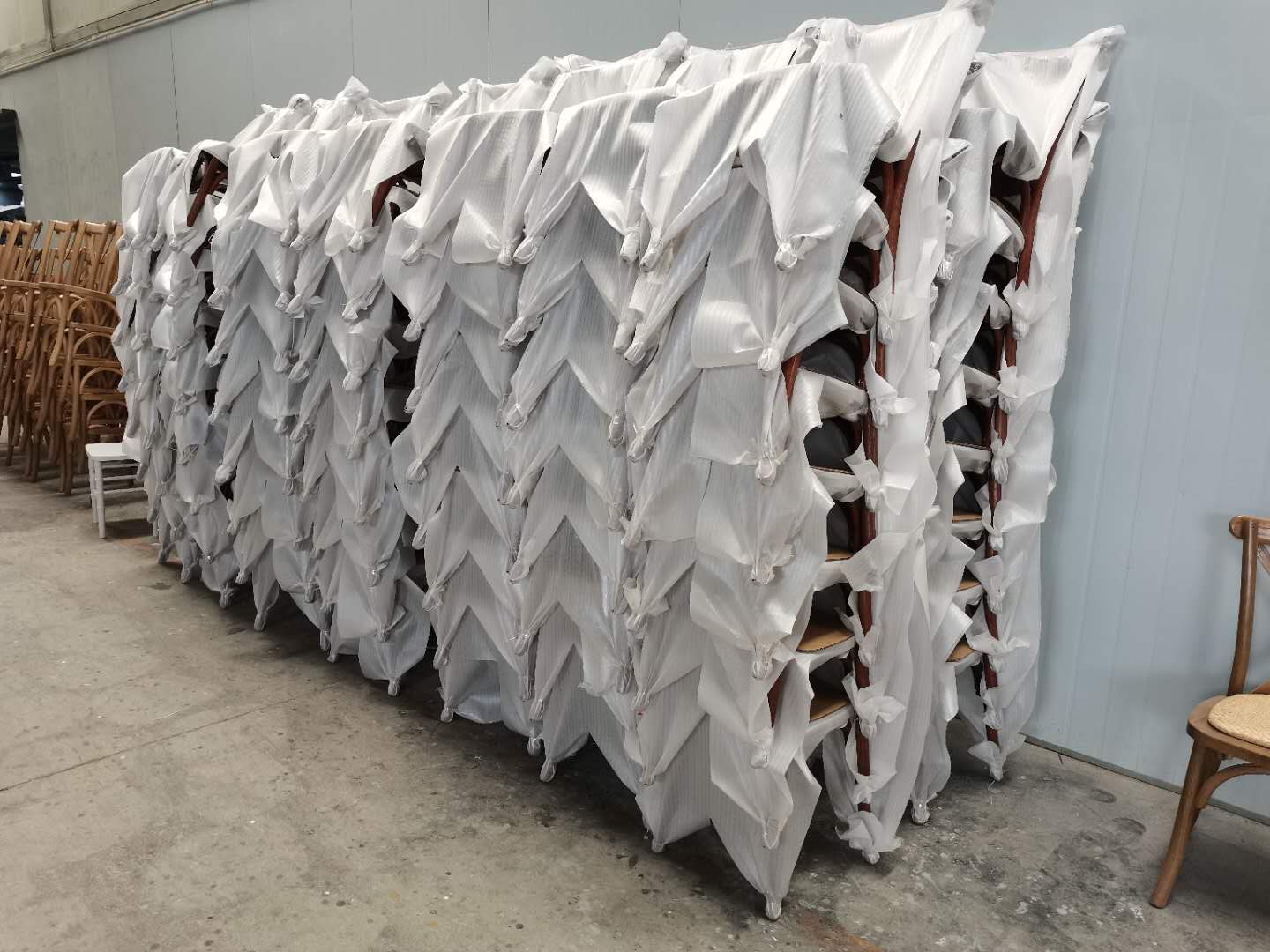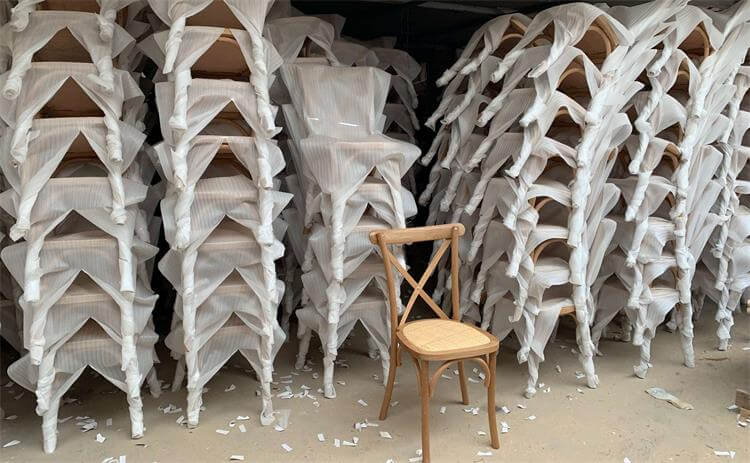 How to inspect the quality of our rattan seats x back chairs:
Our QC team inspects each step of cross back dining chairs processing during mass production when we find some
chairs not perfect,we will modify them. We pay more attention to the chair's construction, color matching, package.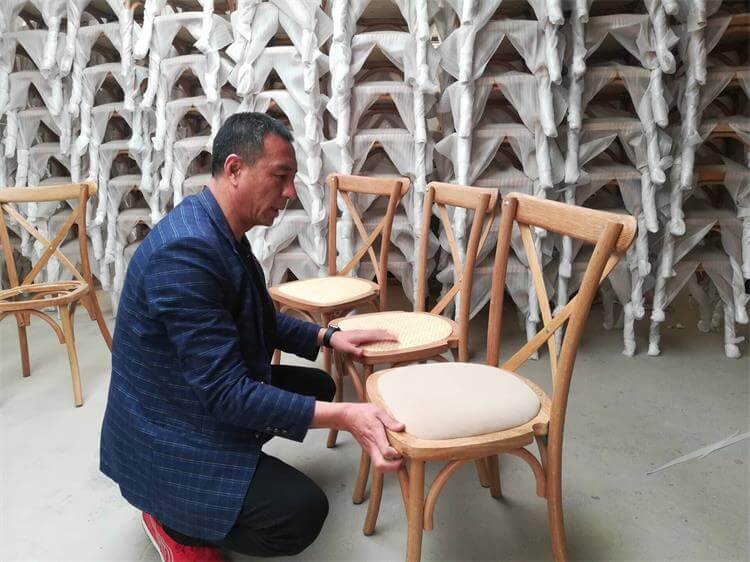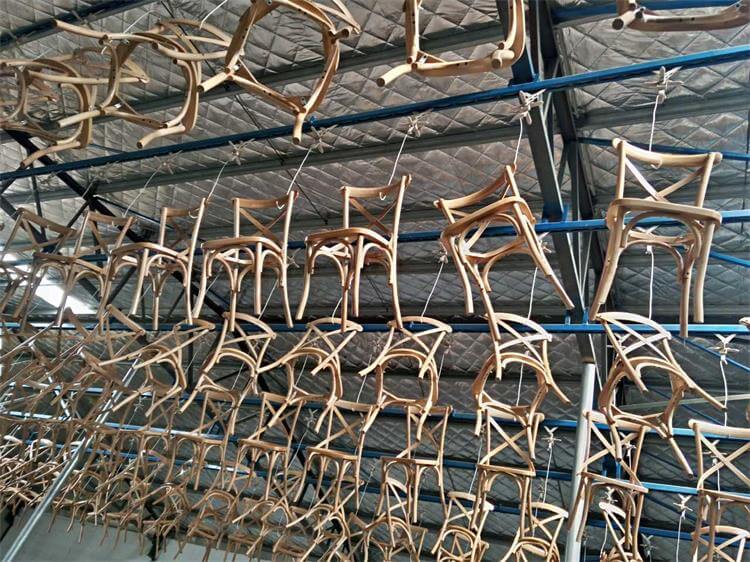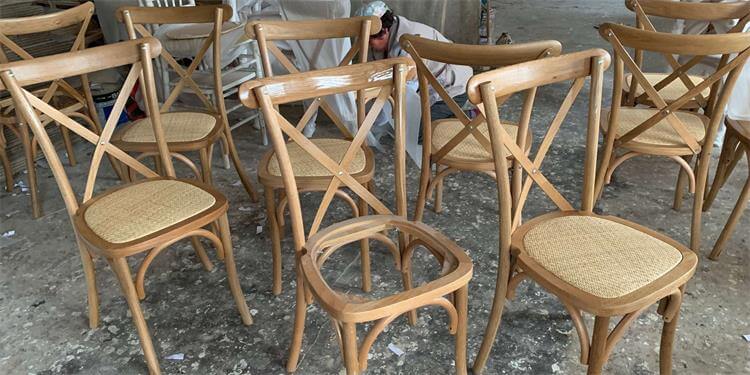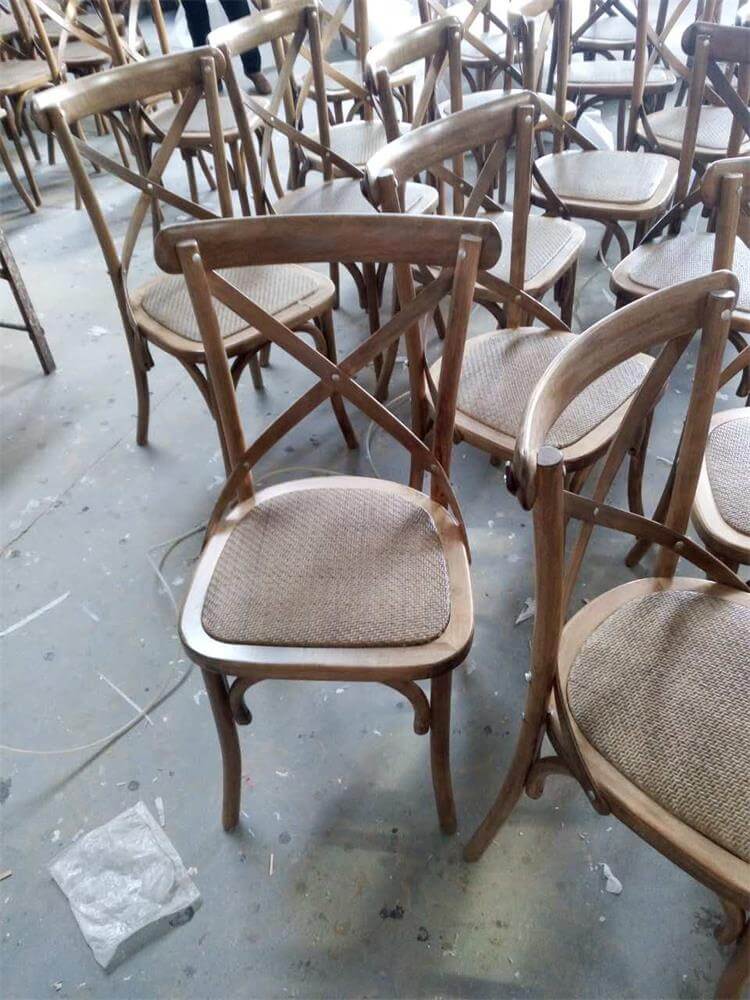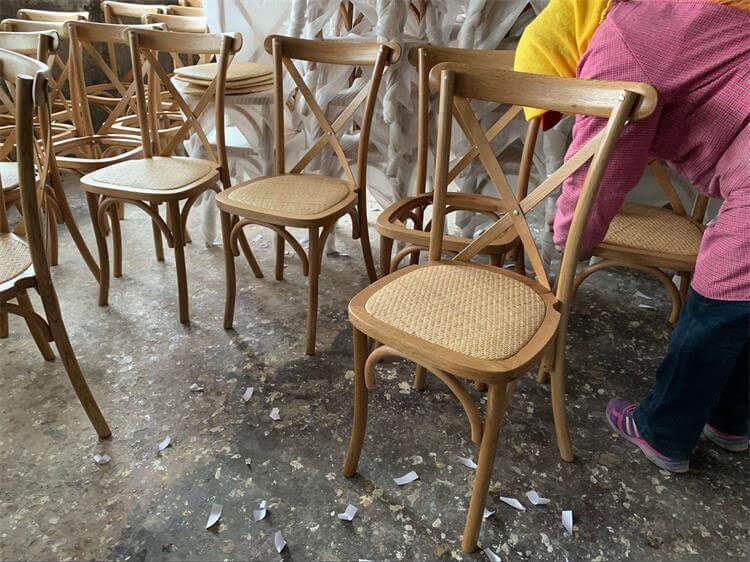 Blossom Furnishings buy natural rattan and plywood for our stackable wooden chairs, our workers produce the
rattan seats by ourselves. We can produce more than 9680 pieces of rattan seat 2 weeks, and we also can produce
them in different sizes.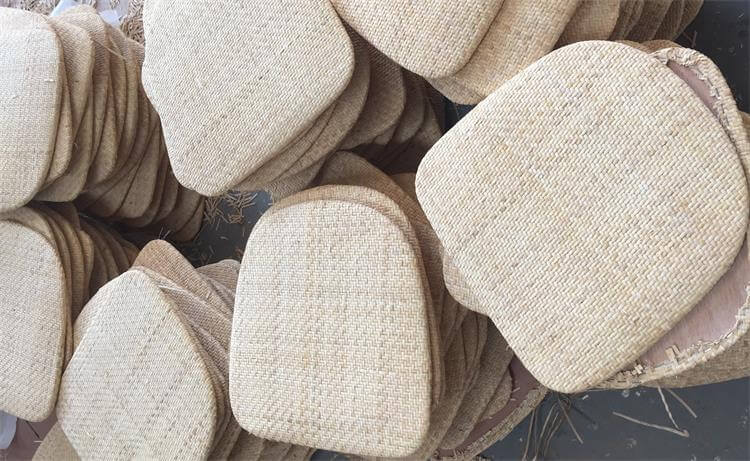 We fix the seats on the crossback chair frame, we use about 4 L shape hardware and screws. So that the seats will be
very strong one the frame. And also it is so easy to fix them if some seats old or issues.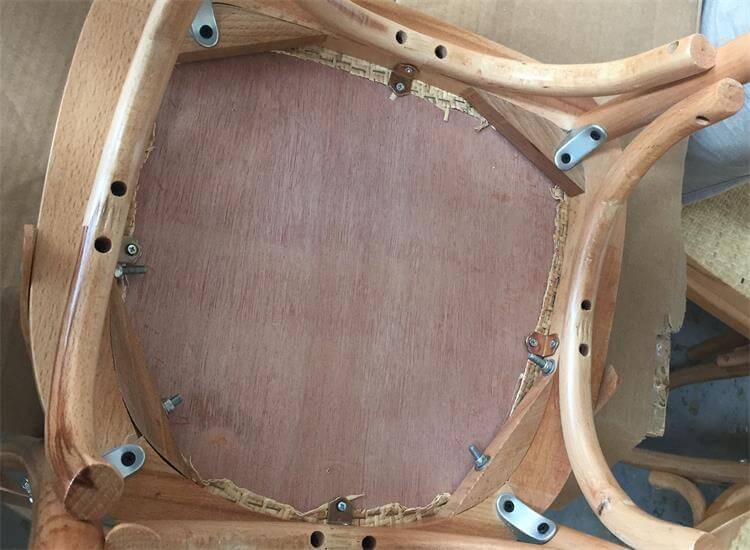 If our customers request metal x parts, that will be also nice, black or brown color of metal x parts will make
the chair back very strong.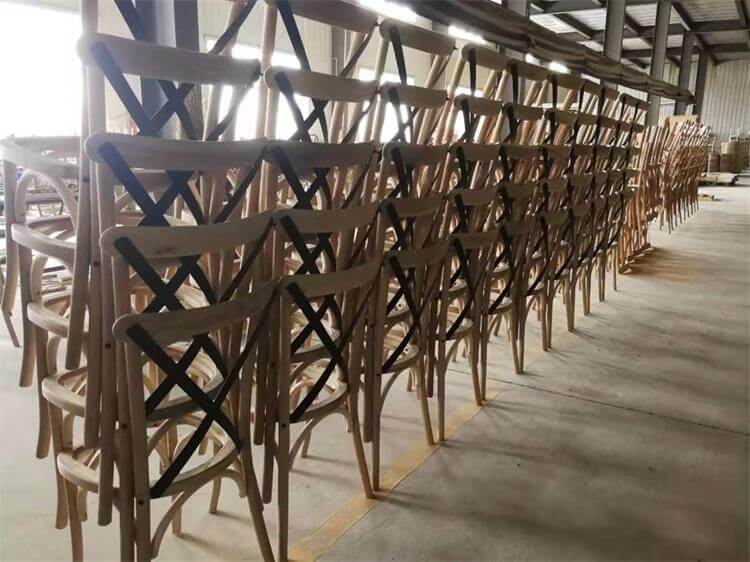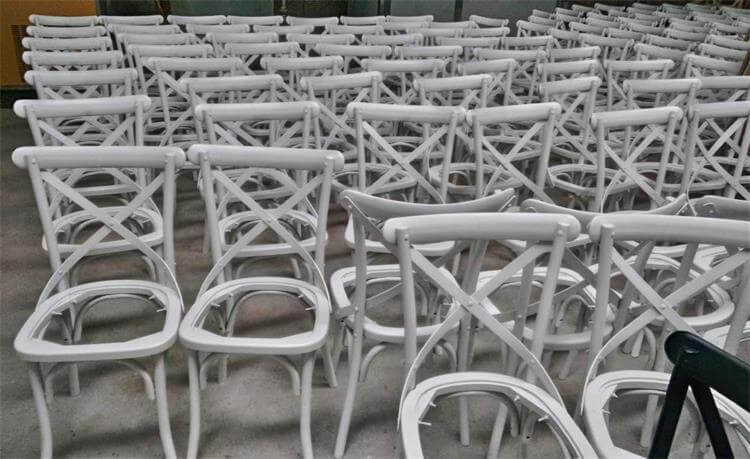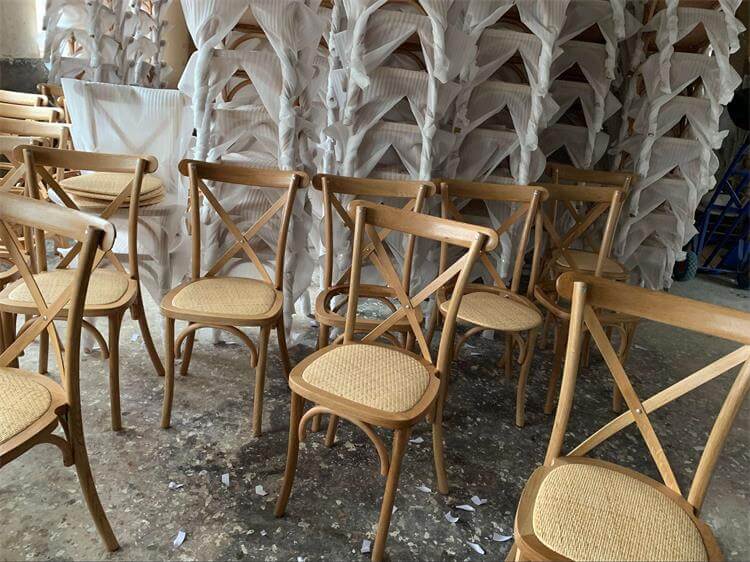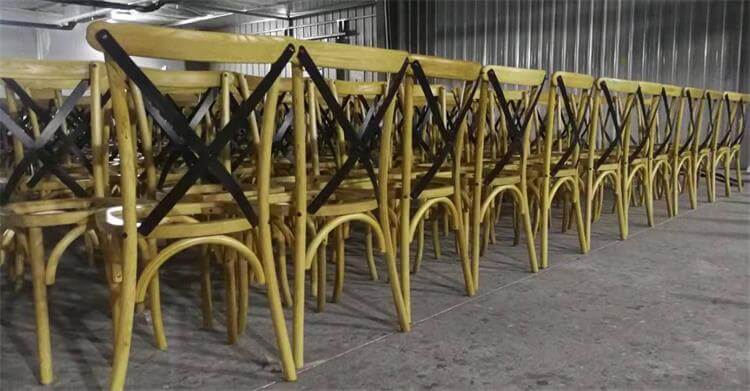 In Europe, people love the antique color as rustic color as well. The last one is the most popular color. We
call the color as " middle natural antique color".
UN-stack able x back chairs design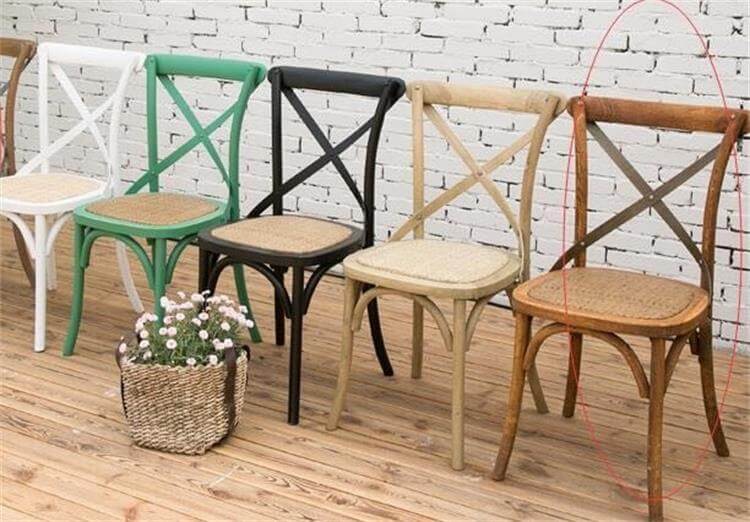 You can choose the color you want, also we can match or copy your color samples.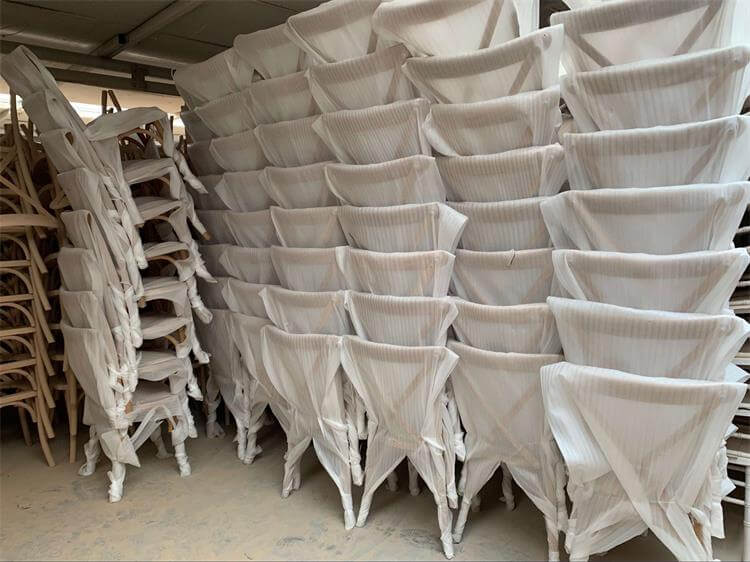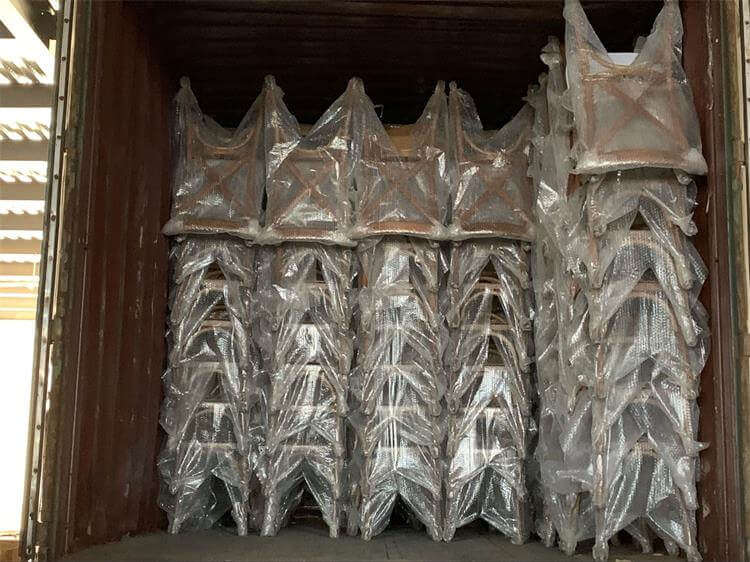 Loading quantity of our wooden x back chairs:
Without Carton Loading Quantity:
396 pcs  per 20 GP container
792 pcs  per 40 GP  container
930 pcs  per 40HQ container
With Carton Loading Quantity:
Carton size: 65*51*235cm   for 20 ft:     342 pieces  (total 38 boxes, one box load 9 pieces)
Carton size: 65*51*235cm   for 4o GP : 684 pieces (total 76 boxes, one box load 9 pieces)
Carton size:  65*51*265cm for 40 HQ container:  800 pcs  (total 80 boxes, one box load 10 pieces)
Chairs with cartons loading, this is one 20 ft container to USA.

The next one is one 40 ft HQ container to Germany as well