Wooden Folding Chairs wholesale
We wholesale padded folding Chair worldwide. The material of Padded Folding Chair,  we use birch wood or beech wood, please do not use pinewood. The padded seat of Folding Chair can be removed. In overseas, Folding Chair is so popular, especially using an outdoor wedding. Normally 4 pieces of Folding Chair can be packed into one box. Regarding the loading, the ability is about 140 kgs. One 40ft HQ container can load 2600 pieces of Folding Chairs. Showing the natural design from our Folding Chair now. We offer spare parts of Folding Chair. So when the seat longtime later, you can change the seat by yourself.
Padded Wooden Folding Chair Feature
Folding chairs foldable. Easy to move and store.
Wooden folding chairs can easy to store and can save more space for your warehouse.
They are suitable for formal ceremonial occasions, even their natural decorative pattern match the wedding with natural style.
Compared with resin folding chairs, the strong point is they can show the natural wood vein.
Nowadays, we can make water-proof folding chairs for you. Therefore you can rent them on Friday and recall them on Monday even if it's a rainy day on weekends.
Compared with the other style chairs, it can load more chairs in one container.
Description
More than 12000 pieces Padded folding chairs monthly, we selling our Padded folding chairs to Spain and USA.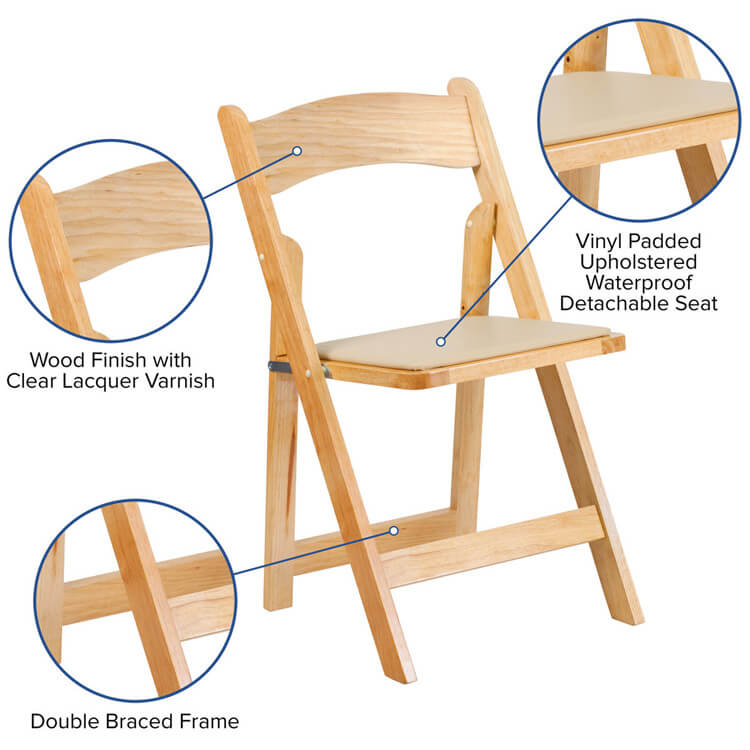 True solid beech wood frame
Foldable, easy to move, easy to store
Vinyl upholstered seats bring comfortable seating experience, Natural color finish to make events natural style.
Check the Padded Folding Chair Size please
Padded folding chairs size: 45*44*78cm Padded folding stool weight: 4.5kg/pc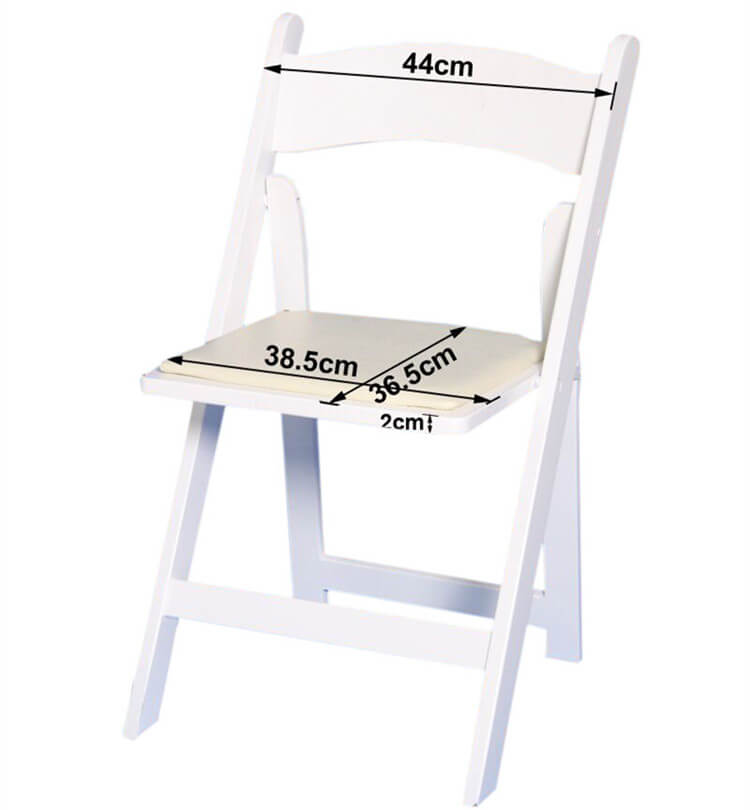 Let us show the Padded Wooden Folding Chairs Production Procedure
Adopt high-quality beech wood material.
Cut the wood with machiner with accurate size.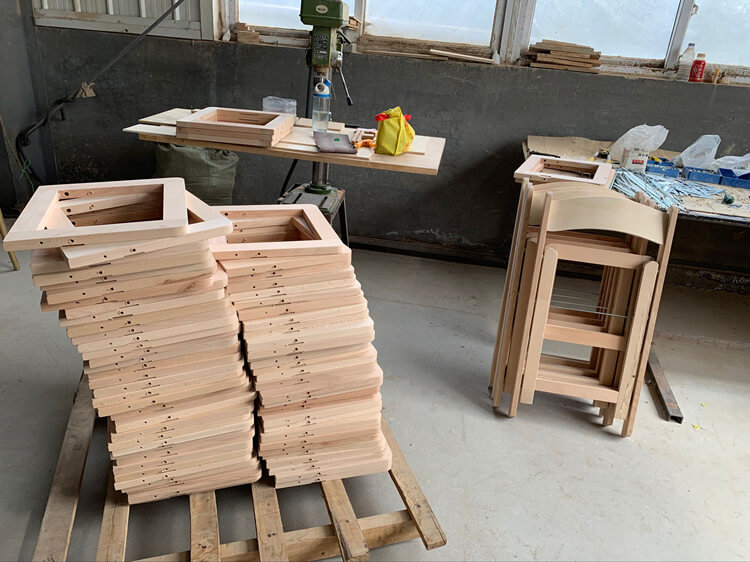 3. Drill the hole with a machine with high speed.
4. Assemble every part of padded fold-up chairs.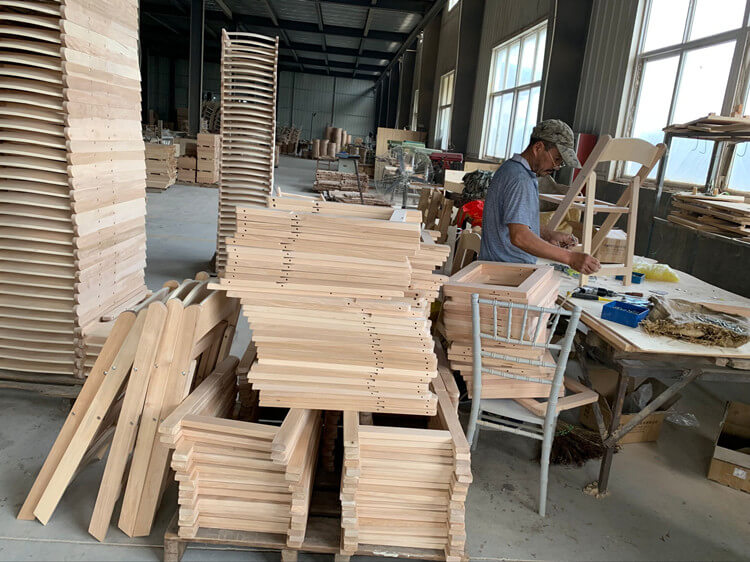 5.Polish the padded folding chair surface of unfinished wood to make them smoothy.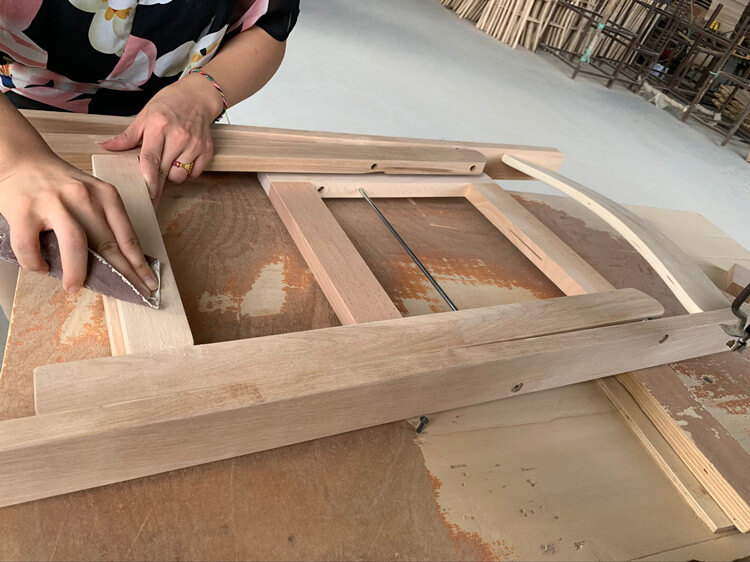 6. Assemble the padded cushions. Vinyl upholstered seats with a soft seat, comfortable seating experience.
It's easy to clean and changeable if old.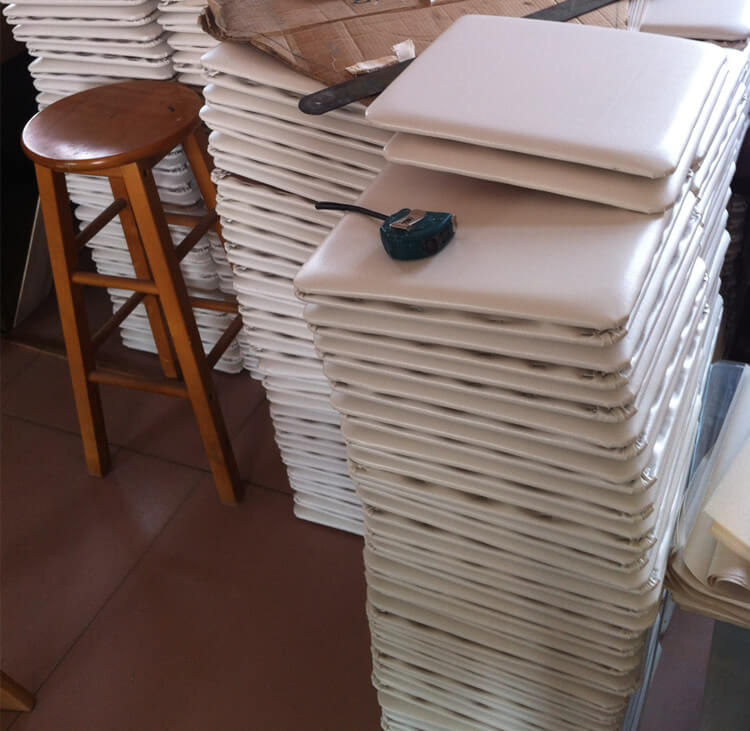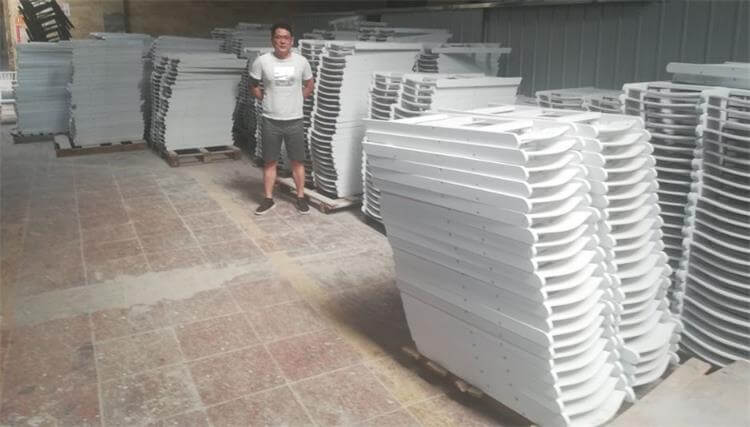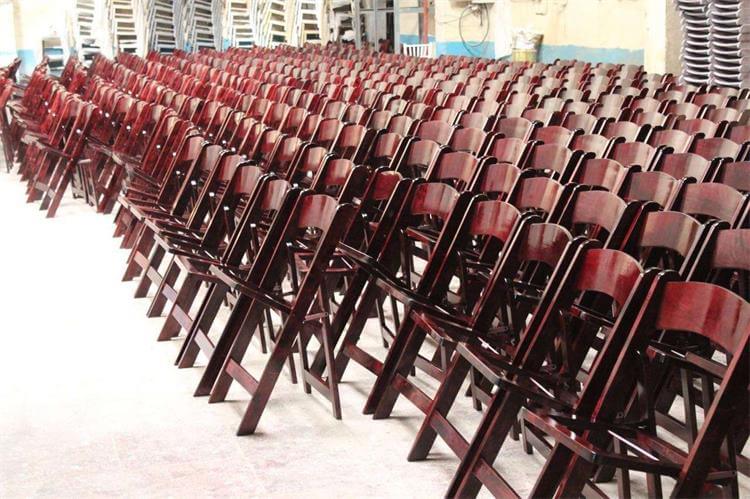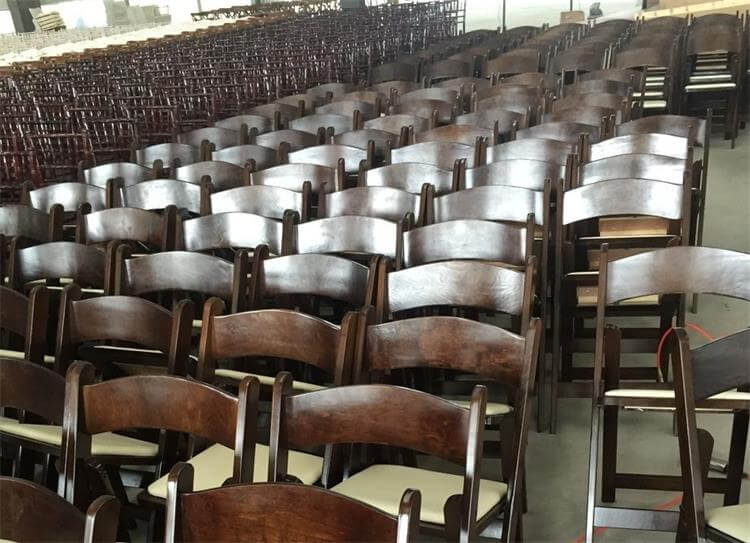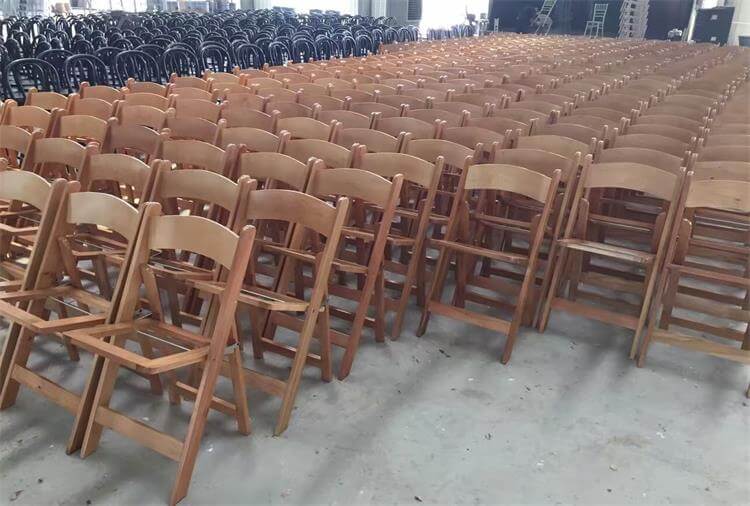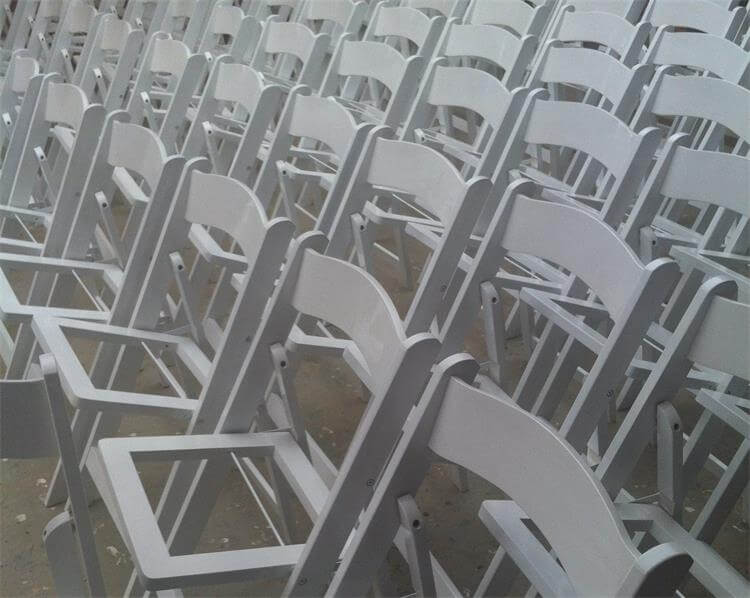 Our Padded Folding Chair Color
Our product's color can be customized to your requirements. Gold, Silver, Black, White, Mahogany, Natural,
Brown, Bronze, walnut, limewash, red, ivory, fruitwood,it's up to you.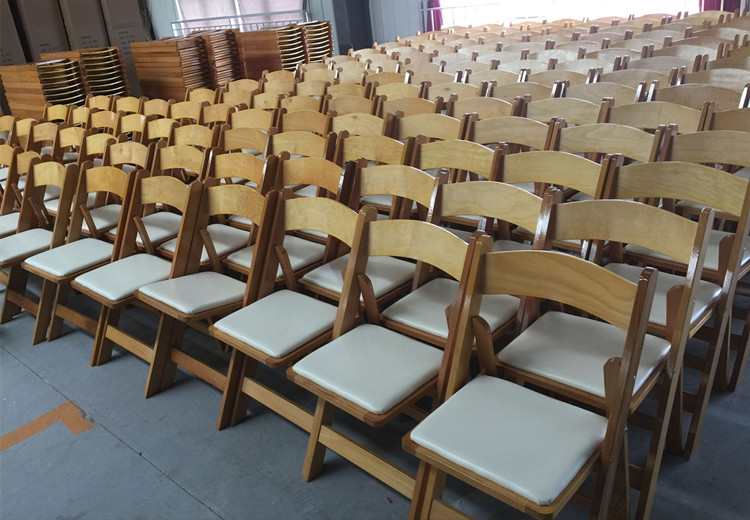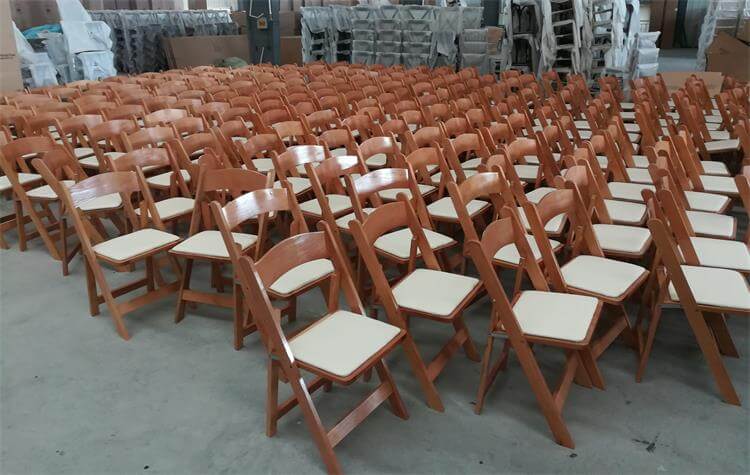 Our folding chair dolly will accommodate about 50 plastic folding chairs or 25 wooden or resin folding chairs.
Buy one chair for each stack so they don't fall on the floor and are quick and easy to transport. Upholstered
folding chairs are made of solid wood, strong and light. The design of this cushioned folding chair makes it
easy to fold and store or transport, making it one of the simplest cushioned folding chairs.
Padded Folding Stool Packing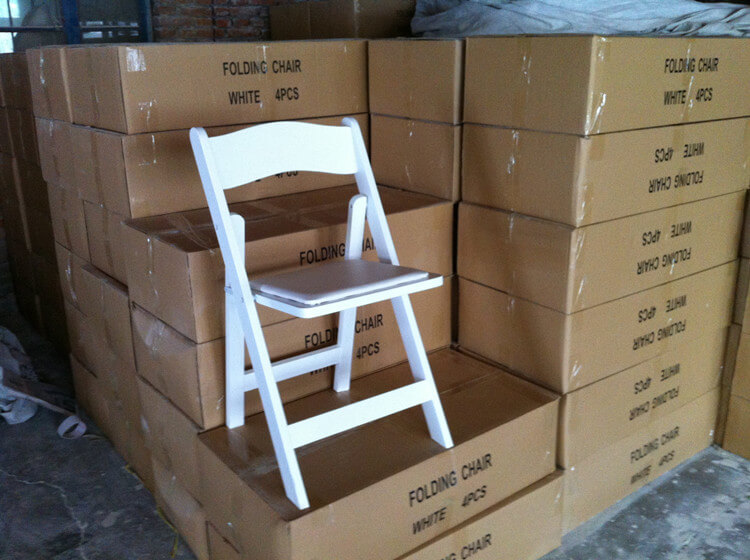 Packing Specification: 4pcs chairs in one carton. The padded folding dining chairs can't break during transportation.
Each carton weight 20kgs.1200pcs/20GP,2400pcs/40GP, 2600pcs/40HQ.
Our padded folding chairs can stand hardly test. They have passed SGS, please check below the certificate.
The weight-bearing for chairs is over 140kgs. We can provide you comfortable chairs with high quality.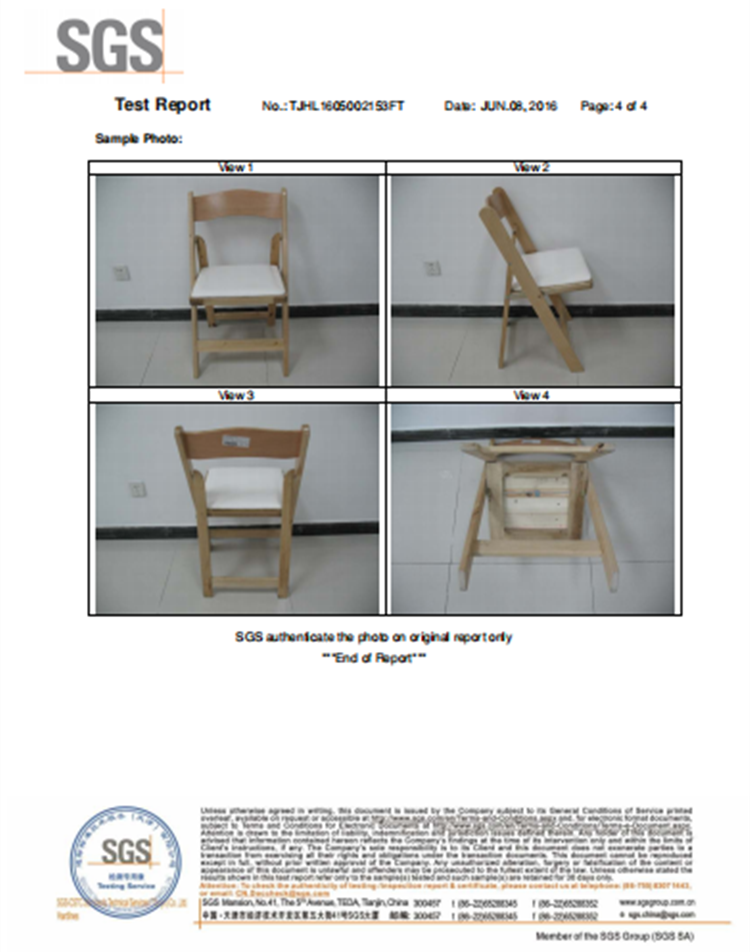 Real solid beechwood frames provide superior durability and steady. Different colors finish complimenting
most decors, no matter indoor or outdoor. The true seating comfortable will bring more happiness to your
wedding or events occasions.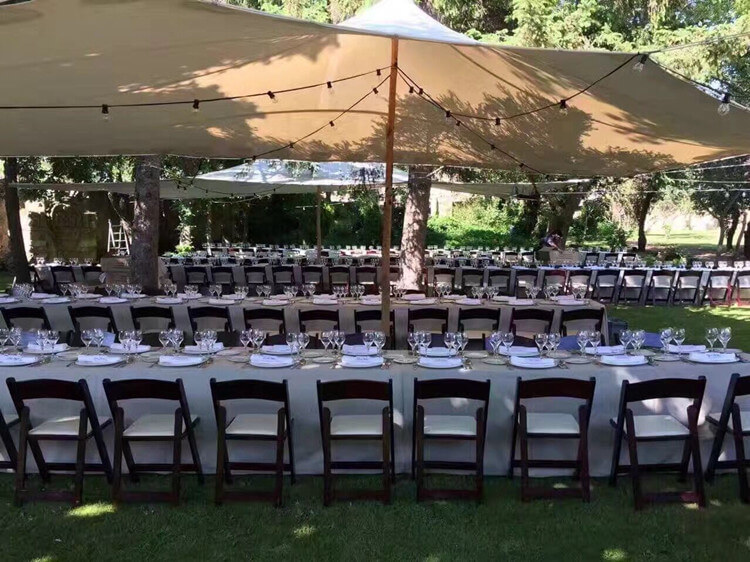 White upholstered folding chairs are ideal for weddings and can be used for both indoor and outdoor ceremonies.
These chairs are also great for many other activities, such as birthdays, graduations and reunions. The seat of the
cushioned folding chair has a cushioned cushion to make it more comfortable and make your guests happier and
stay longer. The comfortable and portable design of the chairs makes them one of the best cushioned folding chairs.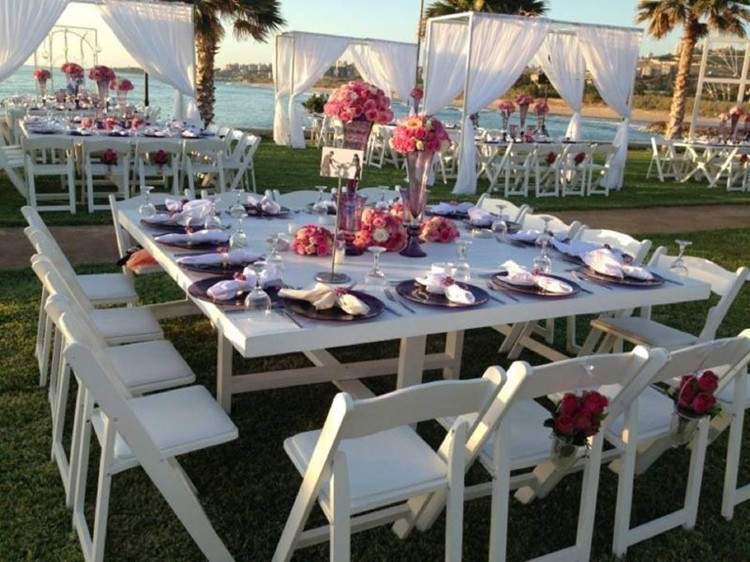 Wooden folding chairs provide an attractive design for weddings while providing industry-leading durability.
These beech folding chairs include a durable, easy-to-clean beige vinyl upholstered seat with a soft, comfortable
seat surface. These wooden folding chairs provide a great solution and versatile selection for most wedding
venues, banquet halls, and event facilities.