Wooden Crossback Chairs With Rattan Seat
We are an X back bistro chair manufacturer. X Back Bistro Chair With Rattan Seat are absolutely eye-catching chairs!! Then a faint fragrance and pleasing shape, enough to make X back bistro chair talent showing itself. The utility place lies in, wood heart chair is not easy to be damaged, as we all know, the wood is very strong. Its design is novel, no doubt, the cross back chairs are full of the beauty and strong enough to make it hard to construct than the other chairs, we think, the X back bistro chair is beautiful and rare.
Cross Back Chair with Rattan Seat Feature:
The most important advantage is that we adopt the original design.
Owing to non-stackable, MOQ will be 100 pieces.
The raw material of beech wood, oak wood available. Both of them are very durable.
Painted non-toxic paint, environmental and durable
Rattan seats provide supportive comfort
Extensive usage: not only for the wedding but also the best choice for a cafe, restaurant, pizza store.
Suitable for living room, family room or any dining table
There are many colors for your optional, including most popular color. For example, white, black, brown, rustic and antique. Please check the picture of color swatches.
Each cross back chair with rattan seat is strong enough to support up to 330 lbs
The surface is cleaned by wet cloth, which is convenient for cleaning
Description
We produce X Back Bistro Chair more than 9600 pieces monthly, our X Back Bistro Chair is made of solid
beechwood.

Let us show you the main features of our X Back Bistro Chair
Our X Back Bistro Chair with a rattan seat pass SGS quality test certificate.
Leg Profile: front legs to have some flare but not as much as the back legs.
Backrest top bar: shape & profile is curved rather than beveled top to bottom.
The seat of a chair: the frame assembly of the chair is made of a single (unglued) piece of wood.
Wider step/flange, to support seat cushion 25mm minimum; an extra piece of velcro at back to fit seat pad.
Leg braces to all start at the same height as this has a big effect on how they stack.
The cross-back

 

dining chair material of leg braces: color to match chair legs. To be made from Oak or
beech wood, or if the bend profile can't be achieved with oak, then use plywood, finished matching oak.
Finish: no mechanical graining, smooth finish required.
Colour match: Natural color of chairs and natural color of rattan seats, walnut, dark brown rustic oak,
and limewash, whitewashed available.
Spare crosses and spare seat pads can be ordered.
The raw material of solid wood back chair with rattan seat chooses high-grade beechwood or oak. The
color of the original model is different, depending on the type of wood you choose.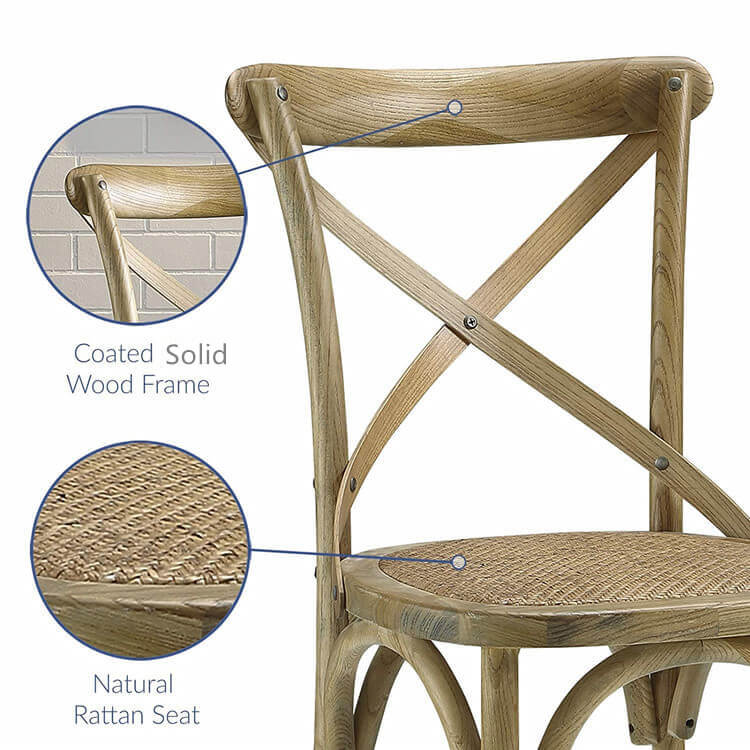 Cross Back Chair With Rattan Seat Size
The size of the cross-back chair with a rattan seat is perfect for the comfortable sitting of most customers. The
overall chair size is L49.5*W53.3cm*H87.6cm, the seat height is 47cm, and the seat plate size is 41*45cm.
The height of the back of the chair is 40.6cm, which is very suitable for the back of the guest and allows the
guest to rest.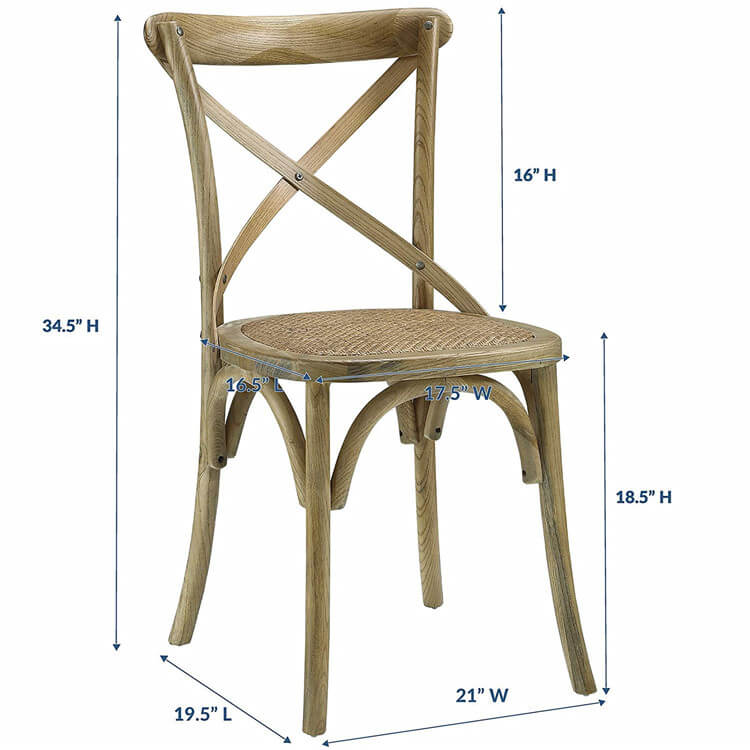 Color Choose for  Cross Back Chair With Rattan Cushion
Our usual colors are brown, white, black, mahogany, dark walnut, natural, fruitwood, limewash, dark lime
wash, antique natural, and caramel. You also can choose different colors that you like. Optional colors,customization.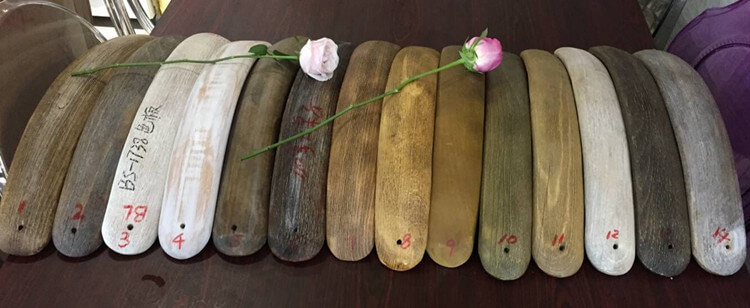 The following chair is our No. 14 color wooden cross-back chair.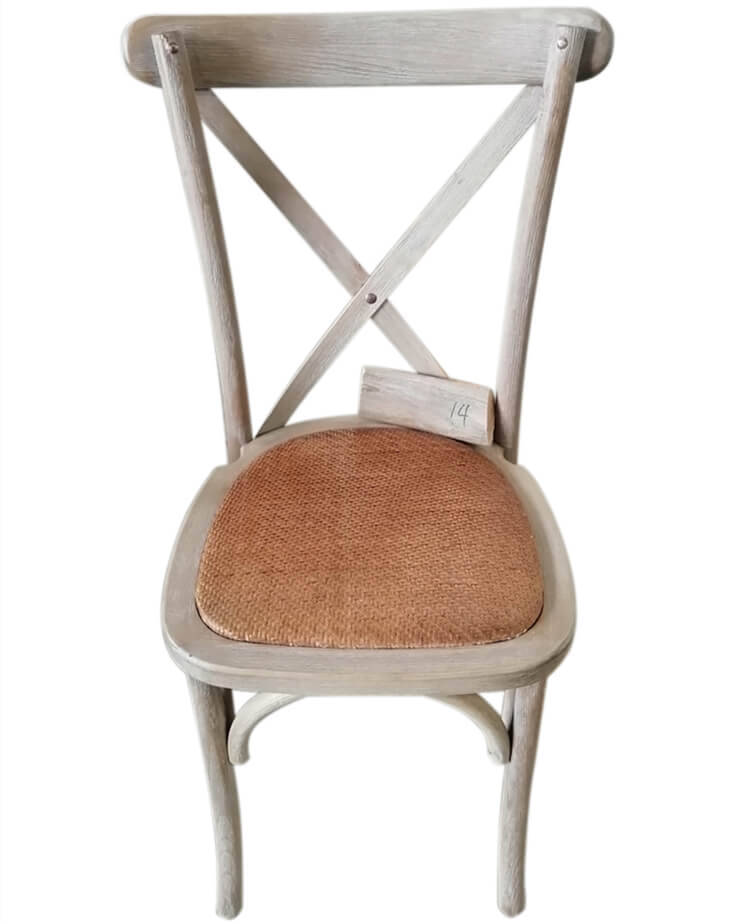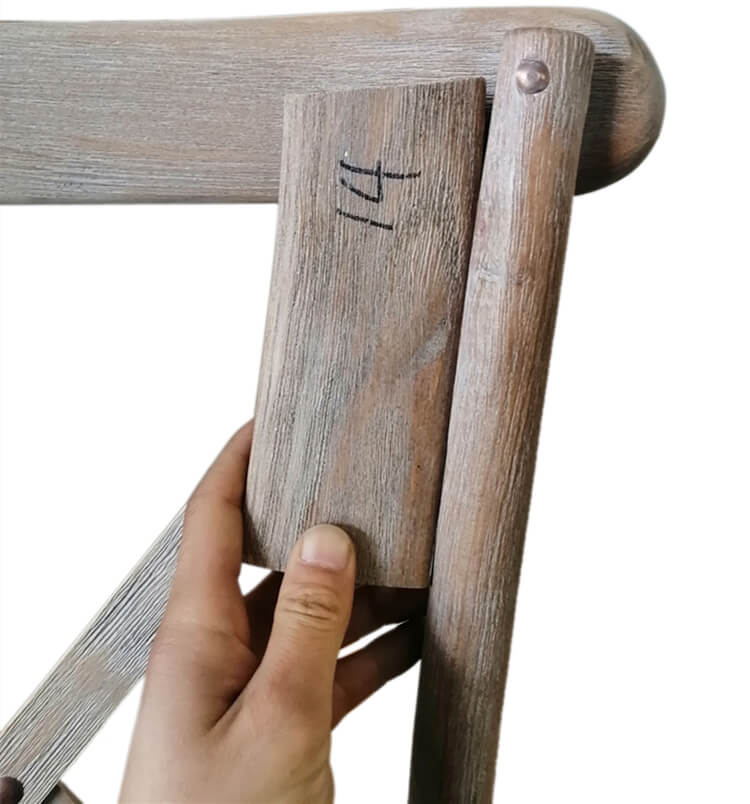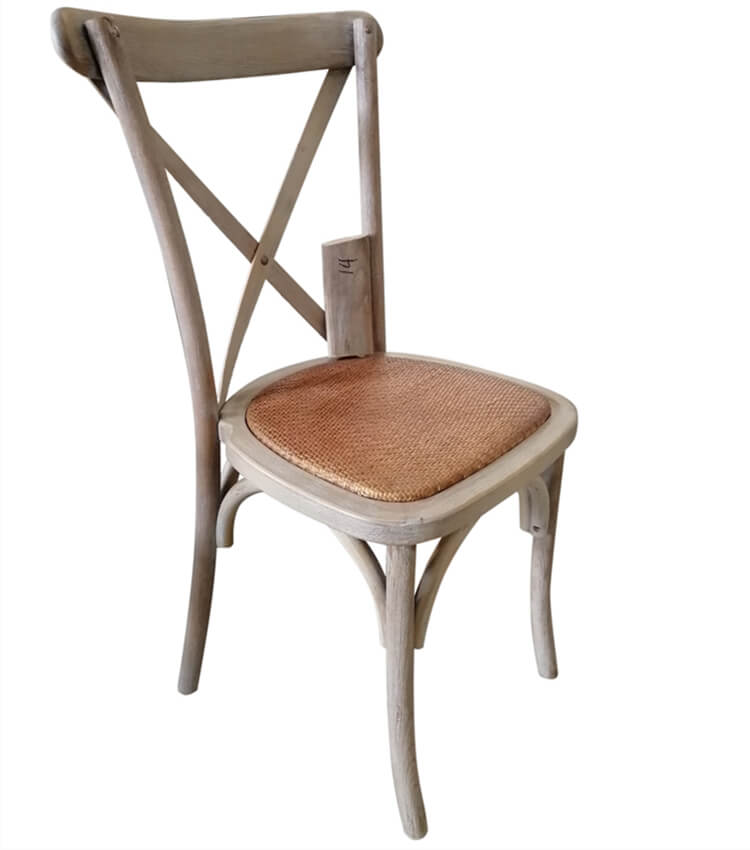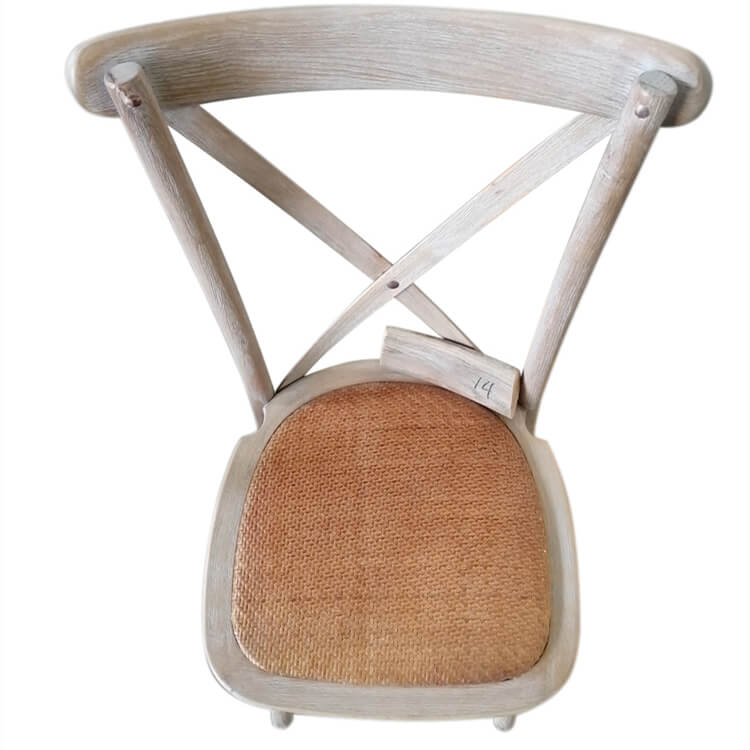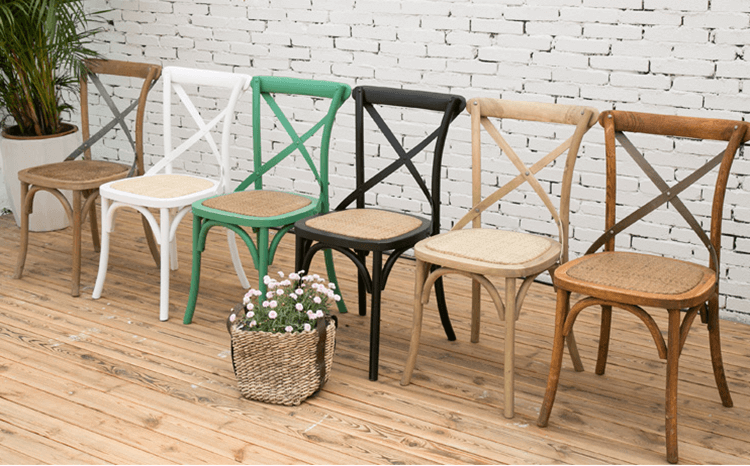 X Back Bistro Chair With Rattan Cushion Produce Process
The solid beech wood or oak wood can be processed by our precise machine and worker. We have been
adopted to import material. We have strictly QC to make sure every chair passes the international test.
From production and painting, we abbey the strict rule to make sure our x-back bistro chair with rattan
cushion meets the client's requirements.
Please check the attachments of pictures of unpainted cross back chairs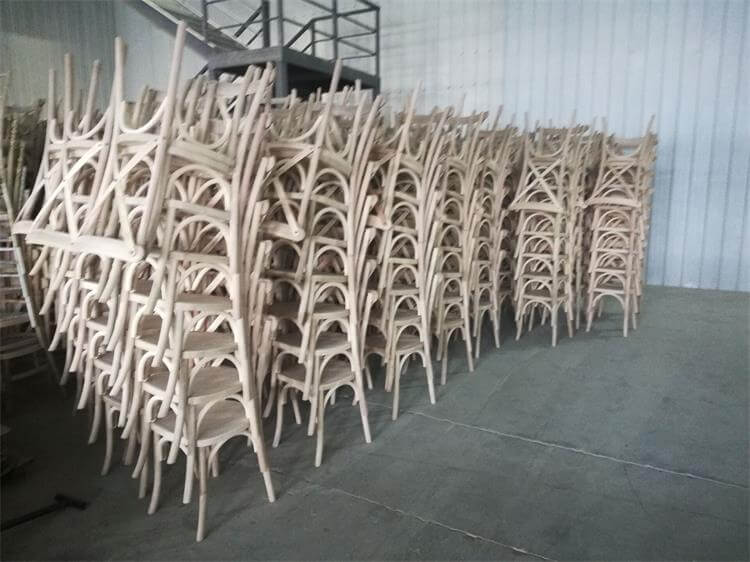 Some customers choose metal x parts, so that the x parts will be very strong, no any damage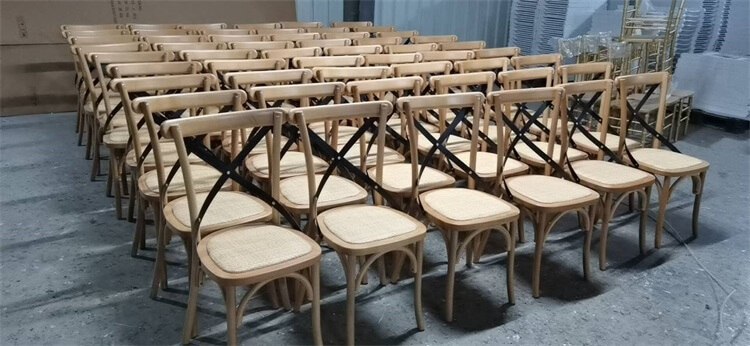 The packaging of the X Back Bistro Chair With Rattan Cushion
We package the Cross Back Chair With Rattan Cushion with a layer of polypropylene bags, air form, and
leathered to avoid scratch and damage in the course of transit. Also, how many pieces are put in one carton
, and they adjustable by negotiation. The chairs also can be packed without cartons. That can save more
space and shipping costs.
The loading of the Vintage X Back Wood Chair Cross Back Chair With Rattan Cushion
(according to your requirements)


We are very proud to tell you our cross-back dining chair with a rattan cushion has passed SGS. Our products
have to go through more than 13 processes.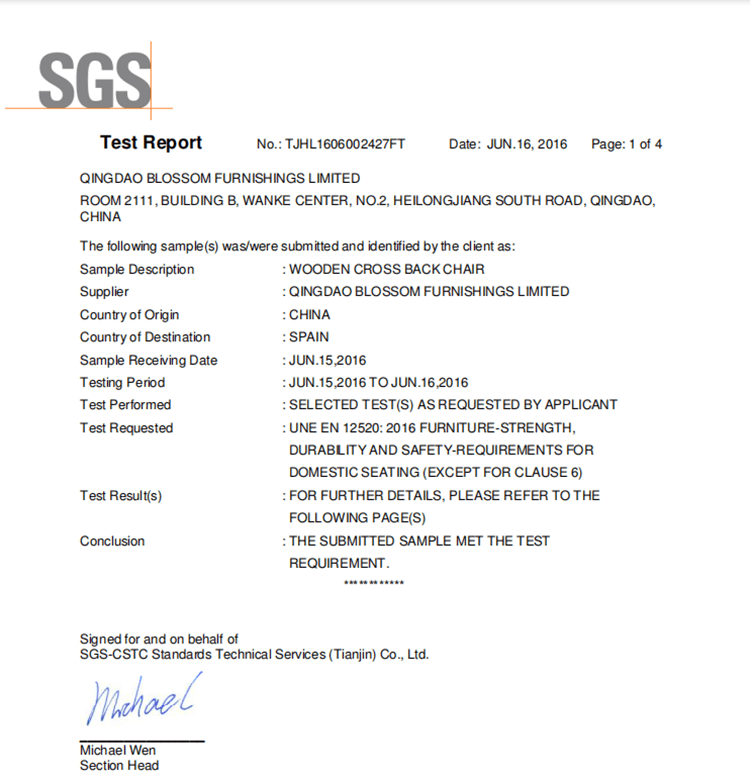 Simple yet elegant, our brand new cross-backed chairs are sure to be great additions to any home or
decor piece. The cross-back chair with a rattan seat is made of high-quality birch. The lacquer surface
is non-toxic. The back design is unique, giving a delicate feeling.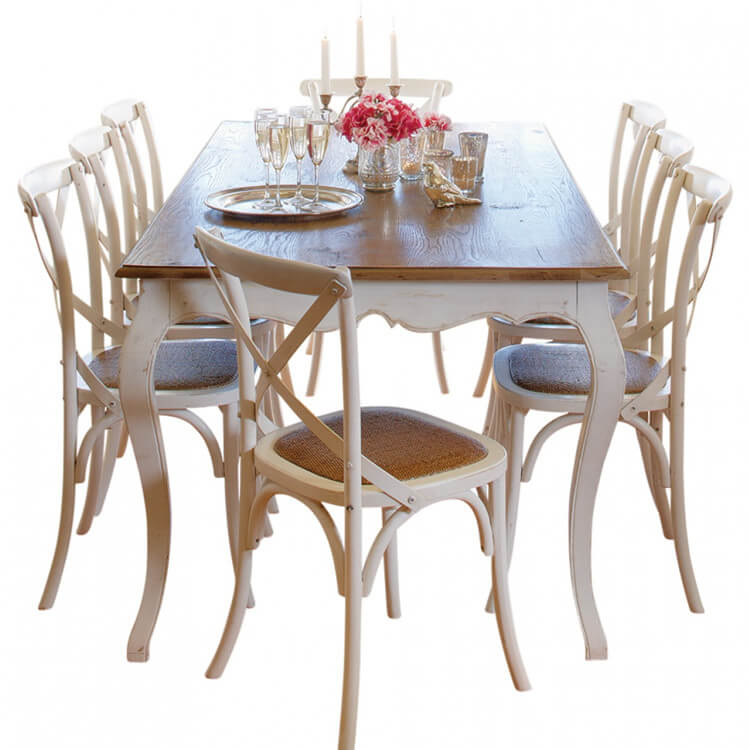 These new cross-back rattan seats are very comfortable and attractive, providing a supportive and
comfortable place to rest while eating, chatting, working, or reading. The ergonomic design also provides
you with a sense of comfort and relaxation. This chair is beautiful and comfortable. Don't hesitate to buy it!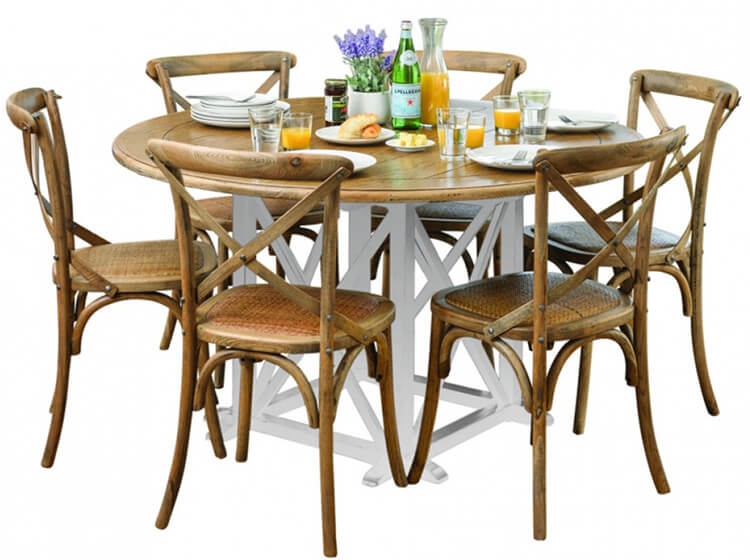 This is what our UK customer gave us after receiving the wooden crossback chair. Very happy with our wooden cross back chairs.