Wholesale Wedding Phoenix Acrylic Chairs
We are a professional phoenix clear chairs manufacturer in Qingdao, provide wedding phoenix acrylic chairs wholesale at factory outlet price. They started being produced in 1998, and the productivity of them is 20000PCS so far. so we are more experienced. Moreover, many advantages are unique, such as optional colors, customization, and so on. Furthermore,  Our phoenix acrylic chairs wholesale have passed SGS inspection. Wonderful after-sale service is supported as a guarantee. Production process and packing are careful, meanwhile, all kinds of transportation are available, especially container. It is convenient to have prompt delivery.
Phoenix Acrylic Chairs Feature:
Japan MITSUBISHI raw materials to ensure good transparency, toughness, not fragile, fewer air bubbles.
Special structure to ensure that the installation is simple, strong, fitting standard.
We have stock always, delivery the goods fast.
UV protected, Antistatic treatment is not easy to dirty.
You can choose different packing methods .for example, assembly and knock down. Choosing knockdown can save freight, and choosing an assembly can save labor costs.
We can customize the Logo on the carton.
More than 350kgs static load.
Description
Detailed Information About Wedding Phoenix Acrylic Chairs Wholesale
Blossom Furnishings, a professional phoenix clear chairs manufacturer, provide acrylic chairs wholesale for
wedding, party, outdoor, and other events applications. we have our production machine and processing
workshop, we can provide you with more professional service and quality assurance. Our customers use
these chairs in restaurants.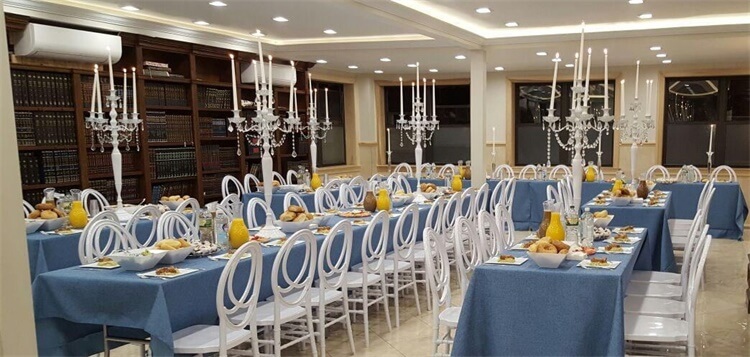 First to understand the Phoenix acrylic chair processing process:
1. PC material is put into the advanced machine automatically. And they are melted and ready for shaping by mold.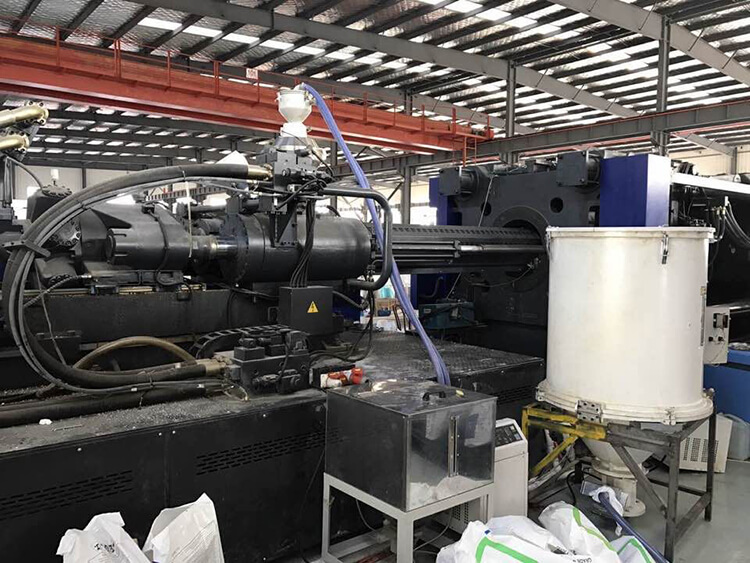 2. We have excellent quality mold that is burly and heatproof, so the chairs produced do not have errors ensuring
the accuracy of measure.
3. We have the best technicians who do well in controlling time and temperature by analysis of science.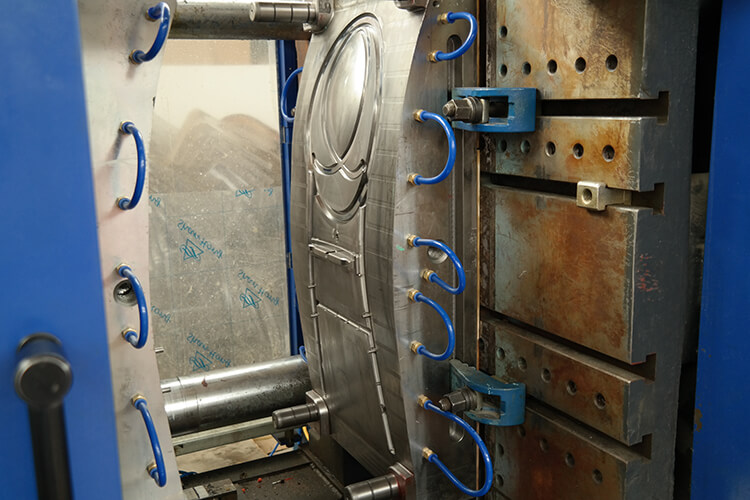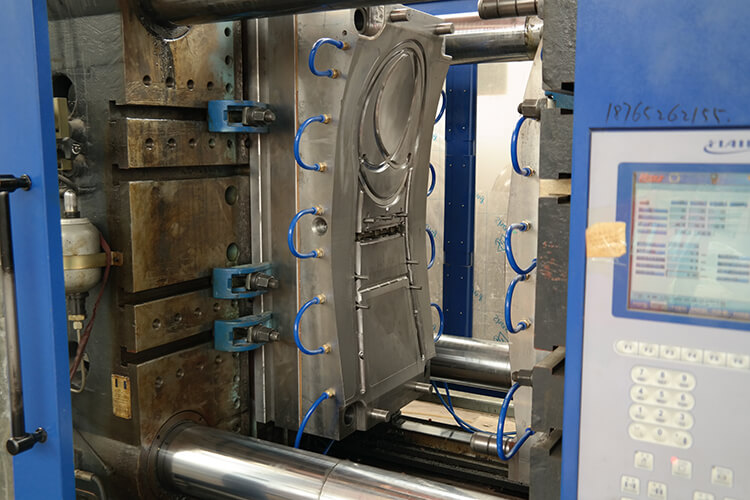 The Crystal Phoenix Chair is chip and scratch resistant and can withstand the heaviest loads. After use,
you'll find that Crystal Clear Phoenix chairs are virtually maintenance-free, allowing you to quickly turn
them around after your event.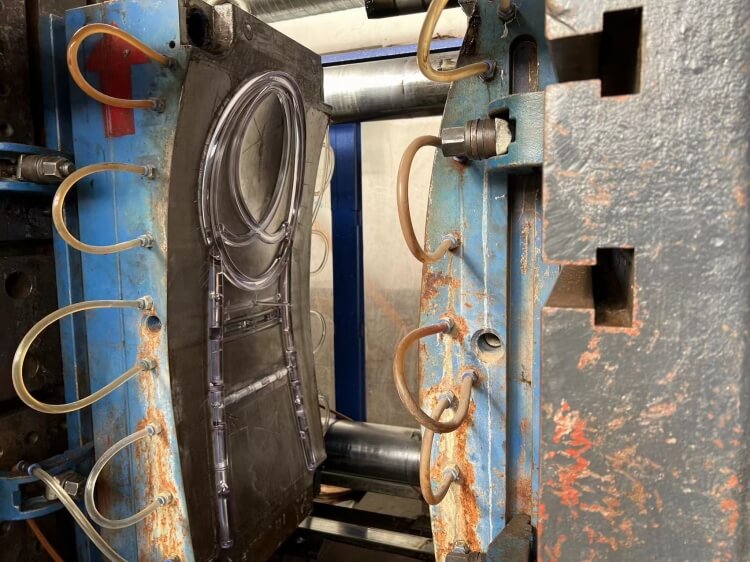 The whole clear phoenix chair is made of acrylic, with no metal, and the surface is smooth and easy to clean.
Must be assembled tightly to avoid squeaking and to get a solid finish.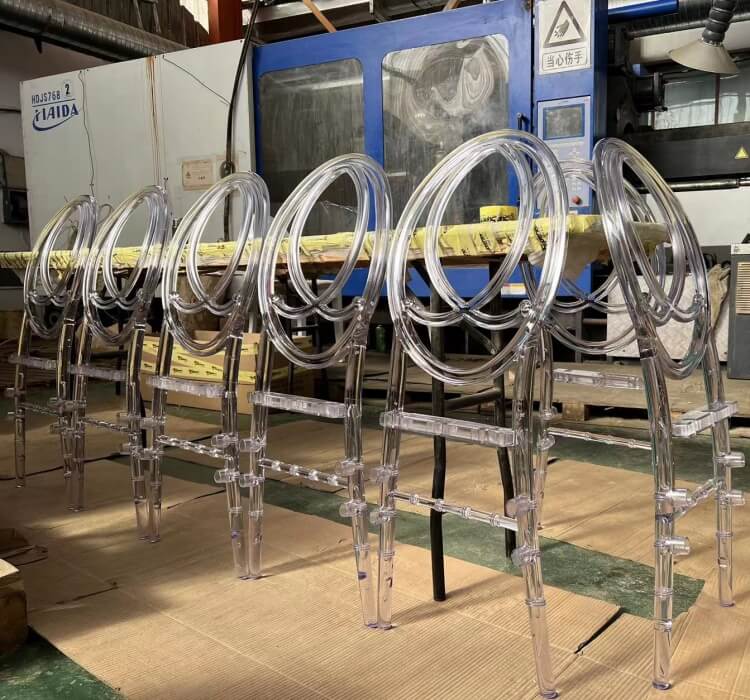 4. We clean up PC burr making chairs smooth.
5. We use a skidproof footpad on each leg to reduce abrasion and noise.
6. Lastly, we put a layer of the very clean thin film in case of dust.
Material Choosing
We purchase imported SAMSUNG pc as our raw material, we refuse to use inferior recycled materials and domestic materials.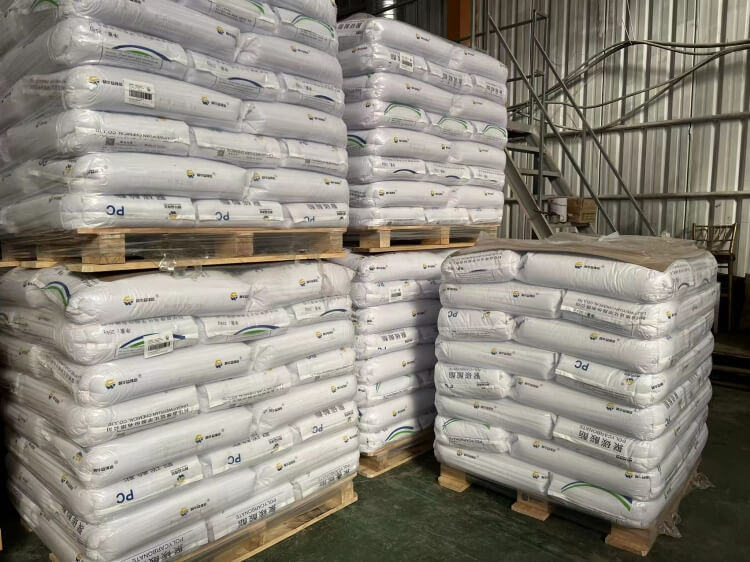 The chair is made of acrylic material, which is strong and durable, and will last for many years. High quality
and environmental protection, high impact strength, fireproof and waterproof.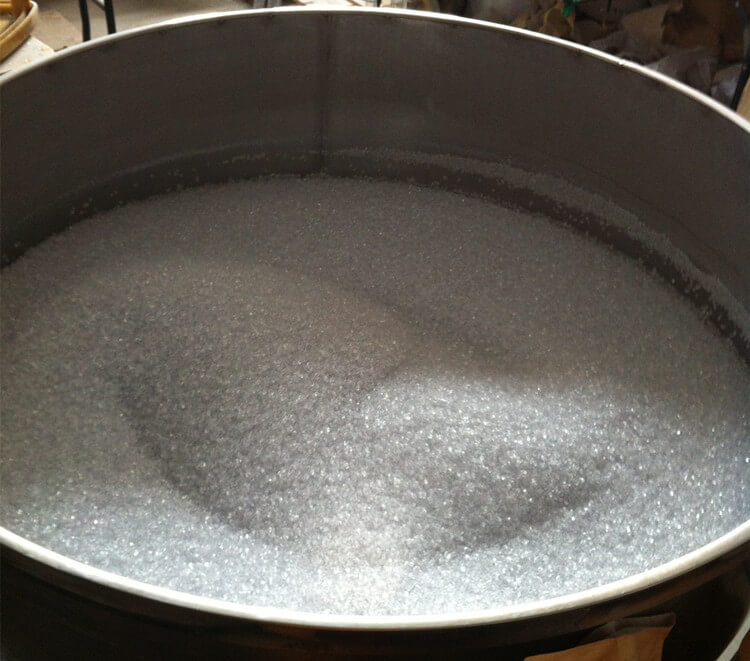 These clear acrylic chairs feature an infinity design on the back, making them a great design choice for any
dining event. These high-fashion chairs are a favorite of corporate event planners and wedding planners for
creating visionary events.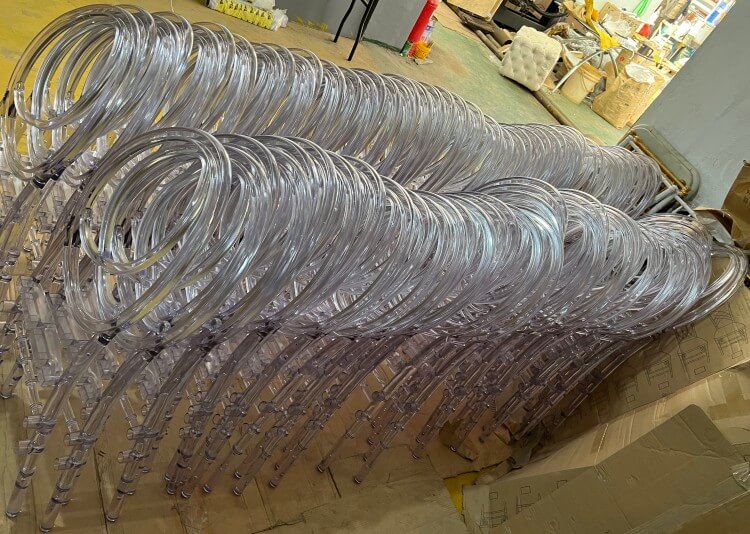 Each part of the black resin Phoenix chair is produced and placed here for packing. Installation is simple
and easy, but make sure to tighten the screws all the way down to hold the legs and chair body together securely.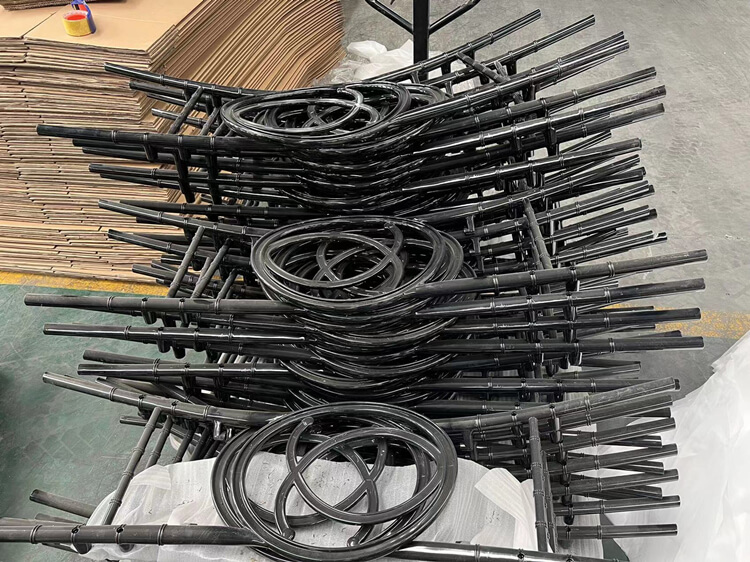 Our crystal clear chairs are perfect for elegant occasions especially weddings, parties, and events. They are
also a great choice for home or kitchen side chairs.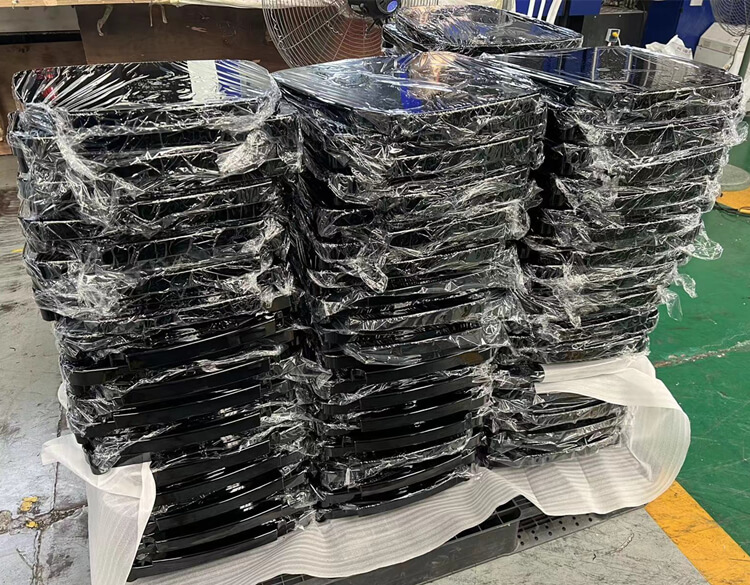 The Black Resin Phoenix Back Chair is a scene for weddings and parties. The white double oval back is very
stylish. Extra thick vinyl padding for maximum comfort. An oval backrest, rather than a circle, is the shape
of choice for event planning professionals.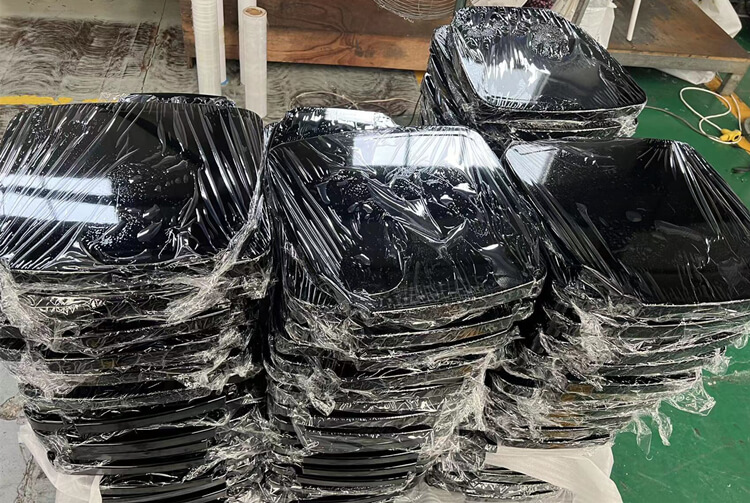 With durability in mind, FOH crystal clear chairs are extremely durable and have high impact strength.
Not only will they keep up with use over time, but they're elegantly designed with stylish bamboo spine legs.
The chair features modular legs and support bars for easy assembly.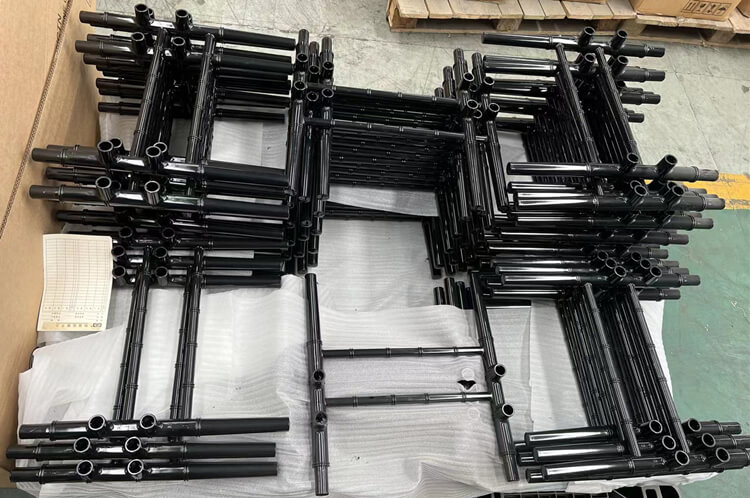 Details Display
There are some bubbles inside the Phoenix plastic chair tube, but that is a normal phenomenon. The transparent
color phoenix chair looks elegant.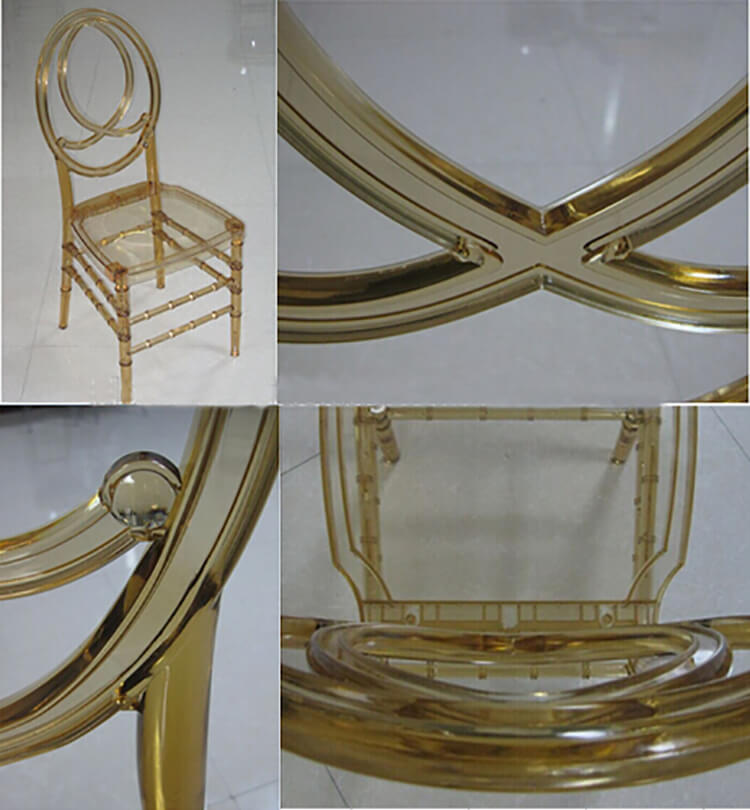 Bearing weight
Our resin phoenix chair passes the strict bearing test and violence test and can bear a weight above 450kgs(990lbs),
strong and durable! The test video can be provided for free. As the same as resin Chiavari chairs.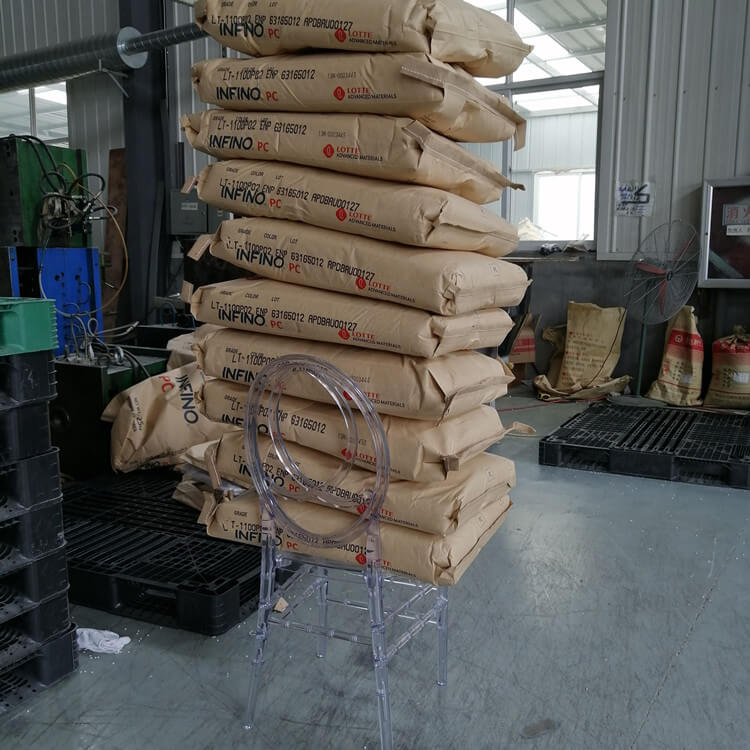 1 piece of high-quality polycarbonate ensures the chair is strong enough to support 3 men. Strictly control
the quality of chairs during the production process to make the products excellent and perfect.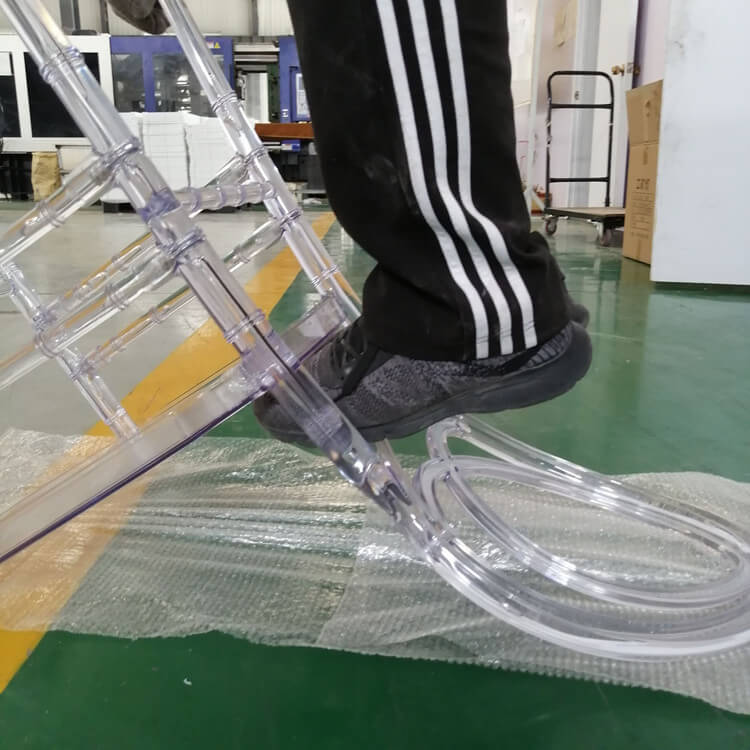 Resin Phoenix Chair Size:
Phoenix chair has a perfect size, suitable for most customers to sit comfortably. The size of the whole chair is
40.5*40.5*94cm, the seat height is 44cm, seat size is 40*41cm. The width of the back of the chair is 36.5cm,
with a certain radian, and fits the back of the guest perfectly, so that guests can have a good rest.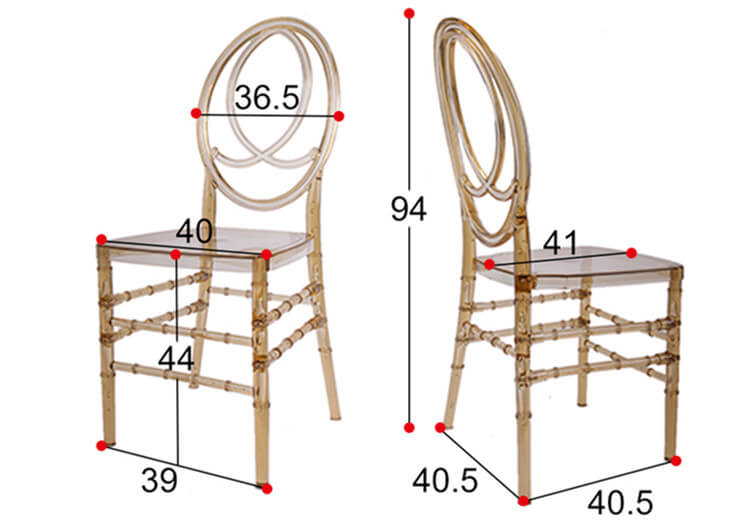 Resin Phoenix Chair Color:
We have many kinds of colors: black phoenix chairs, white phoenix chairs, gold phoenix chairs, and silver phoenix chairs.
Phoenix chair is a new design for homes, restaurants, weddings, and every indoor and outdoor place. Cross pipe is a special
back design for this chair. It looks elegant and gorgeous. As a decoration for homes, restaurants, and weddings, it can
make all these places become a wonderful scenes. It should be a 100% nice option for you.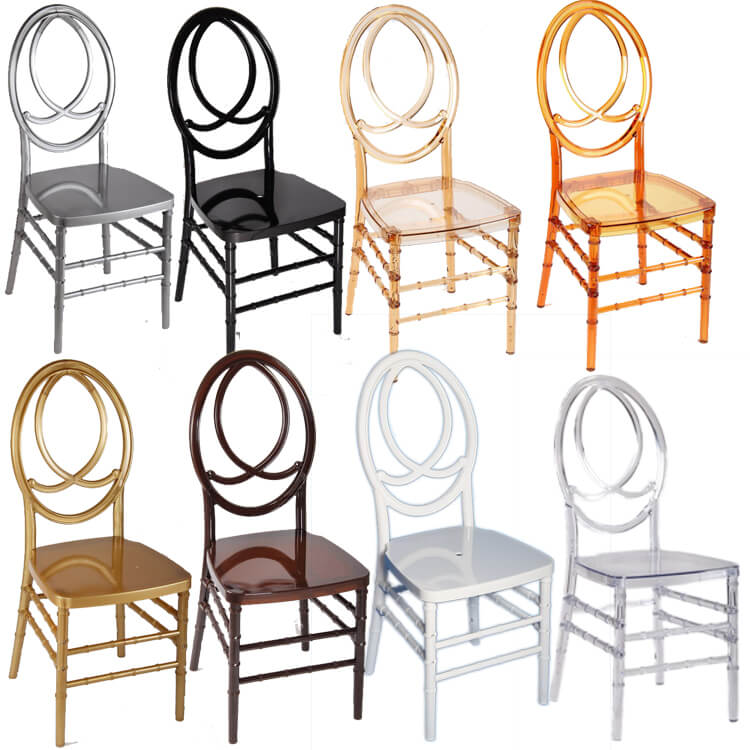 You can match different colors of cushions for these clear phoenix chairs

Black color is also a very popular color, black chairs can be with a black cushion or white cushion too.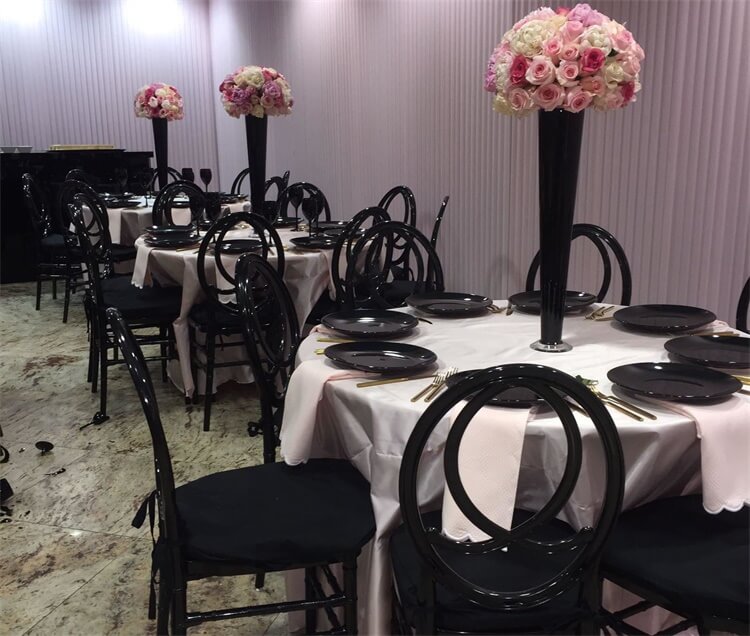 The white chair can be with a blue cushion as well.

Clear chairs can be with yellow cushions, blue cushions, or white and black cushions as well.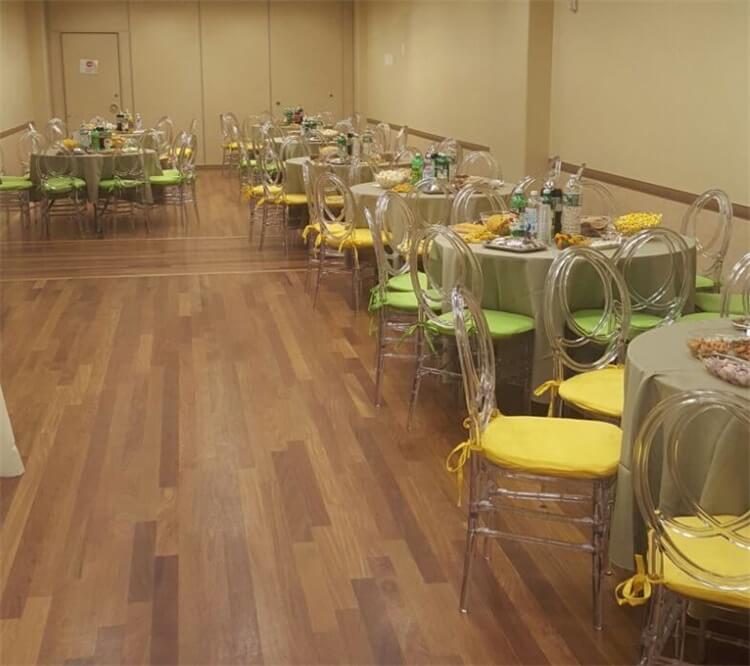 Chair material and feature
PC (poly carbonate) passed ANSI/B IFMA 5.1 2002 tested by SGS
HS code
9401809000
Loading Container
RESIN PHOENIX CHAIR
4pcs KD/Carton( Carton Size:95x40x31cm )Container Loading Quantity:
968 Pieces / Container (20 FT) 1960 Pieces / Container (40 FT)
2400 Pieces / Container (40 HQ)
RESIN PHOENIX CHAIR WITH CUSHION
4pcs KD/Carton  ( Carton Size:95x40x38cm )
Container Loading Quantity:780pcs/Container (20 FT)
1650pcs/Container (40 FT) 1950pcs/Container (40 HQ)
Loading capacity
500kgs static load
Size
40*40*89.5CM  width(left to right)*depth(front to back)*height(overall height)
| | |
| --- | --- |
| Min.Order Quantity | 300 Piece/Pieces |
| Supply Ability | 30000 Piece/Pieces per Month |
| Port | Qingdao |
| Payment Terms |  L/C,D/P,T/T,Western Union |
| Chair weight | 5kg/pc |
| Delivery date | within 30days after receiving your order |
The advantage of Wholesale wedding phoenix acrylic chairs:
1. New mono-block design, make it more stable and durable.
2. 100% Virgin high strength resin. All the material is virgin material which enables the chair to endure the high
impact strength and high temperature.
3. Large storage enables us to deliver in a week.
4. Stack 4pcs, easy for storage and transportation.
5. Waterproof and fireproof.
6. The capacity of 500kgs makes you safe enough.
7. Designed for both indoor and outdoor events.
8. 2 years a limited warranty on the frame under normal use.
9. Solid color, no need to touch up, no need for maintenance! Save your time, save your money!
10. The material can be recycled.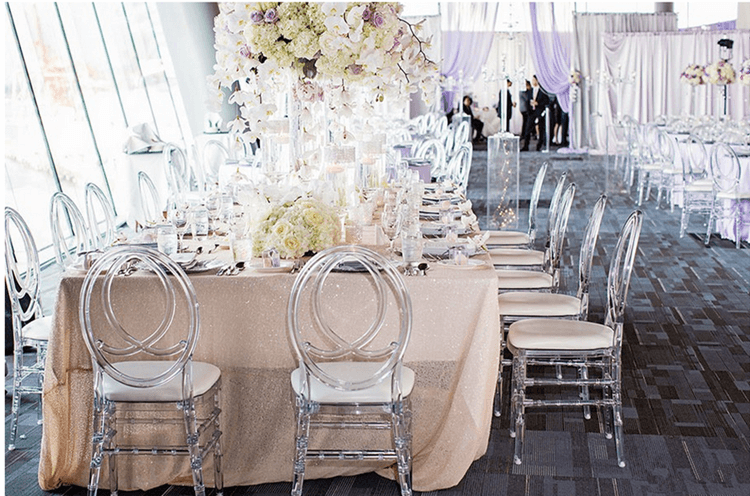 Mass Product:
After production the assembled Wholesale Wedding Phoenix Acrylic Chairs was packaged with PE film to keep
them from dust. Great stackable ability provides better warehouse management and more efficient delivery.
Loading quantity: 416 pieces / assembled already chairs (52 CTNS) CTN size: 60x41x235 cm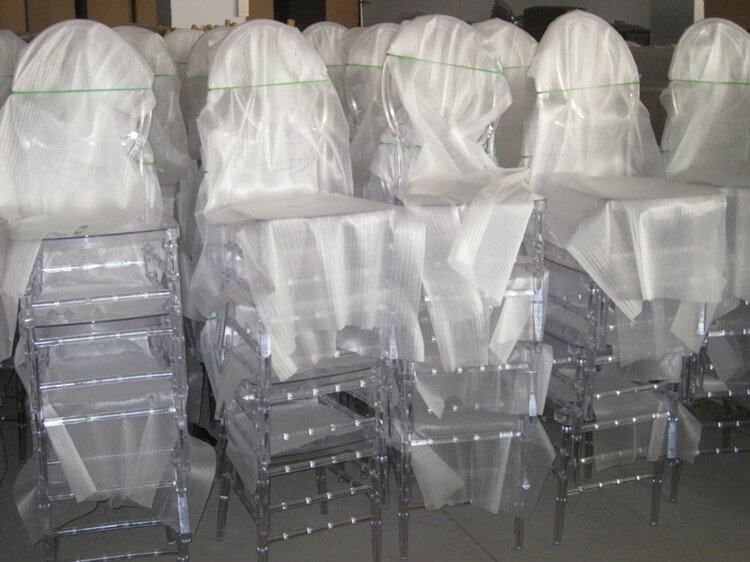 Packing and Shipping
We package the Wholesale wedding phoenix acrylic chairs with a layer of polypropylene bags, air form, and
leatherette to avoid scratches and damage during transit. 4pieces are stackable together.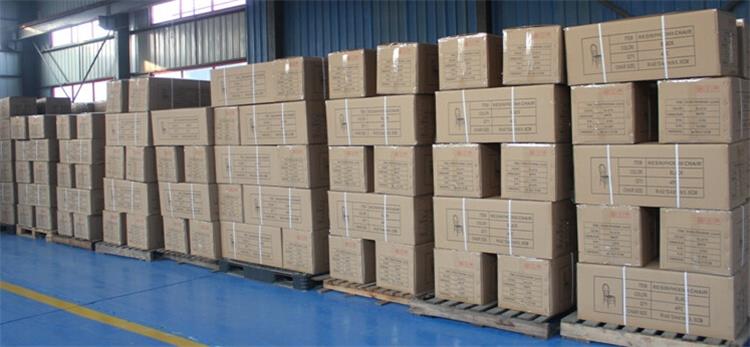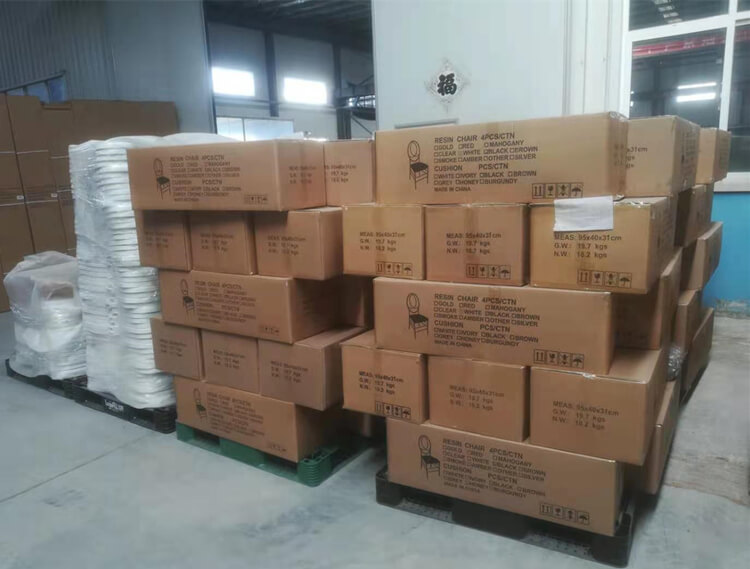 Assembly required takes 5-10 minutes. A manual is included, but please contact customer support if you
need additional assistance. We'll help you ensure 100% customer satisfaction. Please check the assembly
instruction book carefully.


Side marks show the gross weight and net weight
200 pieces: 6 CBM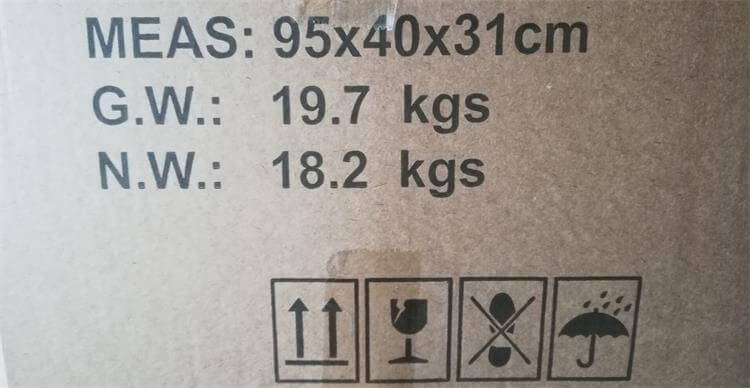 DDP station packing size: 97 x 43 x32 cm (0.133472 for4 pieces)
Loading details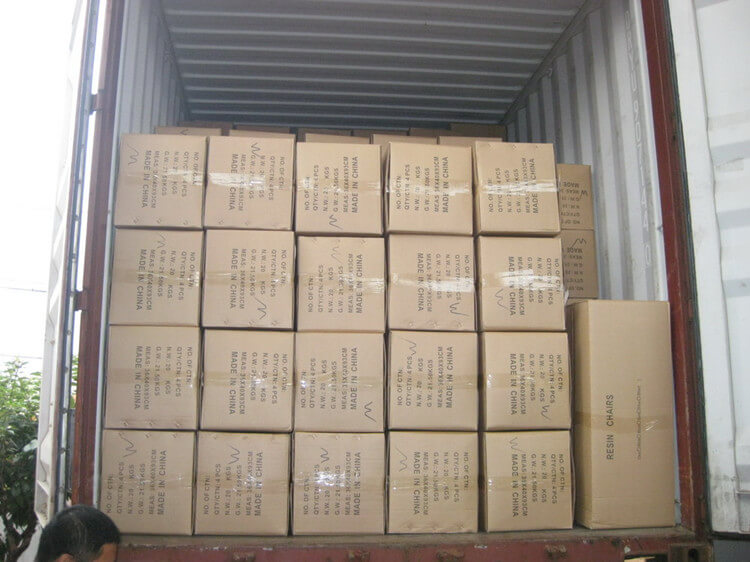 The resin phoenix chair is the most popular chair for weddings and receptions. This chair looks very elegant
and will bring a fresh style to the wedding. Every chair rental company can't miss the resin phoenix wedding chair.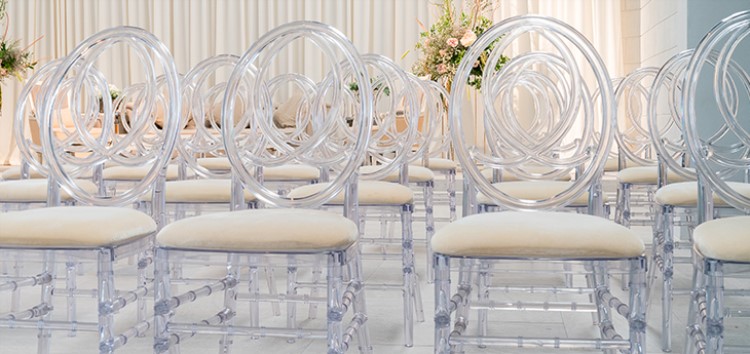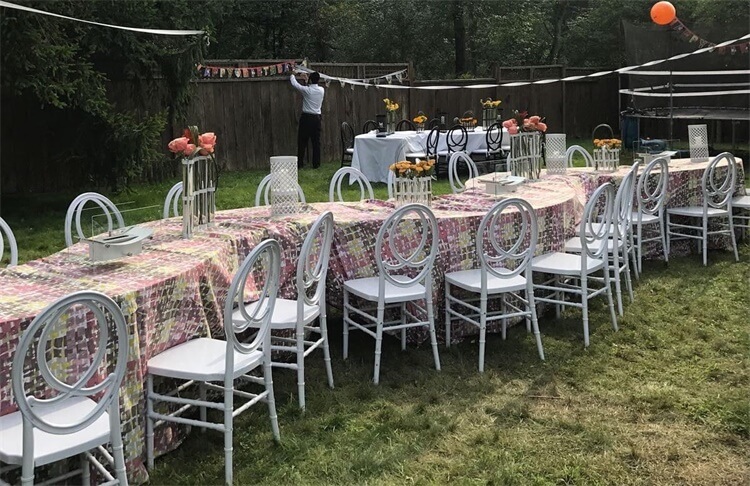 Let us show you some photos from our Miami clients as follows:
You can mix the chairs and cushion colors as well.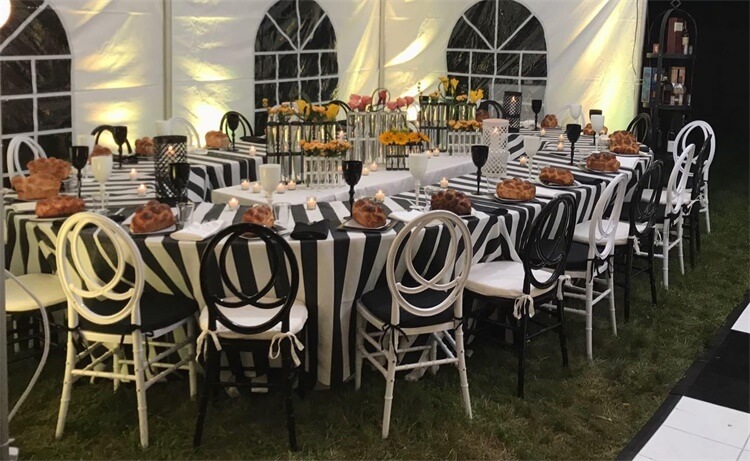 It is easy to stackable when the events are finished.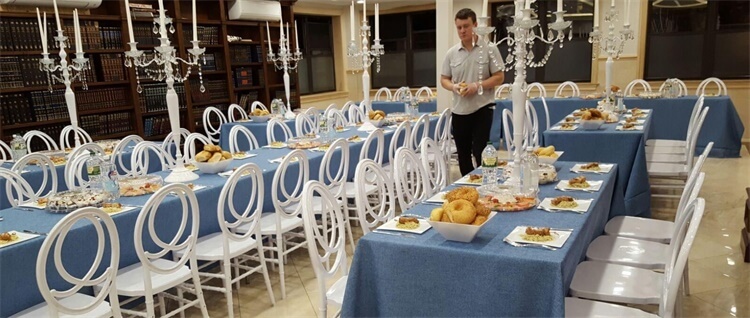 These phoenix chairs are perfect for special event seating. Always elegant and timeless in design, this
phoenix wedding chair is perfect for weddings, banquet events, or even as a family dining chair. They will
be the perfect addition to create an elegant party atmosphere.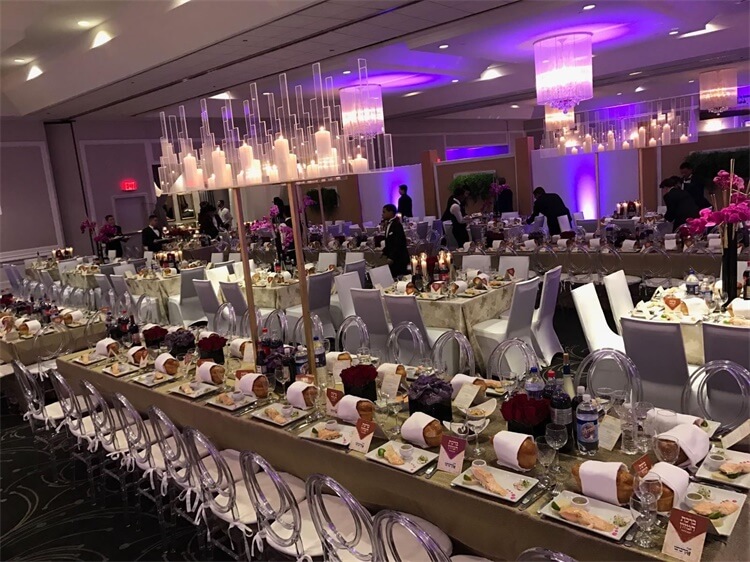 Please check the following video to know, how to produce Phoenix Acrylic Chair?