Wooden Double Fishes Phoenix Chair
Welcome to choose our new product, double fishes phoenix chairs, from the design you can see double fishes, our double fishes phoenix chairs without any patent confusion, production speed, novel style, fashion, double fishes phoenix chairs are very similar to the famous channel brand. Simple assembly to assemble and disassemble more. These wood phoenix chairs are so popular once they show on the furniture market for a wedding event, and used in the dining room, outdoor and so on, also you can see these wooden phoenix chairs in restaurant furniture marketing. Some customers change the back design base on normal styles, several oversea wholesalers visiting our factory for production processing, they are so surprised for more than 5 designs of these phoenix chairs, gold and limewashed colors more popular than natural color.
We are one big manufacturer for wood double fishes phoenix chairs in Qingdao China, our factory can produce some designed chairs depend on your draft or pictures.
No copyright for this design
Stackable of wood phoenix chairs
Difference color choice wood phoenix chairs including natural, gold, silver, brown and so on
Description
Wooden phoenix chairs

Technical Details 
1) Polished high-quality, high-quality surface treatment. 
2)High-quality hardwood frame. 
3)The unique making technology of interior structure to ensure the chair's reliability. 
4)The precision design of perforation. Durability ensured with steel flat socket  cap screw and lockout. 
5)V-shape Metal cocked hat(angle iron) support the bottom of chair making it very stable and strong. 
6)The Distinctive Design of Wood Structures with Mortise and Tenon Connection.
The Use of the raw materials of Wooden Double Fishes Phoenix Chair conforms to quality standards. We have a
professional production team, responsible for customer and product.Phoenix chair is a new design for  ,restaurant,
wedding, indoor and outdoor. The cross pipe is a special black design for this chair. It looks elegant and gorgeous.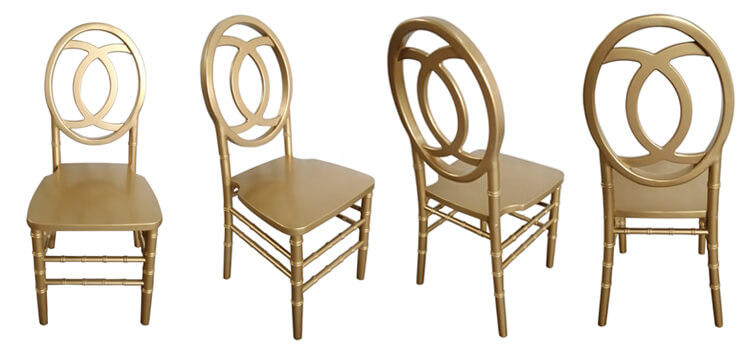 Wooden double fishes phoenix chairs production processing as following:

How to make wood phoenix chairs?
1. Spare Parts Production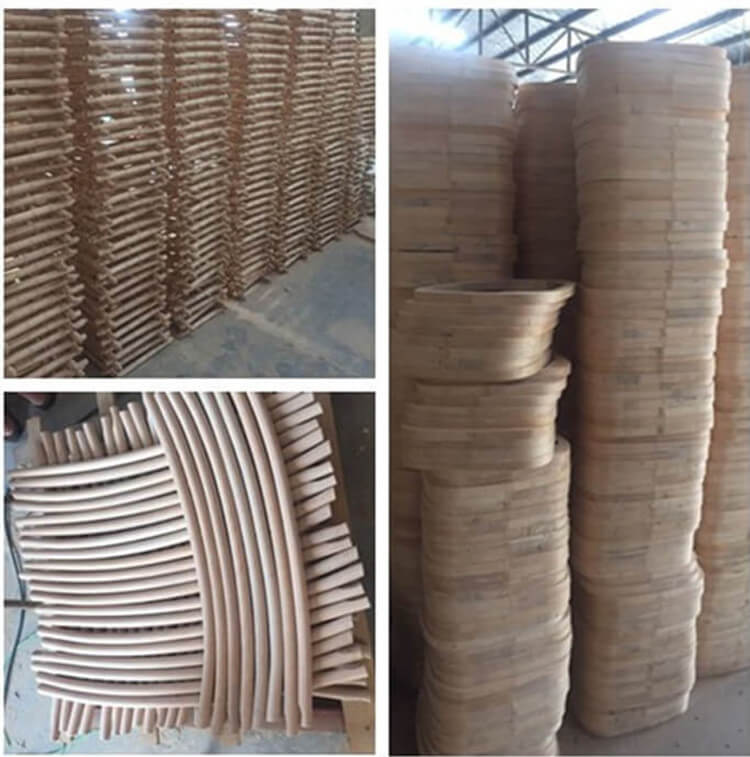 2. Assembled and sanding work for our wood phoenix chairs in Qingdao blossom furnishings limited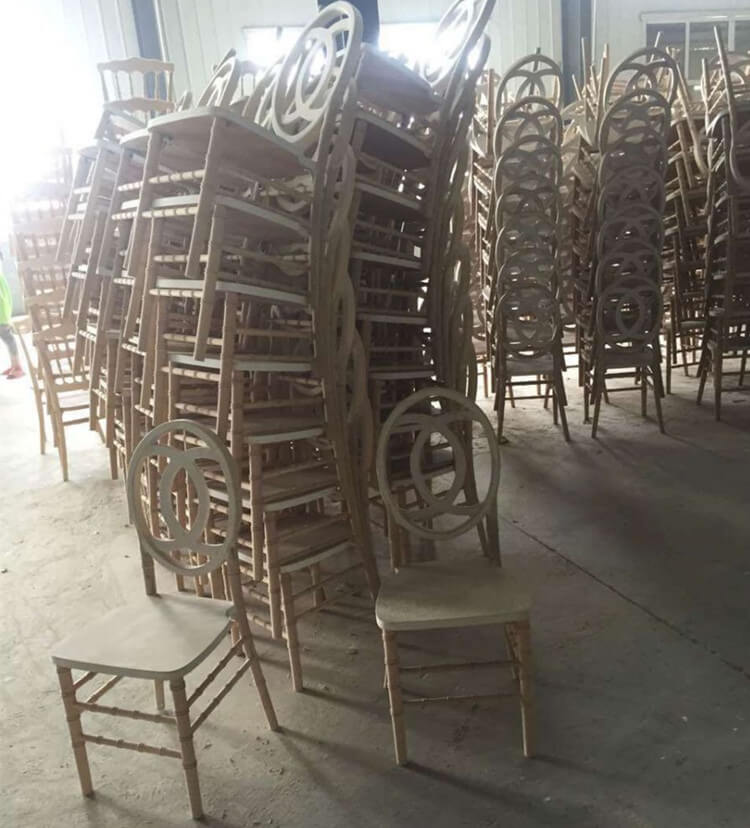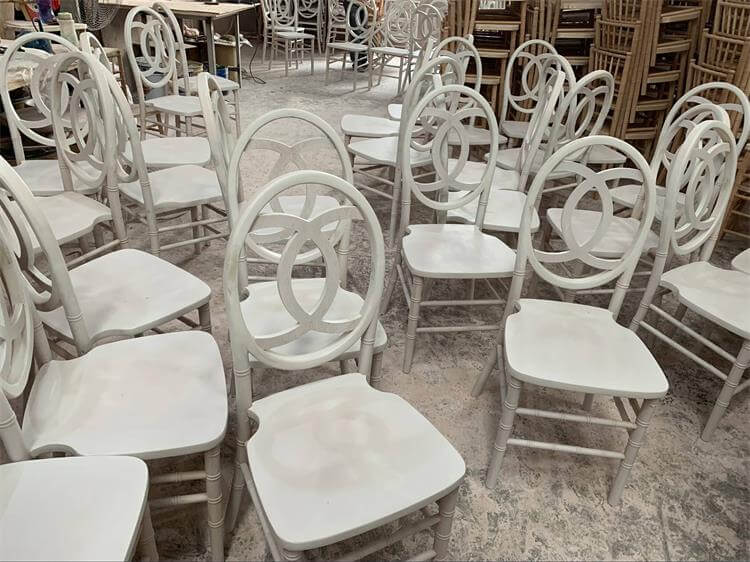 3. First painting works for our wood phoenix chairs, bottom painting can be white or yellow-white color
4. Surface painting finishing of our wood phoenix chairs



Our regular customers in Philadelphia, USA, have purchased this chair for three years in a row, including the same
bar chair. In 2020, we will equip these chairs with high-quality cushions. So, dear customers, when you buy, you
must consider whether you need cushion. If you buy cushion together, you can not only get discount, but also the
freight of cushion can be almost ignored. Because the seat cushion is placed in the carton of the chair and transported
together, it means that the seat cushion has zero freight, which is very economical.


Also, the black wood phoenix chairs as following:
These black funeral chairs for funeral events use. But you can see the pictures, we use Matt painting work,  not shiny
results. we will paint 2 times of bottom painting and 2 times of surface painting.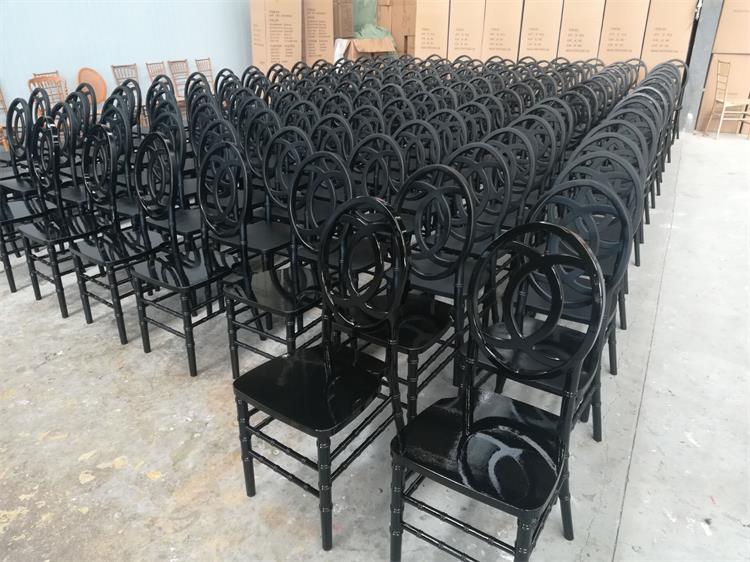 Popular Antique Ivory Color as following: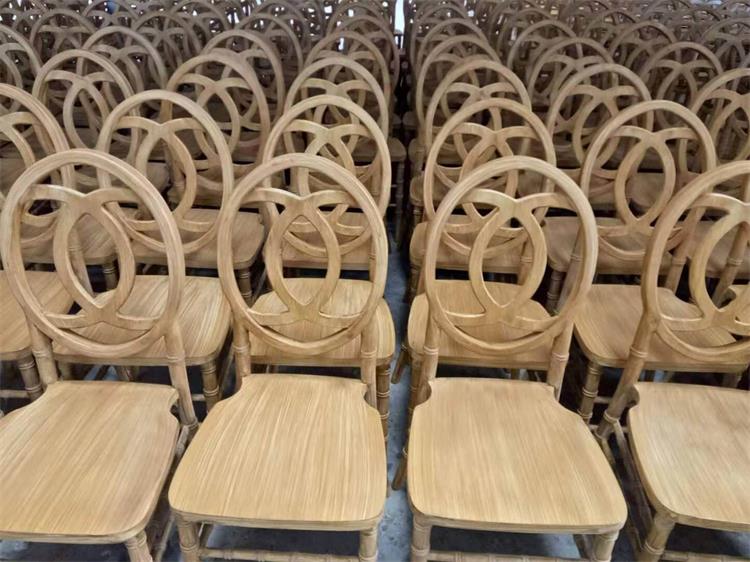 Wooden double fishes phoenix Chair Packaging process
We package our wooden double fishes phoenix Chairs with a layer by polypropylene bags, air form, and leatherette
to avoid scratch and damage in the course of transit.
The loading of the wooden double fishes phoenix  Chairs (according to your requirements):
loading with boxes  and  loading without boxes
Where are the wood phoenix chairs using?
Wood phoenix chairs galley for wedding


Welcome to see the bellow video
How to make the wood double fishes phoenix chairs?
Love them, inquiry them, order them