Clear Resin Chiavari Chairs wholesale
We wholesale resin Chiavari chair worldwide. Resin Chiavari chairs made of solid polycarbonate material from Japan or Germany, clear resin Chiavari chairs are so popular in Brazil and America, and South Africa, we can offer knockdown clear Chiavari chairs and assembled resin Chiavari chairs. From 2011 years, our resin Chiavari chairs quality improved a lot. More than 20000 pieces of resin Chiavari chairs can be finished one month, including different color. We have more than 5000 pieces of clear Chiavari chairs in ready stock. So we can deliver the prompt shipment.
Clear Chiavari Chair Features:
 Strong PC Resin frame
 Comfortable and resistant at the same time
 German and Japanese materials used for the making of the chairs for optimal quality
 Stackable up to 10 chairs
 UV Protected from fading and discoloration
 Suitable for both indoor and outdoor use
 Ready stock available for faster delivery
 All materials are reusable and recyclable
 Customizable color
100% of new materials do not add recycled materials
Minimum Order Quantity: 200 pieces
Description
Now we produce Clear resin Chiavari chairs more than 26000 pieces monthly, we selling our Clear resin
Chiavari chaired more than 46 countries and areas in the world from 1998. These chairs are so popular in wedding
And kid's birthday events.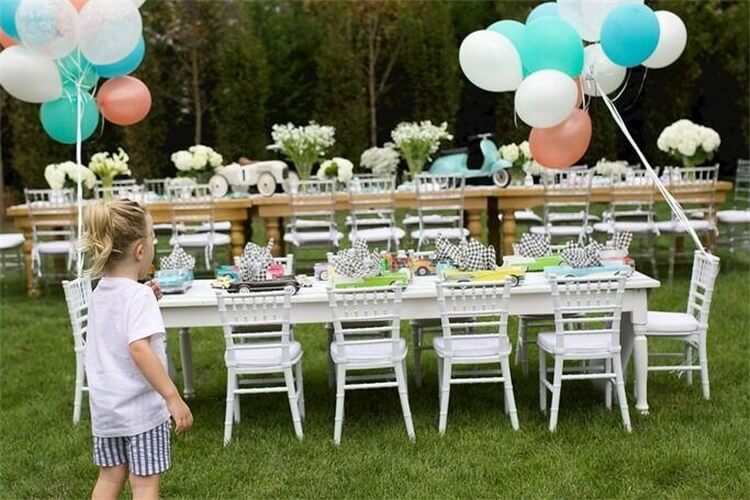 Advantages of Clear resin Chiavari chair:
1. knockdown Chiavari chairs are made of materials from Germany and Japan better than those from Korea
in intensity.
2. We adopt the mold of aluminum alloy of high quality made in Ningbo China, which confirms the smooth
surface of knockdown Chiavari chairs.
3. There are the least air bubble and water ripples about knockdown Chiavari chairs.
4. The capacity of knockdown Chiavari chairs in a static state is >500kgs(1100lbs).
5. HS-CODE IS 9401809099
6. Minimum Order Quantity: 200 pieces
More advantages:
5. All the materials of knockdown Chiavari chairs are reusable and recyclable so it does well in environmental
protection. And they are knockdown and assembled good for loading much more in containers.
6. Qingdao Blossom Furnishings Limited has read stock and can achieve prompt delivery after placing orders.
7. Qingdao Blossom Furnishings Limited has wonderful after-sale service, including 3% of free parts, the
supplement for shortage and damage, and the recommendation of new products.
8. Great stackable ability provides better warehouse management and more efficient delivery
9. UV protection prevents knockdown Chiavari chairs from being scratched and prevents discoloration
How to produce resin Chiavari chairs?
And How to control the quality of Chiavari chairs?
Do you know How many pieces of clear Chiavari chairs monthly from Qingdao Blossom?
What is the difference with another supplier of our chairs?
Please follow us to visit our workshop for mass production and quality control.
It has the properties of anti-fading, anti-cracking, anti-peeling, and anti-warping. The bright colors of the
Chiavari chair corresponds to the overall color of the frame, rather than painting the exterior frame after
construction. This reduces the need for paint to repair areas that are knocked down during installation or
disassembly and extends the life of the chairs.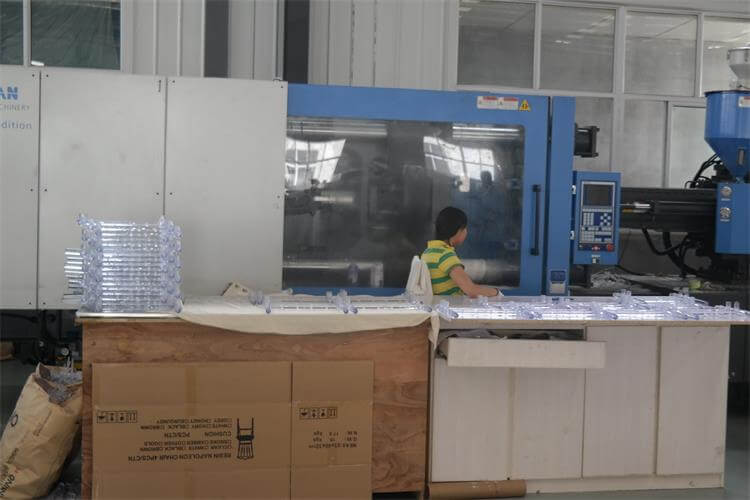 Material Choosing
We buy imported PC from Germany and Japan as raw materials. We refuse to use inferior recycled materials
and domestic materials. Our factory uses PC and PP on the chairs, PC resin is used to produce transparent colors,
because other materials cannot do transparent colors, so we use PP resin to produce common colors, such as
gold, silver, black, white, and so on.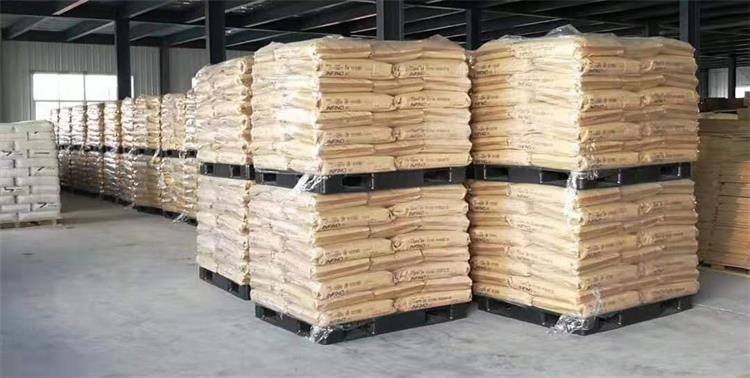 We put these imported raw materials into the machine, and then make the legs and seat plates of the clear
resin Chiavari chair. The parts of these clear resin Chiavari chairs are formed at one time.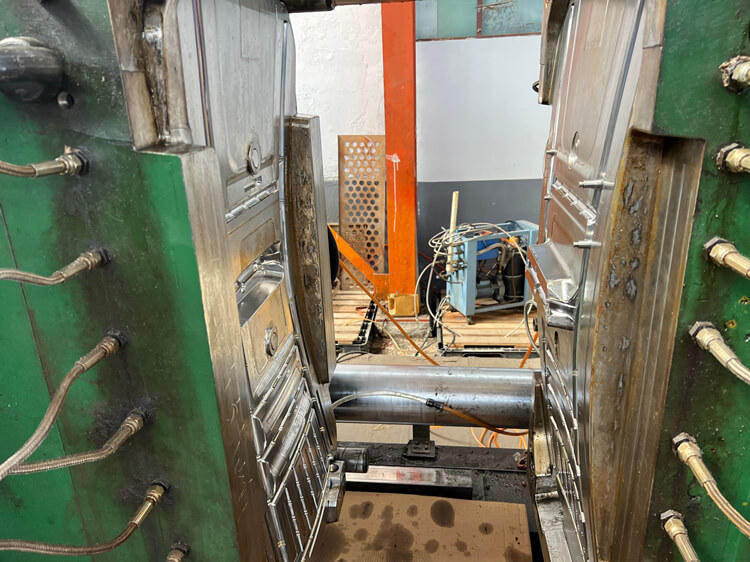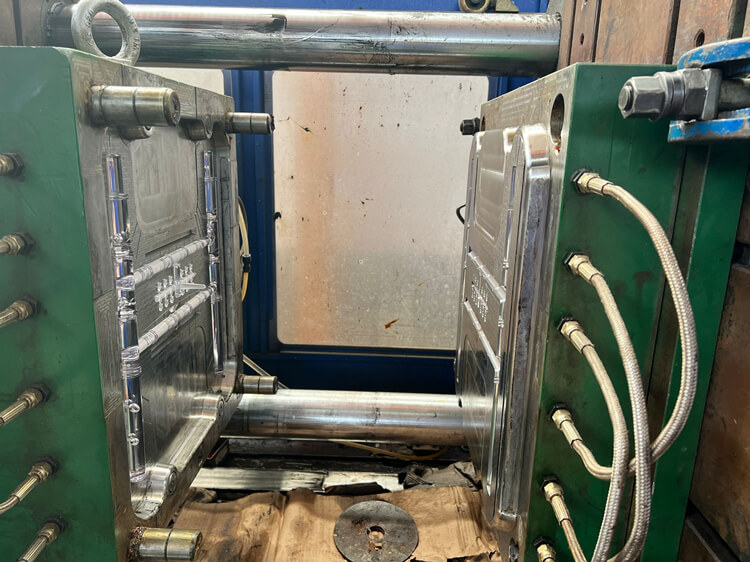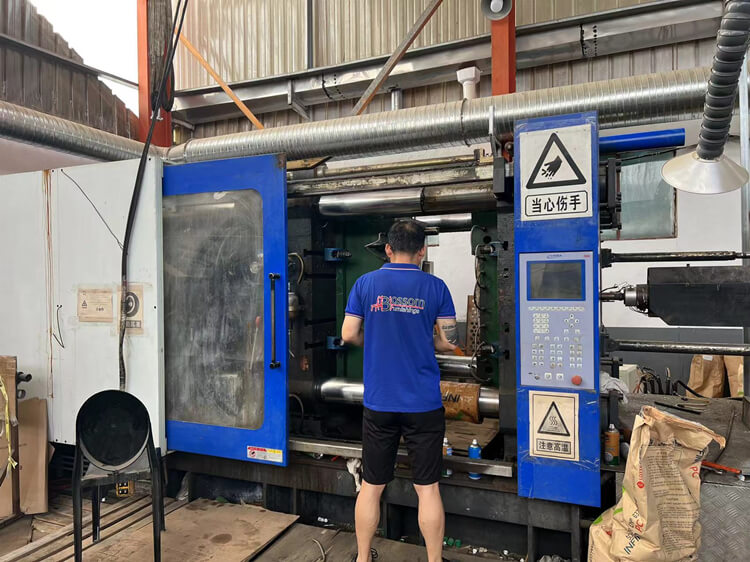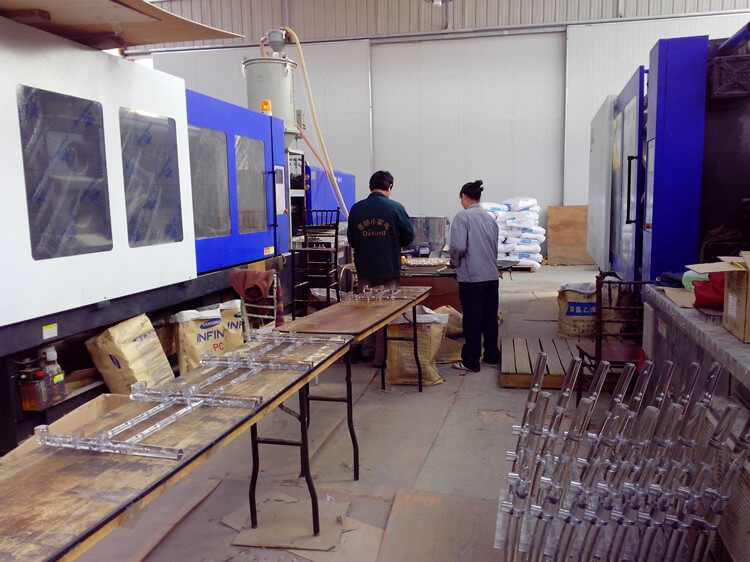 In the machine is the mold for making clear Chiavari chair legs.
We use imported materials, so the color is clear and there is no impurity. Our factory adopts special technology
to control and reduce air bubbles, making the chair frame clear and beautiful while maintaining its structural
integrity of the chair frame. The more random the bubbles in your chair, the weaker the frame.
Our chairs have the smallest bubbles!
The seat plate should be removed immediately, and the burrs on the edges need to be manually polished.
The sitting part is thicker than 4.5cm, much stronger to hold, and durable.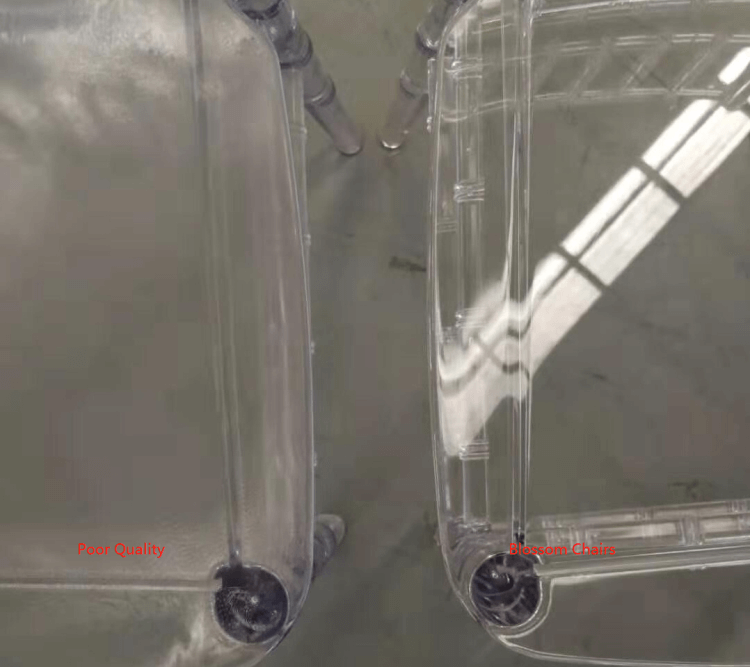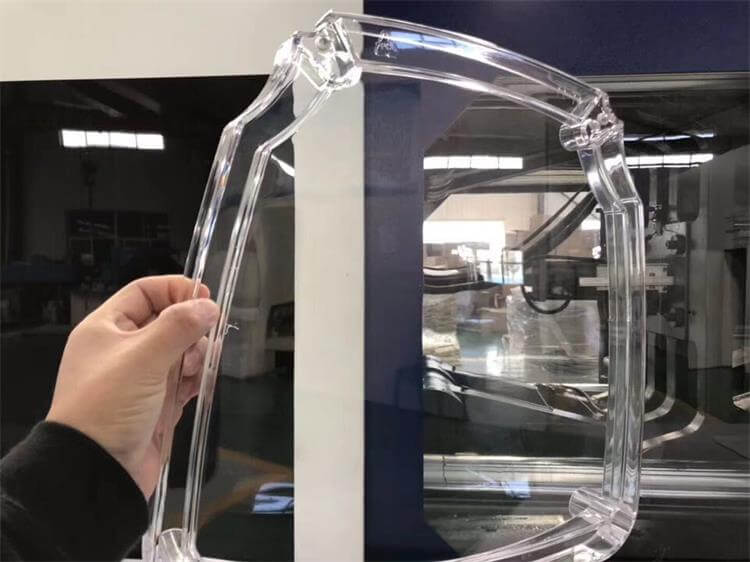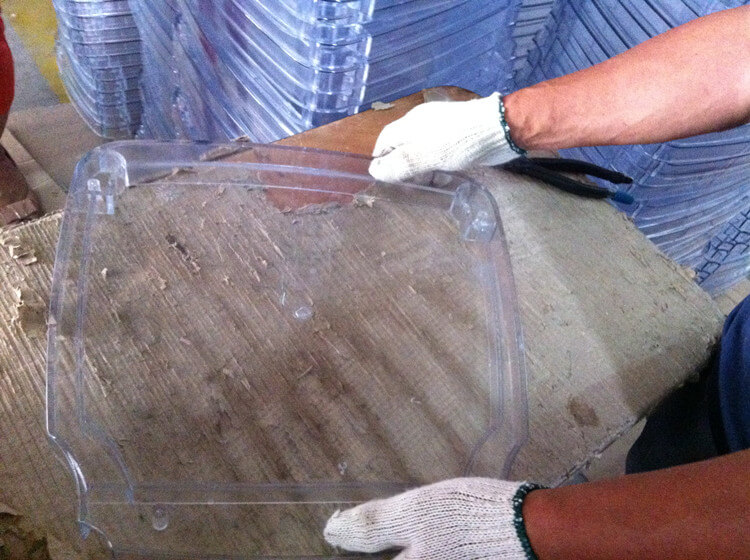 We hired 2 experienced QCs to take charge of every step of production. We will eliminate the bad projects
and ensure that every chair is of high quality. Screw it tight so that the chair won't shake. Provide a screw
cover to cover the screw hole to ensure a beautiful chair. Easy to install and remove.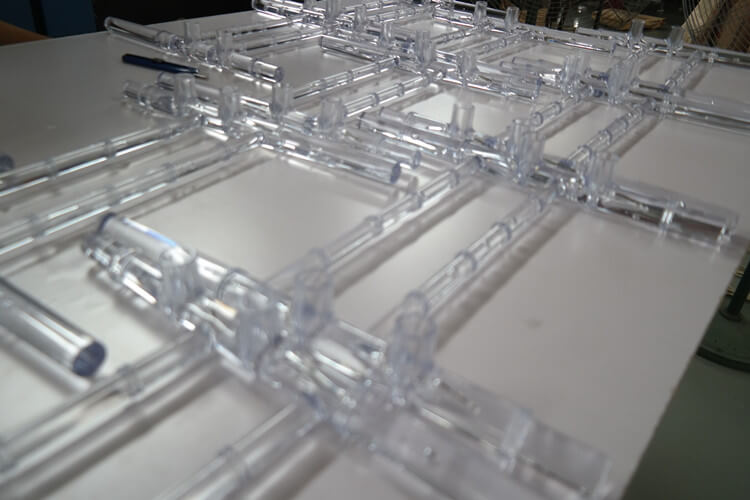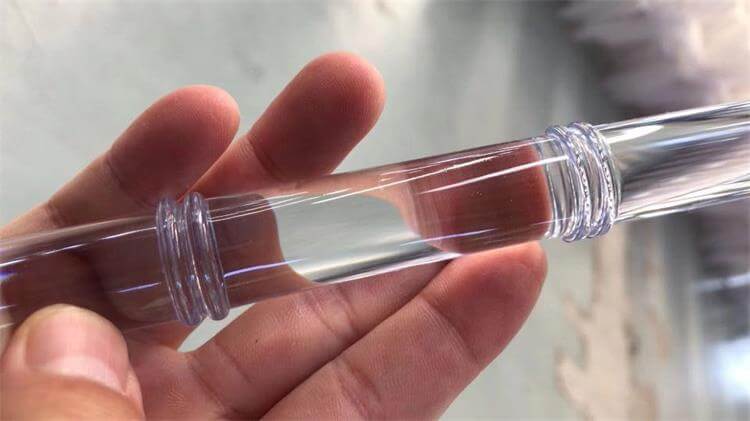 We keeping regular quantities of white and clear Chiavari chairs around 2000 pieces in our warehouse.
And we keep very clear in the warehouse and put the plastic film on the spare parts of Chiavari chairs.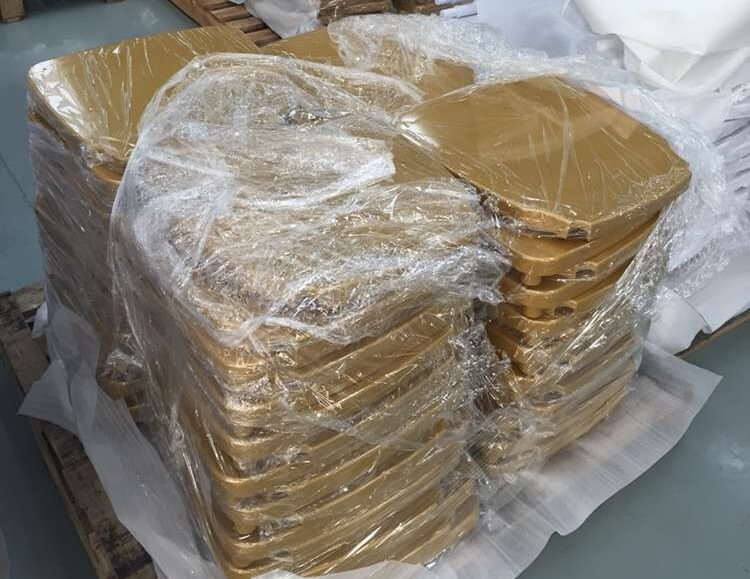 Different gold color for your choice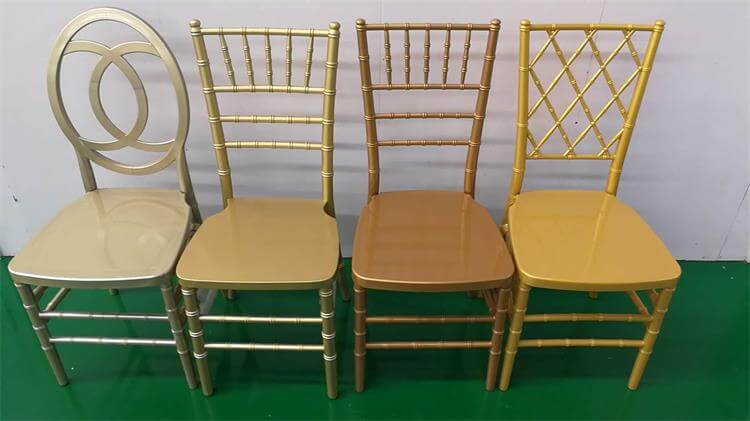 Gold color
Can we check more details? Yes, sure, please check all the details.


More photos as following as well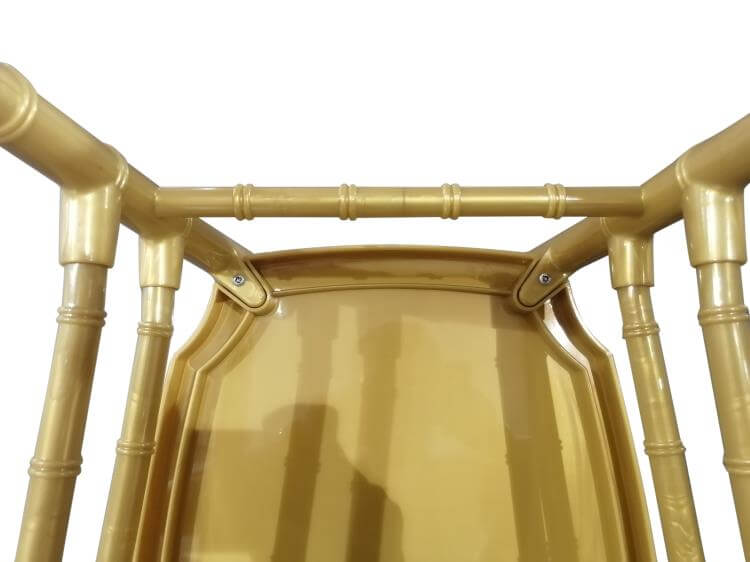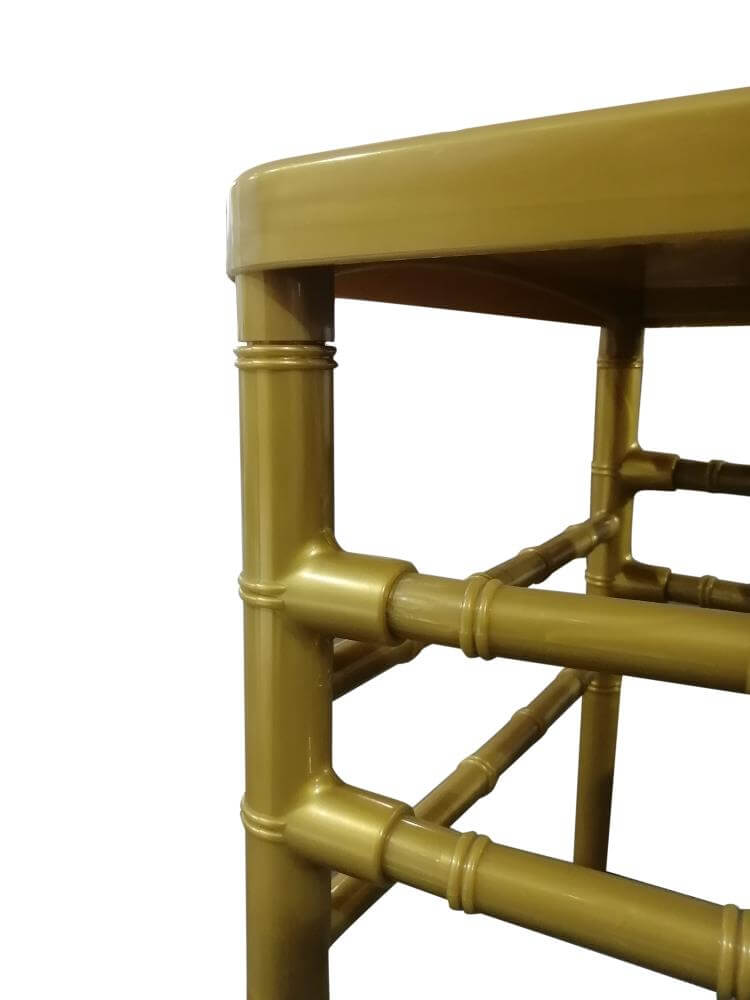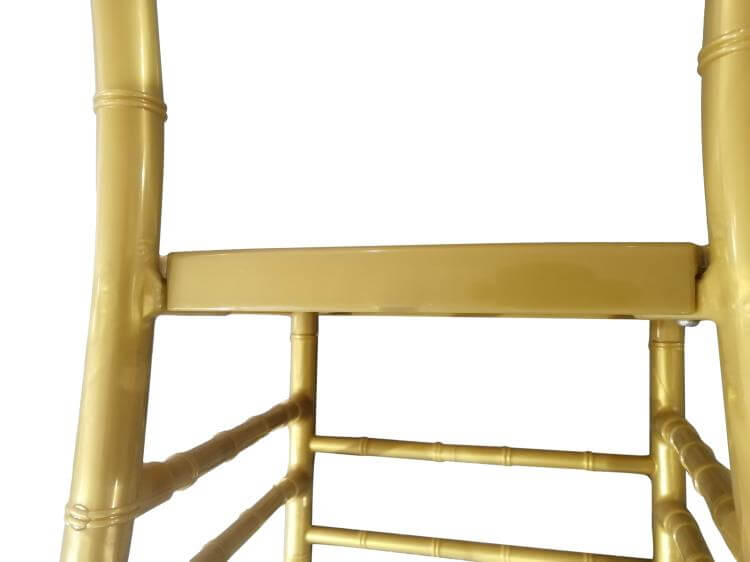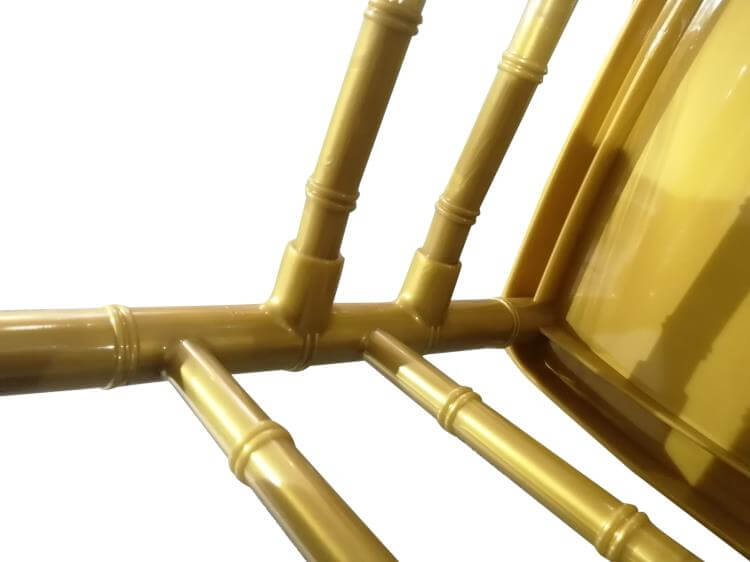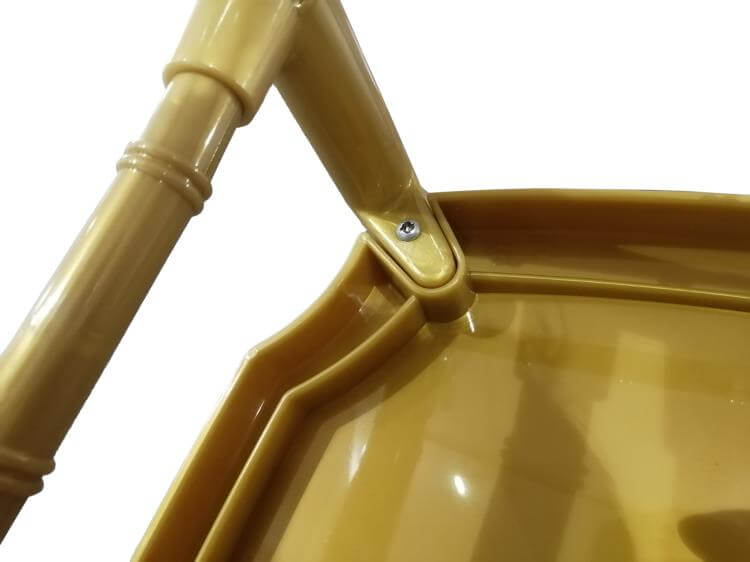 White ones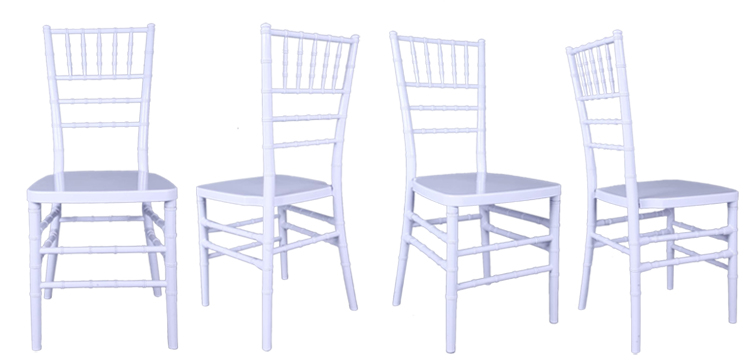 Details of back

Black ones as well

Sometimes, clients will ask us to assemble the chairs and ship them, so customers do not need to assemble them by themselves.


Detailed Display of Clear resin Chiavari chair :
This transparent resin Chiavari chair offers a lightweight, elegant design that will compliment any banquet
hall, banquet hall, or wedding event while providing guests with durable seating. The resin frames of these
ballroom chairs are made of high-impact polycarbonate and weigh 1,000 pounds statically. And UV treatment
to prevent discoloration and discoloration.
How to Assemble the Resin Chiavari Chair? Is that Difficult?
Blossom Furnishings provide the assembly instruction in each carton box, you can assemble the clear resin
Chiavari chair easily according to the instruction. We offer the assemble service before shipment if you can
accept the volume bigger after assembly.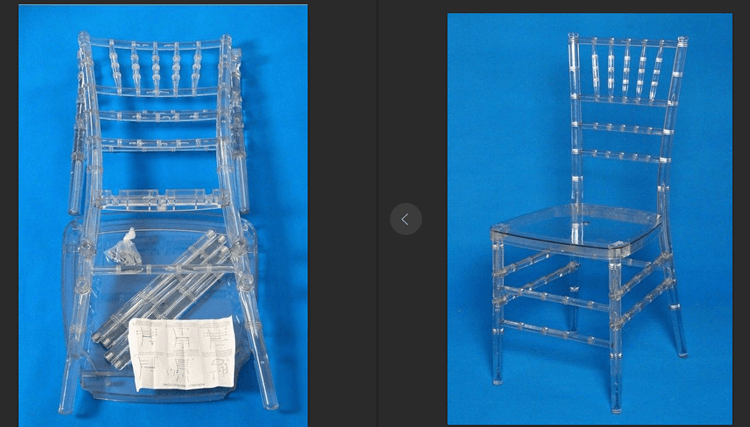 Let us see the Clear Chiavari Chair Bearing weight
The resin Chiavari chairs sold by our company are durable and can provide you with better rental business
or wedding service. Each resin chair is inspected by our best QC department before it leaves the factory. 
The resin frame on these ballroom chairs is constructed of high-impact polycarbonate with a static weight
the capacity of 1,100 lbs.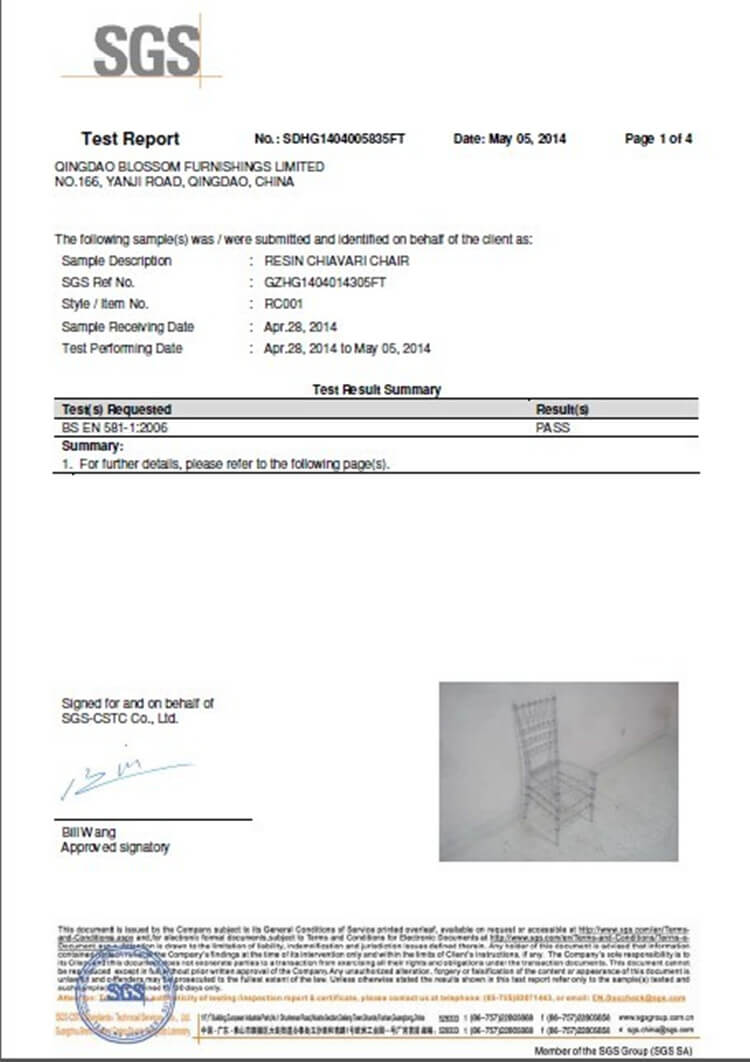 Our Resin Chiavari Chair Color
We offer Chiavari Chairs in transparent and opaque colors, both resin materials. We have many kinds of
colors: black Chiavari chair, white Chiavari chair, gold Chiavari chair, silver Chiavari chair, clear Chiavari
chair, mahogany Chiavari chair and blue, pink, green, smoke, red,  so on. You never need to repaint or redecorate these chairs!
The color of the resin runs through.
Color Swatch for Our Chiavari Chairs Resin: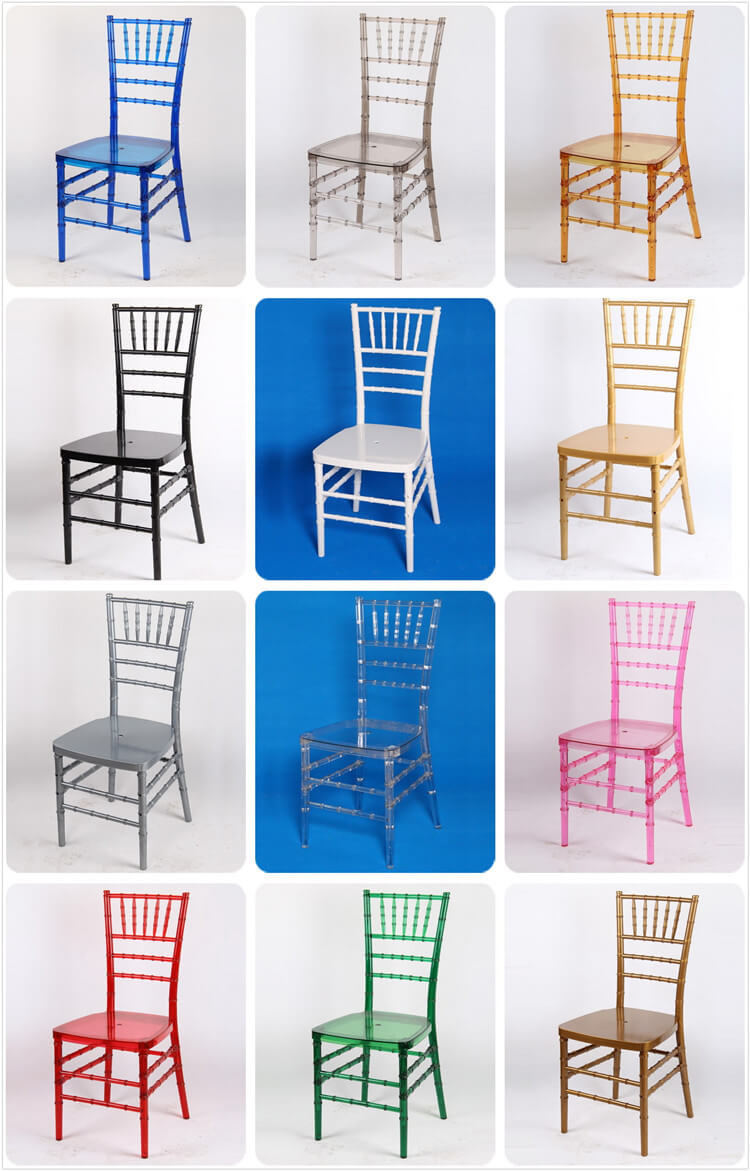 Please check the Resin Chiavari Chair Size
The size of the transparent resin chair is perfect for the comfortable sitting of most customers. The overall
seat size is 41*42*92 cm, the seat height is 45 cm, and the seat plate size is 40*39 cm. The width of the back
of the chair is 37 cm, which is very suitable for the back of the guest and allows the guest to rest. Also the resin
Chiavari chairs can be matched with nice leather pads, and vinyl wood base pads.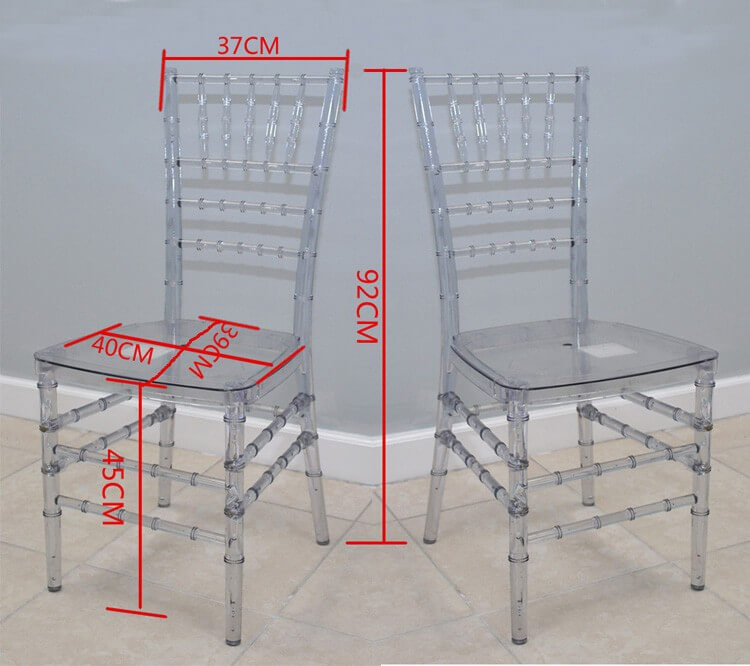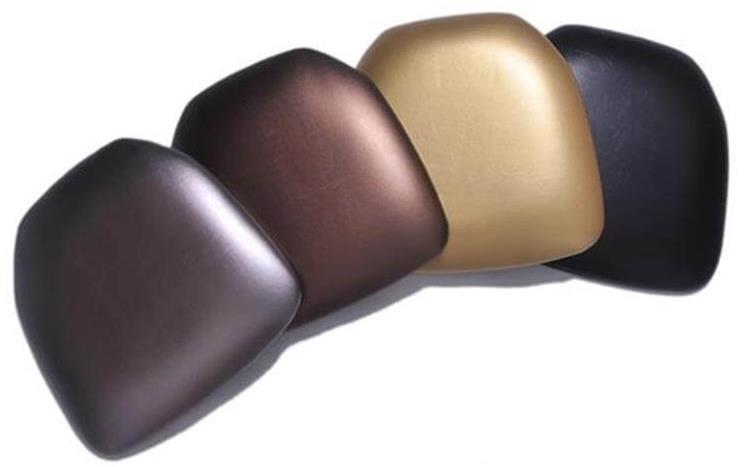 Clear Chiavari Chair Display:
These clear integral resin Chiavari chairs are required by most commercial grade event facilities and rental
companies and each clear resin Chiavari chair features a lightweight, Integrated frame design, which does
not need to be polished, repainted, or dyed, non-stick and anti-static finish, is UV treated to prevent discoloration,
suitable for indoor and outdoor use.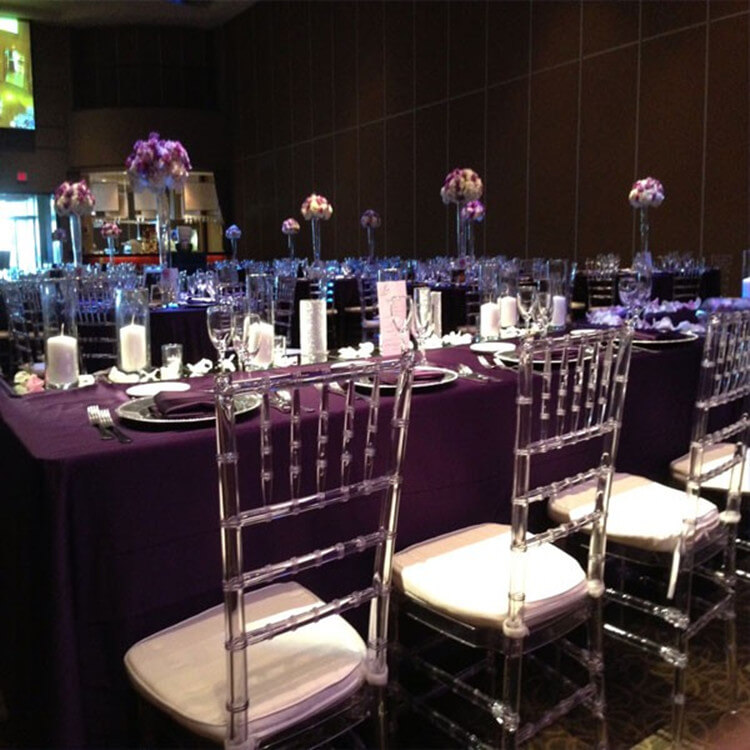 Chiavari chair seats have become one of the world's most popular seats for special occasions, from weddings
and graduations to major events such as dancing with the stars. The crystal clear Chiavari stacking chair
combines classic elegance and durable durability.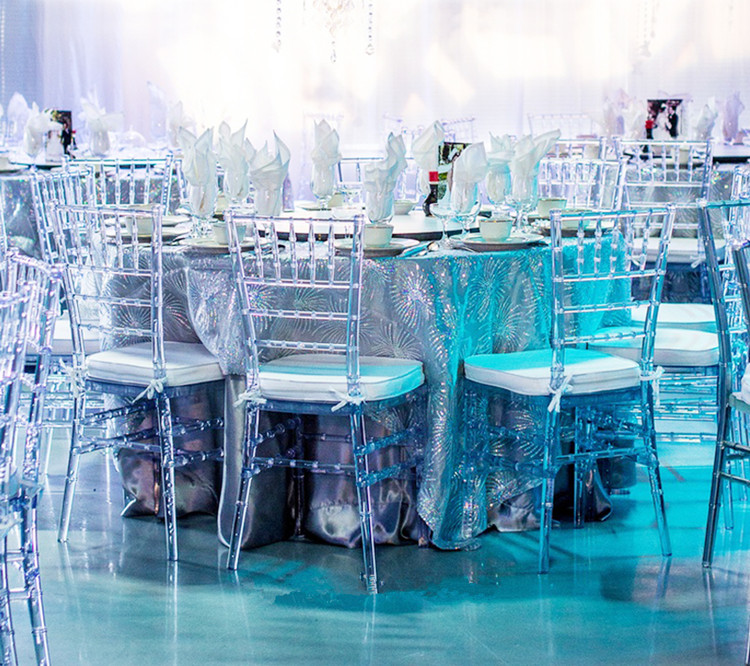 The solid resin structure of our Chiavari seat features four supporting spindles to keep the seat stable, thus
eliminating chair sway, and the convenience of stackable, mobile chairs. Often used as wedding chairs, these
Chiavari Chairs stack 10 high for easy storage and transportation, with clear sliding floors designed for indoor
and outdoor use.
Resin Chiavari Chair Packaging Process
After production the resin Chiavari chairs and packaged with a layer of polypropylene bags, airbag form, and
leatherette to avoid scratch and damage in the course of transit.
The loading of our chairs is according to your requirements:
– loading with box
– loading without box
Assembled already loading:
20 ft container: 396 pieces  40ft: 782 pieces 40 ft HQ: 900 pieces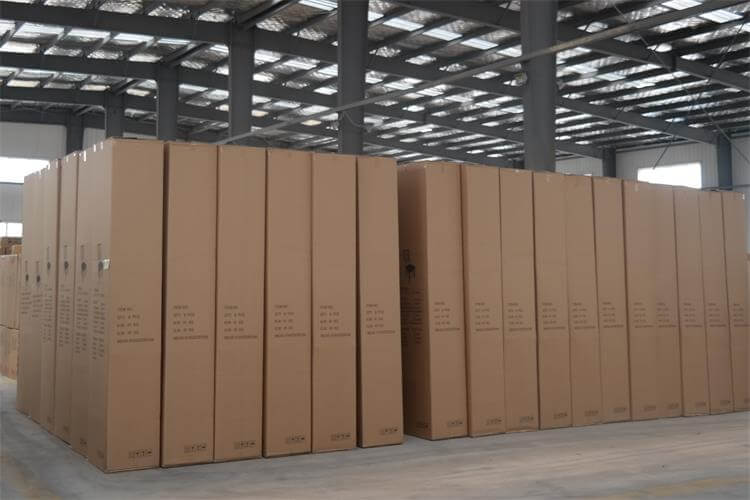 KD knockdown box size:
without cushion box size: 93✘41✘31cm (4 pieces)  with cushion box size: 93✘41✘38cm
KD:  1032pcs/20GP,2120pcs/40GP,2400pcs/40HQ(without cushion)
          852pcs/20GP,1650pcs/40GP,2000pcs/40HQ (with cushion)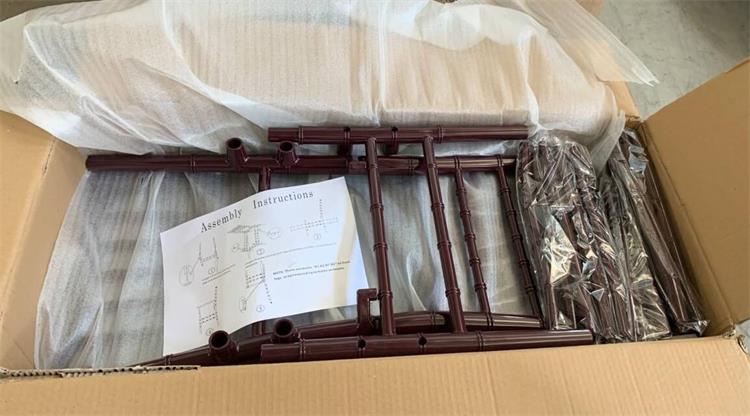 Please kindly read the assembly instructions for resin tiffany chairs, it is very easy to assemble the chairs
Let us show you the result of mahogany resin Chiavari chairs as follows: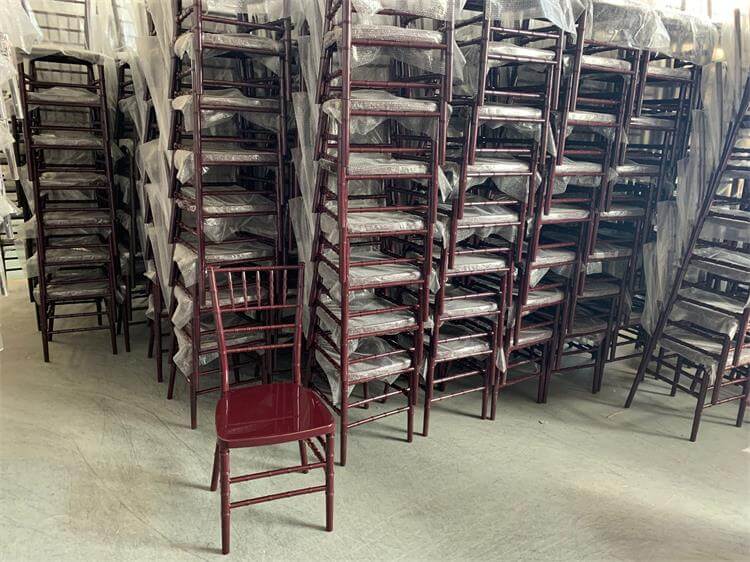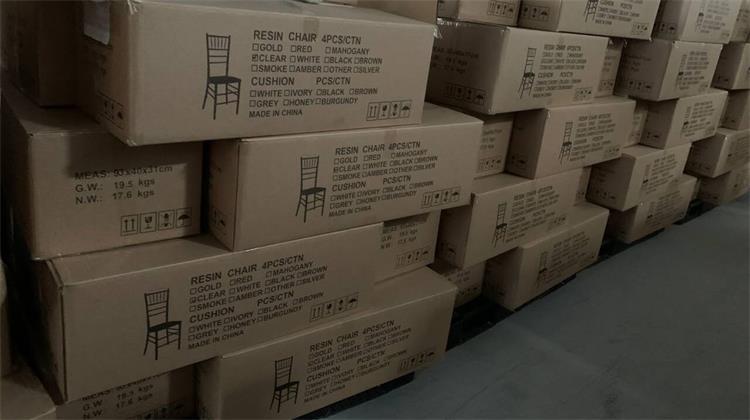 Our box main mark shows the color very clear
Side mark shows the size of box is 93*40*31 cm, and the net weight is 17.6 kgs, Gross weight is 19.5 kgs
200 pieces will be at 5.766 CBM
container date:
Per box CBM is 0.11532 cbm   Per chair is at 0.02883 cbm
DDP station measures the size as follows:
95 x 47 x 32 cm (0.14288 cbm per box)
95x47x37 cm (including cushion )
We put some spare parts for after-service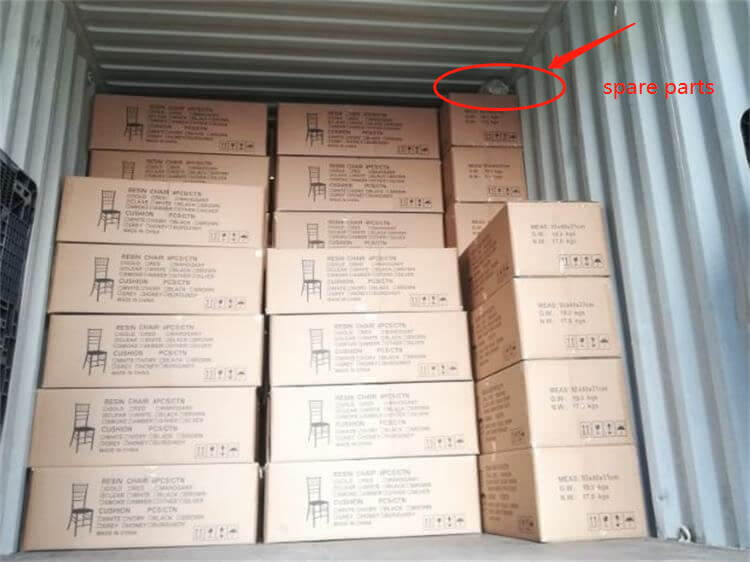 Our client from Seattle offers some gallery photos, so nice!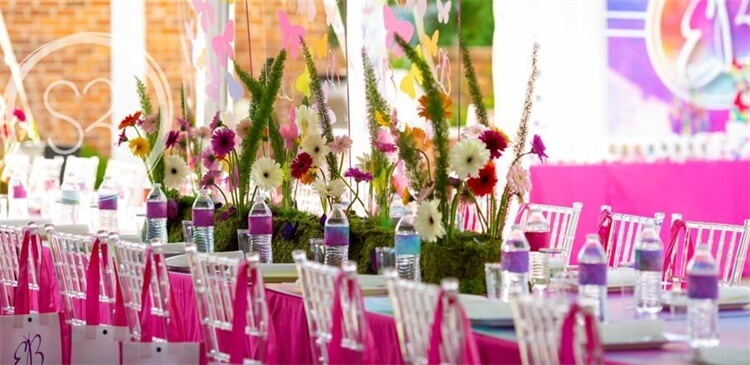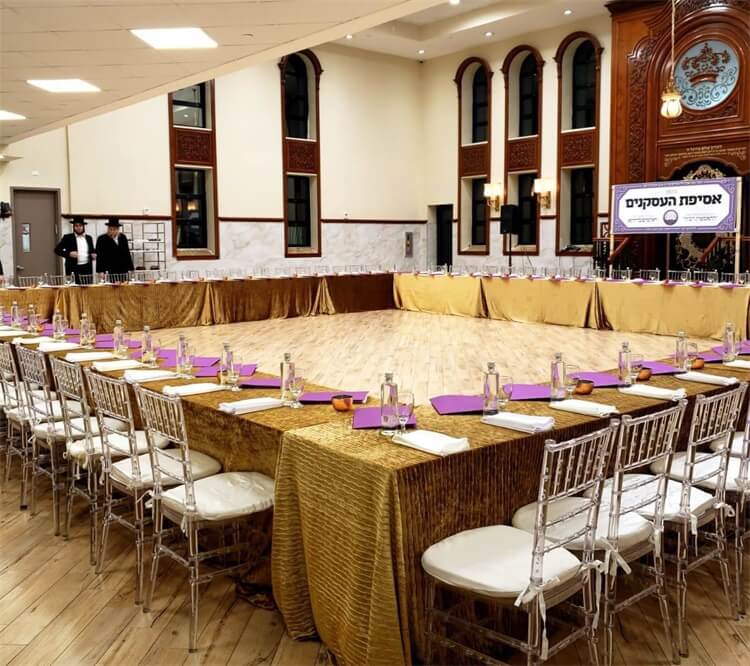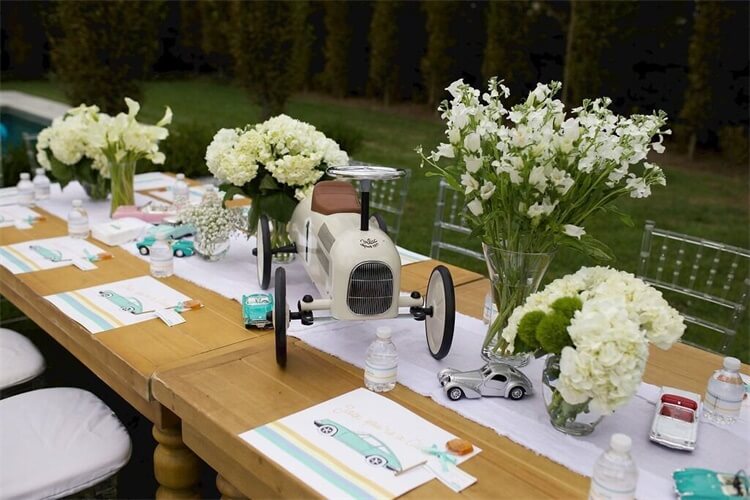 Our resin Chiavari chair can be disassembled and assembled by yourself, and it is very easy to disassemble and assemble. Buying such a chair
can save you a lot of space. Save a lot on shipping. And the resin Chiavari chair is very sturdy, you can step on it without any problem. Hope you
are interested in our event chairs and tables, please send an inquiry to us.