Polypropylene with Tube Chiavari chairs
We are a professional polypropylene with tube Chiavari chair manufacturer, one of the greatest furniture factories specializing in manufacturing kinds of chairs in Qingdao,especially Polypropylene with Tube Chiavari chairs. Productivity of them is 20000PCS monthly. So we are more experienced. Moreover, many advantages are unique, such as optional colors, customization and so on. Wonderful after-sale service is supported as a guarantee. Production process and packing are careful, meanwhile, all kinds of transportation are available, especially container. It is convenient to have prompt delivery.
Advantages of Polypropylene with Tube Chiavari chairs
1. Polypropylene with Tube Chiavari chairs is made of the materials from German and Japan better than those from  Korea in intensity.
2. We adopt the mold of aluminum alloy of high quality made in Ningbo China, which confirms the smooth surface of plastic clear crystal resin Sillas Chiavari tiffany chair.
3. There are the least air bubble and water ripple about Polypropylene with Tube Chiavari chairs.
4. Minimum order quantity: 200 pieces 
Description
These Chiavari chairs with metal inside are popular in American weddings because they are very stronger, no broken.
We producing almost 8640 pieces of resin Chiavari chairs monthly, our main market is the USA.
Main details of resin one piece Chiavari chairs:
4. The capacity of Polypropylene with Tube tiffany chairs static state is 300kg.
5. All the materials of Polypropylene with Tube Chiavari chairs are reusable and recyclable so it does well in environmental
protection. And they are knockdown and assembled well for loading much more in containers.
6. Qingdao Blossom Furnishings Limited has read stock and can achieve prompt delivery after placing orders.
7. Qingdao Blossom Furnishings Limited has wonderful after-sale service, including 3% of free parts, the supplement of
shortage and damage and the recommendation of new products.
8. Great stackable ability provides better warehouse management and more efficient delivery
9. UV-protection prevents Polypropylene with Tube wedding resin chairs from being scratched and prevents discoloration
10. The height of plastic clear crystal resin Sillas Chivari tiffany chair can be customized.

How to make the metal inside to Chiavari chairs?
This Chiavari chair with a steel tube in the middle is very strong and durable and does not add much weight to
the whole chair.
Although this kind of Chiavari chair has a steel pipe in the middle, you don't need to worry about hurting your
floor, because we will install foot pads under the legs of our chairs.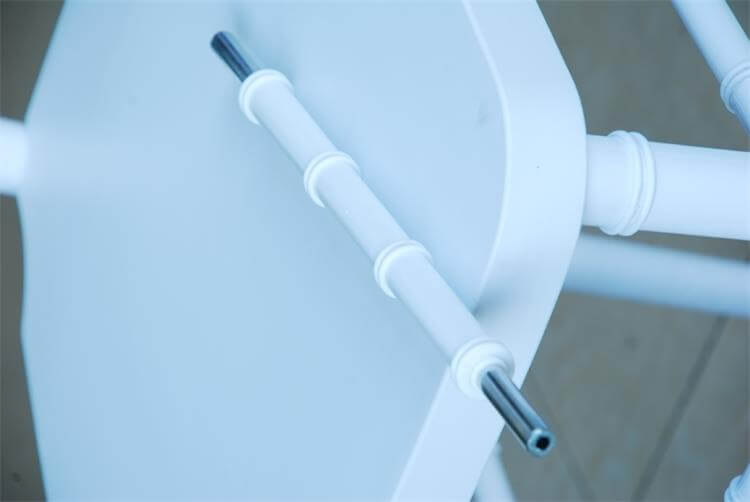 a picture of underneath the chair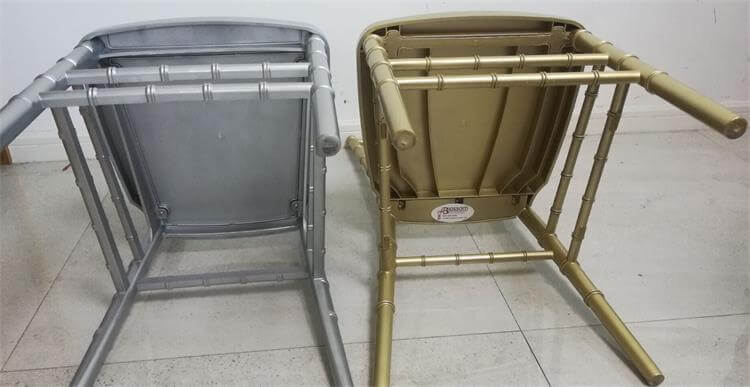 Different weight with tube and without tube, with tube, the weight is 5.10 KGS , without one is 4.35 KGS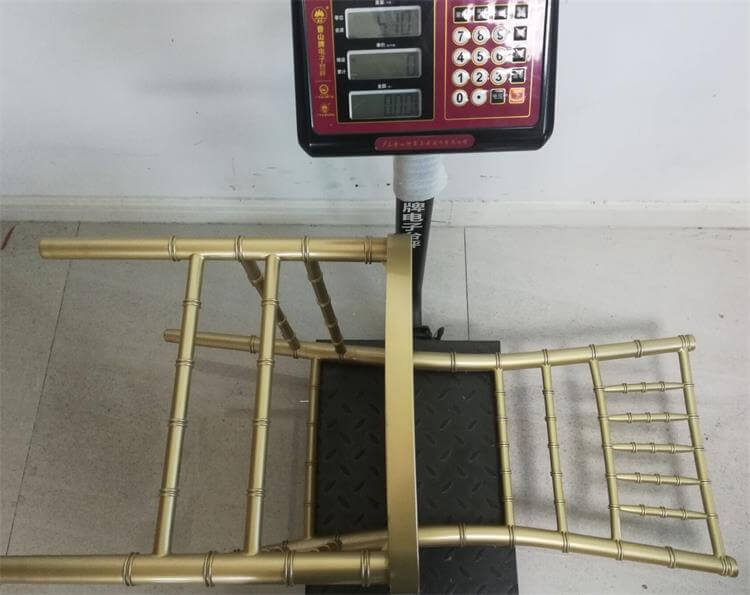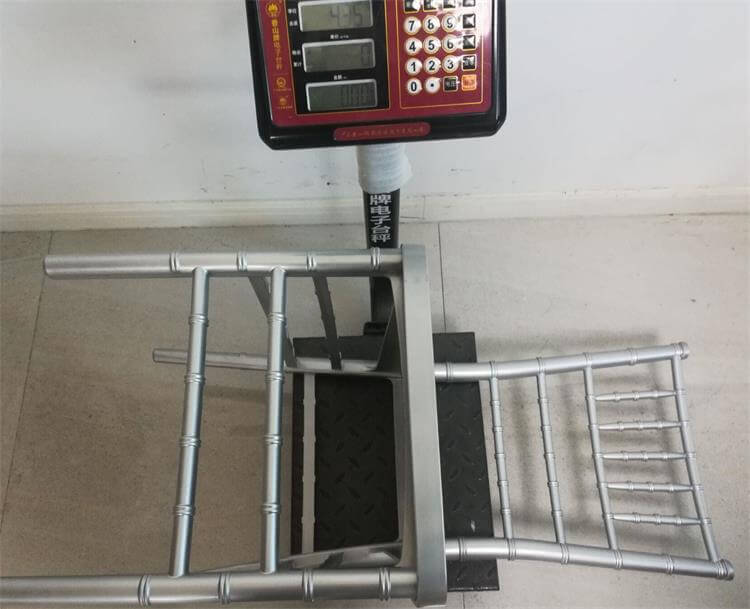 Polypropylene with Tube Chiavari Chair Product Press, we produce the parts, then assemble the parts very
stronger. These chairs are painted.

We help the customers assemble the chivari chairs finished, so you do not need to assemble
them when you get them.

We also produce seat cushions especially for this type of chair.

PRODUCT SHOW of Chiavari chairs:
Our wedding chairs showing in Philadelphia as well