O Net Round Back Chair
Qingdao Blossom Furnishings limited, we have invested more than 6 million yuan to develop the molds for the new chairs in 2019, including the two o-back plastic chairs, and the market feedback is very good, especially the customers in the Middle East market and African market like it very much, many wholesalers order it at a time.
Cheap Party O Back Plastic Chairs For Sale Outdoor Dining Chair Wholesale Garden Stackable Leisure Dining Chair
O-back plastic chairs main Features:
1. Material: PP and plastic, Monoblock, one pieces
2. Chair Size: W42.5*D51*H95CM
3. Chair weight: 3.7 kgs
4. Capacity: 256 kgs
5. Color options: Black, silver, gold, brown
6. MOQ: 300 pieces
7. Loading quantity: 20GP: 357PCS; 40GP: 721PCS;  40HQ: 927PCS
8. Production time: 2 weeks after deposit
9. SGS test reports available
Description
As one of famous Dining Chair Manufacturers and Dining Chair wholesale, Qingdao Blossom will be the first
one of Dining Chair Manufacturers in China. This model of chair is very similar of O back resin  chairs, just
the back is full of nets as the pictures. Other designs are exactly same.
Through the above five pictures, you can clearly see the front, back, left and right angles of this chair, and then
have a careful understanding of the structure of the chair.

The beautiful appearance and delicate structure of this chair is the style that our team has obtained after four
careful modifications and improvements. No matter the shape, proportion and size of the back, we all design it
according to human science.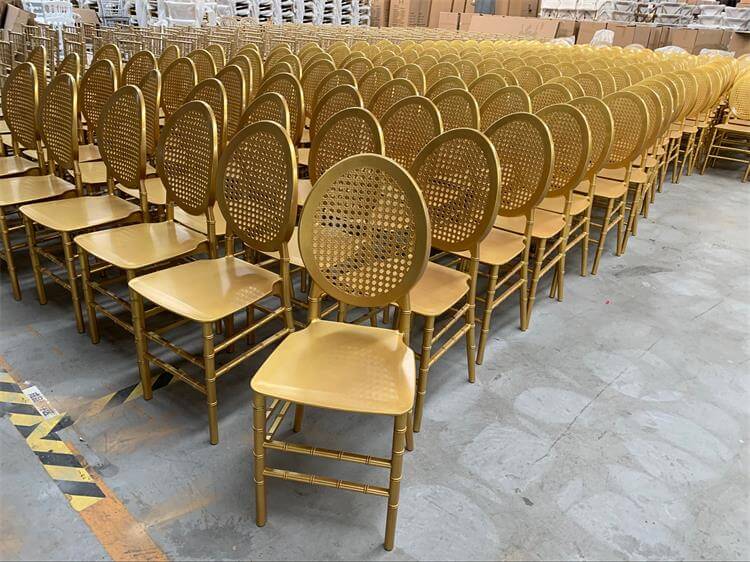 By contrast, at present, we export more products to the United States, Europe and Africa, especially the brilliant
golden color that African customers like, which is deeply loved by the customers of wholesalers in South Africa.
Of course, we can also produce other colors.
The following pictures clearly show the bulk situation before packaging. Our workshop has done dust-free
treatment, and there is no dust in the packaging workshop. We will pack a single chair separately, and then stack it
into a suitable carton. Each chair can be put into the package only after strict inspection to ensure that our
customers receive satisfactory products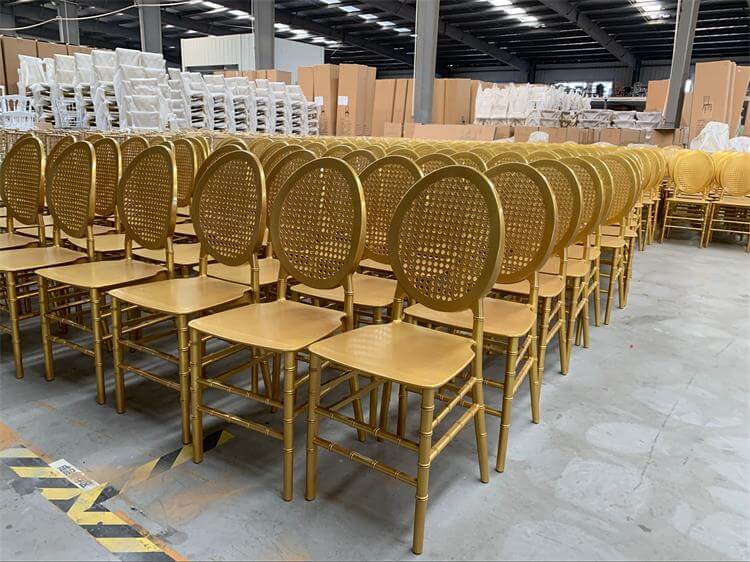 Welcome to our factory, and check O Net Round Back Chair.
We welcome customers from all over the world to visit our factory at any time. Our wooden chair workshop and
resin chair workshop are completely separated because of different production processes and in order to avoid
wood dust to the greatest extent.
For resin chair, we have more than 50 styles. We can produce different colors for each style. At the same time, we
welcome customers to produce styles. If the demand is large, we are willing to cooperate with customers to
develop.