French Bistro Chairs Wholesale
Treat your guests to dining al fresco in style and comfort with this outdoor armchair. Designed for outdoor use, this French-style chair is a great choice for restaurant and bar patios, sidewalk seating, and even banquet and outdoor entertaining areas. Its unique bamboo design instantly adds visual appeal to your venue and catches the eye of customers and passers-by. Plus, its armrests keep your guests comfortable while enjoying their meal or drink. Its stackable design makes it ideal for businesses with minimal storage space, while floor rails on the legs help protect your floors from scuffs and scratches. This extra level of protection is perfect for indoor use if you decide to use this chair inside your institution!
Rattan Bistro Chairs Wholesale
Imitation bamboo chair with aluminum structure.
Synthetic wicker seat, UV resistant.
Suitable indoors and 100% outdoors.
Lightweight and stackable to save space when not in use.
Available in a variety of colors and/or finishes.
Description
Made with a stylish aluminum frame, this French Bistro Chairs set not only provides an elegant touch with its attractive
design but also showcases excellent durability. The seat and back are made of outdoor mesh for cool
breathability for your summer lounging. Perfect to complement a side table or your favorite bistro table,
these feature chairs are sure to take your outdoor space to the next level.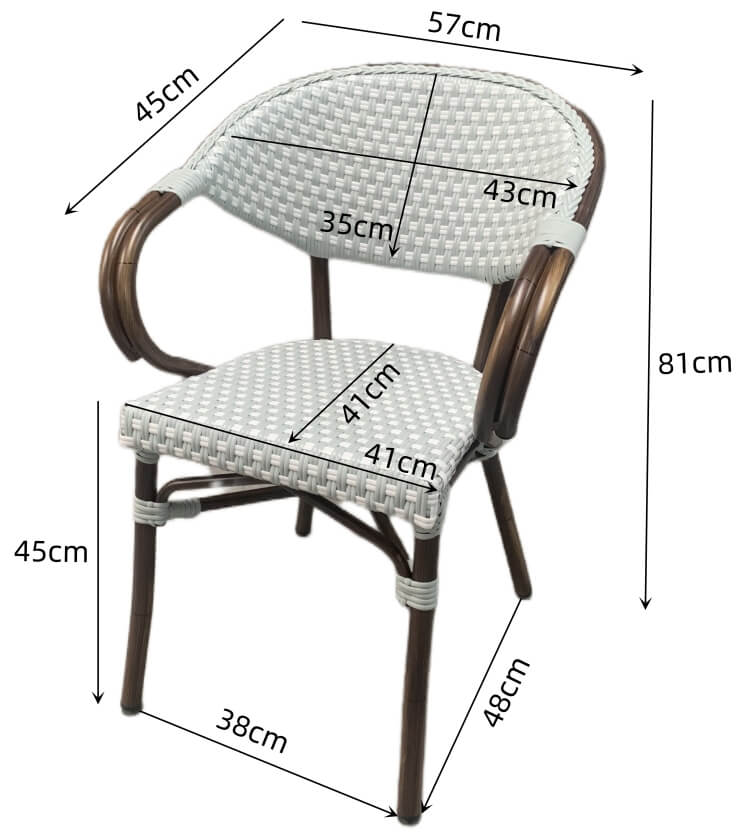 These fine French bistro-style chairs are ideal for outdoor patios and indoor dining. With their timeless look
and attractive wicker weaves, they are sturdy, stackable, and easy to clean.
French Bistro Chair Production Process
Constructed from powder-coated aluminum, this chair is durable enough to resist weather and corrosion,
while being lightweight and easy to maneuver.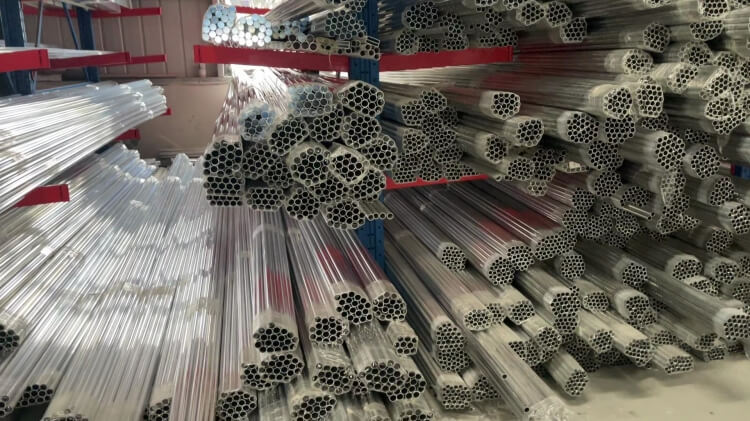 These aluminum tubes are cut into required lengths on a machine. The whole chair is made of aluminum
suitable for outdoor use, with hand-woven synthetic wicker with a bamboo pattern, which is UV-resistant,
so you have no worries.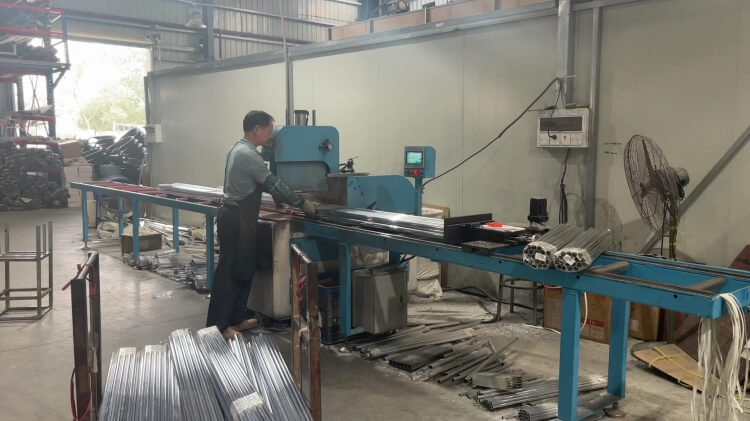 Put the cut aluminum tube on the machine and bend it into shape.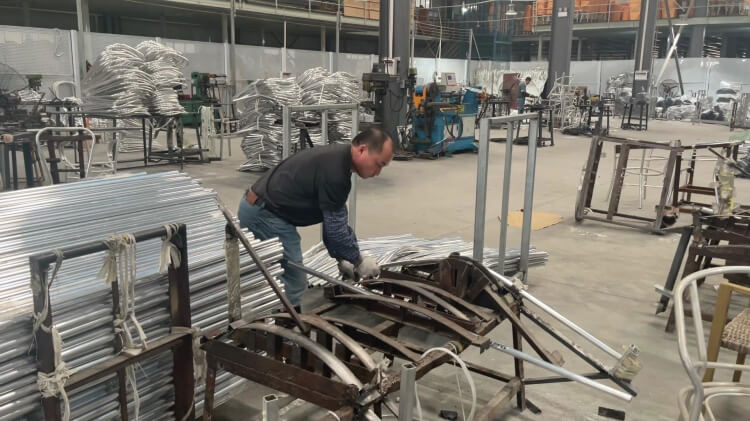 The frame is made of high-quality iron, strong and durable, beautiful and fashionable in color, flat and smooth,
lightweight and durable.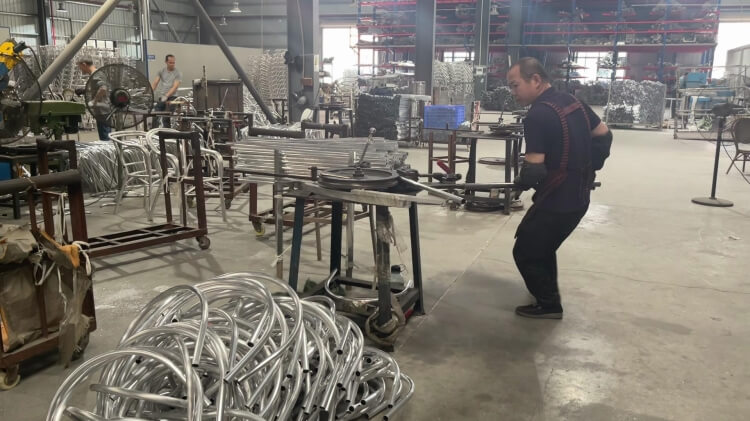 Welding technology is used to ensure that each chair is stable. Pickling the rattan coffee chair frame after
the installation will make the rattan dining chair last longer.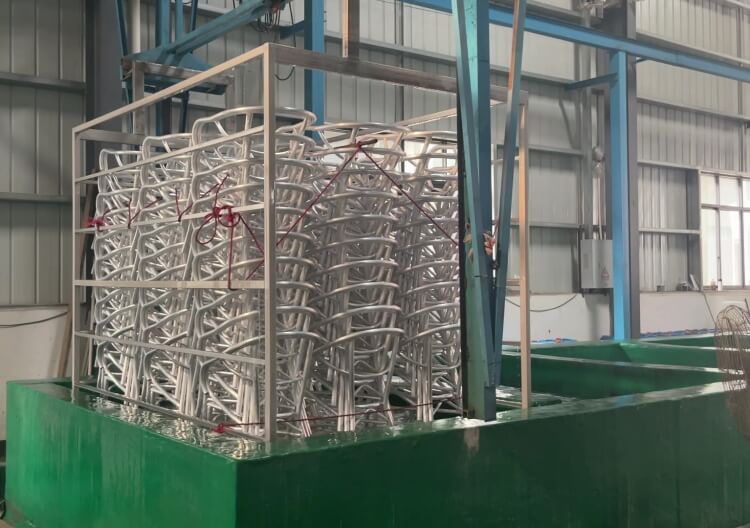 After the chairs are pickled, they are hung up to be painted. Acid-washed chairs shine brighter and are easy to paint.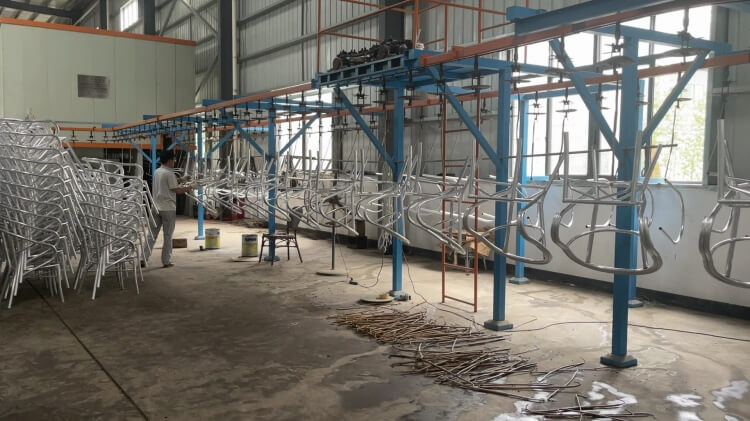 Our spray painting is automatic spray painting, hanging up for the painting, and just air drying here after painting.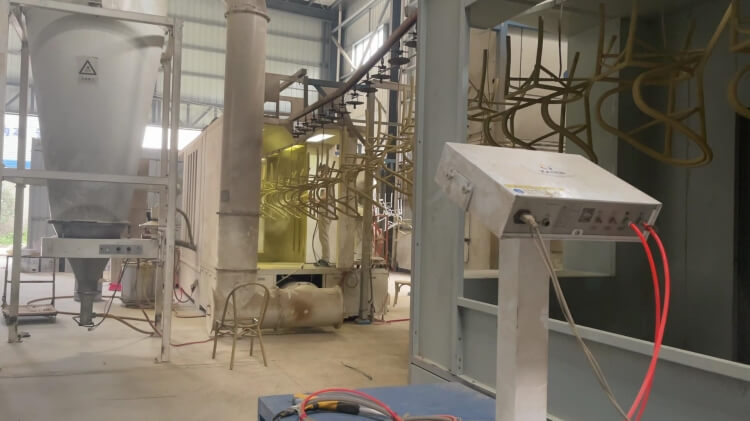 Manual hand-painting, hand-painting is more detailed, there will be no omissions. Comfortable design and
stylish atmosphere. It conforms to the curve of the human body and is comfortable to sit on.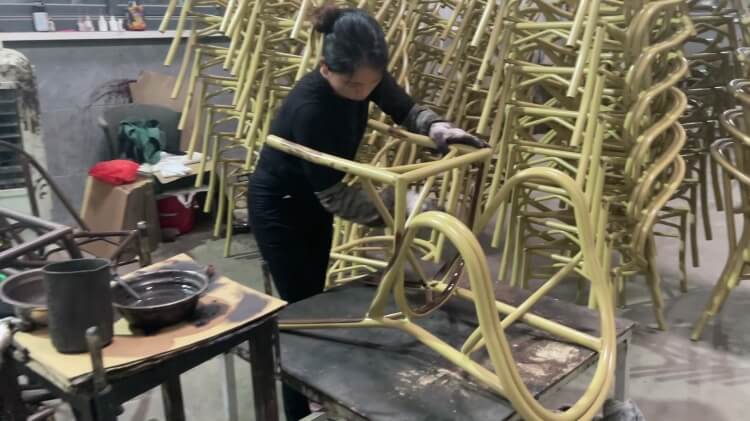 Rainproof, sunscreen, corrosion-resistant, thickened anti-rust iron alloy, durable. The seat material is made
of PVC plastic to ensure a stable product structure, strong bearing capacity, environmental protection, and
durability.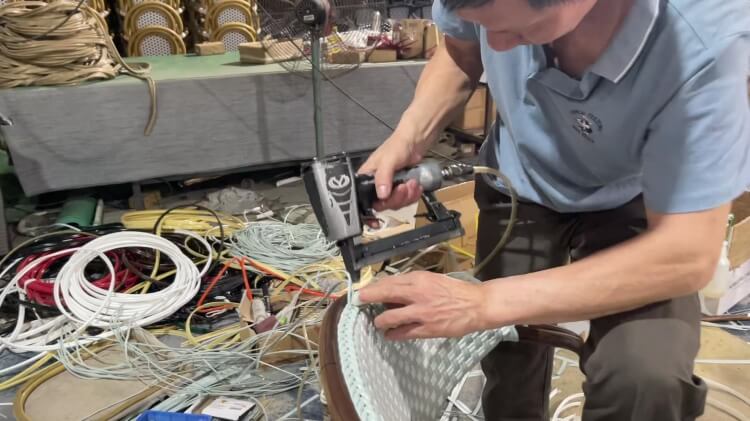 We wrapped the legs of the chairs so they wouldn't scratch the other chairs when stacked. Anti-slip and
anti-scratch mats keep you safe while protecting the floor.
French Bistro Chairs Weight
The weight of our chair is 3.88kg. The rattan dining chair is very light and stackable, so it is easy to transport.
Made from outdoor mesh material, this seat makes our chairs both flexible and supportive. This lightweight
material allows air to circulate and dissipate body heat on hot days.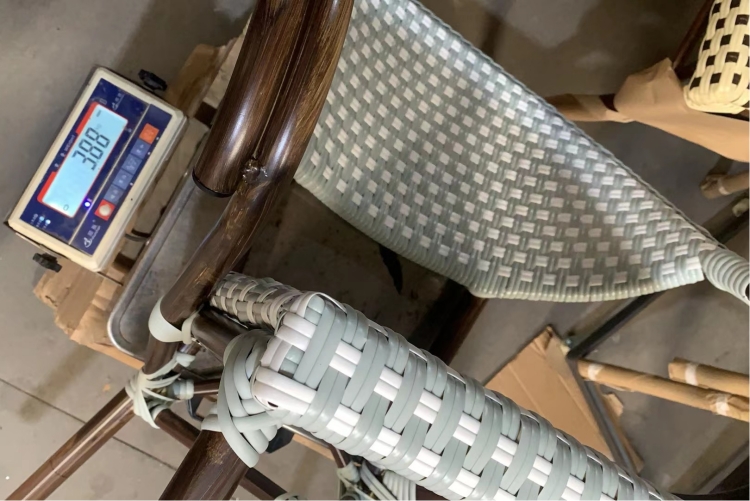 Ideal for adding a Parisian flair to your outdoor space. The whole chair is made of aluminum suitable for
outdoor use, with hand-woven synthetic wicker with a bamboo pattern, which is UV-resistant, so you have
no worries.
French Bistro Chairs Package
We wrap the back of the chair with an environmentally friendly plastic bag to prevent the chair from being
scratched during transportation. Then stack the chairs into a stack, and the height should be based on the
height of the container. We wrap the whole stack in brown paper to keep out dust. The first chair in each
stack is fixed on a wheeled trolley for easy movement and loading and unloading.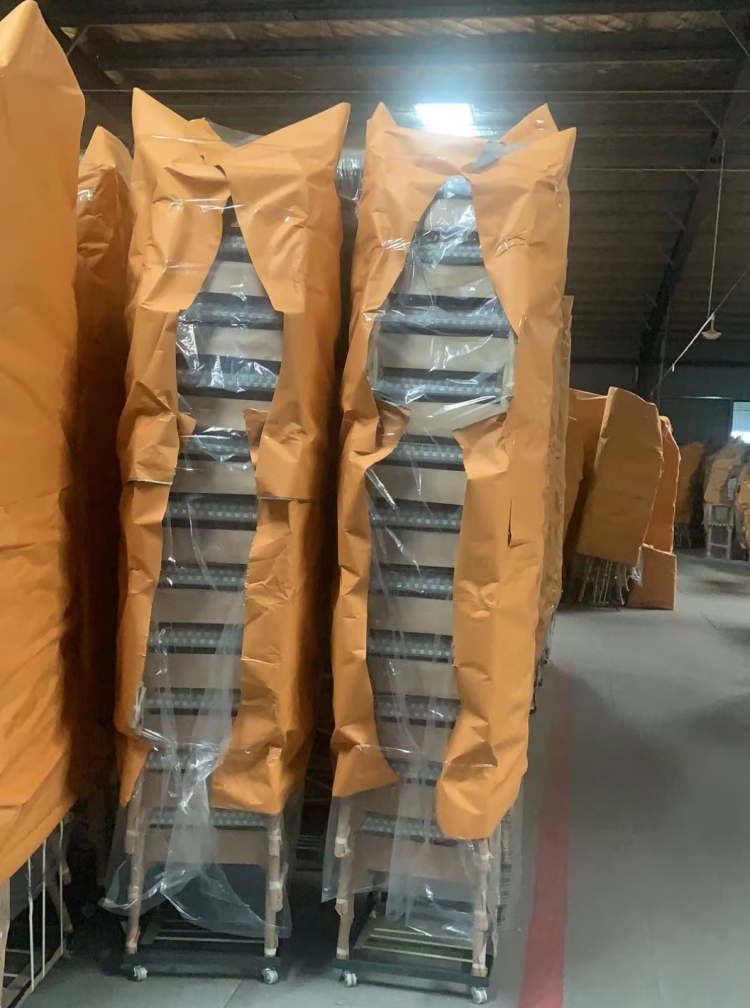 The French Bistro Chairs is a fantastic French bistro-style chair ideal for outdoor patios and indoor restaurants.
With their timeless look and attractive wicker weave, they are sturdy, stackable, and easy to clean. The aluminum
frame has an attractive bamboo finish. Available in a range of contemporary colors, they are the perfect way
to add classic Parisian style to any venue.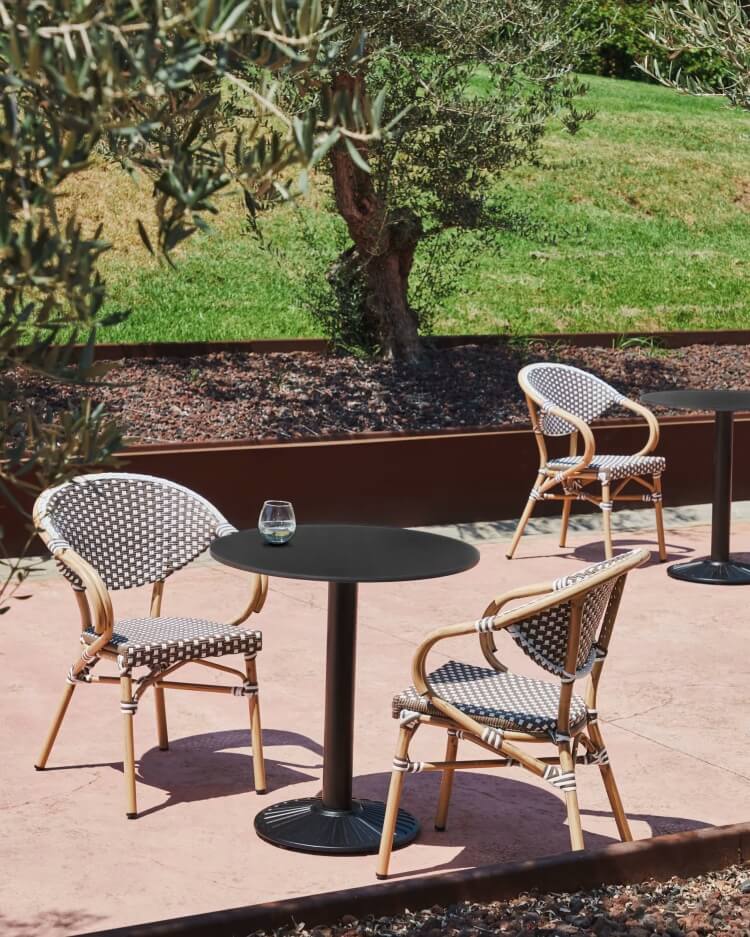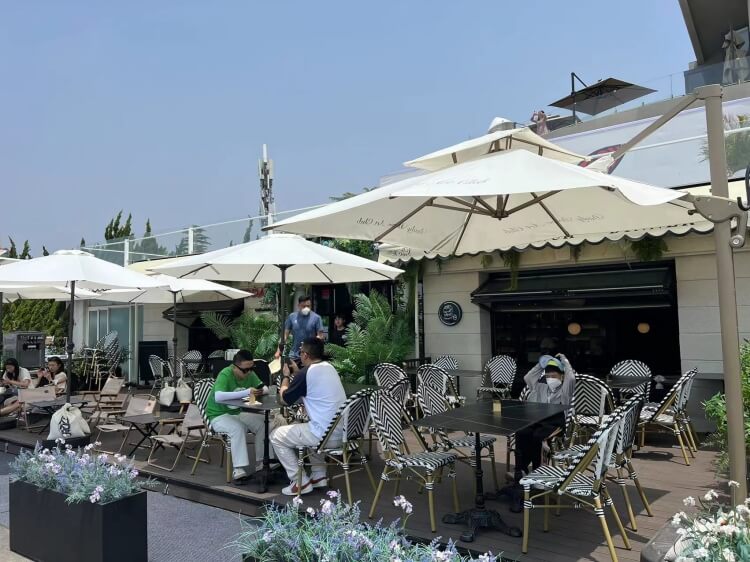 How are the French bistro chairs produced?