Metal Square Bar Table
This Tolix Style metal square bar table is a commercial-grade table that is durable and looks great in your food service setting. This square pub table is ideal for restaurants that require a Tolix design. It is made of steel and is available in black and white. This product is backed by our customer satisfaction return policy and low price guarantee. Industrial Metal Square Metal Tall Table Like Tolix, Dimensions 60x60xH108cm Modern, Suitable for Home, Kitchen, Catering, Bar, Restaurant, Pub, Pizzeria, Ice Cream Parlor, Pastry Shop, Shop, Hotel, Banquet, Best Value for Money.
60 x 60/70×70/80×80 cm square top.
Height: 107 cm tall.
Seating: Good size for intimate dining. This table comfortably seats 2 to 4 people.
Powder-coated steel legs
Top: solid elm, untreated.
Adjustable feet, no wobble.
Description
Details About Metal Square Bar Table
Blossom Furnishings, a professional metal square bar table manufacturer, provide custom high top bar
chair wholesale service.
This contemporary square bar height table with its compact design adds a classic touch to any space and fits perfectly
into your decor. This square bar height dining table is perfect for dining rooms. Its uses are unique
and versatile. The square tall table is powder coated with features and steel legs. The table is lightweight
and easy to maintain with added strength and durability. We can put it anywhere without worrying about
floor scratches and damage.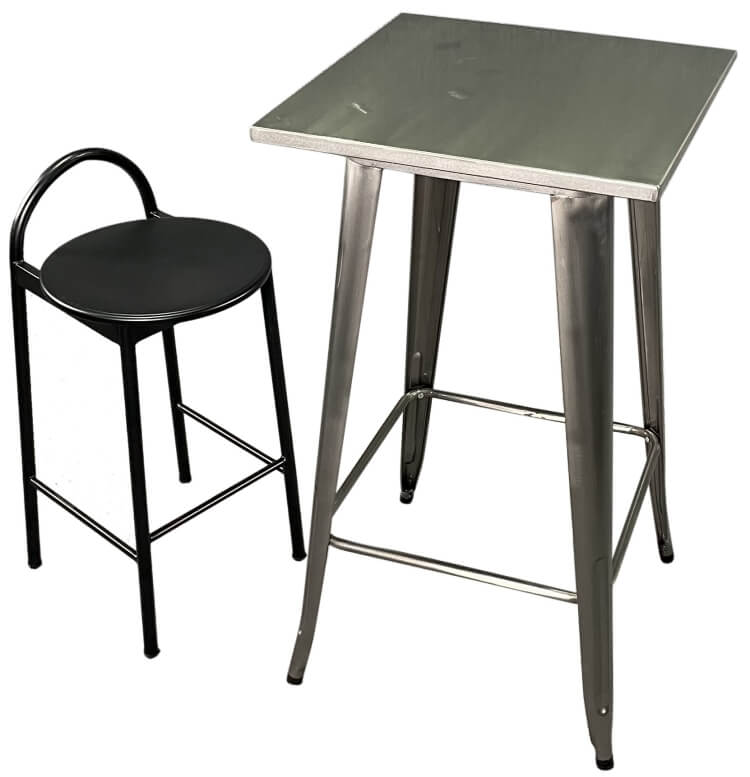 Outdoor use: When using outdoors, please use them under a protective cover, for example, put them under
a parasol to avoid long-term exposure to sunlight and rain; when they are left unused, please make sure they
are cleaned and Stored indoors.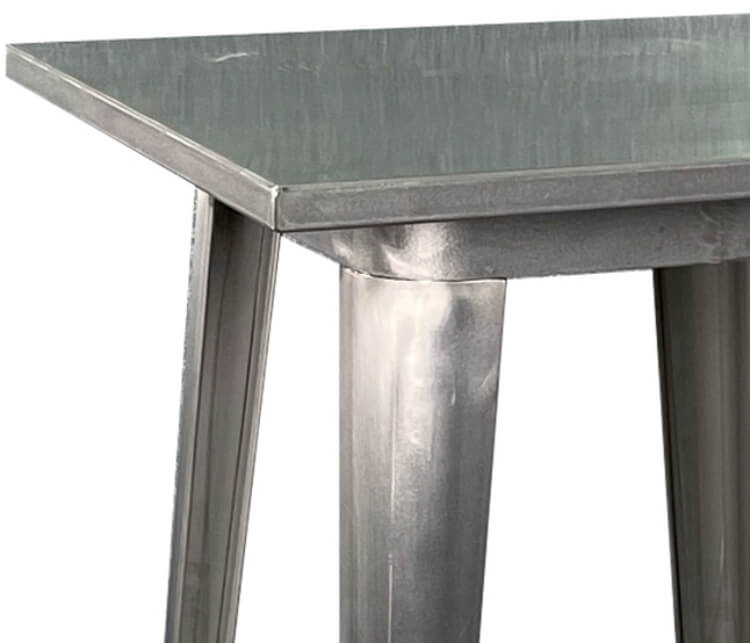 The overall dimensions of the square bar top table are 60cm (W) x 60cm (D) x 106cm (H). We can also do tabletops
that are 70×70 cm and 80×80 cm. Its rubber feet make it ideal for both indoor and outdoor spaces.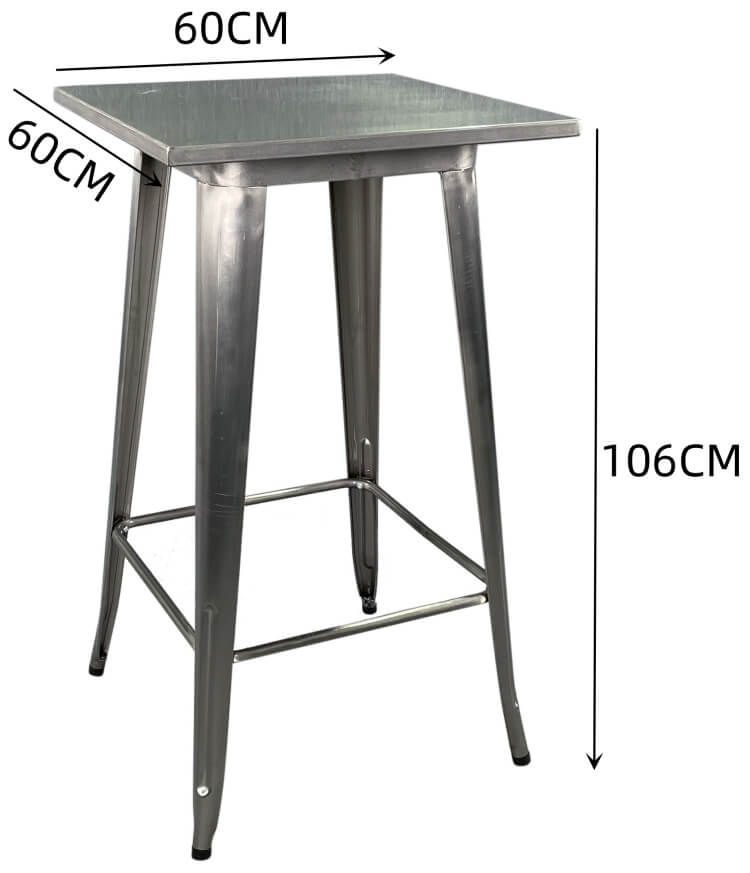 The tops of our metal tolix bar tables are cut and welded by professional workers. After the material is cut by
the machine, the cross brace under the table is welded.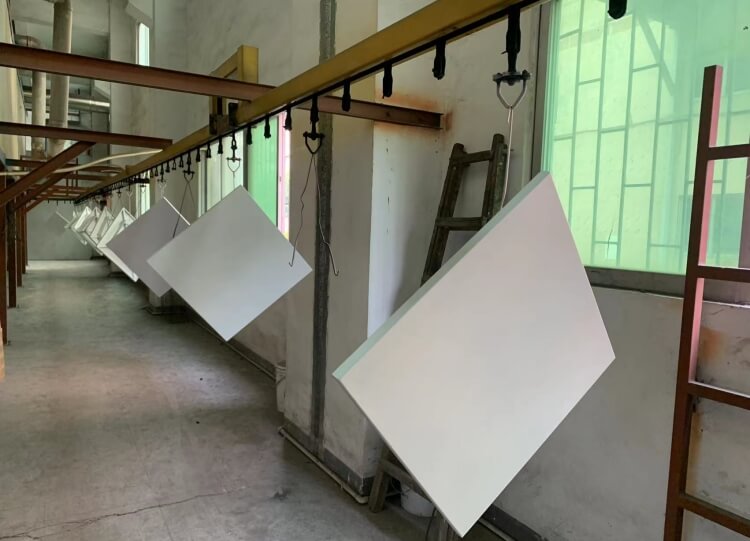 Our table factory adopts the method of hanging spray paint, which can make every part of the desktop sprayed,
it will be very uniform, and it does not require a lot of workers. Can increase the speed of table making.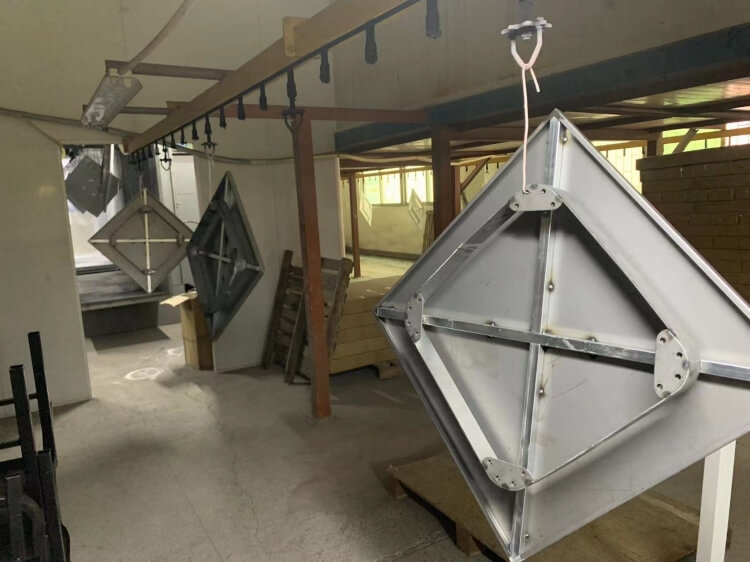 After the spray paint on the top of the table is dried, we will immediately pack each table top with a bubble
bag to prevent dust from falling on it.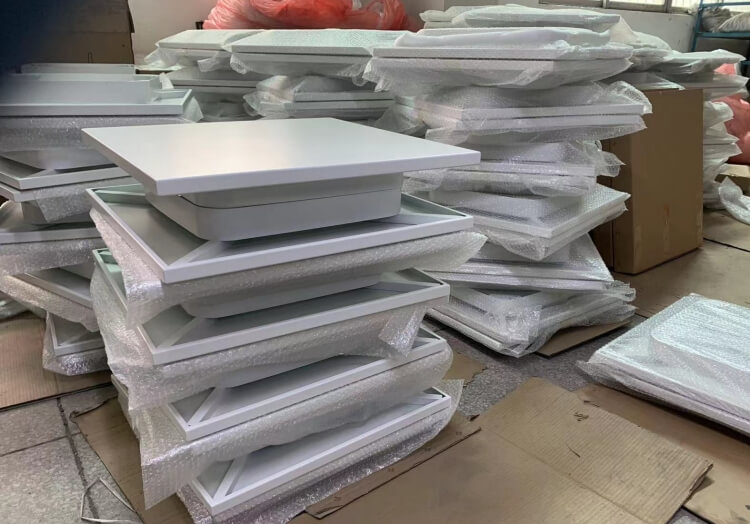 Rectangular square high top table. Black Powder Coat Gloss Finish or Black Powder Coat
Matte Finish with Solid Wood Top.Industrial/vintage style design to add style to both modern and classic decors.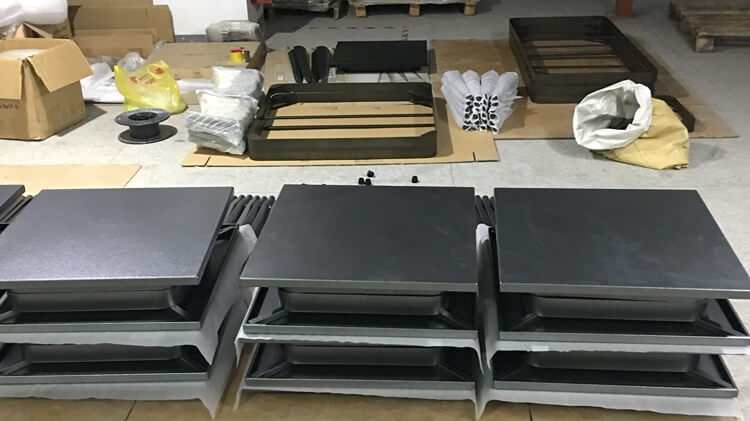 Rubber non-slip feet protect the floor and block noise, suitable for indoor and outdoor use, please note that
outdoor use will limit the life of the product. Ideal for kitchens, bistros, bars, restaurants, and more.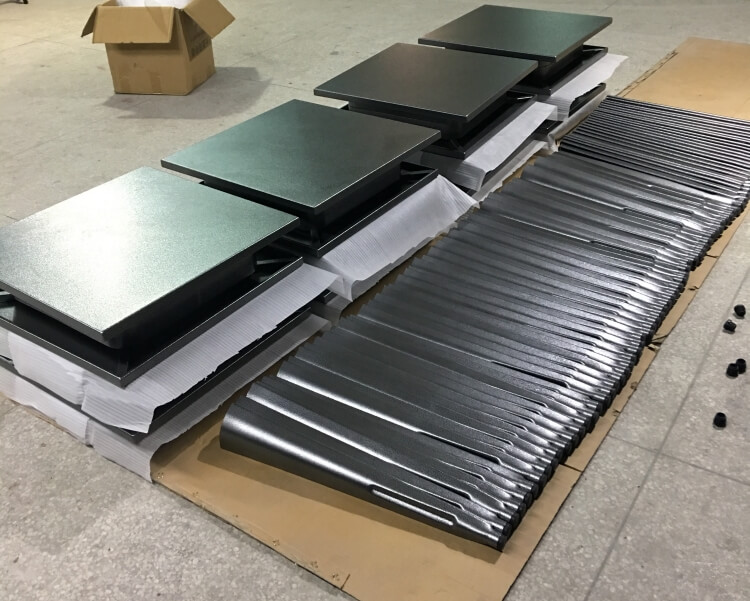 The holes on each of our tables are pre-drilled, each one is precise, there will be no deviation when you
install it yourself, and it will be easy to install. Each of our boxes comes with the simple assembly needed
including instructions, fixings, and bolts.
The table consists of a solid welded metal structure, giving this precious piece of furniture unrivaled durability
and stability. Thanks to its multi-layer paint, you can bring a touch of boldness and freshness to any environment,
domestic or foreign.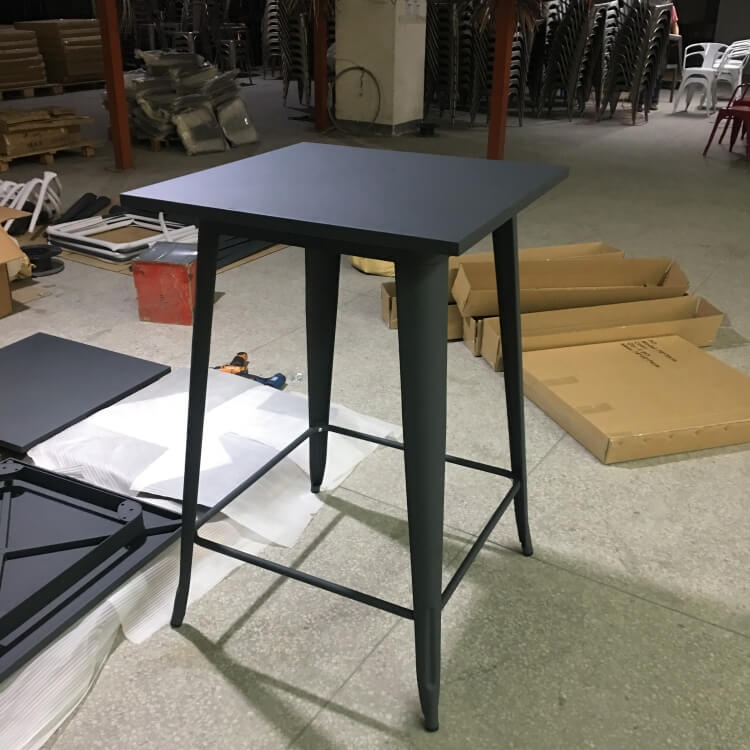 Pack every part of the table and put it in a carton. The disassembled table can save a lot of space during
transportation, and it can also save a lot of sea freight.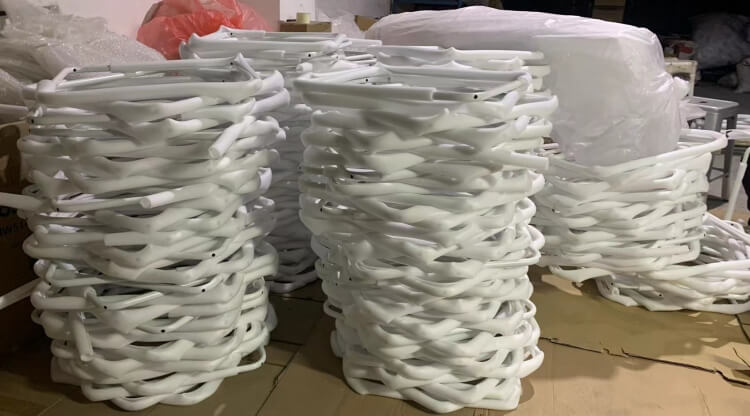 It is also equipped with a footrest, which not only strengthens its structure but also gives it extra comfort.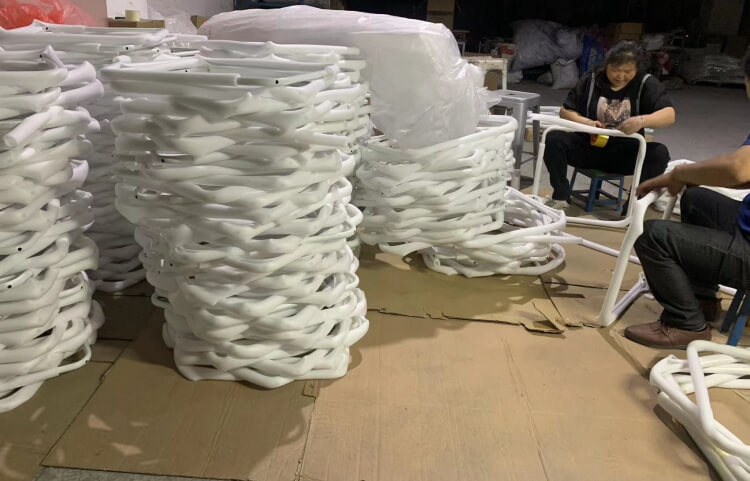 Constructed of high-quality metal, powder-coated; Anti-scratch feet; Holds up to 330 lbs for single table
and side chair. We also have chairs that can be purchased together. The chairs are fully assembled, stackable,
easy to organize, and save space, you can place them in bars, cafes, bookstores, malls, restaurants, patios,
farmhouses, personal rooms, and all places, vintage or modern decor.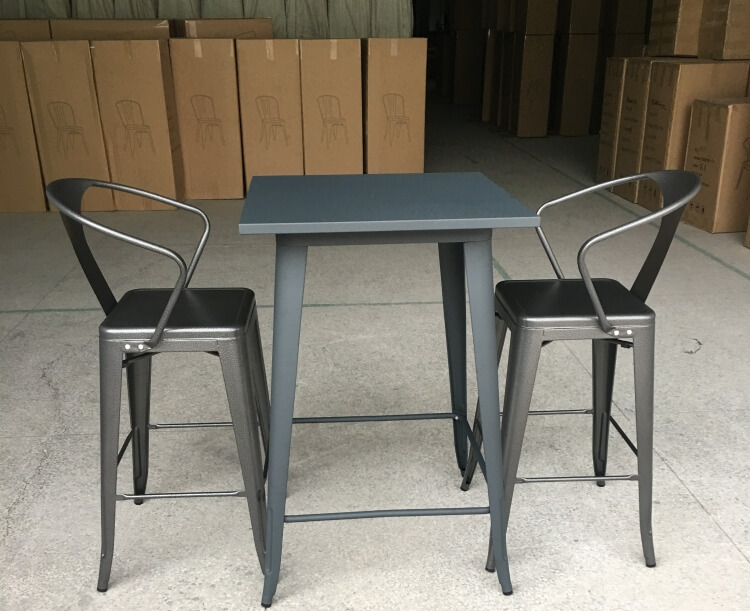 Versatile, stylish, and industrial, it's perfect for creating a rustic warehouse vibe. Made of steel and wood for
durability. Designed with style in mind, you'll love the combination of rustic warehouse vibes and well-worn charm.