Wedding Style Gold Stainless Steel Chair Manufacturer
The Stainless Steel Durable Dining Chair is a sturdy and stackable piece of heavy-duty dining. Its design is derived from the classic wooden Louis XVI oval-back kitchen chair. With their elegant design, they are popular as accent chairs at wedding receptions and as side chairs at wedding ceremonies. Like the silver chiavari chairs, these contemporary dining chairs are a great option for rental businesses with decorative chair straps, white covers, flowers, and balloons. You can customize chair cushions in leather, fabric, velvet, or with tufted upholstery in ivory, gold, black, green, and other colors and patterns. Comfortable dining chairs and a dining table can also be the centerpieces of your kitchen.
Wedding Style Gold Stainless Steel Chair Feature
Material: 201# Stainless Steel 1.6mm Thick, White Leather Seat Cushion, 3.14″ Upholstery, Wooden Base
Frame: Titanium and fully welded
The chair is made of 201 stainless steel; it is a durable chair for the home kitchen and banquet furniture rental business.
Non-slip feet, to protect the floor, the chair legs are covered with rubber non-slip feet.
20GP:200PCS      40GP:400PCS     40HQ:500PCS     (4pcs/ CTNS) 
Description
Qingdao Blossom Furnishings Limited is a stainless steel chair manufacturer in China. Ergonomic and
humanized curved backrest design, the perfect curved backrest perfectly fits the human body, making the
the chair is more comfortable to sit on, and will not look lazy because of too large a slope, very suitable for parties
and weddings.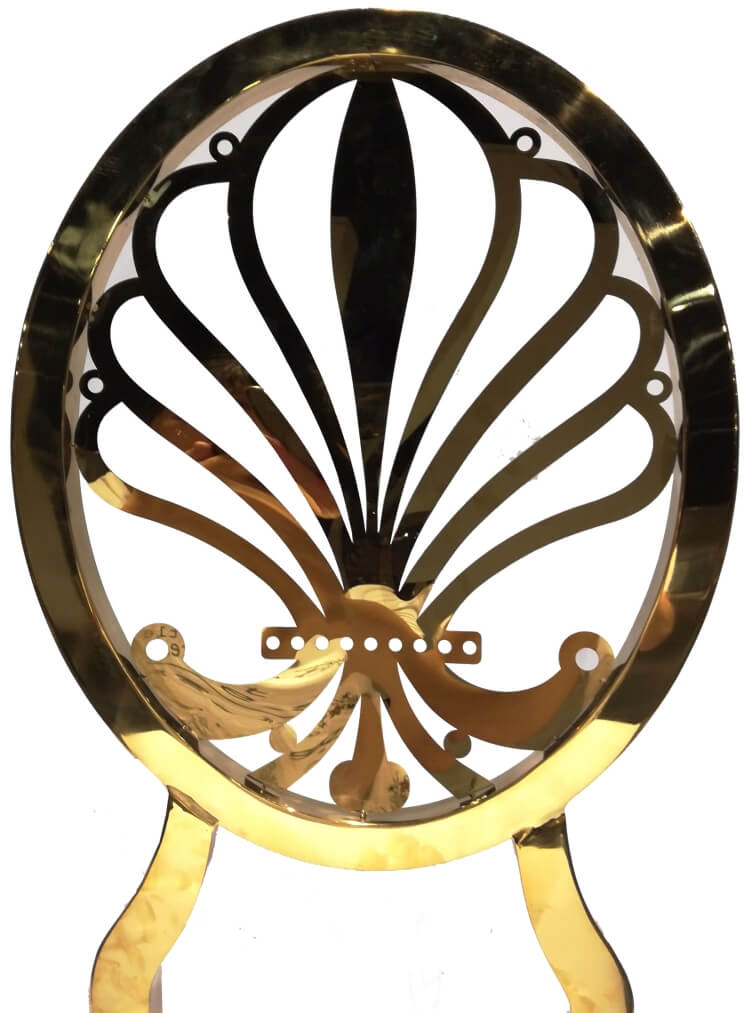 Seamless welding, let the chair have a perfect appearance, makes the chair frame stronger, and the surface finish
is more durable, the most important thing is that when it is used outdoors, the rainwater will not enter the
stainless steel dining chair legs and get rusty.
Comfortable Cushion
In order to make the cushion more comfortable and humanized, sponges of different densities are used in
the cushion to make it softer. In addition, the chairs will use easy-to-clean and durable leather, which will
keep the chairs in good condition after each event meal.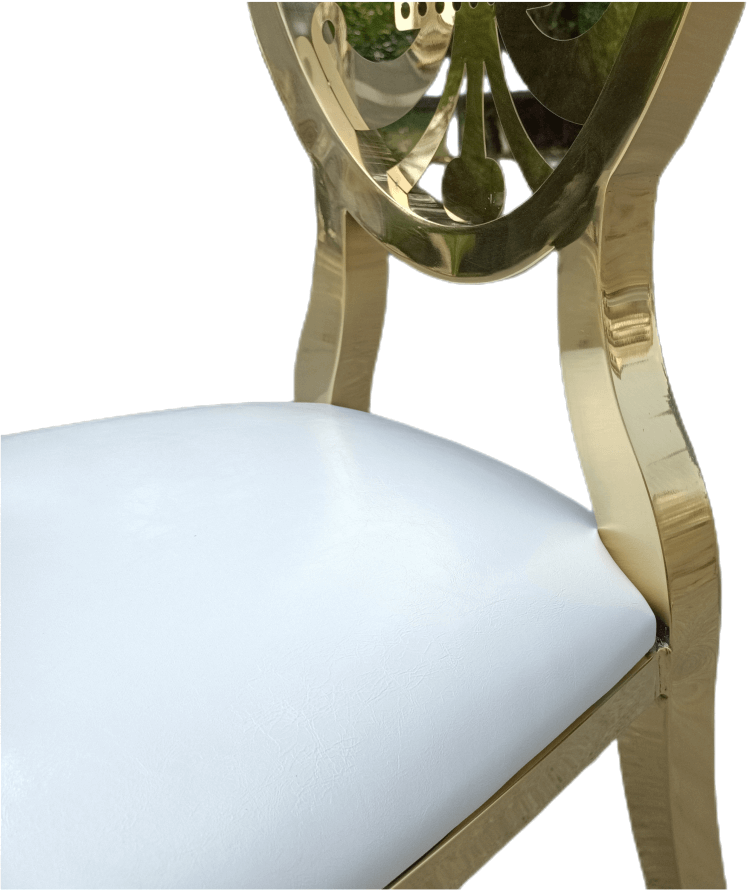 Height of the chair: 105 cm, width: 60 cm, length: 51 cm. It's just the right height to allow most people to
sit comfortably on it. The width and depth of the seat provide enough space for people to feel comfortable.
The seat height is perfect for use with a standard-height table or countertop. These dimensions have been
carefully considered to provide a comfortable seating experience and to adapt easily to a variety of environments.
Whether used for a dining area in a home, a workspace in an office, or a lounge area in a commercial
establishment, this stainless steel chair blends in well and provides users with a comfortable seating option.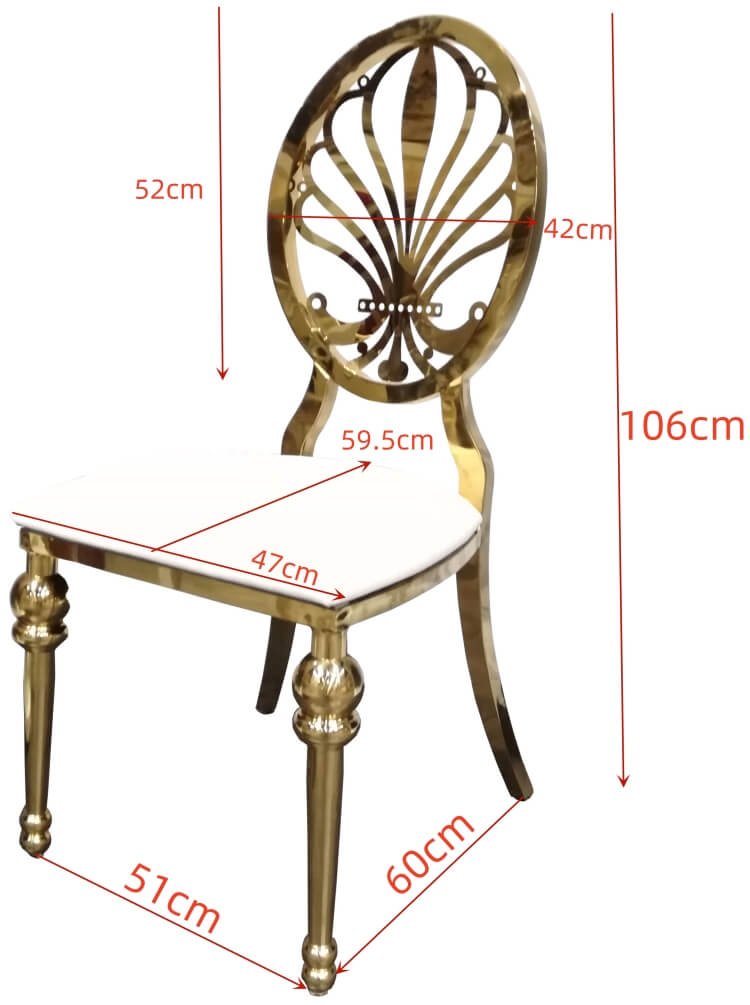 Stylish and Durable: The four chair legs are made of stainless steel with a gold-plated mirror surface, which
is stylish, beautiful, and durable. The unique petal-shaped design of the backrest completes the modern look.
Bring a noble and elegant feeling to your dining environment.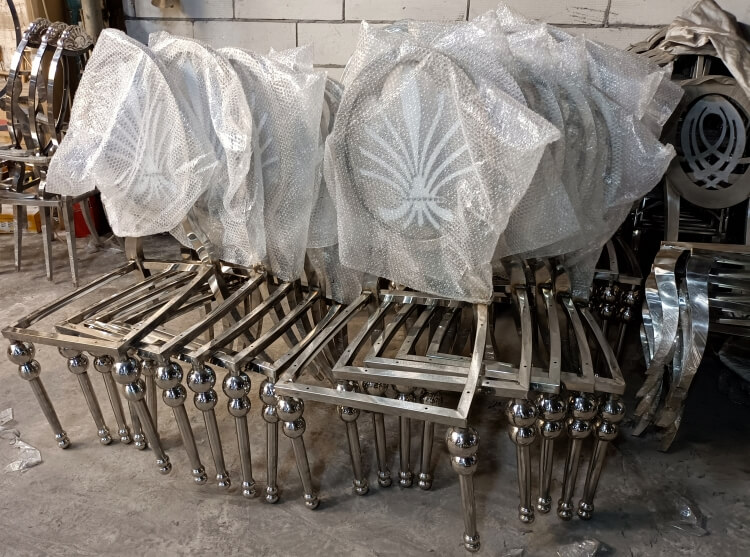 COMFORTABLE AND STURDY SUPPORT:
Slightly elegantly curved, this high-back chair features skin-friendly leather and a durable stainless steel
frame and legs. This cute accent chair has rubber floor protectors on the bottom of the legs for sensitive floors.
The overall use of 1.6mm thick 201# stainless steel, refuses to use low-grade stainless steel materials that
are easy to break and rust. Unique design, beautiful arc, fit the human body curve design. Humanized design,
high sitting comfort.
Each chair leg is protected with paper film respectively, and then the chair is properly put into the carton.
Gold Stainless Steel Chair Packaging
1. Packed with EPE foam first 2. Bubble EPE for protection 3. Poly bag waterproof
4. Carton to prevent goods from colliding 5. The quantity of one container is very suitable for packing
6. We will consider your packing suggestion and take action.
Known for its strength and durability, this stainless steel chair is also prized for its lightweight. This photo
shows a modern designed stainless steel chair that has a minimal yet elegant look. The frame of the chair is
made of high-quality stainless steel material, which has been carefully ground and polished to present a
smooth and shiny surface. Despite the chair's sturdy exterior, it weighs just 6kg. Thanks to the stainless steel
material, this chair is ideal for handling and moving while maintaining stability. Its lightweight design allows
the chair to be easily moved and rearranged in a variety of settings, whether for indoor or outdoor use.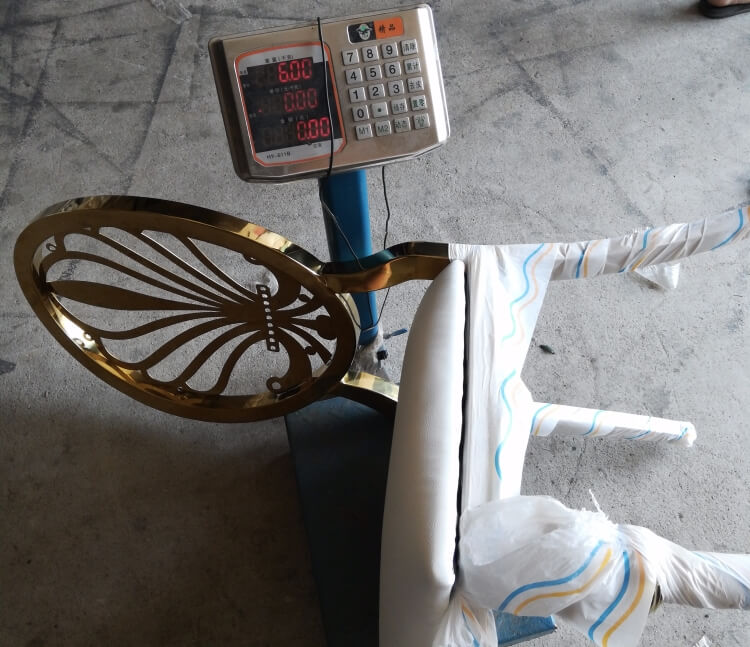 Made of high-quality materials and craftsmanship, this luxurious Gold Gold Stainless Steel Dining Chair is
sure to add a unique look to your dining area. One of the best parts about this chair and table is that you can
use it for wedding settings and hotel decoration too. It has a glamorous look and a stylish finish that will add
elegance to your dining area.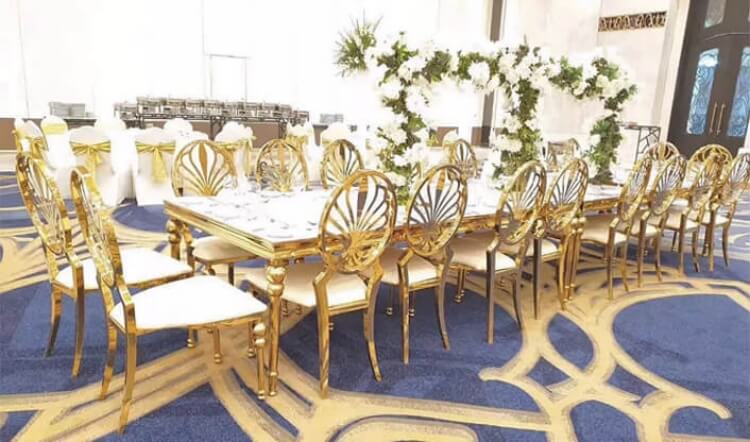 The dining chairs are characterized by an elegant and bright structure in gold/rose gold/chrome brushed
stainless steel and propose a perforated seat and back, covered in vintage patterns; they are not only
aesthetically pleasing but also have A high standard of comfort is also ensured. It hosts endless post-dinner conversations,
the most exquisite meals, and moments with friends and family. This stainless steel dining chair is an ideal
decorative element designed to share the best moments with you, including your weddings and different events.