Raw Oak Orion Chair
We crafted the entire chair's solid frame from high-quality solid wood materials, infusing it with long-lasting stability and durability. The design of the chair is inspired by the French Louis style, a classic and elegant style that is especially suitable for antique banquet settings. Whether it is placed in a corner of the banquet hall or placed on both sides of the long table as an exquisite display, it can add a distinctive atmosphere and taste to the entire space. Every detail has been carefully crafted, showing the unique charm of the French style. The delicate and gorgeous carvings on the back of the chair seem to bring the ancient artistic atmosphere into modern life. The elegantly curved armrest provides comfortable support for the sitter and is also the finishing touch to the overall shape. The seat surface is made of comfortable materials, allowing people to feel extremely comfortable and enjoyable when sitting down. Whether hosting an exclusive banquet, an important meeting, or a family gathering, this French Louis-style chair is sure to enhance the occasion. Its unique design and strong solid wood frame guarantee long-term use and appreciation, creating an elegant and historical space for you. It makes people feel as if they have traveled through time and feel the wonderful experience of the fusion of classical and modern.
The chair is made of high-quality paint and spray painting technology to avoid paint peeling
The unique internal structure manufacturing process ensures the reliability of the chair.
Precision perforation design. Steel pan head cap screws and locking mechanism ensure durability.
The V-shaped metal tricorne (angle iron) supports the bottom of the chair, making it very stable and strong.
Description
The Oval Back Chair is a new design that is suitable for various occasions including restaurants, weddings,
and indoor and outdoor purposes. Whether used in formal dining settings or to add comfort and style to
indoor or outdoor events, these oval-back dining chairs make the most of their unique design and function.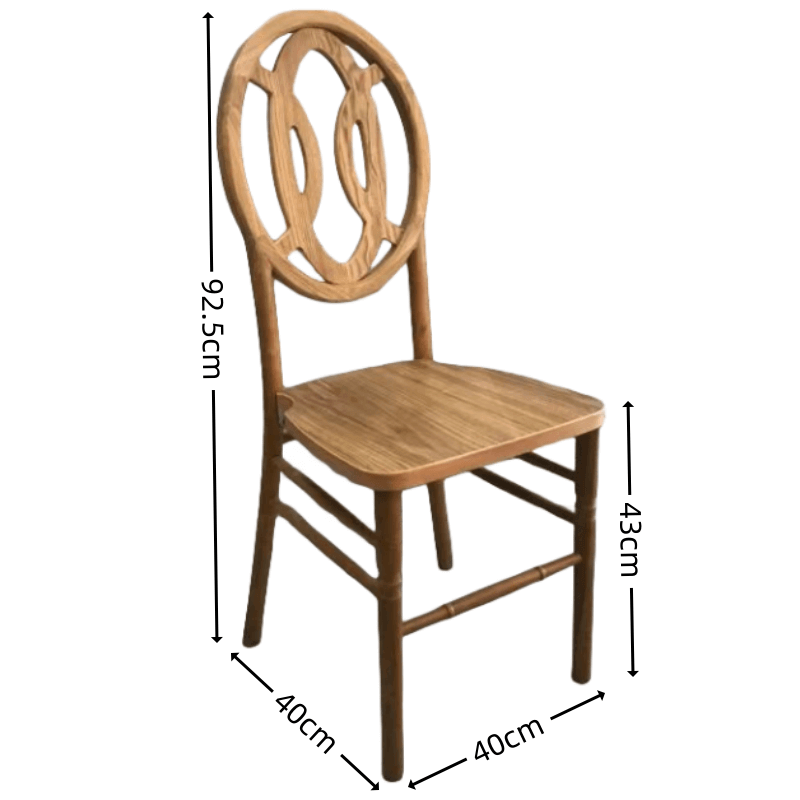 The frame of the whole chair is made of solid wood, which is very strong. The style of the chairs is that of
French Louis, which is perfect for antique banquets. It looks very atmospheric.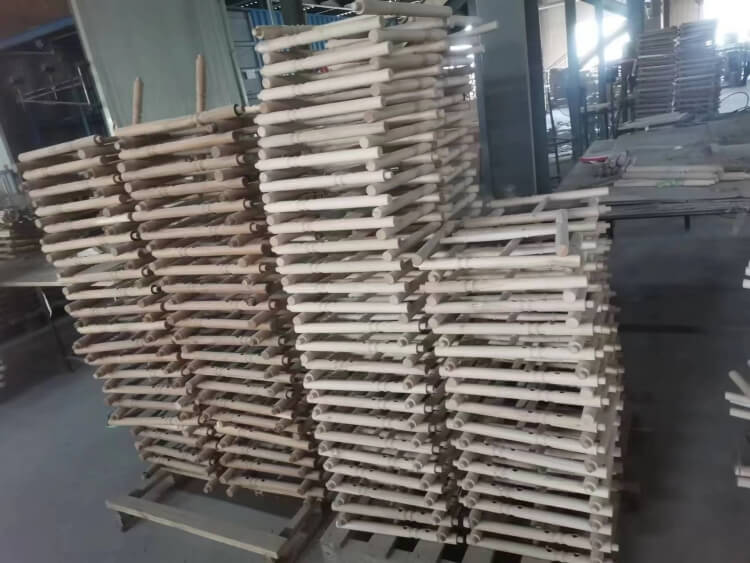 The legs of the chair have been finely ground, with a smooth and delicate surface, ready for subsequent
assembly work. Next, we use high-quality wood glue for installation. Wood glue is an excellent gluing material
that creates a strong and long-lasting bond at the joint, ensuring that the chair legs and seat are firmly attached.
The manufacturing process of this chair incorporates advanced machine technology to ensure its precise
cutting and shaping. In the early stages of manufacturing, machines precisely cut the raw material to ensure
that each part is the perfect fit in size and shape. This step not only improves production efficiency but also
ensures that each chair is consistent in appearance and structure. The exquisite design of the chair is presented,
and the precision punching process is carried out by a punching machine. Each perforation has been carefully
planned to ensure that they are not only visually pleasing but also functionally ventilating and decorative.
The precise control of the hole punch allows each hole to be placed and sized consistently, creating an overall
coordinated aesthetic.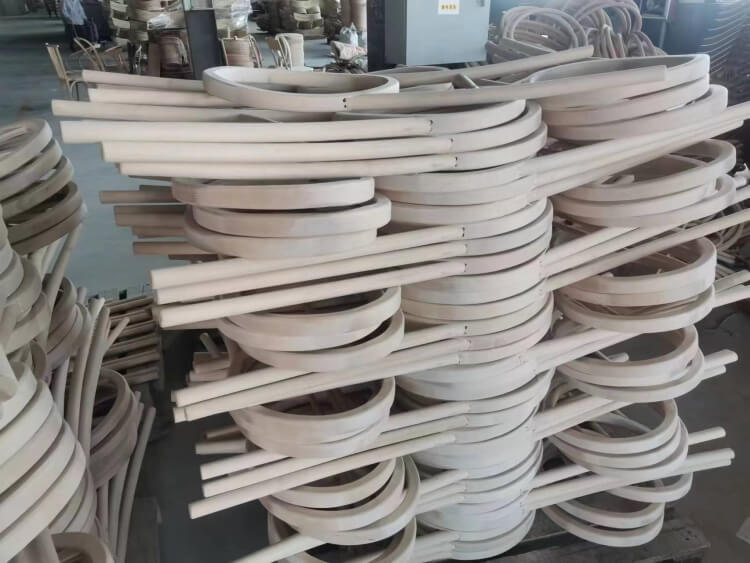 V-shaped metal triangular caps are usually located at the corners of the bottom of the chair, providing
excellent stability and sturdiness to the chair through its unique shape. This design allows the chair to better
distribute weight and pressure, thus effectively reducing loosening or deformation problems that may be
caused by prolonged use. The V-shaped metal triangular cap can also play a role in protecting the floor from
scratches and damage, prolonging the service life of furniture and floors.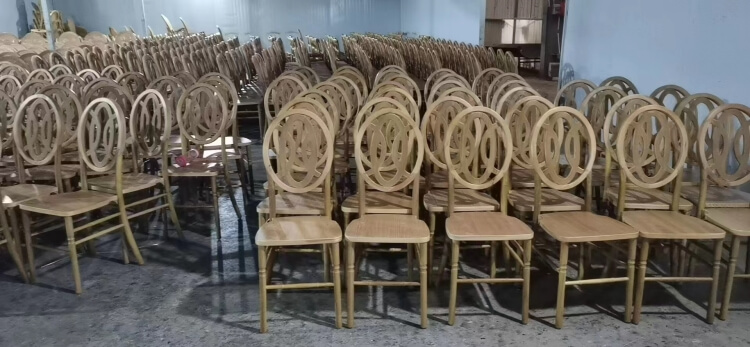 Our chairs take on a glamorous brilliance through a series of delicate crafting steps. First, our workers make
precise cuts, making sure each part fits perfectly with the design. Then, through exquisite sanding techniques,
we carve each chair into a smooth and delicate work of art, giving it a unique texture. Each of our experienced
workers has up to 10 years of industry experience. They know the tricks and tricks of every step to make each
chair impeccable. Their proficient operation and exquisite craftsmanship are the solid guarantees behind
each chair and the best testimony of our quality.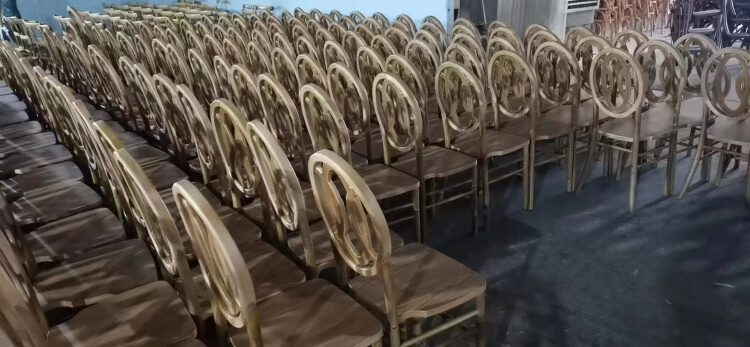 When the chair's parts are carefully assembled, they fit together like a puzzle. Workers carefully align every
detail to ensure that each chair is solid and durable, full of comfort and beauty. Next, our painting process
will add color charm to the chair. Every shade is carefully blended to ensure a perfect match with your design
vision. Our workers use skilled spraying techniques to paint each chair with uniform and bright colors,
making them glow with unique charm. Finally, special quality inspectors will conduct strict inspections
before packing. They scrutinize each chair to make sure there are no blemishes or imperfections. Only after
passing their rigorous inspection will the chairs be carefully packaged and delivered to your door.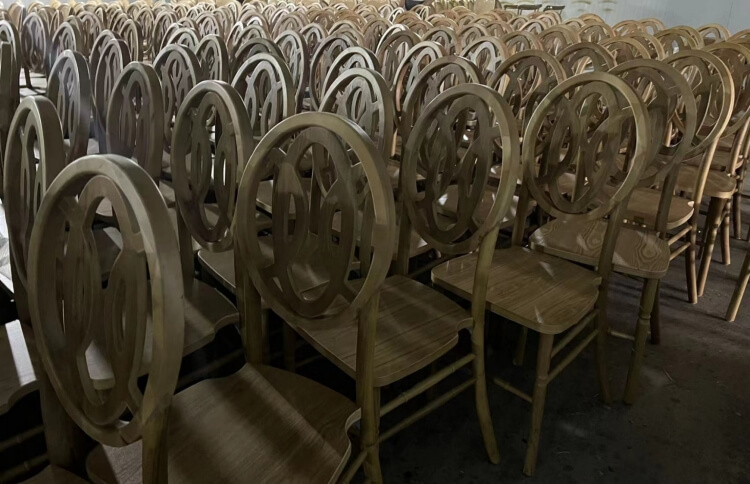 The Phoenix chair is not only distinctive in appearance but also excellent in practicality. What makes these
chairs unique is their stackable design. This means you don't have to worry about space in your venue and
you can easily stack these chairs as needed. Whether it needs to be transported to different event venues or
stored after the event, the Phoenix chair can easily do the job. This convenient design not only saves time
and energy but also allows you to focus more on preparing and enjoying the event itself.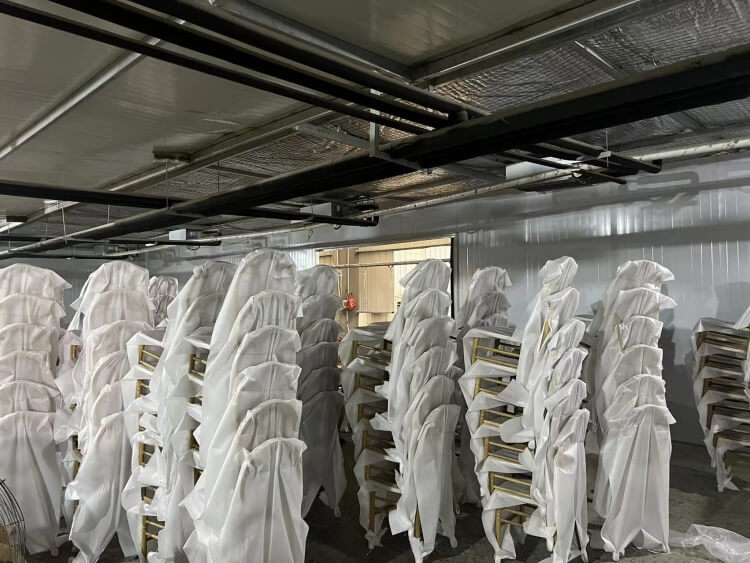 Wrap all parts of the chair with a suitable protective material, especially the vulnerable parts. Wrap the surface
of the chair with foam or bubble wrap, especially around the edges and corners. to prevent scratches, impacts,
and other damage. Choose the right size box, make sure the chair will fit inside the box, and leave enough room
for protective material and padding. Carefully place the wrapped chairs into the box, making sure they don't
rub against each other or get pinched. Seal the box with tape or packing tape to ensure the box cannot be
accidentally opened during shipping.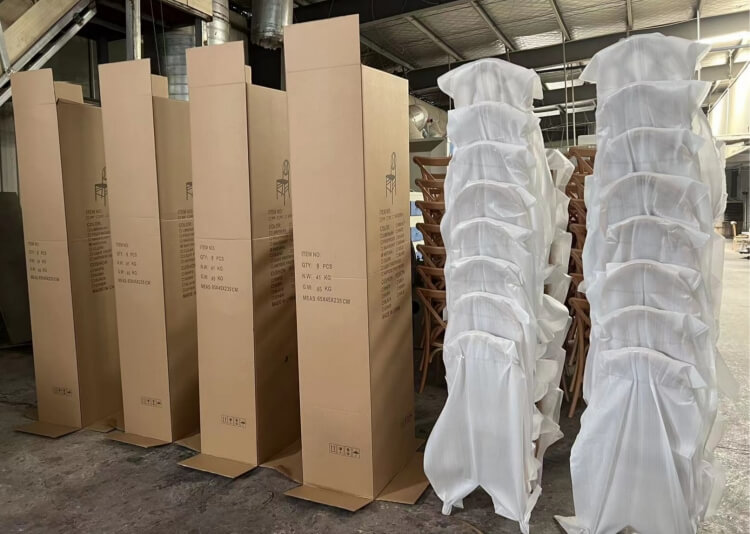 Carton specification (9 pieces): 65x45x235cm, Net weight: 41 kg, Gross weight: 45 kg.
350 pcs/container (20′ FT) 9 pcs/carton.
700 pcs/container (40′ FT) 9 pcs/carton.
900 pcs/container (40′ HQ) 10 pcs/carton.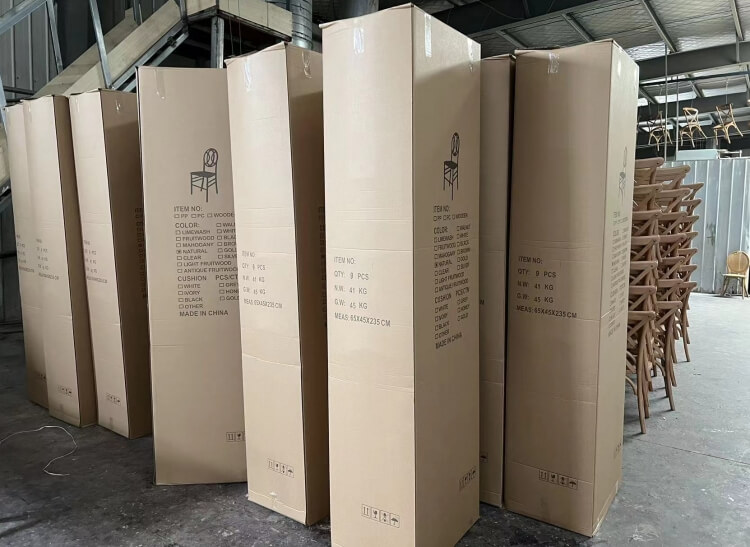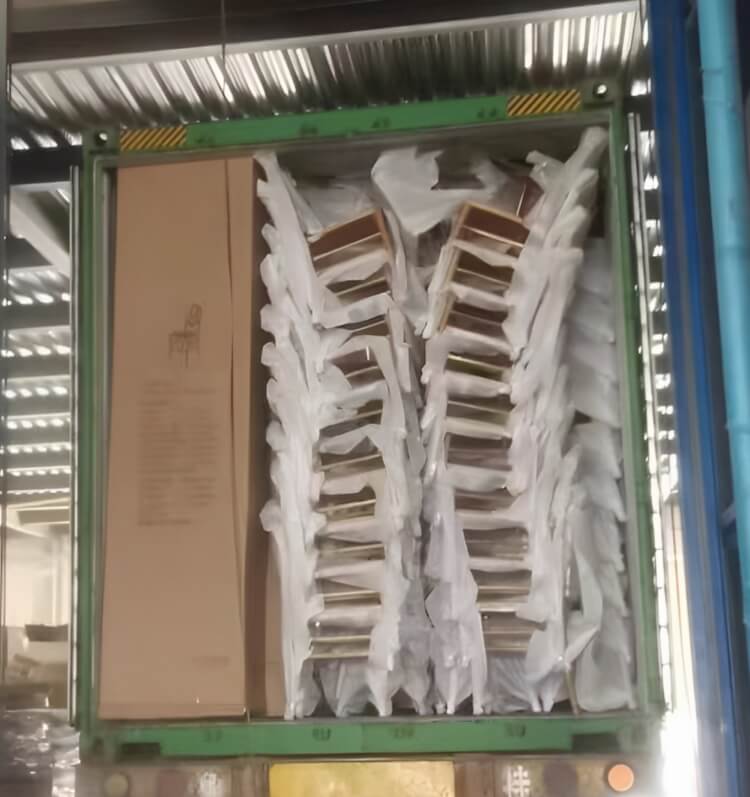 The Phoenix chair brings a uniquely elegant atmosphere to various occasions with its delicate design of the
backrest. Whether it is your business event, a gathering of relatives and friends, or a romantic wedding
ceremony, the excellent design of the Phoenix chair can give off a charming aesthetic feeling. The shape of
this chair is inspired by the mythical phoenix, and the curvaceous backrest seems to tell the fusion of beauty
and important moments. With its ingenious design and convenient features, the Phoenix chair injects
elegance and convenience into your various occasions. Whether for creating an unforgettable ambiance or
for easy handling and storage, these chairs will be the highlight of your event, making every moment extra
beautiful and memorable.