Gold Stainless Steel Bar Chair
Gold finish on the metal structure. White leather cushion. The stainless steel bar chair can be used as a chair in the kitchen, and the bar stool can also be placed in the living room to receive guests. You can buy more to decorate your home. It's crafted from high-grade stainless steel with a gold finish for a timeless luxury look, ensuring a durable solution and sturdy support for frequent use. The upholstered seat in white PU leather filled with resilient foam provides absolute comfort.
Gold Stainless Steel Bar Chair Feature
Material: stainless steel frame + PU
Color: golden frame + white cushion
Process: welding process, high-temperature baking paint process
Scope of application: suitable for bars, kitchens, counter kitchen cabinets, lounge bars, dessert shops, and homes.
Non-slip mat: The bottom of the stool is equipped with a non-slip plastic mat to effectively protect the floor.
Description
Details About Gold Stainless Steel Bar Chair
The bar stool is made of stainless steel, which is not easily deformed. This product is durable and can hold
up to 330 lbs. High-temperature welding technology is adopted, and healthy coating is sprayed on the
outside. It's beautiful, stylish, and durable.
The seat cushion is made of comfortable and breathable fleece fabric, equipped with a high-density rebound
sponge. It's soft and comfortable for your buttocks. The backrest adopts a curved design, which conforms to
ergonomics and makes your sitting posture more comfortable. The bottom is equipped with non-slip foot
pads to effectively protect the floor mat.
Classic golden frame design, bar stools match various styles of furniture. It is ideal for a home, kitchen,
dining room, restaurant, bar, lounge, salon, and more.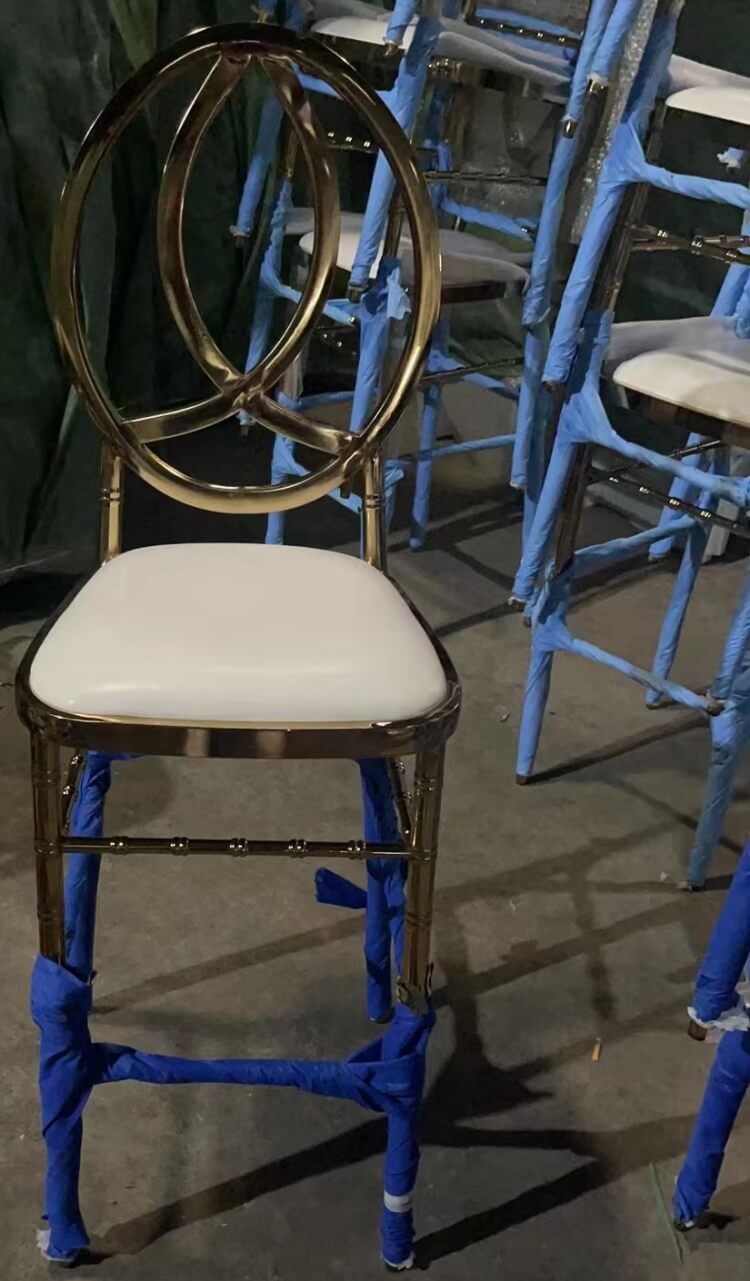 Our stainless steel bar chair is the perfect balance of class and durability. This popular design is the perfect
event chair for more elegant events. The polyurethane foam seat is comfortable yet withstands the rigors
of active use. Our chairs pass rigorous quality control testing and are guaranteed to exceed expectations
in style and durability!
The stainless steel chair is mainly supported by a colored stainless steel frame. Strong endurance, high-grade
decoration effect, to meet the needs of various consumers places. Generally used in star hotels, high-end
restaurants, high-end clubs, mansions, and villas.
Rich gold-tone metal complements the simple white leather seat on this bar stool. Lift your feet up on the
round footrest. Add this design to your kitchen or bar area.