Wooden Serpentine Farmhouse Table
This semi-circular wooden folding table allows you to create serpentine, semi-circular or full-circle tables. The Serpentine Dining Table allows you to create beautiful settings for weddings, banquets, and other events. Create a serpentine table by alternating two tables. Create a half or full circle by placing two or four tables together from end to end. The legs fold under the table, making storage easier and more portable. This table is commercial grade and can withstand everyday use in the hospitality industry.
Wooden Serpentine Farmhouse Table Feature
Be creative and combine different table shapes and sizes to suit your needs
Take advantage of unused corners or around tent poles
Great for creating buffets, cocktail services, unique seating, and serving layouts
Combine with multiple serpentine and standard tables
Secure to top with wagon bolts, lock washers, and nuts.
Package size: 240cm×90cm×12.5cm
Product size of a single table: 90cmx24cm
Description
The 5ft wooden serpentine farmhouse table is a unique table ideal for display, exhibition, watchmaking,
and greeting tables. This is a very popular product that is in high demand. Commonly used for weddings,
graduations, corporate events, family gatherings, and fundraisers.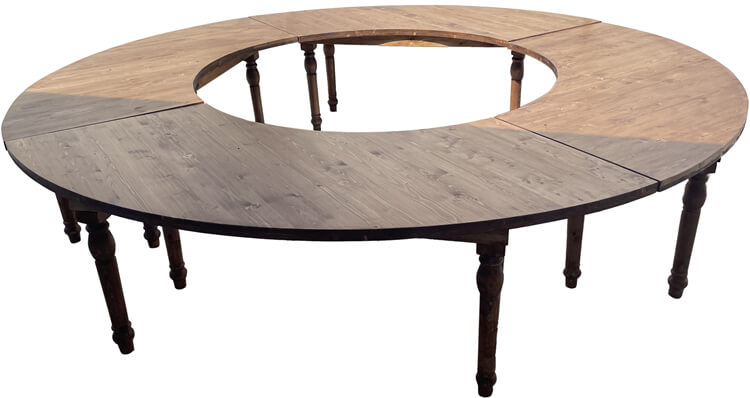 Wooden Serpentine Farmhouse Table Dimension
This half-round wooden table allows you to create a snake, half-round or full-round table. The dining table
allows you to create beautiful arrangements for weddings, banquets, and other events. Create a snake table
by alternating two tables. Place two or four tables together end to end to form a half or full circle.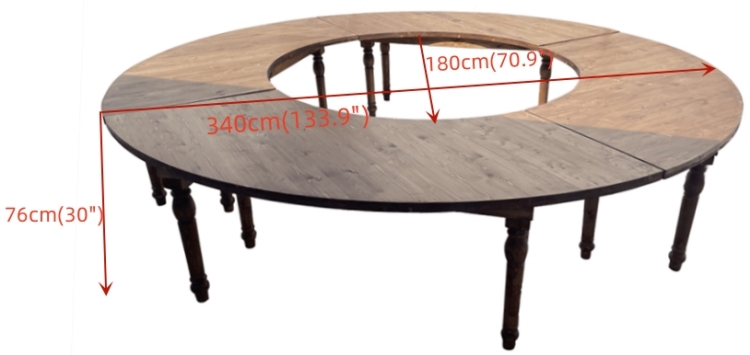 Unlike any other table, your guests will be impressed with the unique touch it adds to any environment.
The wooden farmhouse table features a solid wood top and wooden legs. These wooden serpentine tables
are easy to store and transport. It can be easily assembled into a complete circle by putting 4 tables together.
After the serpentine wooden farmhouse table frame is installed and then polished, each accessory of our
serpentine table is cut with a dedicated machine, so each table has the same size. There will be no flaws.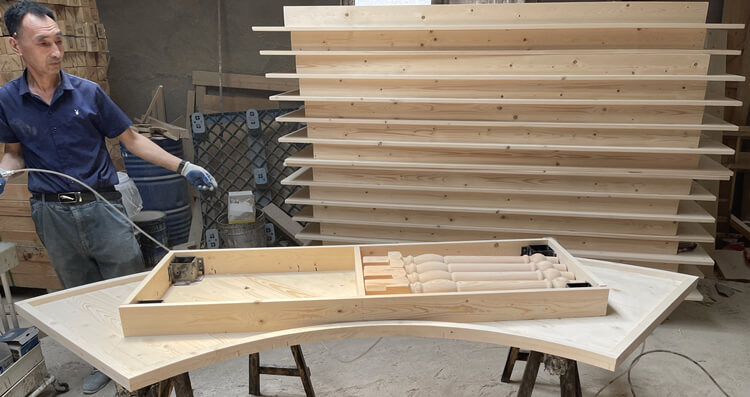 We have professional workers to polish the tabletop and table legs, and every place will be polished very carefully.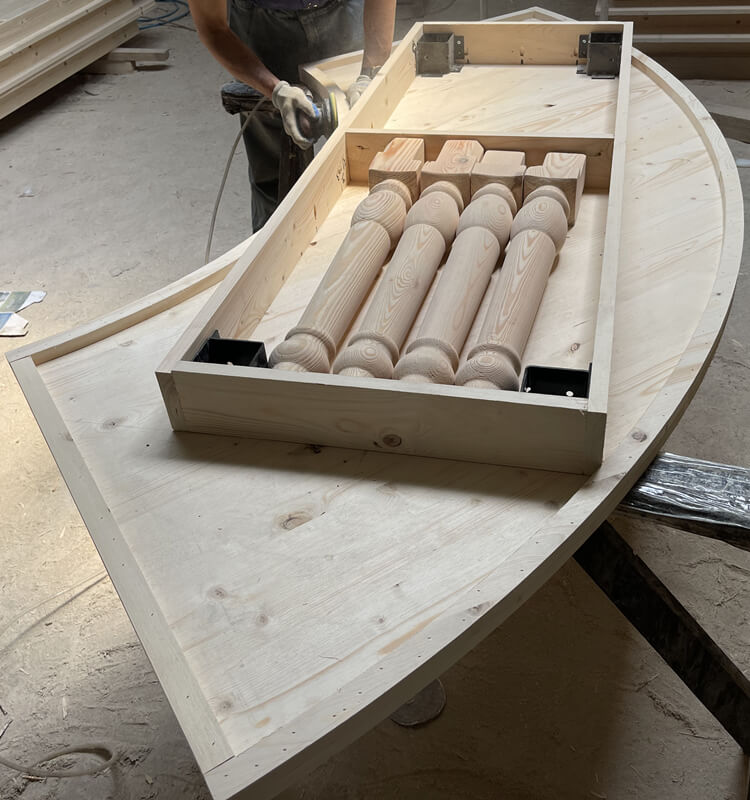 With curved serpentine sections and straight trestle bridges, a variety of interesting and practical shapes can be achieved.
From circles, ovals, and waves (long and short) to the striking number 8 – you can make almost any shape you want.

After all parts of the wooden serpentine farmhouse table are polished, they will be hand-painted in our
professional paint shop. The water-based spray paints we use are safe. It's fine even for kids.
After the serpentine wooden farmhouse table is painted and dried, we also do a hand sanding. Sand every
part of the serpentine folding table with sanding paper, making sure you hit every spot.
There will be straps under the table to fix the legs of the table, you can remove the legs of the table and tie
them on it when the table is not needed. This way, it saves space and can be easily transported.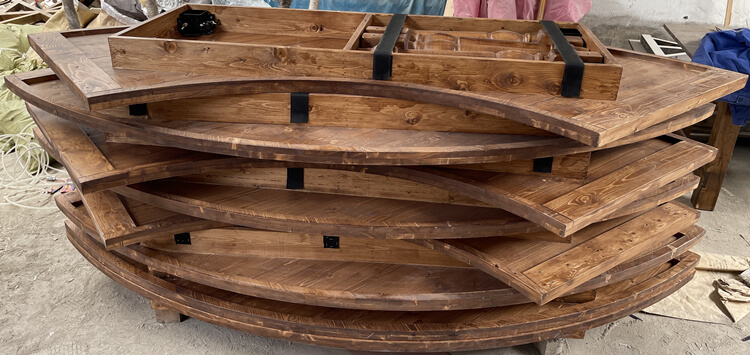 Use the Serpentine Table to spice up your serving table and create a unique design for appetizer displays,
buffets, or bar use. Add 4′, 6′, or 8′ tables between SERPs to extend your table layout. Each snake shape is a quarter circle.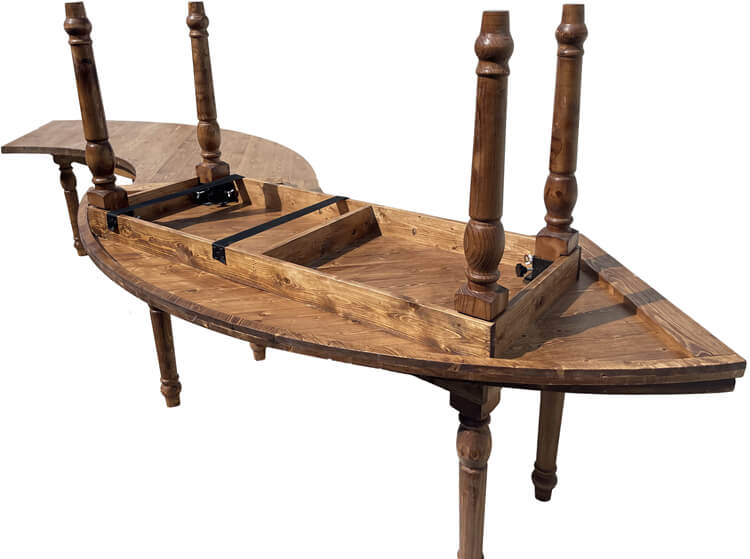 These serpentine dining tables are perfect for elegant buffets and presentations. Because of their rounded shape,
they also make great carving tables and bars. Easy to transport, 3/4″ thick birch, sanded smooth without voids
and patches, sealed on both sides with a protective polyurethane finish.
Tired of the same old straight rectangular table as your buffet line? Want to make a statement?
Try the snake table. The tables form an "S" shape when joined end to end. They can also be rotated to create a "U" shape,
or even add two more sections and create an "O" shape with a hole in the center. A versatile table shape
that makes your setup fun and creative.