Cross Back Metal Chair Manufacturer
This metal cross back dining chair is super sturdy and can hold up to 500 pounds to accommodate most users. This cross-back dining chair features welded joint components for strength and a powder-coated frame for durability. Plastic floor rails will protect your floor from damage and ensure smooth movement. Use this chair as a standalone extra guest seat, add another as a comfortable conversation area or buy enough space to fill the space around the dining table. Easily clean up spills with a water-based cleaner. Whatever your design style, this metal X-back kitchen dining chair will please you.
Cross Back Metal Chair Feature
500 lb seating capacity accommodates most users
Welded joint assembly for added stability
Indoor Metal Cross Back Dining Chair
Easy to clean with water-based cleaners
Natural powder-coated finish frame with protective floor slides
Industrial-style chairs are perfect for your dining room, cafe, kitchen, dining room, or as extra seating for guests
Overall Dimensions: 18.25″W x 21″D x 34.5″H
Description
The powder-coated finish of the cross back metal chair metal frame makes it durable and easy to clean.
You can count on wood that is durable and aging gracefully. They can dress up a dining table, or provide
lounge seating in a breakfast nook – no matter where you use it, this pair will look great. Our classic French
coffee chairs are built for style, offering the stability and comfort of a timeless dining chair design.
Add a cozy, welcoming look to your dining room, bistro, or dining table with this distressed antique black
finish metal cross back chair. This cross-back dining chair is suitable for any design scheme from farmhouse to open
concept to industrial. Pair this X-back chair with any style of dining table for a chic, eclectic look that adds a unique
design element. The chair arrives fully assembled, making setup quick and easy.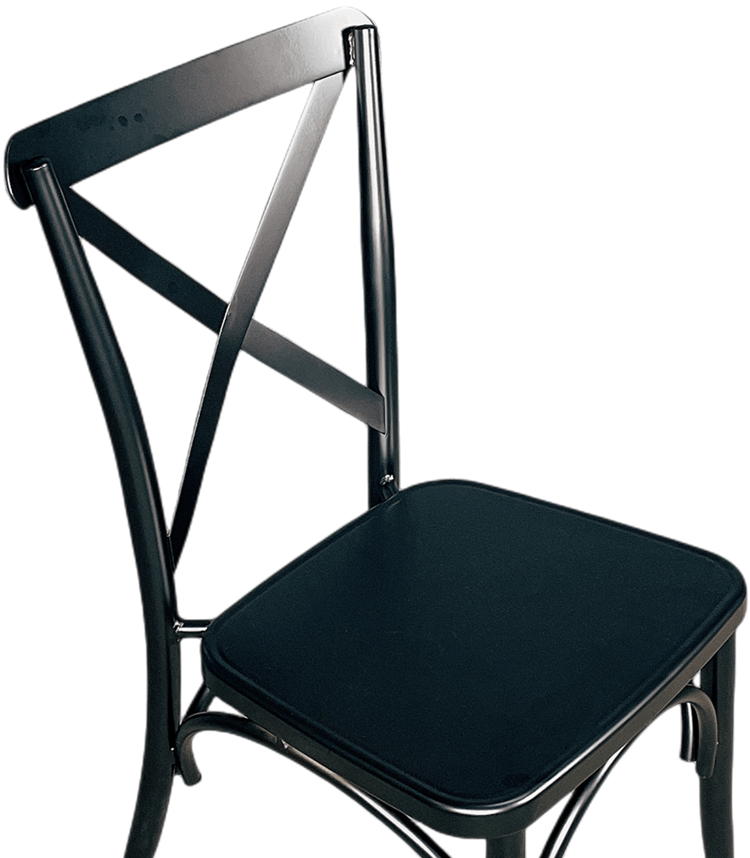 The crisscross straps at the back and the slim silhouette work well with just about any trim. For restaurants,
cafes, kitchens, and restaurants. Welded joints and powder-coated finish for strength and longevity.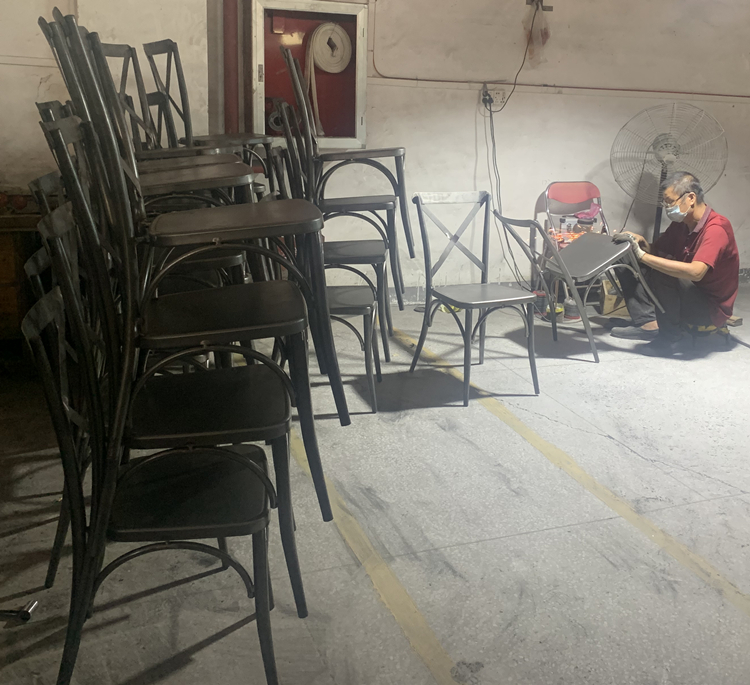 Do something different for your restaurant, coffee shop, or table seating with this stylish metal cross chair.
Pair it with a shabby dining table, or tuck it into a corner to read and take advantage of wasted space.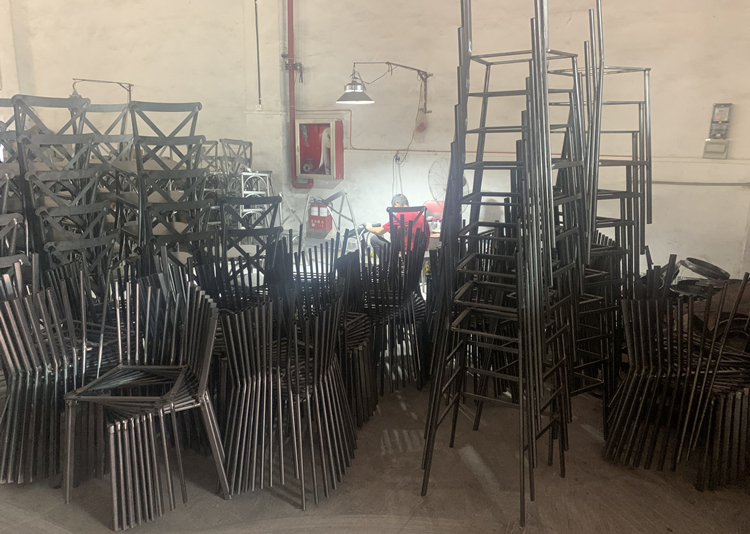 We have a professional painting workshop, hang the finished metal cross-back chairs and send them to the
workshop one by one. Our painting is very uniform and every chair is perfect. There will be no uneven painting.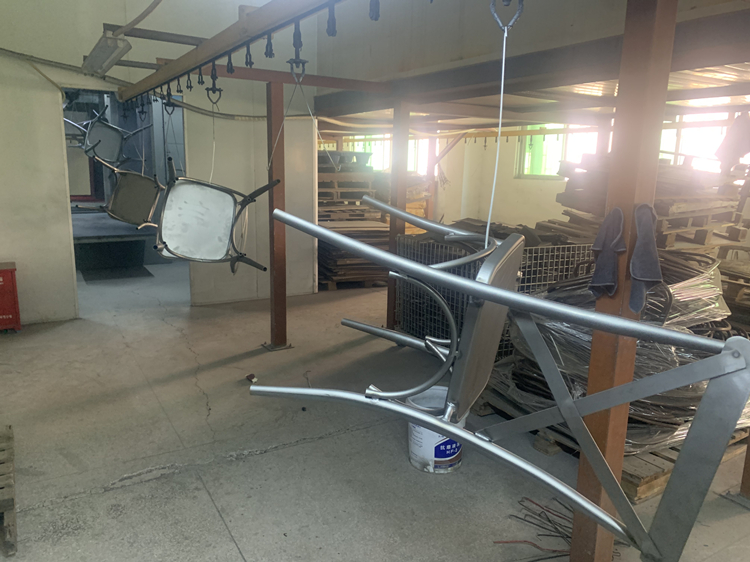 Modern and coastal, with a classic cross-back design, these dining chairs are highly adaptable to any dining area.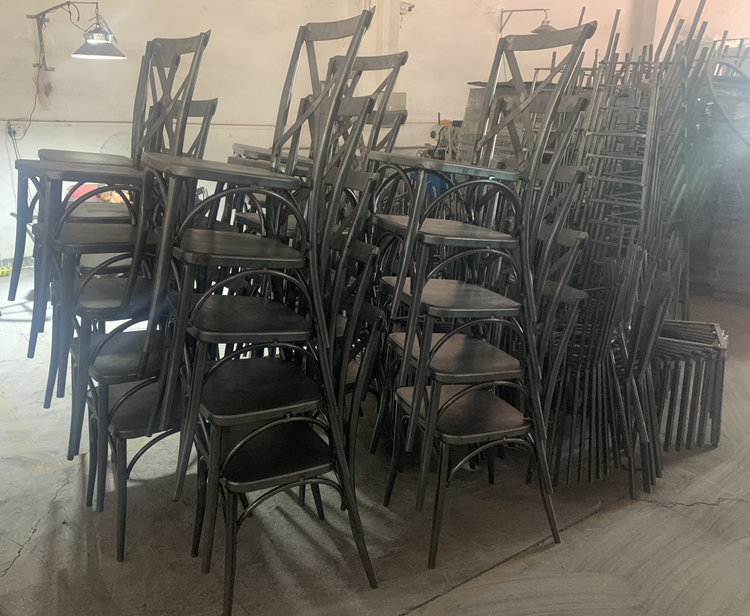 Our dining chairs feature a unique styling mix of modern farmhouse and coastal designs, making them a
sought-after addition to any home. With its sturdy yet elegant cross-back design, you can rest assured that
this chair will fit perfectly in any dining room or kitchen. Crafted with durable metal and with indoor versatility
in mind, we believe our chairs will be a great choice and the perfect addition to your home.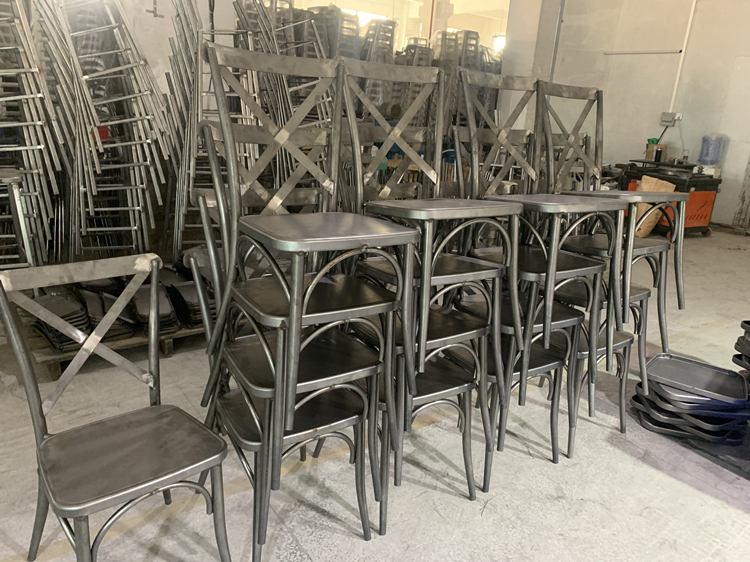 Constructed from a fully welded iron frame with a beautiful antique finish, it is perfect for indoor and outdoor use.
The cross-back dining chair has a supportive X back and your choice of metal, upholstered, or solid wood seat.
Upholstered seats can be customized in many different styles of vinyl and fabric to match your branding and decor.
The feet of the sturdy legs are covered with nylon slides to protect furniture and floors. This chair is stackable and fully assembled.
Our metal cross back dining chairs are stackable, which saves space during use and is easy to transport.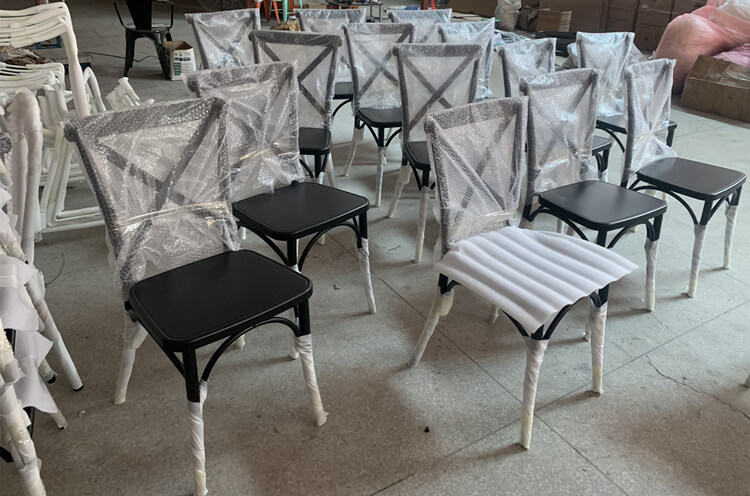 Our chairs are made of metal for durability. Our metal cross back dining chairs feature an all-metal design
that has been spot welded in multiple areas for full, long-lasting quality.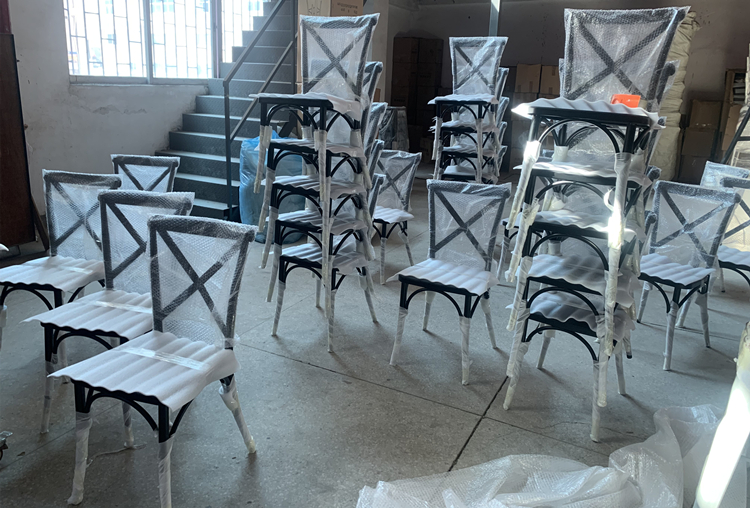 The packaging of our chairs is very strict so as not to be damaged during shipping. Start by wrapping the
backrest with bubble wrap. Each chair leg is wrapped in film. The seat board will also stick to the film to
avoid rubbing off the paint when stacking.
Stack the chairs one by one, cover them, then a plastic wrap, and finally a woven bag. It doesn't waste a bit
of space when putting it in the container.