Mercedes Back Stainless Steel Banquet Chair
Elegant gold Mercedes Back Stainless Steel Banquet Chair allows you to dine in style! This beautiful golden stainless steel dining chair is perfect for a variety of events including weddings, birthday parties, evenings, and bars. Bring a special touch to your event with gold high-back chairs that are sure to be a hit with your guests. Soft white cushions and golden seat frames make your mealtime more comfortable. The unique seat back embodies light luxury and advanced design. With excellent hardware technology, such as frame and stool legs and comfortable leather suede cushion, this chair has better load-bearing capacity and comfort. This dining chair can make your house more shiny and comfortable. When your friends come to your house and see this table, they will think you are very tasteful and cast envious eyes.
Mercedes Back Stainless Steel Banquet Chair
The seat cushion is made of high-density foam to provide a comfortable sitting position.
Stacking or non-stacking design wedding party chairs are optional.
Unique Mercedes-Benz pattern backrest, charming figure.
Cushion covers can be customized in any color, or in different colors.
The weight of the chair with PU backrest and cushion is 6.85 kg, and the weight of the velvet fabric is 7.45 kg.
Description
Details About Mercedes Back Stainless Steel Banquet Chair
Blossom Furnishings, a professional banquet chair manufacturer from China, provide Mercedes back stainless steel banquet chair at wholesale price. Factory outlet stainless steel dining chairs with cheap price and high quality.
This golden stainless steel banquet chair provides a visually stunning place to sit and enjoy a meal. The chair has a
beautiful oval back design with a shiny stainless steel frame. The black and white PU interior is soft and stylish.
The padded seat provides plenty of support and comfort for hours of use. Available in white and black.
Shiny Gold Finish
Even check the gold trim and the seat back support tubes, you can see the shiny gold finish.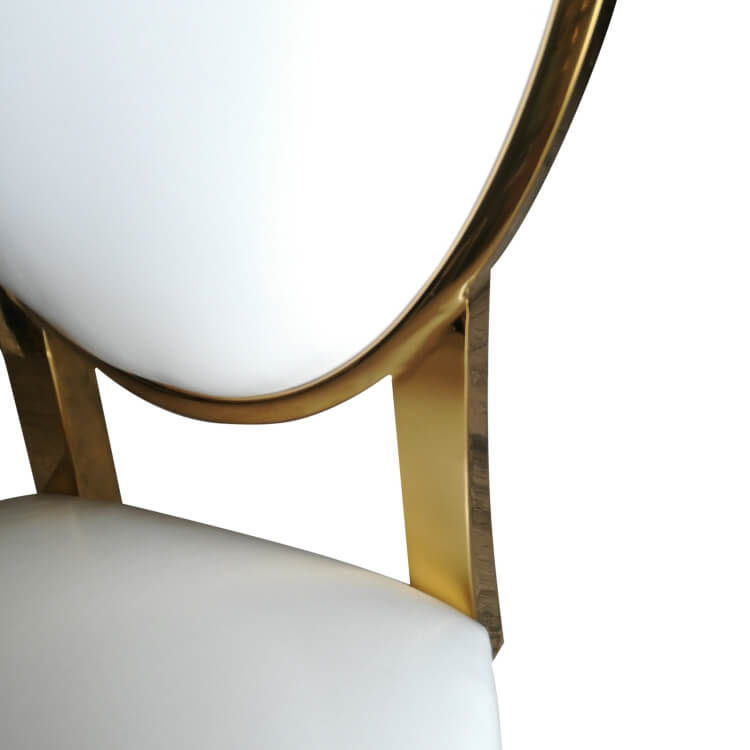 Special Backrest
Gold stainless steel chairs for sale parts divide the backrest into three parts, each part is upholstered with foam and white PU,
seamlessly connected, perfectly handmade by artisans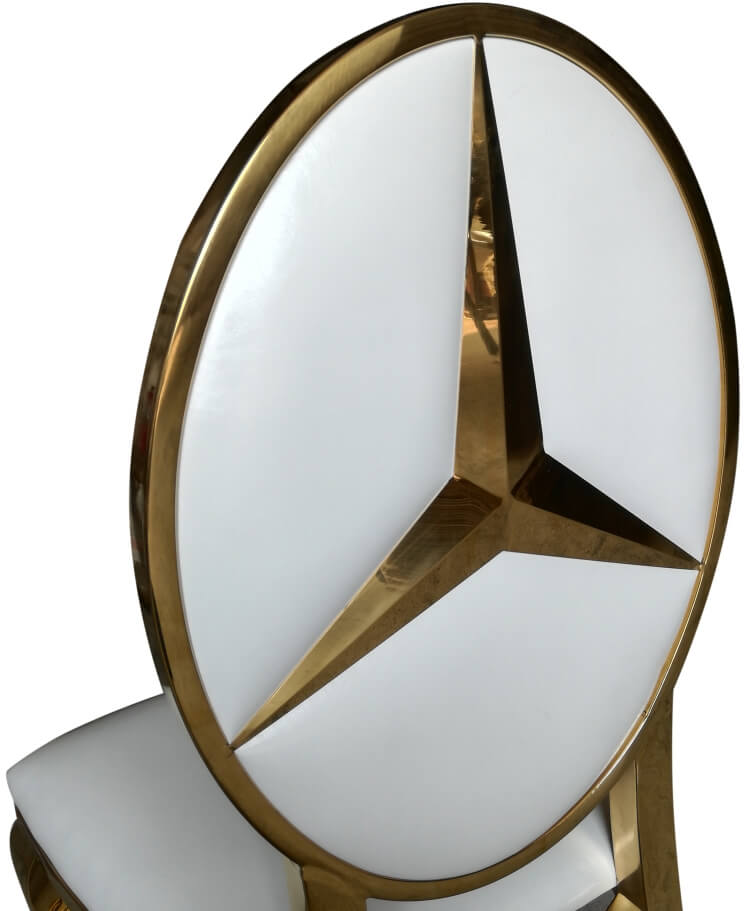 Comfortable Seat Cushion
High-density polyurethane foam, upholstered in white PU leather. The cushion provides the most comfortable
ride experience for guests.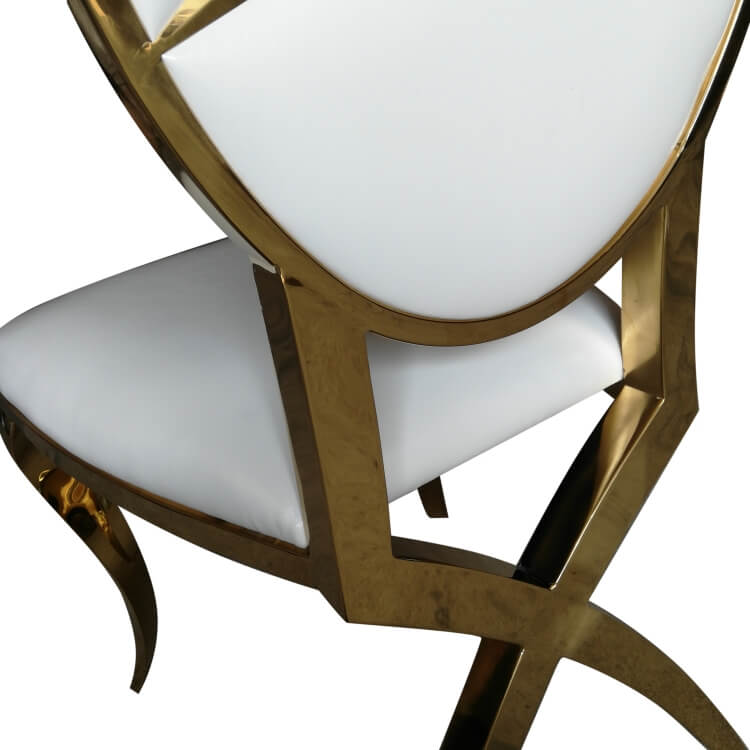 Seamless Welding
Adopt an advanced mechanical welding chair, seamless welding, beautiful and durable. There are no gaps in
the seams of the chair so people don't get hurt.
Perfectly Polished
With advanced polishing technology, the surface finish adopts electroplating, which is smoother and nobler,
which greatly increases the adhesion of the paint, and the paint is not easy to peel off.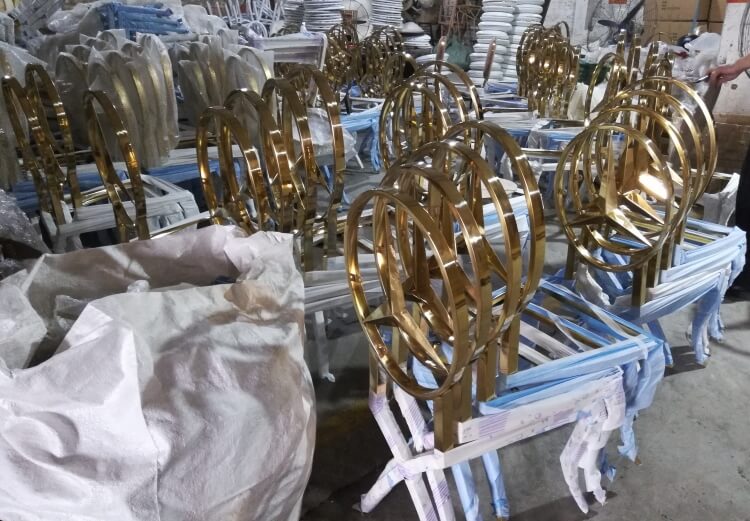 High-Quality Back
A comfortable curved backrest fits the curve of the human body, protects the spine, reasonable ergonomic
design, and comfortable cushion.
Rubber Mat
A soft rubber pad is placed on the bottom of each chair, which reduces the friction between the stainless steel chair and
the ground protects the chair well and increases the service life of the chair.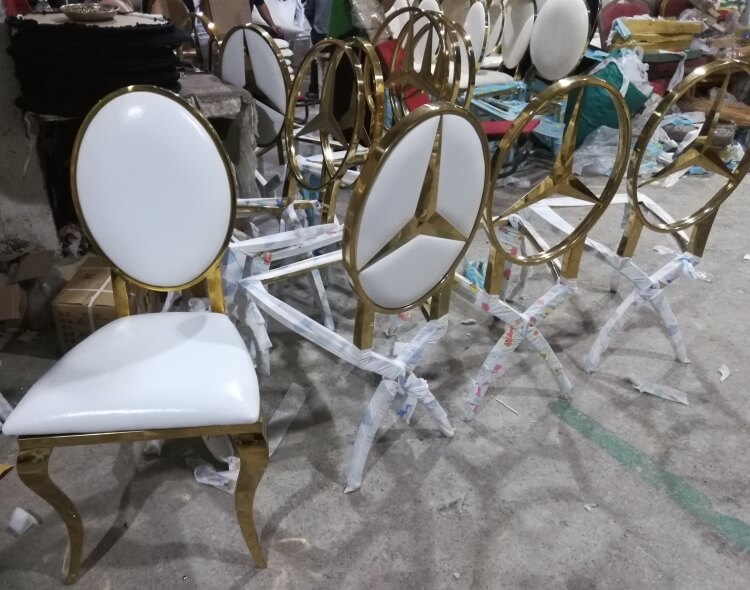 Solid Seat Board
5-7cm thick sponge, comfortable and soft. The surface material can be velvet PU leather, etc., and the inside
is filled with high-density sponge material, which is more comfortable. The pads can be replaced, using
screws to install the pads.
The genuine leather fabric is waterproof and dustproof, easy to care for, breathable and comfortable,
skin-friendly and durable, and full inside. And there are fillers, good resilience, comfortable sitting, not
tired after sitting for a long time, and not easy to deform
The silhouette features a uniquely designed seat back and ornate cross-shaped legs. The upholstery offers a
bright effect that contrasts nicely with the frame in a silver mirror finish. Add personality to any space with
this remarkable dining chair. The skin-friendly cushion and backrest give you a comfortable sitting experience.
Dining room chair, stylish and classic style, suitable for kitchen, living room, bedroom, dressing room,
dressing room, and other scenes.