Dining Chair
Known for its sophisticated wood-toned finish, the Poinciana Chair is our best-selling seating option. Its attractive dark brown hue, complemented by subtle red undertones, complements the aesthetics of real mahogany furniture. What sets our mahogany apart is its exceptional color consistency, ensuring that when you expand your chair range, new additions blend seamlessly with existing ones, creating a harmonious and cohesive look that leaves a lasting impression on your guests and clients.
The chair is made of high-quality paint and uses spray painting technology to avoid paint peeling
The frame of the entire box is made of solid wood, which is very strong.
The style of the chairs is French Louis, which is perfect for antique banquets.
Supports laboratory 1000 lab testing.
Seat cushion: The seat cushion is thickened, making it more comfortable to use. Seat sponge can choose recycled sponge/high-density sponge/shaped sponge.
Sturdy construction makes it ideal for restaurants, events, and parties
Many different stylish designs and colors available for various settings
MOQ(Min Order Quality):200pcs style
Description
HIGH QUALITY HARDWOOD FRAME: We manufacture our high-quality Phoenix Chair from carefully
selected black locusts (Robinia acacia). This hardwood frame not only gives the chair great sturdiness but
also adds a natural beauty to it. Hardwood is known for its exceptional durability and attractive grain,
ensuring that your chair will look like new after years of use. Cutting with a machine is fast and ensures
consistent size.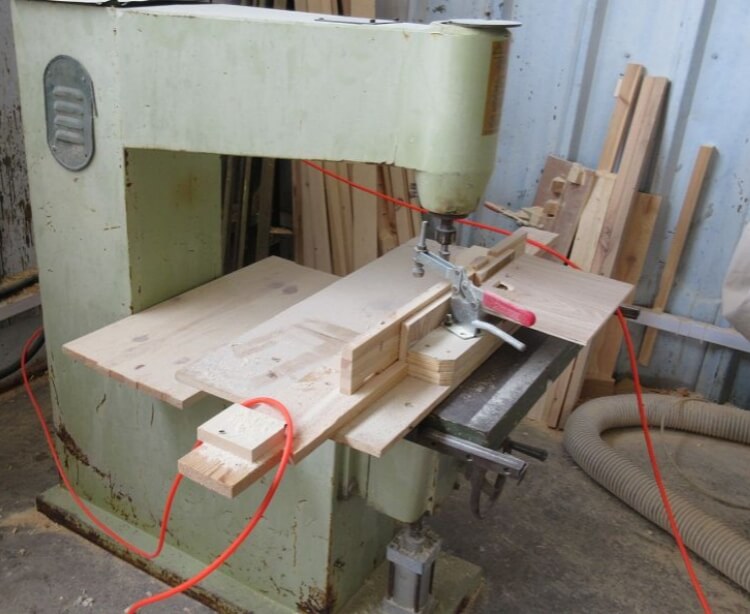 Thick and Sturdy Design: Our wooden Phoenix Pisces chair is sturdier and more textured than other suppliers.
This is due to our strict control over the dimensions of raw materials, ensuring each chair has exceptional
durability and stability.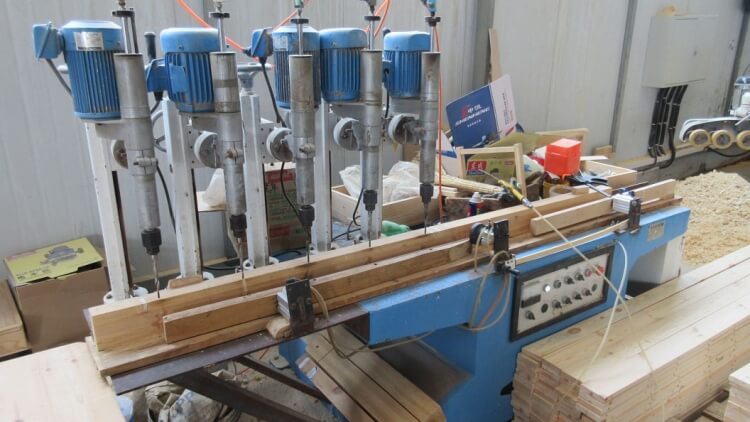 Unique internal structure process: We use a unique internal structure manufacturing process to ensure the
reliability of the chair. This process not only enhances the chair's load-bearing capacity but also provides
superior comfort and support.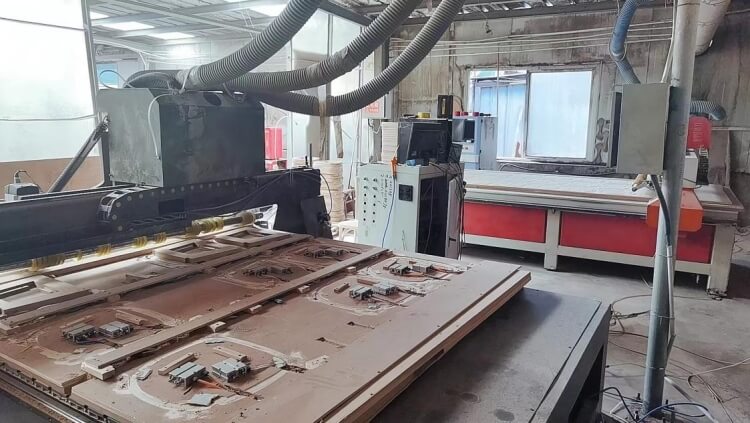 PRECISION PERFORMANCE DESIGN: Each Phoenix Pisces chair features a precision perforation design
with steel grub screws and locking nuts to ensure long-term durability. This design not only makes the chair
more stable but also helps it maintain its original appearance.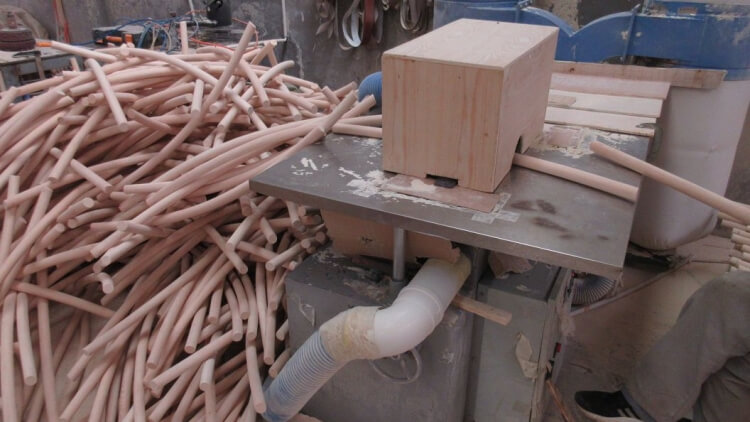 Chairs that use high-temperature baking paint are of higher quality because this process ensures that the
paint adheres firmly to the surface of the chair and does not fall off easily. High-temperature baking paint
not only improves the durability of the chair but also makes it more wear-resistant and fade-resistant,
extending the life of the chair. This manufacturing method not only focuses on aesthetics but also on product
quality and performance, providing users with a more durable and reliable seating option.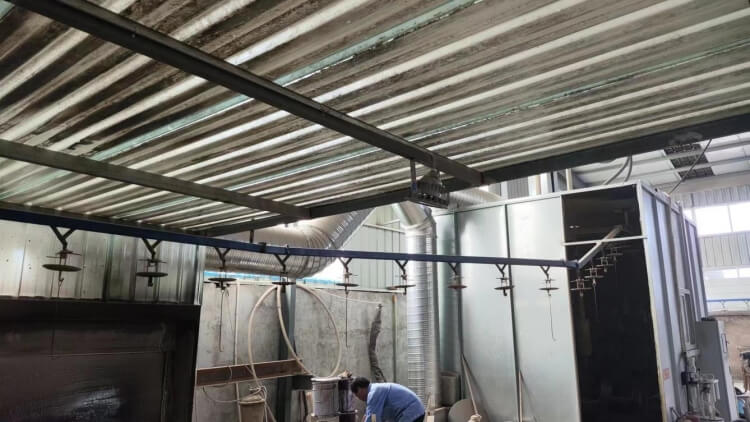 V-shaped metal triangular hat support: The bottom of the chair is equipped with a V-shaped metal triangular
hat (angle iron), making it extremely stable and strong. This structural design not only provides additional
support but also enhances the overall sturdiness of the chair, ensuring safe use.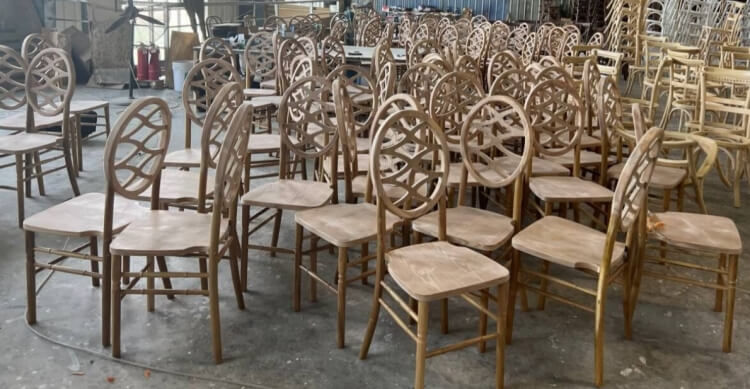 Wooden structure mortise and tenon connection: We adopt a unique wooden structure mortise and tenon
connection design to ensure that the structure of the chair is stable and not easy to loosen. This sophisticated
connection is one of the key factors in the chair's durability.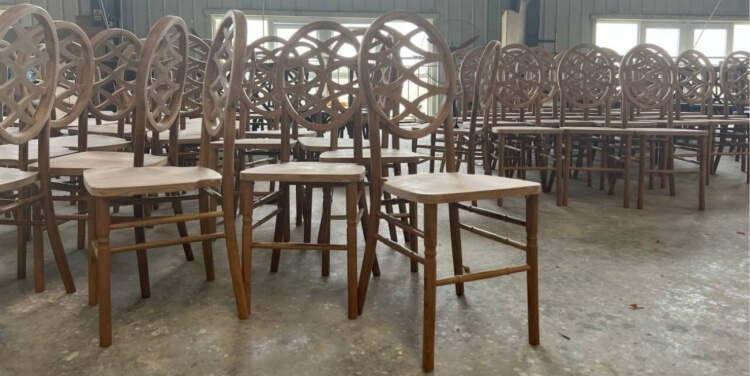 Various optional colors: We provide a variety of optional colors, including gold, silver, black, white, mahogany,
natural color, brown, fruit wood color, bronze, walnut color, etc., to meet the needs of different decoration styles.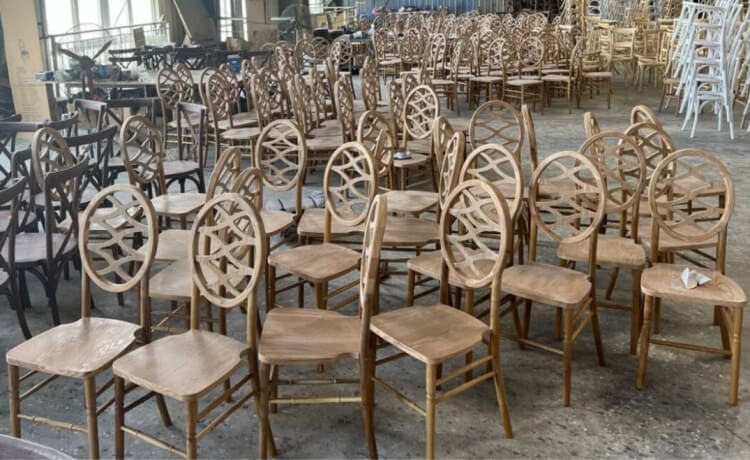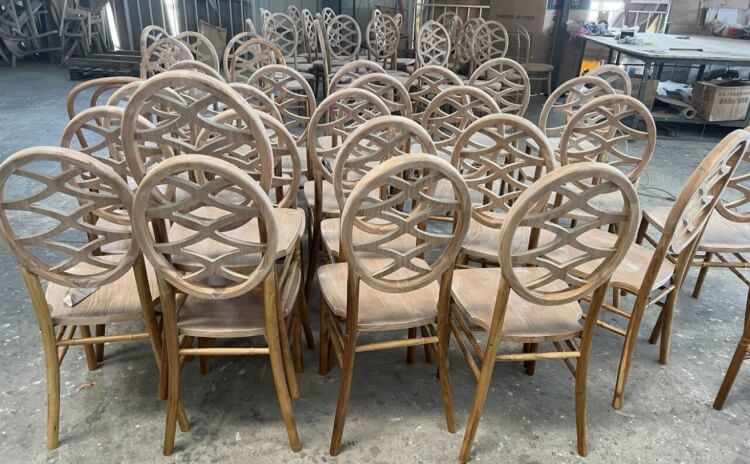 The chairs are stackable which makes it very convenient while you are using them as you can easily stack
them on top of each other thus saving space. Not only is this convenient when in use, but when it comes to
storing these chairs, their stackability feature also comes in handy because you can stack them neatly on top
of each other, minimizing the amount of space they take up. Storage and transportation become very convenient.
This versatility and space efficiency make the chair one of the essential pieces of furniture for any occasion.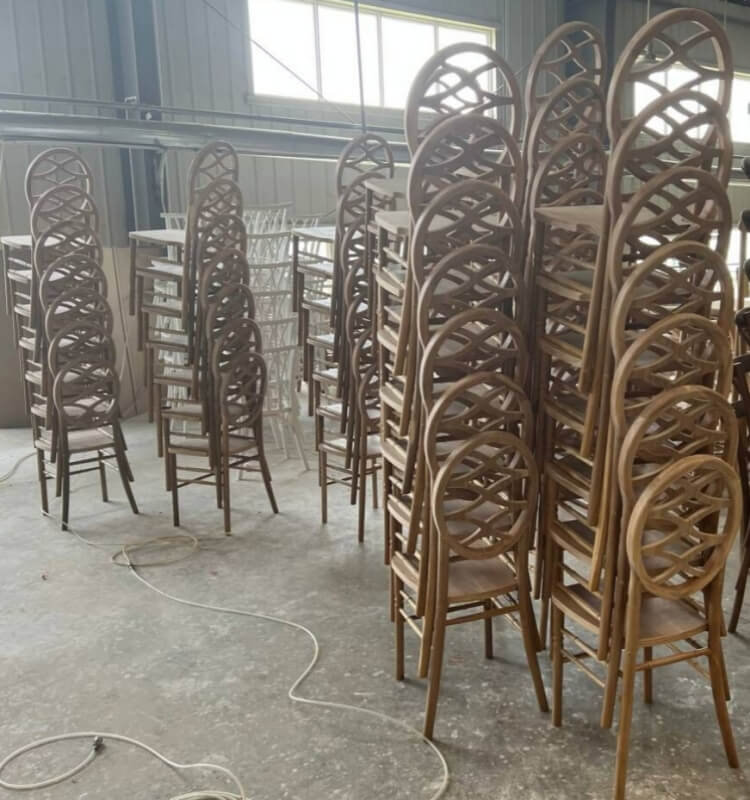 Every corner is well protected; internal protective packaging, foam materials, moisture-proof plastic, etc.;
the customer's logo and mark as well as product information can be printed on the carton.