Gold Stainless Steel Barstool Factory
The choice of golden metal adds a unique sense of luxury to the space. Not only that, but the gold color will give off a warm glow in the light, adding a warm atmosphere to your kitchen space. The durability of this metal material also ensures that your bar stools will provide you with comfortable seating for a long time. The minimalist design of the white leather seats brings a clean, modern feel to the entire space. White is a timeless color that matches a variety of styles and decors. The comfortable texture and clean lines of this leather seating also provide a relaxing dining or gathering experience for your family and friends. And the circular footrest design not only provides you with extra foot support but also adds a unique aesthetic feeling to the bar stool. This ingenious detail makes the whole bar stool look more well-designed, reflecting your pursuit of quality and comfort.
The chair has an O-shaped back, a round seat, and a round footrest.
Smooth welding: The corner seams are precision welded and carefully polished many times to ensure that the chair frame is strong, durable, and beautiful.
The cushion is filled with a high-density sponge, which is full and thick, soft and comfortable.
Clear floor slides keep your hard surface floors scratch-free while moving.
Bar stool chairs can be used in weddings, hotels, restaurants, bars, clubs, parties, banquets, indoor or outdoor.
Packing Quantity: 5pcs/carton, 310pcs/20ft, 650pcs/40GP, 680pcs/40HQ.
Description
Let bar stools be a gorgeous addition to your party style. This modern take on the classic "O" shape back
bar stool will add unique charm and style to your event. Depending on the nature of your event, you can
choose the white leather cushions to convey a classic and elegant vibe, or the opulent open golden frame
for a touch of luxury and elegance. No matter which look you prefer, bar stools can fit your needs and
refresh your party. The customization options for this bar stool give you endless possibilities. You can
choose from different colors, materials, and design details according to your style and preferences,
ensuring that the furniture fits perfectly with your overall decoration style. Whether it's a classic black
tie event or a more modern and unique gathering, bar stools can provide the perfect match.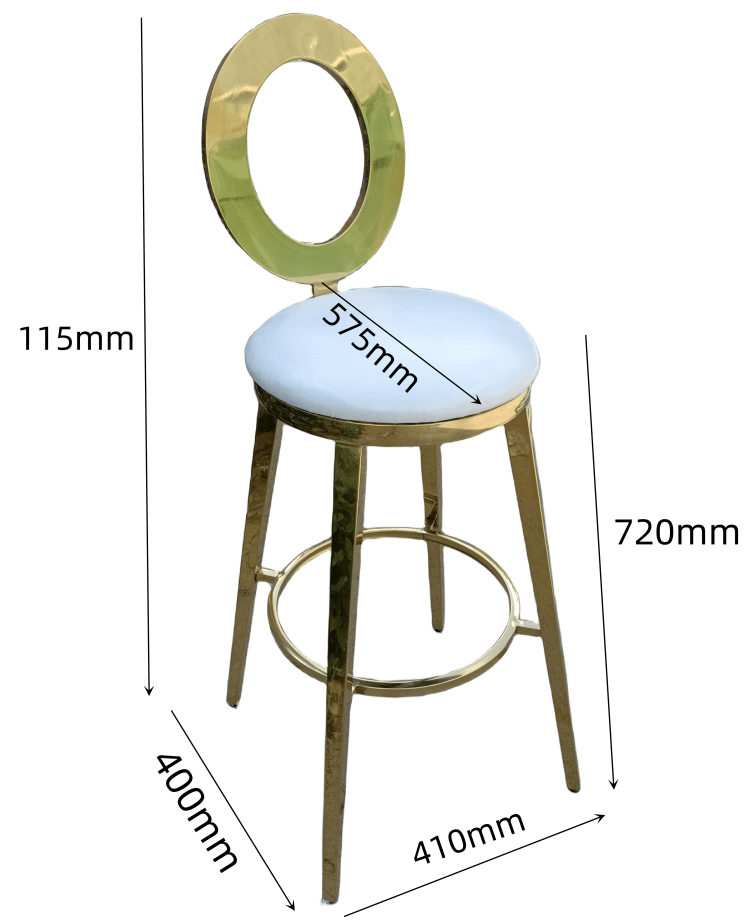 The thickened metal frame is the distinguishing feature of this bar stool, which is quite different from other
ordinary metal leg bar stools. By adopting a thickened iron frame, these bar stools excel in sturdiness and
stability, providing users with reliable support. This special design allows these bar stools to easily bear a
weight of up to 150 kg (about 330 lbs), which has a higher load-bearing capacity than ordinary bar stools,
bringing users a more secure and comfortable dining or resting experience.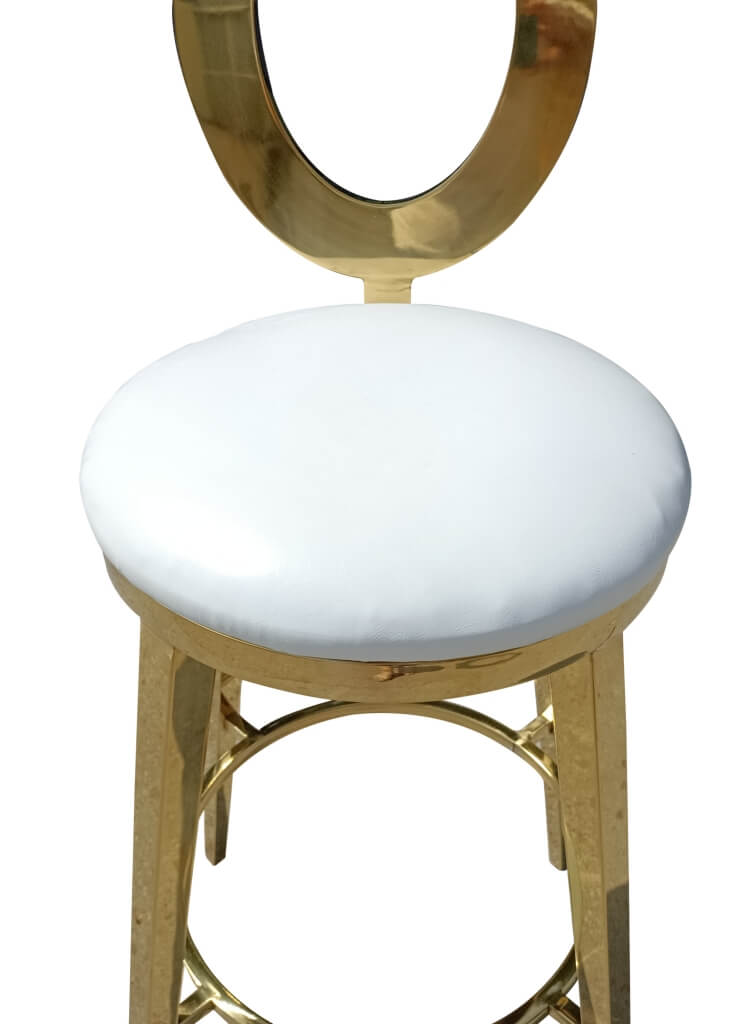 The height of the stools has been carefully designed to match the height of the bar counter, blending in
perfectly with the contemporary decor. Whether hosting a family gathering or inviting friends to a party,
this stool will keep your guests comfortable while sipping on an ice-cold beverage, adding to the excitement
of the event. In addition to its elegant appearance, this stool is also worth mentioning for its solid construction
and reliability. The stainless steel construction ensures its durability, ability to withstand long-term use,
and frequent movement. The gold finish adds style and quality to the stool.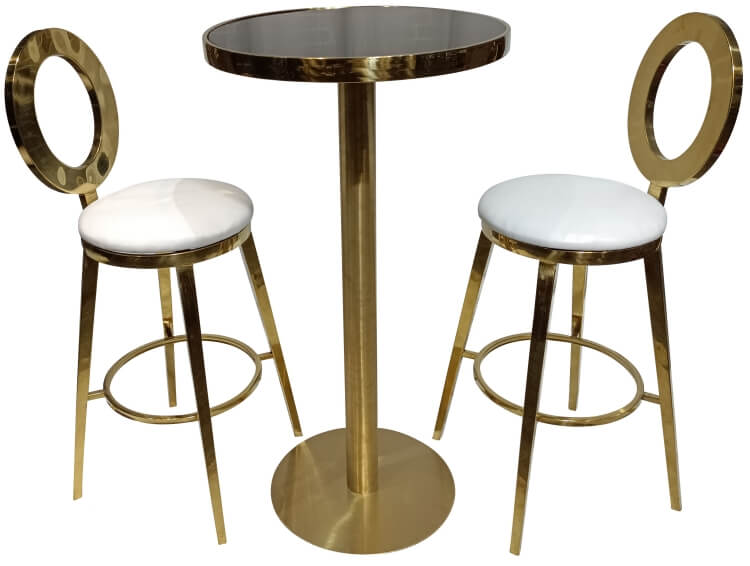 For chair backs, we offer a choice of cushions in a variety of styles and materials. Whether it is a
classic minimalist style or an artistic graphic design, you can choose the right cushion according
to your personal preferences and home decoration style. These cushions use high-quality Velcro
to ensure that they fit firmly on the back of the chair and will not slip off easily. At the same time,
they are easy to replace and clean, bringing you a convenient use experience.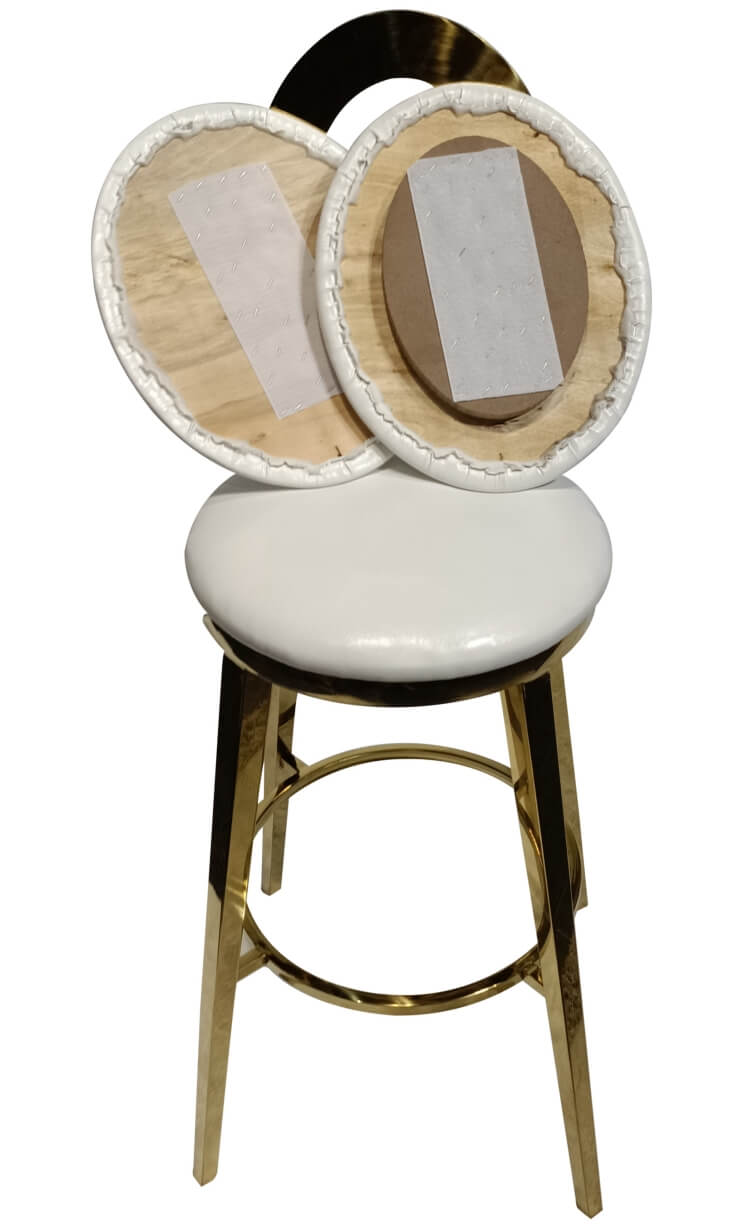 The stainless steel golden bar stool seat bag is made of PU white leather, which combines metal and leather
to provide a stylish and comfortable seating option for bar or home use. The stainless steel golden base of
this seat bag brings a noble and elegant atmosphere to the whole stool, and at the same time increases the
stability and durability, allowing you to feel more at ease when using it. The white PU leather seat surface
adds a fresh and bright feeling to the seat bag. The simple and elegant appearance design brings a touch of
elegance and modernity to your space.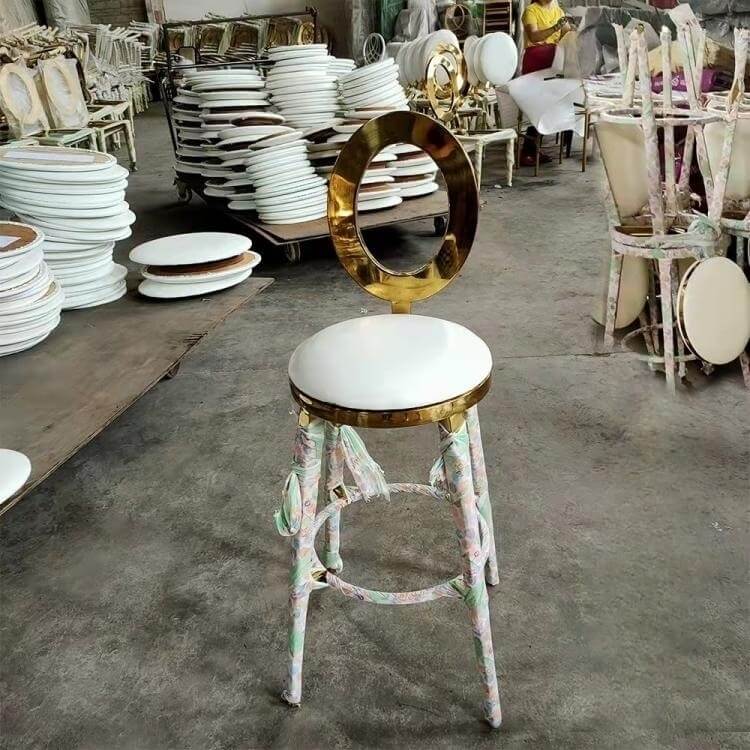 The O-back bar chair is a light and elegant piece of furniture, weighing just 6.05 kg. Still, it showcases a
stunning design and solid construction, making it a great addition to your home bar, kitchen counter, or
party venue. This O-back bar chair is not only light and easy to move but also exudes a unique charm. Its
classic "O" back design gives the chair a unique flair, combining simplicity and modernity just right. Whether
you're looking for style and elegance, or tradition and class, this chair will fit perfectly into the style of your
home. Despite its lightness, this O-back bar chair is strong and durable. Using high-quality materials and
exquisite workmanship, the structure of the chair is solid and reliable, which can withstand long-term use
and frequent movement. You can confidently use it at parties and let your guests enjoy themselves from the
comfort of their seats.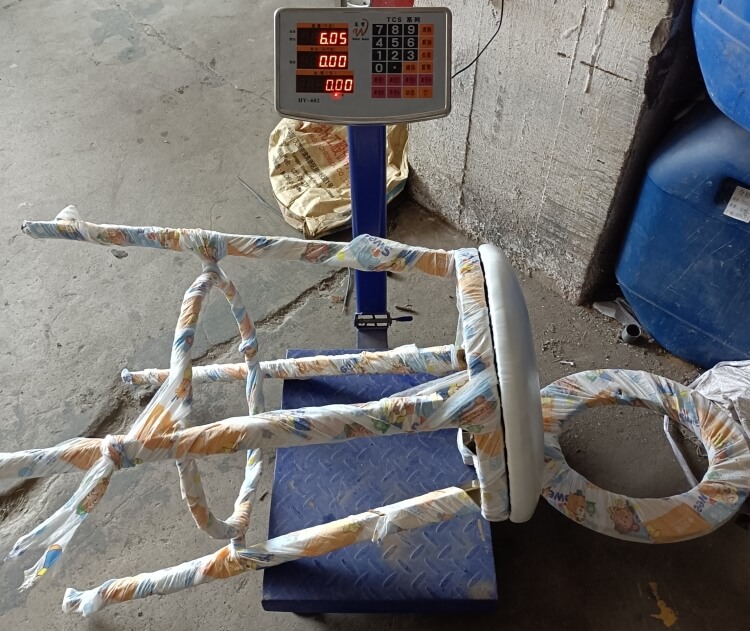 Not only is this stylish stool comfortable for guests at your home bar or kitchen counter, but it also brings
stunning contemporary style to your space. Its beautiful stainless steel metal body and gold finish give the
stool a unique luxurious look, making it a stunning addition to any home.
In order to ensure that the round chair is safe and undamaged during transportation and delivery, we have
adopted a series of meticulous and thoughtful packaging measures. The following is our packaging process:
Protecting Surfaces: First, we carefully wrap the back and legs of each chair with bubble wrap. Bubble bags
provide a layer of soft cushioning that prevents the surface of the chair from being scratched or damaged
during packaging and shipping.
Enhanced protection: Lay a layer of EPE (expanded polyethylene) on the carton, EPE is a lightweight material
with excellent cushioning and shockproof properties. We put the chair in the cardboard box to make sure it is
secure and in place. Then, an additional layer of EPE is applied over the entire surface of the chair to further
enhance the protective properties of the packaging. Such layers of packaging can effectively reduce the
vibration and impact of the chair during transportation and maintain its original state.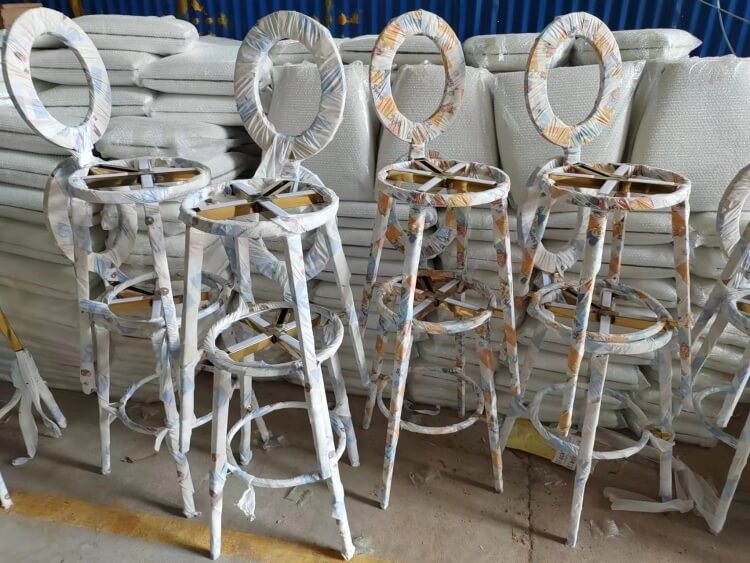 Sealed carton: After the chair and EPE layer are in the middle of the carton, we will seal the carton to ensure
that the chair will not slip out or be affected by the outside world during transportation. We use high-quality
sealing tape to keep the carton tightly closed to keep out dust and moisture while preventing the chair from
accidentally coming out of the package.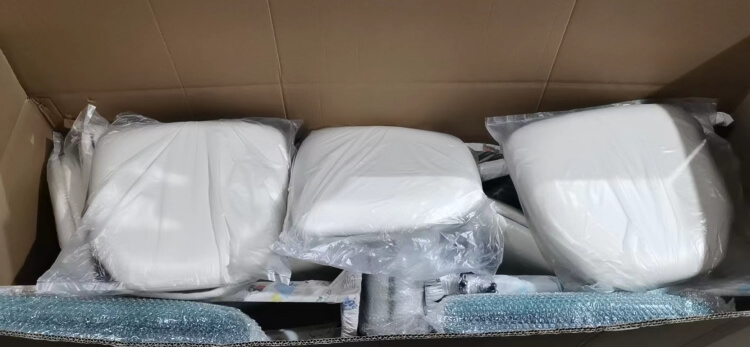 At weddings, metal round-backed bar chairs become an elegant and stylish decorative element, adding a
chic vibe to the entire venue. In an outdoor or indoor wedding venue, these Metal Round Back Bar Stools
will provide comfortable seating for guests while complementing the wedding theme.
In the banquet hall or courtyard, metal round-back bar chairs can wow people in the wedding venue setting
with their unique shape and luster. The curved lines of the back of the chair echo the symbol of love, elevating
the romantic atmosphere of the wedding to a new height. The white leather seats add a noble and pure
temperament to the wedding, creating a pleasant seating experience for the couple and guests.