Victoria Ghost Chairs
We wholesale resin victoria ghost chair worldwide. Standard Resin Victoria Ghost Chairs seat & back are made of polycarbonate frame legs. The load ability of our resin victoria is 500 kgs static loading. The color of resin victoria ghost chairs including white, clear, black, pink, blue, amber, mahogany, smoky, gray. And every of our victoria ghost chairs has rubber under the legs, so that prevent the floors slipperily. Our victoria ghost chairs product including 20 processing and our resin victoria ghost chairs pass SGS inspection test. There will be polybags inside of boxes, and packed well when the customer receives the victoria ghost chairs.
Victoria Ghost Chair Feature
 Raw material: Polycarbonate
The Victoria Ghost chair was born from the classical lines of the armchair by Louis Ghost.
We have the highest stock in our warehouse
The back is round and recalls the form of the antique medallion.
It is stable, comfortable, robust, scratch-resistant and weather resistant.
It is an article with great charm and personality which fits elegantly into any event or exhibition surrounding.
Pass SGS test with a certificate.
Loading quantity:  20 ft: 512 pieces, 40 GP: 1024 pieces, 40 HQ: 1200 pieces
Description
Qingdao blossom furnishings limited producing Victoria Ghost Chair Wholesale since 1998, we only accept the
The business of Victoria Ghost Chair Wholesale.
Victoria Ghost Chair Wholesale Feather is as follows:
1. For the wedding, a white acrylic plastic wedding ghost dining chair is the most popular in the 2019 wedding market.
2. For Garden furniture, garden PC dining acrylic crystal PC ghost.
3. Original design from Italy: Wedding Event PC Transparent Poly-carbonate Italian Plastic Chair, Ghost chair.
4. Stack-able: transparent clear stack-able wedding event ghost chair.
5. Made in China: Our Clear Acrylic Plastic Louis Ghost Arm Chairs for Dining or Weddings Made from Qingdao China.
6. Only do wholesale business for our chairs: Wholesale wedding party clear acrylic PC ghost resin Chiavari chair clear
plastic chair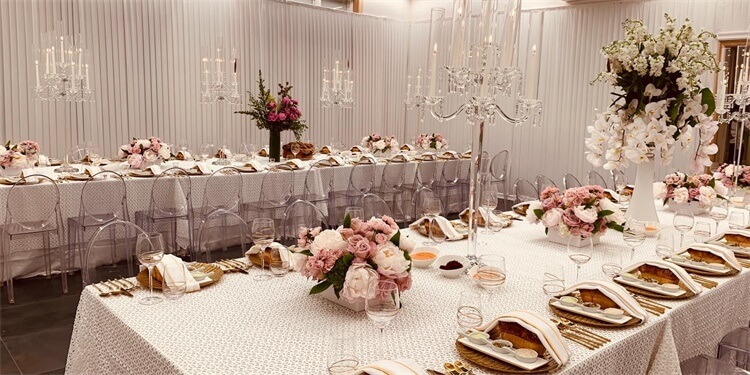 Transparent Crystal Victoria Ghost Chair Wholesale Finishing
The transparent ghost chair brings modern design, elegance, and functionality to your home, dining room, and special
events in its Louis xvi style.
Please kindly check the following picture to show how clear the chair's back is. Because of the nice aluminum mold, so all of
the Victoria chairs will be the same size.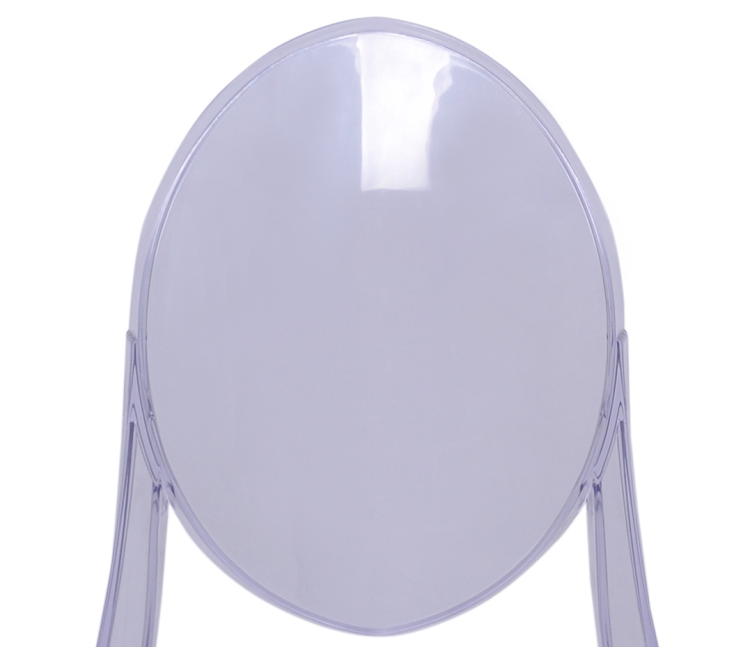 Victoria Ghost Chair Wholesale seat with Wavy Shapes
The molded structure of polycarbonate is both beautiful and comfortable. All the seats produced standard size for all
the young people at the wedding. You can see the following draft show the exact size for standard 15"x19"x35.5"
oversize, and the seat height of Victoria ghost chair is at 18.5". In 2014, our Russian client bought 4600 pieces of
these Clear Victoria chairs one time for their government purchase. And before buying, they test the chairs
samples many times, and their quality control staff flies to our factory and inspect the loading container and pay
directly.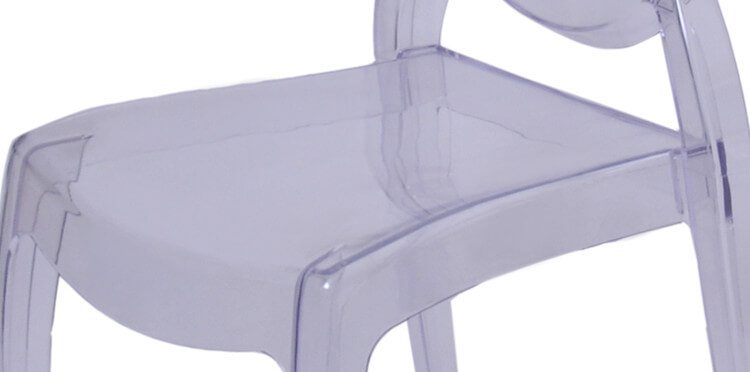 Victoria Ghost Chair Wholesale standard Size

Victoria Ghost Chair Color
Colorful of these dining chairs Options
We can produce many colors, such as blue, light blue, yellow, amber, green, solid red, solid white, solid black, smoke,
gray, champagne and transparent, etc.
Also, we have more than 32 kinds of color for your choice, we produce the color depending on PANTONE
STANDARD COLOR. So sometimes, you can just tell us the Pantone color number will be great. For special
color requests, before mass production, we will offer color samples for confirmation.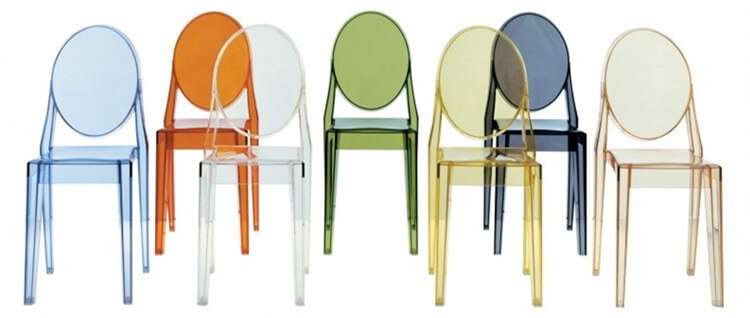 Acrylic Victoria Ghost Chair Wholesale
Do you know how to produce Ghost chairs?
let us lead you to visit our workshop now. You will see the whole procession from material to one whole beautiful
chair, which is a wonderful experience. How professional a manufacturer we are!
Machine and mold: The clear ghost chairs are made from these machines, we have 3 pieces of the same big machines for
resin dining chairs production, one machine can be matched with different molds for different chairs, and we put the
imported raw material into this machine. By computer control, raw material will be melted and joined into the hard
mold, then you can get the chairs, through these machines, the Victoria ghost chairs are produced one by one. Approx 2
pieces of chairs will be finished in one minute.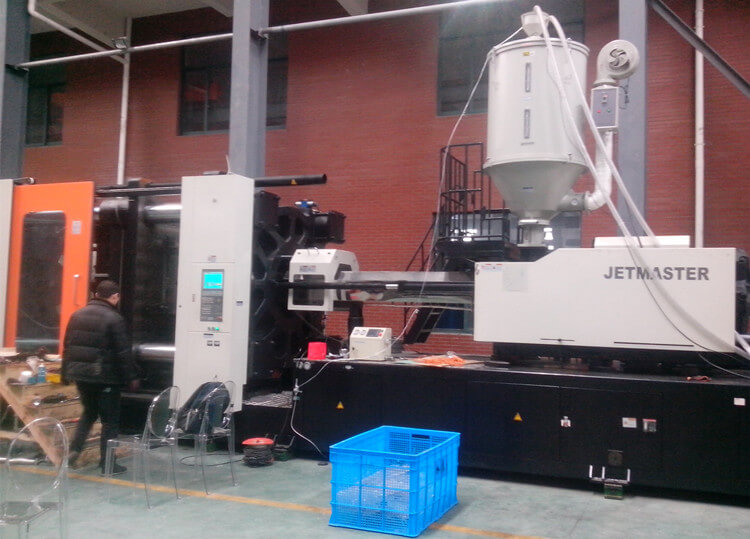 What is the main advantage of your resin chairs?
Every ghost dining chair is made from the same mole. They are absolutely the whole the same. Yes, all the chairs
from the same mold will be the same dimension. In the next step, we will show you, how to take off the chairs from the
machine and how to reorganize the chairs, making them very slippery.
This processing need a very very professional worker to do that. Normally we need 2 years to train one
beginner to become to one professional work for this important processing.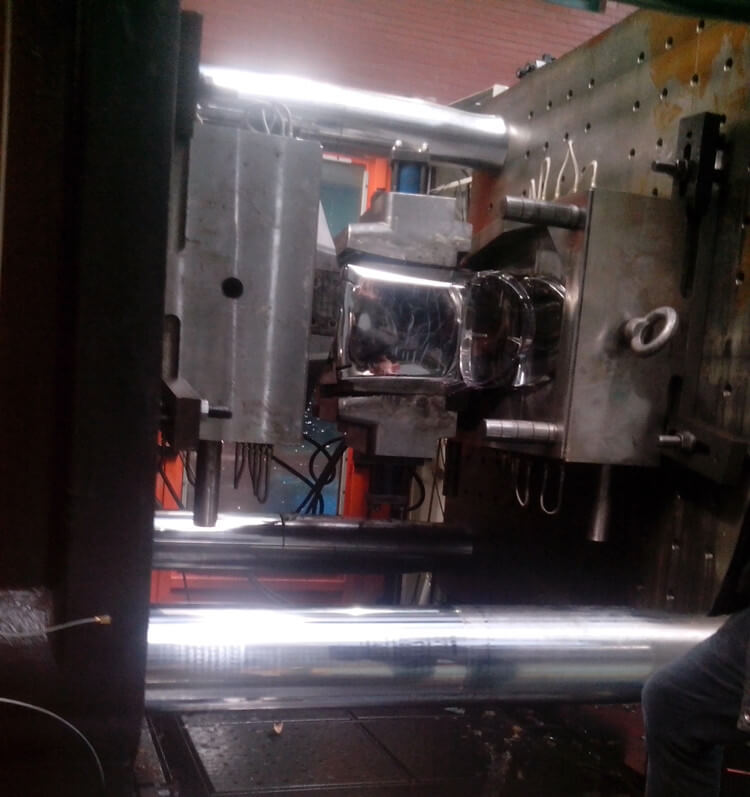 Our technical workers would cut the surplus stuff on chairs and make every ghost-style chair smoothly and
beautifully. The machine could not do this work, just handmade. Normally one work needs about 1 minute to make
one chair perfect. All of the round, including chair back and seat.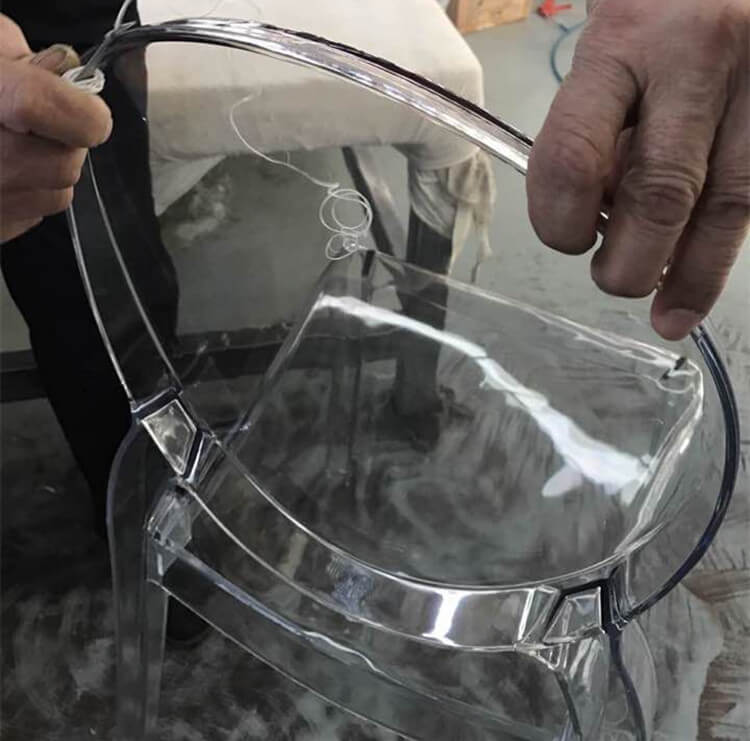 And the other workers would fix the foot-pads. They use the glue to adhere to every foot and they won't drop
and ghost dining room chairs also is very steady.
We are very strict with our raw material. The weight of the clear chair will prove all the things. The weight
of each chair is 3.665 kg. They are not very much lighter than the other factory.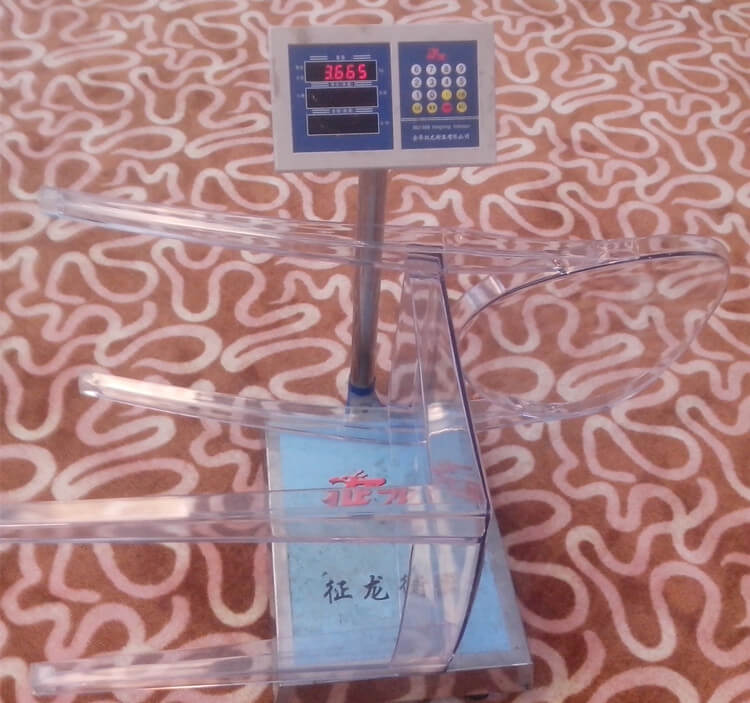 Our clear acrylic chairs can stand every drop. It is tested by the dropping machine. The resin ghost chair is
very stronger and more durable. It won't break and damage. Please see the following picture in the test lab.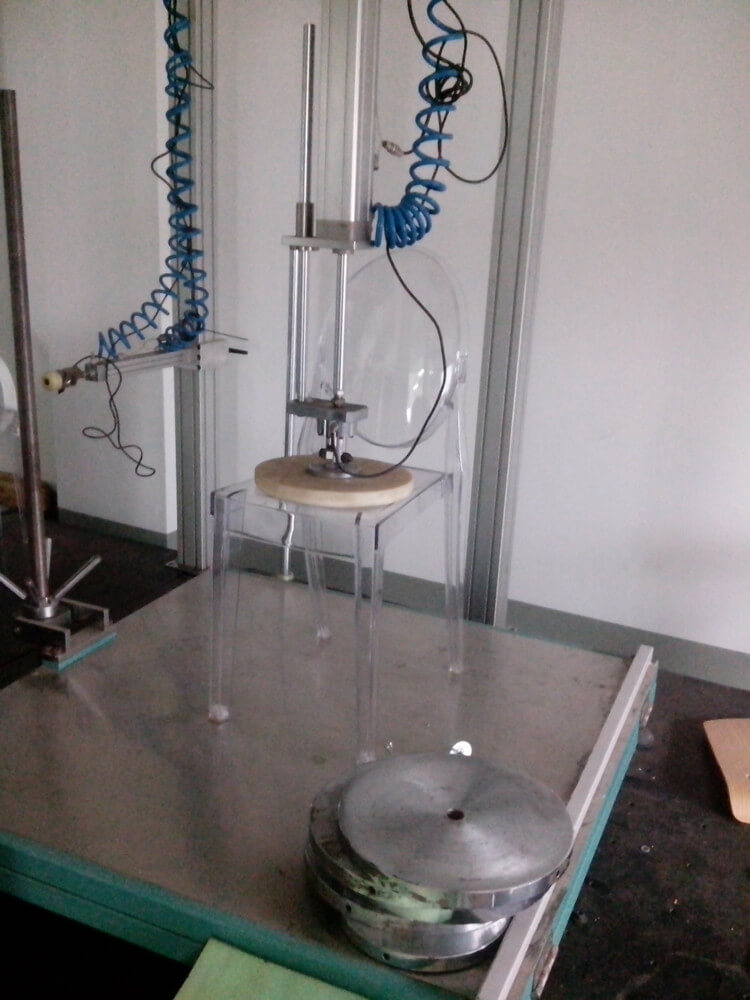 Our Victoria ghost chairs have passed the SGS test and with the certificate. So please check the report.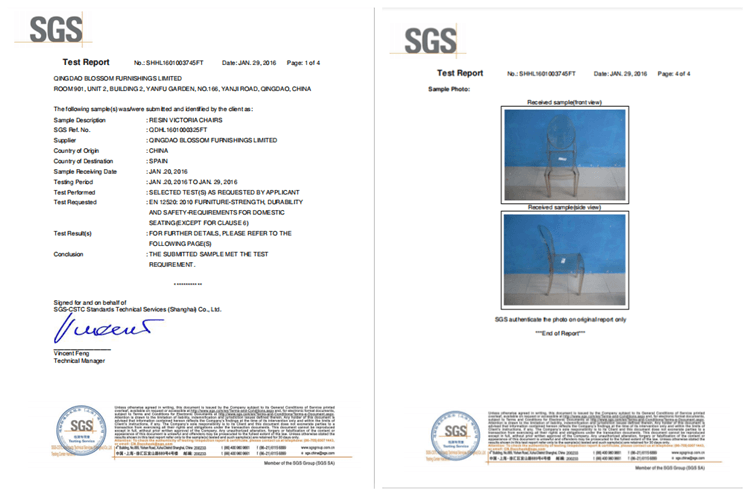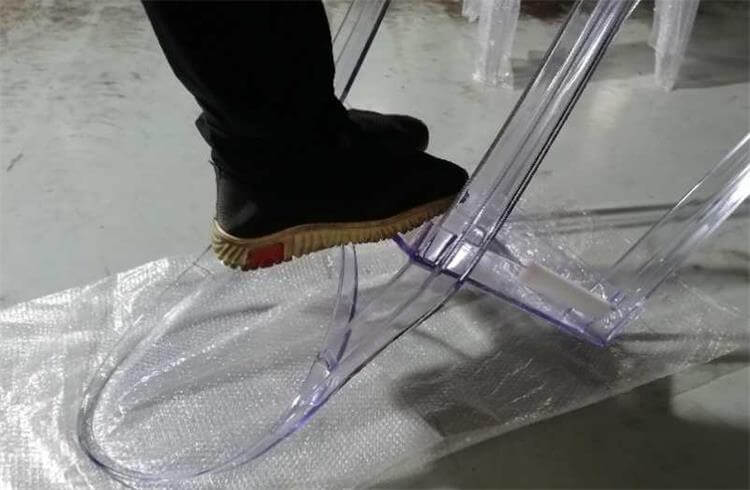 Mass production pictures of our Victoria chairs in different colors and




the nice package is as follows:




Smoke transparency color:

Clear Victoria Ghost Chair Wholesale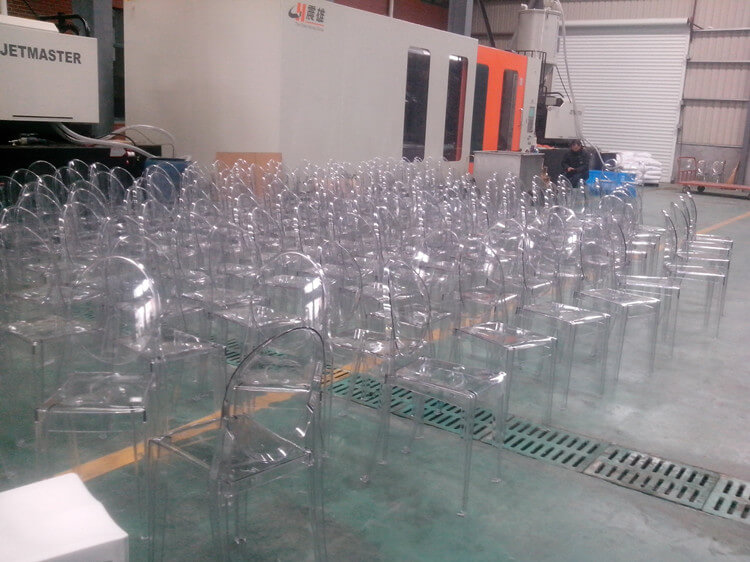 Solid white chairs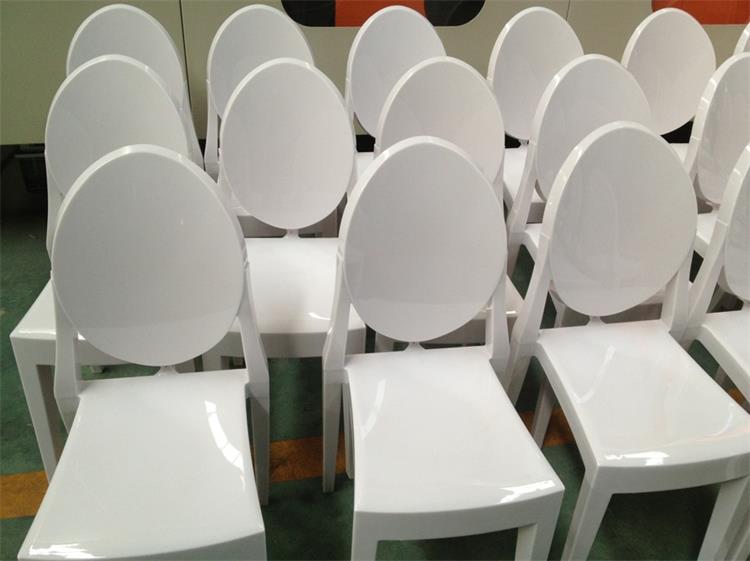 Black Resin Victoria Ghost chair in different views

Colorful finished chairs in our warehouse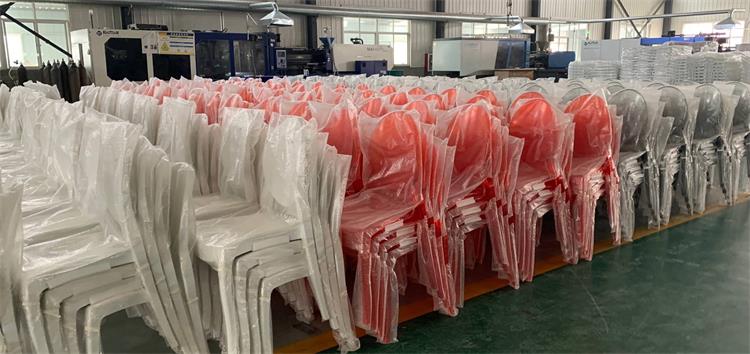 After our ghost chairs are produced, they will be covered with plastic film to prevent dust from falling into
the workshop, so that customers receive our chairs are perfect. Moreover, our chairs are stackable so that
they can be moved easily during use. We have a large amount of stock in our factory now, if you need it,
we can arrange delivery immediately.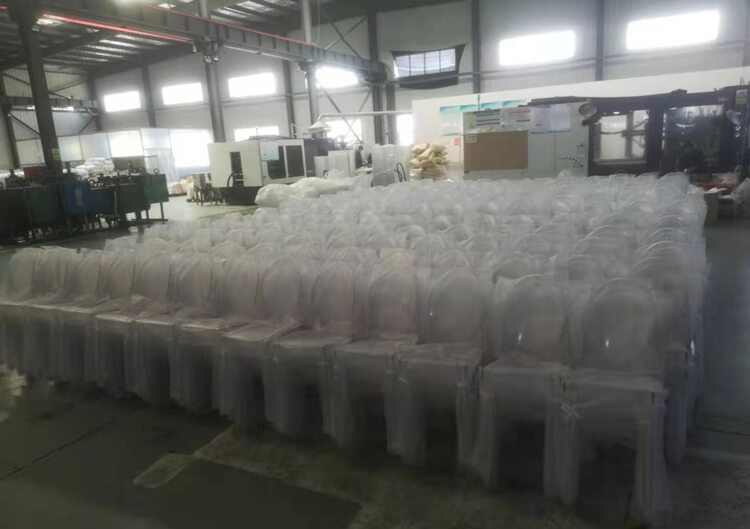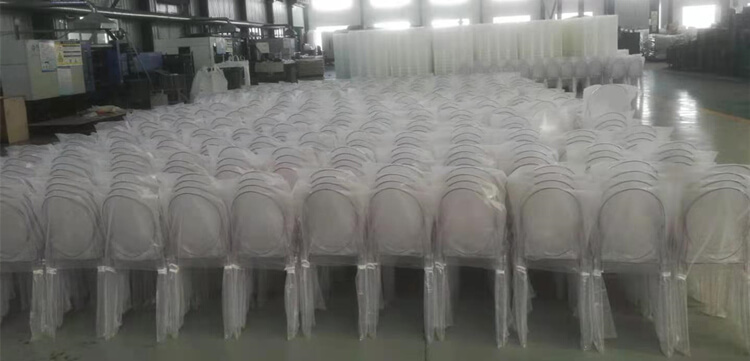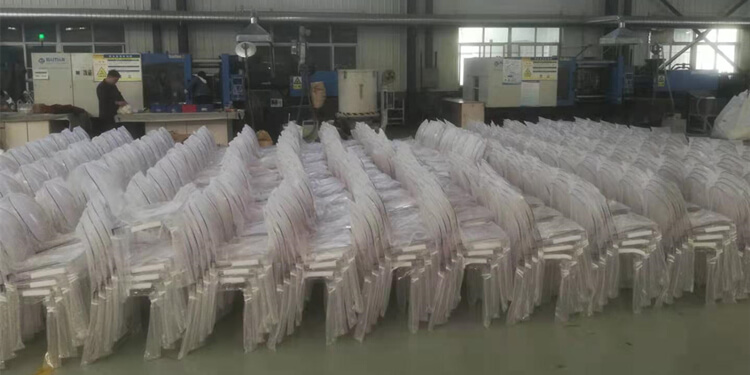 Are these chairs stackable?
Every clear acrylic chair has twined with plastic film. The aim is to don't hurt it during packing and transportation.
We must make sure to deliver the best chairs to your place. The Victoria ghost chairs are stackable. They can
stack up to 4 chairs. It's easy for storing.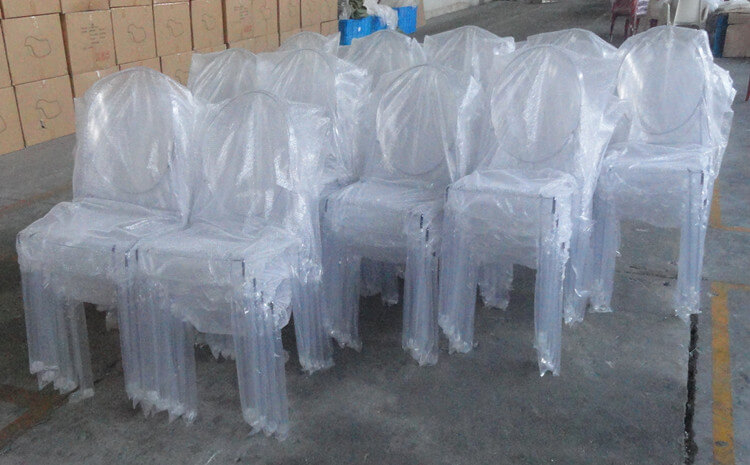 After the plastic film, we will use the bubble film to wrap the ghost dining chairs again and again. And then
put the chairs into cartons.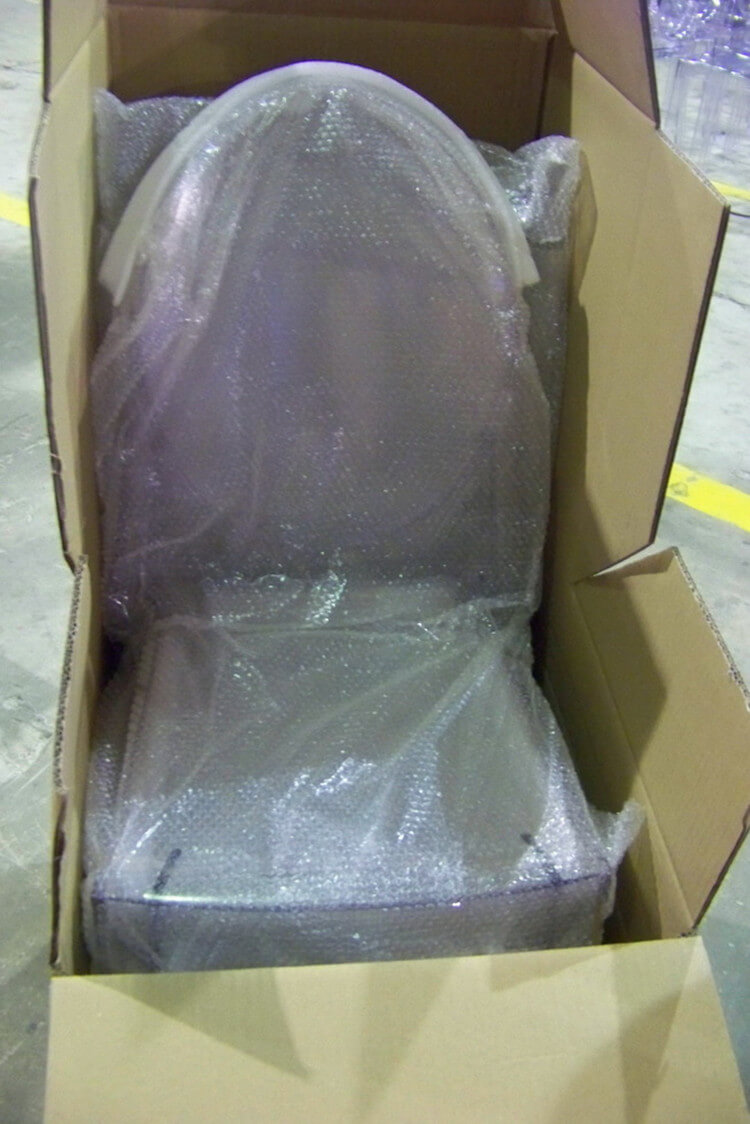 We use the "L" shape carton to load the chairs. Because this kind of carton approaches the shape of chairs and saves
space. And the clear acrylic chairs are fixed by that shape and don't shake during loading.
20GP / 512 pcs;
40FT / 1024 pcs;
40HC / 1200 pcs.
Box size is 39*67*106cm; 4pcs/ctn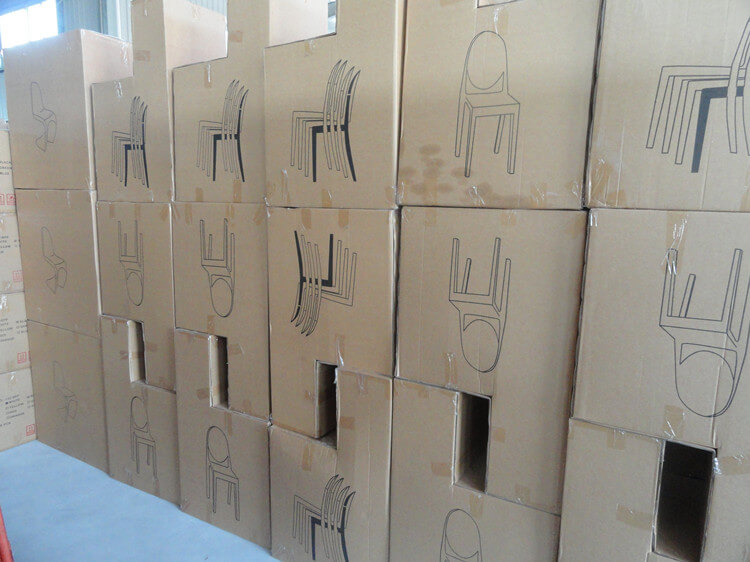 Feedback about our ghost chairs:
Our Russian customer bought one 40 ft container wedding chair including almost of Victoria ghost chairs in
2014, they are very satisfied with the high quality and clear transparent result, they sell very well in their market.
Normally you need to pay the balance depending on the copy of B/L.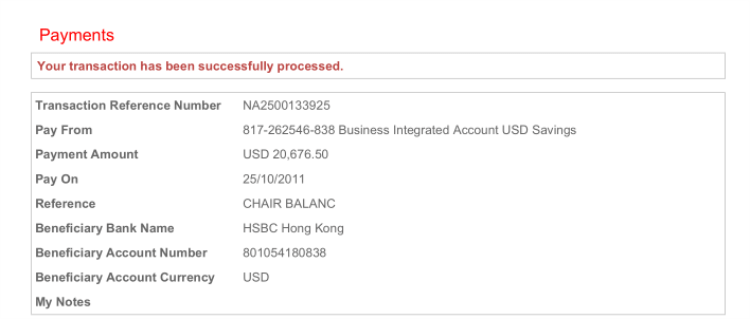 Loading containers as follows, the L shape boxes can save the space in the container, so you can load the
best quantities and save the ocean cost.
If your order is LCL, meaning is not one full container, if you need a plastic pallet as well. The size of the pallet is 1.3 x 1.1 x
1.9 m, and one pallet can load 40 pieces of chairs (10 CTN)
We can offer matching leather cushions for these Victoria ghost chairs as follows, different colors of the cushion
and the material is available.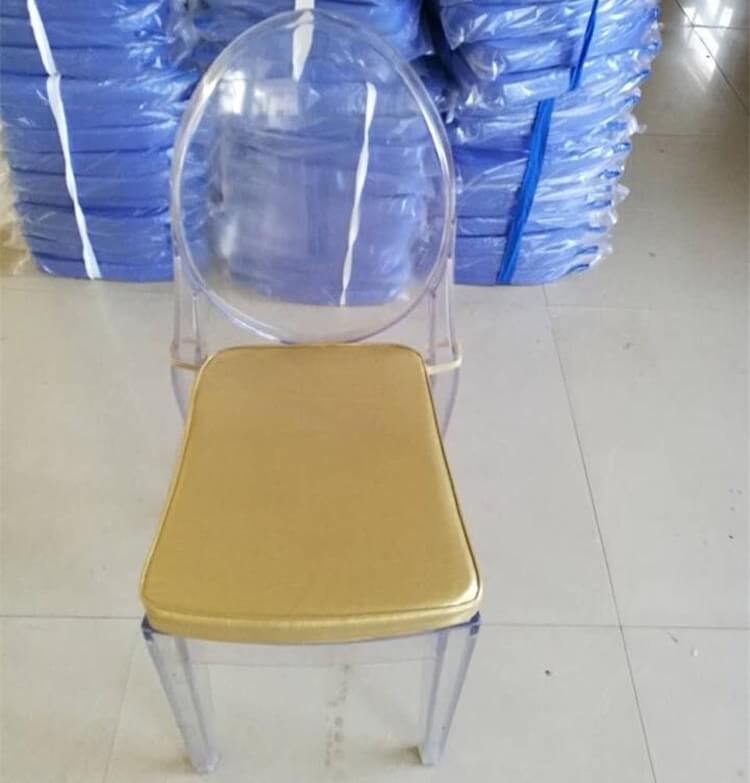 Application of Victoria Ghost Chair Wholesale
When having a dinner party with seats, chairs can quickly take up a lot of space, making the room seem
cluttered and overly busy. While ghost chairs don't take up less physical space, they give the illusion that
the reception space feels more open, tidy, and visually appealing in general.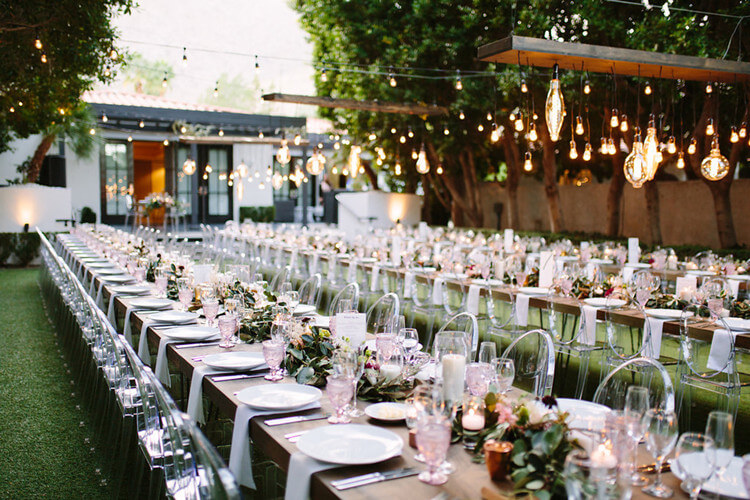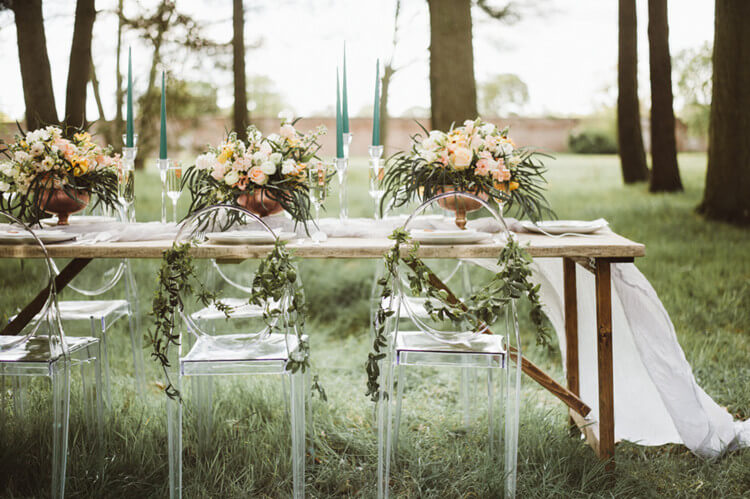 Another customer from Chicago sent some photos to us as follows: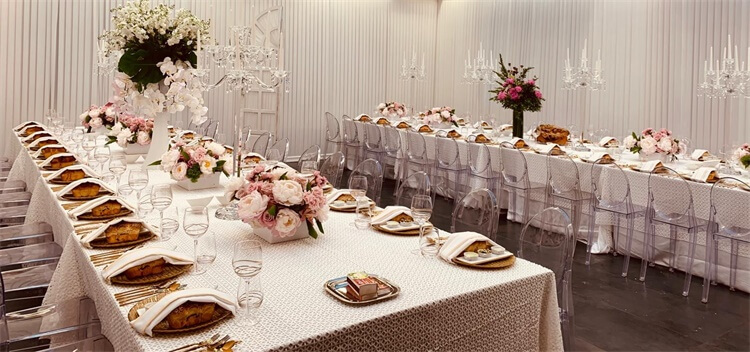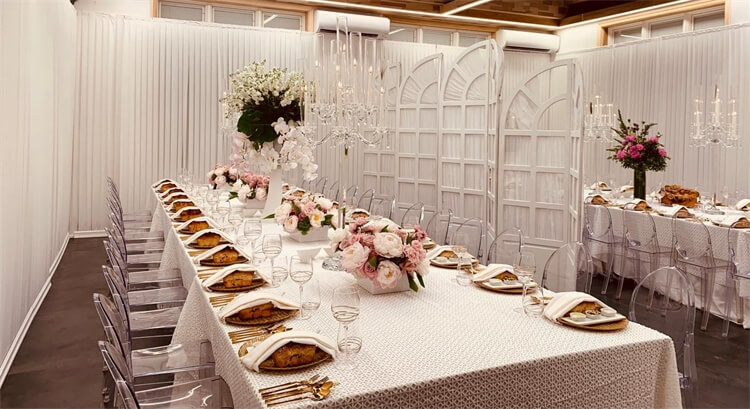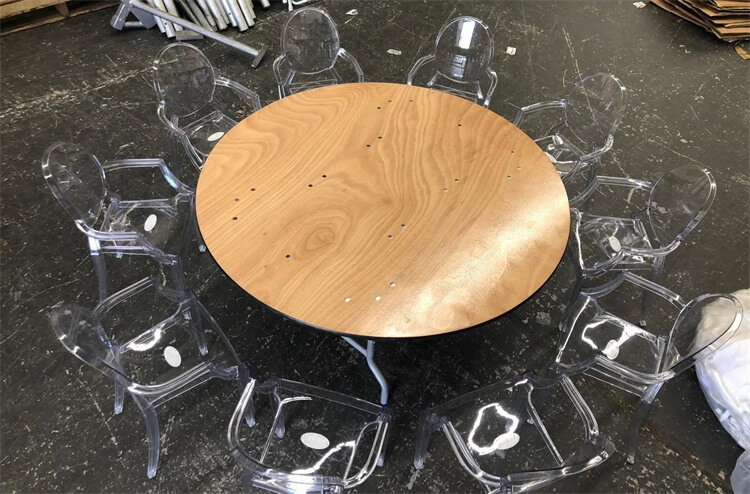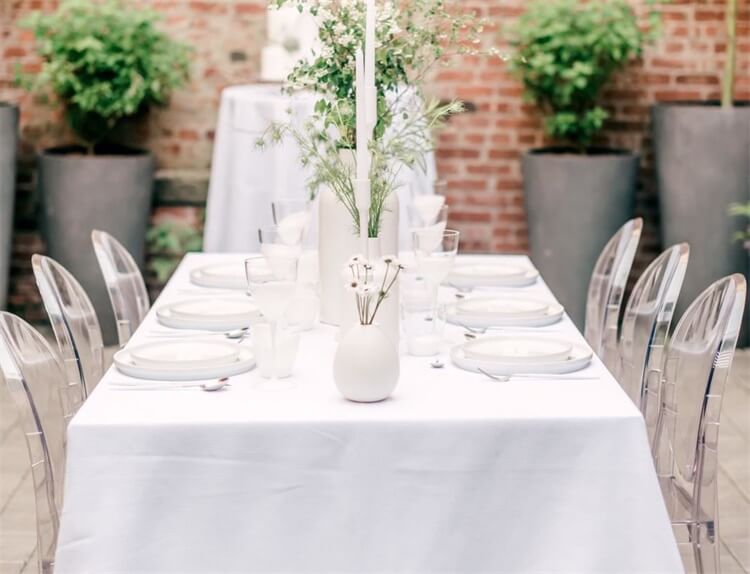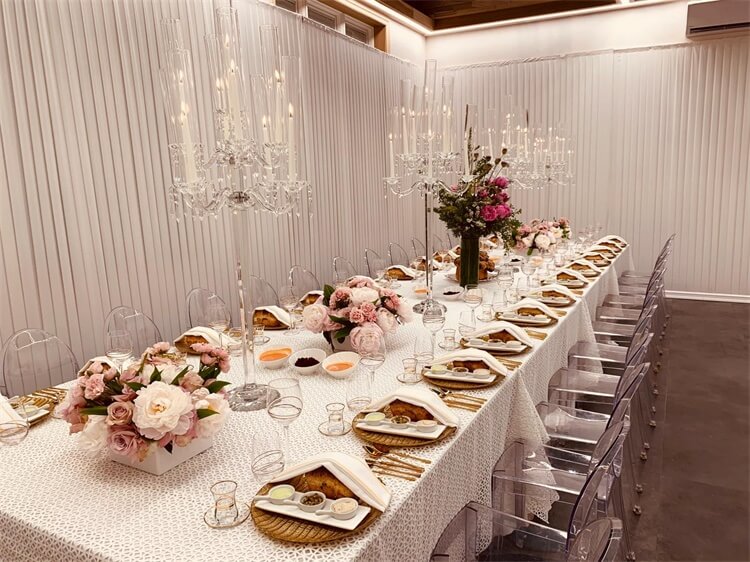 Want to get quotes from Qingdao blossom, please come back to the top,
and click the red button of "Get Quote", Then leave your messenger will
be greatly appreciated. Tell us which products you are interested in and
approx quantities.

The materials we use are all imported, and the colors of the victoria ghost chairs made are very transparent and will not contain any impurities. And the quality is very solid, we will have a test in the final video.