Chair Cushions
We are the manufacturer and supplier for kinds of chair cushions,our foam chair cushions are thicker than the typical industry standard cushions.  These cushions can be used for the Chiavari chair/napoleon chair/phoenix chair. our workers will are according to the difference seat board to make correctly size. Our Velcro cushion straps are wider so they connect to the body of the cushion across a longer area and do not rip away from the cushion body.  We use two lines of stitching to connect the straps further preventing straps that fall off.  Don't look past our superior cushion details.  Everything we do is above average.  Each cushion supports high-quality design and function with its commercial-grade polyester material.
Feature
A high-strength sponge is not easily deformed after repeated use
Wider Velcro straps with double stitching to prevent strap/cushion separation.
Zipper to remove the cover for cleaning.
Also Available:  form-fitted cushion cover shams with tie straps in dozens of colors.
Matching with the chair makes people sit more comfortable
Description
As one professional chair cushions manufacturer, we producing kinds of chair cushions to match difference chairs. Let
us show you difference cushions as following:
How many models of your chair cushions?
1. Soft chair cushions made of sponge and fabric indifference color
( Model A)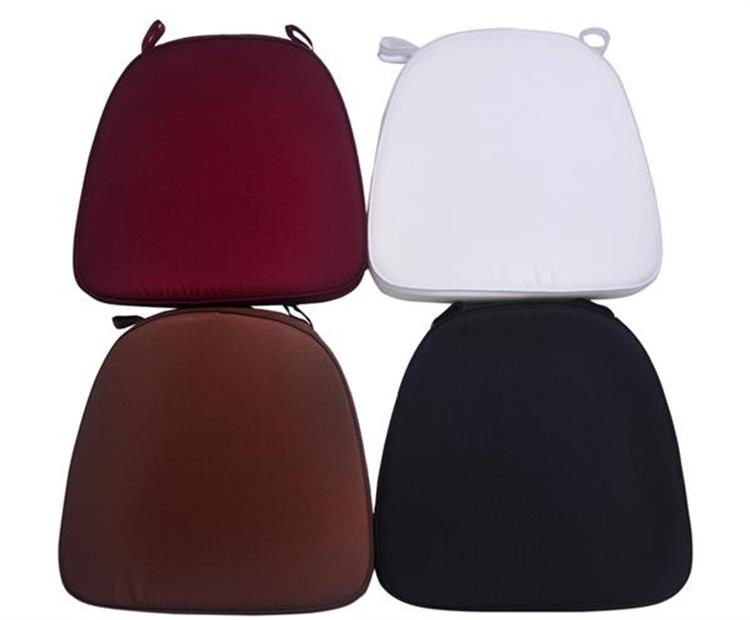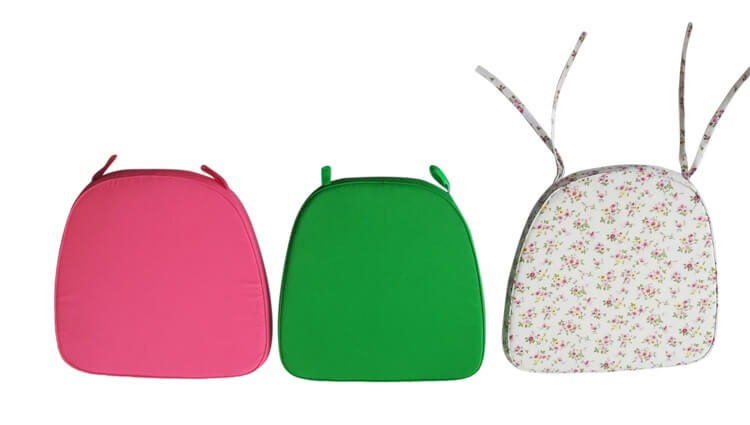 In fact, we can produce almost all of the colors for soft cushions as well.
The cushion shown in the picture below will have some light coming out. This is the more popular style this year.
For the same reason, we can also produce different colors.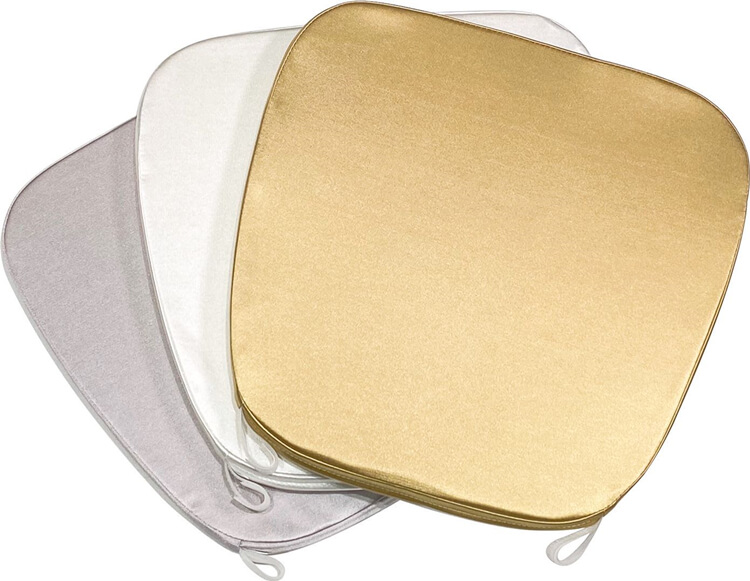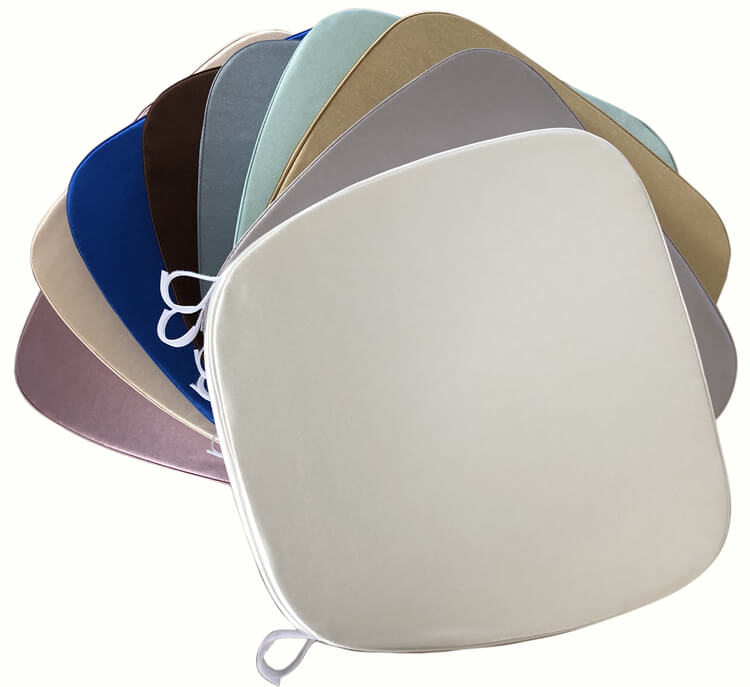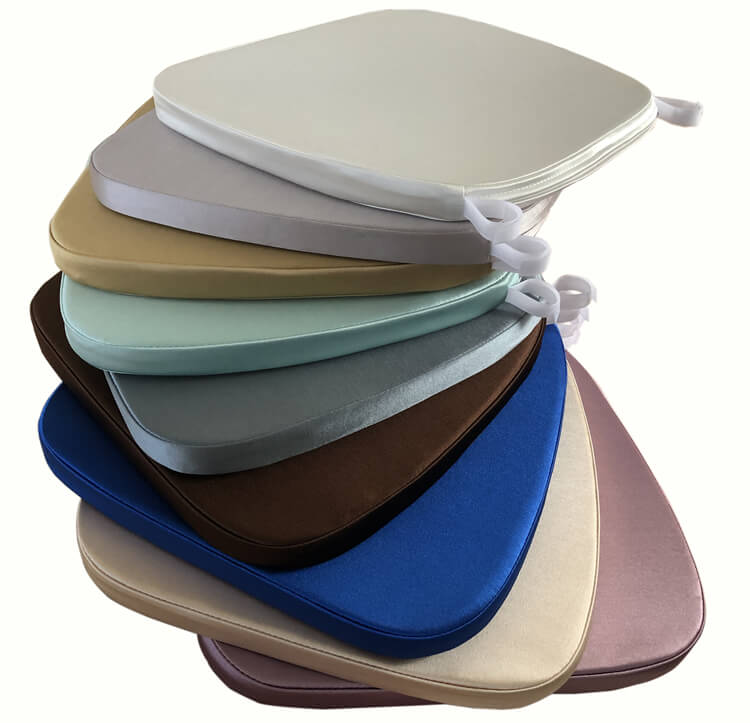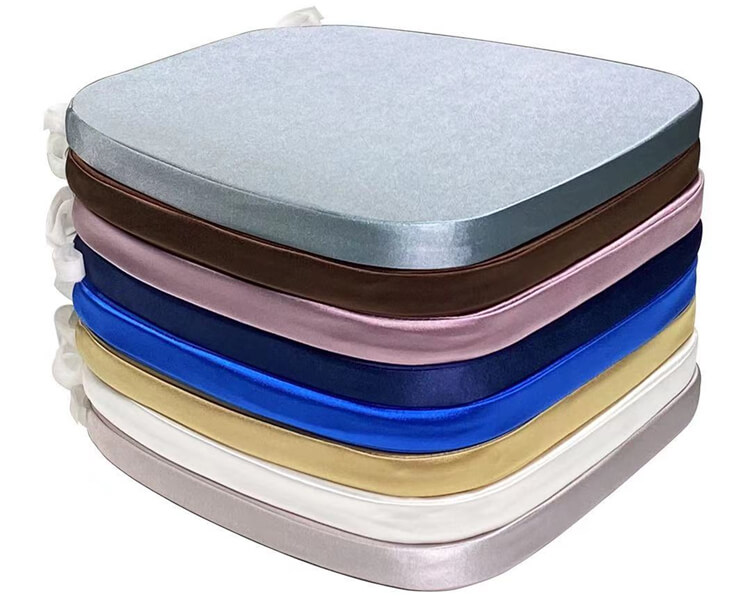 For the same reason, these cushions can be equipped with different chairs. Generally speaking, metal chiavari
chairs and wooden chiavari chairs are both possible.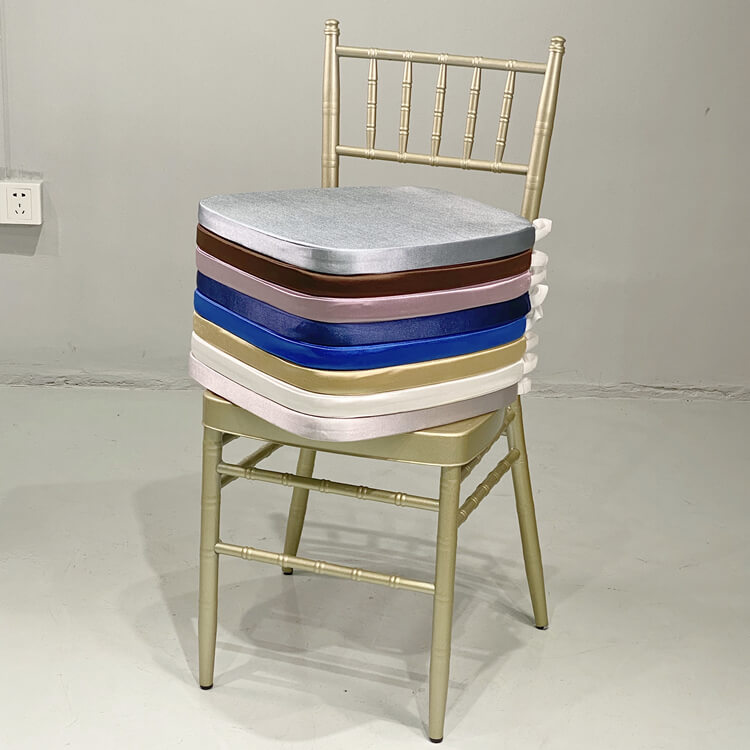 Regarding the chair foam, we use nice quality of then, the sponge will be no powder gain, and all native
sponge, 30 A or 36 D density for you choose – very strong. The high-strength sponge is not easily deformed after
repeated use. So you can stand them for more than 24 hours, and then, they will come back to their original shape
as well.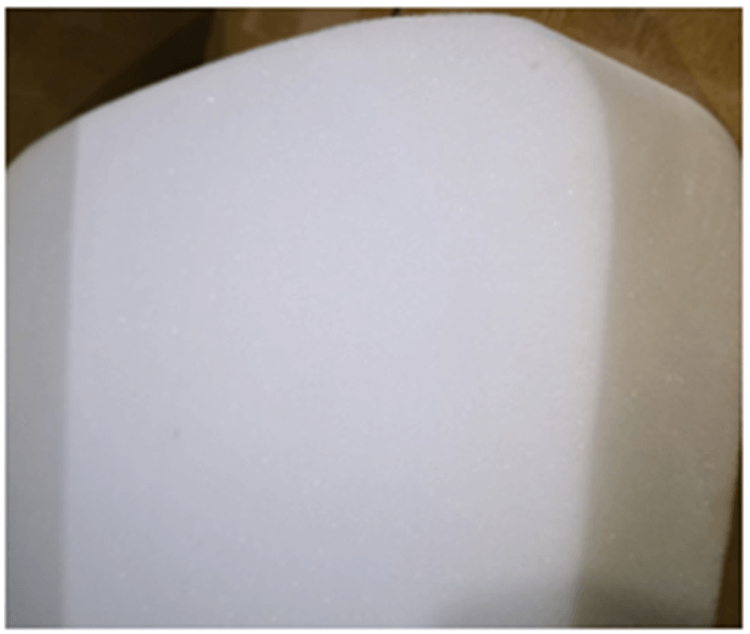 Regarding the Fabric material, we use min 60000 cycles of abrasion resistance durable, then all of the fabric
will easy to be washed, and they always keep its shape after washing (without shrinking), the weight of
the fabric is 210 g/ m2 or 235 g/m2,  and we always use 100% polyester. Sometimes we use fabric mixed with 65%
polyester and 35% cotton.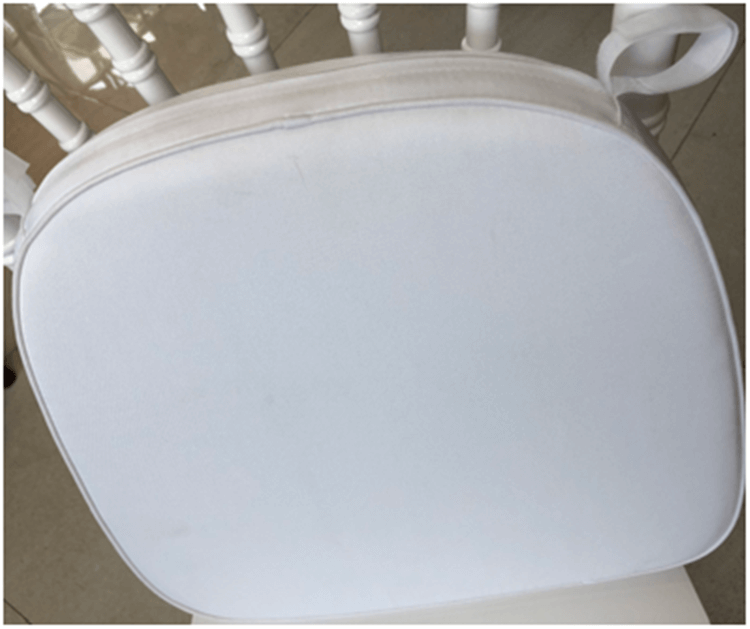 These chair cushions can be used on wooden Chiavari chairs, resin Chiavari chairs, wood napoleon chairs
, and so on. Ok, let us show you the zippers as well, we only accept high-quality zippers, they are very strong,
and so easy to open/close with many times, also use sand washing with the cushion cover and velcro straps.
Then you can see they are very accurate and strong seams chair cushions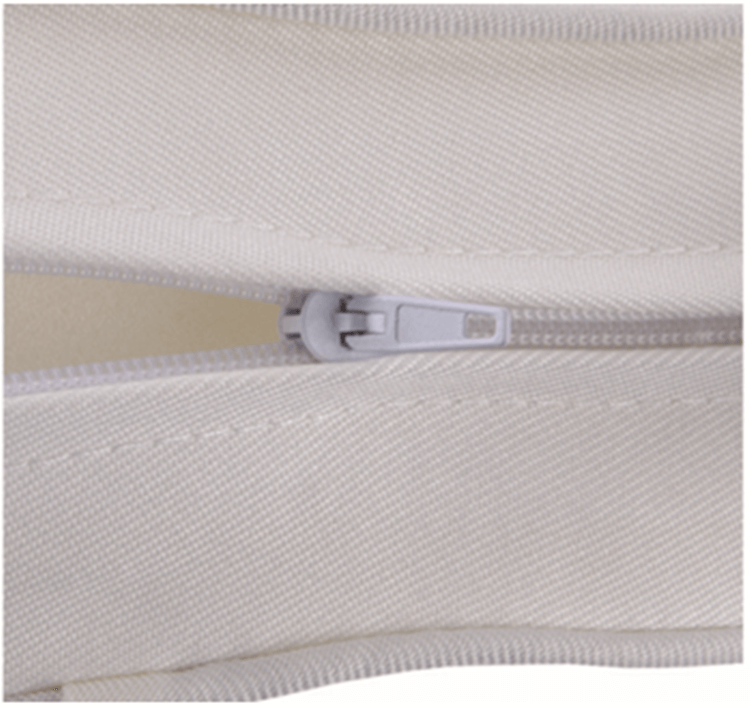 Of course, you can choose the colors from our color swatches, or we can offer the cushion colors depending on
the chair cushion color that you offered, then choose the same color to match the chair. You can see the
mass production of our cushions in the bottom videos and pictures.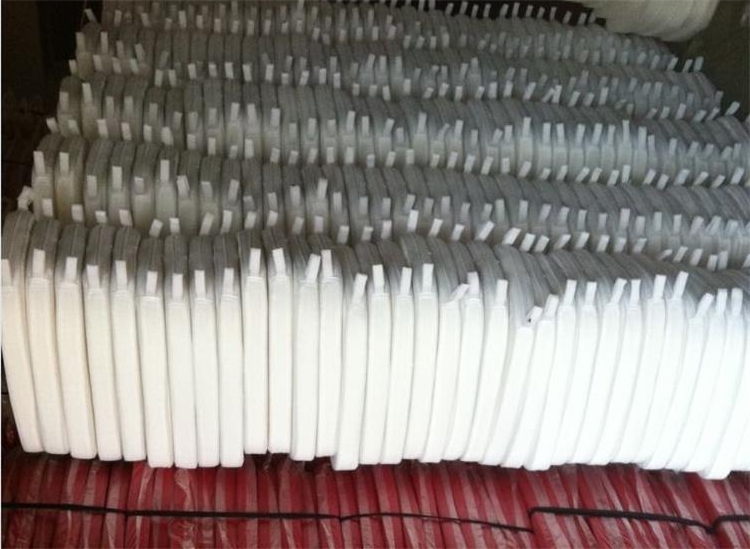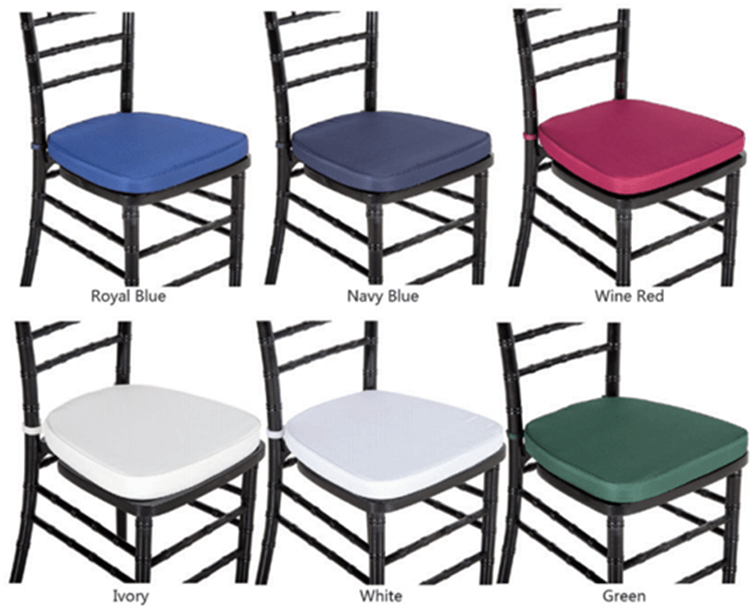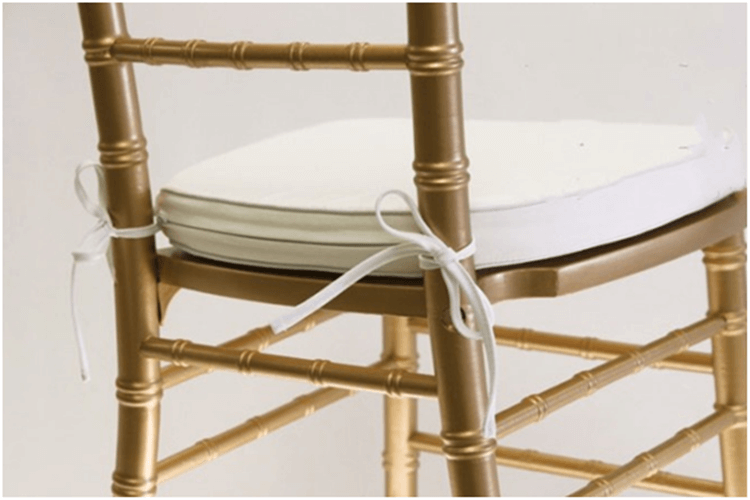 we producing child chiavari chairs cushion

2. Wood base panel chair cushions provide a high-end
upholstered look to your chair. We are vinyl wood base
cushions manufacturer named Qingdao Blossom Furni-
things limited.
(Model B)


Double-sided Velcro secures the cushion to the chair seat with peel-away self-adhesive.
High-Density Foam
Material: Vinyl
Fits all size of Chiavari chairs/phoenix chair/napoleon chair.
Custom colors available
Box size: 48 x 78 x 160 cm (66 pieces)
More than 35% of customers choose IVORY PADS as well
Which chairs can match with a hard cushion or hard pads? Normally, all kinds of chiavari chairs and resin chairs can
be matched with hard pads as well.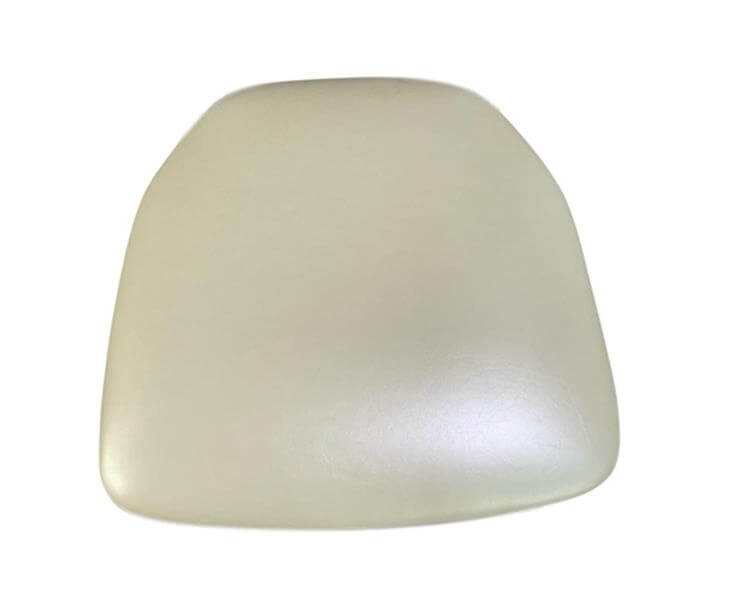 The following photo shows different colors of pads for white resin tiffany chairs as well.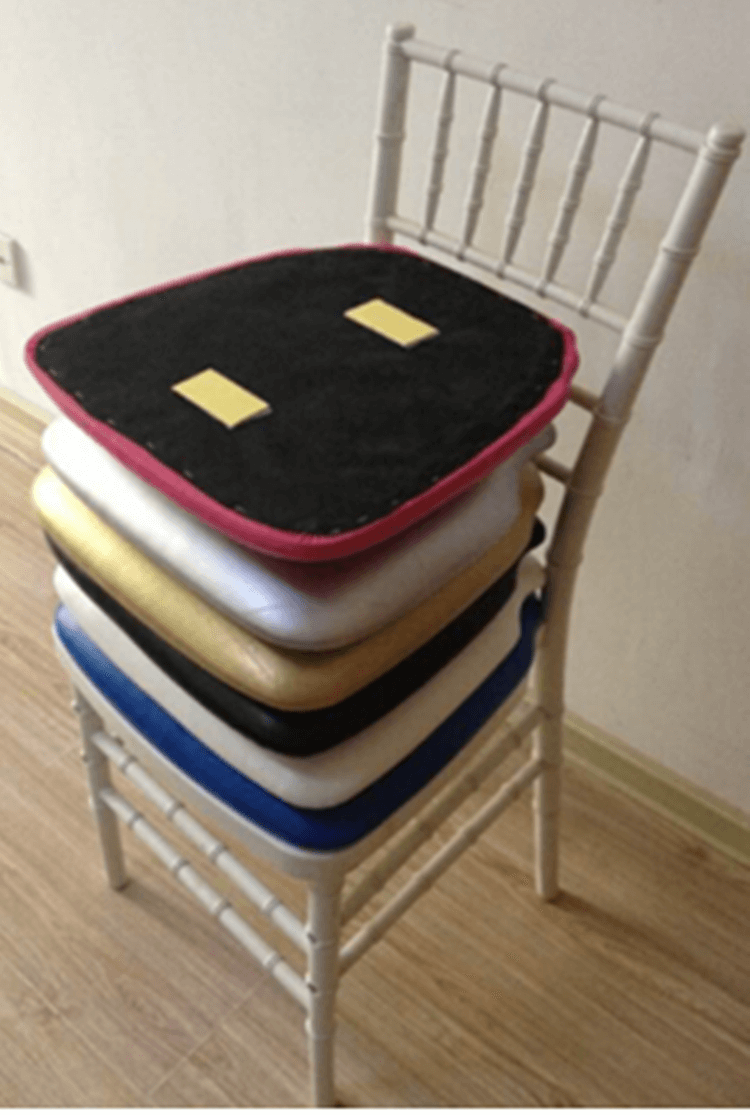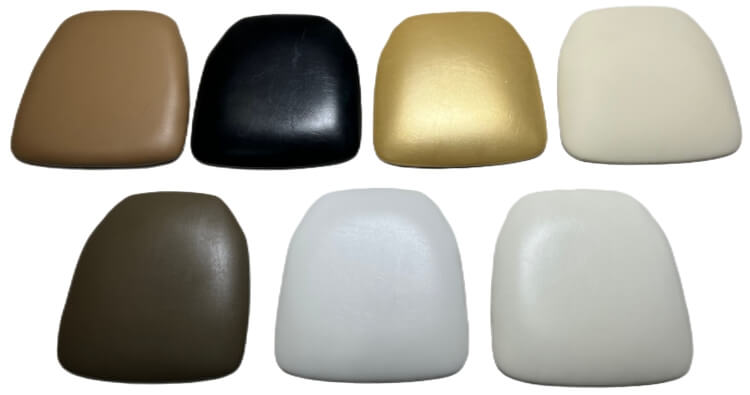 (Model C)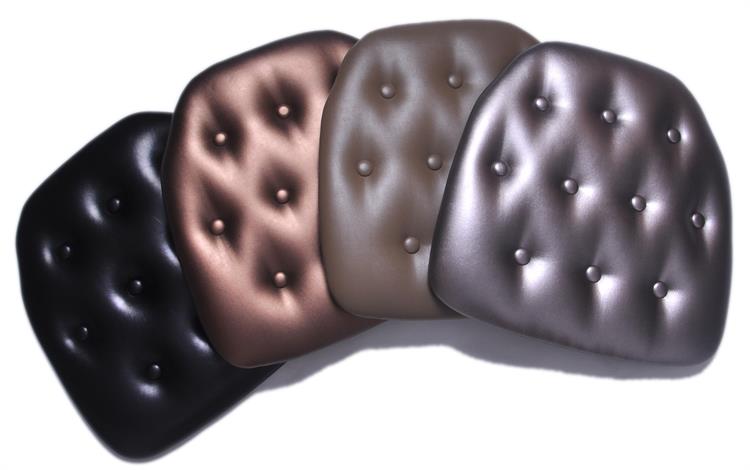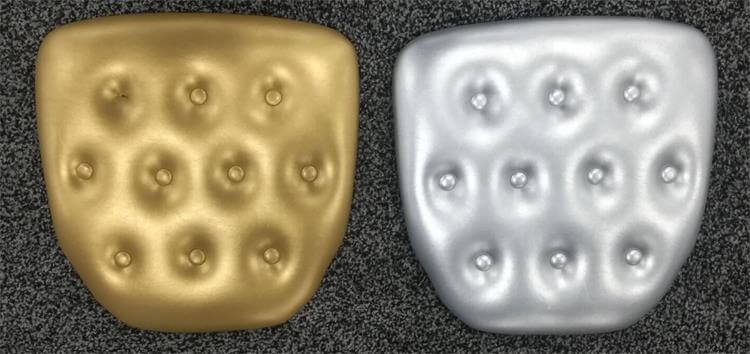 Modified model C-2 as well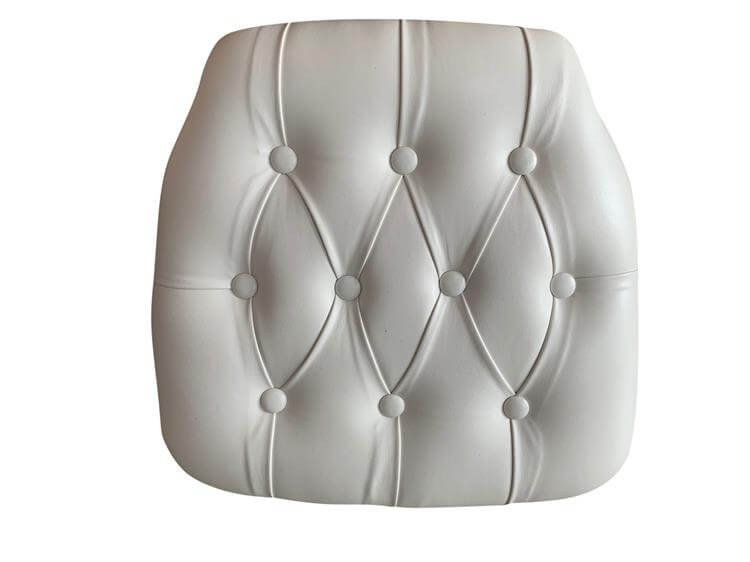 3. Fireproof pads (Model D)
Velvet cushion, Most European customers like it very much. Especially for UK customers, the cushions
need fireproof and will be more Safety. More than 75% of British customers request fireproof pads.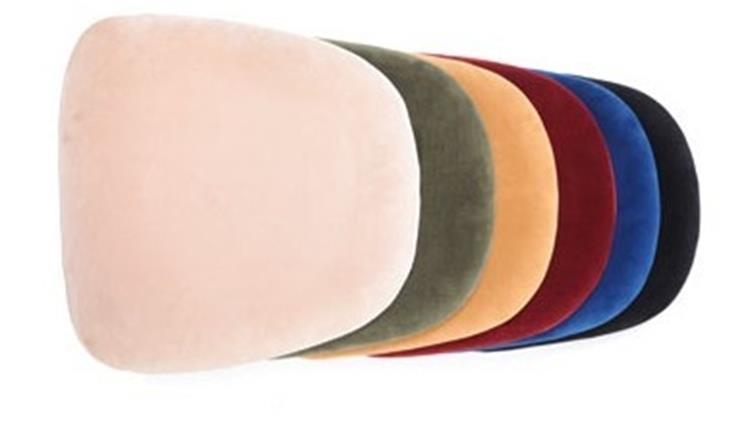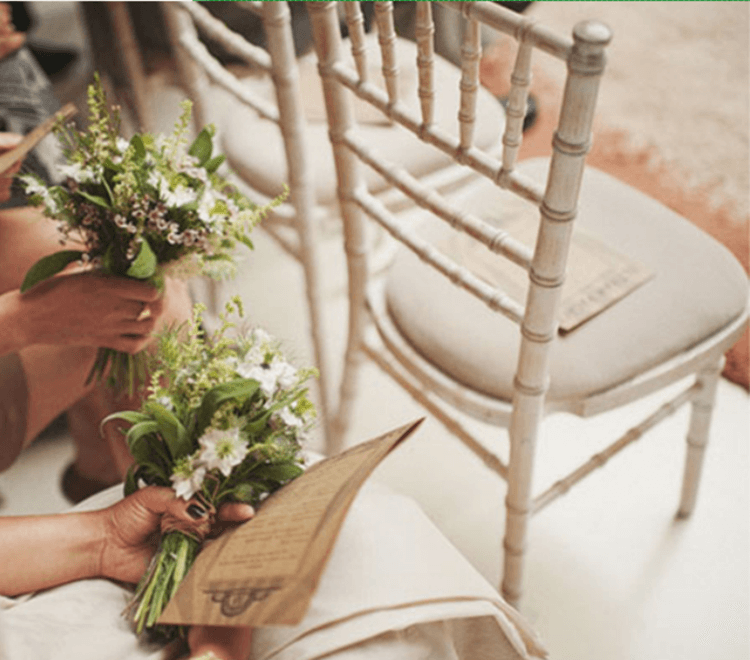 4.  Burlap cushions for vineyard cross back chairs

(Model E)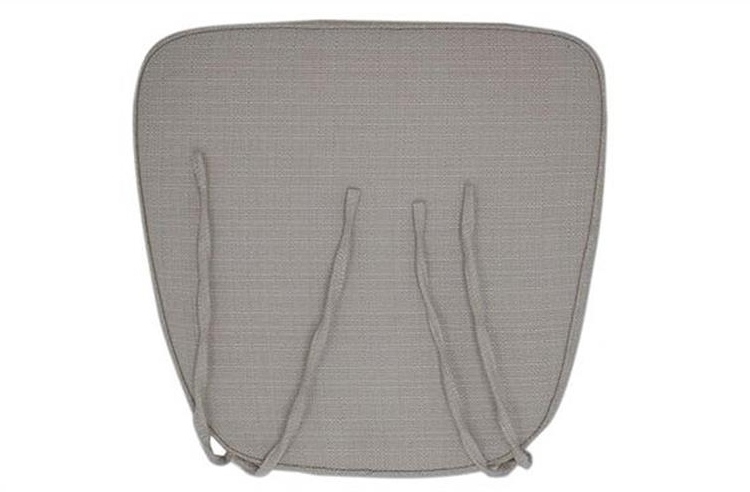 About the cushions for cross back chairs, we have 2 cartons for you to choose from.
The cushions are very light and thin but it does not affect quality.
One material is Polyester and one material is burlap. they are all very retro.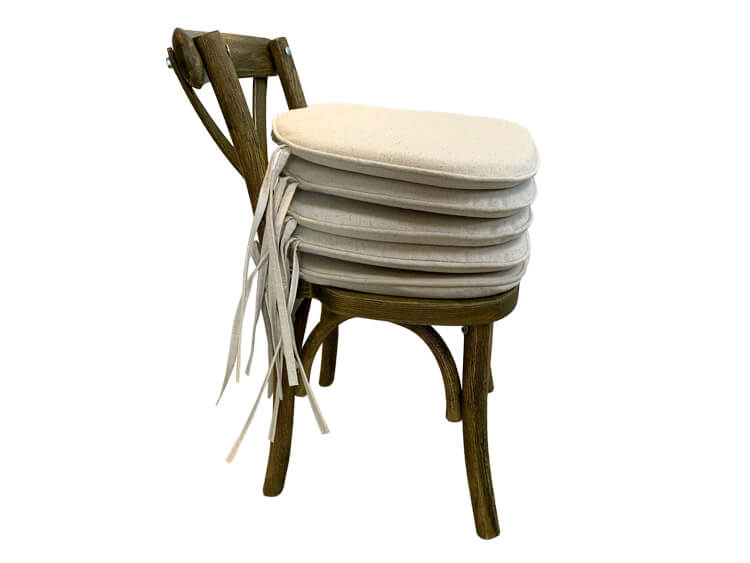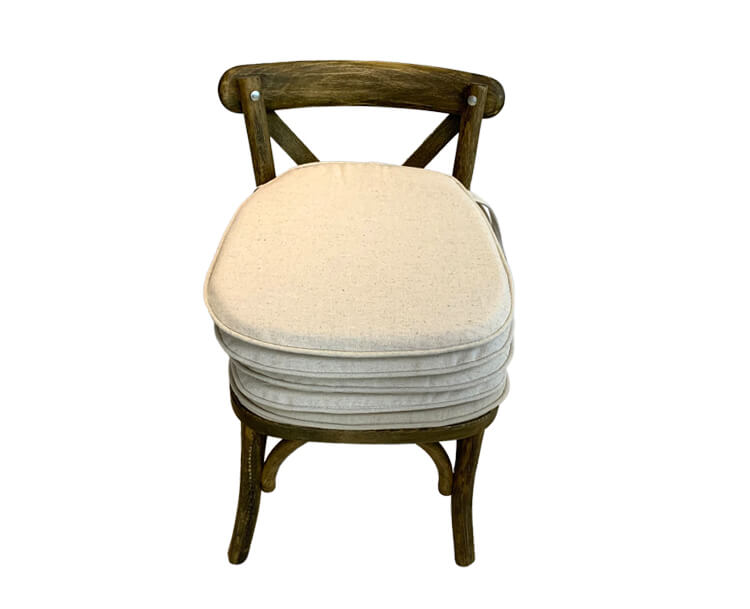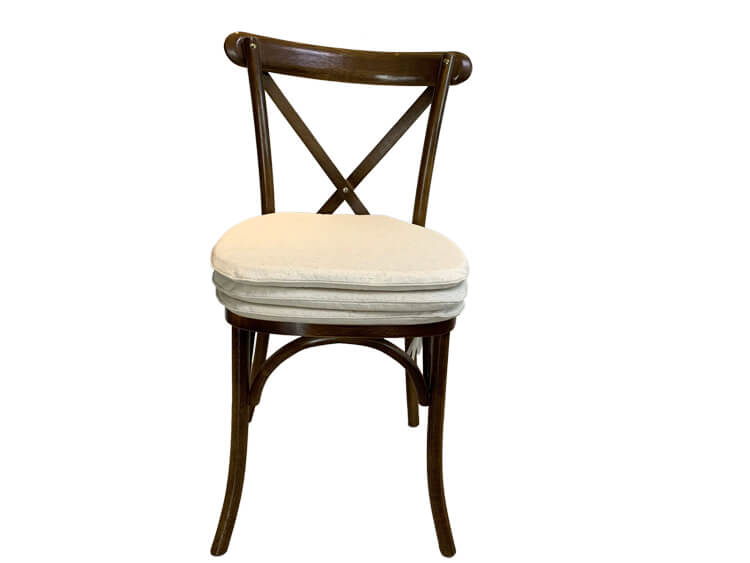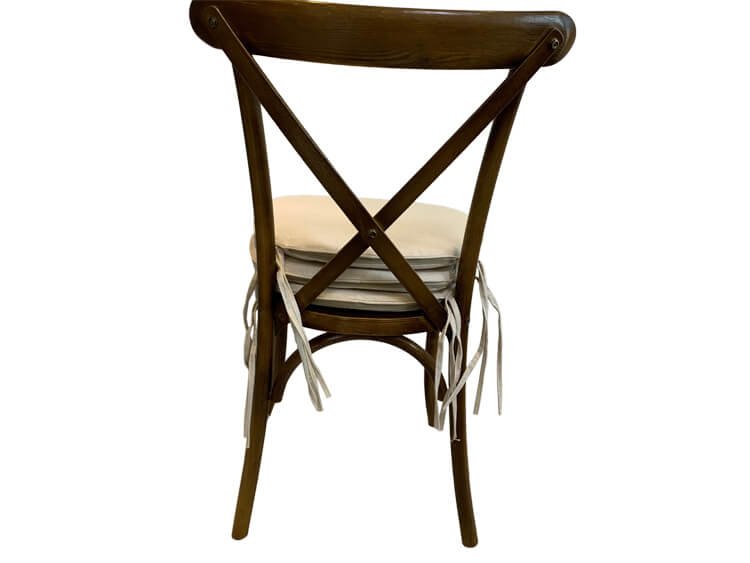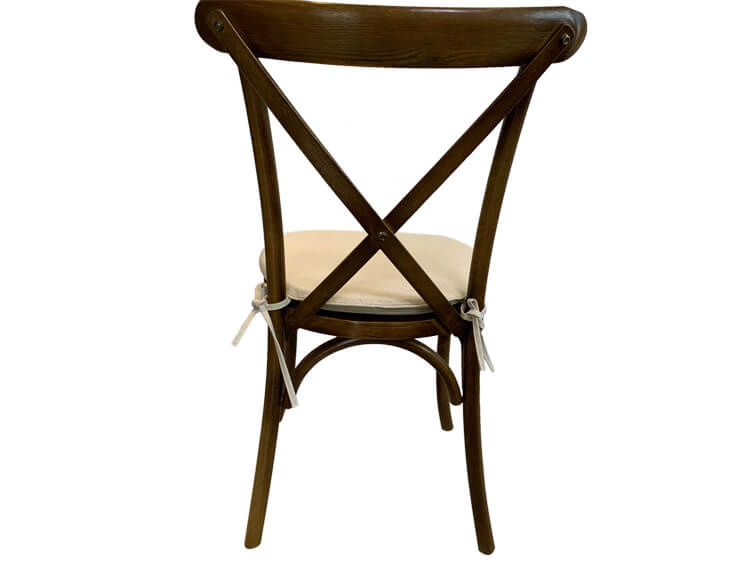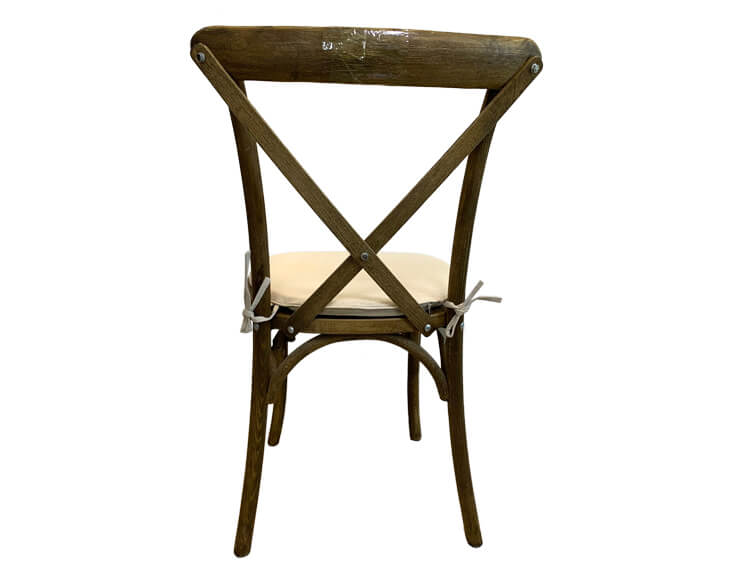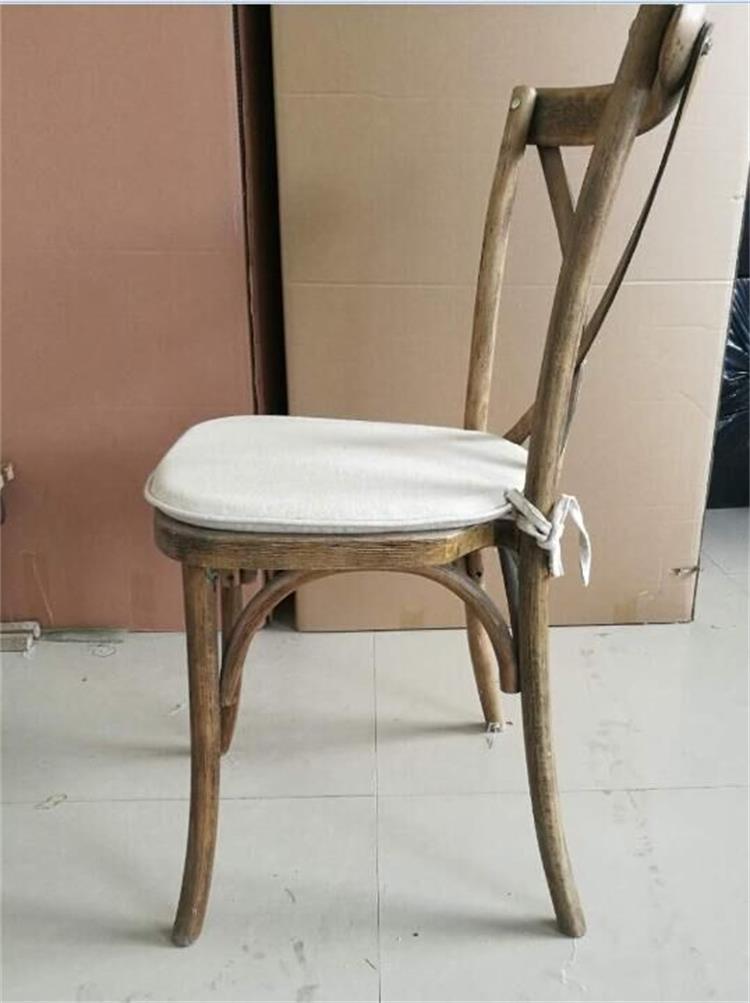 We have very suitable cushions for wooden x back chairs as the photos
Our seat cushions are zippered, don't worry about getting dirty, just remove the seat cover and wash it,
that is, it is easy to wash and dry quickly. Our zippers are all high-quality hardware that can last a long
time if used properly.


So now you can see the photos of cushions for lime-washed cross back chairs as well
Also fabric material as well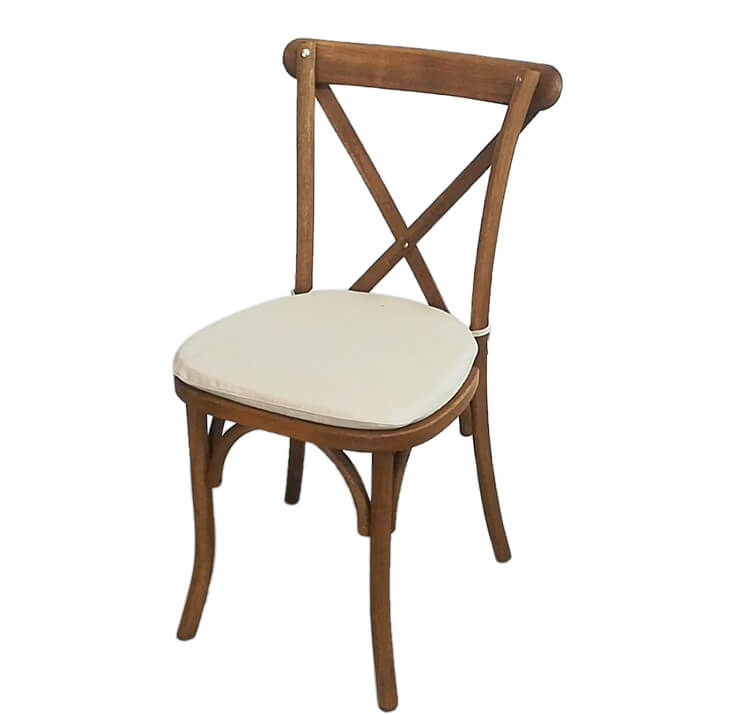 We also produce linen cushions for child cross back chairs

5. Customized cushion, depending on your chair design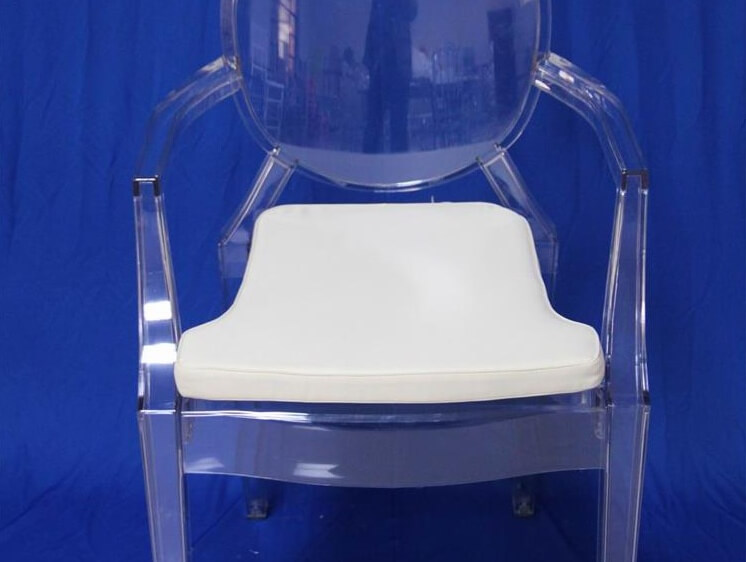 Chair cushions for Bella chairs
6. Cushions for bamboo folding chairs are as follows: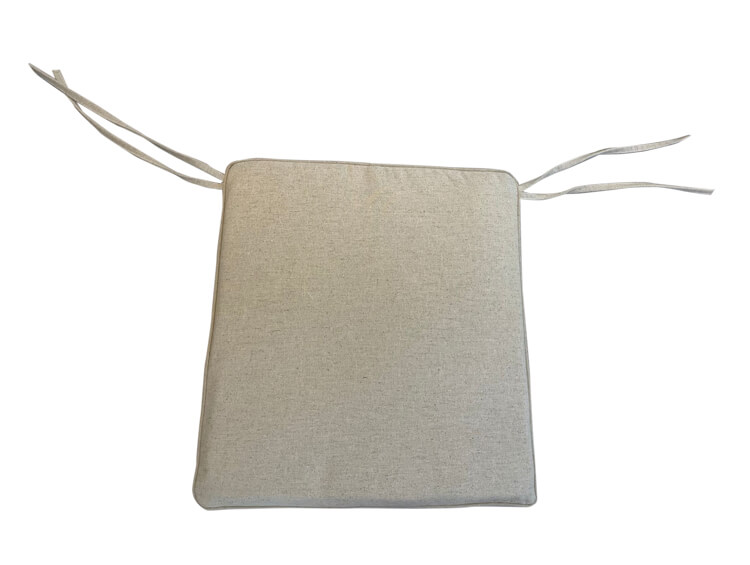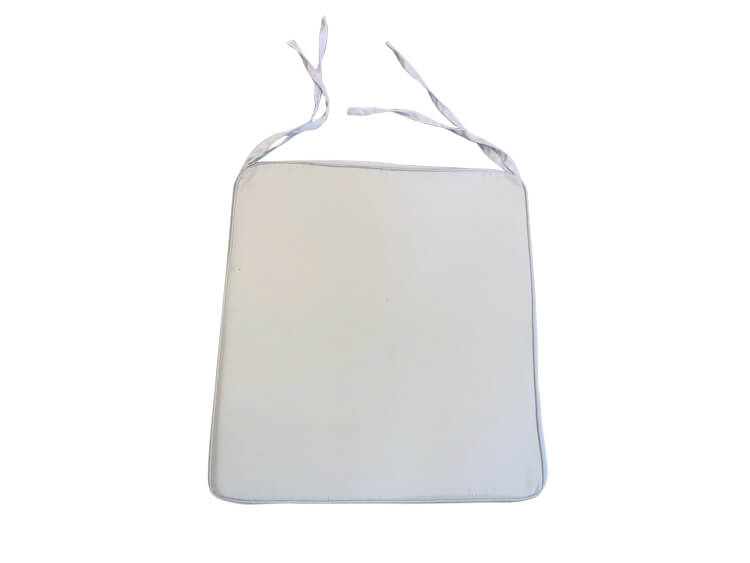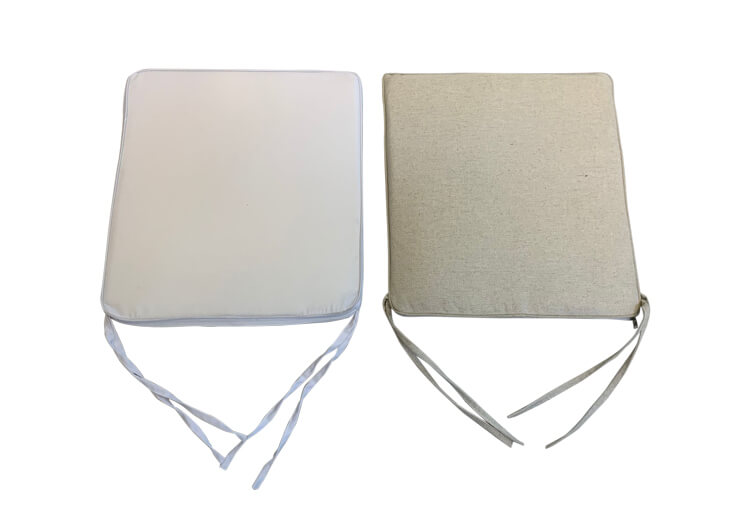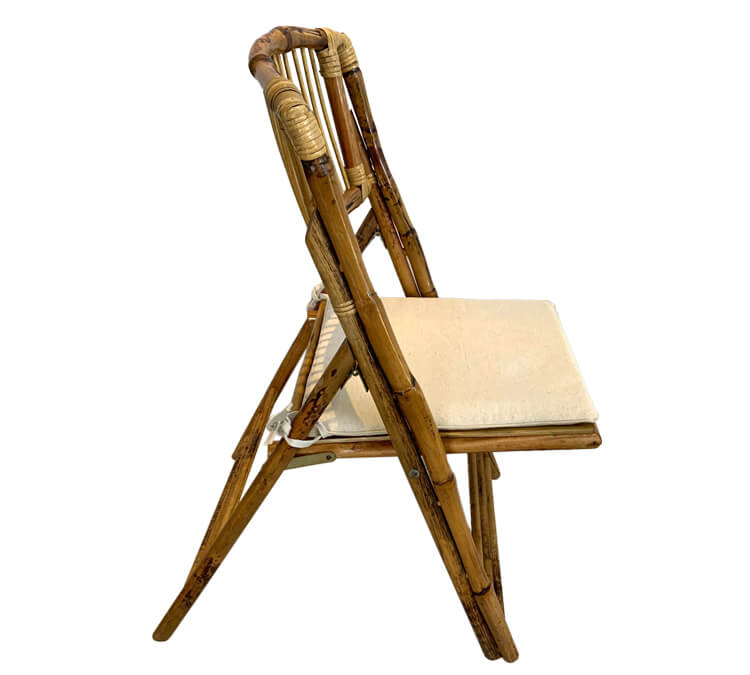 Do you have pads for wooden thonet chairs?
Yes, we have special cushions for bentwood chairs. They are round and very suitable. I took a photo. In my office,
you can see that the cushions match the chair very well. Of course, we will provide a variety of colors.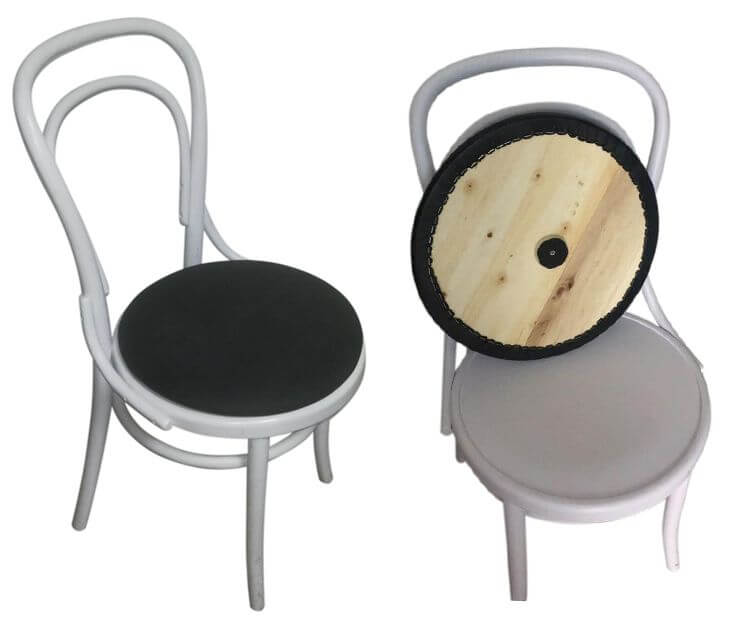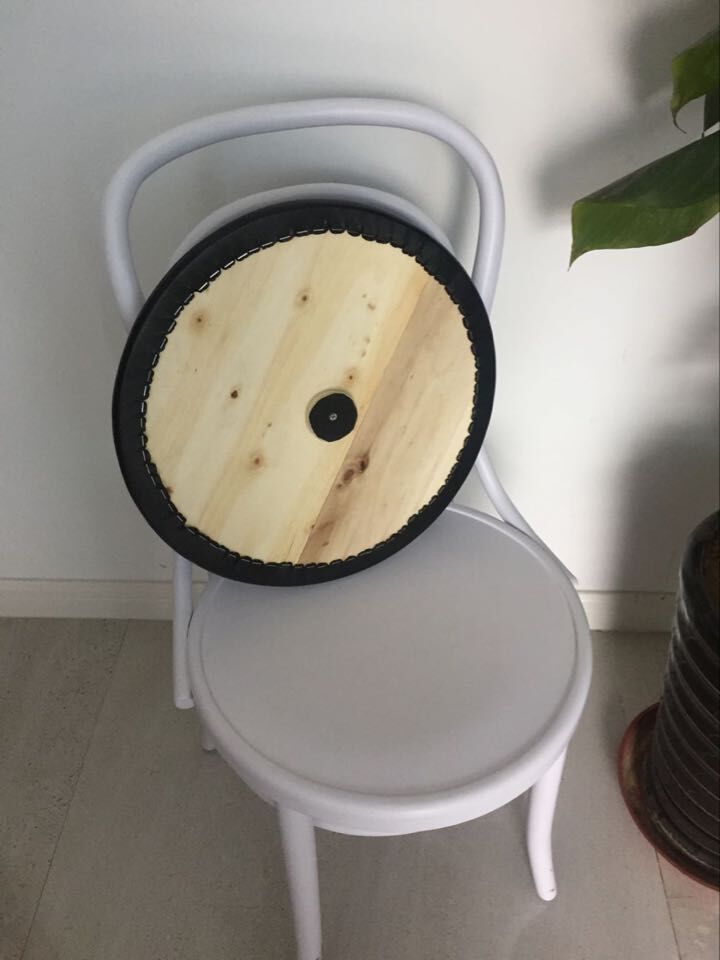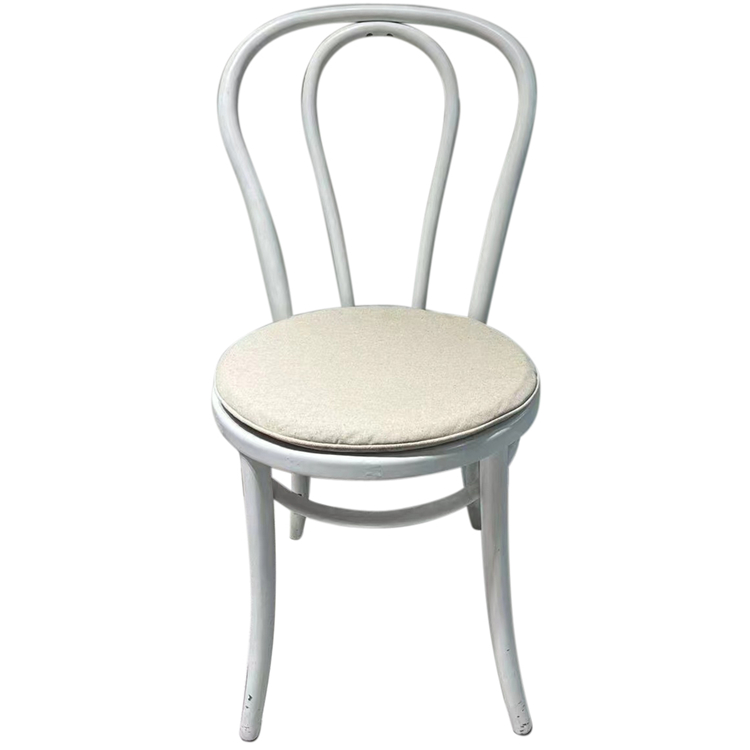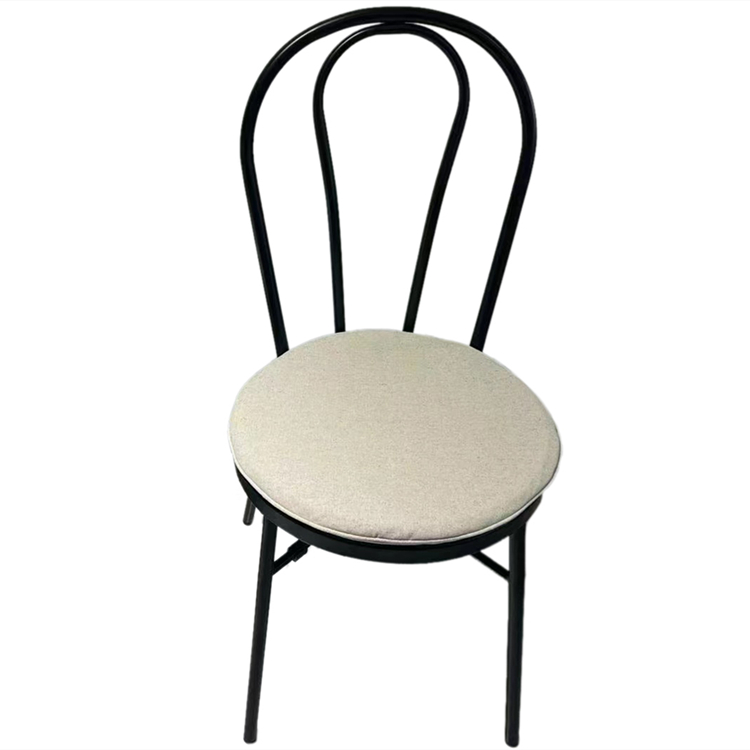 In addition, with regard to ghost chairs, cross chairs, including all kinds of chairs we produce, we can provide
corresponding cushions.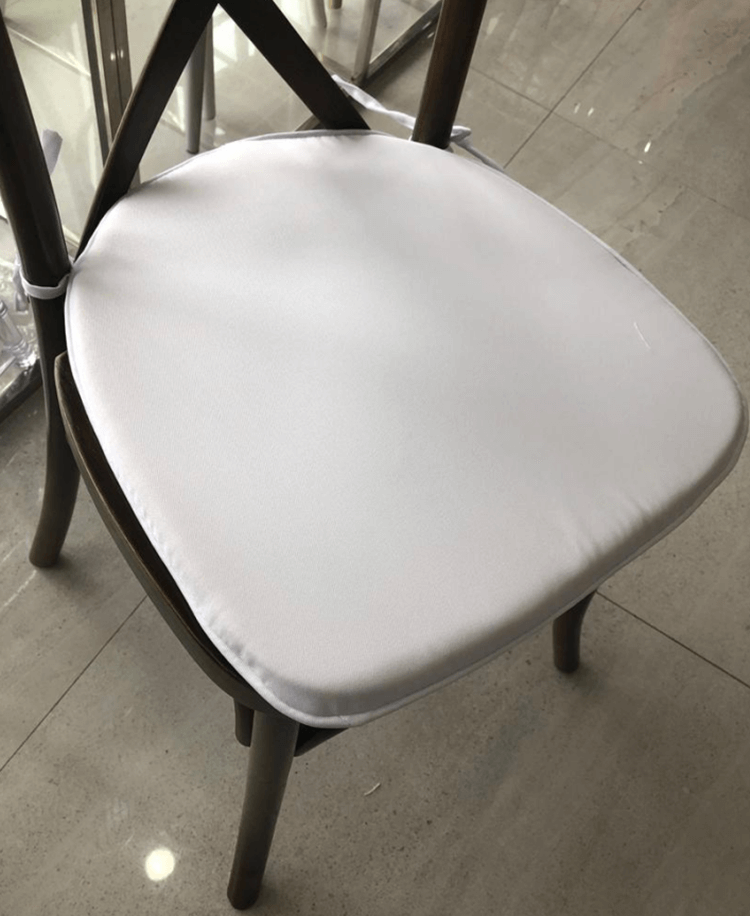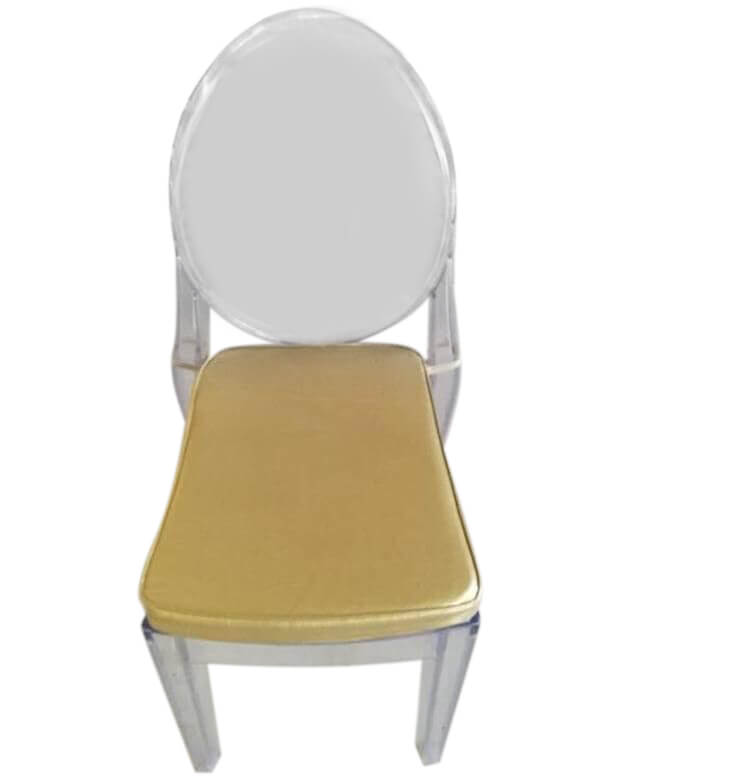 Do you have hard pads to match wooden phoenix chairs? Yep……

We also have cushion covers made of spandex as following: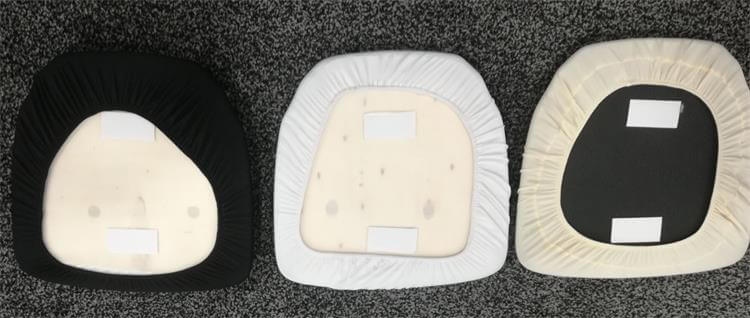 Details as well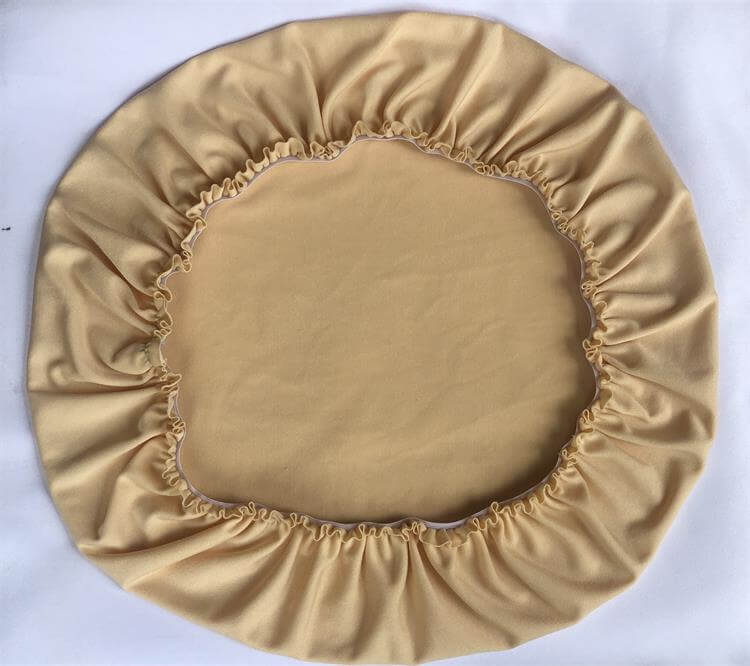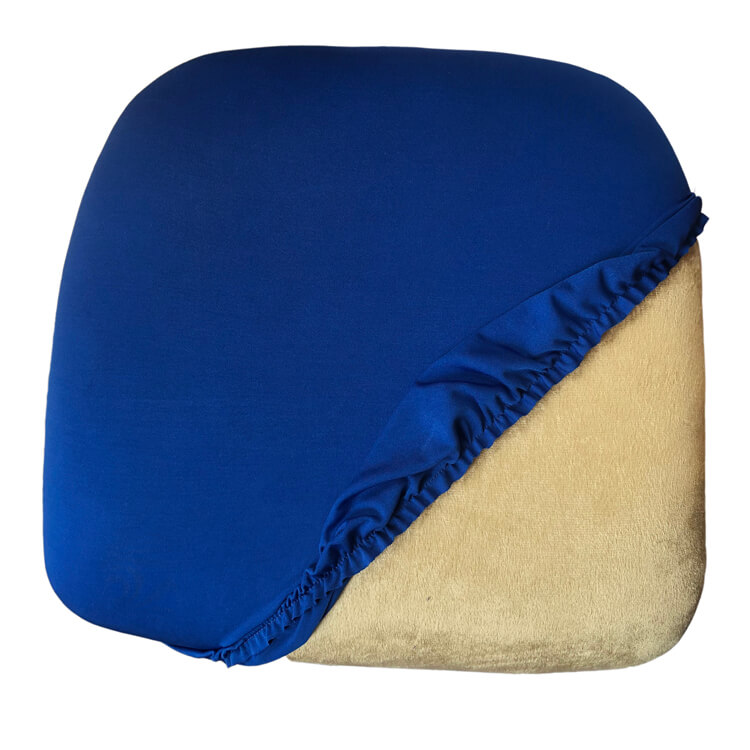 We have 60 kinds of colors for your choice as well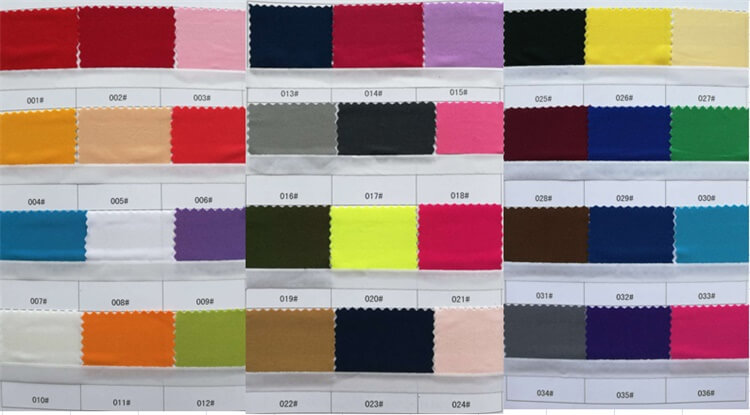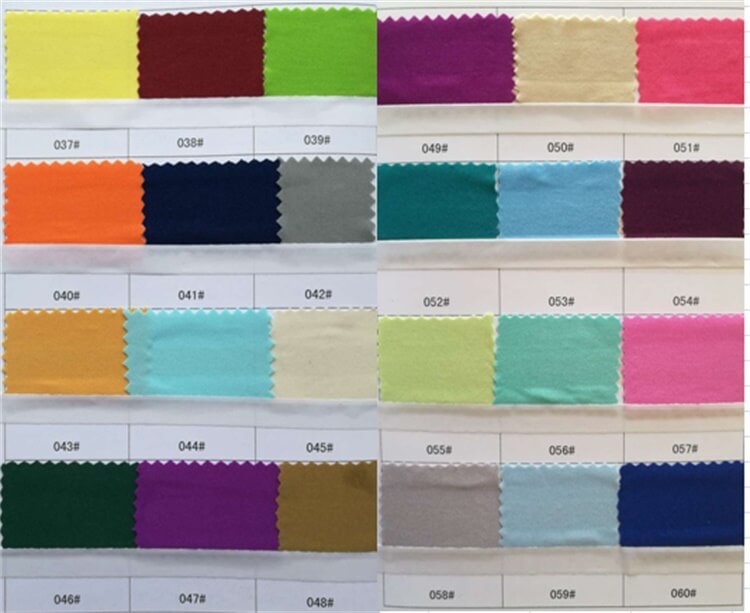 Rattan seats for crossback chairs

pads for metal chairs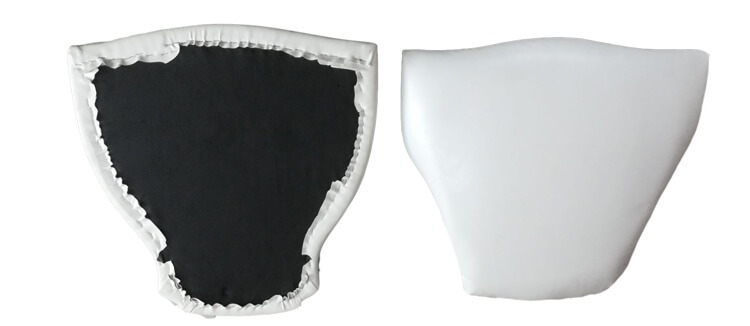 Hard fabric cushions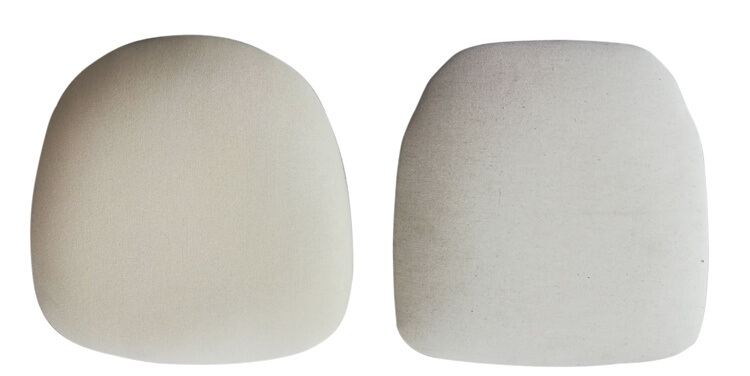 How to pack the chair cushion?
All cushions are finished then we will pack them into individual OPP bags to avoid getting dirty.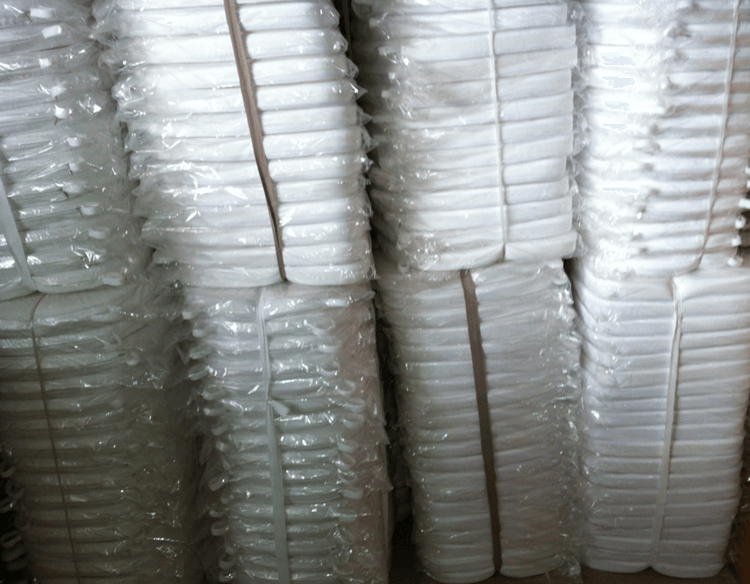 When we loading goods. we will load all cushions for one preparation bag, or put them into cartons directly.
And also, put the cushions into chairs cartons together so that they can save space. Save space means you
can save more ocean freight. Please see more pictures below as well.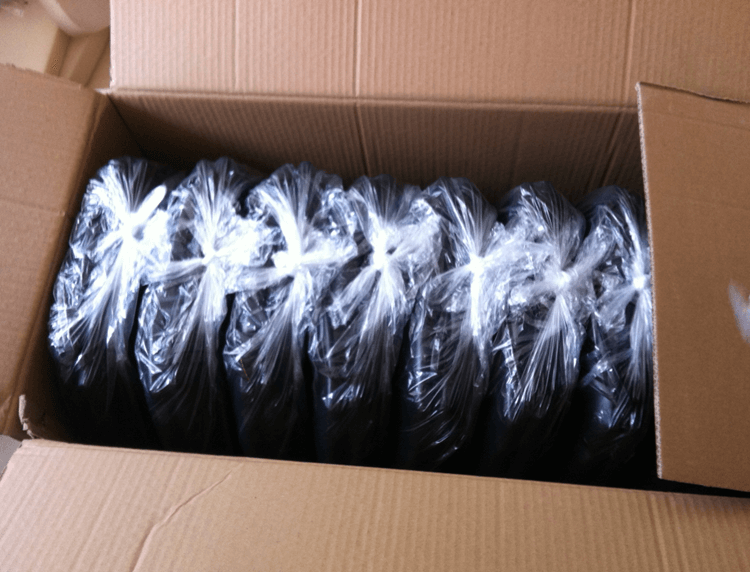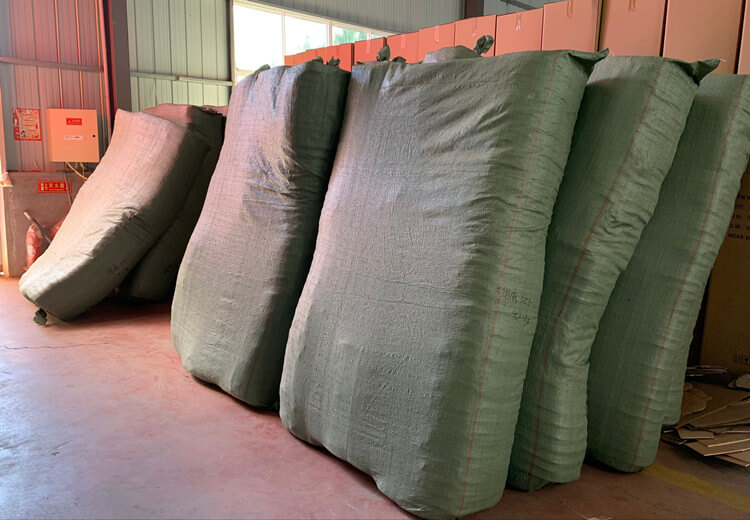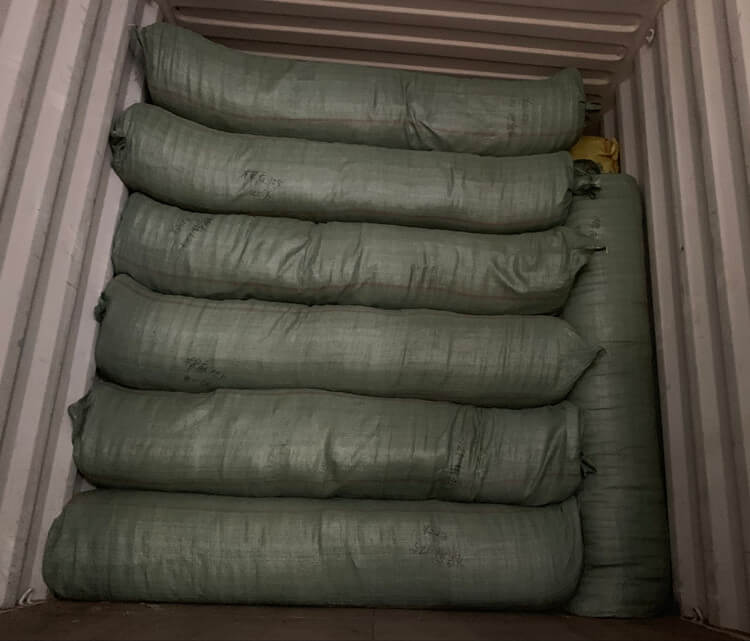 Is there any good feedback about your chair's pads and cushions?
Yes, our American customer is very happy about the quality and purchasing from us: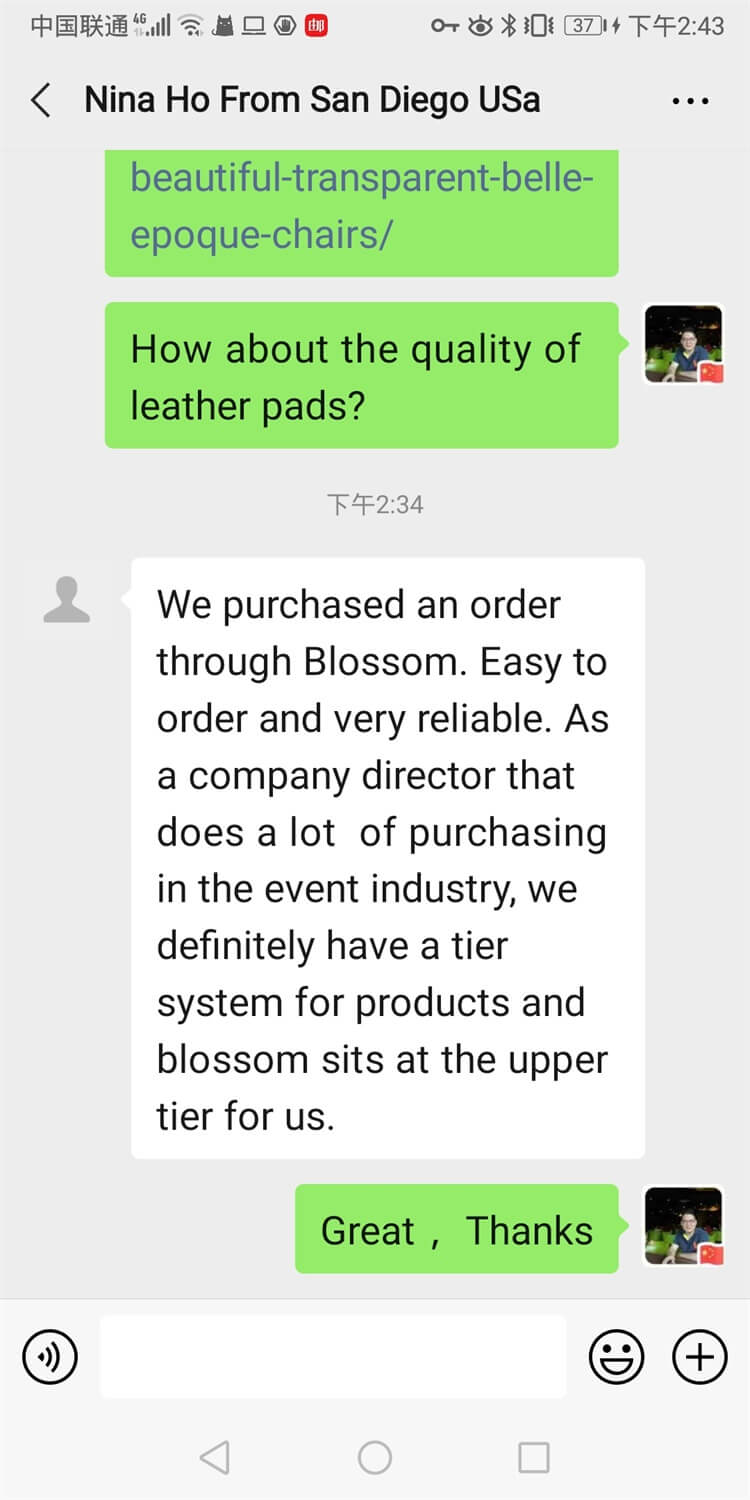 How to Produce Chair Cushion?