Bentwood Barstool Manufacturere
A true classic, this Bentwood Barstool Wholesale incorporates in its design the unique curves and bends that have been the hallmark of the Thonet brand for many years. The stool's all-bent wood structure makes it ideal seating for cafés, bistros, bars, or restaurants, combining timeless appeal with extreme durability. What makes these stools so strong and reliable is the eight bentwood legs and integrated bentwood foot rings, a design that allows the stools to withstand the rigors of everyday use. The solid beech wood structure gives it the strength and integrity to remain stable in a hospitable environment. Not only that, this stool can also add class and elegance to any venue, its exquisite craftsmanship and careful design will bring customers a comfortable dining or gathering experience. A stool like this is more than just furniture, it's a work of art whose design and texture can enhance a dining space.
The round backless seat is made of natural woven fibers.
The suggested cushion size for this bar stool is approximately 14″ x 14″.
DURABILITY: Thanks to the solid beech wood material, this stool has enough strength and integrity to withstand everyday use and wear and tear.
Available in a variety of finishes, such as a leather or wood seat.
Rounded foot rails provide valuable stability and comfort when you need a place to rest.
With a seating height of 30 inches, it pairs perfectly with bars, kitchen islands, or bar heights from 40 inches to 42 inches.
Description
Details About Bentwood Barstool Wholesale
Bentwood Barstool Wholesale is designed in a traditional style with a pu pad or solid wood seat and a strong frame
made using the traditional method of steam-bending wood poles. Thanks to their wooden construction,
curved legs, and comfortable leg rest, they are a beautiful addition to your dining area, kitchen, shop
counter, café, living room, balcony, bar, and more. The bentwood bar stools for sale look stunning in all decor settings and will
complement any table thanks to their warm design and sleek look. Available in a variety of colors.

The wood needs to be pre-treated before going into the mold. This step usually involves cutting the wood to
the proper length and width and may require removing some irregularities. Wood needs to be treated with
steam or moisture to soften the fibers. This can be done in a specialized steam room. Steam temperatures
and treatment times will vary depending on the thickness and type of wood.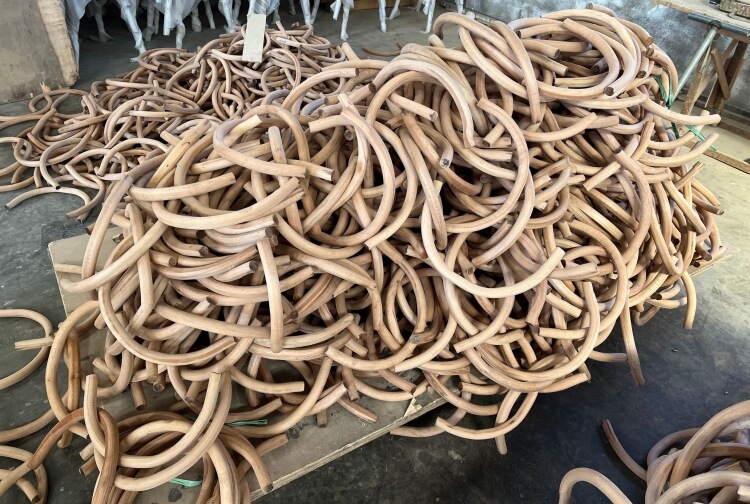 The treated wood is quickly moved into pre-prepared molds and bent to the designed shape. Clamps are
sometimes needed to keep the wood in the correct shape and position. Once the wood has been bent into
the desired shape, it needs to be dried and cured in place to maintain its new shape. This may take a while,
depending on the thickness of the wood and the humidity.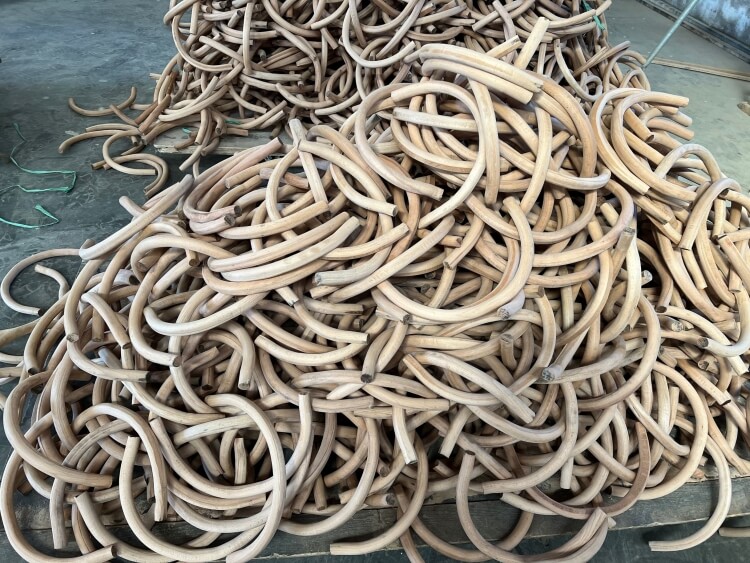 The seats are large and comfortable, and the round stools look perfect from every angle. The stool looks
elegant no matter where the sitter wants to face, and the footrest doesn't miss the scalloped style! Bentwood
stools are a great choice for indoor bars and dining bars, where patrons prefer to sit despite backless seating.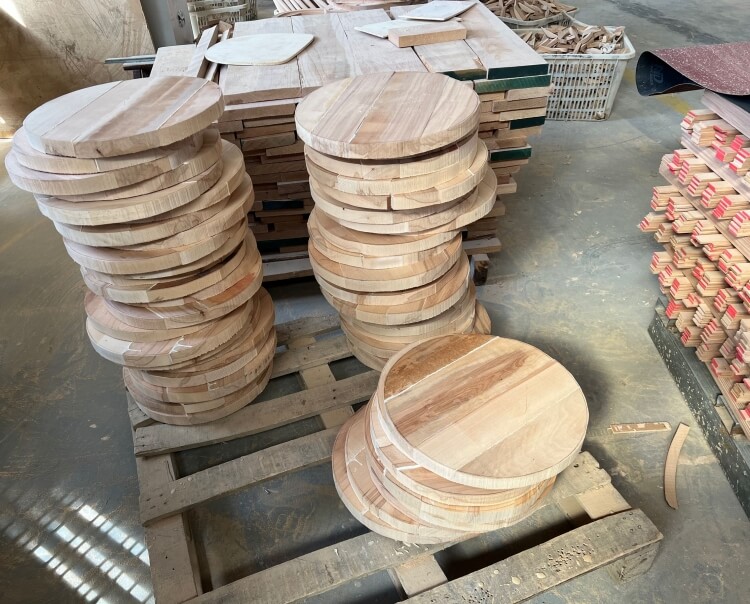 Once the wood is completely dry, the product can be finished and finished, such as trimming the edges,
sanding, and painting. If the product requires multiple curved parts to be assembled together, it can be
assembled using glue, nails, or other suitable joining methods.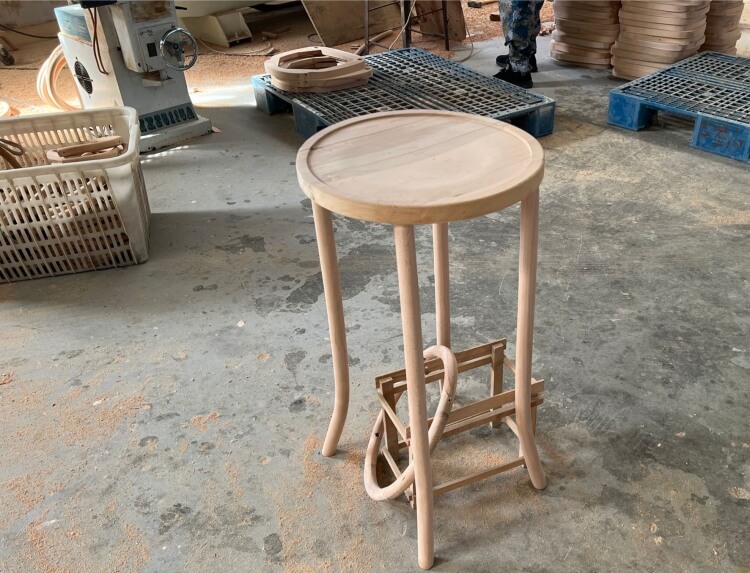 The quality of this bar stool is durable and crafted with personality and style in mind. It's a versatile piece
for any dining setting and is perfect for use in beach houses, and traditional or country chic-themed spaces.
The rattan seat and solid wood frame make the chair light and comfortable for hours of dining and entertaining.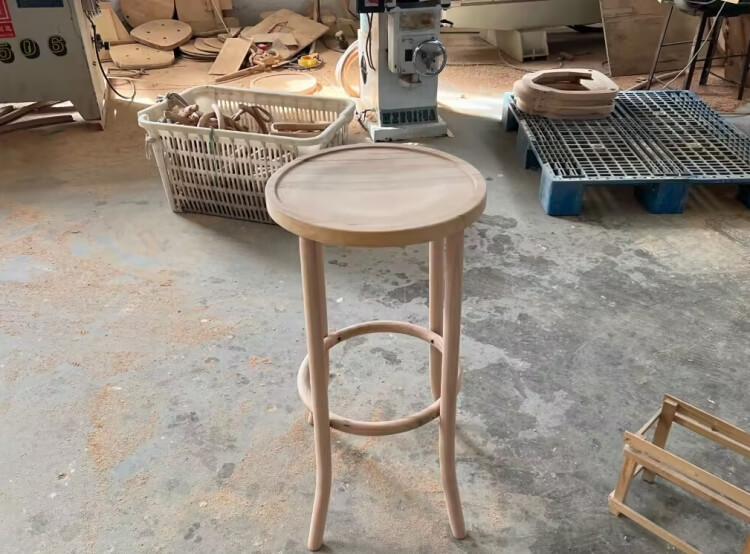 Bentwood bar stools are ideal for use in pubs, restaurants, and bars as they feature hard-wearing beechwood
frames and attractive veneer seats. Elevate your indoor dining space with these beautiful bar stools. Delivered
fully assembled.
Backless bentwood bar stools are an excellent choice because our customers keep coming back for the same
model when they consider an extension. We're sure these bar stools would work in an extension too! You
want to welcome your customers and make them feel warm, and we want your customers to have a good
time too. These bentwood stools only prove our intentions.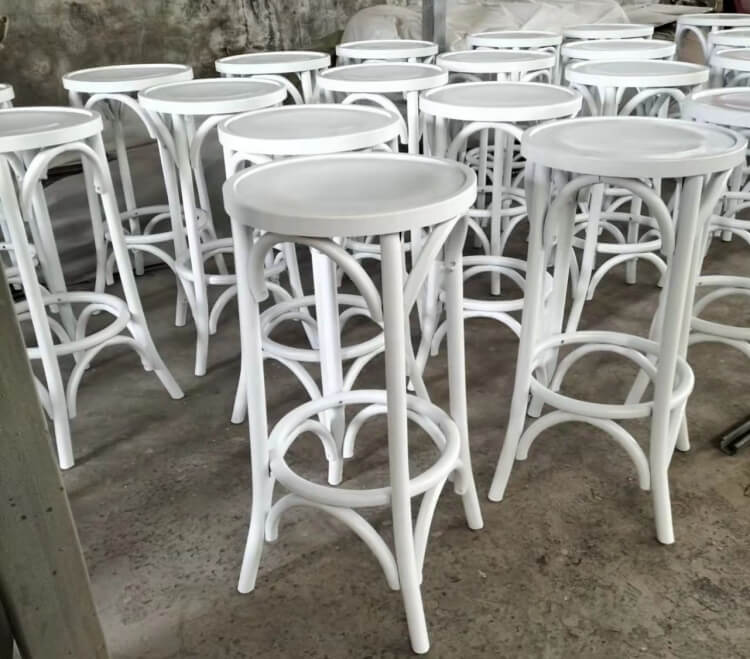 This is our Bistro Bentwood bar stool for bars, restaurants, and cafes. This stool is available in any of our
standard bentwood stains. The stool has a polished seat.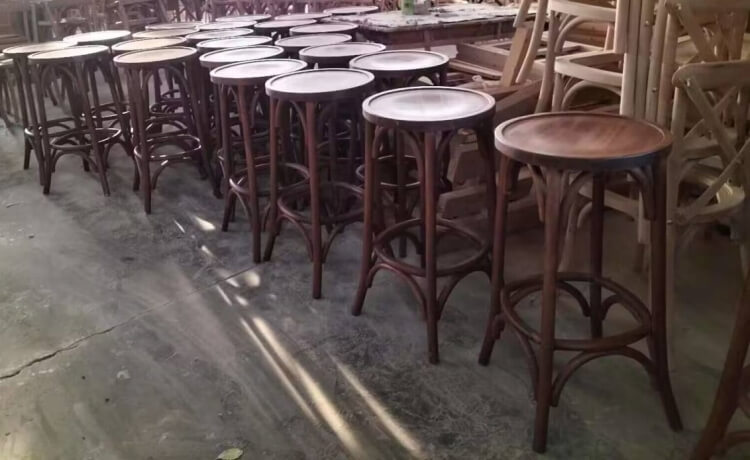 This bentwood bar stool features an authentic bentwood design, made using traditional bending and steaming
methods. The round seat and slightly sloping legs provide maximum comfort, while the solid beech wood frame
adds to the robust and durable design.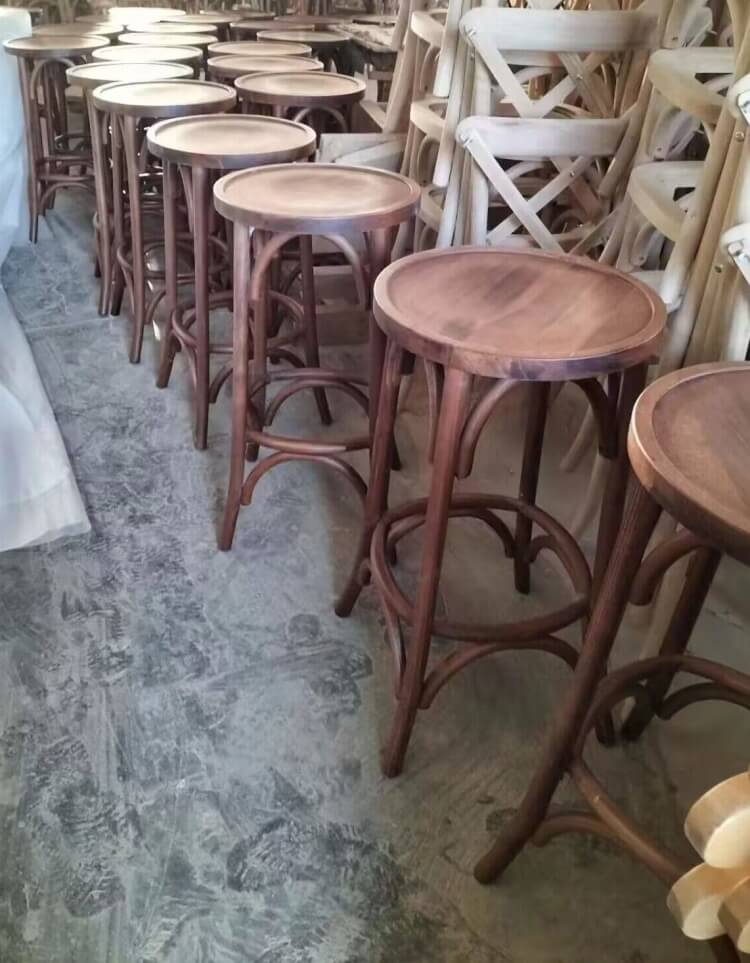 Our stool features a classic bentwood design with reinforced joints that add attractive design accents and
give this stool extra strength and support. The cafe stool seat itself has an embossed starburst pattern that
only adds to its high-end and bespoke feel.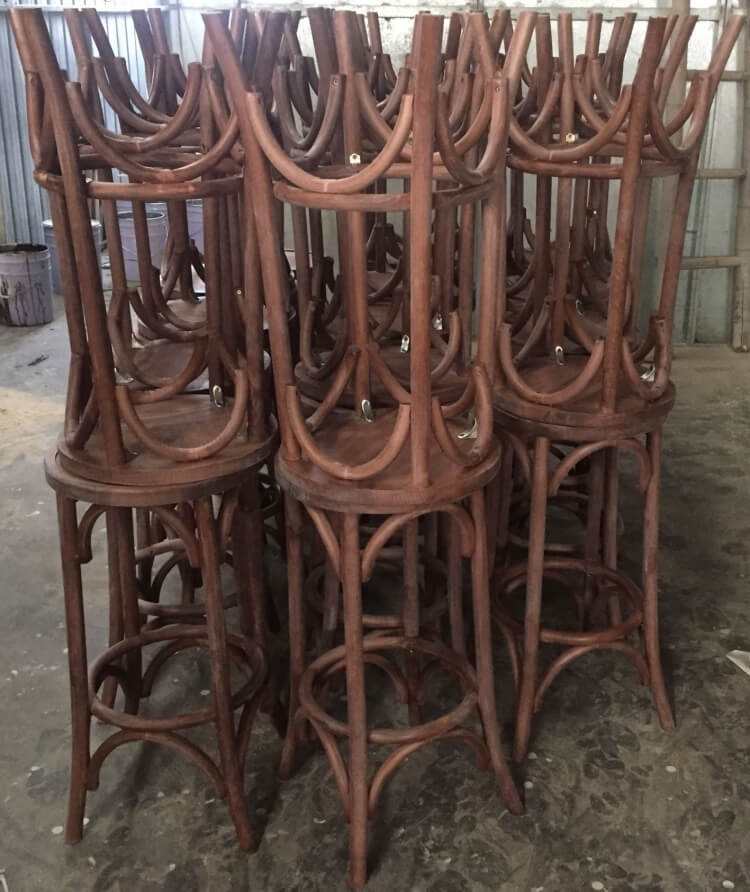 This nature-inspired bar stool blends beautifully with almost any style of home. The PU seat and walnut
the brown finish gives this product a rustic look, while the durable four-legged construction and stem height
make it suitable for everyday use.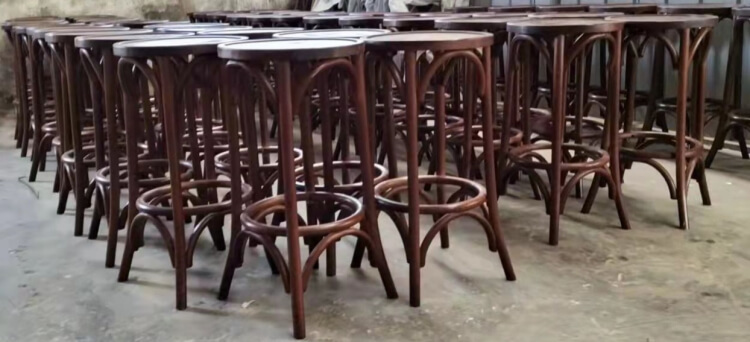 Add this bar stool to any bar or high-top table and keep the good times going. The unique and elegant curves
of the bar stools will enhance the overall aesthetics of your dining area.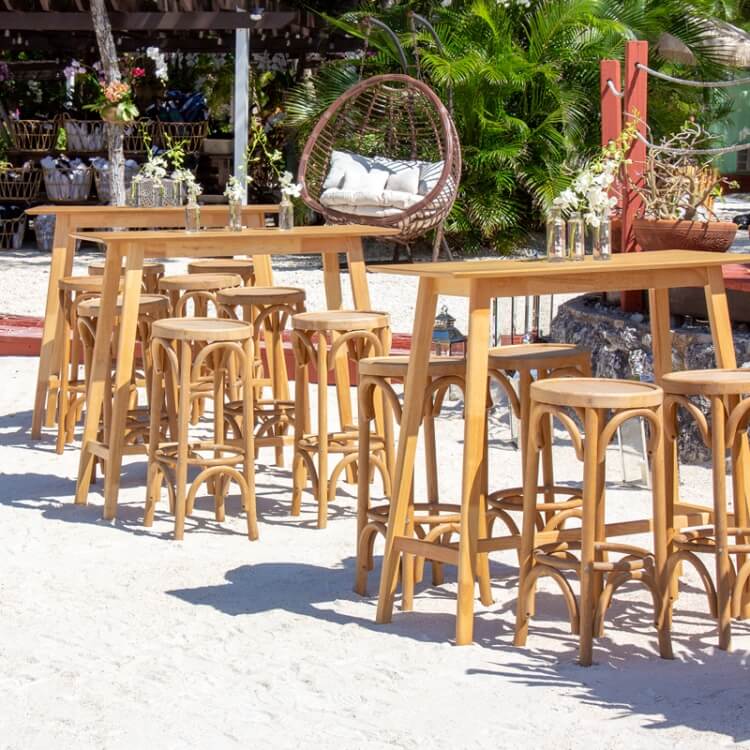 An Australian customer put our bar stools on display in the showroom and received a lot of welcome from
customers, who ordered another batch of bar stools from us.