Resin Thonet Chair
We are a resin Thonet bentwood chair manufacturer, one of the greatest furniture factories specializing in manufacturing all kinds of chairs in Qingdao, especially Resin Thonet chairs in Houston USA. Our Thonet chairs are popular in Boston and they are exported to American markets. They started being produced in 1998, and the productivity of them is 20000PCS so far. so we are more experienced. Moreover, many advantages are unique, such as optional colors, customization and so on. Resin Thonet chairs Houston USA have passed SGS inspection. Wonderful after-sale service is supported as a guarantee.
Advantage of our resin thonet chairs in our factory
Professional manufacturer and wholesaler of resin Thonet chairs from 2015 for resin mold. Wood bentwood Thonet chairs have been produced from 2008.
MOQ is 200 pieces for beginning
One small container can load 400 pieces
Chair weight is 3.7 kgs and weight-bearing 1200 pounds
Color available: gold, silver, white, clear, pink, black yellow, blue and red.
Chair for wedding, restaurant, outdoor, hotel and beer bar, and cafe.
Polycarbonate and polypropylene materical available
Description
Resin Thonet bentwood chair is popular in the Australian market now, We can produce Resin Thonet bentwood chair
more than 12000 pieces monthly.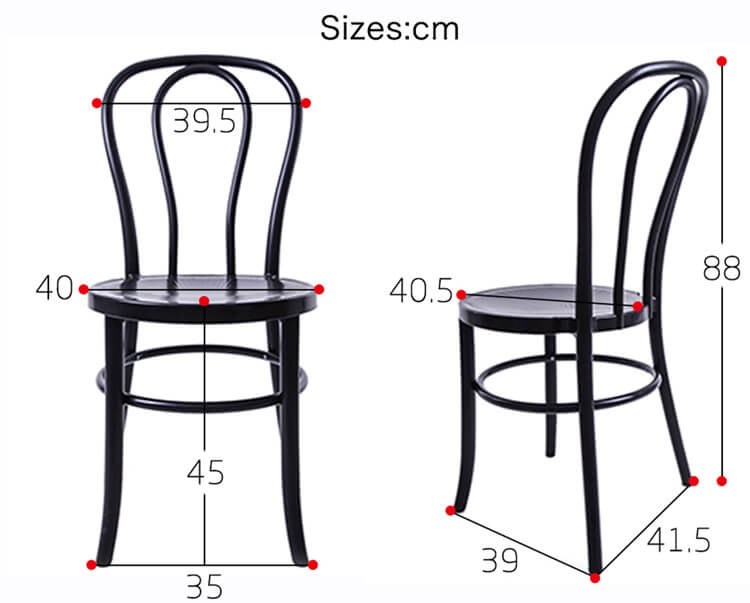 The advantage of Resin Thonet bentwood chair:
1. It adopts better resin materials, and a clean and tidy outlook, preventing scratches, bumping, and paint loss.
2. It is easy to remove at the wedding because it is light.
3. All kinds of colors are available, such as white, black, and so on.
4. The price of it is very competitive.
5. All the process by a machine leads to shortening the period of production and prompt delivery in spite of a large order.
6. Qingdao Blossom Furnishings Limited has wonderful after-sale service, including 3% free parts, the supplement of shortage
and damage and the recommendation of new products.
Standard dimension, Because of mechanization, Blossom Furnishings factory produces the same size of resin Thonet chairs.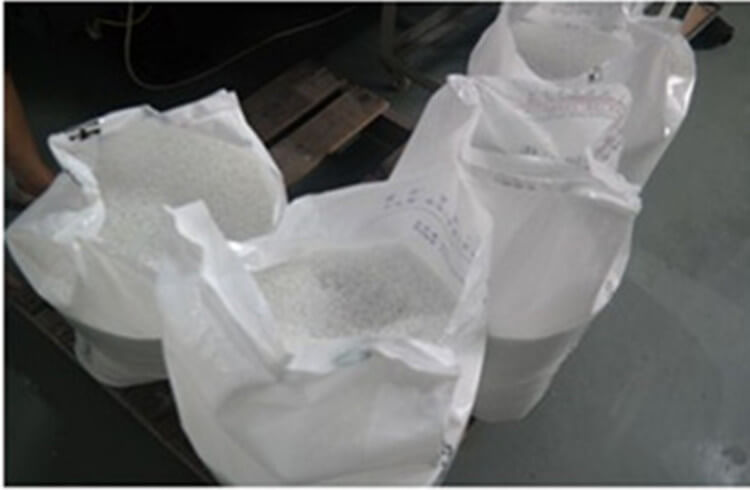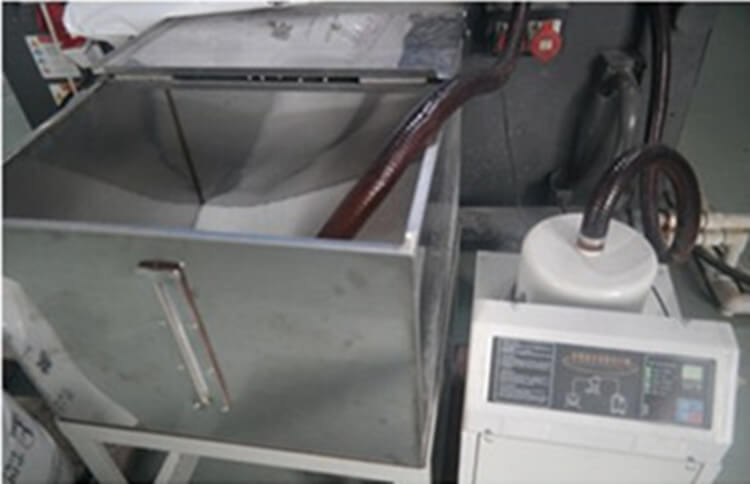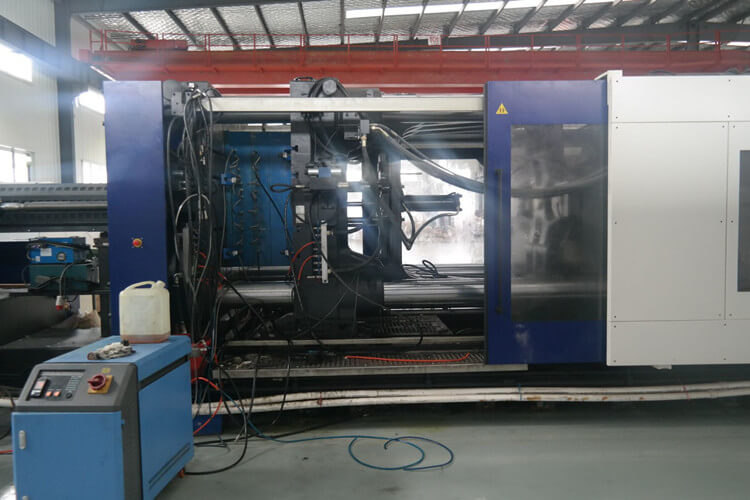 Usually, we also use standard raw materials to test the bearing capacity of the chair, so the standard weight of a bag
of raw materials is 50 kg. Well, you can see that there are eight bags of such materials on the chair. That is to say, the
weight of the chair is 400 kg. We believe that if the height is high enough, we can continue to stack.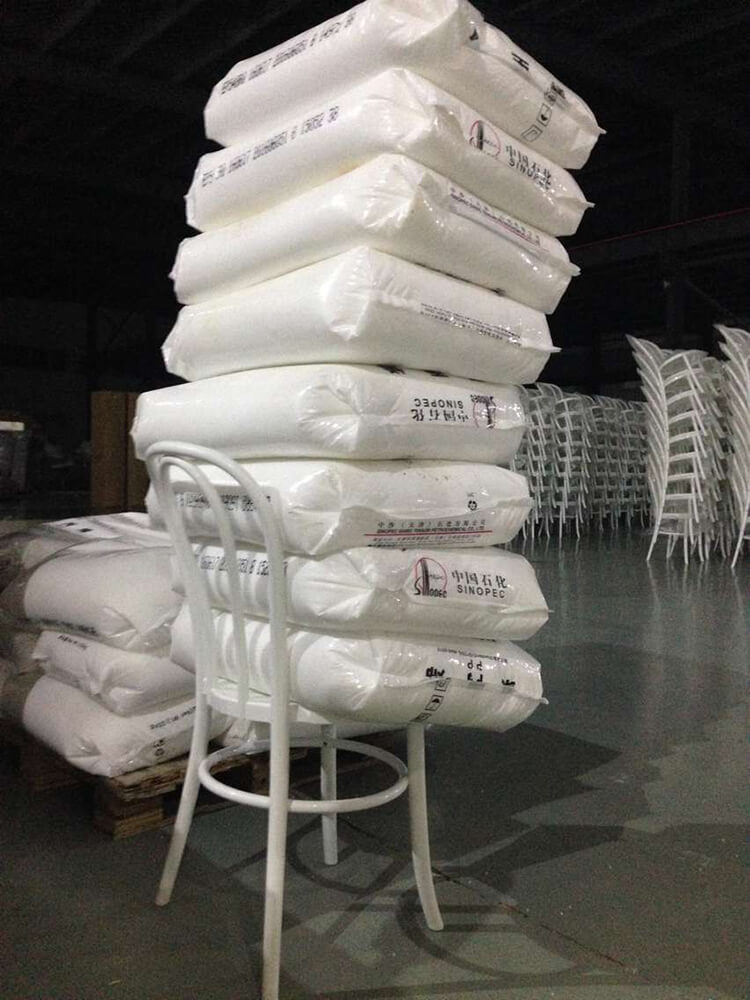 Difference color of our Resin Thonet bentwood chair:

Welcome to visit our workshop, you can take a look at the mass production of resin Thonet chairs, we produce
resin plastic event wedding chairs with more than 18000 pieces monthly. The resin party chairs can be stackable easily.
The colors can be black, ivory, mahogany, blue, white, and kinds of transparent colors. Our event chairs are sold to
Africa is very popular now.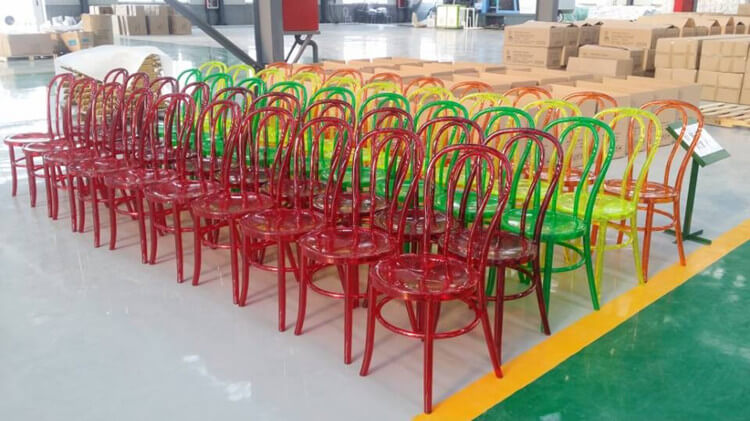 Can you produce the brown color of chairs?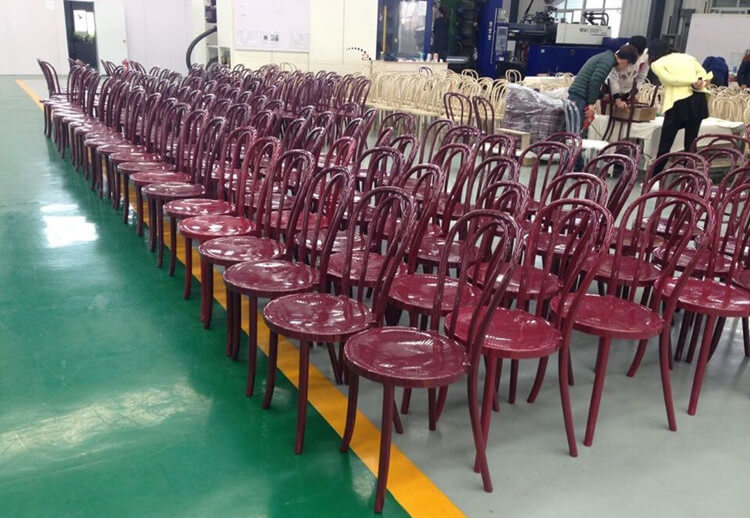 We have brown chairs, which are similar to chocolate chairs. We will also call them brown.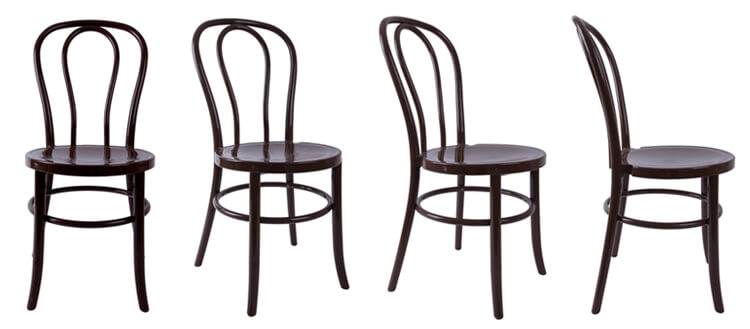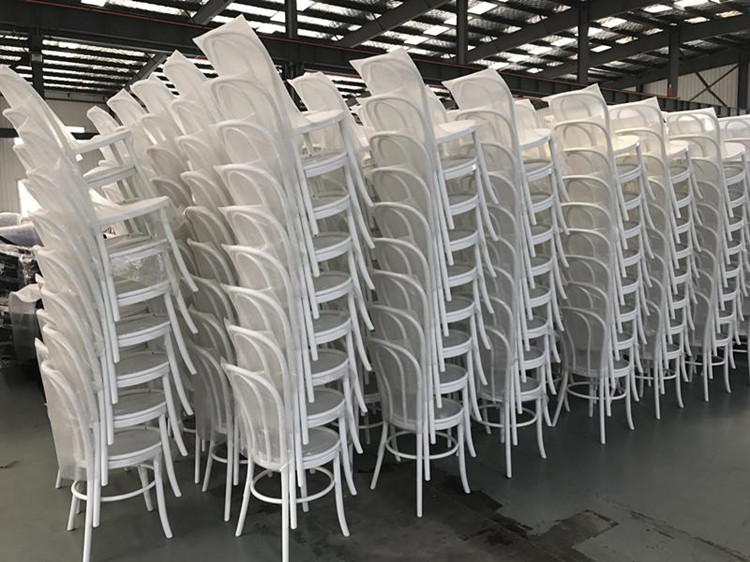 Also, we have a small showroom in Adelaide AU, If you are very near there, we can show you sample quality.
And we will visit you for a meeting if necessary.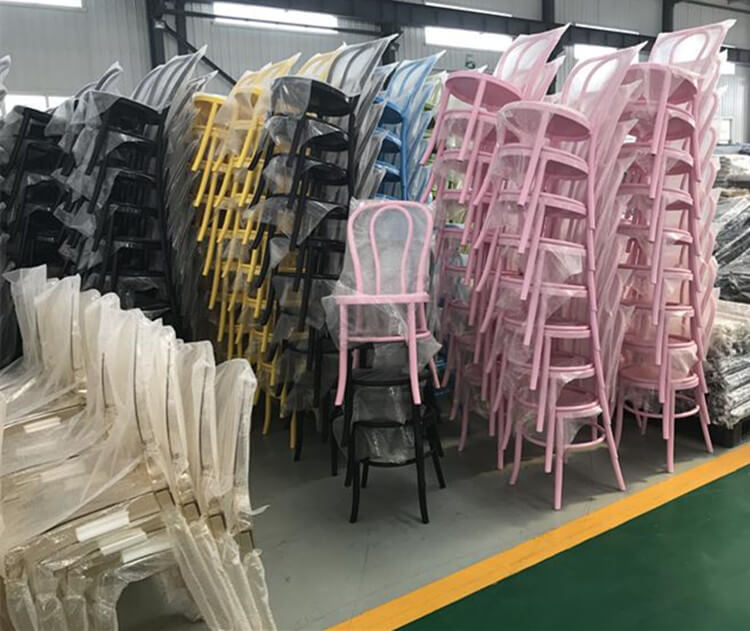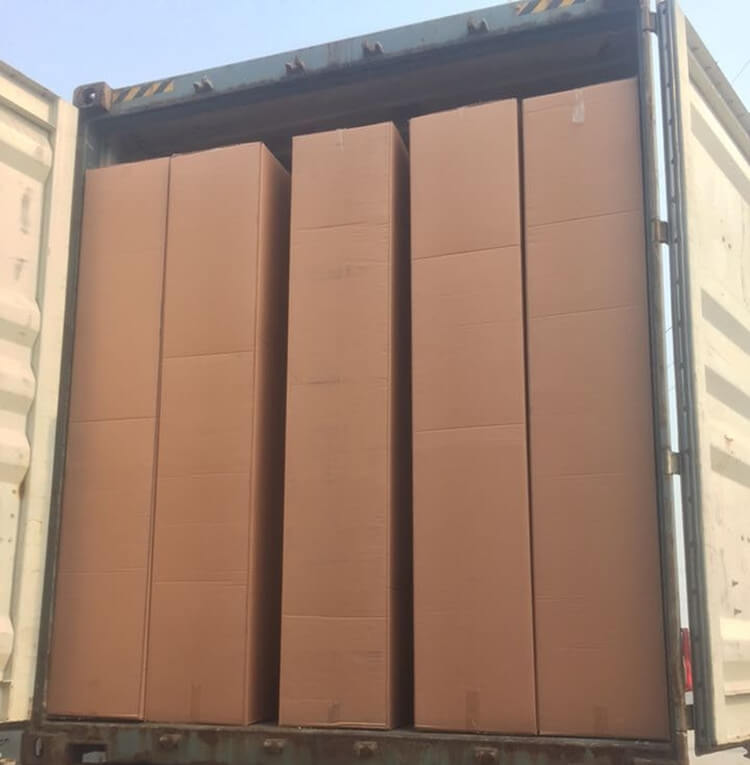 Container loading quantities:
20 ft: 432 pieces
40 ft: 900 pieces
40 ft HQ: 1000 pieces
Feedback about our Resin Thonet bentwood chairs:
Our customer Mr. Mohamed from South Africa, we have been doing business for more than 5 years when we
have the new products of Resin Thonet chairs, we recommend these chairs to him for the test in their market.
Because of the nice design and very very reasonable pricing, we got more orders from him, he placed the order for
wooden Thonet chairs and resin chairs as well.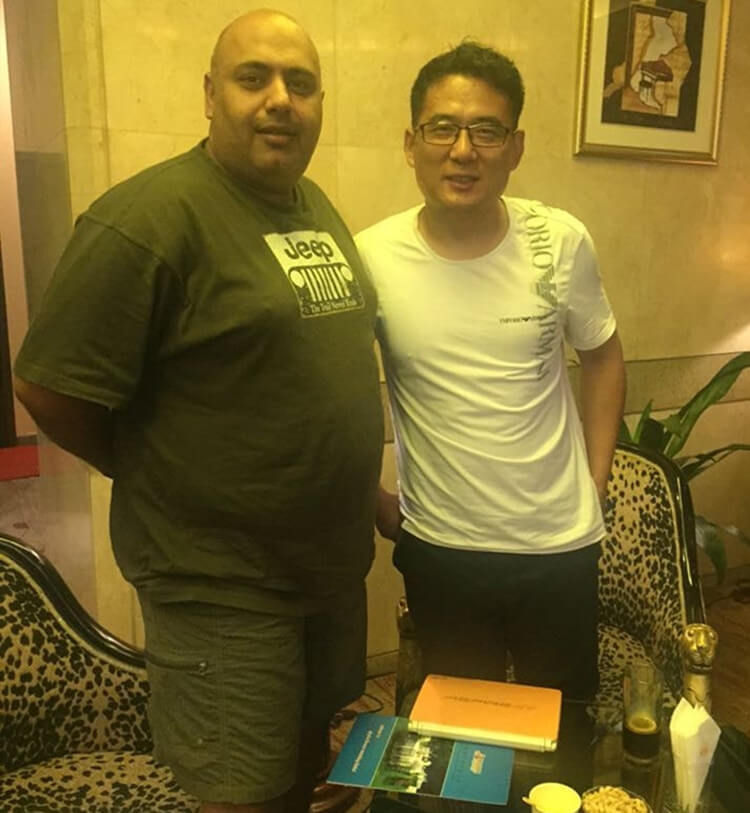 This is the beautiful scenery that our clients from Adelaide, Australia, after purchasing our resin bentwood
chairs, set up their event. The whole theme is composed of white as the main melody and tone.