Fork Leg Round Back Wedding Stainless Steel Chair
With the rapid development of the trend, stainless steel furniture is becoming more and more popular all over the world. Wedding stainless steel chairs can be used in restaurants, homes, and events, etc., hotels. Add refined elegance to your living space with the stylish Faux Crystal Tufted Back Chair with Stainless Steel Legs. Combining comfort with classic beauty, this side chair features a luxurious velvet upholstery or faux leather and a faux crystal tufted back. Stainless steel legs provide strong and functional support. Velvet upholstery is available in grey, black, and turquoise, and faux leather upholstery is available in white with silver stainless steel legs.
Fork Leg Round Back Wedding Stainless Steel Chair Feature
Skin-friendly leather or velvet cushions and backrests offer you a comfortable sitting experience for meal time or leisure time.
This dining chair is stylish and classic, suitable for various scenes such as the kitchen, living room, bedroom, dressing room, dressing room, etc. It is the best choice for room decoration or as a gift for relatives and friends.
4 chair legs with a silver mirror finish, sturdy and durable We provide 5 styles for you to choose from, choose one that matches your home decoration, and add a perfect embellishment to your home.
Rust, fire, and UV fading resistant
Description
Details About Fork Leg Round Back Wedding Stainless Steel Chair
Blossom Furnishings, a professional banquet chair manufacturer, has been involved in the manufacturing and wholesale of cross back chairs, Chiavari chairs, folding chairs, wedding stainless steel chairs, and other types of banquet chairs for over 10 years.
A sturdy and stylish Silver Stainless Steel Dining Chair Set adorns your dining area with an eye-catching design
and great comfort. Made of stainless steel, these chairs are very strong. The backrest and seat are
upholstered in bright faux leather for an excellent finish and attractive appearance. Seat upholstery
can also be custom-made to suit your dining decor as per your request.
Enjoy a touch of elegant modern style in this stainless steel banquet chair. The silhouette features a lovely oval seat back
and gorgeous curved and crossed legs. The upholstery offers a bright effect that contrasts nicely with the
frame in a silver mirror finish. Add personality to any space with this remarkable stainless steel dining chair.
Stainless steel wedding chairs, are specialized in stainless steel products, we use high-quality raw material
and 1.2mm thick tubes. Perfectly polished chair surface.
Excellent Material
Tube: The thicker tube makes the chair stronger (the thickness of the tube is 0.8/1.0/1.2mm, we recommend
you choose 1.0mm/1.2mm) Cushion: Thickened seat cushion, more comfortable when using. For cushions,
the sponge can choose recycled sponge / high-density sponge / molded sponge
Perfectly Polished
With advanced polishing technology, the surface finish adopts electroplating, which is more smooth and nobler.
The adhesion of the paint is greatly increased, and the paint is not easy to peel off. The back of the chair is
seamlessly welded. Stainless steel can choose 201# or 304# according to your requirements.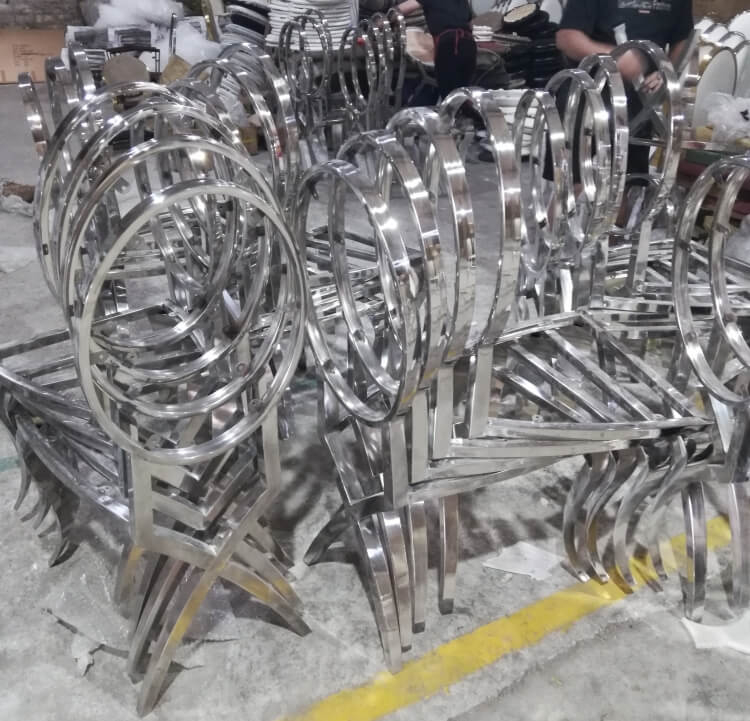 The stacking feature allows you to move the chair out of the way when not in use. With comfort and durability,
you can confidently enjoy this elegant stacking banquet chair for years to come. We are a factory, custom-made
suitable for your site, fabric, and paint color according to your requirements.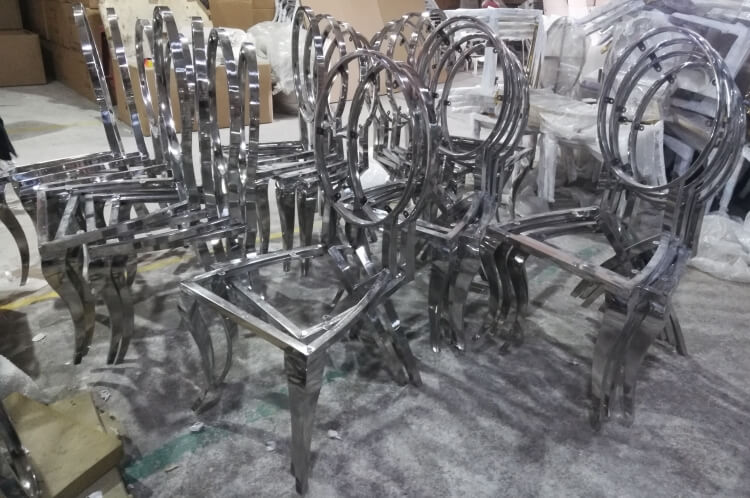 Removable cushions, our cushions are made of high-quality PU leather or velvet and high-density sponge,
you can compare the quality which is better, usually, our customers prefer honest suppliers, not just for
business, and do not use recycled materials.
Chair frame: using standard width and thickness materials, thickened and widened shelves can be customized.
Legs: Thickened tubing with foot pads. Electroplating gold: mirror effect gold is not easy to scratch.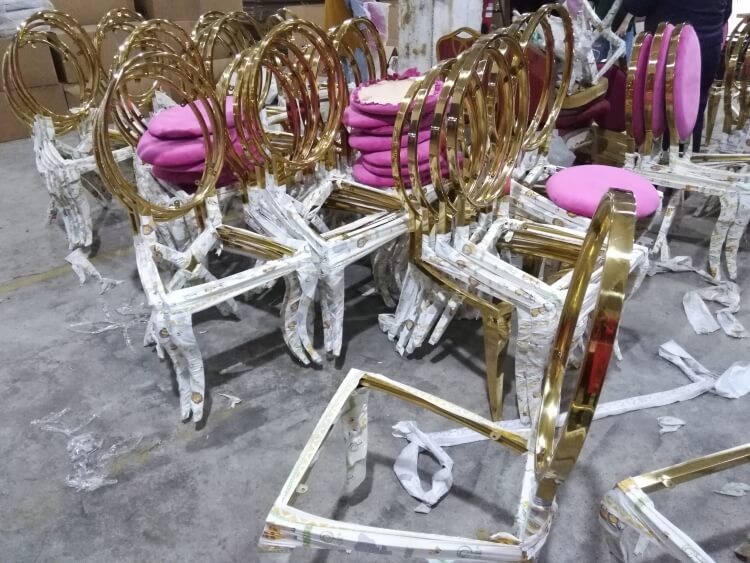 For stainless steel chairs, you can choose gold, silver, or rose gold. We have perfect chrome and finish.
High quality and exquisite handmade can win your trust.
The scientific design of the whole chair makes the chair very strong and can bear the weight of at least six
adult men. The thickness of the pipe, and the sponge material is specified by the customer, and there are
various choices, and the fabric can also be customized.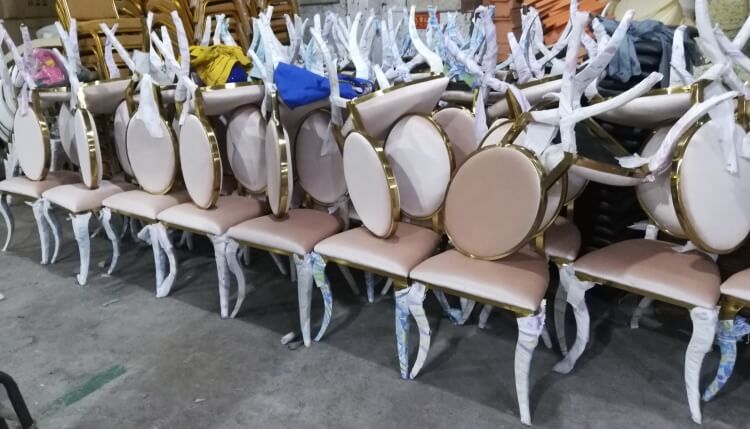 Solid Seat Board
5-7cm thick sponge, comfortable and soft. The surface material can be velvet, PU leather, etc. The inner
filling material is a high-density sponge, which is more comfortable. The pads can be replaced, using
screws to install the pads.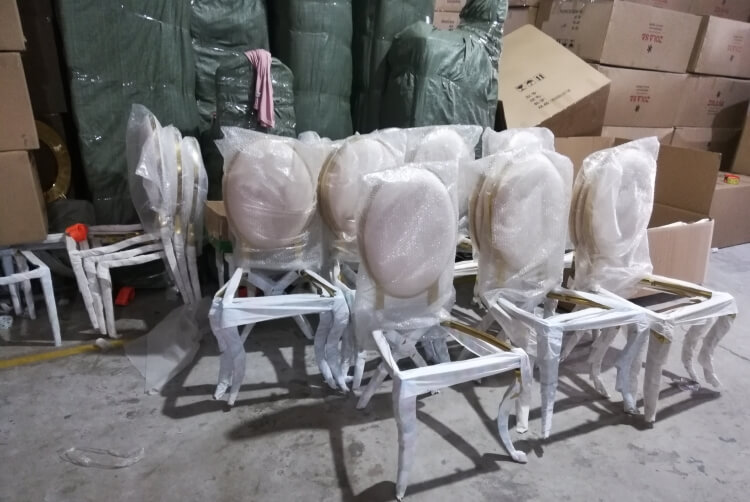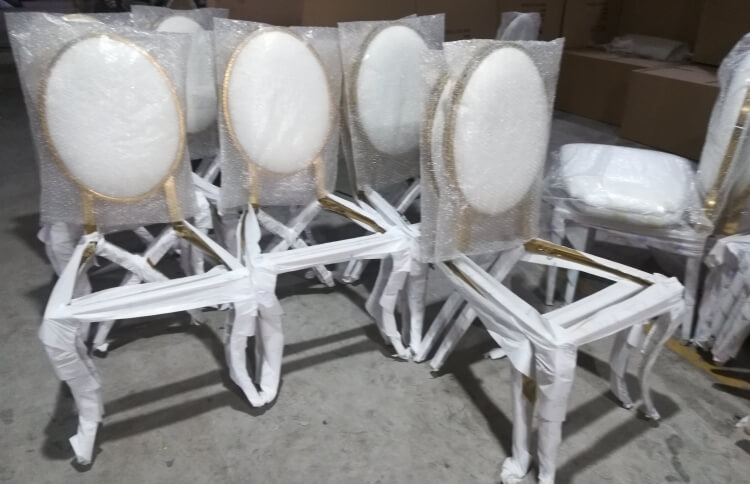 The packing of stainless steel chairs is usually 4pcs/ctn, which also can be 6pcs/ctn. But we also have a
stackable design, which can load more items in the box, and we also think that our customers can save
more money in their pockets.
With a frame that can hold over 500 lbs, this chair can be used in churches, banquet halls, wedding ceremonies,
training rooms, conferences, hotels, and any other gathering for functional seating arrangements.
Rubber Mat
Soft rubber pads are placed on the bottom of each chair. Reduce the friction between the chair and the ground,
protect the chair well, and increase the service life of the chair.
This stainless steel chair features an oval back, a wide seat, and elegant bulbous legs. The frame is stainless
steel, combining classic style with modern style. The chair pads are upholstered in premium white leather.
The chair frame is very metal with a mirror finish.