Gold Stainless Steel High Back Wedding Dining Chair
Soft white cushions and golden seat frames make your mealtime more comfortable. The unique high back metal chair embodies light luxury and advanced design. With excellent hardware technology, the seat has better weight capacity and comfort thanks to the frame and legs with comfortable leather fleece cushions. This dining chair can make your house more shiny and comfortable. When your friends come to your house and see this table, they will think you are very tasteful and cast envious eyes.
Gold Stainless Steel High Back Wedding Dining Chair Feature
A very popular wedding chair
Gold-plated polished surface
Cushions in customizable colors and fabrics
Suitable for weddings, birthday parties, and other festive occasions
The entire metal frame is integrally formed, which increases the load-bearing capacity of the chair
The soft leather is not only breathable but also waterproof and easy to clean.
Description
Details About High Back Metal Chair Wholesale
Blossom Furnishings, a professional wedding chair manufacturer, has been involved in high back metal chair manfuacturing and exporting for over 20 years. Blossom Furnishings specializes in high quality, custom-made furniture with an emphasis on style and sustainability. All of their event tables and chairs are handcrafted with a unique attention to detail and made with certified sustainable materials. They offer a variety of options that range from modern to classic and can be customized to fit any style preference.
Raw Material
The material of Qingdao Blossom Furnishings chair is made of new stainless steel, and the tube thickness is 19mm,
which is strong and durable.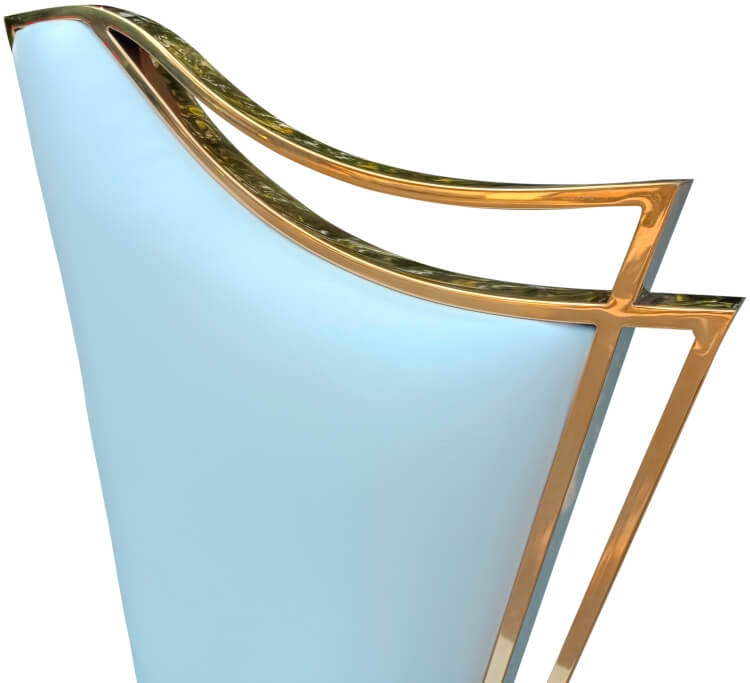 Solid seat board
5-7cm thick sponge, comfortable and soft. The surface material can be velvet, PU leather, etc., and the inside is
filled with a high-density sponge, which is more comfortable. The seat cushion can be replaced, using screws
to install the seat cushion.
Perfectly Polished
With advanced polishing technology, the surface finish adopts electroplating, which is more smooth and nobler.
The adhesion of the paint is greatly increased, and the paint is not easy to peel off.
High-temperature polished high back metal dining chairs. The mirror finish will not come off easily,
better quality. Shiny, smooth, and good adhesion.
We have a variety of colors to choose from, such as silver/rose gold/gold.
We have advanced manufacturing technology and equipment, high-capacity workshops, and a large number
of high-tech workers in the workshop to ensure that all our products are of high quality.
The corner joints are precision-welded to ensure that the chair frame is strong and durable.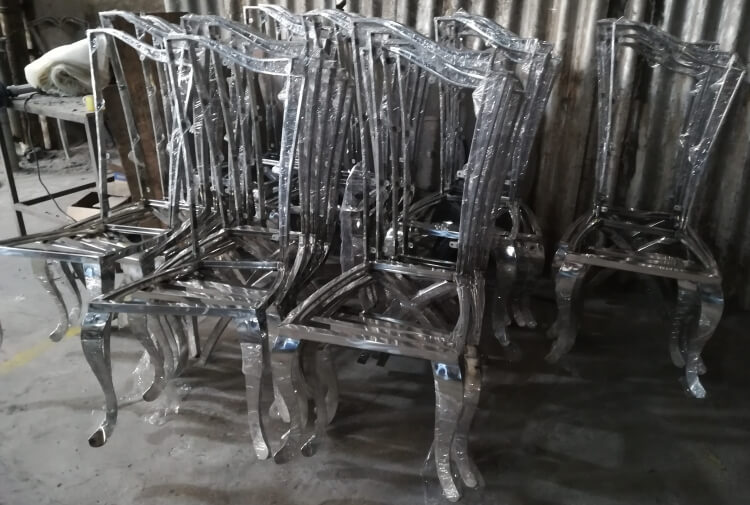 The cushion is seamlessly connected with the frame. Made of 1.2mm thick stainless steel, the chair has
reinforced stress points and can bear up to 800 lbs.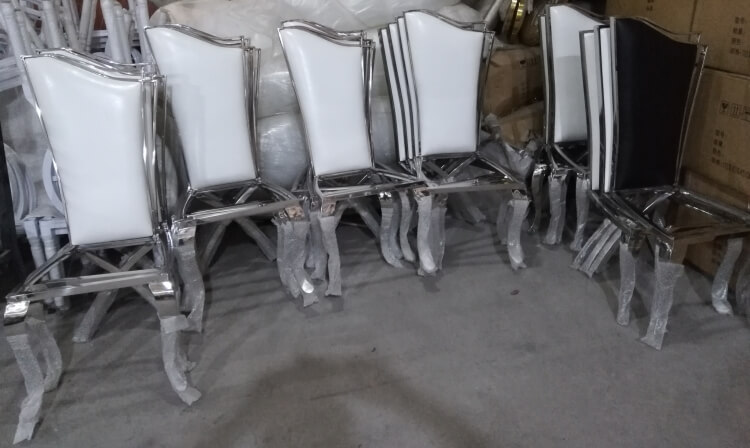 Our stainless steel chairs are available in a variety of vinyl colors. Of course, you can also choose the color of
the fabric/velvet, and you can customize your favorite logo, packaging, and graphics. It's up to you.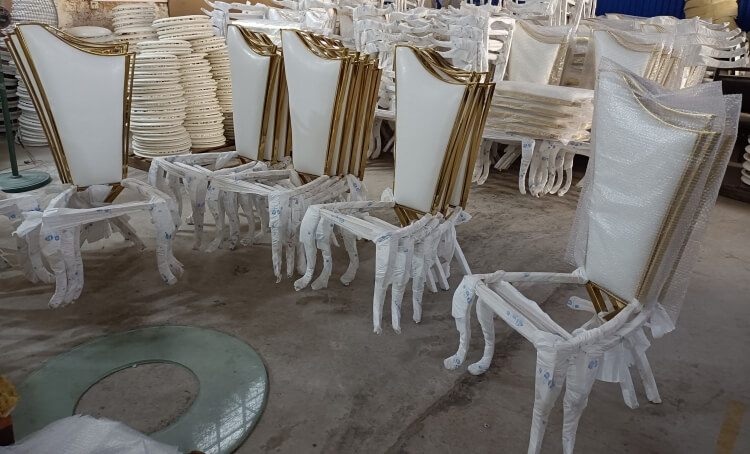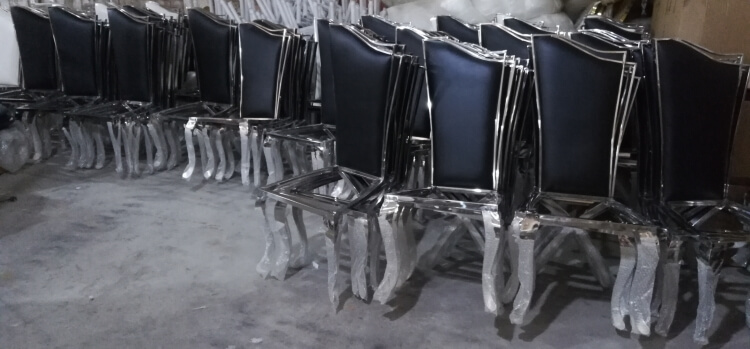 The tall metal chair's padded back and 1.5-inch thick foam seat are covered with durable vinyl upholstery. It's sturdy
16-gauge steel powder-coated frame has elegantly angled legs and has been tested to hold up to 500 lbs.
Double brace braces reinforce the frame giving it great strength and durability.
Gold-plated and polished, the mirror surface is shiny, and the chair frame is pure in color. Pu leather covering,
waterproof and easy to clean; wear-resistant velvet fabric is also available.
With a metal frame and legs in golden stainless steel, this chair has a contemporary feel, but with an authentic
guqin back, it exudes undeniable modern appeal. Both the seat and backrest feature soft padding for comfort
and are upholstered in soft white faux leather for a chic look.
Quality Orientation
We have always paid attention to the quality of our products. All of our products meet the quality certification,
so you have no worries.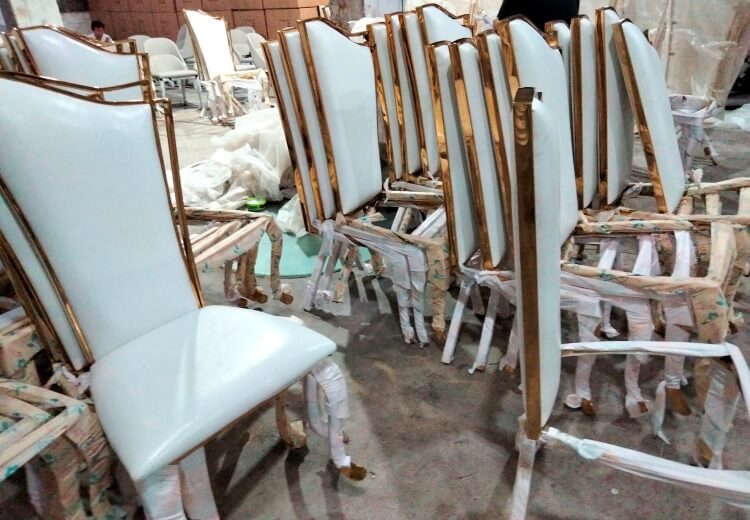 1
) Packed in EPE foam first
2) Bubble EPE to protect
3) Plastic bags Water-proof
Reinforced tube in the middle of the seat to increase firmness and prolong service life; The chair is a metal
plate welded with holes to ensure firm installation and prevent potential problems such as scratches.

Classic mid-century design, clean and stylish lines, and gorgeous golden style bring spaciousness to your home.
Legs made of stainless steel, the exquisite sponge-padded velvet seat, let you sit elegantly and comfortably,
whether it is dinner or leisure.