High Back Stainless Steel Chair
Enhance your space with clean lines and a gorgeous look. Our metal high back stainless steel chairs feature a linear design with golden stainless steel rods that add a dazzling touch while ensuring strength and stability. Wrapped in a smooth faux leather interior and high-density foam padding, this set provides a comfortable cradle for dining with friends. The high-back, open design enhances home security and provides some popular touches. A showcase of sophistication and elegance, this set of two high back metal chairs combines contemporary style with exceptional comfort when setting up your dining room! Our ss chair factory provides private customization and customized exclusive colors. You can provide the color photos you want.
High Back Stainless Steel Chair Feature
Material: stainless steel, faux leather, foam
Finishes/Colors: Gold, White and Black
Weight Capacity: 249.9 kg/551 lbs
Care and Cleaning: Wipe with a clean cloth and mild soap as needed.
Description
Details About High Quality Metal High Back Dining Chairs
The metal high back dining chair's padded back and 1.5″ thick foam seat are covered with durable vinyl
upholstery. Its sturdy 16-gauge steel powder-coated frame with beautifully angled legs is tested to
withstand 500 lbs. Double support brackets reinforce the frame giving it great strength and durability.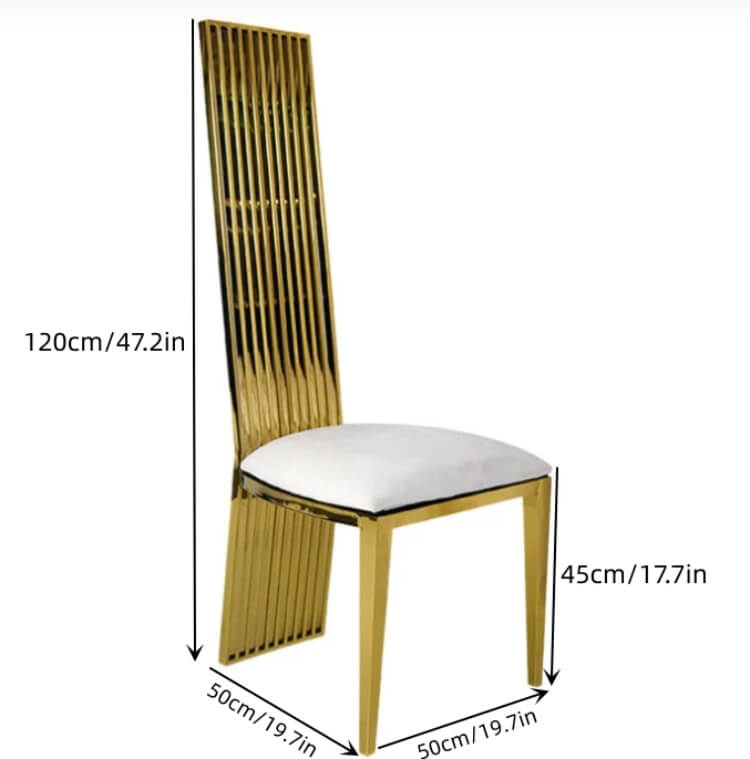 Soft rubber pads are placed on the bottom of each metal high back chair. Reduce the friction between
the chair and the ground, protect the chair well, and increase the service life of the chair.
Advanced polishing process, the surface finish adopts electroplating, which is more smooth and nobler.
Greatly increases the adhesion of the paint, and the paint is not easy to fall off. Our ss chair factory uses
high-tech machinery to weld chairs, and the backs of the chairs are seamlessly welded.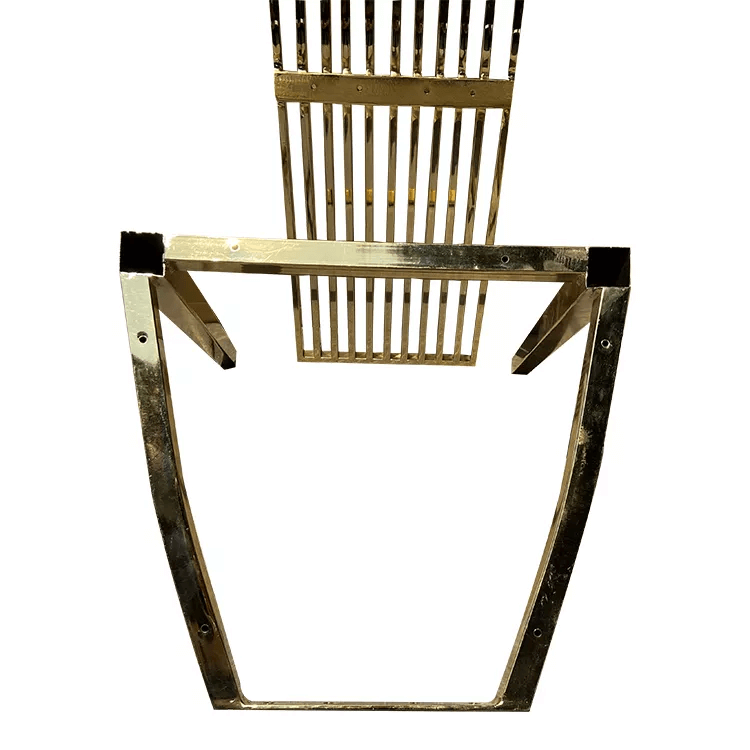 High Quality.
The raw material of our best high back chair is made of new stainless steel, the tube is 19mm thick, very
durable and strong.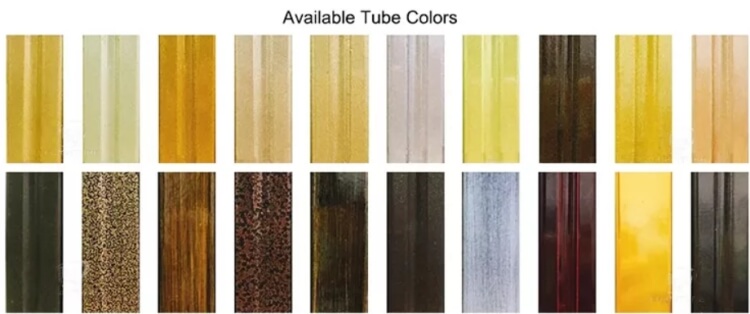 5-7cm thick sponge, comfortable and soft. The surface material of our metal high back dining chairs can be
velvet, PU leather, etc. The inner filling material is a high-density sponge, which is more comfortable. The
seat cushion can be replaced, and the seat cushion is installed using screws.
Our stainless steel chair factory is very strict, every tall metal chair part will be packaged by professional
workers immediately after it is finished, so as to avoid friction and damage to the light of the chair during
the stacking process.
、
Our high back stainless steel chairs are painted by electroplating. There is a professional electroplating
workshop, which can put many chairs together for painting. Can save a lot of time and effort.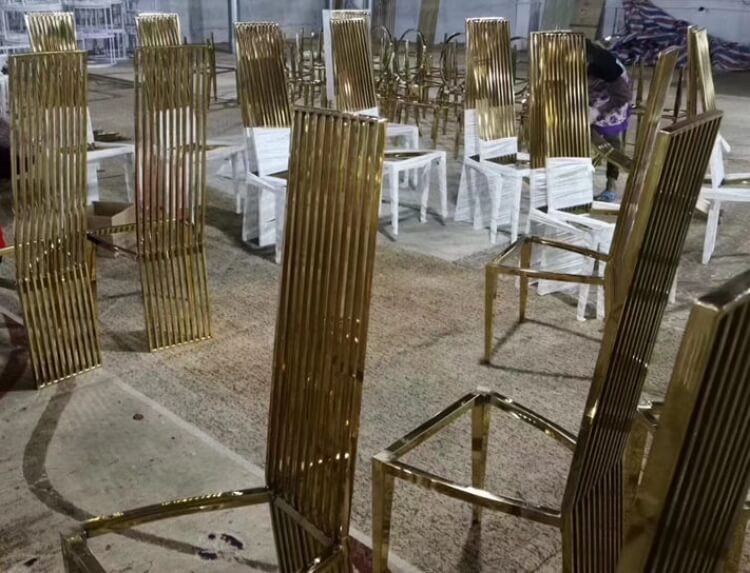 Packed in a carton; each chair is covered with a PP bag, covered with a layer of pearl cotton, and packed into
a carton, which is firm and beautiful and protects the metal high back dining chairs from damage during
transportation.
High back metal dining chairs are beautiful and practical tableware for banquet halls for weddings, parties,
and ceremonies. You can also see the seating in the luxuriously decorated restaurant. The chair is available
in two versions: a stackable chair and a non-stackable one.
As a professional stainless steel chair manufacturer, our factory specializes in making chairs, tables, and
other facilities for hotels, restaurants, and other dining areas; we have strong research, experienced technical
team, and a complete production system, which can provide professional and flexible OEM and ODM services.
We specialize in manufacturing quality high back metal chairs at affordable prices. Most clients like to maintain
long-term cooperation with us. Large production capacity, fast and punctual delivery.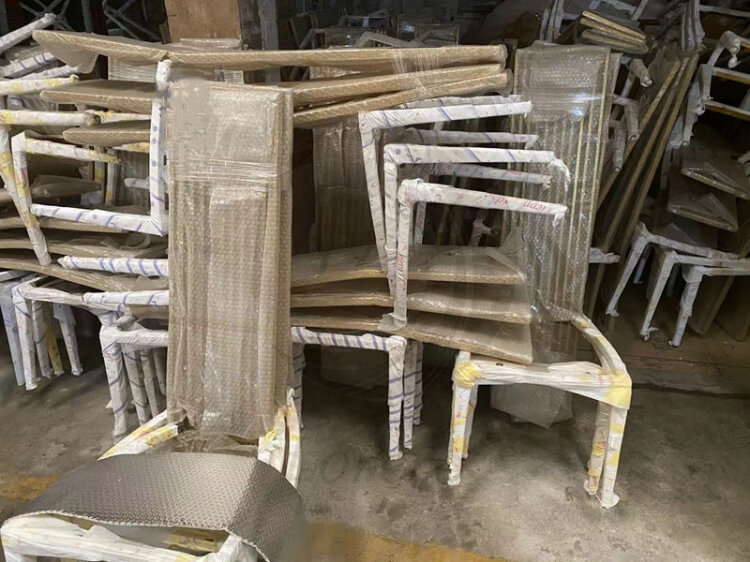 The metal high-back dining chair elements are from the Milan Furniture Fair. With the rapid development
of the trend, stainless steel furniture is becoming more and more popular all over the world. Stainless steel
chairs can be used in restaurants, weddings, events, etc., in hotels.