Crossback Bar Stools
Crossback Barstools are absolutely eye-catching chairs!! Then a faint fragrance and pleasing shape, enough to make it talent showing itself. The utility place lies in, wood heart chair is not easy to be damaged, as we all know, the wood is very strong. Its design is novel, no doubt, the chairs are full of the beauty and strong enough to make it hard to construct than the other chairs, we think, the chair is beautiful and rare.
Qingdao Blossom Furnishings Limited producing more than 3200 pieces of wood crossback bar chairs monthly, also we have bar chairs for chiavari chiars, napoleon bar chairs, phoenix bar chairs. For crossback bar chairs, we have 2 seat height size, 75cm and 65 cm, also regarding to the seat, we offer solid wood seat and rattan seat both. The weight of bar chair is around 5.25kgs, and normally 4 pcs will be one box when loading container.
Difference choice of feet support bar: round and square bars
One pieces seat support half round solid wood
Easy to be matched for cocktail tables, square high farmtables
 Antique or shiny color available both
Description
Our manufacturer producing the parts of the farmhouse Crossback barstools as following. All cross back barstools
of the wood parts made of solid beech wood, including wooden seats, support bars, and chairs legs as well.
We only accept wholesale business for our wooden event chairs and wooden event tables.
If your order quantity is less than our MOQ, no worry, we will recommend our nearest agent to you, you can buy from there.
Which model can you produce for these bar-stools?
At present, we can produce the following two styles, one is solid wood seat board and the other is rattan seat board.
Please ignore the color. We have many choices of color. The main emphasis here is on styles. Customers can choose
their favorite styles to buy.
Model A: Chairs with Rattan seats

Model B: Chairs with solid wood seats as well.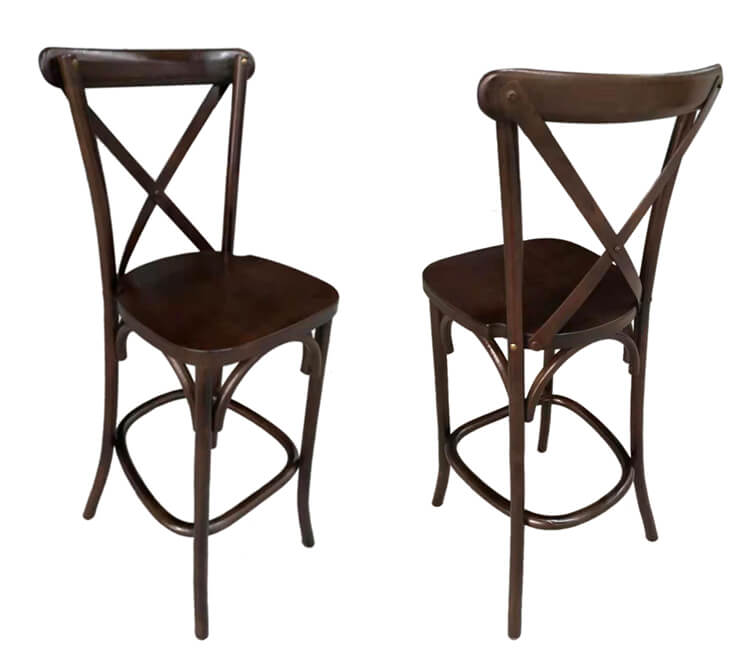 The following photos show the parts of bar stool chairs

The airing of the cross back barstools


What is the main processing of bistro counter stools legs?
We use solid beech wood to produce our chairs, we cut the raw material to spare parts, then make parts same
size, them assemble them, before painting work, we will do sanding work 3 times.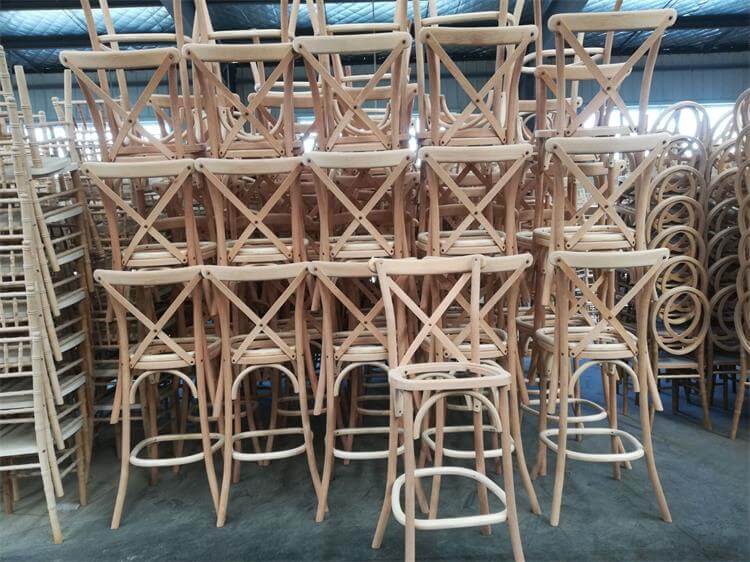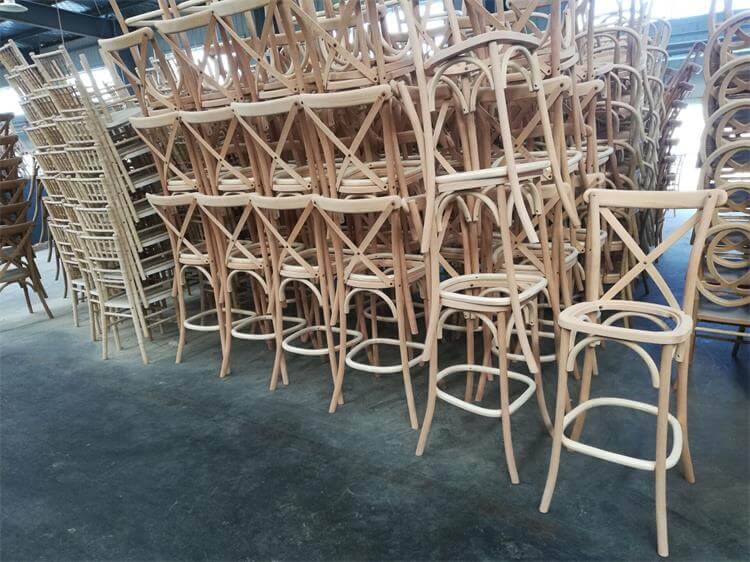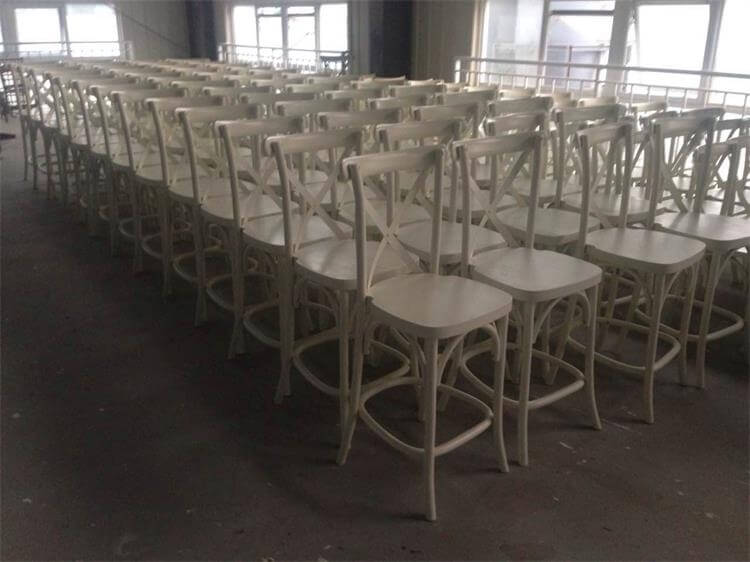 Color Choose for Farmhouse Crossback Barstool
Our usual colors are brown, white, black, gold, silver, mahogany, dark walnut, natural, fruitwood, limewash,
dark limewash, antique natural, caramel, rose gold color Choose for farmhouse cross back barstools
You also can choose different colors what you like from our color swatch
Optional colors, customization. We seeing light fruitwood popular now to the American market
Let us show you the mass production of our farmhouse cross back bar chairs: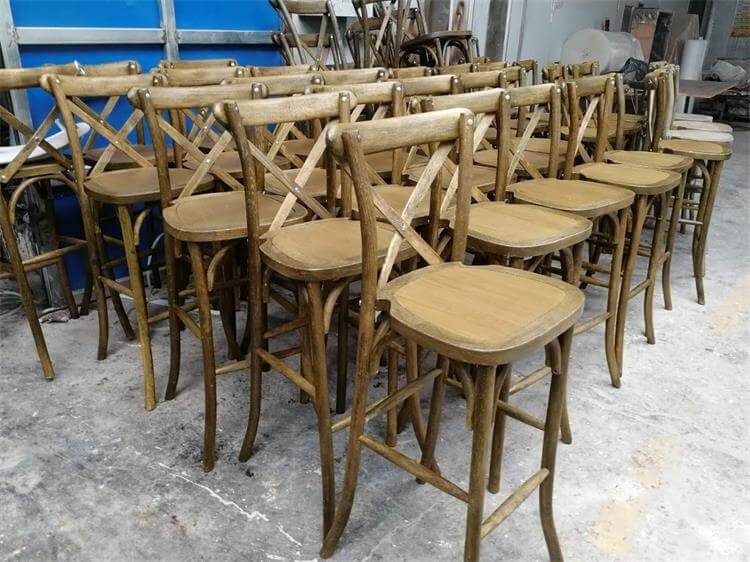 The height from seat to the ground can be 65 cm or 75 cm, 2 sizes for your choice. The size depended on your
request. However, the total height of these chairs is a standard, about 105 to 106 cm.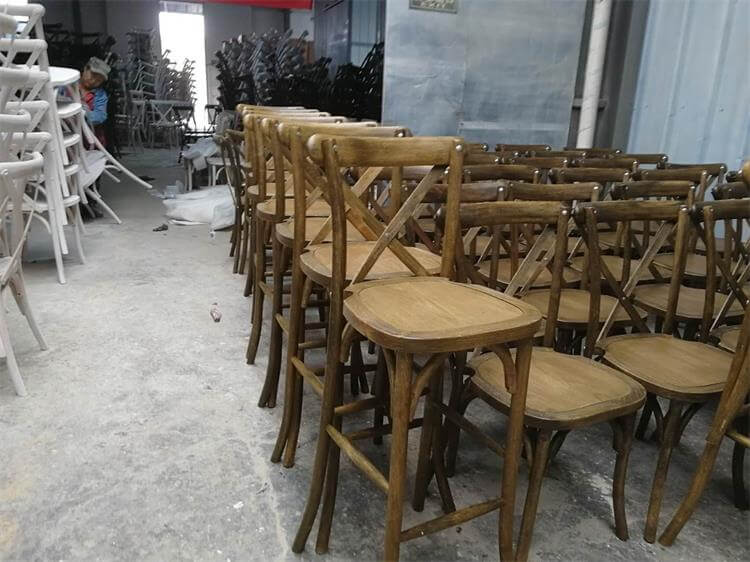 In fact, from this page, you can see that we have two different types of cross bar chairs. The bottom supporting part
is in the shape of a ring, and the other is the shape of transverse support. Customers can make corresponding choices
according to their own preferences. At present, the height of the chair is 60 cm and 76 cm.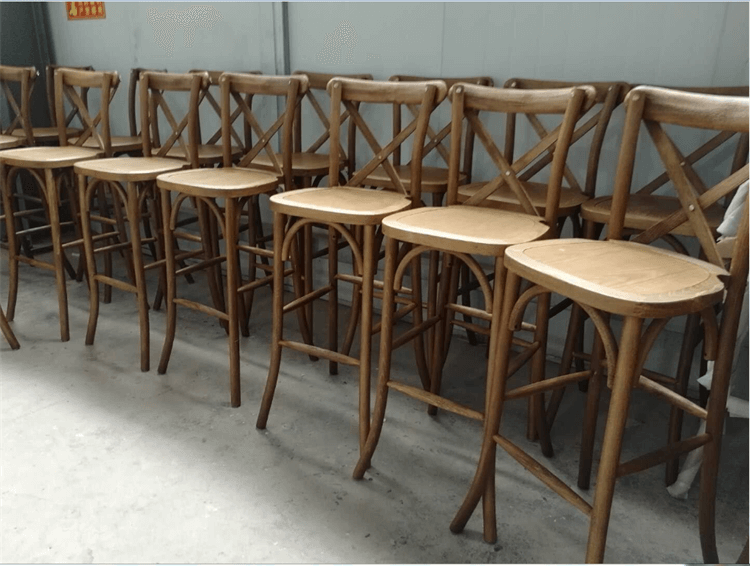 Do you have any experience about colors?
Yes, we have a lot of experience in mastering the color of brown. From light brown to medium brown and dark
brown, our workers will control the subtle difference of these colors to ensure that every customer is satisfied with
the color. Sometimes, we will give customers several similar colors to make the final decision.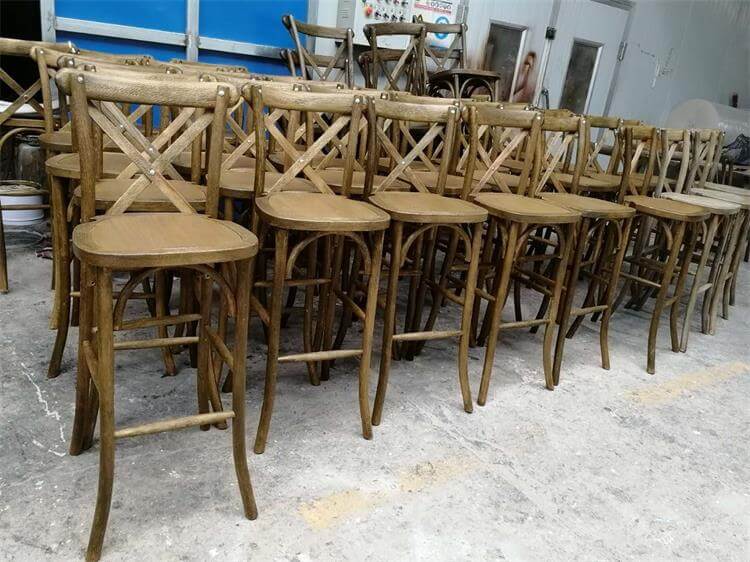 Of course, there are many choices for the color of these bar chairs. You can choose from our color plate, picture or big
goods color. You can also send us your favorite colors. We can make the corresponding colors. For paint, we can paint
or wipe colors. Whether it is bright color or retro color, we are very good at it.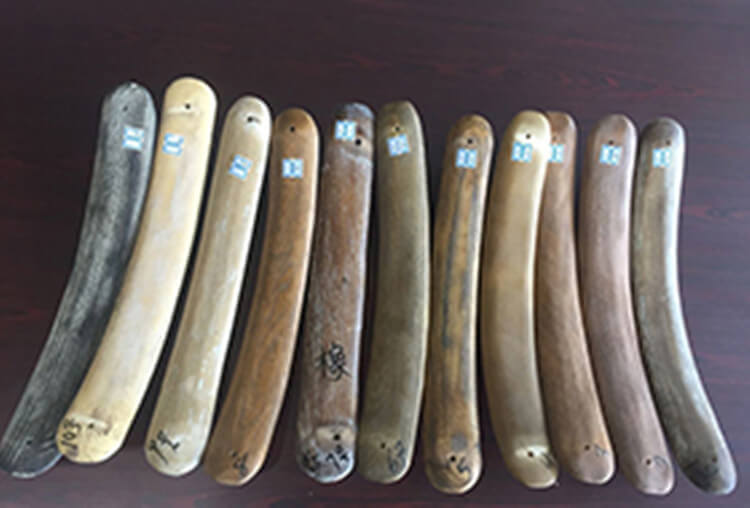 We can also produce this model with rattan seats, the weight is 5.3 kgs per piece
Color number 1784 of light antique color to match antique wood cross back chairs
Do you have light natural color crossback barstools ? Yep.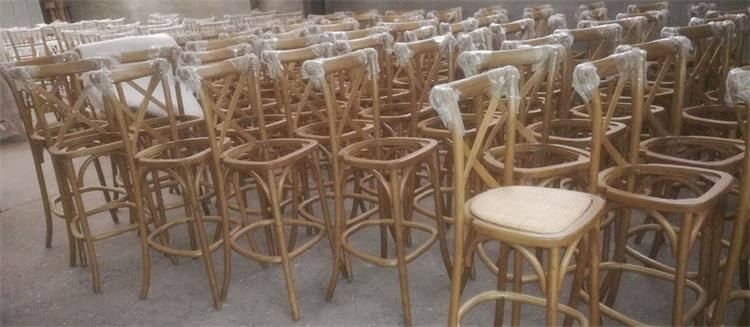 The Packaging of the Crossback Barstools
we package the Ballroom vintage bar stool chairs with a layer by polypropylene bags, air form, and lathered to
avoid scratch and damage in the course of transit. Also, how many pieces are put in one carton and them adjustable by negotiation.
The loading of the Ballroom vintage bar stool chairs(according to your requirements)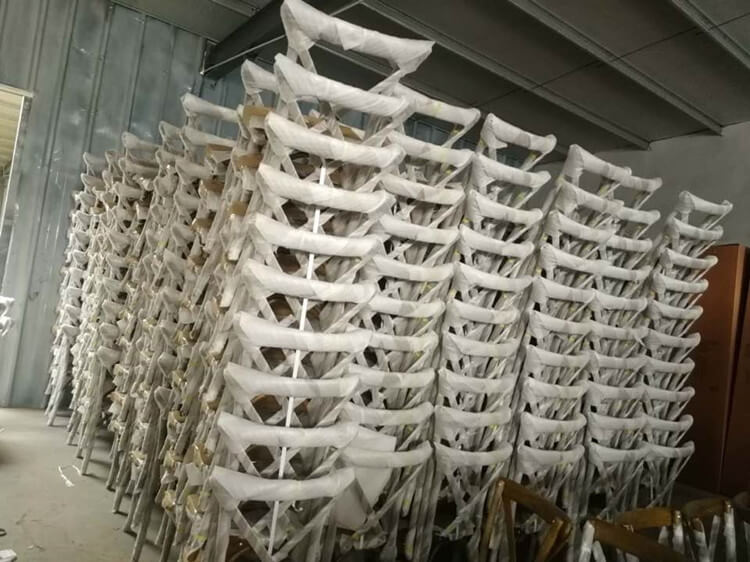 The package size as the same as wooden Chiavari chair barstools as the pictures. Normally we put 4 barstools into
one box for container loading. The size of box is 61*42*235cm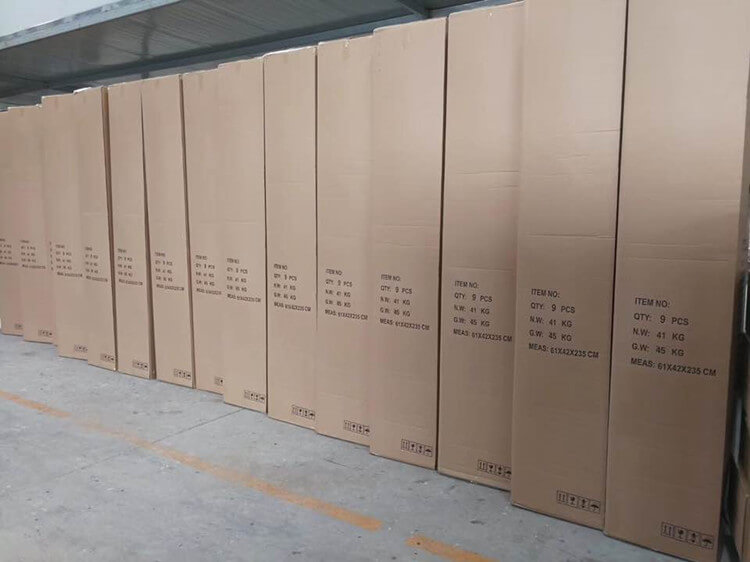 Our Germany customer Mr. Marco bought one container of our barstools

These cross bar chairs are widely used in outdoor places. In outdoor activities, bar chairs and conventional chairs are
often used together. Although they are not used as many as regular chairs, agreeing to color or a uniform style will
add a lot to the party.