Classic Thonet Bentwood Dining Chairs
As a professional tables and chairs manufacturer, our company provide bentwood dining chairs wholesale in cheap price. The Thonet bentwood chair is available in a variety of colors, so it blends well with the decor of most cafes and restaurants. The bentwood dining chairs wholesale come in a range of natural woods and colored finishes, as well as colored finishes such as white, black, yellow, blue and red. With its shabby and chic wedding appeal, Thonet wooden chairs are also a popular choice for event rental companies.
As one professional thonet bentwood chai supplier, we respect the original design of Thonet chairs and try to offer exact design and good looking. We use one piece of bentwood for chair back,  We accept wholesale from over the world for cooperation, welcome Australian party rental companies import these chairs from our factory directly. The minimum order quantity is more than 200 pieces.
Wood material : We use solid beech wood or Waxwood for bent parts.
35 days for production beacuse of busy production
Vintage Set of Authentic Thonet Bentwood Cafe Chairs Original Seats Dining Kitchen Seating made of Blossom Furnishings
Description
Detailed Information About Thonet Bentwood Dining Chairs Wholesale
Blossom Furnishings producing more than 6800 pieces of Bentwood dining chairs monthly, our Bentwood
dining chairs made of solid wood.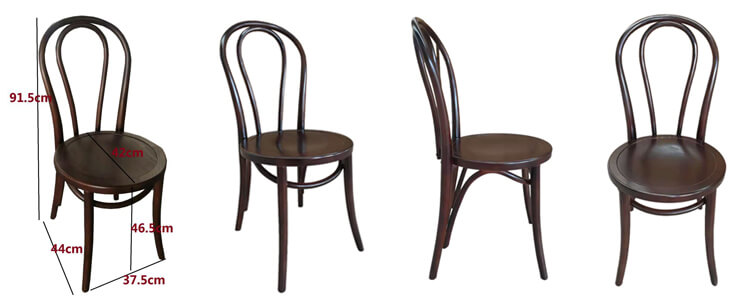 Thonet Bentwood Chairs Wholesale
Our Wooden Bentwood dining chairs, Thonet chairs are popular in New Orleans and they are
exported to American(USA) markets.
We are a professional furniture manufacturer, one of the greatest furniture factories specializing in manufacturing all
kinds of chairs in Qingdao, especially Wooden Thonet chairs New Orleans USA.
We started being produced in 1998, and the productivity of them is 20000 PCS monthly so far. So we are more
experienced. Moreover, our advantages are unique, such as optional colors, customization and so on. Wooden Thonet
chairs New Orleans USA.have passed SGS inspection. Wonderful after-sale service is supported as a guarantee.
As same as the stackable wood Thonet chairs processing, let show you some mass production as following: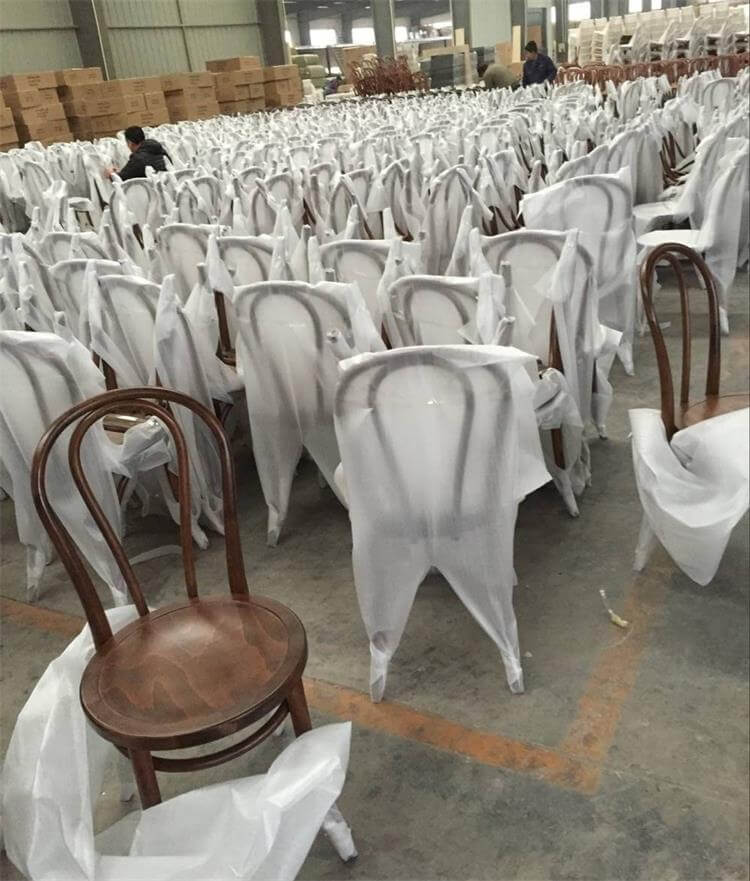 Thonet Bentwood Chairs in Our Factory
This material is the wood for bent parts as well. This wood is easy to be made bent for chairs back.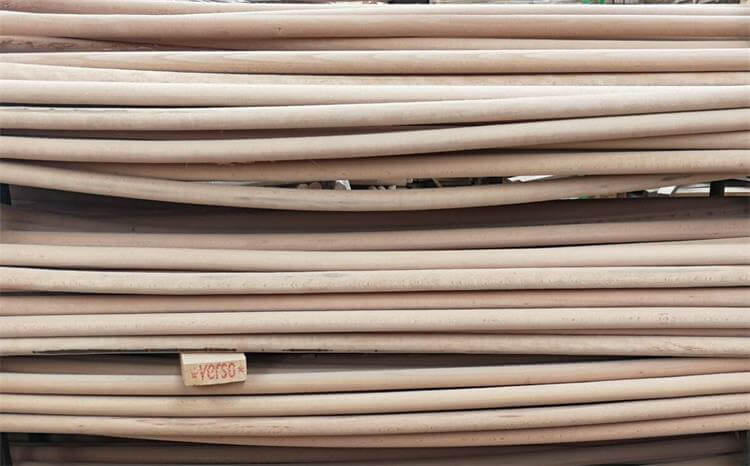 We use special machines to produce wooden seats and wooden bent parts as well, then our workers assemble
all the wood parts. Normally one professional work can assemble about 120 pieces of chairs as well.
\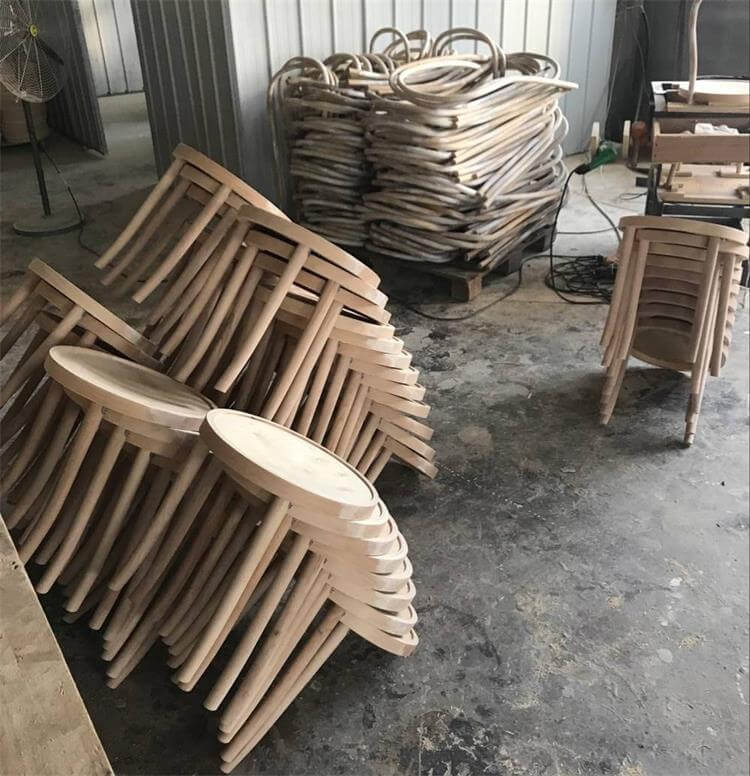 How to make the bent parts?
At the moment we get the regular order from Australian buyers, they buy about 2 big containers regular monthly.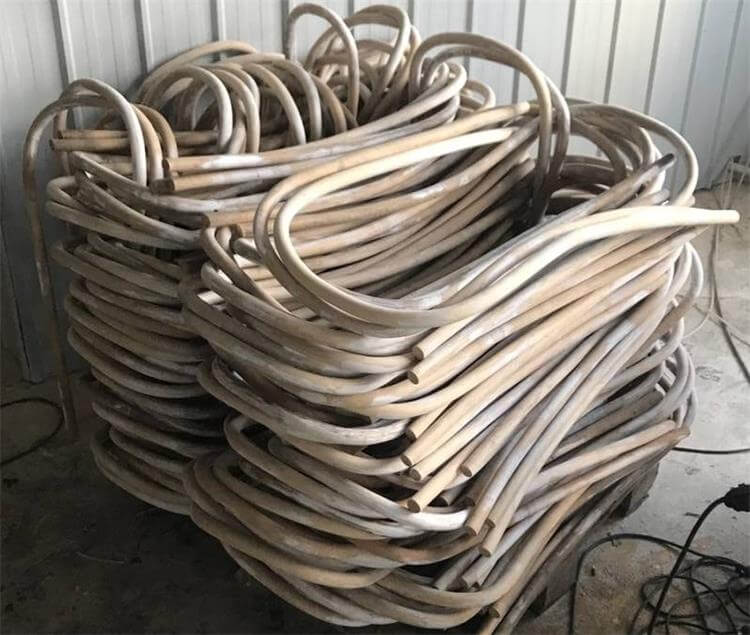 In the kiln, these curved parts are pressed by a fixed mold and dried at a high temperature. The moisture ratio
meets the requirements. After more than 72 hours of fixing, the curved parts are not easy to rebound.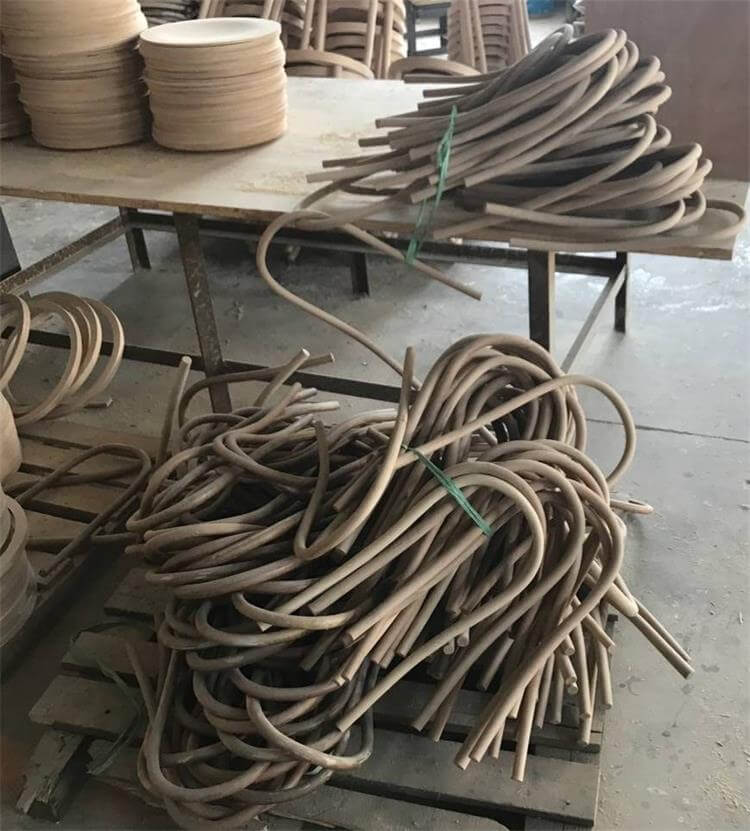 We use suitable and nice quality of screws to fix the parts of the chair together.

Thonet Chair Painting

How to assemble the dining chairs?
In order to prevent the partially dried curved back from deforming, we must assemble the back and the seat
plate of the chair at a suitable time to form the prototype of the dining chair. In this way, the large curved part
will not be deformed after being fixed by hardware, which ensures the style of the Thonet chair.

Original Bentwood Chairs
This classic dining chair, the original version is not stack able. People can be  use these chairs  in places that do not
move frequently, not only in cafes, restaurants, but also in high-end hotels, and even concerts.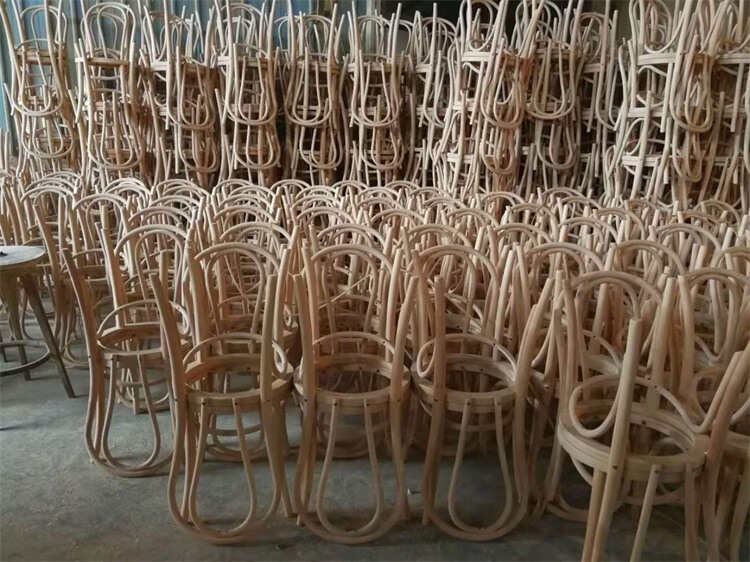 Thonet Bentwood Chairs Wholesale
Some European customers or the United States like to see the wood-grained chair effect, so we will use the color
wiping process to wipe the chair. According to the customer's request, we will first wipe the background color on the
chair and wait until the paint is soaked into the wood. After inside, it is polished and finally sprayed with varnish.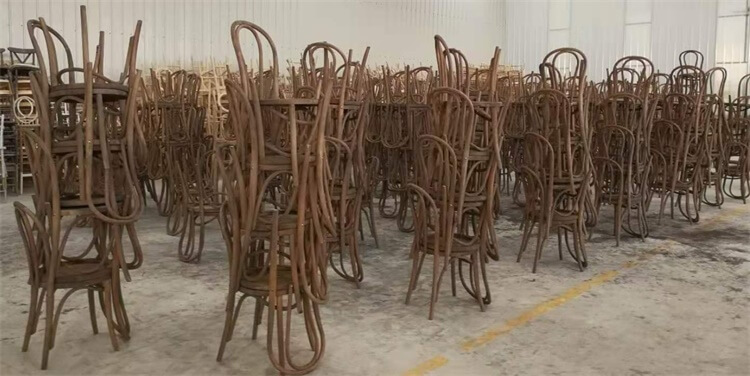 After our worker assemble them, we do not paint them directly, workers will sand all the chairs again, so all
the surface will be very smooth, it will be very easy for painting work now.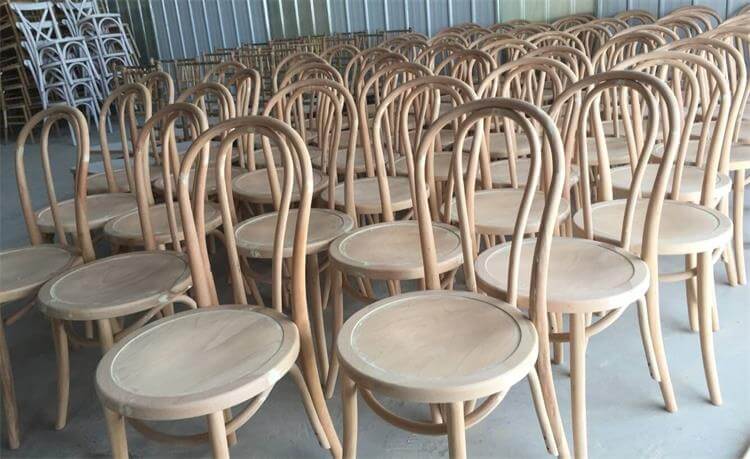 Our workers will repair the small shortcomings of the chair. We will use wood flour and glue to fill the gaps. Then, we
will use sandpaper to smooth the bentwood chair. In this way, the white embryo of the chair is perfect before painting.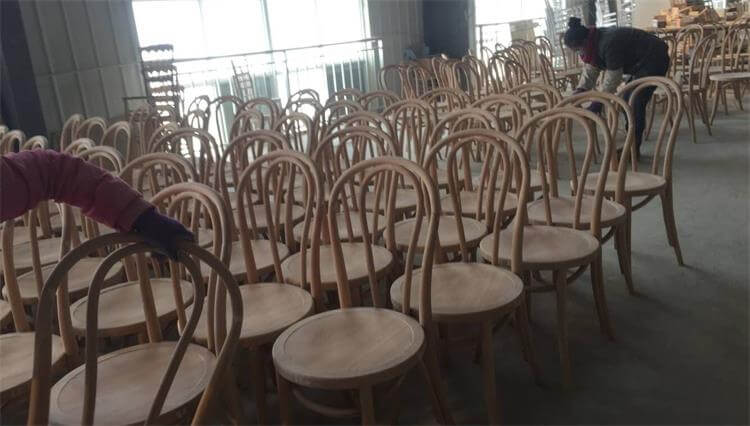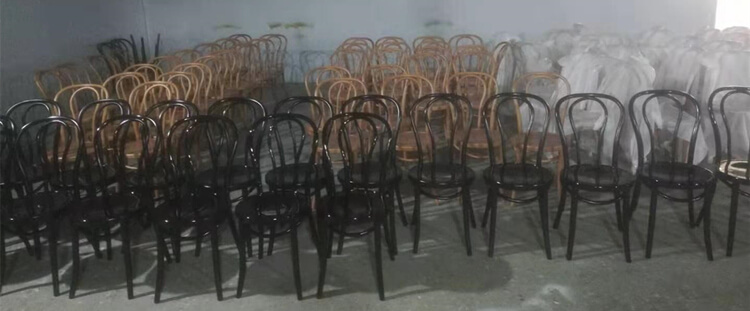 Do you ship your chairs to USA?
These 720 pieces of wood Thonet chairs are produced for one famous American party rental company.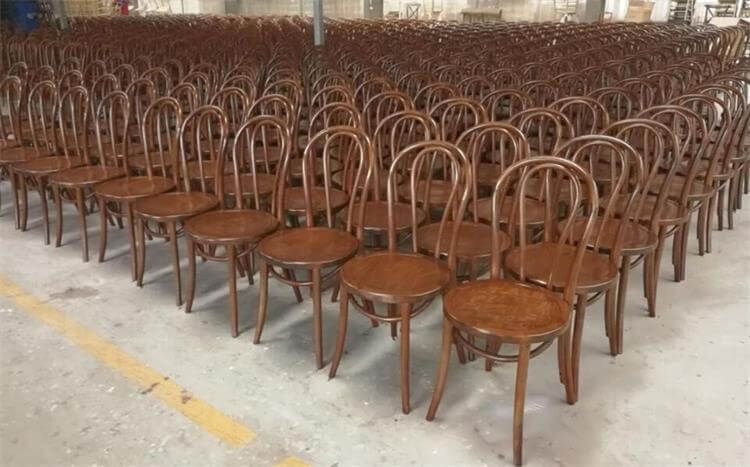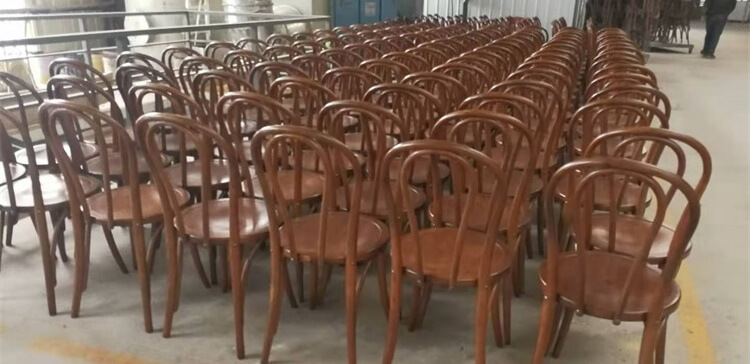 White Bentwood Dining Chairs
Do you have black bentwood chairs? Yes……….Here you are !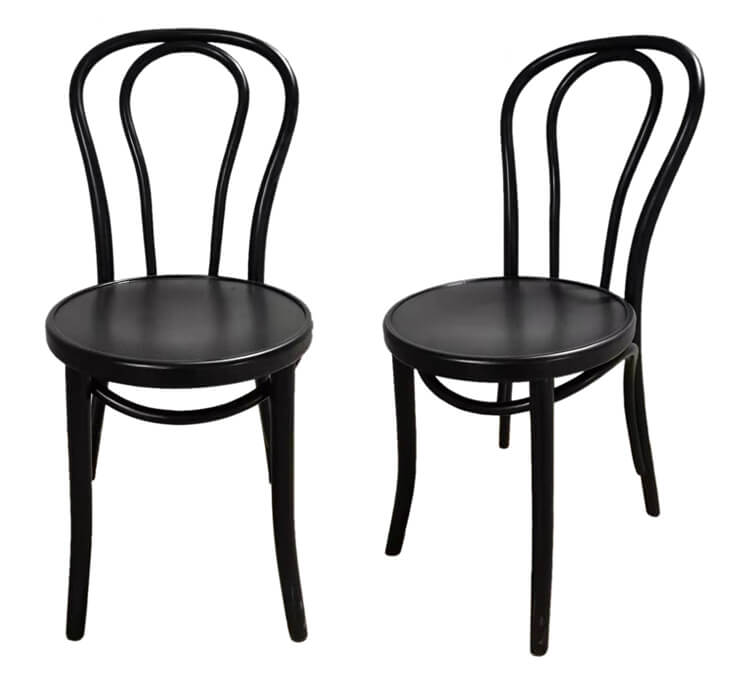 Classic Thonet Bentwood Dining Chairs and metal chairs are equipped with cushions. It is still very
comfortable to use in winter with cushions, and different colors of cushions can be used for different
occasions.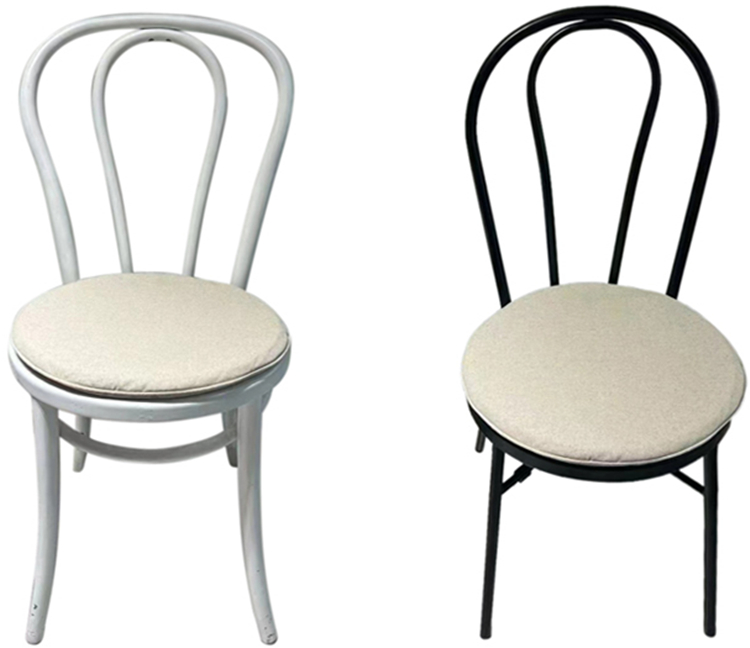 Container loading quantities:
Box size: 57*45*94cm   2pcs/carton  0.2411 cbm/ctn Or 54x54x94 cm 
Container quantity:   256pcs/20GP    540pcs/40GP      630pcs/40HQ
380pcs/20GP(without cartons)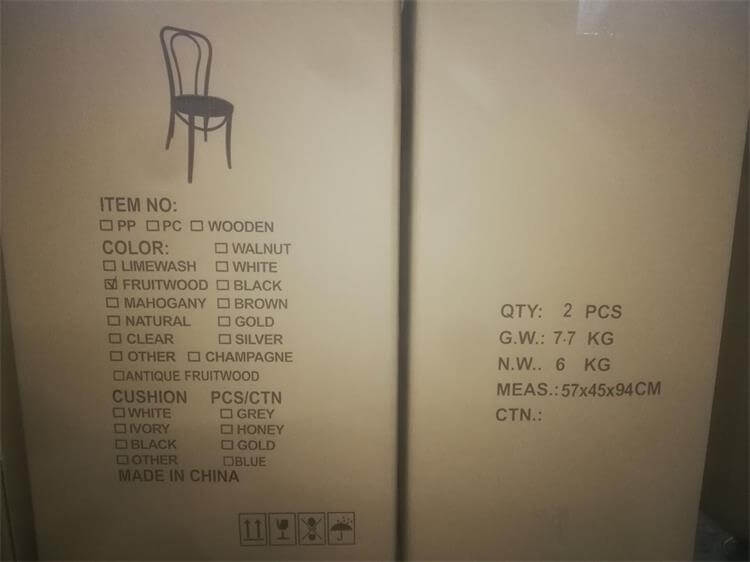 After painting work, our quality control team will check the finishing one by one, if we find some chairs not good, we
will take off and repaint them until they are perfect.
If you're interested in our thonet bent wood chairs price, click here to get quote now.