Fan Back Folding Chair
From 1998, Qingdao Blossom as one of Fan Back Folding Chairs Suppliers and Fan Back Folding Chairs Wholesales, we always supply high quality of event chairs.  The material thickness of this chair is thicker than that of the conventional steel folding chair. The whole chair is more solid and full of heaviness, and has a larger bearing weight. The seat plate is also detachable and replaced. The beautiful round back is more in line with human science. If you order more than one container, we can heat print your trademark on the back of the chairs.
Main Features:
1. Chair material: PP , Plastic ,Made from virgin UV stabilized polypropylene
2. Chair dimension: 44 x 43 x 79 cm
3.  UV protect and waterproof
4. Fast set-up and easy handling
5. Strong stacking capacity to save space
6. Static weight capacity more than 450 kg
7. 3 years guarantee
Ideal for both indoor and outdoor events
Colors available in white, black, mahogany
Slat design available
Description
As one of Fan Back Folding Chairs Suppliers, our fan back folding chair is very similar of fan back plastic chair as
well. Now let us show you one corner of our workshops.
Let us show your our Fan Back Folding Chairs:
These neatly placed resin folding chairs are our new fan-shaped back folding chairs. With the fierce competition in
sales, all wholesalers try their best to enhance the differentiation of products, so as to update product styles and
enhance competitiveness. In view of the large amount of money needed for the replacement of abrasives in the
factory, many chairs will be innovated in the back shape and seat plate shape. The overall framework has not been
greatly changed, which not only increases the new type, but also saves the cost of abrasives.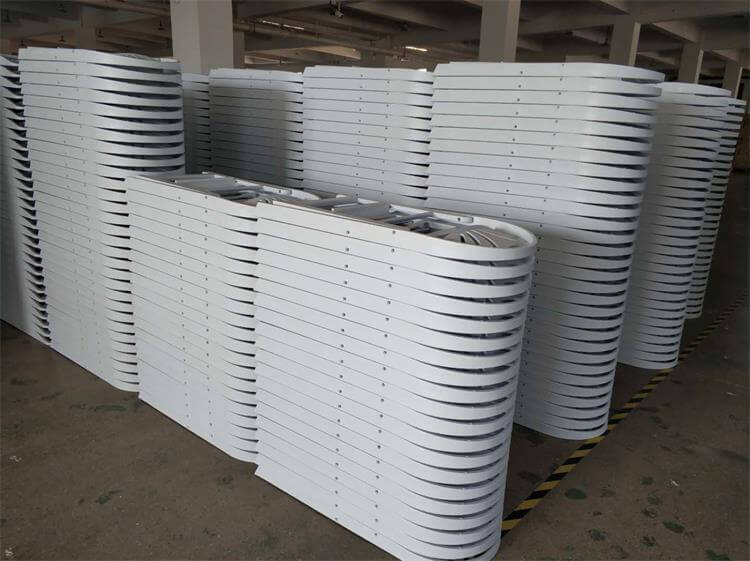 How to inspect the Resin Chairs?
In the corner of our workshop you can see, the chairs stacked in order and our quality inspectors will conduct
100% inspection before packaging. It mainly tests whether the chair folds smoothly, whether the screws are
tightened, whether there are some safety labels, whether the seat plate is clean and whether there are stains.
Check whether the carton mark is correct and whether the color marked on the carton is the same as the order.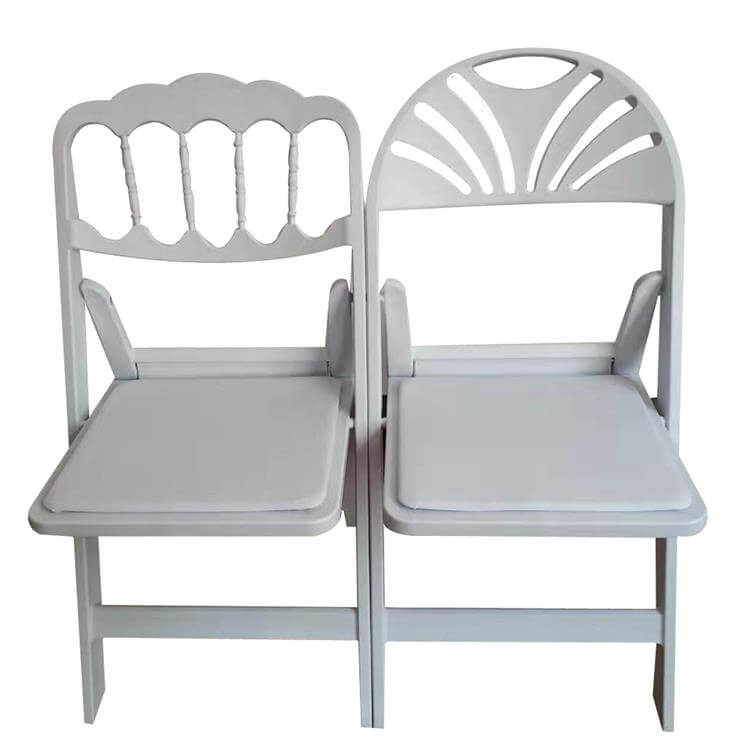 We like to be the best Fan Back Folding Chairs Suppliers!
Through these pictures, you can clearly see that the height of the seat plate of these two beautiful chairs is the
same, but the shape of the back is different, but they are very good-looking, suitable for different markets.

At present, our production cycle is about 2 weeks. We can produce 20000 of these chairs in black, white, brown,
blue, etc. At the same time, we have about 3000 chairs in stock, which can be updated at any time.
At present, our minimum order quantity is 500 chairs. If you order more than 2000 chairs at a time, you want to
iron your logo on the chairs, we can do the same.
How about the package size?
Packing size: 101*45*24 CM, 4 pieces