Chameleon Chair D
As our main business of Gold Chameleon Chair Wholesale, we producing more than 8000 pieces of gold stainless steel chairs monthly. Rose gold color is the best popular color now. You can collect different material chairs from us one stop solution, including resin, wood, metal, stainless steel chairs.
Advantage of our stainless steel chairs as following:
1. Adopting full finished and long welding technology, the welding processing will be finished by Blossom Furnishings with more than 15 years experience.
2.With careful polishing, the chairs are practical and look high-end.
3. Blossom Furnishings Quality Control team will take charge of each chair parts and all the finished chairs,they eliminate all the bad items and ensure all the chairs customers get will be with high quality.
4. Nice Plating work make chairs smooth and durable
5. Perfect stitching looks beautiful and generous.
6. The cushion is tightly connected with the framework.
7. Durable and comfortable sponge
8. Material: #201 stainless steels
9. Stack able design or no-stackable both design
10. MOQ: 100 Pieces for Gold Chameleon Chair Wholesale
11. Lead time: 3 weeks
12. Loading quantity: 400 pieces for one 40 ft HQ container (no-stackable style)
13. Stackable style package size: 100 x 75 x 50 cm (4 pieces) per chair 0.09375 cbm
296 pieces one 20 ft container 
Description
As you see these beautiful chairs, they are so popular in wedding suites and hotel seats, we do business for Gold
Chameleon Chair Wholesale from 1998, and we supply Gold Chameleon Chair Wholesale more than 8000 pieces
monthly. We produce stainless steel dining chairs and metal chairs as well.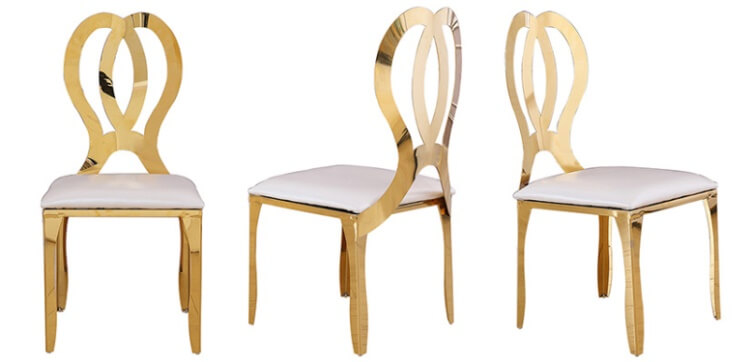 This golden stainless steel chair has several colors of common gold and rose gold. We can also produce white and
silver. No matter the chair is overlapped or not, we can remove the seat plate or fix it on the chair frame, which is
done according to the actual requirements of customers.
Color of Gold Chameleon Chair Wholesale

Due to different regions, different countries, cultural differences and different color preferences, our customers often
choose different golds. North Africa, Morocco, and the UAE in the Middle East. Many customers choose rose gold,
while Europe and the United Kingdom choose The regular gold will be more. Silver is more used in some Asian
countries.

Stainless Steel Chair Dimension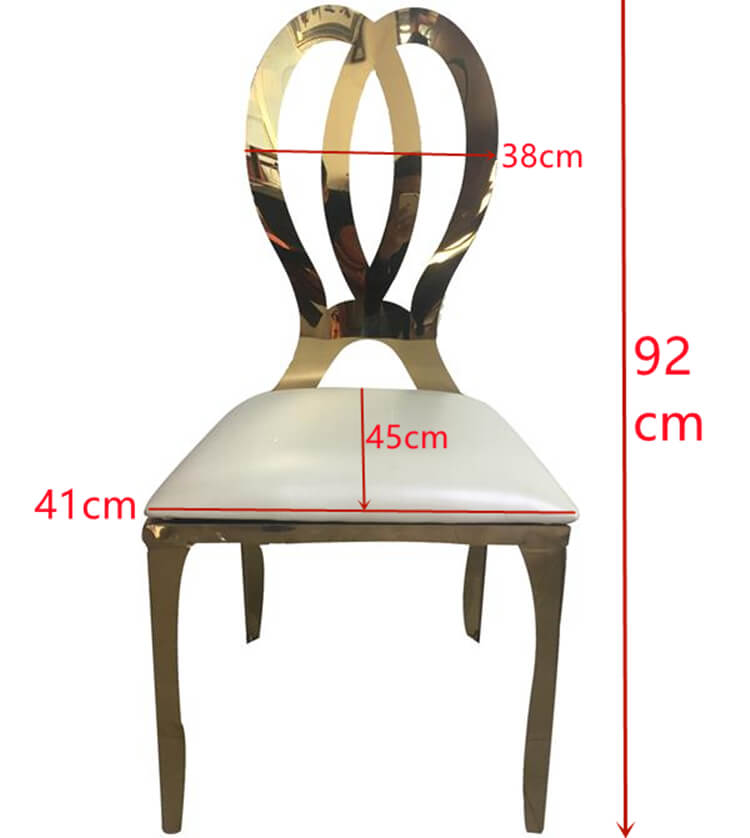 Production processing of Stainless Steel Chairs:
Our skilled workers, skilled welding workers, have rich experience, on the basis of ensuring full welding, the entire
stainless steel chair is welded. We all use immortal dry raw materials that meet international standards.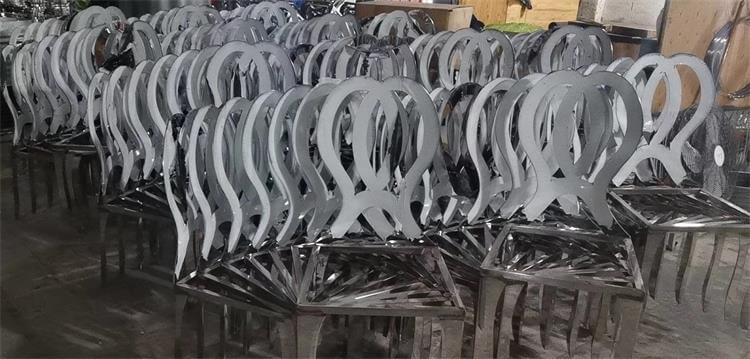 After electroplating, the shiny golden chairs are particularly shiny and beautiful. After drying in the cleanroom, we
will arrange to install the seat plate. The golden spray powder has strong adhesion to ensure that this color will not
fade in the next three years or so.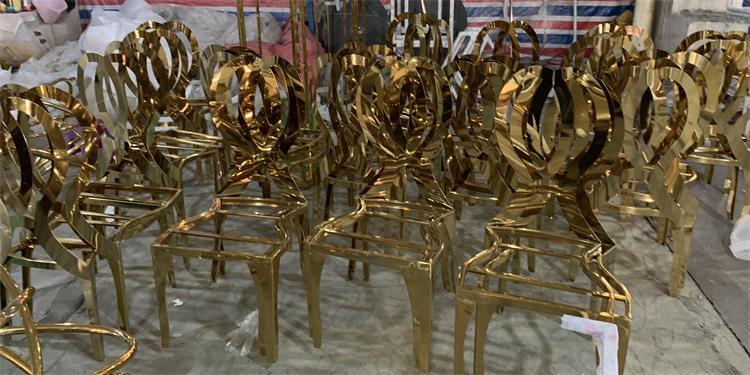 Before the formal packaging, each chair will have a dust protection cover so that no dust will be contaminated on the
product. We also have soft packaging materials to pack the chairs, which not only guarantees environmental
protection requirements, but also prevents scratches and bumps.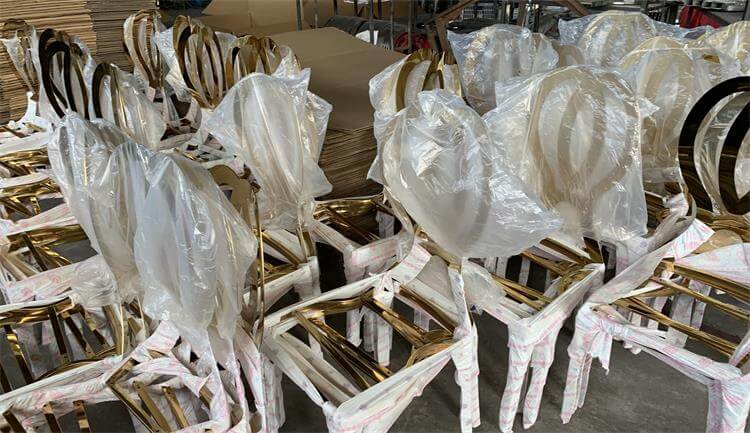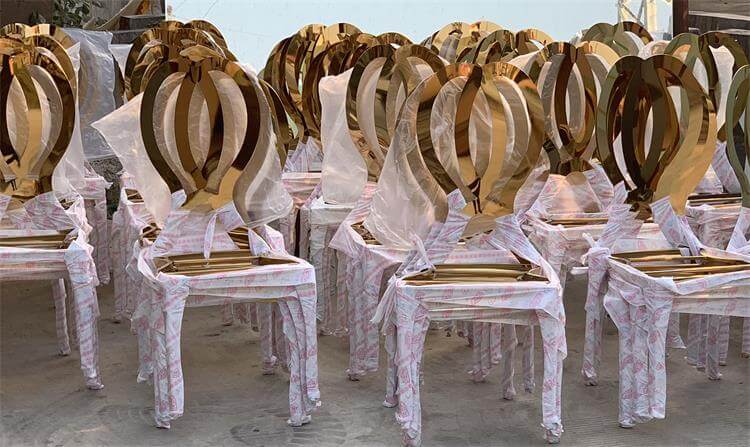 Sometimes, we will arrange different styles of chairs with the same color during electroplating. If a customer orders
three styles of stainless steel chairs and these three styles are all in the same color, then we usually arrange
production and color spraying together.


About the package of each chair
In terms of packaging, we have a separate package for each chair, and then this chair, five cartons, is separated
from the chair by soft materials to prevent the chairs from rubbing against each other and falling paint. The seat
cushion can be removed and placed under the seat plate of the chair or in the space of the carton. In this way, we
can make full use of space and save ocean freight.
Application of these dining chairs:
Our stainless steel chairs are very popular with foreign customers because of their reasonable price and high
quality. Some wholesalers import a batch of them every month. Some wedding companies will introduce other
customers to us in the process of using them. Many customers like these chairs and send us pictures of using
scenes. Through proper collocation, proper floor, table, and decorations, the whole venue is particularly beautiful.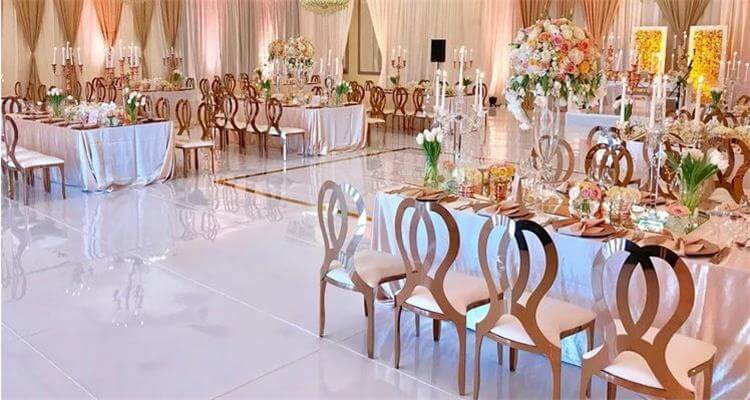 Let us show you all the details and production processing in the following articles.
We also can produce other nice designs as follows: