New Design Chiavari Chair
Qingdao Blossom Furnishings Limited is the leader of resin chair manufacturer in China, we develop new design of resin chairs each month, we accept OEM designs from oversea, and we have our own designer for new market. Now we introduce 3 new chairs to you together.  These resin chairs popular using in hotel, weddings, rental business, restaurant and outdoor venues. We just accept wholesale business for event chairs and tables.
Main Features of new design chiavari chairs:
1. Material: 100% raw Polycarbonate material  (pp material) from Germany or Japan
2. Size of chairs: These 3 models around size: 41 x 41 x93 cm (16.14 in x 16.14 in x 36.6 in approx)
3. Chair weight: 4.75 kgs approx
4. Weight capacity: 256 KGS (564 LBS)
5. MOQ: 200 pieces
6. Knockdown or not: Knockdown or monoblock
7. Bubbles are very small or and less
8. Free hardware or spare parts: 3% free cost
9. Color options:  Clear (transparent color) or Solid Color both
10. UV protect or not: Yes, UV protect
Description
As one of biggest Resin Chair Manufacturers in North of China, we producing wooden and resin chiavari chairs
more than 18 years. Our Clear resin chiavari chairs selling to more than 68 countries and area now. Let us show
you our Resin Chair Manufacturers and our new design chairs.

Qingdao Blossom add some UV protection factor into the raw PC material. So the chairs from us are very durable.
You can use them in the sun, rain, outdoor, not easy to be broken.

We improving the production process, we try to make the bubbles inside the chairs are very small or less too.
We adopting methods of increasing current and increasing pressure of chairs.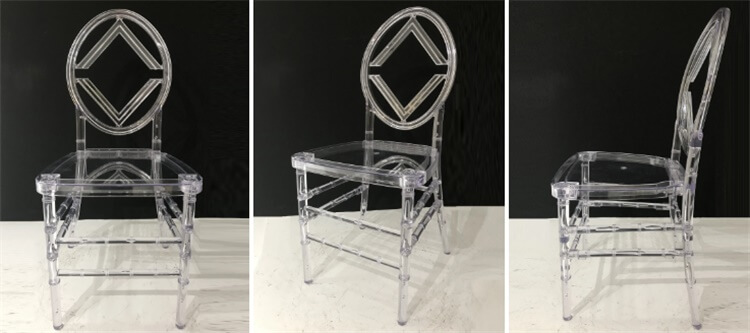 Our resin chairs with high quality,and these chairs are installed with hexagonal screws inside, which are more stable
than regular screws as well.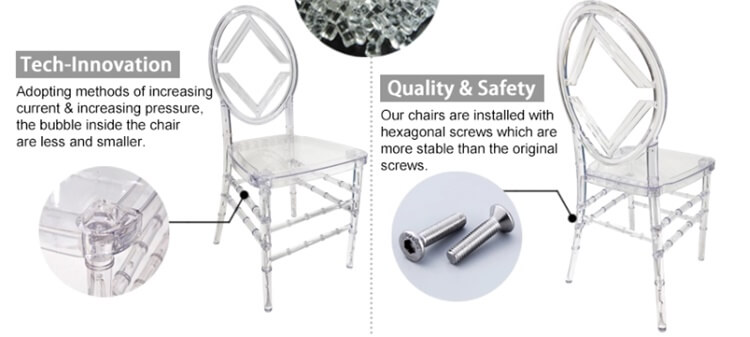 Welcome to visit our resin chair manufacturers
We are pay more attention to the quality control of each step of production. We pay attention to every detail of
production, from the purchase of materials, quality inspection, processing technology, hardware accessories,
individual packaging of chairs, shipping of containers. In the process of production, we will take photos, detail
drawings, videos and send them to our customers at any time to let you know the production progress, so as to
facilitate the arrangement of shipping and delivery.

In our factory, the above three new styles are just a part of our new products. We welcome customers to provide
us with their own style pictures or ideas at any time. We have our own mold development team, which will
cooperate with your ideas to achieve product update and development. At the same time, we also pay attention to
protecting our customers' patented products. We can also sign special product confidentiality agreements and
exclusive business licenses. Accept wholesale business only for kinds of resin chairs.
Love them, inquiry them.
Warmly welcome to be our reference customers in your area.