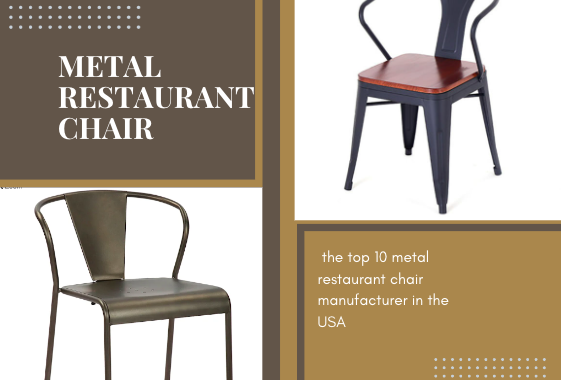 Top 10 Metal Restaurant Chair Manufacturers USA
Metal chairs aren't usually the choice of furniture in a restaurant, despite being around for decades. Mostly seen in offices or at home, metal chairs have been trusted because of their durability and sleekness. However, with most restaurants looking to go for rustic and warm looks, metal tends to be a bit of a hindrance in that vision.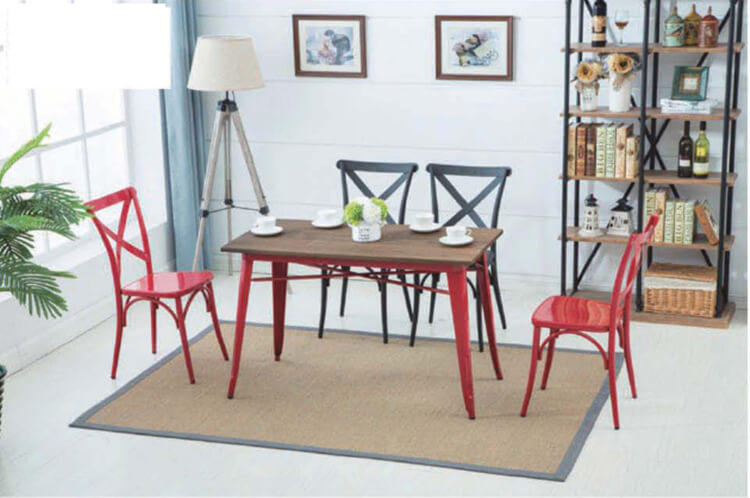 But here is the kicker—metal chairs can be a great add-on to a rustic feel. It may not give off a warm, forest-like vibe but looks industrial, and the right metal can enhance the look of any restaurant. Moreover, they are much better for outdoor seating as they can be more long-lasting under different weather conditions.
So, if you are looking into getting some high-quality metal chairs, here is a list of some of the best metal restaurant chair manufacturers in the USA.
About BLOSSOM FURNISHINGS
The Qingdao Blossom Furnishings Limited Company, an events chair factory, is one of the leading banquet chair suppliers in the USA. Established more than 15 years ago, the company specializes in the large-scale manufacture of tables and chairs for events.
Blossom Furnishings has a large factory that covers approximately 12,000 square meters. There are over 70 qualified craftsmen employed in the company, as well as 320 machines (both autonomous and semi-autonomous) used in the manufacturing process. The skilled employees and modern machines used guarantee high-quality and durable furniture.
Every month, Qingdao Blossom Furnishings produces over 20,000 pieces of furniture and 60 kinds of items. The most commonly produced event furniture includes wooden Chiavari chairs, metal banquet chairs, wooden cross-back chairs, resin Chiavari chairs, plywood folding tables, Louis chairs, farm tables, and folding chairs.
The event chairs and tables manufactured by the company are usually sold locally and also exported worldwide to more than 56 countries. Furthermore, the manufacturer has a quality control team that ensures that all furniture pieces produced have perfect finishing and meet the best quality according to Australia, Euro, and USA quality standard testing.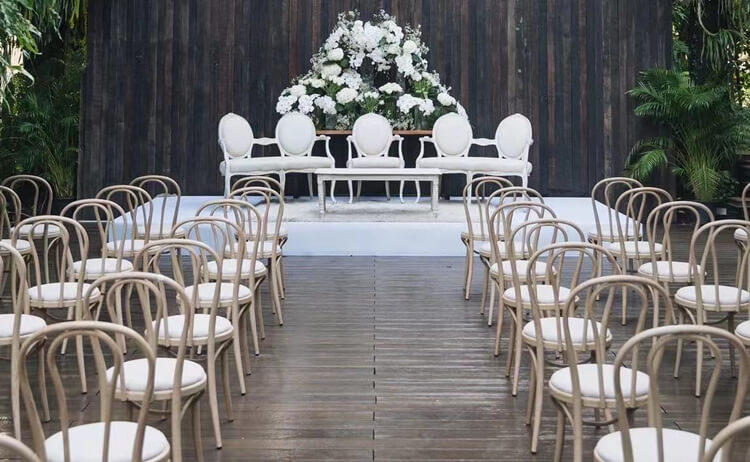 Blossom Furnishings manufactures and markets beautiful plastic furniture through retail stores, catalogs, and internet sales. Blossom's mission is to make people happy by providing great-looking, comfortable, and affordable plastic furniture.
Top 10 Metal Restaurant Chair Manufacturers USA
No1.  East Coast Chair & Barstool
As one of the leading professional metal restaurant chair manufacturers in the USA, East Coast Chair & Barstool, is not just about selling chairs and barstools (as the name might suggest). They sell quality, impeccable customer service, and eye-catching designs that will make your space shine. The team is made up of a friendly, diverse, and passionate group of people who love offering the best to their customers.

At present, they cater to all sizes of businesses from local bars to high-end restaurants. Their metal chairs are not only durable and long-lasting but also very stylish. Plus, their catalog includes a variety of indoor and outdoor products like benches, booths, and rockers, making them a one-stop shop for your restaurant furniture needs.
No2.   Yumeya Chairs
Yumeya Chairs is not just a leading metal restaurant chairs manufacturer but all kinds of restaurant and café furniture. The brand places emphasis on the fact that a well-designed product is what makes a product stand out. And the best part about this is that they make custom metal chairs to suit your space and theme.
Another standout feature about this company is that they offer wood grain metal chairs which are essentially a wooden finish on a metal chair. This means if you want to go for an earthy, rustic look for your restaurant but also want the durability a metal chair offers, this is the perfect balance of both.

But good-looking chairs are not the only thing Yumeya can offer, as they also ensure these chairs are of the highest quality. Their chairs pass the strength of ANS/BIFMA X5.4-2012 and EN 16139:2013/AC:2013 level 2 without compromising on comfort. It really doesn't get better than this!
No3.   Restaurant Furniture Plus
With over 30,000 products to choose from, Restaurant Furniture Plus- best one of the best restaurant furniture suppliers stays true to its name and offers the highest quality restaurant furniture at unbelievably low prices. With the growing demand for metal chairs, prices are undoubtedly skyrocketing and that is where Restaurant Furniture Plus comes into the picture.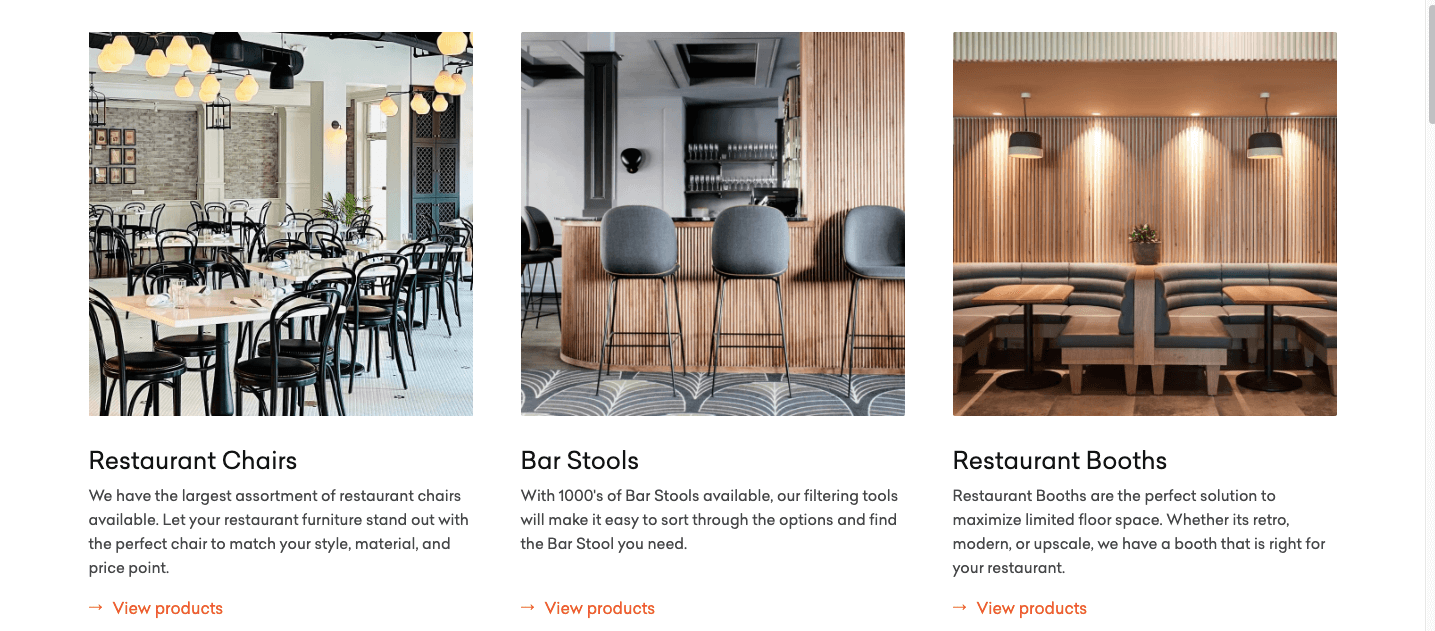 With a mission to provide you with the best-looking high-quality furniture, Restaurant Furniture Plus aims to be the only supplier you need for the job. They have over 10,000 commercial-grade products and a free furniture sourcing service. Moreover, they have worked with names like Hard Rock Café, The Venetian Las Vegas, and even New York Botanical Garden; they really are a leading name.
No4.    Superior Seating
If you are looking for a restaurant tables and chairs manufacturer that exclusively deals with the hospitality industry, then Superior Seating is the best in the market. Not only do they manufacture metal chairs, but they also deal with a range of furniture items like bar stools, table tops, bases, and much more for your venue. So, no matter what the theme or requirement is, Superior Seating knows they can provide it.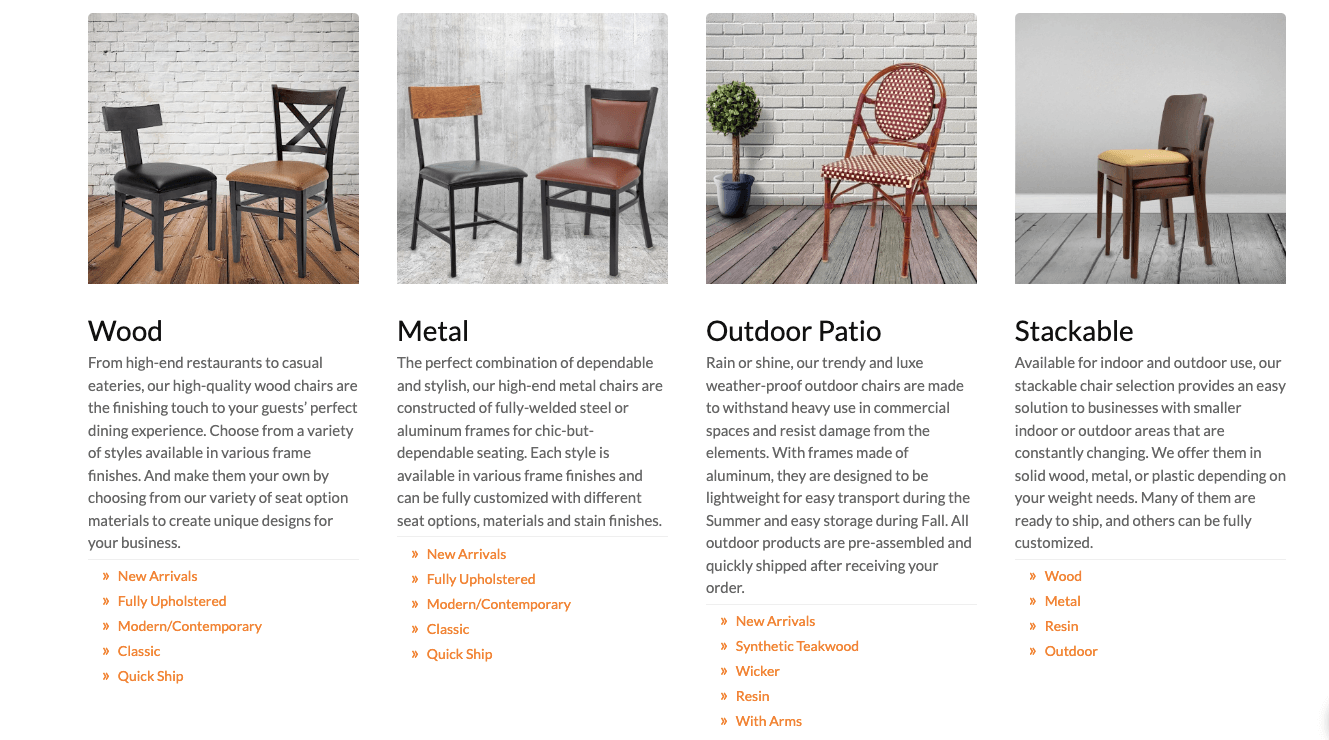 With decades of experience in the industry, they manufacture hand-selected and premium products. Moreover, there is no middleman in the process so everything is done by Superior Seating, after which it is packaged and shipped. The best part is that everything is shipped from California and New Jersey within 24-48 hours.
No5.    CDG Furniture
Dealing mainly with garden and event commercial furniture, if you have an outdoor restaurant, this is one company to consider. CDG Furniture is one of the leading restaurant chair suppliers in the USA and offers a large catalog of products along with customized products for the needs of your business. Their furniture is not just high-quality but also products that are well-designed and stylish.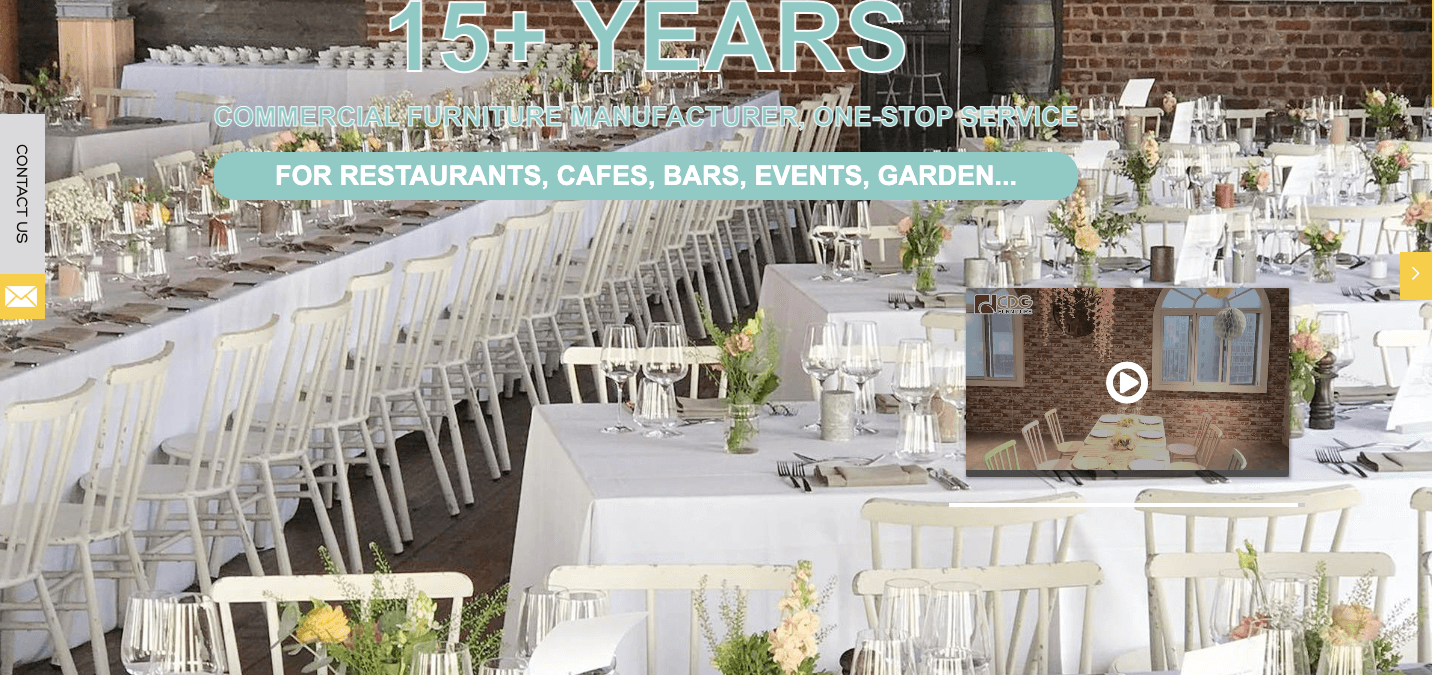 While they haven't been in the industry for a long time, they have definitely left a mark. CDG Furniture has a broad client base that is constantly growing, thanks to its client-oriented sales team and top-class designers. Moreover, they heavily invest in R&D which ensures their products and designs are evolving with the needs of the market.
No6.    Keekea
Working with big names like Costco and Homepro, Keekea has been around since 1995 providing businesses with top-class furniture. They manufacture and distribute a wide range of tables and seating products which have been loved by many. Since they have been around in the industry for a while, they have also created a wide network of trusted suppliers and partners who work with them to ensure the timely delivery of their sleek products.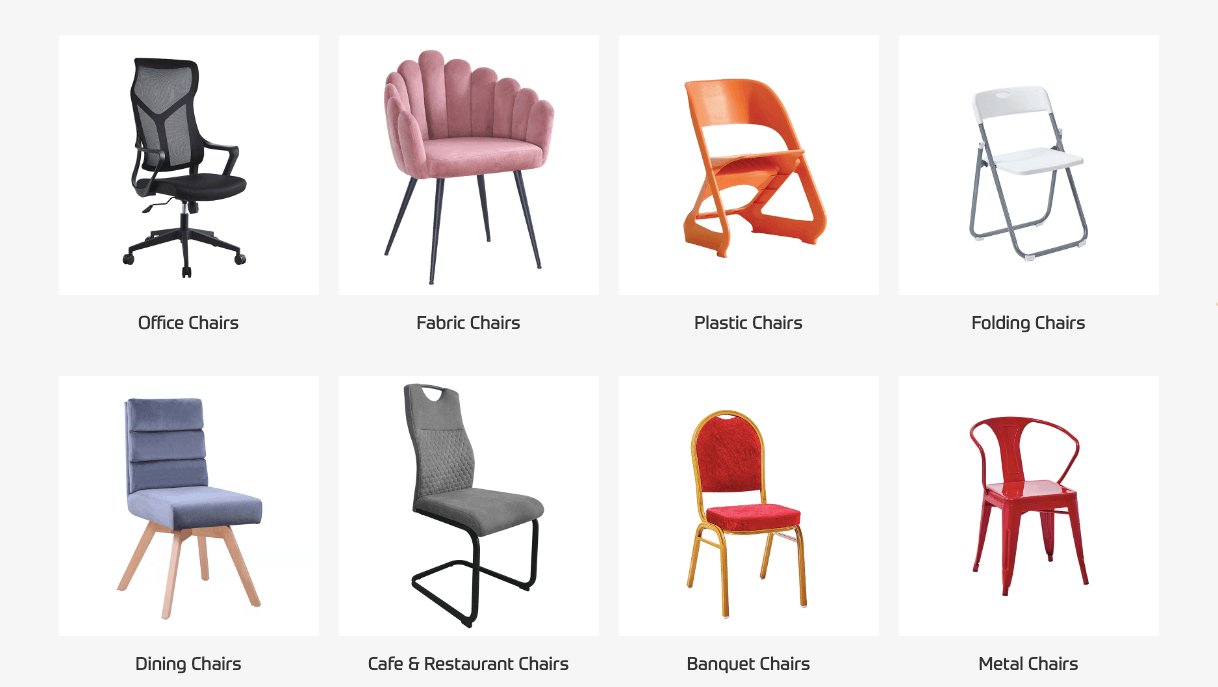 Their raw materials are sourced by reputable local suppliers that are available throughout the year, so there will never be a time when Keekea has nothing to offer. Moreover, their trusted partners are the reason they can continue to provide high-quality products.
Keekea, as a professional restaurant and bar furniture supplier also prides itself in having a team that is client-oriented and will ensure timely deliveries. Their low-cost pricing makes them a key player in a growing market.
No7.    Modern Line Furniture
Modern Line Furniture, one of the leading metal restaurant chair manufacturers, has been in the industry for 20 years and continues to take it by storm. The company has dedicated itself to decades of research and development allowing them to produce a wide catalog of commercial-grade furniture for the hospitality industry.

Manufacturing from New Jersey, Modern Line Furniture has a team of talented professionals who spend their hard work, time, and energy on creating the best for their clients. They have a wide range of metal chairs in multiple colors and a variety of designs that are bound to suit your needs.
Modern Line Furniture loves to experiment with its designs and colors, they even have a gorgeous wooden laminated metal chair to show for it. Choosing them means choosing a company that never stops giving you something new to love.
No8.    Restaurant Chairs M. Deitz and Sons, Inc.
If you want to opt for a company that has been in the industry for a long time, this is one to go for. Providing high-class seating since 1921, M. Deitz and Sons, Inc. has continuously created commercial-grade furniture that looks and feels good. From bars to schools, and even medical offices, they have been trusted by many establishments in varying industries.
Deitz and Sons, Inc. also modify their products to help you get the best possible look for your space. So be it the upholstery or the decorative trim, they are ready to ensure the furniture looks exactly the way you want it.
They take pride in their collection of metal chairs as those are ideal for cafes and restaurants. Plus, they are heavy-duty, feature comfortable padding, and can generally last a long time. Much like their other products, they can modify the look to your needs.
No9.   Just Chairs and More!
There are far too many companies that deal with furniture but very few that may deal with a specific type of furniture. If you are looking for a specialist in chairs, Just Chairs and More! are ideal to meet your needs. Yes, they do have more than just chairs but since they specialize in chairs, they have a varied catalog of products that may appeal to you.

They pride themselves on their quality and use the best products to manufacture the chairs. For the metal chair, they use heavy-duty 18-gauge steel which lasts long and is treated for rust prevention. Moreover, all of their products are protected with a five-year warranty.
No10.   Grand Rapids Chair Co
As a professional restaurant seating manufacturer, Grand Rapids Chair Co has been in the industry for over 20 years and has worked with multiple fast-casual chains and university cafeterias. Their high-quality and uniquely designed furniture pieces have left a lasting impression on many clients, making them a great choice for commercial furniture.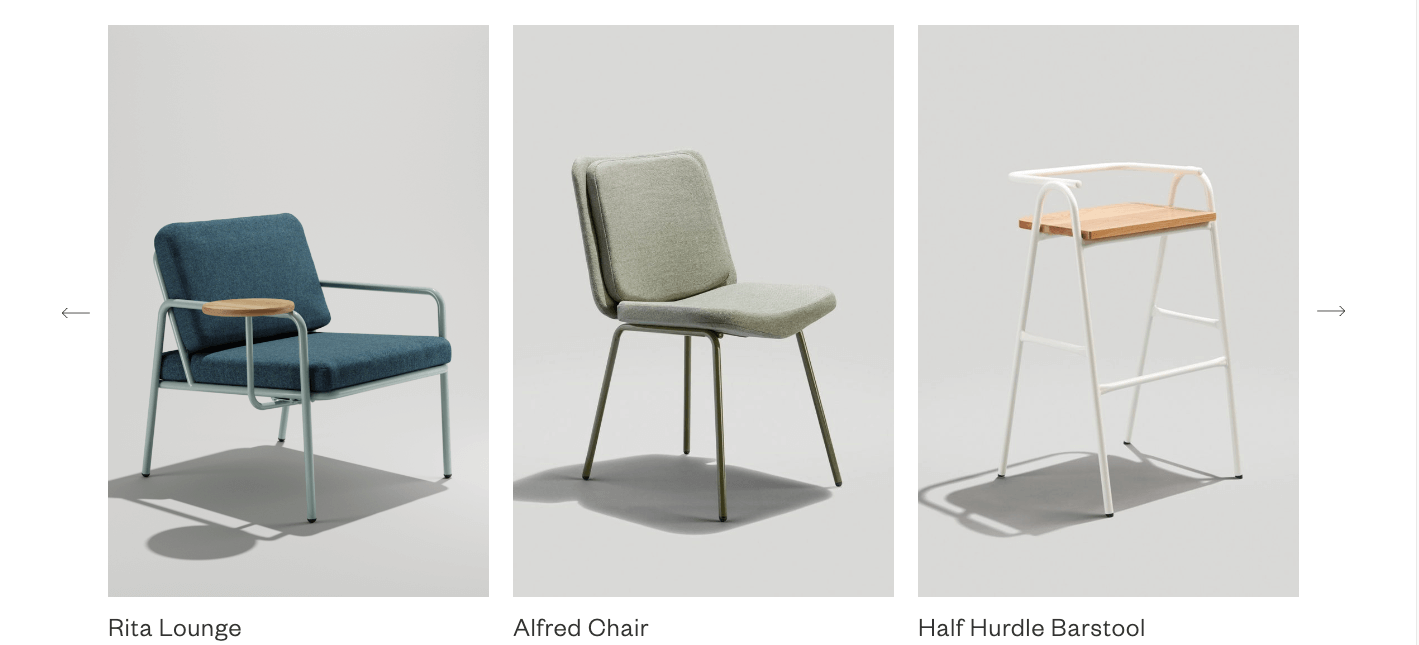 Everything they manufacture is carried out in the USA with locally sourced materials. Their trusted suppliers and high-class manufacturing team ensure Grand Rapids Chair Co's clients get the best of the best when it comes to furniture. Additionally, they have an advanced factory where specialized craftsmen create steel chairs.
The icing on the cake is that they offer a longer warranty of 10 years, compared to the standard five years. Grand Rapid Chair Co's products are also fully customizable making them and your space one-of-a-kind.
Conclusion
And with that, this list of the top 10 metal restaurant chair manufacturers USA finally comes to an end. In a nutshell, all of these manufacturers have something unique to offer like warranties, customizations, and quirky designs; it all comes down to what you and your restaurant need.
The only thing to remember is that while wood does look better it doesn't last as long as metal. So, if you are going for metal, to ensure it lasts longer, you may want something that is coated with a rust protective spray. This way, you can find something that looks good without compromising on the look or quality!