Speical UK Chiavari Chairs Wedding
As one of famous wooden chair manufacturer, Qingdao Blossom Furnishings producing another special UK chiavari chairs as the pictures. The biggest difference between this chair and the regular English chair is that the back of the chair is more curved and people are more comfortable to lean on. But in the production process, the processing difficulty of the back is increased.
In order to reduce the damage rate, we are more strict in material selection. It is forbidden to use any wood with knots. In addition, we strictly control the water content. At the connection of various accessories, we use nails and glue to reinforce.
The seat plate of this chair can be made of solid wood structure or solid wood frame with high-quality multi-layer board.
Main Features of UK special chairs:
1. Chairs material: Mainly 100% solid beech wood
2. Chair weight: Approx 3.7 to 4.2 kgs
3. Pads: British fireproof standard pads
4. Popular color: White and lime wash color
5. Stackable designs
6. Loading quantity: 550 pieces of 20 ft container , 1100 pieces for 40 ft container
Description
Qingdao Blossom Furnishings limited is biggest of  Wooden chairs manufacturers in Qingdao, China, regarding to
UK style Chiavari chairs, we have two models, one standard UK chiavari chair and special UK Chiavari chair. From
the pictures, it is not easy to sort out them.
What is Special UK chiavari chairs?
Whether it's American or British wooden Tiffany  chair, generally speaking, there are five small columns on the
back of the chair, but some traditional British customers still need special wooden Tiffany chair, that is, six small
columns on the back. This part of traditional technology comes from some factories in Bulgaria. Almost of Chinese
Wooden chairs manufacturers could not produce this model, but our factory can also produce this style as the
pictures.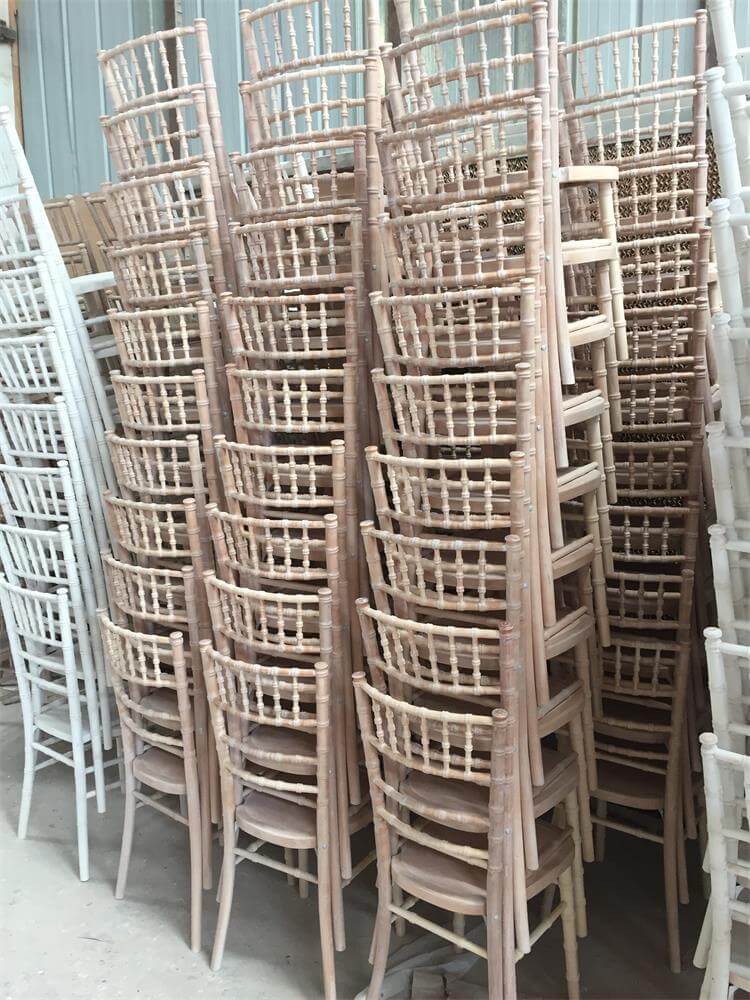 Which material do you use?
In order to make this English chair, we tried to make it with locust tree wood at first. The toughness of locust wood
is very good, and it is easy to make a curve. However, the output of local locust wood is limited, and the weight of
locust wood is relatively heavy. Later, we used imported beech wood to produce British chairs. The color of
imported beech wood is good and the quality is excellent. It is suitable for washing white color, and to a large
extent, it reduces the cost of products. The chairs made are light and easy to carry.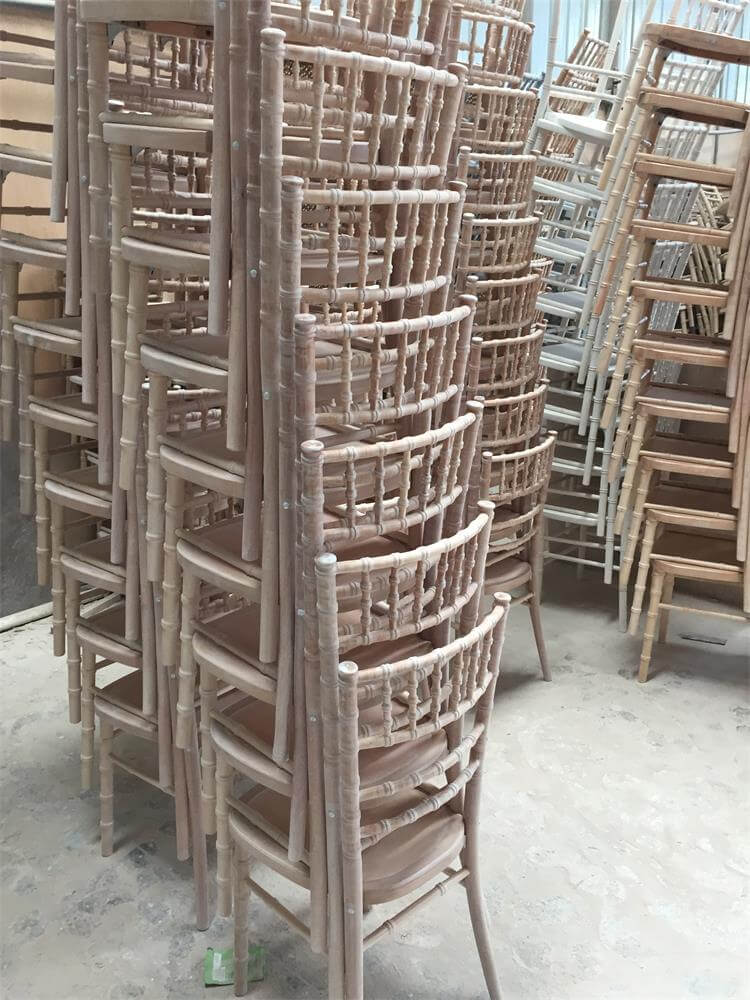 As for the production time, we have to tell you that this special chair must take a long time to deliver. If the normal
delivery time is four weeks, this chair will take another two weeks, which is very important, because the curvature
of the back needs a longer time to produce.
As a professional manufacturer, we can produce more than ten kinds of chairs, including gold, silver, black, jujube,
wash white, white, natural color, fruit wood color.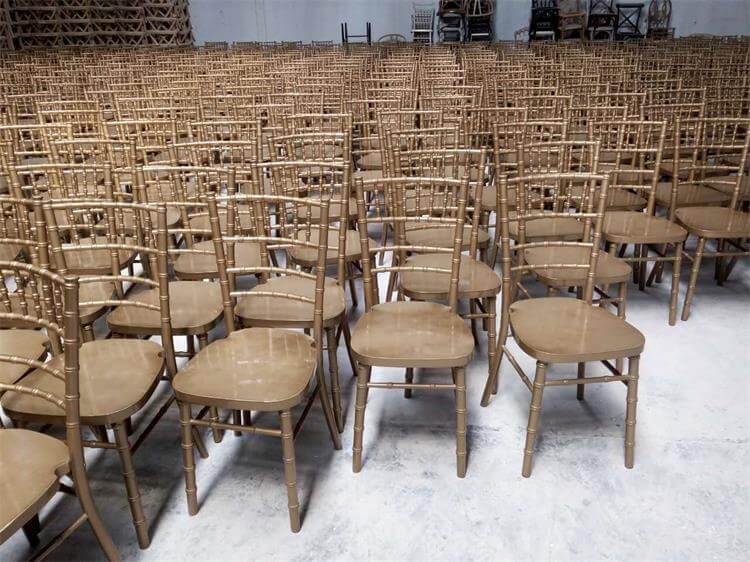 This British chair, in the wedding, with standard fire-proof cushion, decorative flowers, etc., using standard British
washed white color, is definitely a successful British wedding model.