Antique Rustic Solid Pine Farmhouse Folding Table
At Blossom Furnishings Limited, we are a solid pine dining table manufacturer, we wholesale wooden farmhouse table and chairs for events. We build great quality farm style tables and chairs that are not only stylish but most long-lasting. Our factory is making a handmade farmhouse table. That is possible thanks to the use of the most advanced technologies, the best raw materials, and the skills of our craftsmen. The value of our Farm Style Table is revealed over time. In fact, the highest quality of the wood makes our rustic farmhouse dining tables sturdy and durable in the years. The countryside style of this rustic farm table is the perfect solution for all your indoor and outdoor events. We are here to offer you the best service. Our sale office is at your disposal for any question you might have Antique rustic solid pine farmhouse folding tables. Can be matched rustic bench, can be matched kinds of cross back chairs, difference size, foldable, easy to be removed. This folding leg farm table adds a bit of charm and naturalness to your home and activities, but overly simplistic beauty with our rustic solid fine folding farm bench. Rugged and convenient, the pin pulls out the folded leg safe underground seat and the same pin provides stability when used. We have cheap wooden folding farmhouse tables for sale.
We producing kinds of children folding farm tables as well.
Description
Detailed Information About Folding Farmhouse Table Wholesale
Do you want a different wedding or party? Then choose our antique rustic solid pine farmhouse table.
Qingdao Blossom Furnishings limited producing Farmhouse Table from 1998, we accept business
of wholesale. This is the photos from Lake Charles in Louisiana USA showing our Rustic farmhouse tables.

This simple folding farmhouse table is really beautiful!
This solid pine farmhouse dining table features wooden boards, solid pine tops, and folded legs! If you need to
remove it, conveniently folding the leg. This solid pine farmhouse kitchen table is great. The pin pulls out the folded leg
and locks securely under the table. The same pins provide additional stability when using antique wooden farmhouse
folding tables. Whether you want a country feel or a modern attraction, this rustic folding table will give
you the results you want.
Feature of Foldable Farmhouse Table:
*19 mm outer solid pinewood hardwood top, The leg is 90 mm x90 mm
25 mm and 30 mm thickness of wooden table top also available
*A total of 6 layers of transparent polyurethane varnish were applied on the table surface: 4 layers on top
and 2 layers on the bottom.
*The folding legs of the farm table are secured by flush bolts and recessed locking nuts.
*All the metal parts on the table have been thoroughly cleaned and phosphate to increase the adhesion of the paint.
*The metal parts shall be coated with thermally formed epoxy powder coating.
*These folding farm tables can be produced difference size, 84×40 inches, 96×40 inches,108×40 inches.
You can tell us how many people you like to seat, so we will recommend size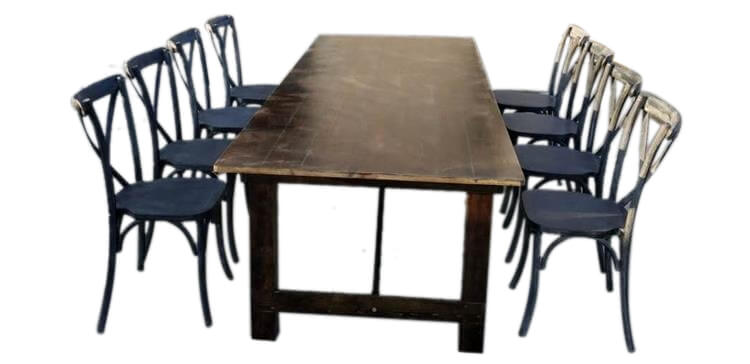 We producing folding farm tables for kids as well.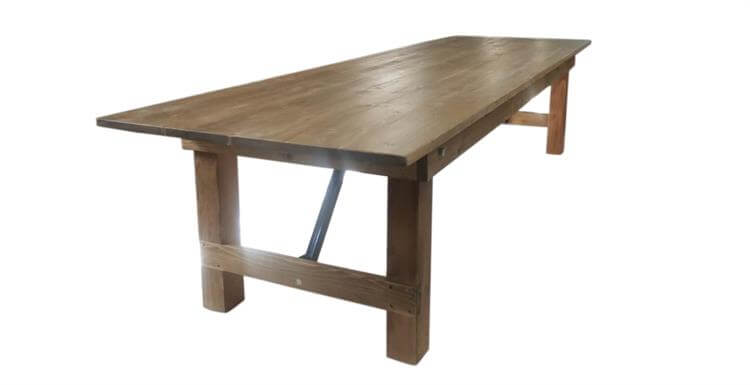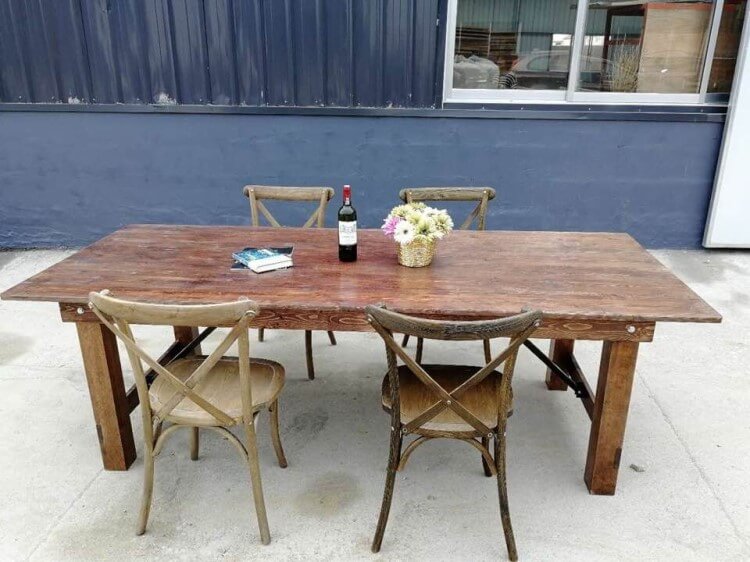 Antique pine farm table is suitable for any farm style event occasions, elegant and sophisticated for
rustic event decor. It's better to collocation with vineyard cross back chairs, this best combination will
make your farm style event looks luxurious.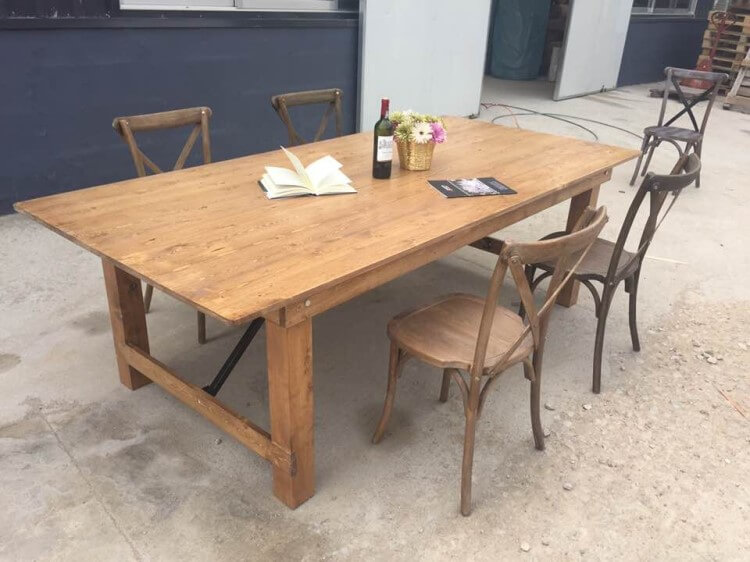 Our products are characterized by their versatility. Our antique pine farmhouse dining tables are essential for a country-style wedding, but they are also a perfect piece of furniture, with folding padded chairs in different colors to fit in any setting.
Our fruit wood folding chairs match our table nicely and can be used instead of farm style benches or with them.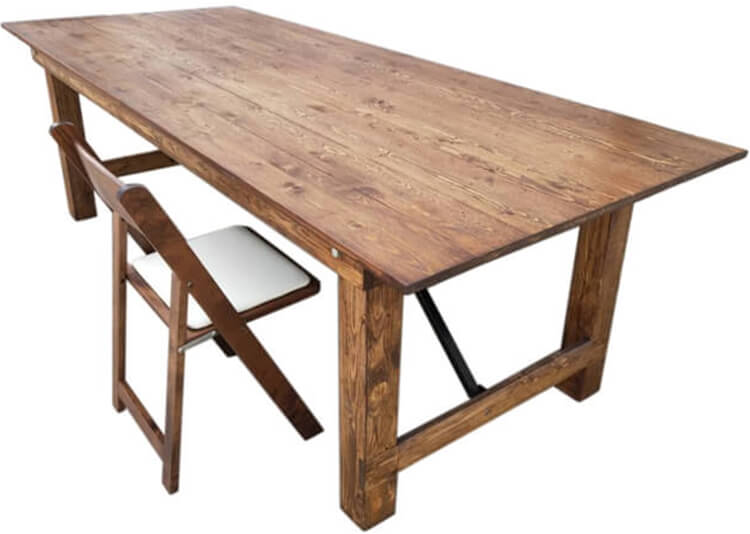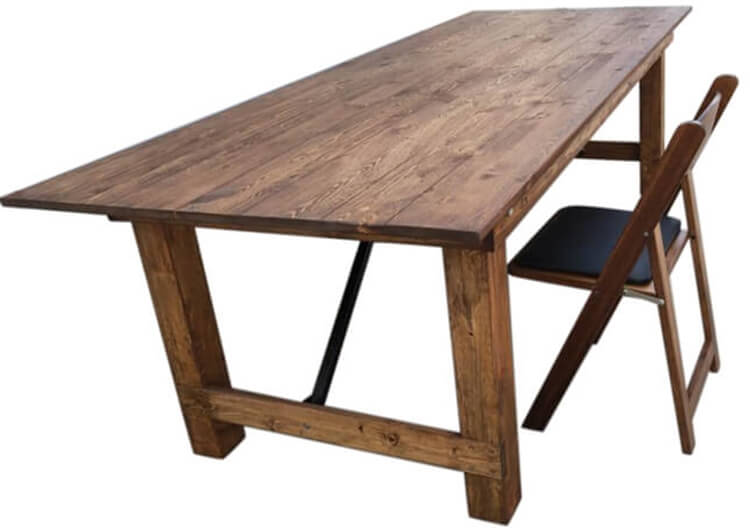 Antique Rustic Solid Pine Farmhouse Folding Table Details:
1. This is a supporting plug under the antique rustic solid pine folding farm table, which can be fixed and
disassembled and installed by itself.

2. This is the detail drawing of the leg part of the solid pine folding farm table. The farm table legs can move
back and forth and can be put away when not in use, which saves space and is easy to transport.

3. This black steel folded bar is used to make the antique rustic solid pine folding farm table not only more
stable but keeping balance and allow this folding farm table to maintain a capacity to afford heavier weight.

4. The other side of the black steel folded stand bar is bolted to the solid pine folding farm table with an
everlasting screw so that farmhouse dining table legs can stand firmly and maintain the balance.
Let us show you the whole views of the tables as following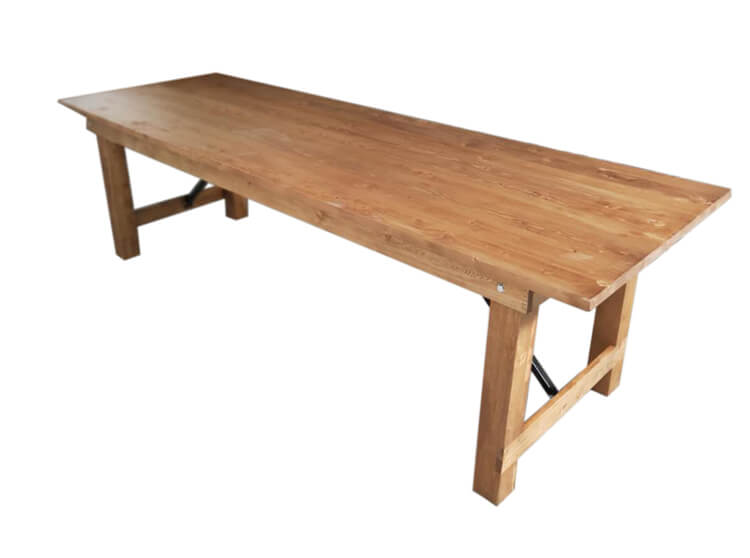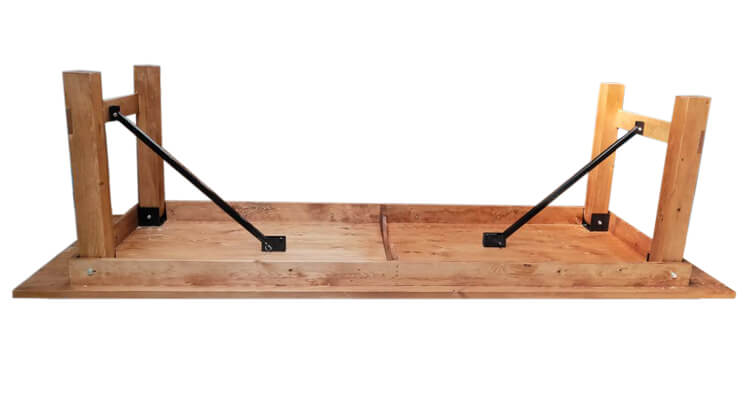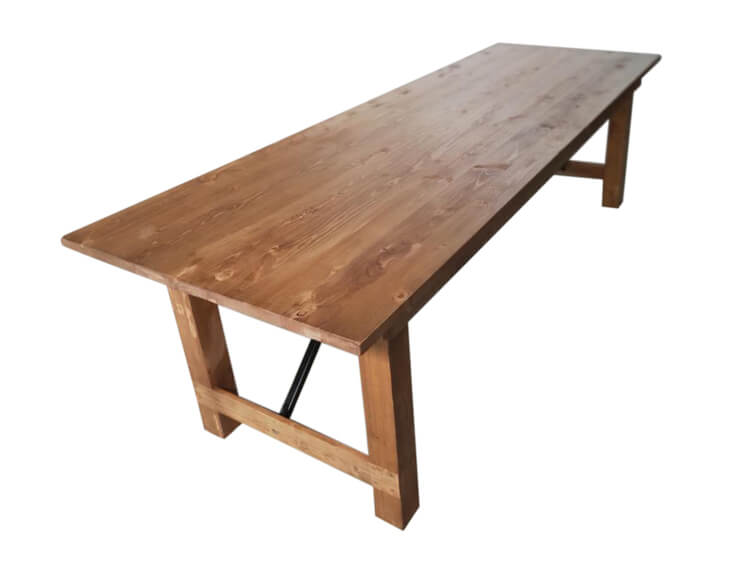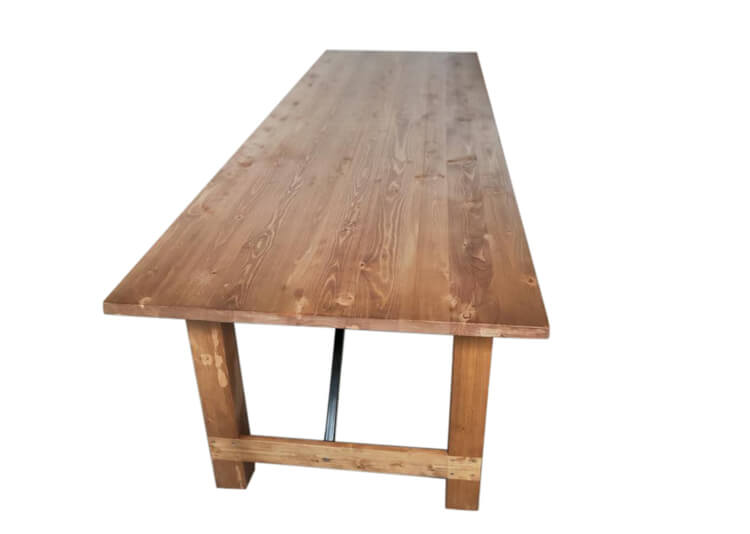 Our 8-inch x40-inch folding farm table features a solid pine top with a 17-gauge black steel folding bar, accompanied
by 2.75-inch thick legs that support its durable frame. Benches have the same perfect craftwork as the farm table. It's also a
nice choice that collocation folding farm dining table with farm benches.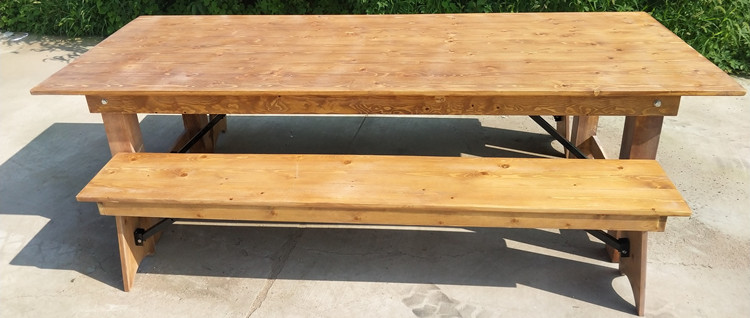 When not in use, the pin is pulled out and the farmhouse table legs are conveniently locked under the farm
table for safe storage or transport.
The Antique farm Folding table production process
1. There are large Quantities of Solid wood raw material in stock, therefore can meet our clients' needs
for the rustic folding farm table in a short time.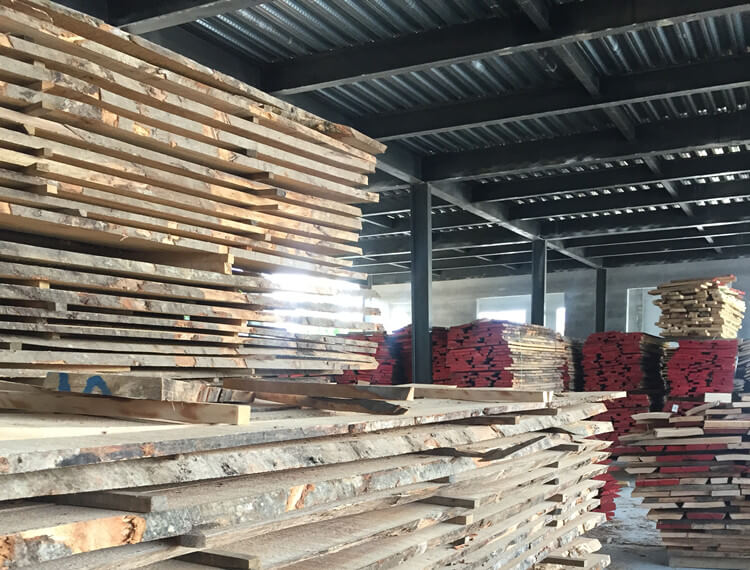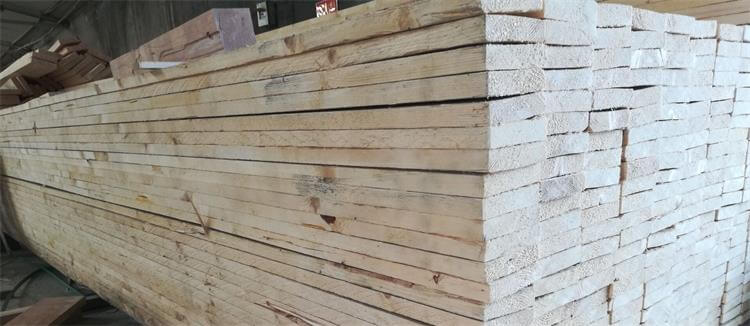 2.Using the specialized cutting machine to cutting farmhouse table top shape and profile in different size
by our experienced craftsman.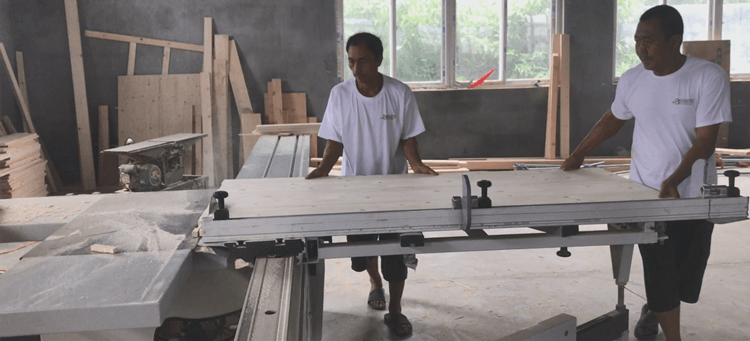 3. Sidebars of the farm tabletop are polished by our experienced craftsman. It will be glossier and then
preparing for spray painting.

4. Farm table sidebars and tabletop are connecting and reinforcing in screw by craftsman.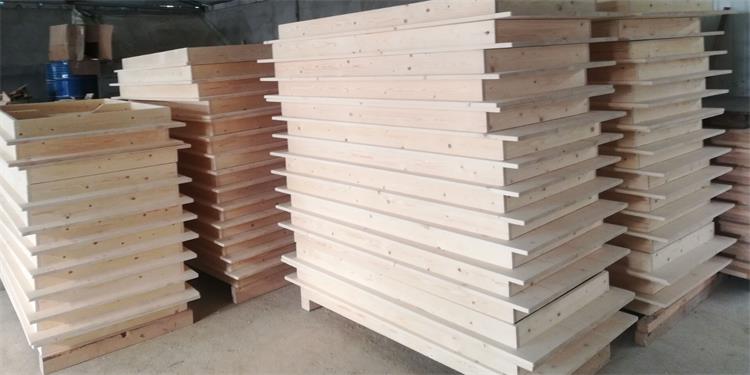 5. Semi-finished farm table: Tables has been polished glossier and assembled firmly but still waiting for spray painting.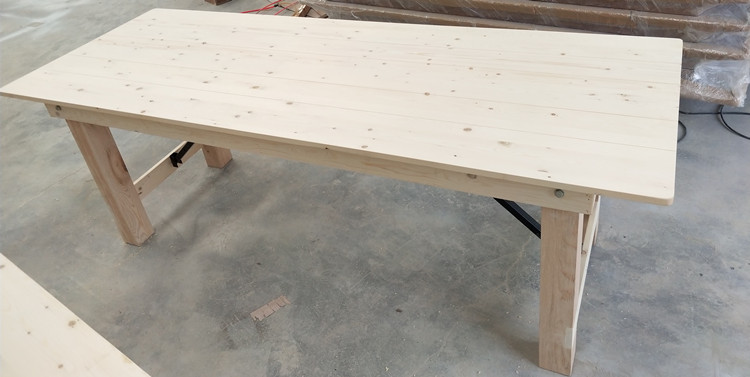 There are two types of tabletop for choosing. Glossy surface or drifting surface available.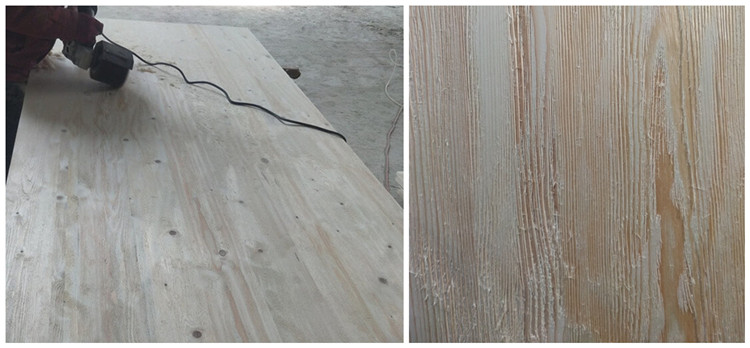 Our rustic, handmade farm tables and benches are perfect for any activity. Multi-section pine table top,
bench seat, and frame provide a retro rural atmosphere. The solid 4X4 legs fold easily and are stored under
the table (108 inches). These tables and benches are sturdy and solid.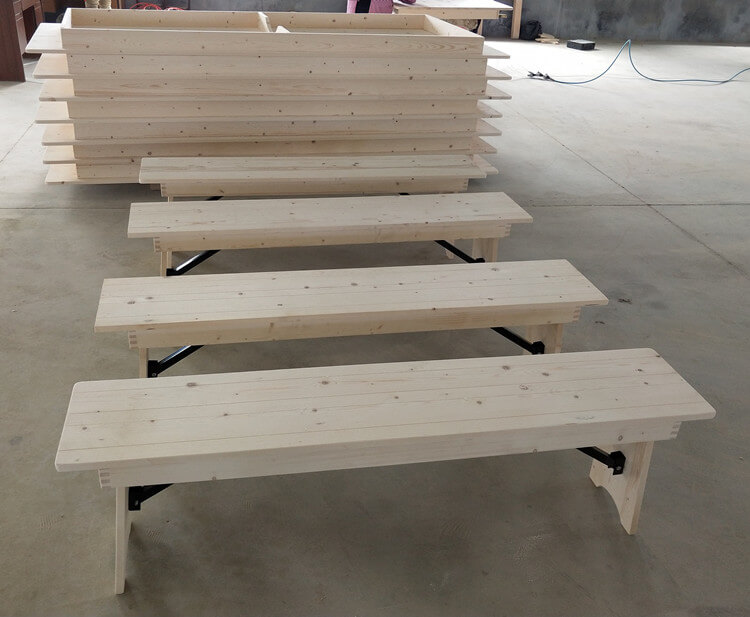 6. We adopt Spray painting technology to painting this farm table. Priming will be pained double times and
covering the surface with UV protection lacquer which ensuring color fading will not happen while
the table has been used outdoor.

7. Painting Process:
Farm table painted by our skilled craftsman. Please be noticed that advantage of spray
painting is ensured lacquer can be well distributed on the farm table.

8. This is meticulous spraying of paint by the workers.

Brush for wooden farmhouse table legs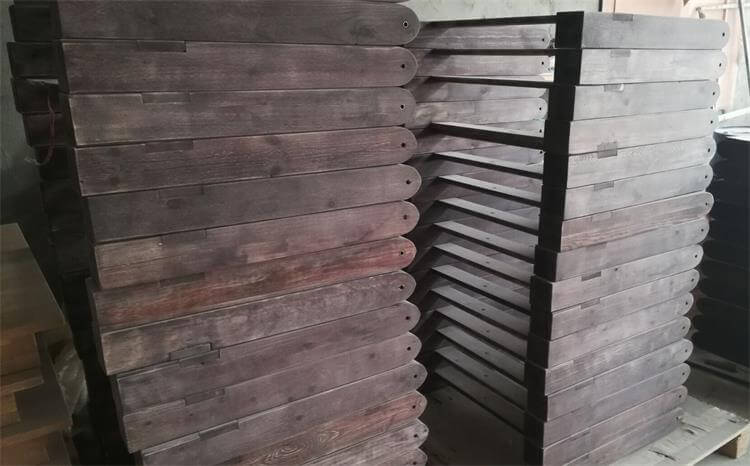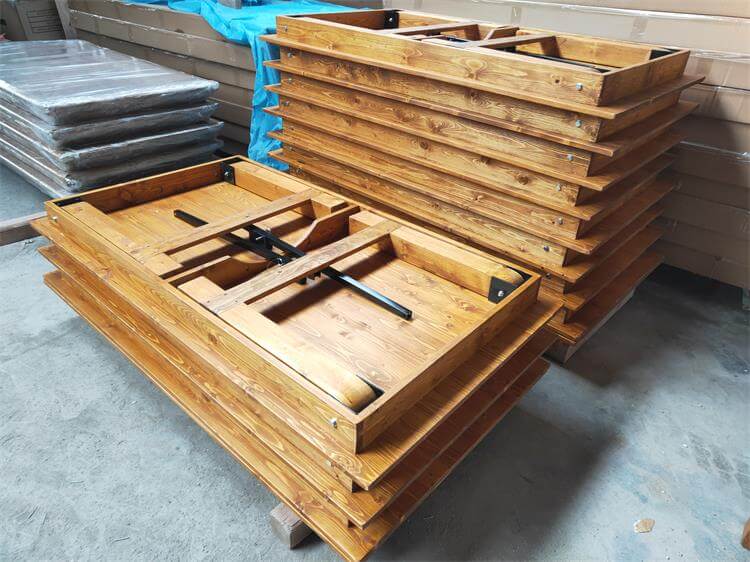 9. Various colors painted on assembled tables as below. Multi-colored farm tables allow you to choose
the best color to match up with your event theme. So it can be saying that our antique rustic farm table can
be suitable for any farm style event occasions.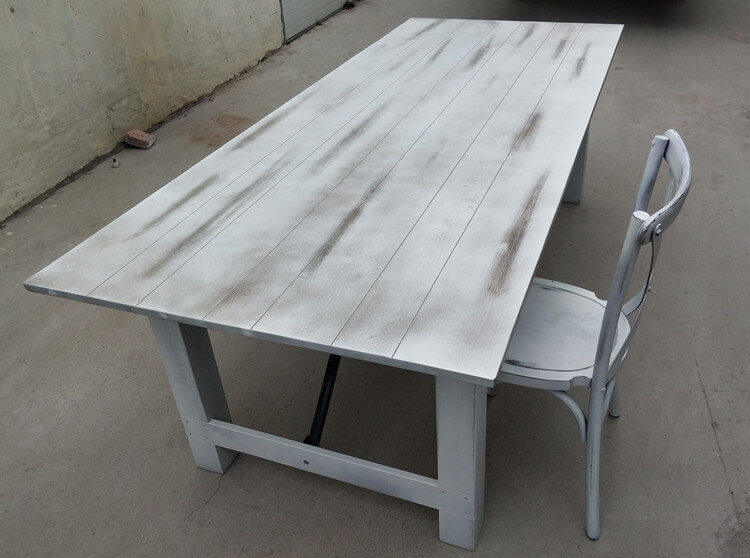 Solid Pine Dining Table Colors:
We can also make tables in other colors. Below is our color board, you can choose, or you can customize the
color you like. Black farmhouse table and chairs, white and brown farmhouse table.
We also have color J





Okay, let us show you the exact color of our farm tables as following:
Let us show you Color A:


Color B: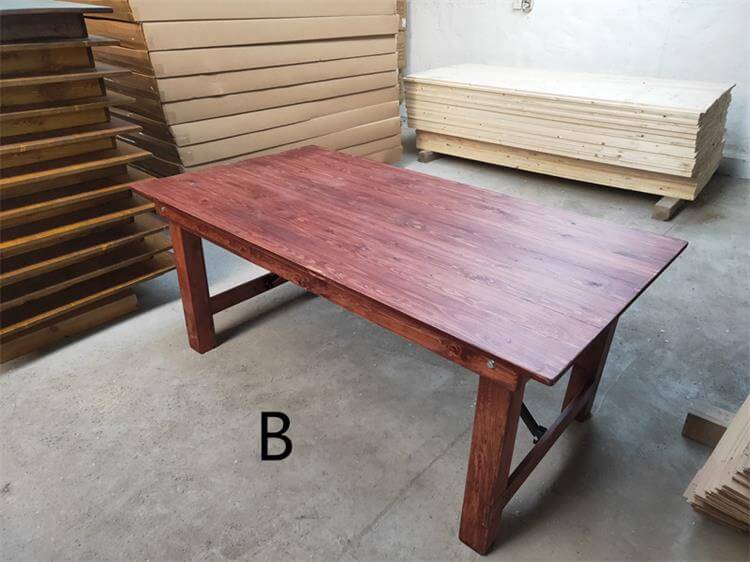 All details of COLOR B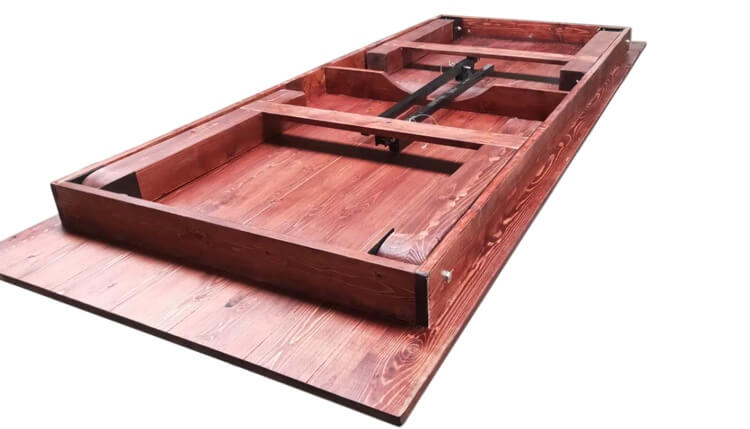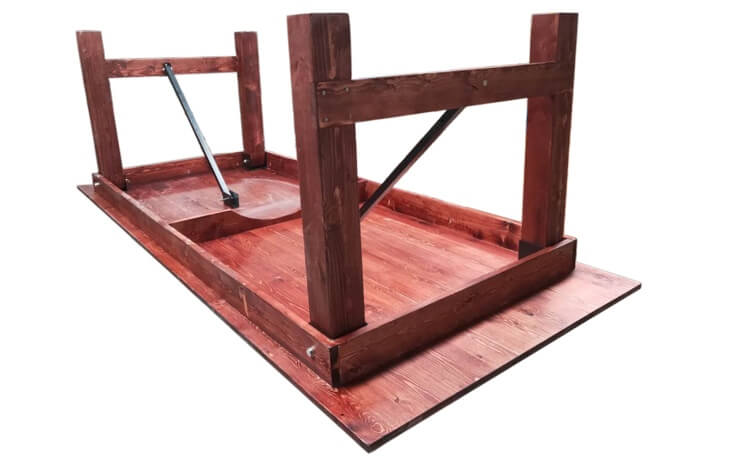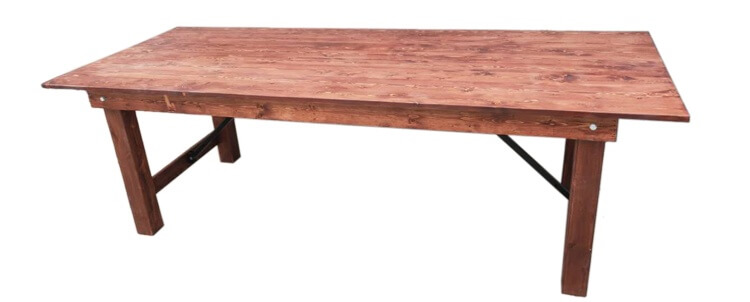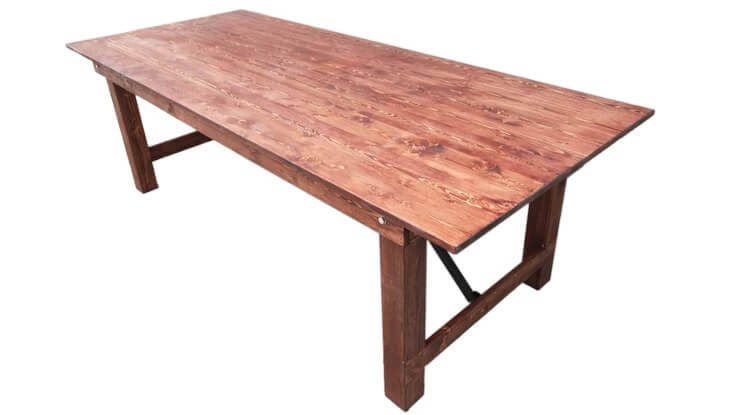 And Color C: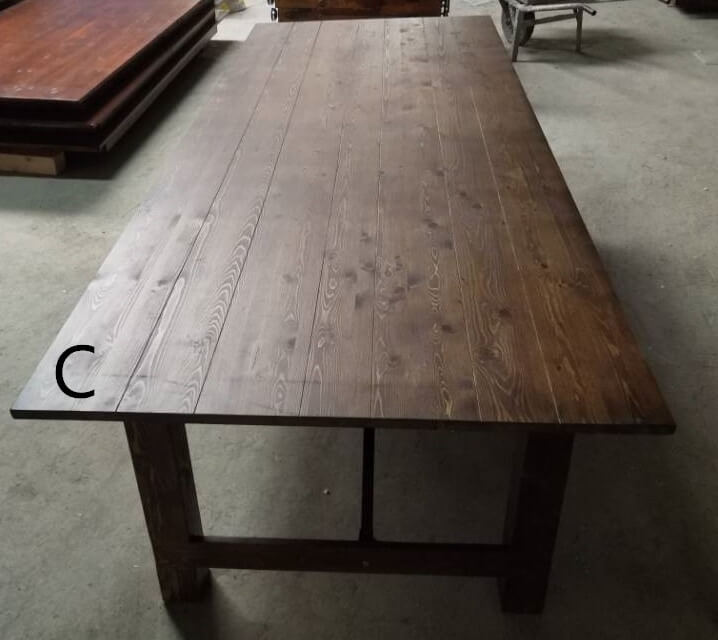 Then Color D: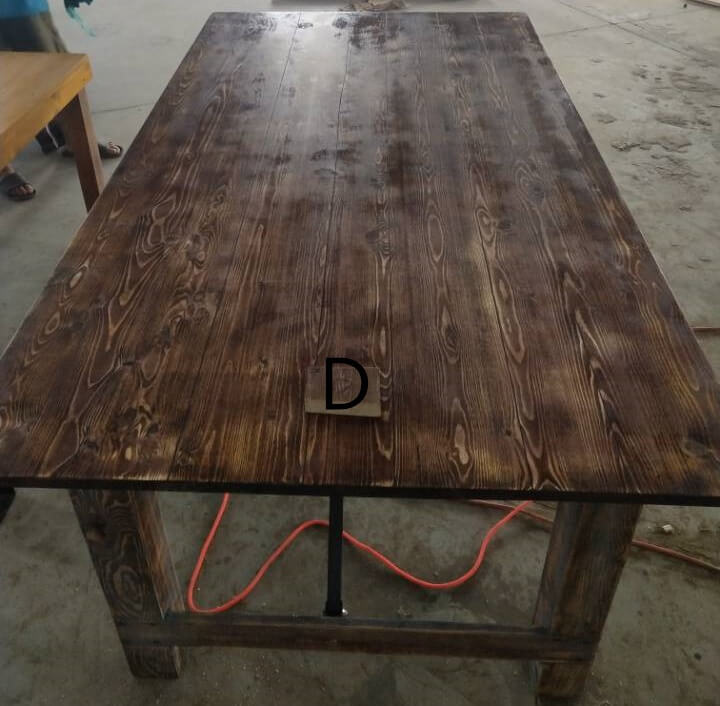 With Color E: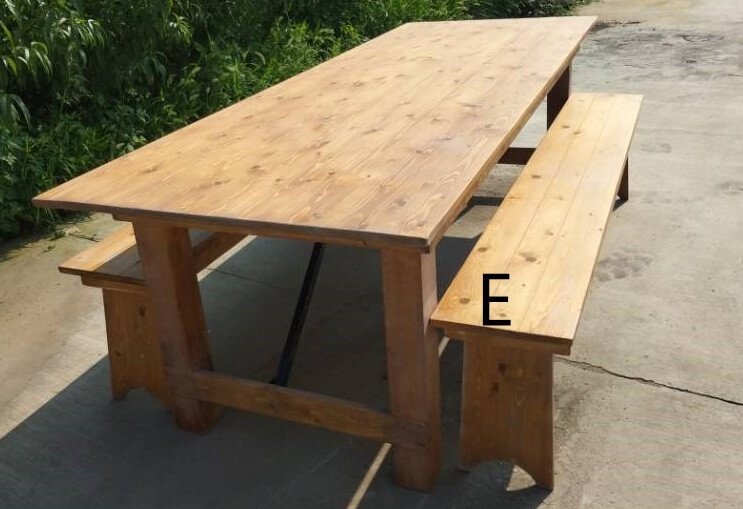 No. Color F: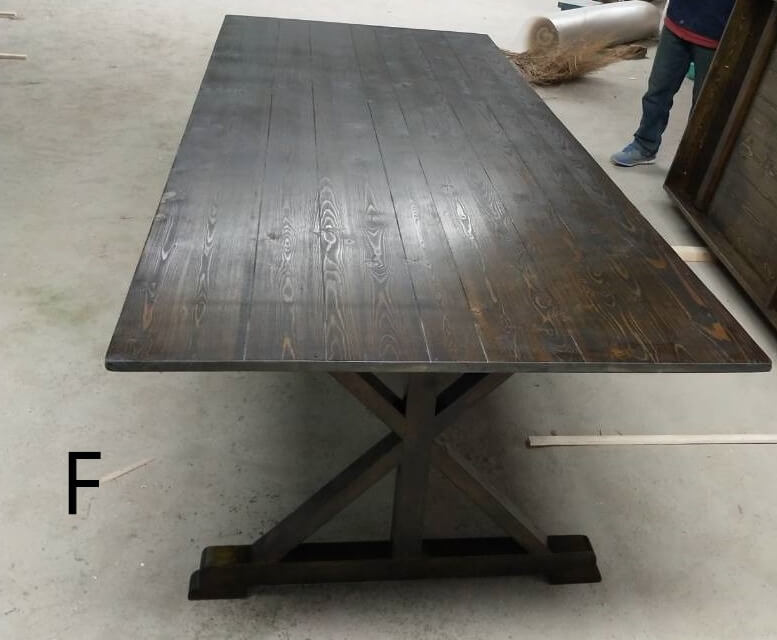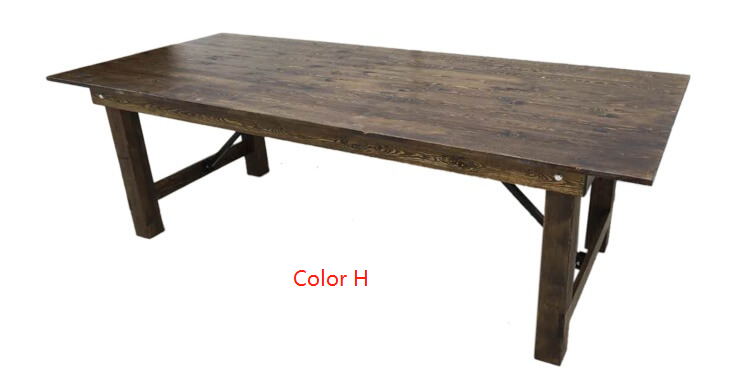 All details of COLOR H



We can make according to the sample color the customer gave us.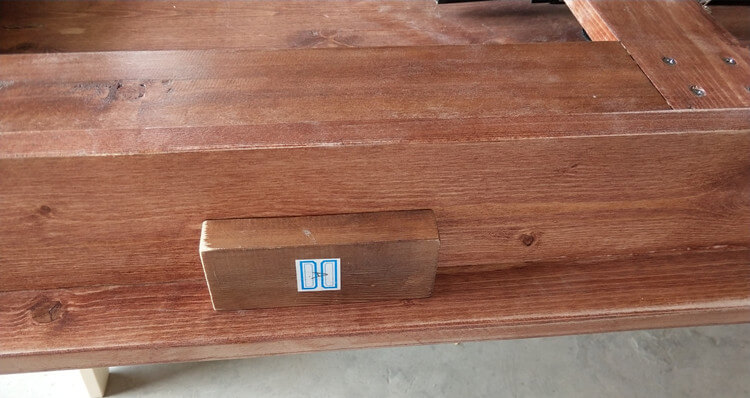 Normally we do like that, when we get your sample, sometime, it is one small piece of wood, then, we make
The corresponding color board for your confirmation, then we do one real farm table for color confirmation.
For example, we get the color sample from CA USA, one big customer, then we produce a wood board first.
We got the sample, so you can see the difference mobile can show a little different color



We produce a big wooden board firstly, let us show you, you can see it is the same wood sample.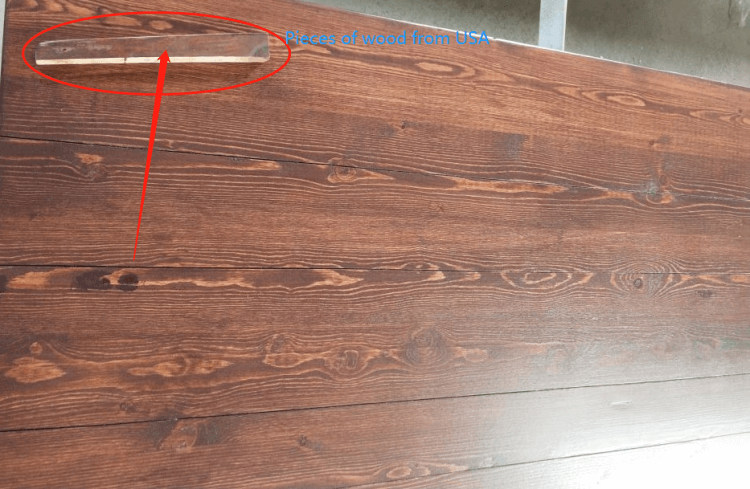 After you think it is good, then we produce the farm tables and benches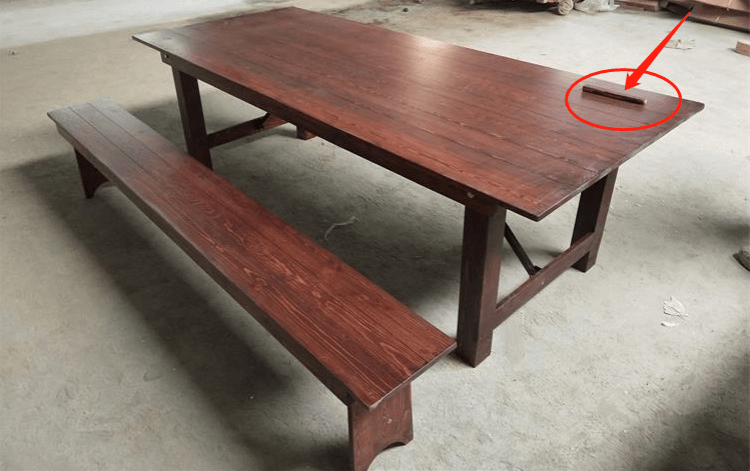 The follow samples from Chicago USA, we also copy the color perfectly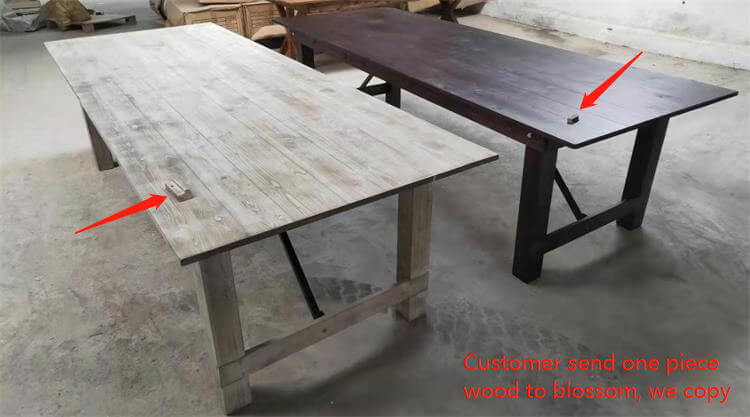 Let us show you the copy color for our Sweden client Mr. Scott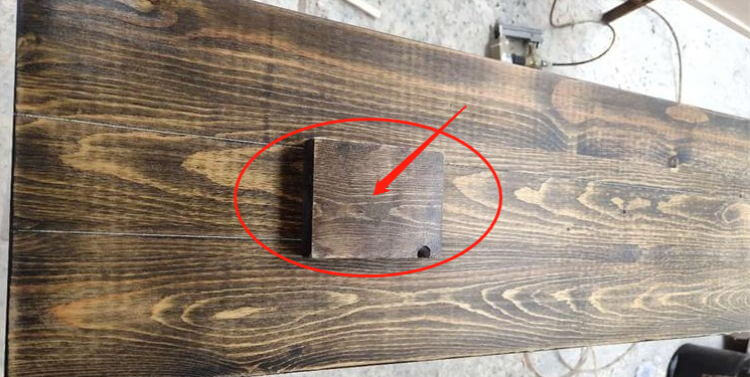 Also we copy the color for our Spanish client, Mr. Craig sent us one piece of wood, so we copy the color as
well as his sample. First we stain the same base paint, and then we sand, we painting, we compare with the
original sample, that is perfect, after the client confirm the color, we produce one sample of farm table, then,
you can see the color is exactly match. We selling totally 70 pieces of tables to him.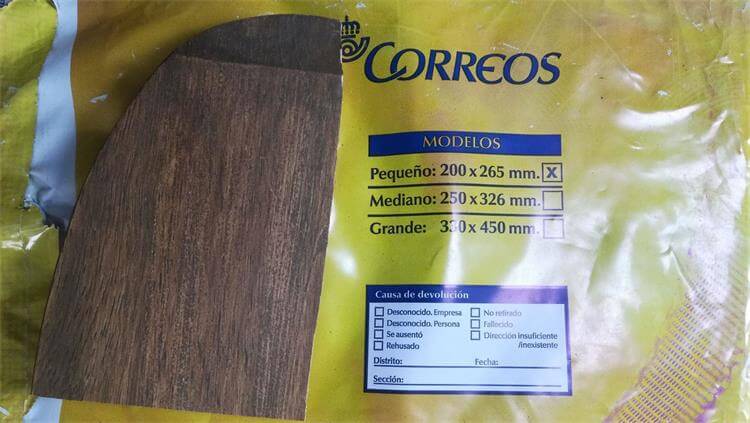 We will produce one sample table and show you for confirmation before mass production, so no mistake.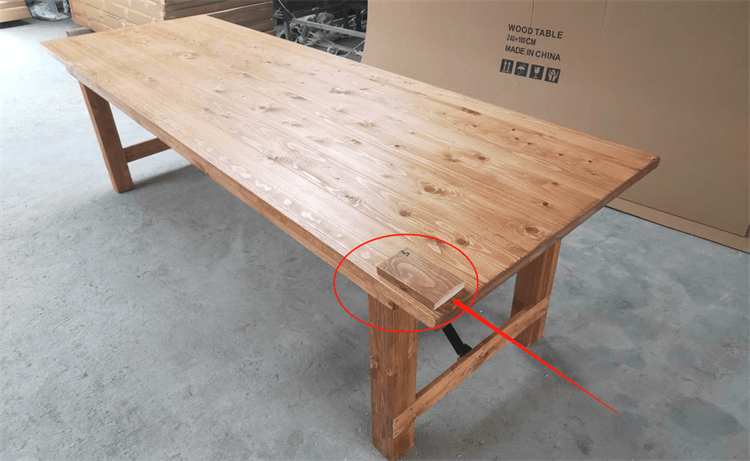 And this is the color J for our Australian customer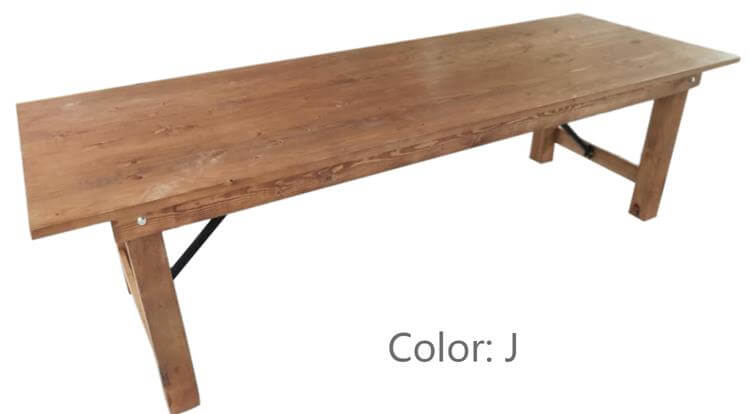 We have color of K showing as following, color K is middle brown color of farmhouse table, which has fold able legs.
This color is little lighter thank color H for our Canada customer.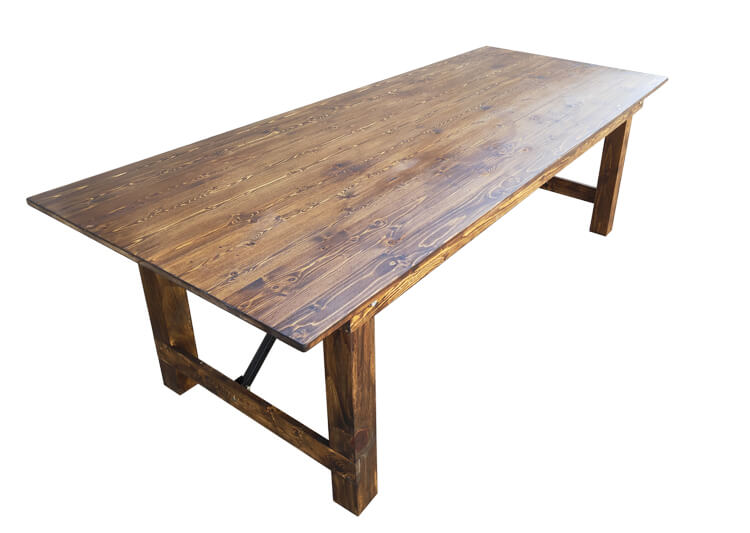 We show the color and whole result in difference views as following: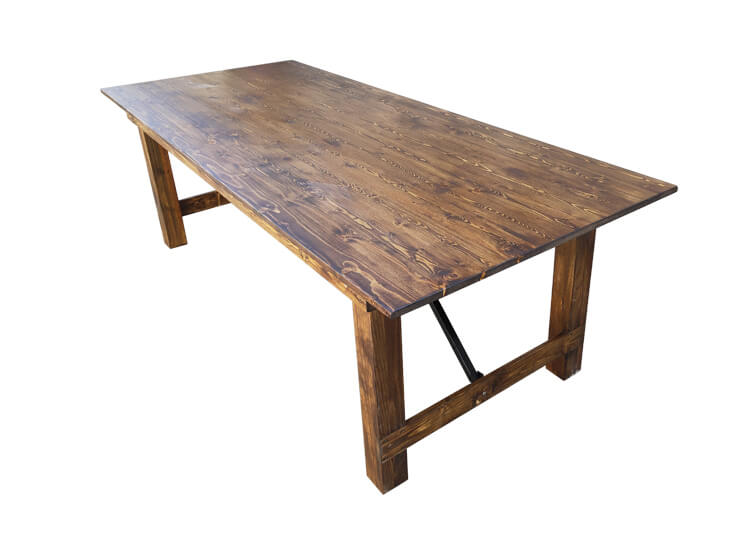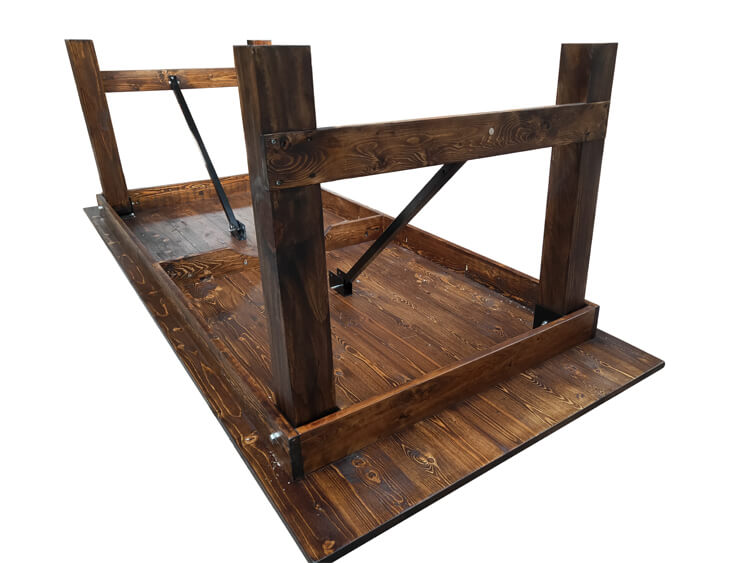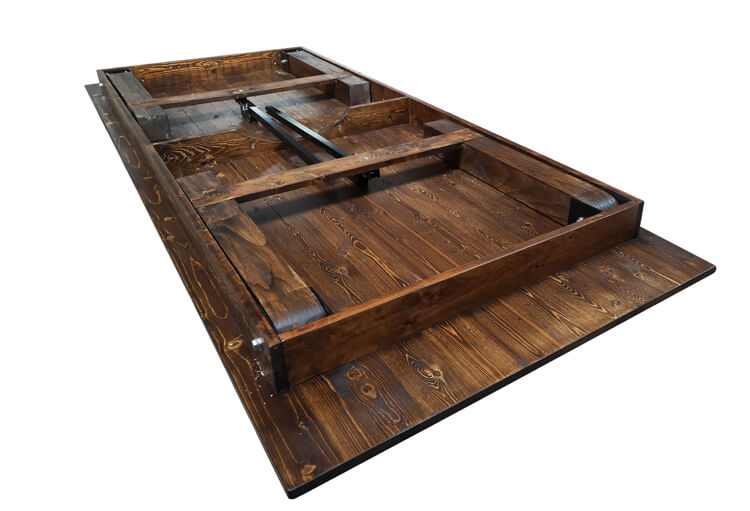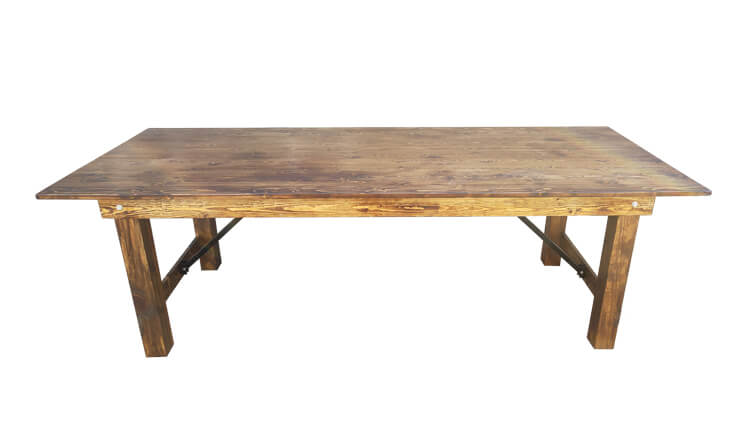 If the number of your party exceeds your plan, our factory can also produce the connecting board that can
connect the two tables. It is your extended table that can accommodate more people. This table is
a 6-meter long table made up of two pieces of 244*155cm and an extension board of 115*115cm.
We also have other antique rustic solid pine farmhouse folding tables, different design, we can produce the
Farm tables depend on your drafts or pictures, fold or unfold legs.
The size of Solid Pine Farmhouse Folding Table that our factory can make is 244x100cm (94″x40″) for 8 people
and 274x100cm(108″x40″) for 10 people.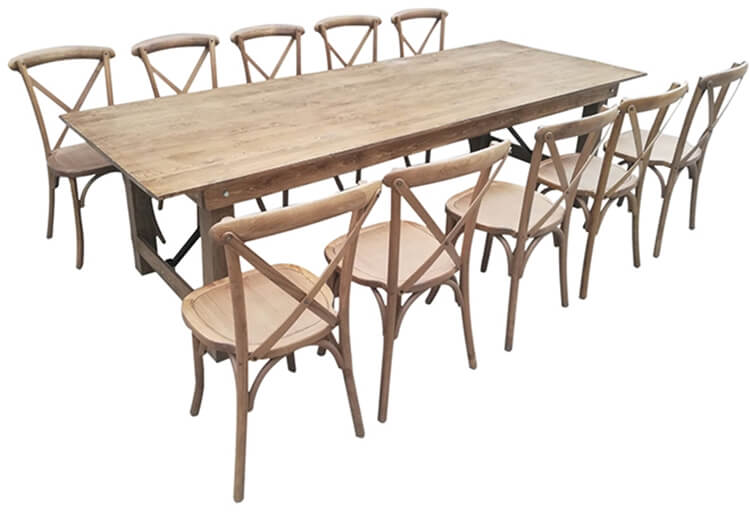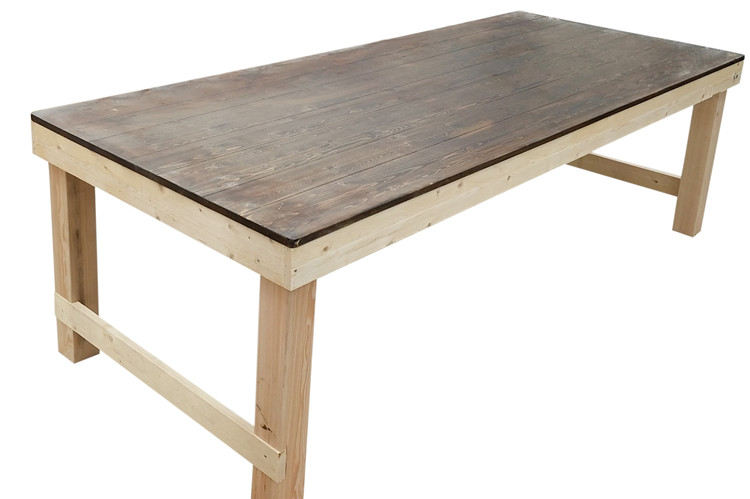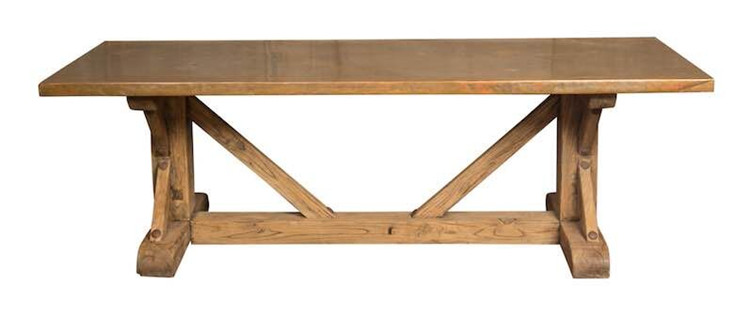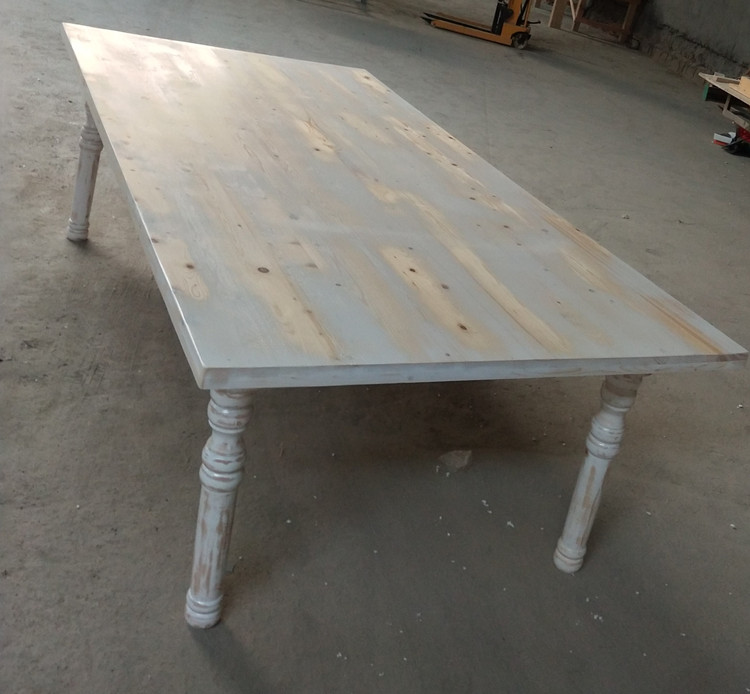 Children's style solid pine farmhouse folding table. The size of this children's farmhouse table is 120*60*53cm.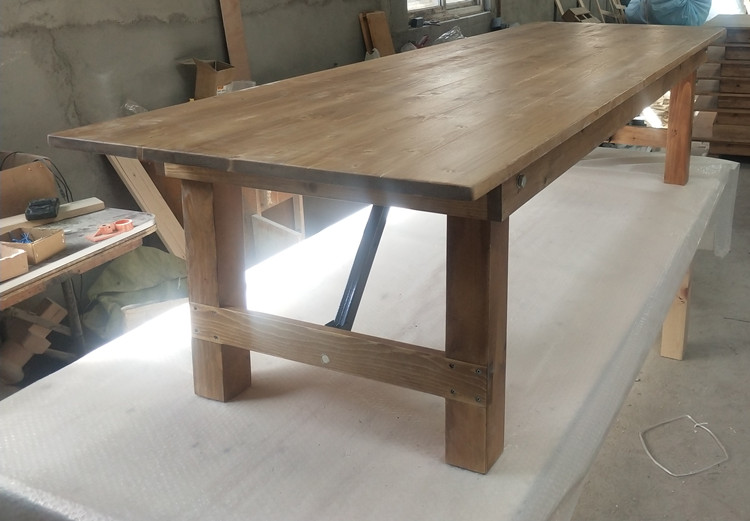 Please check the following photos of kids folding farm tables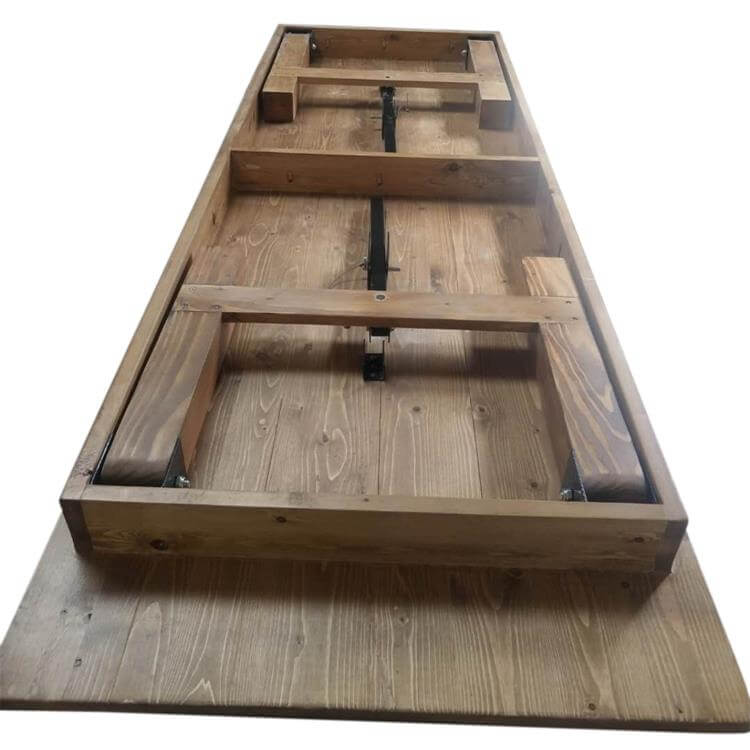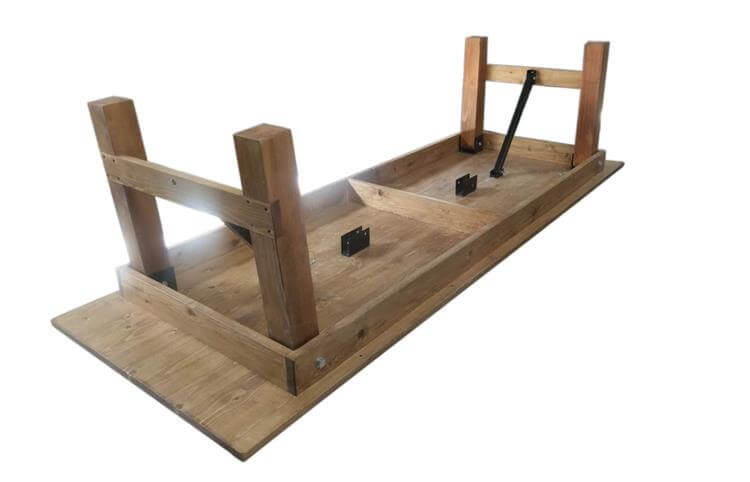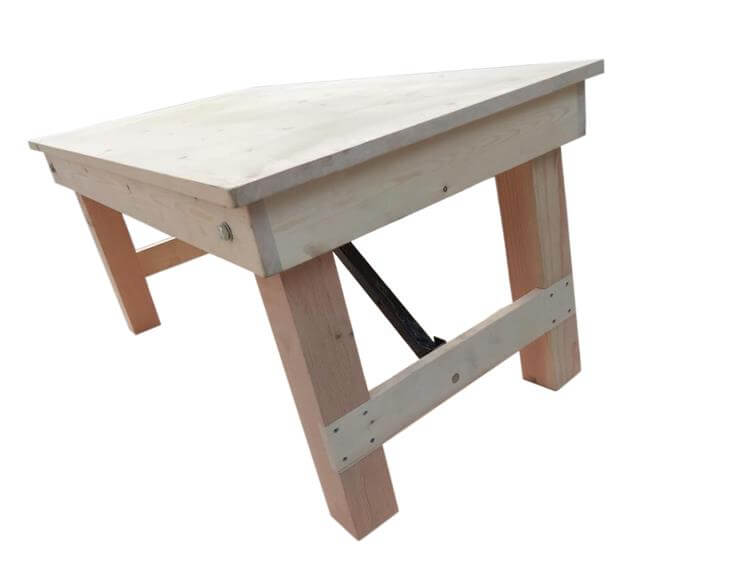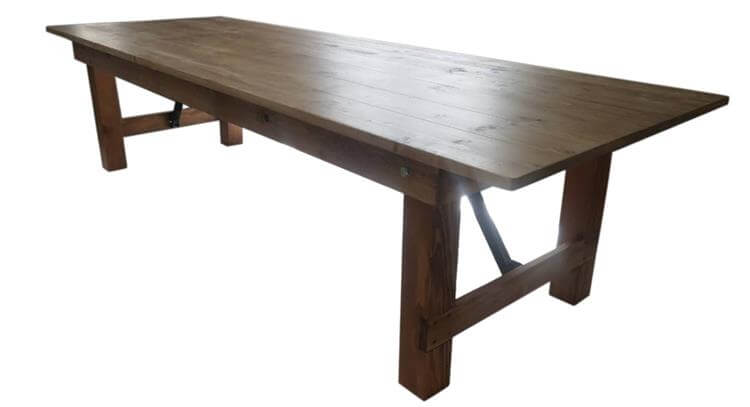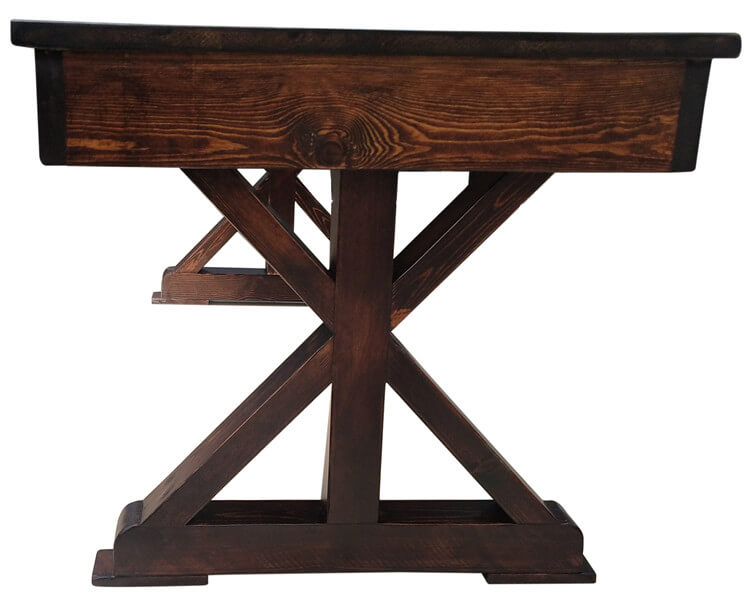 Solid pine folding farm tables Packaging process
We package our antique rustic solid pine folding farm tables with a layer by polypropylene bags, air form,
and leatherette to avoid scratch and damage in the course of transit.
The loading of the antique rustic solid pine folding farm tables(according to your requirements):
Ø loading with box
Ø loading without box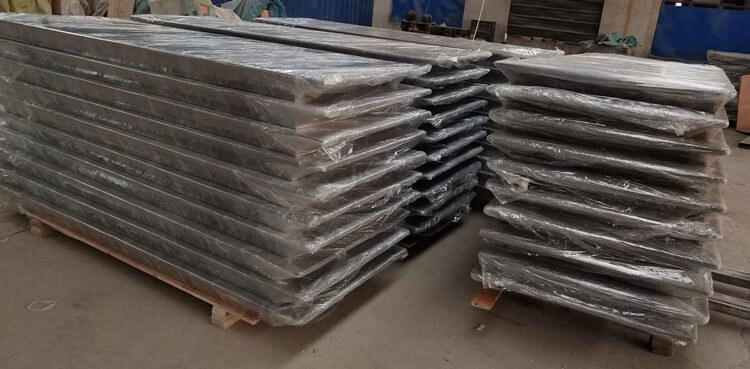 As for the package of this farm table, we using strong cardboard and stretch film to protect it from
damage and goods will be fixed with steel wire in case of toppling and fall after loading in the container.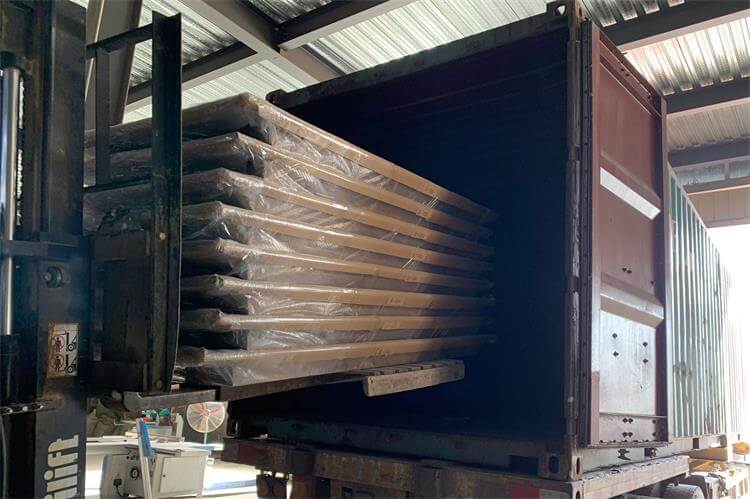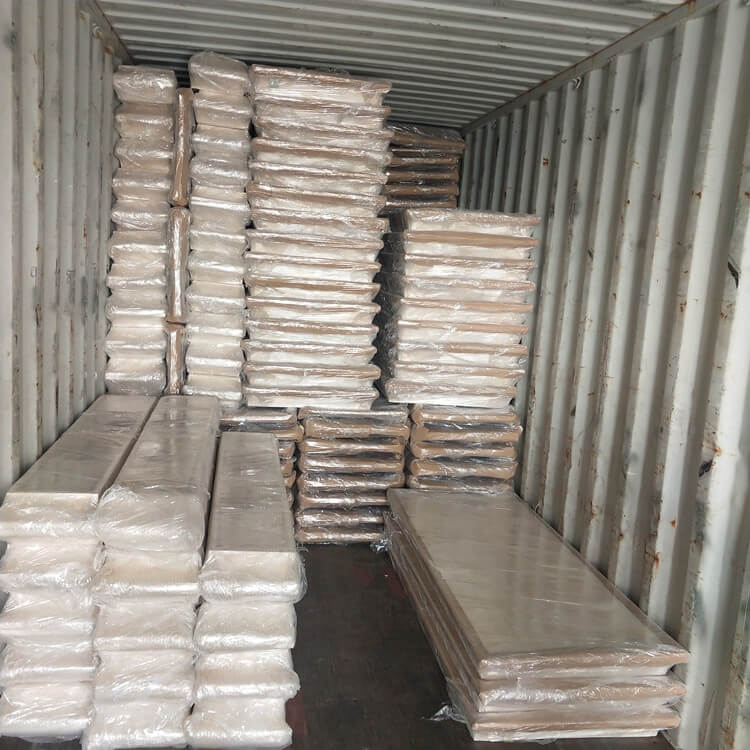 How to solve the problem of carrying such a heavy farmhouse dining table? Farmhouse table carts are a good
solution to this problem. Our farmhouse dining table factory also can make farmhouse table carts.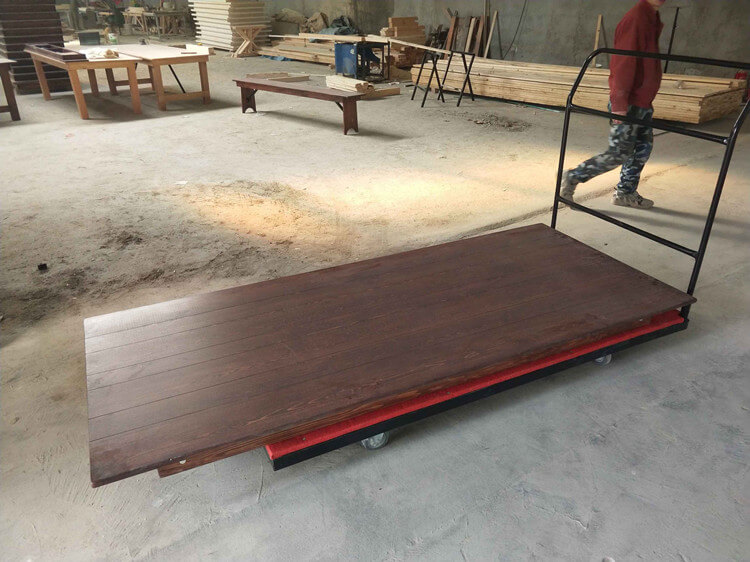 Every year, customers from different countries come to visit our factory, especially our farm tables. Some
customers sign contracts and place orders immediately after they visit our factory.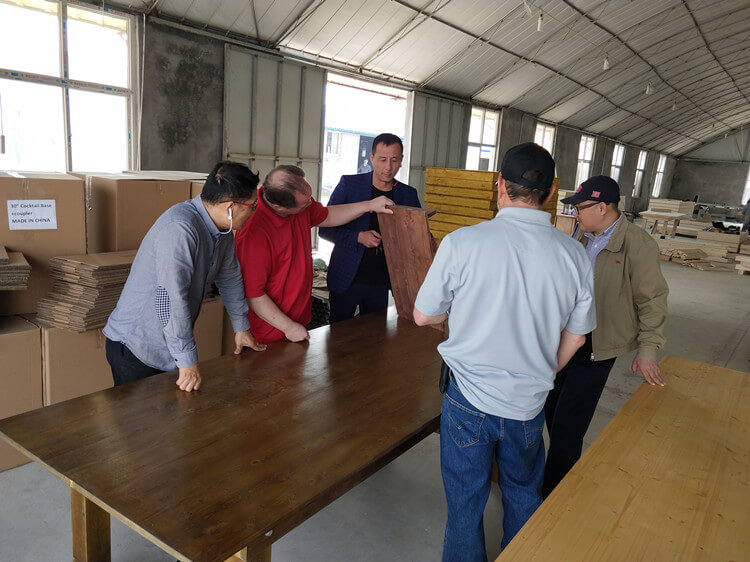 Whether you want to enjoy an idyllic life in the country or try a more modern way of life, pair our pine
folding farm table with the cross back chairs of the vineyard estate to turn your event site into a rural oasis.

These folding farm tables can be matched wooden folding chairs or farm bench or farm cross back chairs.

Would you mind to learn a little bit more about the antique farm table manufacruting process from solid pine dining table manufacturer? Please click this video for browsing.