Beer Garden Table & Bench
We are a beer garden table manufacturer, we provide many kinds of wholesale outdoor picnic tables for sale. Whether you are having a BBQ or an outdoor party or celebration or just a get together with friends, this robust beer & bench set always provides the setting for a cozy get-together. The beer garden table and benches are easy to put up and take down and therefore very easy to transport and store.
Beer Garden Tables Advantage
Material: Solid fir wood , poplar wood
Available size: length: 150cm, 180cm, 200cm, 220 cm, width: 50cm, 70cm, 80cm
Lead time: 3weeks
Foldable or not: Yes, foldable
Color available: Natural , brown, red, yellow, white, black
Using place: Patio , Garden, cottage courtyard, beach, sun loungers, indoor and outdoor
Popular country: German, European, USA
Minimum order: 100 sets
Description
This beer garden folding bar table and bench are very practical and can be opened at any time.
Open the lower lock and push the iron back to fold or open the leg.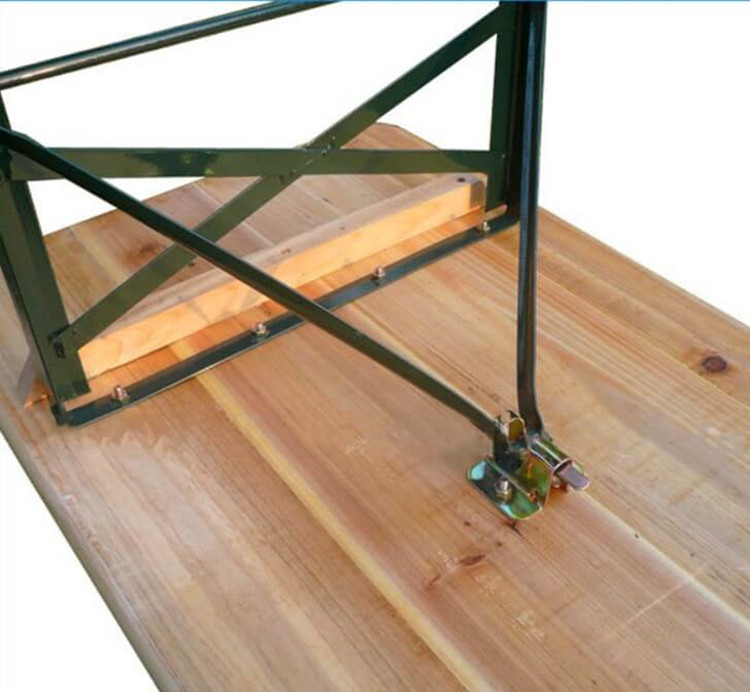 EASY TO SET UP AND FOLD:
No assembly is required, all you need to do is unfold the camping table set, and it's fairly simple to set up.
It also folds in seconds, with a safety latch holding it securely in place. It's compact size and small footprint
makes it easy to take it with you to almost any outdoor activity.
The wooden countertop is made of high-quality fir wood, which is strong and smooth. The beer table set is
constructed with a heavy-duty iron frame that is durable and sturdy. Narrower than our banquet tables,
these tables stow away more easily and are designed for outdoor use at Oktoberfest. This means they are less
suitable as dining tables, especially at formal indoor events. The bench has three folding legs, is sturdy,
and should be used on flat and level ground.
World Market Beer Garden Table/Wholesale Picnic Tables
A durable, high-impact desktop with a rugged frame for quick installation or removal. It's easy to take anywhere and enjoying
the afternoon sunshine with your friends or family is perfect. These benches can be matched with wooden farm tables.
The foldable design is convenient for you to store and carry. You can easily fold it and store it in a compact place.
The materials we use to make beer tables and beer beech are all good wood because our venue is very large
and there are a lot of orders, we will buy enough wood.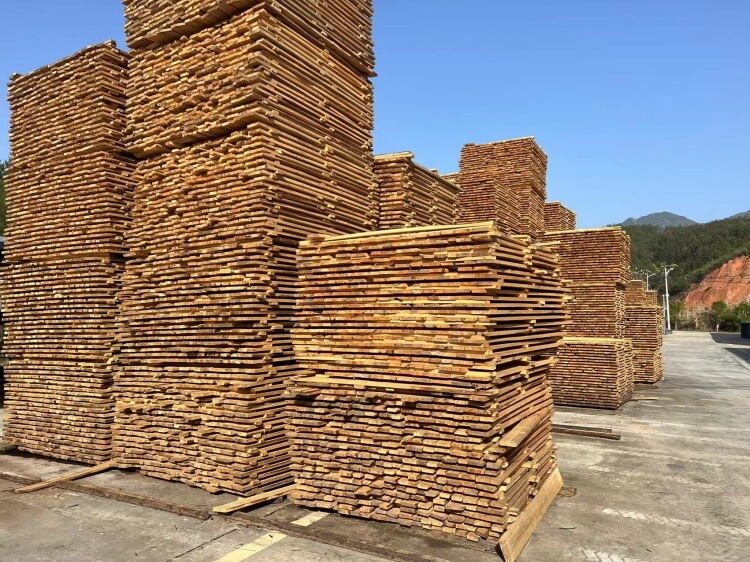 The wood is first cut with a cutting machine, and then each piece of wood is smoothed with a sander.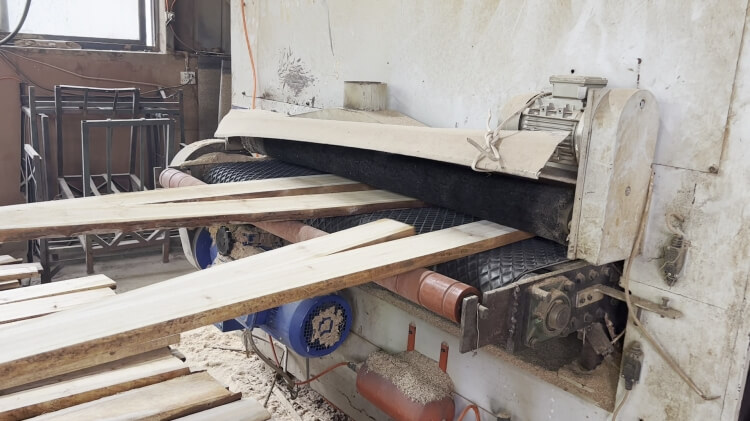 Put all the polished wood on the board, and then put it on this machine to apply wood glue to stick them together.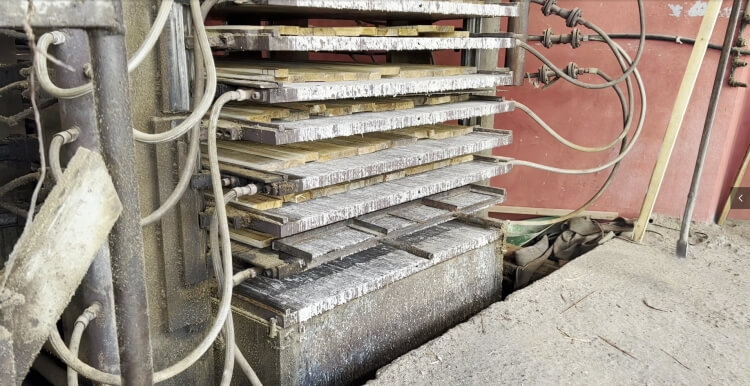 Put the glued pieces of wood on a cutting machine and cut them to size for the beer beech and outdoor tables.
The fir wood surface is pre-treated with a special UV coating and then coated with a tough wood glaze to
ensure long-lasting durability.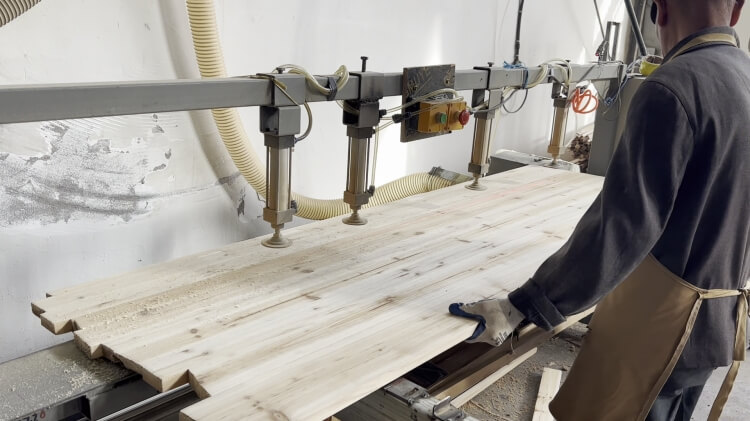 The iron parts are punched with a machine. Frames are made of high-quality steel (30mm x 30mm x 3.0mm)
powder coated in moss green, blue, or black and locking clamps are made of galvanized steel.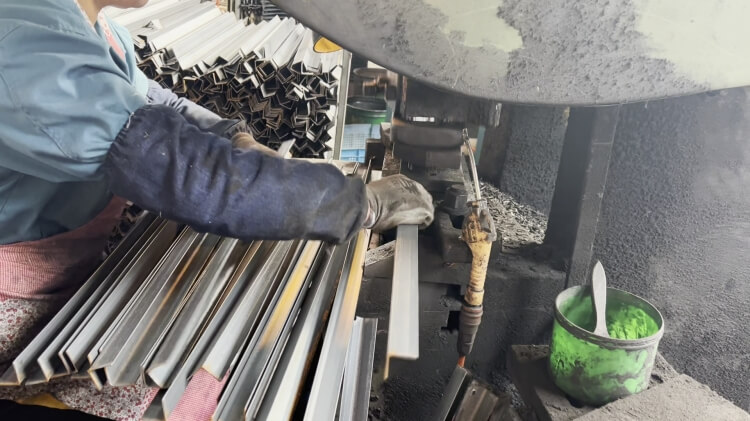 The parts that have been punched are bent on both sides by a machine. The legs are made from high-grade
steel and are powder coated in traditional green to ensure they will withstand years of regular use and
always look new.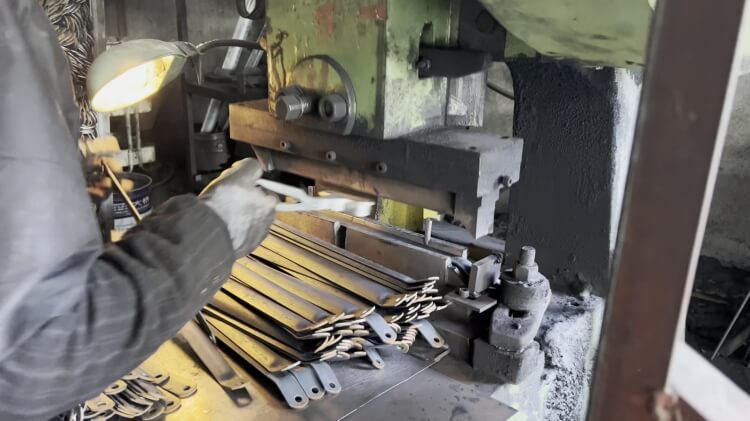 Drill and bend all the leg parts and weld them all together to make the legs of the beer beech and outdoor table.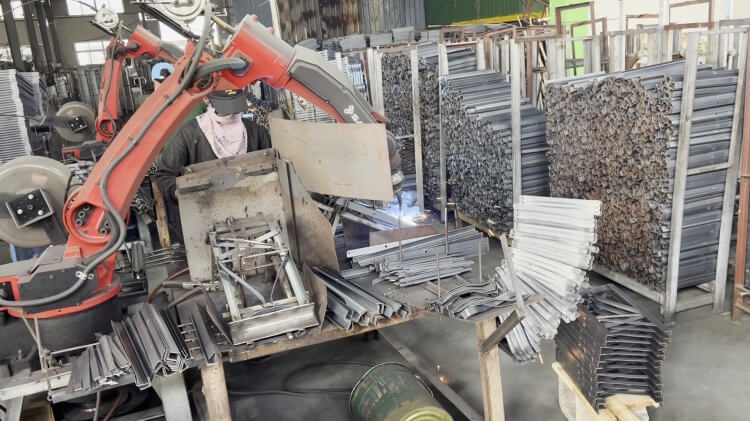 All welded beer beech and outdoor table legs are here for painting. What color legs do you need? You can
provide us with swatches, and we accept customization. Made of solid fir wood, this wooden countertop is
impact-resistant and non-toxic. The picnic table set is constructed of a powder-coated metal frame for
durability and long-lasting performance.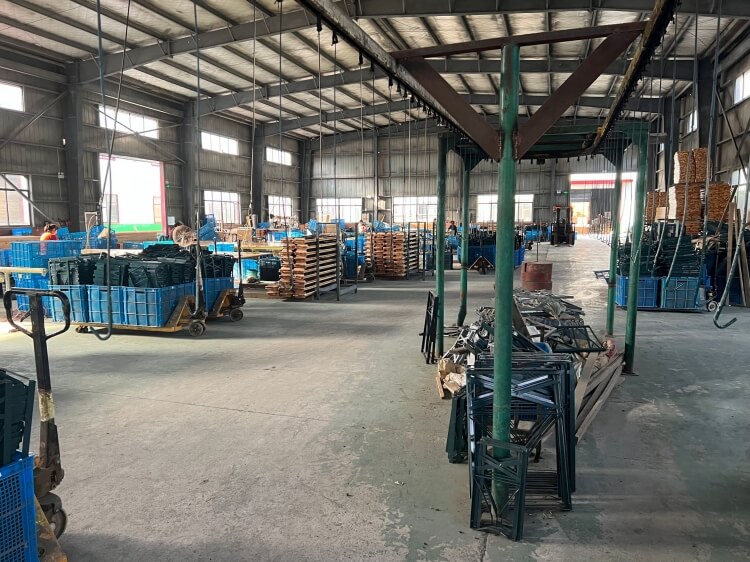 All of our spray paints are hung spray paints. After spraying, hang them directly to dry, and then stack them
uniformly here, waiting to be installed on the desktop. X-shaped crossbars and crossbars on both sides ensure
maximum stability.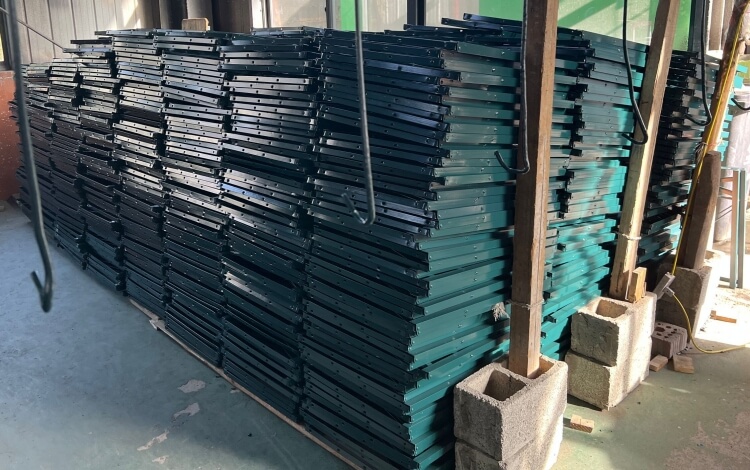 Workers use electric screws to install the table top and table legs together. This outdoor table and beer bench
the combination can seat up to six people, with three people on each bench on either side of the table.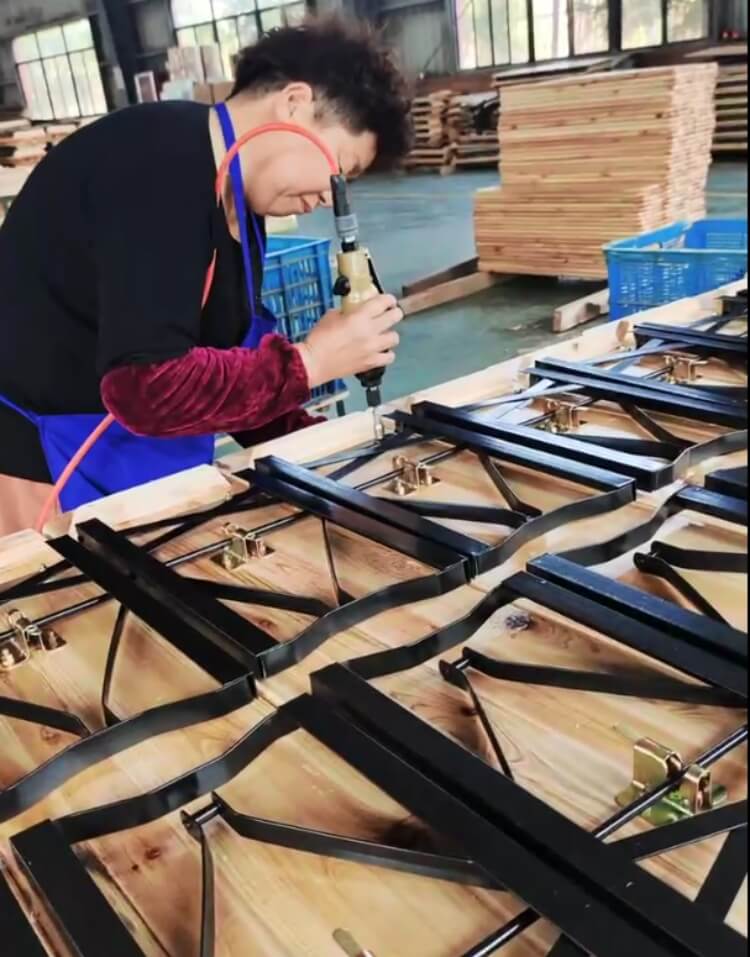 This set of benches and tables provides the perfect place to sip a beer and rest when you're lounging outdoors.
These benches and tables are made of heavy-duty iron frames and high-quality fir wood. Its folding structure
makes it easy to store or carry. It's perfect for your outdoor activities, or just for use in your garden.
Take it home, go outdoors, and have fun!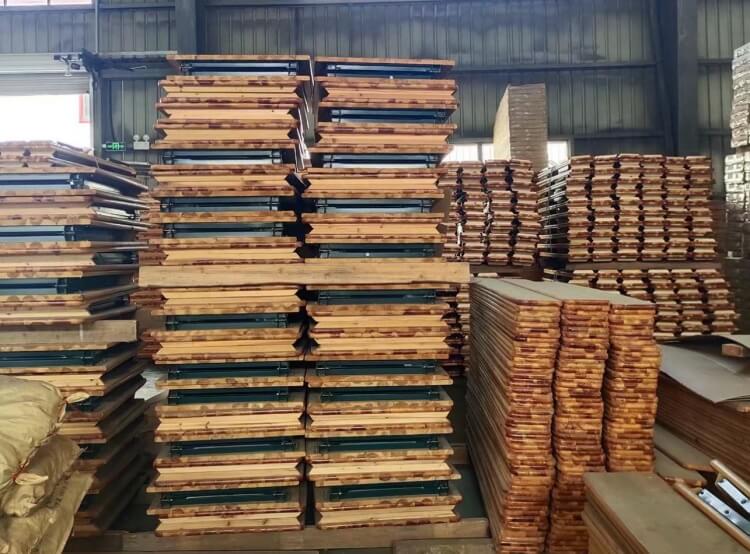 Benches and tables in firewood or spruce wood are treated with high-quality varnish and UV protection.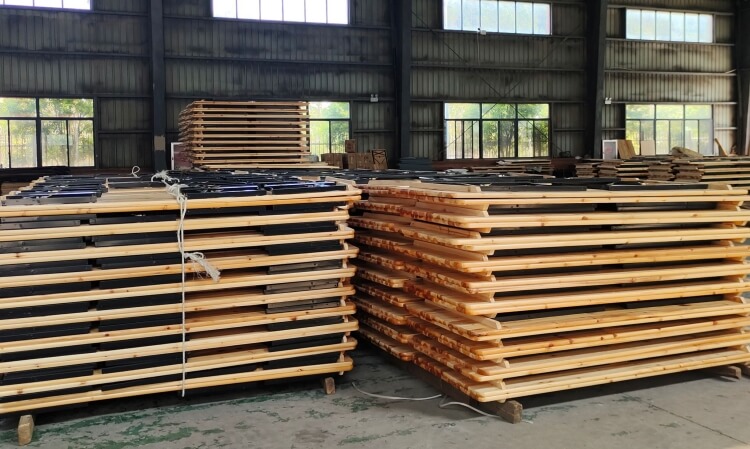 The wood countertop is made of high-grade solid wood, which is strong and smooth. Our dining table set is
constructed with a heavy-duty iron frame, making it durable for everyday use.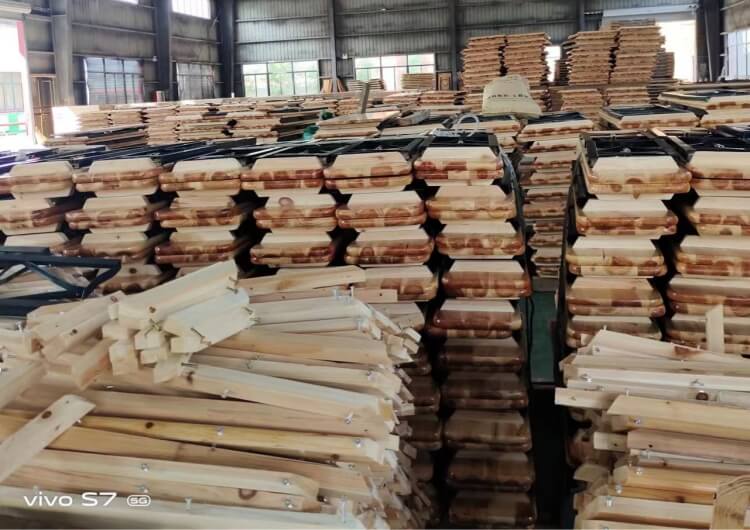 Packing of beer garden table:
We package our wooden beer garden table and bench with a layer of polypropylene bags, air form, and
leatherette to avoid scratches and damage in the course of transit.
The loading of the wooden beer table and benches (according to your requirements):
loading with box
loading without box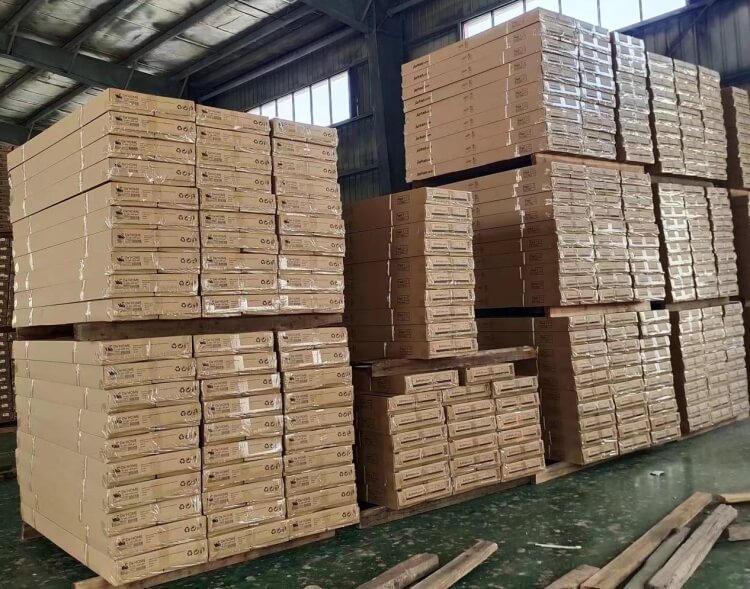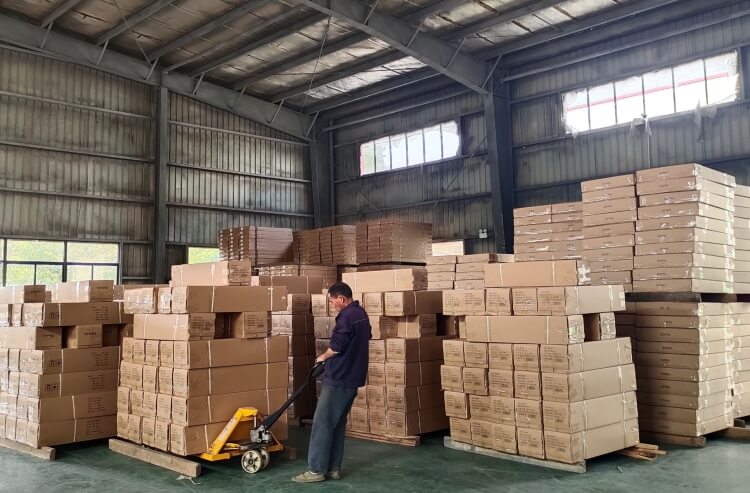 Beer Garden Picnic Tables Wholesale
Want a great backyard table with friends and family? We have a good selection of old-fashioned German beer
garden tables for narrow decks, balconies, kitchens, studios, children's project rooms, and even your dining room.
Made of wood and metal and easy to fold, these tables and stools are the quality of breweries found throughout Europe.
Beer Tables And Benches
Outdoor sunny 6-foot-tall wooden folding picnic table with benches that are suitable for outdoor and indoor use.
Folding Beer Table and Bench
It features a compact, foldable table and two bench seats with a classic, traditional, and timeless look.
Beer Garden Picnic Tables
We found the perfect place for a work table or family dinner in the traditional German beer garden. Like all
antiques, this pine and metal table bears the signs of natural wear that come with use. Wooden beer folding
table and bench can be folded up for easy storage.
Wholesale Beer Table And Bench Set/Wholesale Picnic Tables
Feature for beer garden table:
Flexible party and daily usage Settings
Folding supports are easy to store
You can use these chairs not only indoors but also outdoors
Sturdy 26 mm wood and three coats of paint
Square leg in powder-coated anti-corrosion steel
German Beer Garden Table And Bench
Beer Beech and Outdoor Table Manufacturer Production Video