Kids Crossback Chairs Wood
We not only producing adult cross back chairs but also producing kids x back chairs. This wooden Kid-Sized Cross Back Chair creates a charming and inviting ambiance with its curved lines and smooth finishing. The adorable cross back chair is constructed out of beech wood in a beautiful antique or rustic finishing. This chair is very lightweight to easily go from here to there, These beautiful chairs ship fully assembled and can be stacked 8 high for storage. Designed for kids events and kids parties, this durable and attractive bistro style chair is a great choice for your restaurant or dining room at home.
Stackable Kids Bistro Style Chair
Weight Capacity: 260 lb.
Stack Quantity: 7 to 9 pcs
Finishing color: natural, rustic, antique
Solid beech Wood Seat and Frame
Design features a downward "U" design to increase stability
Product dimensions – 24.75″ W x 14″ D x 17.75″ H
Seat size – 14″ W x 12.75″ D x 13.25″ H
Back size – 12″ W x 12.25″ H
Description
We producing Kids Crossback Chairs Wood natural color more than 12000 pieces monthly, we not only
produce adult wooden crossback chairs, but also we supply Kids Crossback Chairs Wood.
In fact, it is exact same production processing as same as adult x back chairs. But kids x back chairs are
also popular in birthday parties.
The advantage of Children Cross Back Chairs:
1.  We have original design of the chairs
2. Can produce x back chairs with rattan seats
3. Stack able or no-stack able style available.
4. Different material of the chairs: Oak, beech wood, birch wood, elm wood, and so on
5. Color options: Beech Natural Color, antique color, rustic color, brown, we have light brown, dark brown, middle brown, oiled color, white, lime wash, stonewashed, black, gold, silver, also we have colors for children. For example, yellow, blue, green, and so on.

What kind of painting work for our Kids Crossback Chairs Wood?
Normally, for the painting work, we have different result, bright (shiny ) and Matt finishing, customers also need oiled painting work or stain finishing, for stain one, we brush the color first, 2 times of bottom brushed painting work and 2 times of surface painting.

Cushions:
For the cushions of these kids chairs, we also have fabric pads and fiberflax material cushions for your reference.

Cooperation:
We just accept wholesale business only. The MOQ is 200 pieces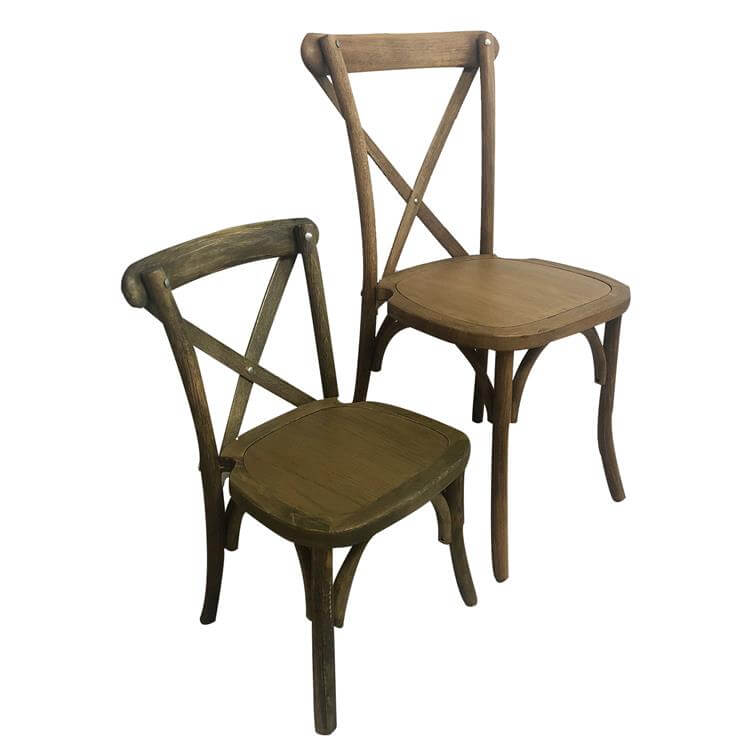 Production capacity:
More than 30000 pieces monthly for kids x back chairs.