Rattan Back Chair Rattan seat
Qingdao Blossom Furnishings limited is the top 3 Cane Back Chair Manufacturers in China, we provide cane back chair wholesale. We producing more than 28900 pieces of wooden X back chairs and rattan back chairs monthly.  We use natural rattan instead of wooden x parts, so we get this special design.  Rattan Back Chair with Rattan seat has more than 20 steps of production processing, including material cutting, rattan weave work, assemble, packing and loading container.
Solid Antique Beech Wood Dining Furniture and Home Furniture of Rattan Cane Back Chairs
Main Features:
1. Material: Solid beech wood, solid birch wood, natural rattan, plastic
2. Size: 41 x 41 x 89.5 cm
3. Chair weight: 4.5  kgs
4. Weight Capacity: 267  kgs
5. Pass SGS quality test
6. Loading quantity: 360 pieces for one 20 ft container
7. MOQ: 300 Pieces
8. Color options: Black, natural, dark brown, lime wash
9. Stacking design: can stack 7 or 8 pieces of chairs easy
10. Chair feet sliders for protected the floors
Description
Details About Cane Back Chairs Wholesale
Qingdao Blossom Furnishings limited is one of the rattan back chair manufacturers in China, we will be the top
3 in the Cane Back Chair Manufacturers. We produce more than 28900 pieces of wooden X back chairs
and rattan back chairs monthly.  We only accept wholesale business for antique natural rattan back chairs.
Rattan backed chairs pictures closed, so you can see light natural and dark natural colors are very similar.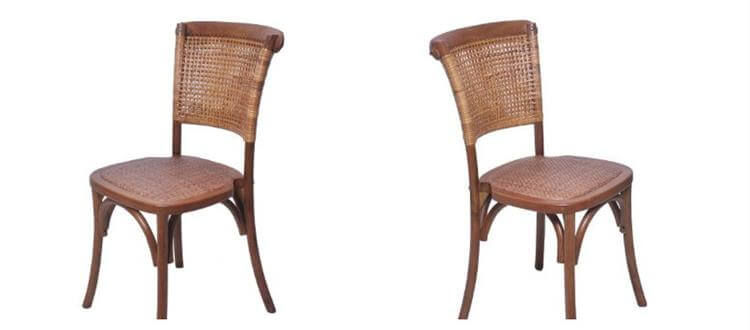 Let us take a look at our Cane Back Chair Manufacturers
The seat has hand-woven rattan for comfortable sitting. Handcrafted from solid oak for durability.
This classic French provincial-style cross chair is a timeless and versatile piece for the home, cafe, or restaurant.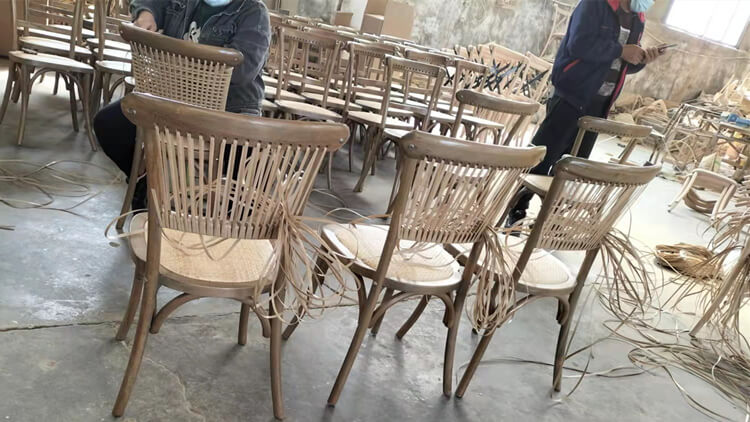 This natural wood stucco dining chair features a woven wicker back and rattan seat for added stability and
comfort. Four curved seat stretchers and a slightly curved backrest. These chairs are handcrafted from 100%
natural materials so color and texture may vary slightly – Rattan is a fibrous material and is very strong.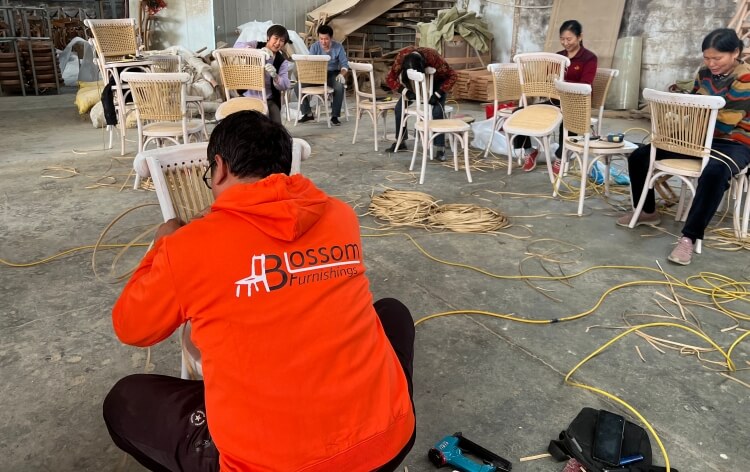 Crafted with a solid elm frame and rattan seat, it's a classic dining room chair. country style. Measurements:
18 inches wide by 16.5 inches deep by 34.5 inches high. Product Weight: 9 lbs.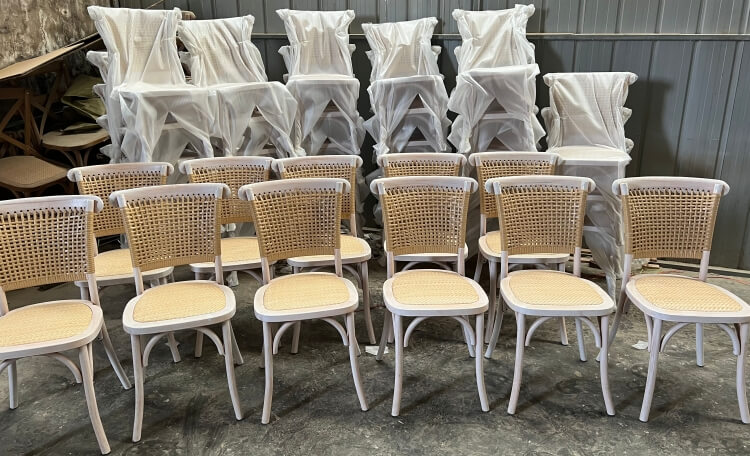 Add an antique, relaxed look to your space with our Antique Dining Chairs. Made of solid elm with rattan
back and cushioning, it will really elevate your bohemian home.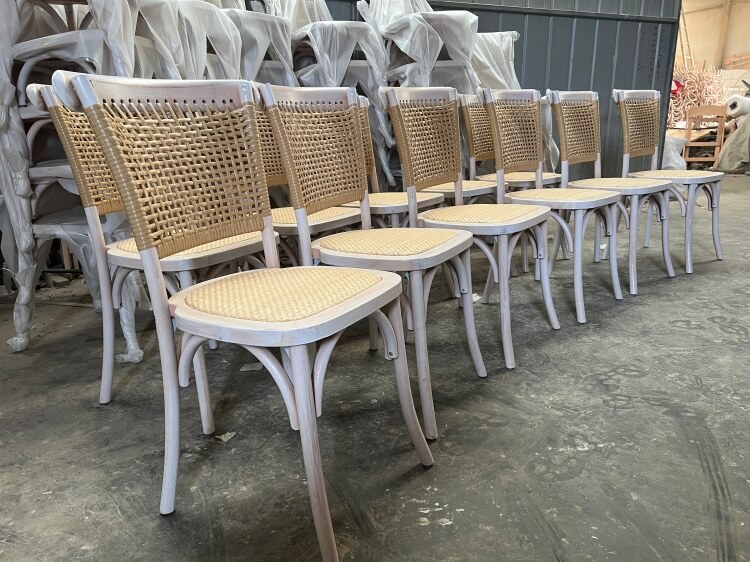 Durable quality, this Woven Rattan Backrest Dining Chair is crafted with personality and style in mind. Its
versatility in any dining setting makes it perfect for beach house, traditional, or country chic themes. The
rattan seat and solid wood frame make the chair light and comfortable for hours of dining and entertaining.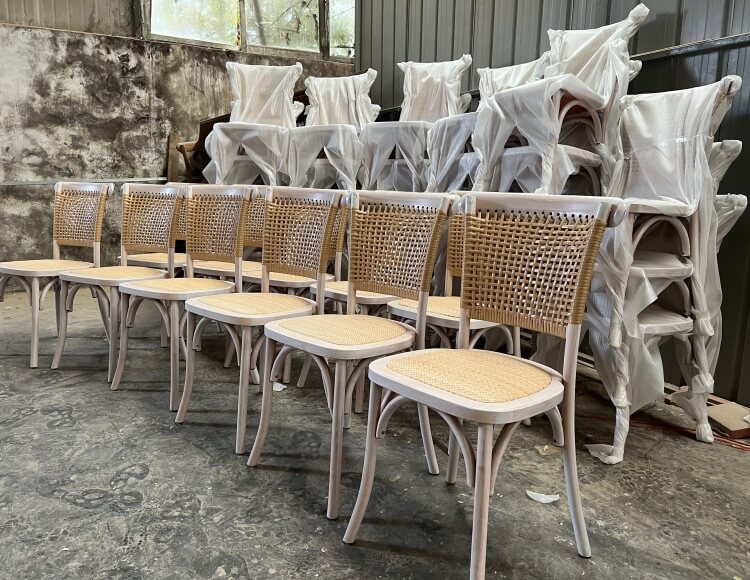 Our beautiful whitewashed finish wicker armchair is a popular choice for providing classic, understated
elegance to any dining space.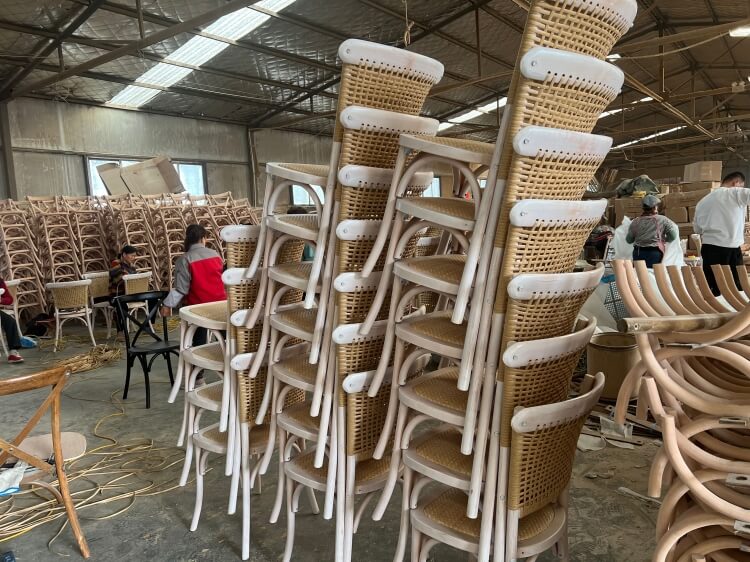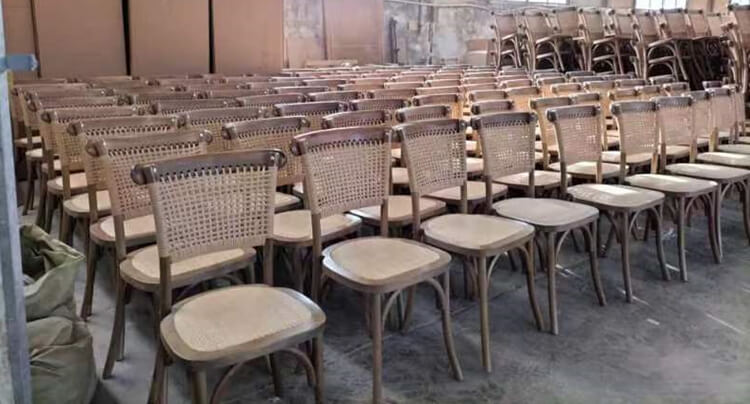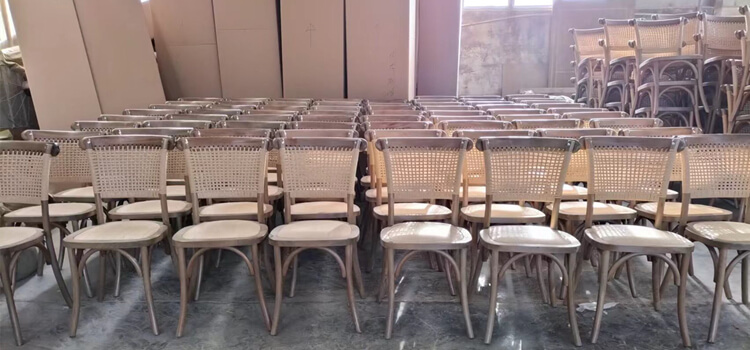 The material of vintage cane back dining chairs:
We buy nice quality solid beech for chairs' seat frames and natural rattan for seats and cane backs. The
moisture of the wood will be around 11%.
Our rattan cross back chairs are purely handmade, all woven by professional rattan workers, our rattan
workers are skilled and can ensure that the rattan details of each chair are very good.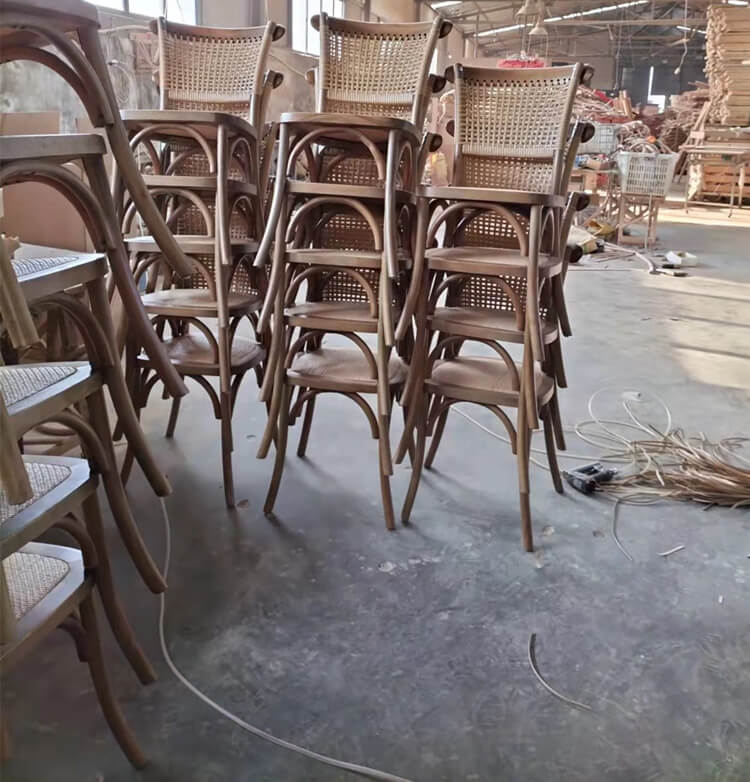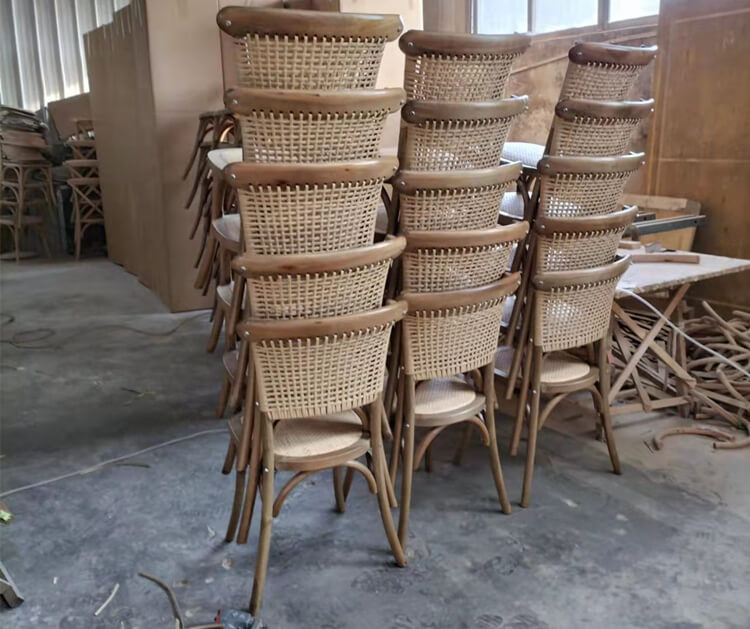 Regarding the painting work, we use 4 ways.
1. Brush paint: Our workers use one clean dishcloth, which is full of paint to brush the whole cane back
dining room chairs, the paint will dip into the wood inside, and when the paint dries, so you can see nice
wood grain.
2. Stain paint: We put the spare parts of antique cane back chairs into the bucket with full painting oil,
then we take off and make the wood try by the natural weather. And we will sand them.
3. Oiled painting: normal painting work, sometimes, we use MATT painting work for antique color.
4. Varnish painting: Shiny painting work.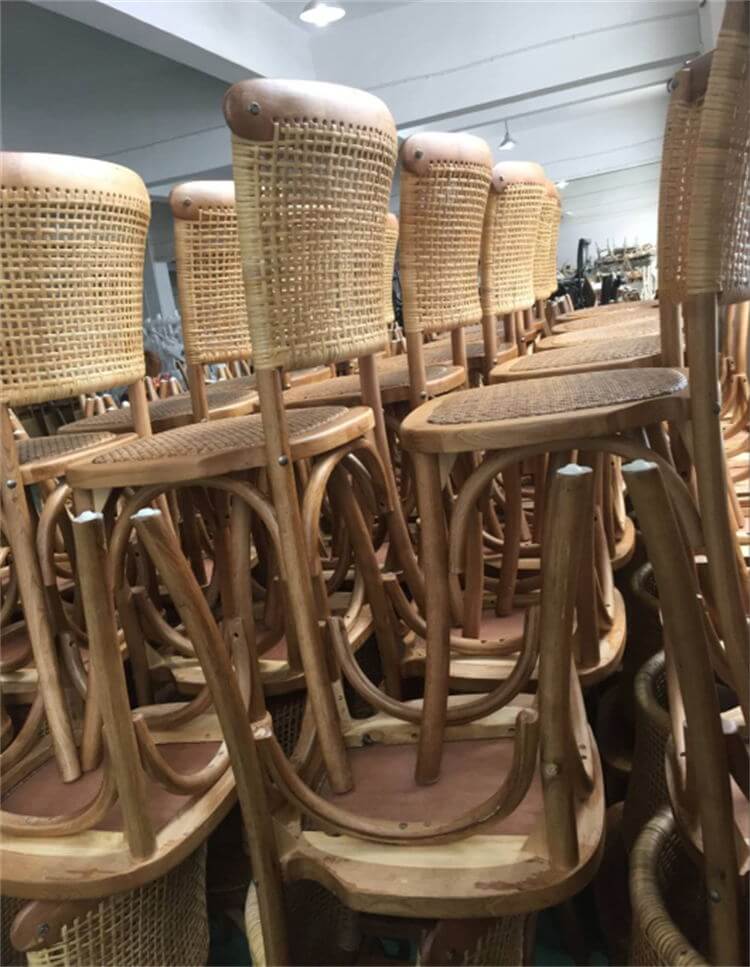 Cane Back Chair Manufacturers Packing and loading :
To put more modern cane back dining chairs in to the container and save Ocean Freight, sometimes, we
load the container without boxes like the following pictures. But we use a very protected package, the dining
chairs cane back will be not scraped each other as well. This is the most important thing during Ocean
transportation.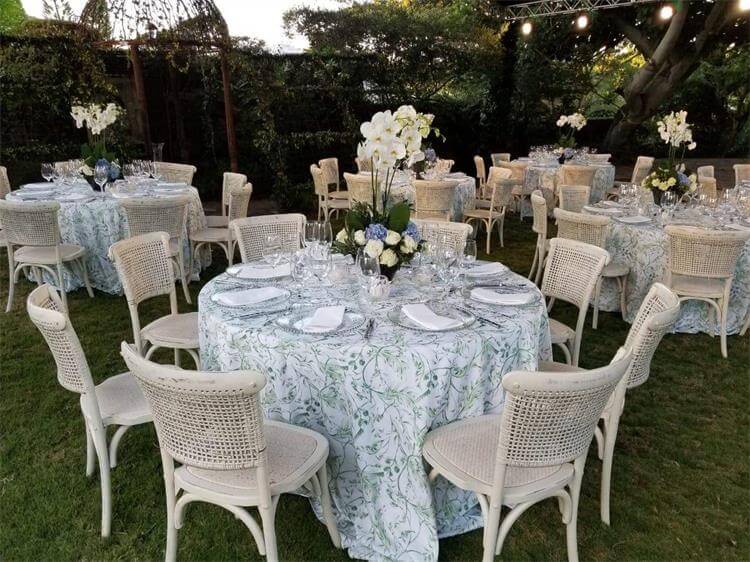 Some customers ask us" if your rattan chairs can be used outside"?
Answers: Surely. Our Solid wooden chairs with rattan back and rattan seats can using outside, even when it is
raining.  When customers choose a wedding style is farmhouse style, you can choose these event chairs as well.