Round Farmhouse Table
As a professional table manufacturer and table factory, Blossom Furnishings provide wooden round table wholesale in factory outlet price. Our round farmhouse table is made of 100% pine, made of brown cherry color. our round farmhouse table is sealed with waterborne paint, it is easy to wipe with a wet sponge, and is also easy to maintain. This kind of  table is a very delicate round wood dining table, it is a good choice to put it at home as a table. It can suit any decoration style in the home. Because this round farmhouse table is waterproof, it can also be used outdoors, even if it is wet. The round farmhouse table also has a long life and can last up to 50 years.
Wood moisture is around 11%
Thickness of wooden tabletop is special at 28mm
Whole assembled already wooden farmhouse table
MOQ is 10 pieces for this big model
difference wooden stain finish including brown, natural as well
Description
Detailed Information About Round Wooden Table Wholesale
We not only can produce basic rustic farm table but also we can produce Round Farmhouse Table in high quality.
Our round farmhouse dining table can be 183 cm by 183cm.
Mainly we show you the Round Farmhouse Table Process as following:
1. Our farmhouse table factory has a professional design team. No matter what kind of wooden round table wholesale you want, we will try our best to meet your requirements. This is one of the drawings when our designer designed the wooden round table table.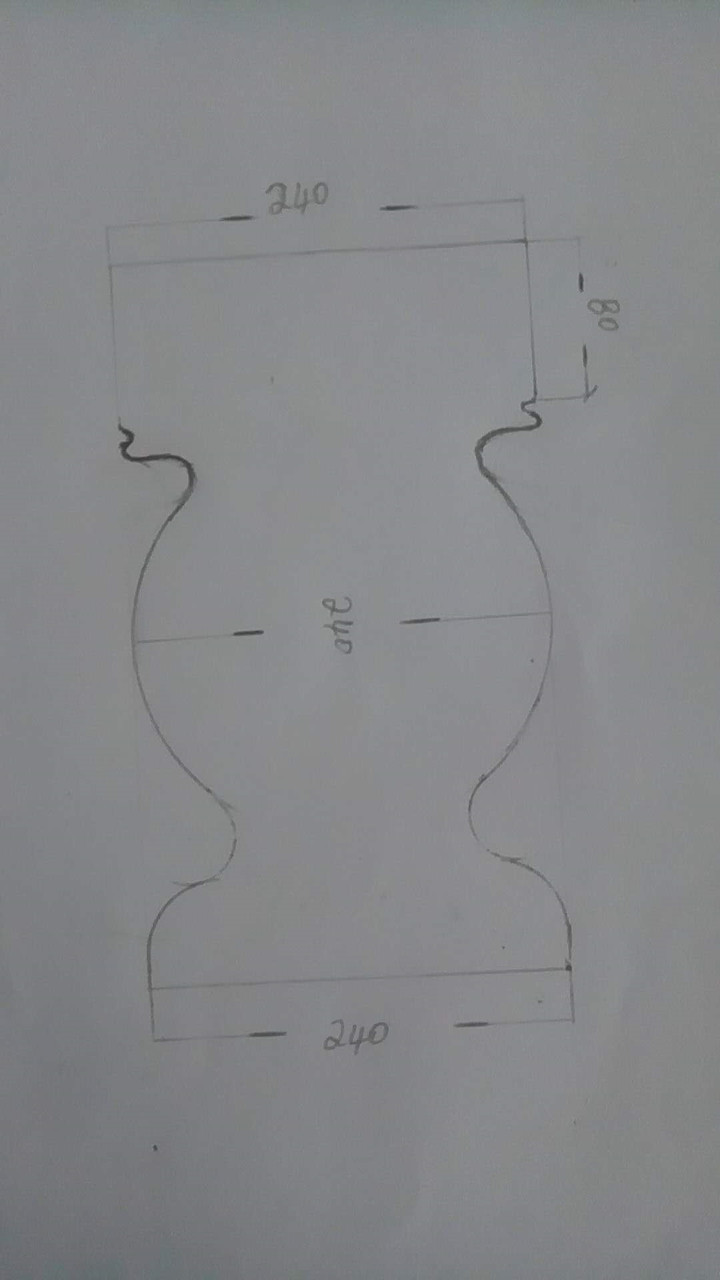 Round Banquet Table Design
2. Our solid wood round dining table is made of 100% natural pine. Cut the selected pine into the size needed for the farmhouse table.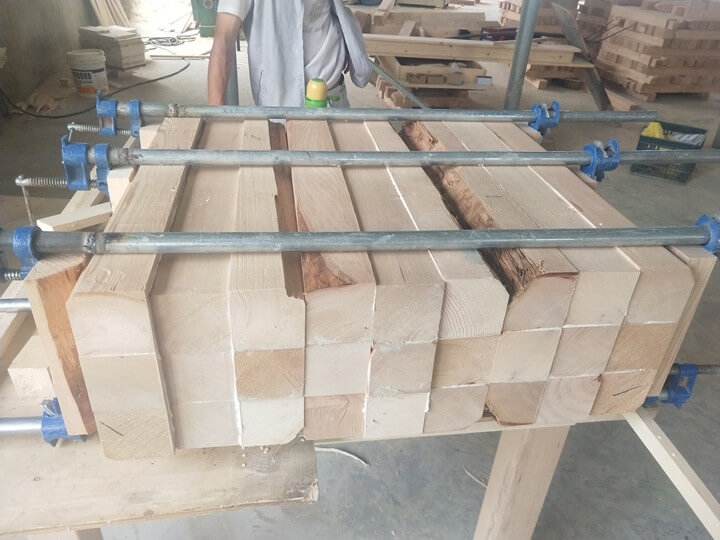 Round Farm Style Table Manufacturing Process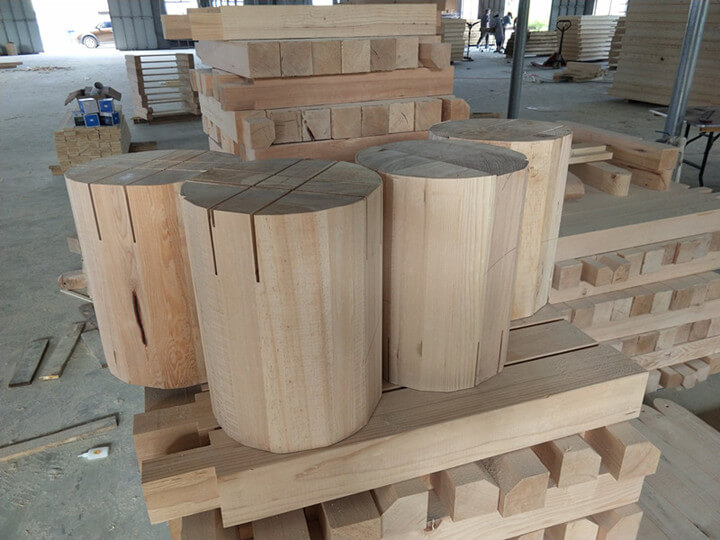 3. A machine grinds down the joints between each leg and the round farm table. This is a very careful step. If something goes wrong, it's not perfect. You need a machine, but you also need to grind it by hand.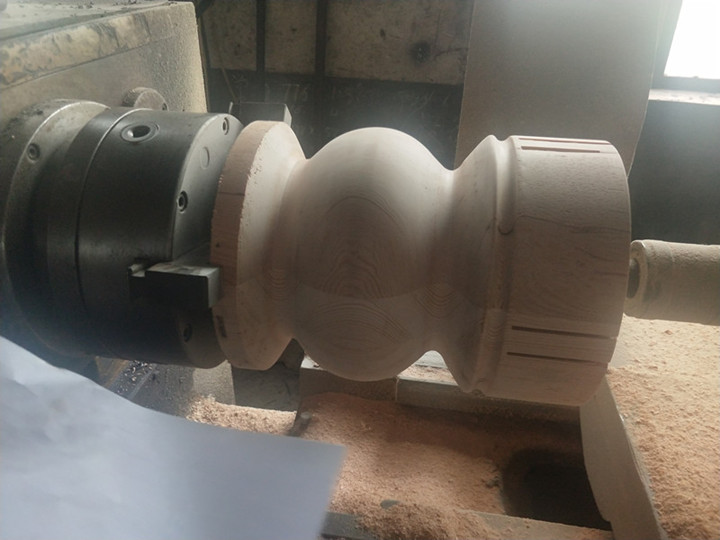 4. This is the process of making round rustic wood dining table legs. The workers are cutting out the shape of table legs by machine, and input the shape required by rustic wood round dining table legs. The machine will operate automatically.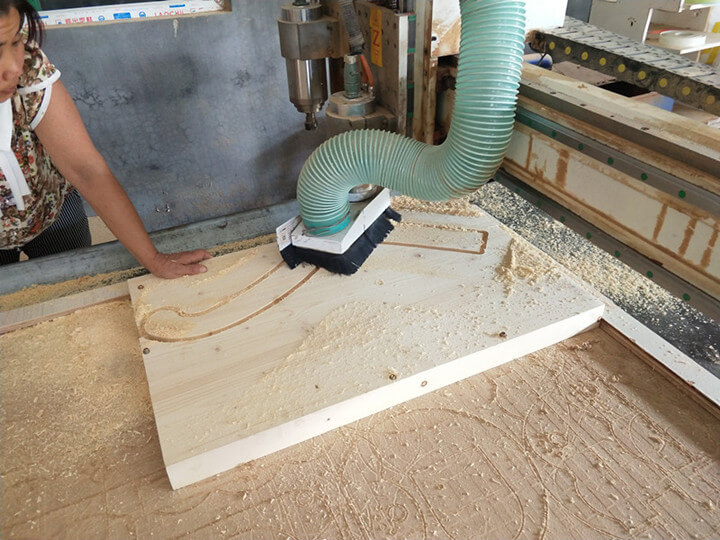 More processing of our round farmhouse dining table set:
5. Cut the legs of the natural wood round dining table, connecting the two.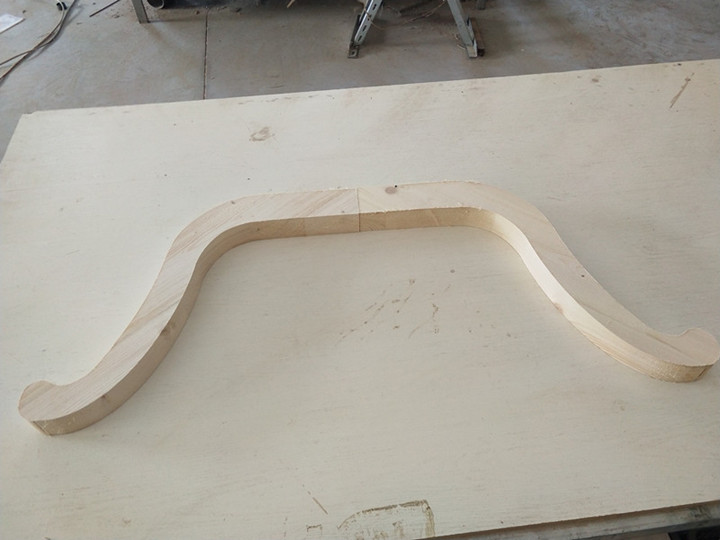 6. After the connection between the legs and the table is made, the workers stick the two parts together
with wood glue. Let it sit in the shade.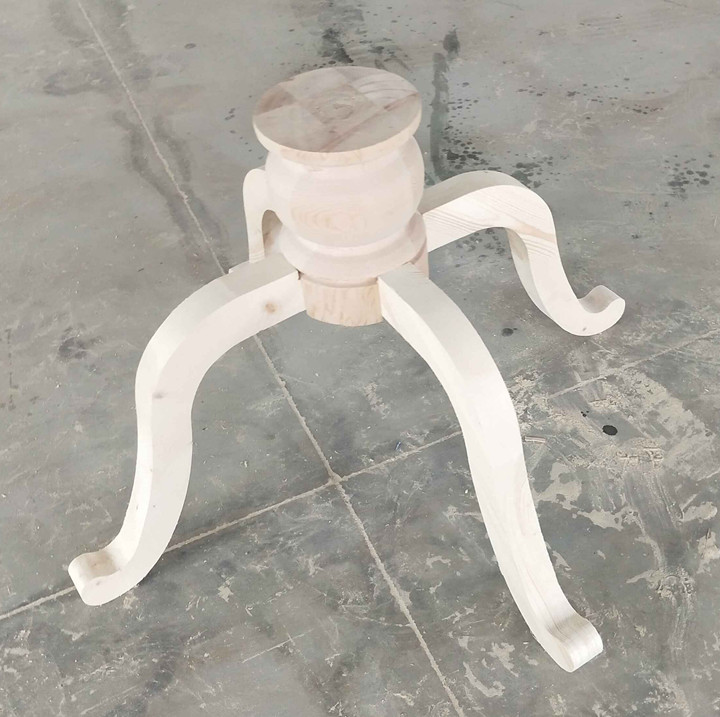 7. When the wood glue is dry. Then we will grind the rustic wood round dining table legs again to make it smoother.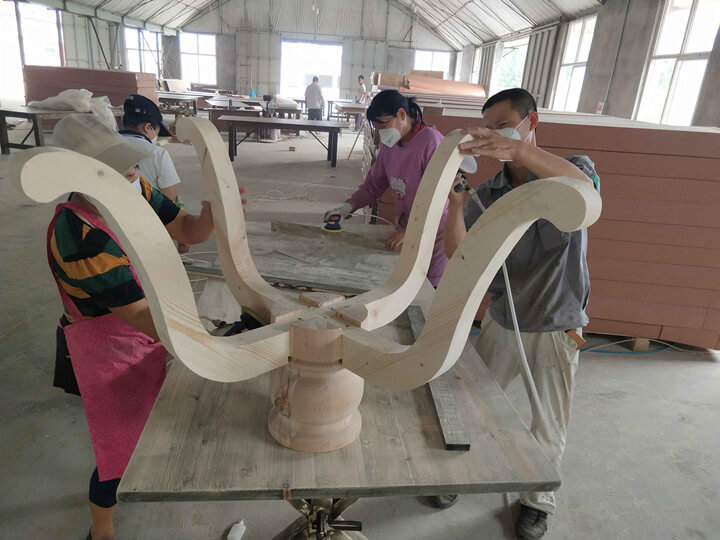 8. Our round farmhouse table is painted with brown cherry color, which can be used in any decoration
style. And we can see from the picture that the legs of the round rustic wood dining table are bright because our tables are sealed with water-based paint, good waterproof and easy to maintain.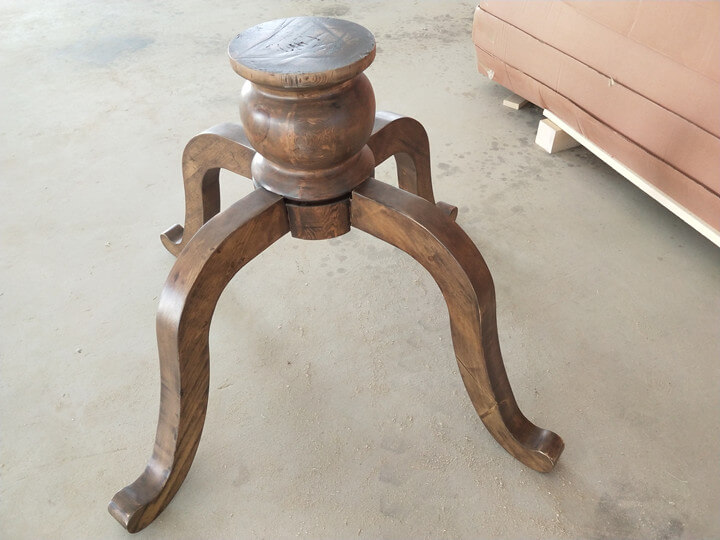 9. Because the tabletop is too big. So you need two parts. First, you cut a square piece of wood. Then you measure the size.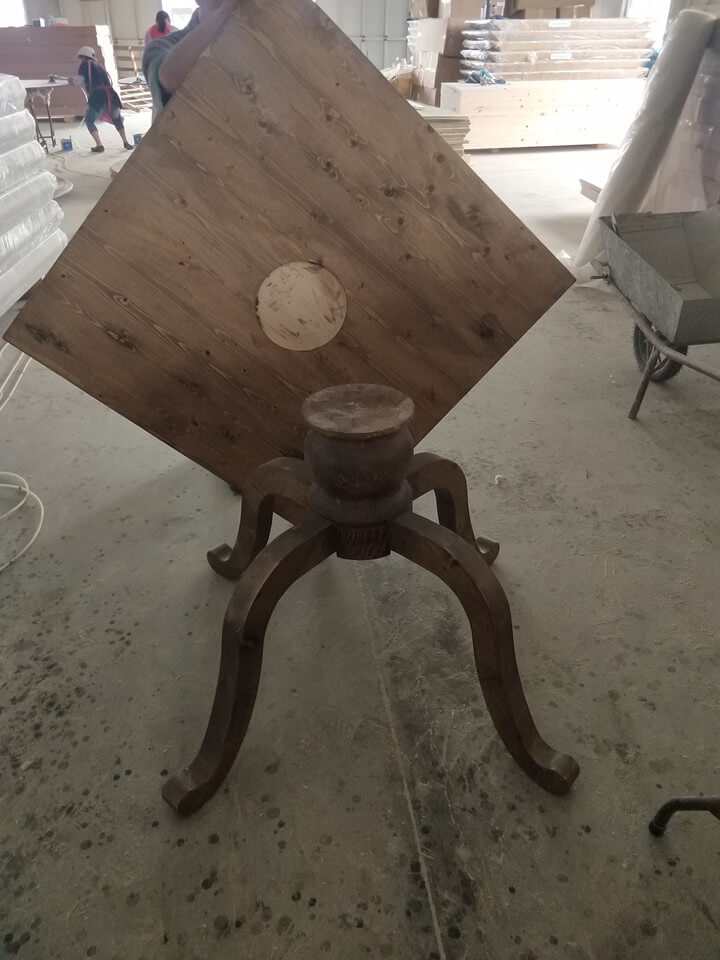 Round Wood Table Top
10. Then apply wood glue to the joint and firmly attach the square board to it.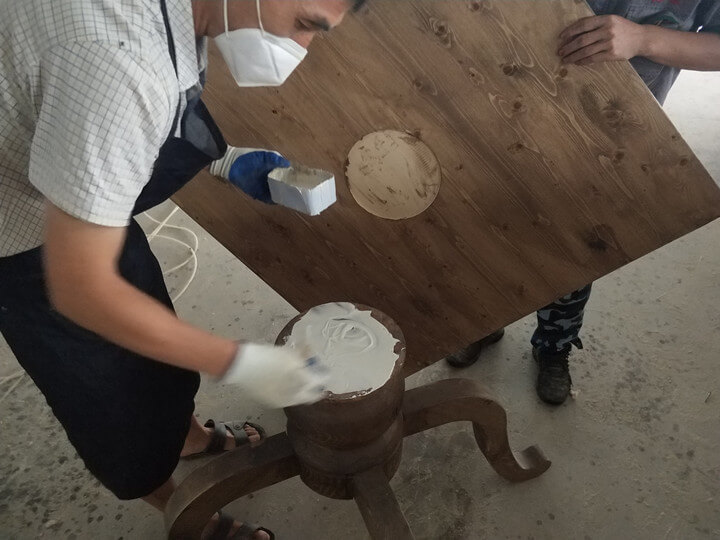 11. When the glue dries, cut off four pieces of wood of the same size. Then use nails and slats to secure
the top of the round wood farmhouse table to a square board. The table and legs will be securely fastened together.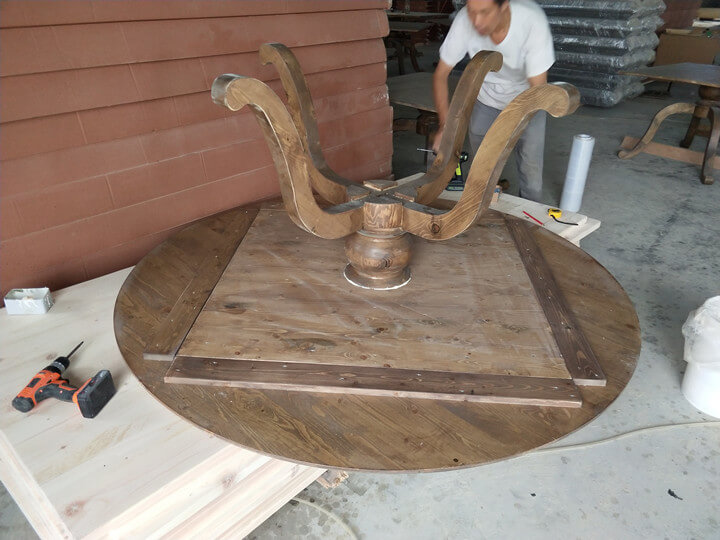 12. This completed round table looks beautiful. No matter where it is, your house will be elegant.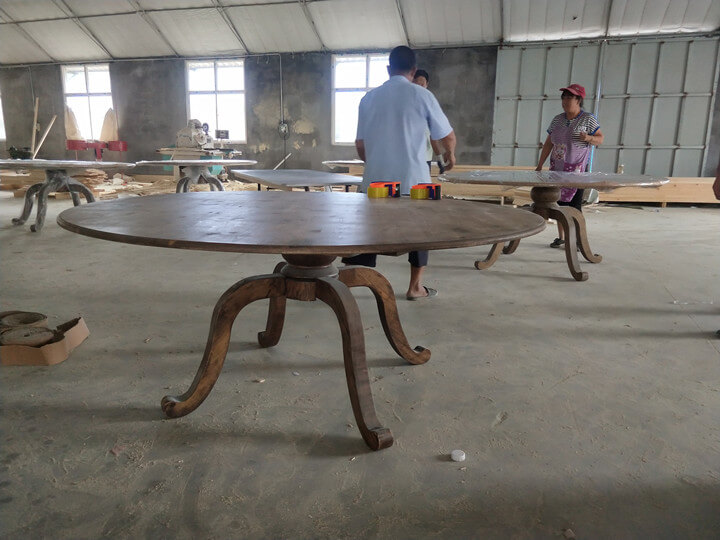 Wholesale Tables And Chairs For Sale
Color:
We have many choices about the color of the table. If there is no color you want, you can contact us and
we will try our best to make the color you want. We also have a white round farmhouse table.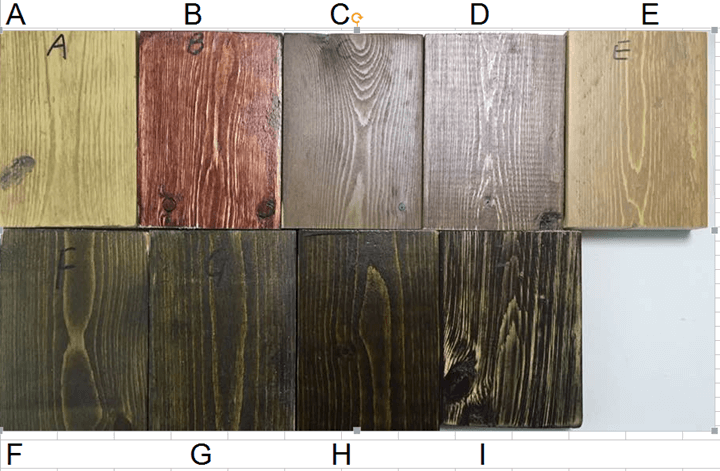 Feature of Round Farmhouse Table:
1.100% pure pine, natural color, keep the natural color of pine, clear and beautiful texture.
2. Strong practicality and durable
3. Modeling is simple and easy, the line is full and fluent, all show good simple sense.
4. Easy to maintain, just wipe with a wet sponge
5. You can customize any color, accept round farmhouse table DIY.
6. The round table has three dimensions in diameter: 153cm, 178cm and 183cm.
Packing 
Our round farmhouse table is well packed in packing film. So you don't have to worry about damage to the table in transit.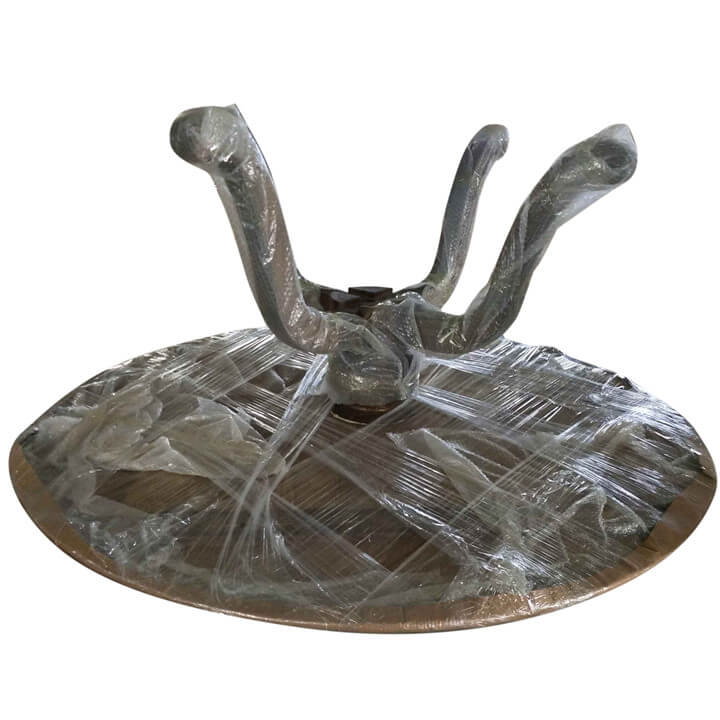 Wooden Round Table Wholesale