Chameleon Chairs G
Qingdao Blossom Furnishings accept Silver Chameleon Chair Wholesale business, we selling our silver chameleon chairs over the world.  These Luxury wedding and banquet dining chairs gold and white PU leather stainless steel chair are so popular in wedding market now. We have always placed great emphasis on quality control to ensure that excellent quality level is maintained. Moreover, the principle we always maintain is "to provide customers with better quality, better price and better service".
Main Features of our Stainless Steel Chairs:
1. Chair size: L 70*W 54* H 115 cm
2. Chair weight: 6.5 kg (141 lbs)
3. Material: Stainless steel +PU leather
4. Using place: factory direct silver metal stainless steel frame leather chair in wedding banquet reception
5. Production time:   20 to 25 days from the day of payment.
7. Production capacity: 16000 Piece/Pieces per Month
8. Packing size: 119 x 76 x 57 cm (4 pieces per box)  Per box: 0.515508 CBM Per chair: 0.128877 CBM
Advantaged service and quality control details:
1. Before shipment,we have QC to check quality 100%
2. Each order, we provide free 3% accessories for customer reserve.
3.After service details: After the goods arrived clients warehouse, any damaged we will check and replace free.
4. During the period of sales,if any fitting parts lacked,we can resend free next order.
Description
If you would like to do business of Silver Chameleon Chair Wholesale, please consider our factory, Qingdao Blossom
Furnishings limited, which do business  of Silver Chameleon Chair Wholesale and Gold Chameleon Chair wholesale more
than 15 years. We have enough production capacity for your regular orders as well.
The production processing of our Chameleon Chairs as following:
As we have always stressed, we pay attention to the quality inspection of every production process. For the metal
stainless steel chameleon chair, we make meticulous and meticulous work from the selection of metal raw  materials,
cutting, bending, punching, welding, polishing, painting, to the production of cushions, sponge cutting, quilting, to
back treatment and installation of the seat plate Micro, to ensure the perfection of every detail.
We also set up the right size of cartons for these chameleon chairs to ensure the maximum use of the container space.
The metal frame of this stainless steel chair can be painted or electroplated into different colors, such as gold, silver,
rose gold, black, etc. For the cushion part, customers can choose different color distribution materials, or leather,
which is OK. We have more than a dozen colors of cloth and leather for customers to choose. Customers can match
different colors according to their preferences and requirements. At present, the most popular color in the United
States is gold and silver. The proportion of gold is slightly higher than silver.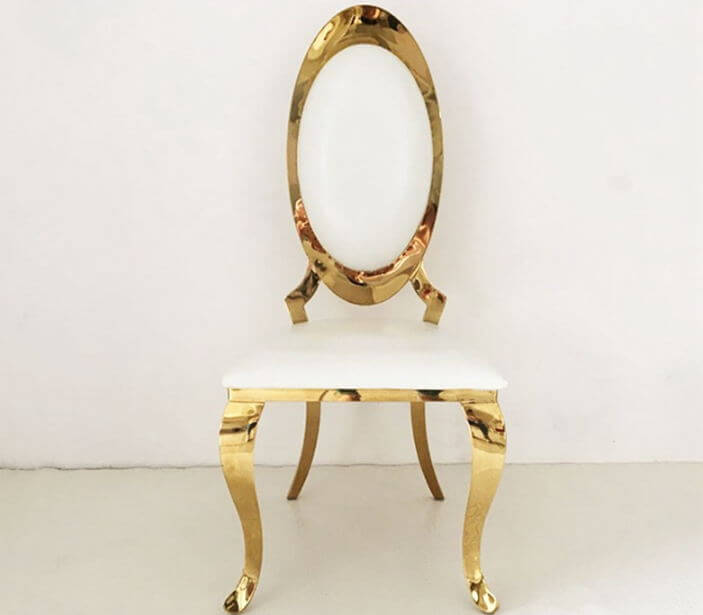 Through the back of this golden chair, you can see beautiful patterns and unique shapes, which will add more festive
colors to the wedding. These patterns can also be produced according to the shapes provided by customers. If your
demand is large, these can be discussed.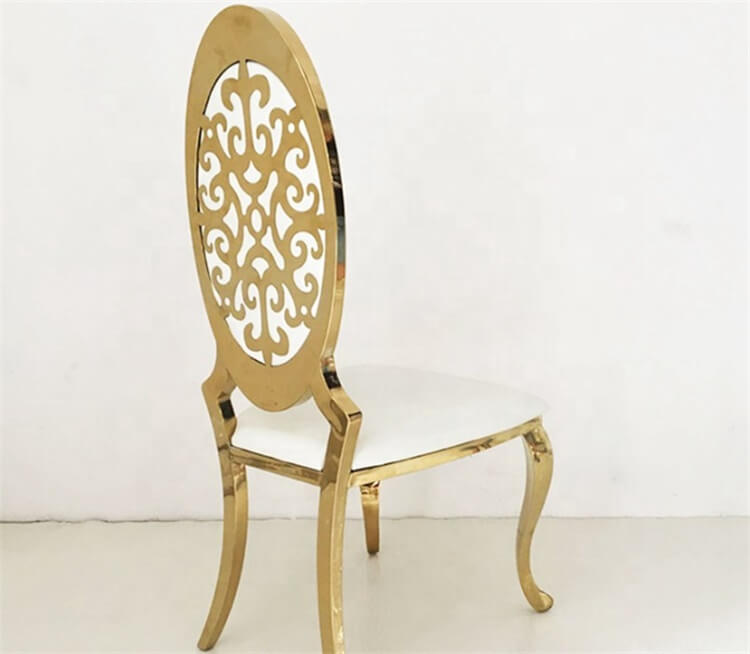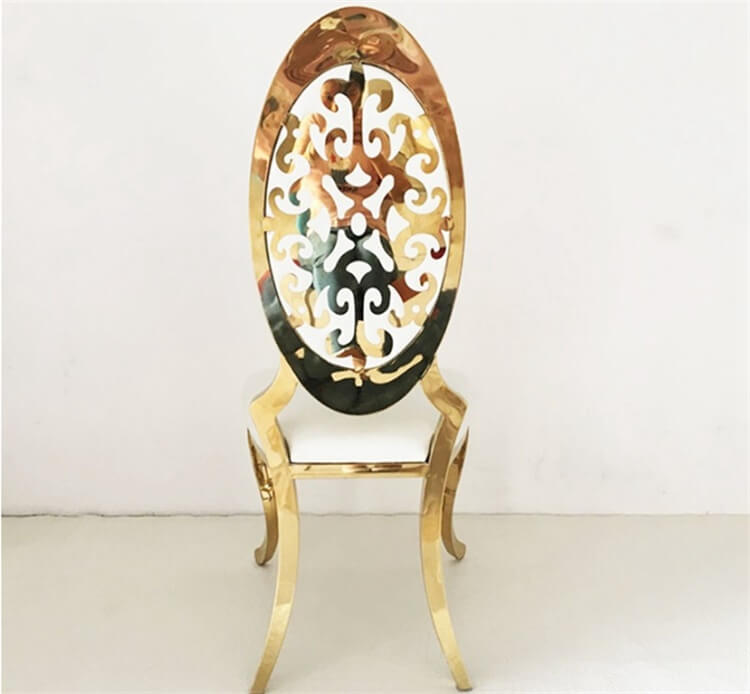 Loading quantity:
20 ft container: 216 pieces
40 ft container HQ: 524 pieces
Box size: 120 x 80 x 54 cm / 4 pieces