Chameleon Chair F
Our Stainless Steel Tables And Chairs Manufacturers producing more than 15000 pieces of stainless steel chairs monthly.  The main features as following:
1.  Chair material: Stainless steel,pu leather
2. HS code: 9401719000
3. Chair size: Approx 480*500*960mm
4. Chair weight: 15KGS
5. Production time: 15-20 days for quantity under 1000sets;20-25 days for 1000-5000sets
6.  Using place: For wedding ,party,hotel ,restaurant ,home ,banquet
7. Package: Each piece with waterproof film packed, 2pcss/ carton; carton size: 105cm*70cm*53cm
Main Advantage of Stainless steel chair:
1.  welding:   full and firm
2. polishing:  smooth and beautiful
3. color variety:  many colors are choice
4.  handwork: beautiful and exquisite
5. the seat cushion is model sponge and high density sponge (fabric,leather,optional)
6. gold-plated (titanium color,rose gold,sliver)
Description
As one of the biggest Stainless Steel Tables And Chairs Manufacturers in Qingdao China, we can producing more than
20 kinds of stainless steel chairs totally. we selling our Modern Luxury Wedding Stainless Steel Dining Chair more
thank 30 countries, these chairs made of stainless steel frame, Plywood,sponge  and fabric or PU.
Details of our event chairs as following:
The following picture lists the dimensions of each part in detail, including the length, height, width and the dimension
from the seat plate to the floor. This dimension is the standard size in the industry, but it is not the only one. We can
improve and improve it according to the size provided by customers and our practical experience.  The chairs with
appropriate size proportion Son, will let your restaurant, hotel, wedding place get very good promotion.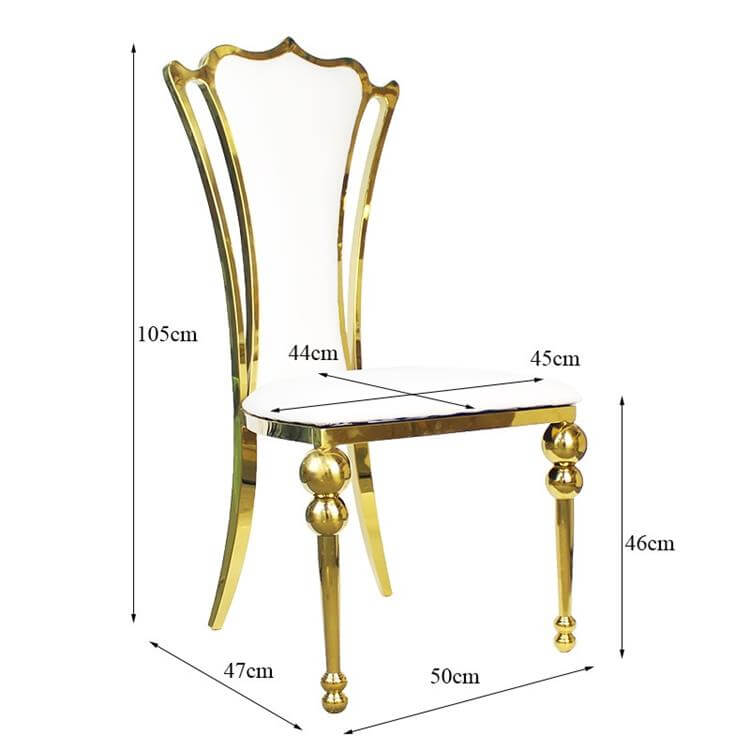 We can electroplate different colors according to customers' requirements. The following three colors are the most
popular at present, gold, rose gold and silver.

The production process of this chair is similar to the basic process of other stainless steel chairs. All of the processes
are as follows: cutting, grinding, stamping, welding, assembly, pickling, electroplating, cushion making, single
packaging, and overall chair packaging. In each process, our quality inspectors will carefully check to ensure that
customers The product is perfect. So that our customers will be satisfied with our Stainless Steel Tables And Chairs.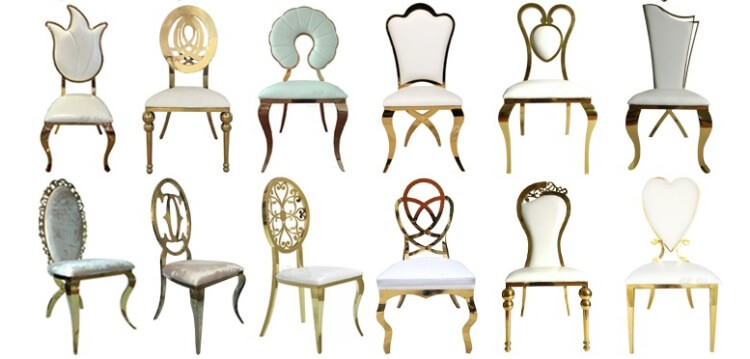 Through the above pictures, you can see more styles of stainless steel chairs. These chairs are novel, unique and
different. We have been committed to developing and producing new styles. On the basis of ensuring the original
styles, we will provide customers with updated styles and more popular chairs to ensure better sales