Aluminum Chiavari Chairs Manufacturer
Rated 5.00 out of 5 based on

1

customer rating
5.0
(

1

review)
Blossom Furnishings are has been engaged in the production and export of aluminum Chiavari chair for more than 14 years. We have one of the best furniture factories in Qingdao, specializing in manufacturing all kinds of melt, wooden and resin chairs, especially Chiavari Chairs and cross back chair wholesale. We wholesale event rental/hire Chiavari chairs worldwide.
Aluminum Chiavari/Tiffany Chairs is made entirely of aluminum, lightweight and high strength are the main characteristics of this chair, to meet your different quality or price requirements, there are a variety of specifications of aluminum for you to choose, Some advantages of working with us include excellent customer service and options to customize your products.
Aluminum Chiavari Chair Features:
lightweight, high strength
 Stackable up to 8 AluminumChiavari chairs
Rustless, durable
 Customizable height and Chiavari chair colors
 Suitable for both indoor and outdoor use
 2-year Warranty
 Successfully passed SGS certification
 Ships fully assembled
 MOQ: 200 Pieces 
Description
As one famous Aluminum Chiavari Chairs Manufacturer, Qingdao blossom furnishings
insisting on the high quality of event chairs. Our target is number 1 of Aluminum Chiavari
Chairs Manufacturer in Shandong.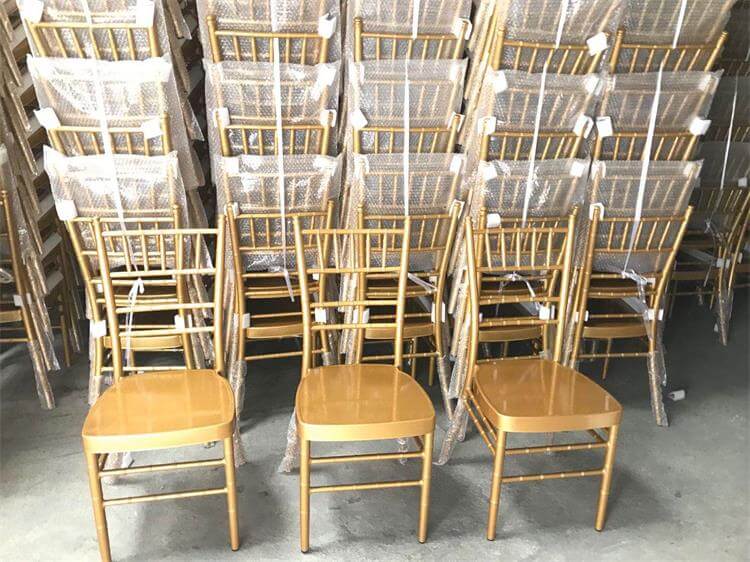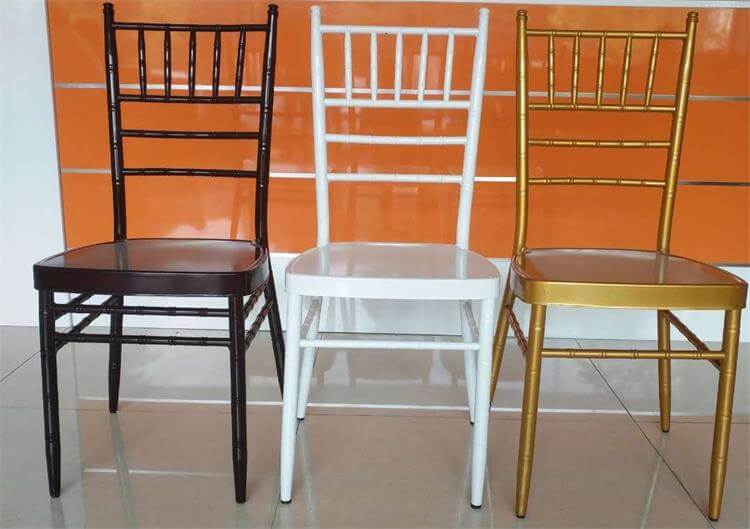 How about our aluminum Chiavari chairs manufacturer and our chairs?
Advantages as following:
Weight Capacity: more than 500 lbs per chair.
Chair Net Weight: around 4 kg/3.6 kg easy to carry.
Stackable Chiavari chair.
Our aluminum Chiavari chairs pass SGS inspection, the quality meets the requirements.
Aluminum Chiavari Chair is the classic choice for the party rental and wedding place, and
more durable than wooden and resin chair
Our Aluminum Chiavari Chair is sold to more than 23 countries and areas. Our Chiavari chair
factory can produce more than 6000 pieces of wooden tiffany chairs monthly.
Many colors are available, including gold, silver, white, black, mahogany, and so on.
Matching Chiavari chairs carts, chair cover, and cushion available.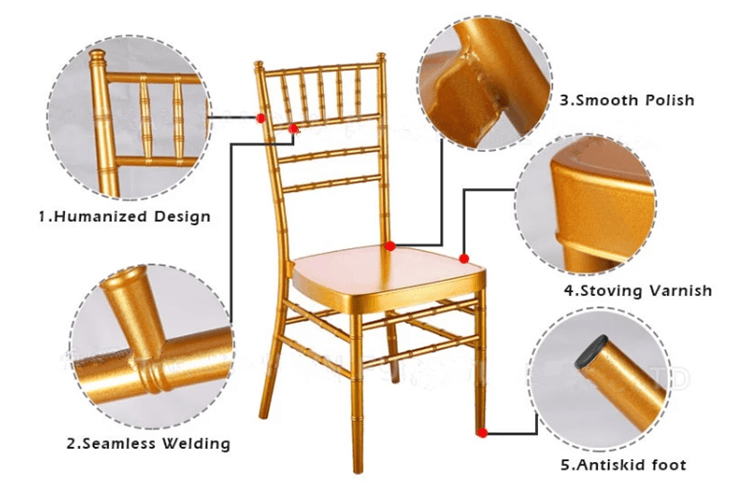 Let us show you Aluminum Chiavari Chair manufacturer Details:
Aluminium Chiavari chair Technical Sheet

1. Humanized curved-back design that accords with human body engineering, the perfect radian backrest
fits the human body perfectly, makes the chair sits more comfortable, but won't look too lazy because of the slope
too big, perfect for a party and wedding.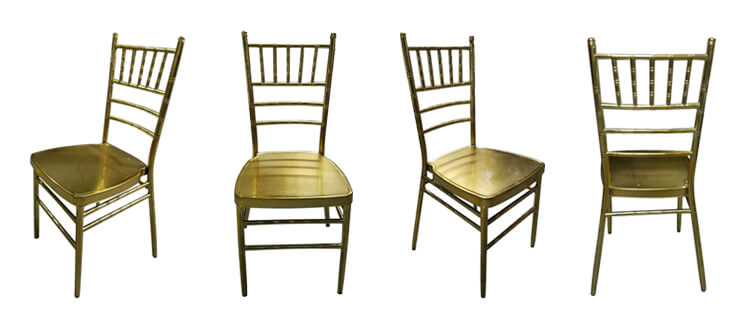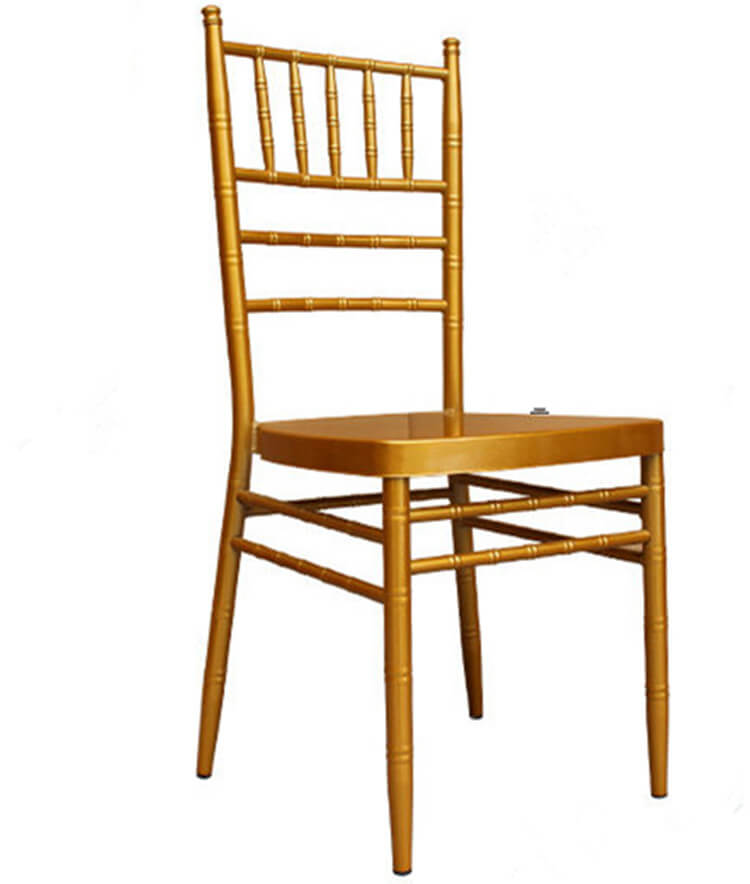 2. Seamless welding, let chairs have a perfect appearance, makes the chair frame stronger, and makes the
surface finish face more durable, the most important is when using outdoors, rainwater won't enter into a chair
leg to cause rust.
Please check the following details pictures, you can see the nice welding works for our aluminum chairs.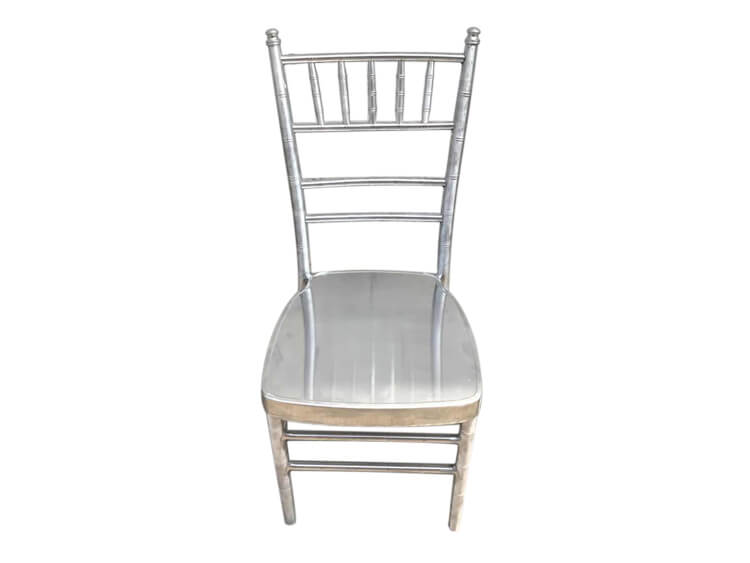 More closed photos for your reference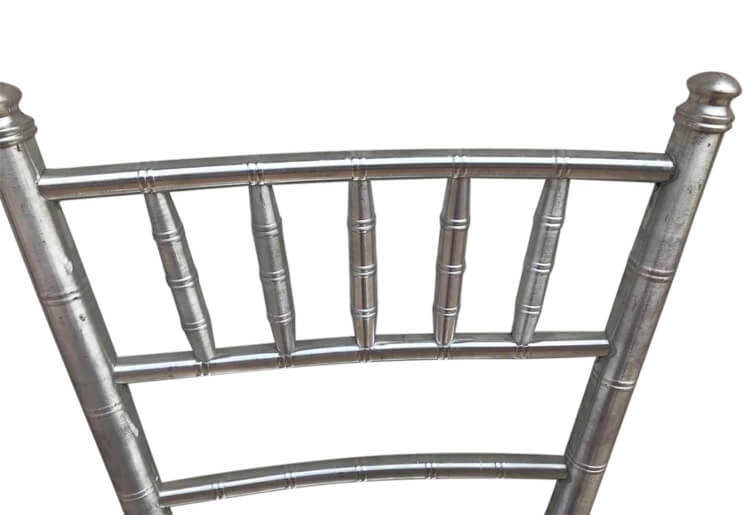 As one professional buyer, you will love these chairs at the first sight, very nice welding works.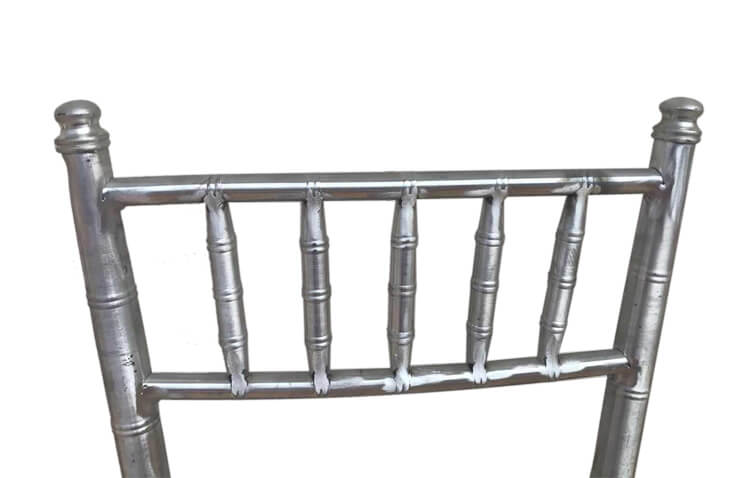 You have finished 75% nice work if your chairs with good quality welding
So please do not just ask low price, you should pay more attention to the quality control as well.

From the closed photos, you can see the excellent sanding work as well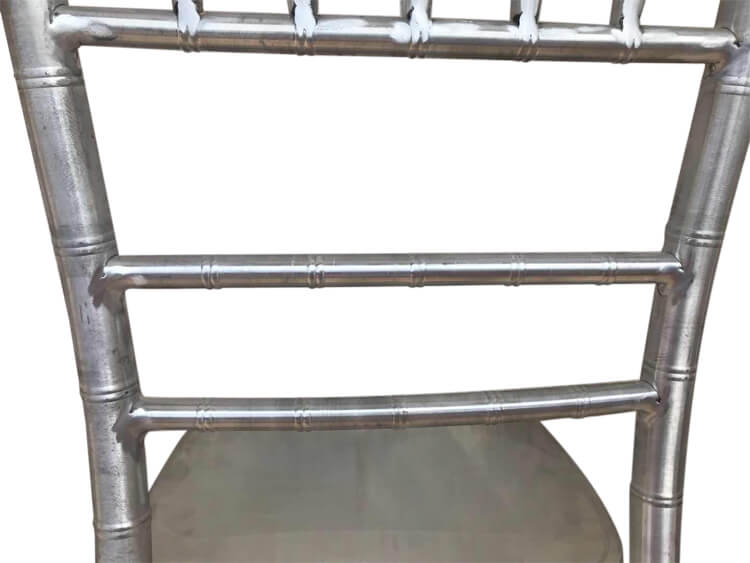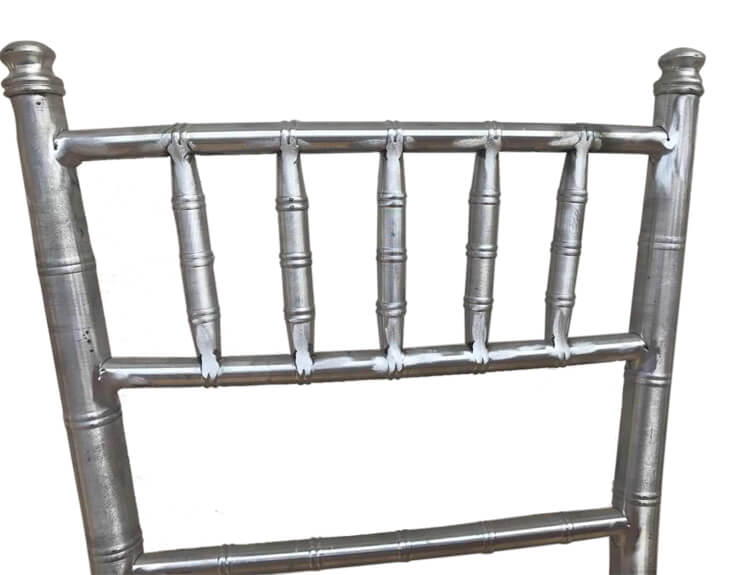 All the chairs ready for painting work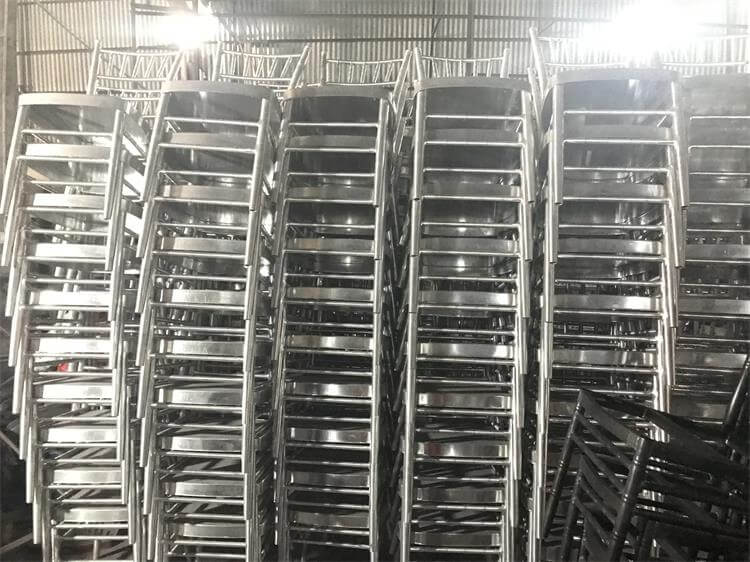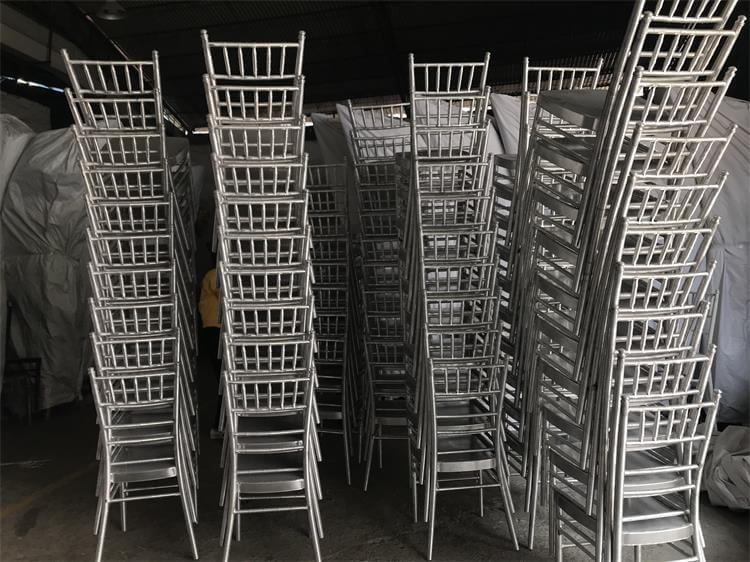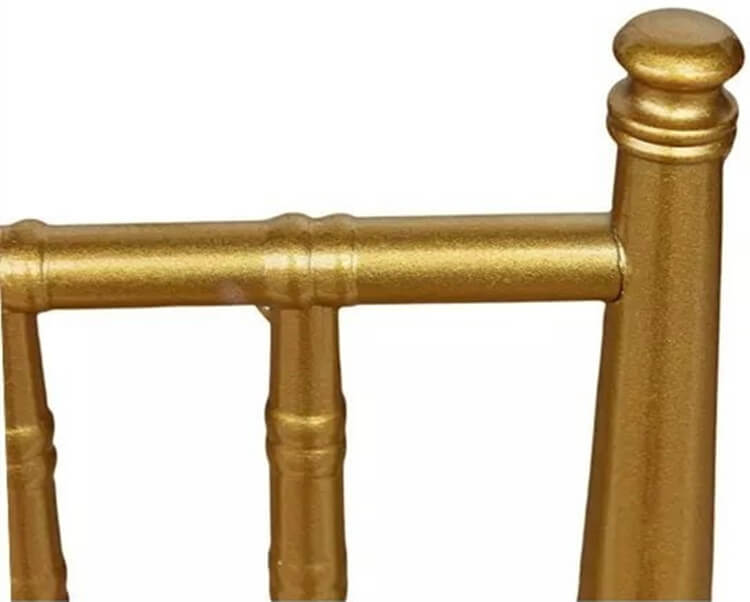 3. Smoothly polished, tight solder joints ensure the strength of the chairs. Professional workers will try their
best to make them look smooth.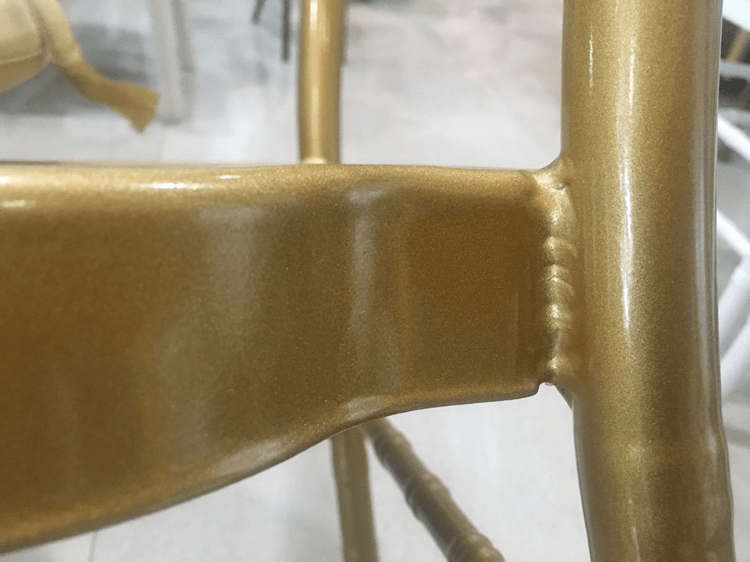 4. Anti-skid foot, to protect the floor, the legs of the chairs are covered with rubber antiskid foot.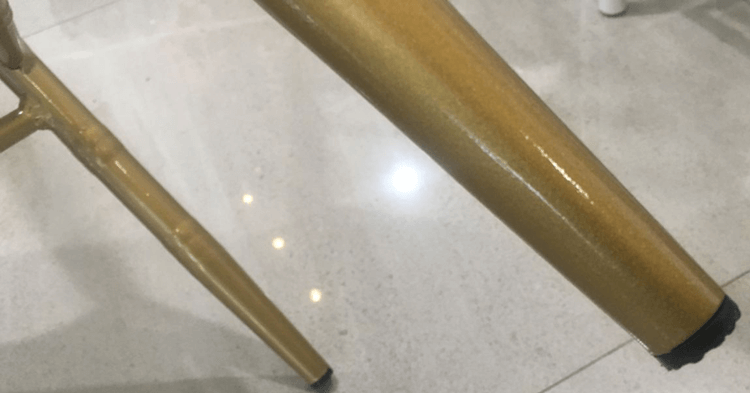 Check Aluminum Chiavari Chair Dimensions, please!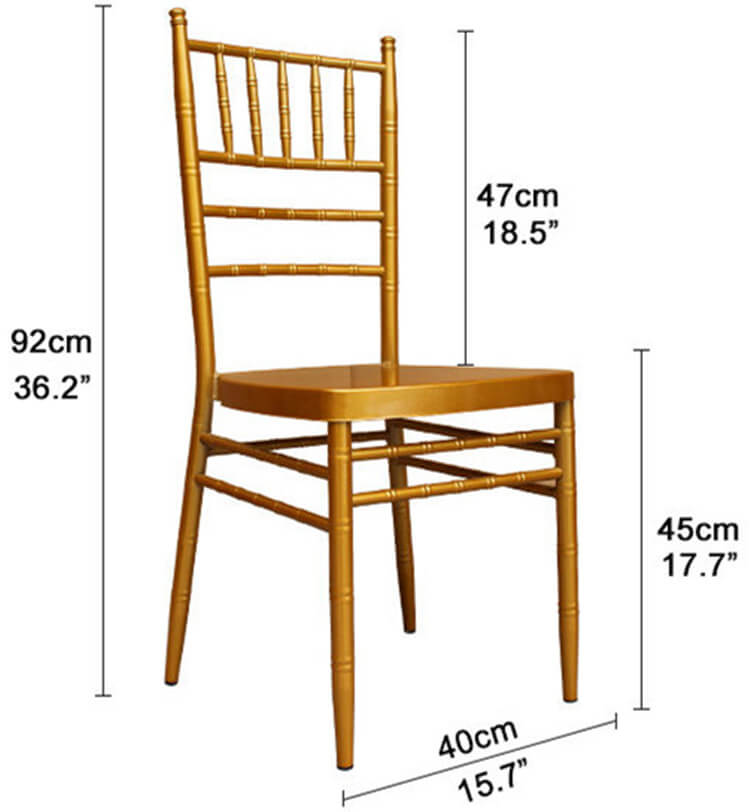 Please choose the Aluminum Dining Chair Color

At present, more than 45% of customers will choose golden aluminum slub chairs. The proportion of white
chairs is also relatively high. However, some customers like silver chairs very much. The picture below
shows the details of the silver chair.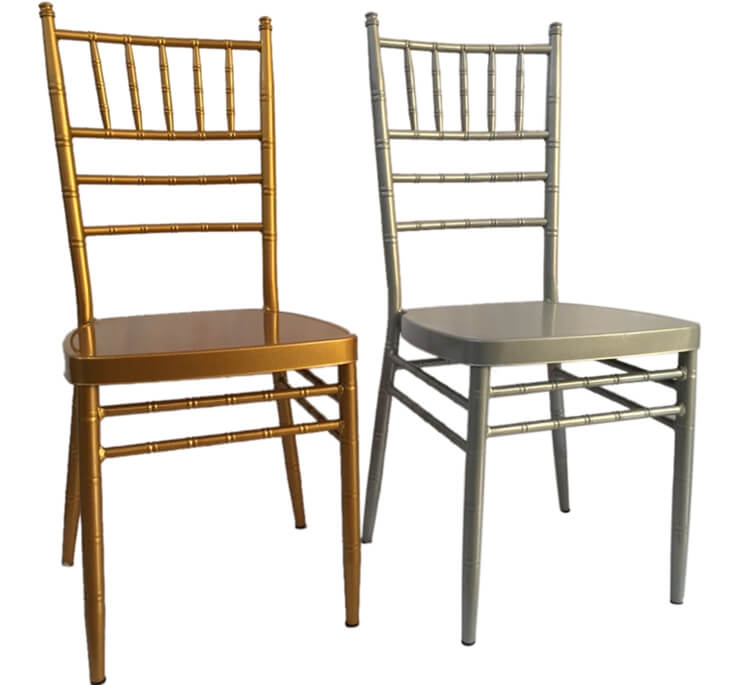 You can use Aluminum Chair Stacker Trolley to carry your chairs during transportation.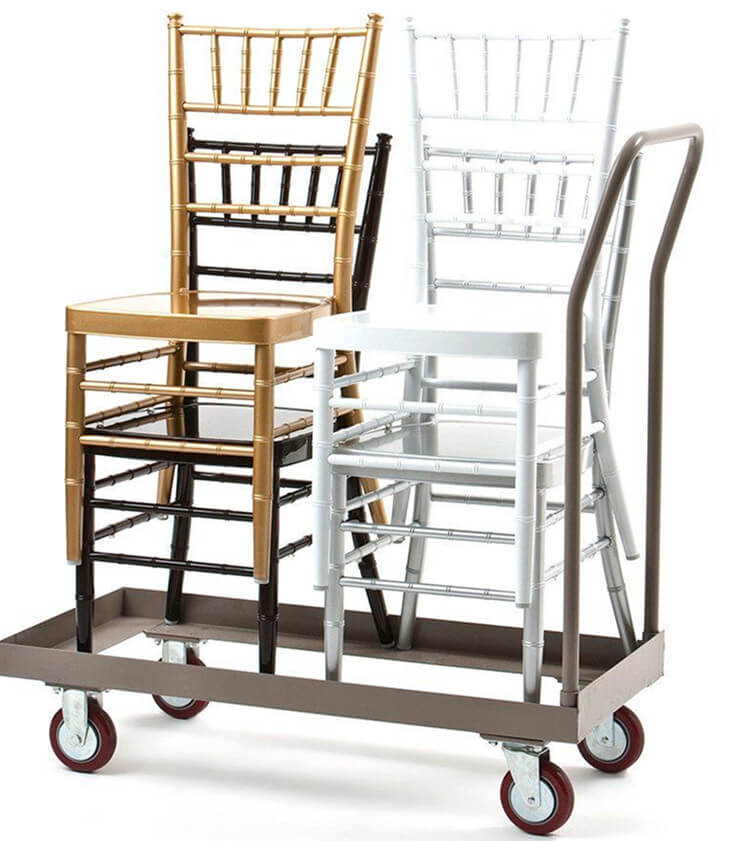 You can choose Aluminum Chiavari Chair Cushion to match your events chairs.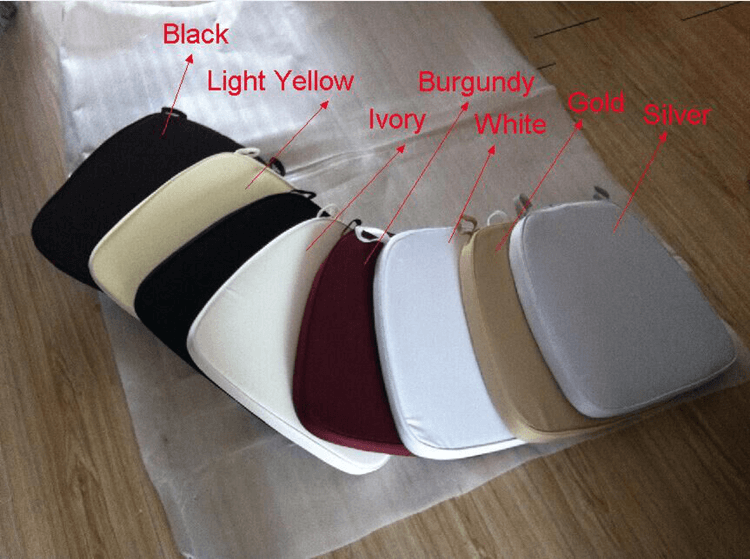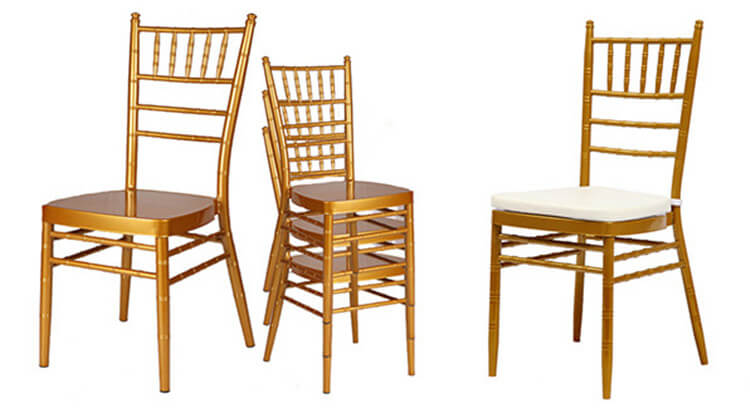 Production Process of Aluminum Chiavari Chairs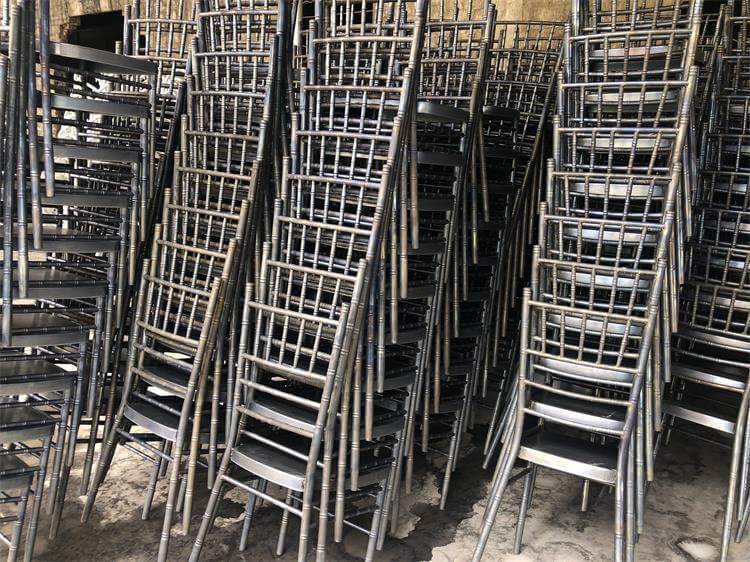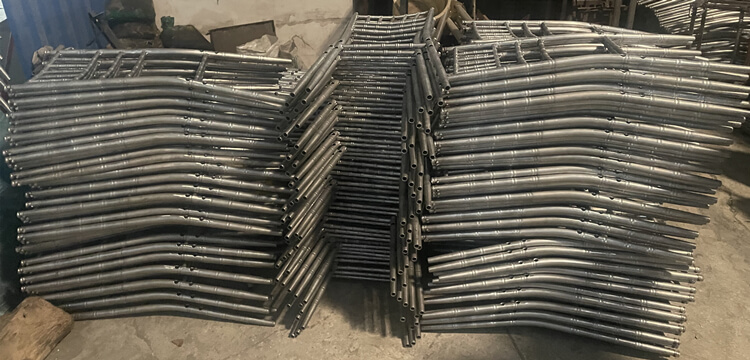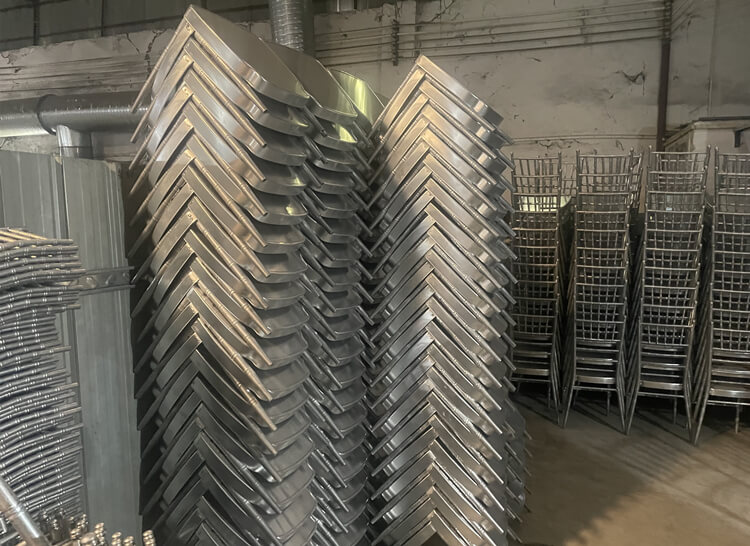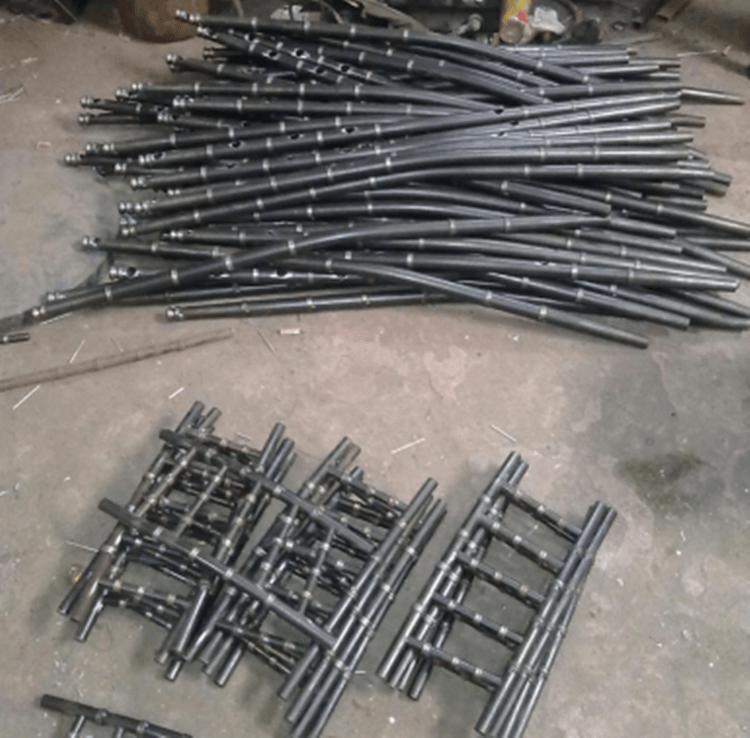 We use the high-quality aluminum tube, the size of which is 30*3.0 mm, with a large diameter and thick wall,
so that the chair can be durable. All parts are formed once, not pieced together, so they are stronger and
smoother. Skilled welding workers, all manual welding, can ensure seamless welding and can make the welding
surface smooth and beautiful.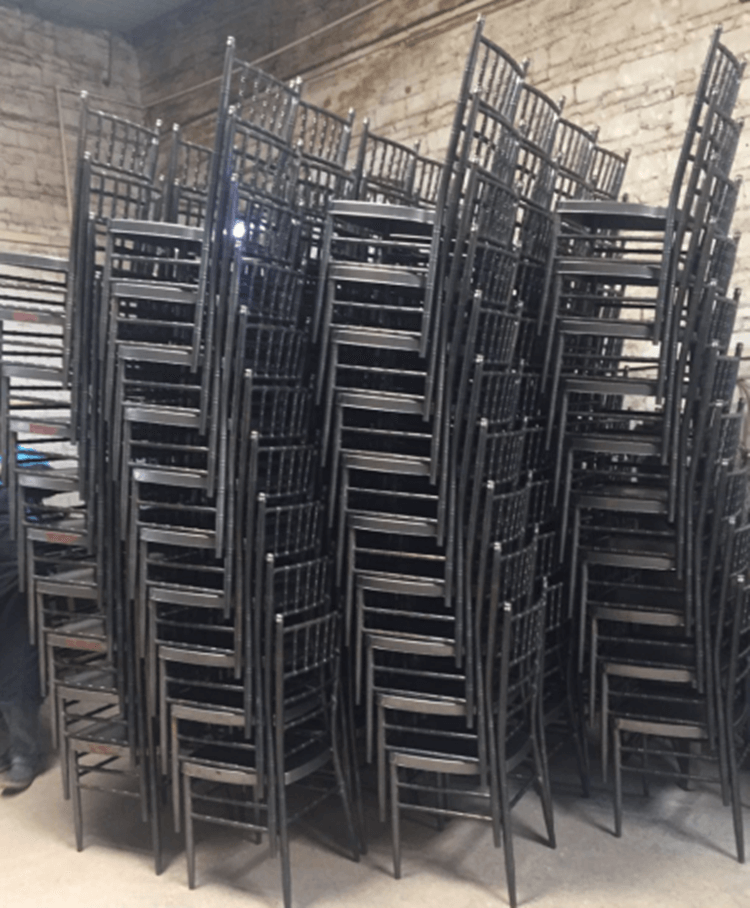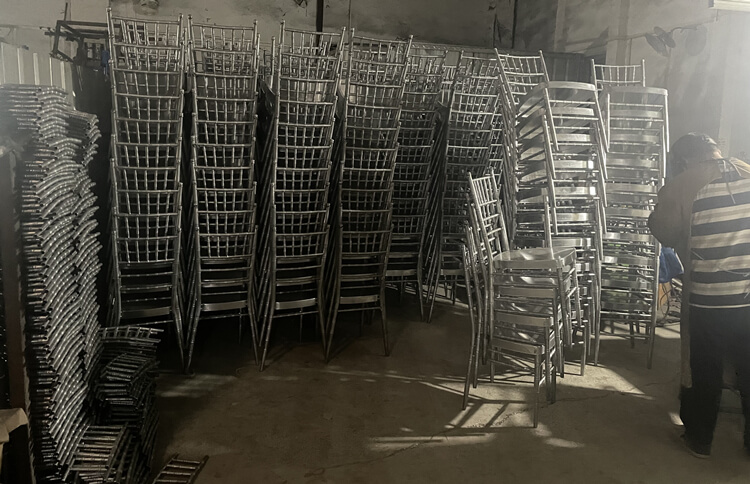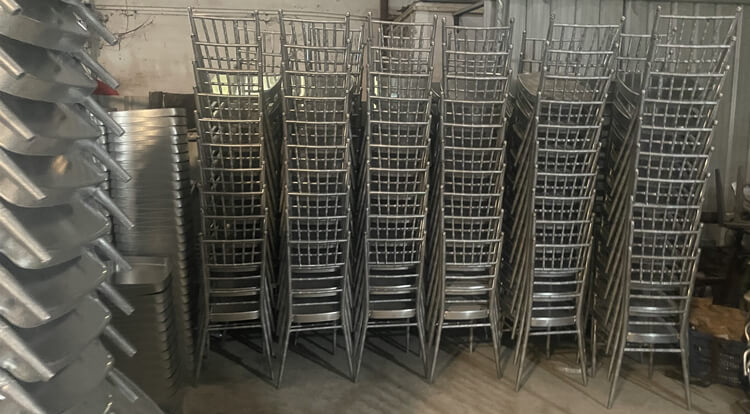 Aluminum Chiavari chair with stackable design, can be stacked up to 10 chairs, saving storage space and
facilitating transportation, classic design, sturdy and durable it is an excellent choice for activity rental.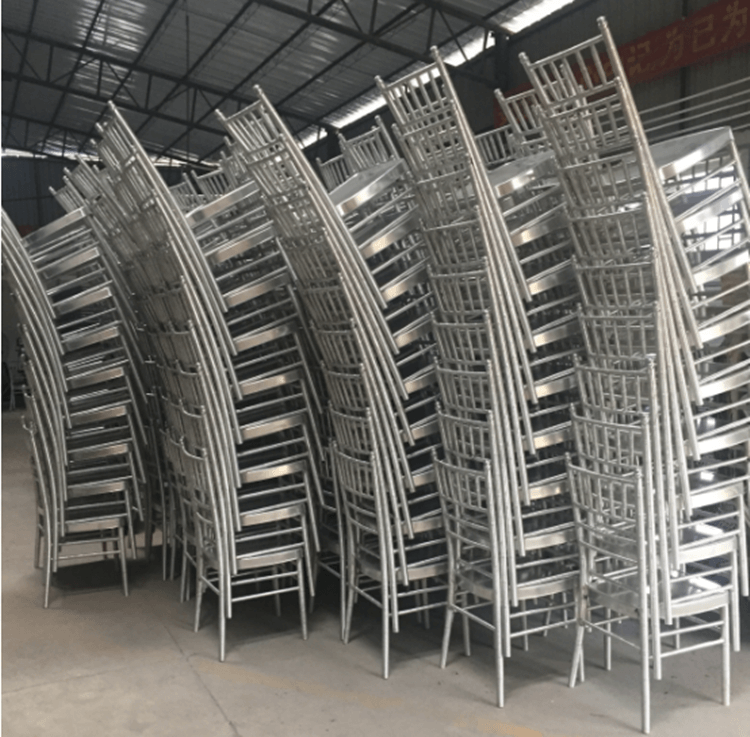 The finish, using the process of baking paint, gives them a beautiful glossy appearance.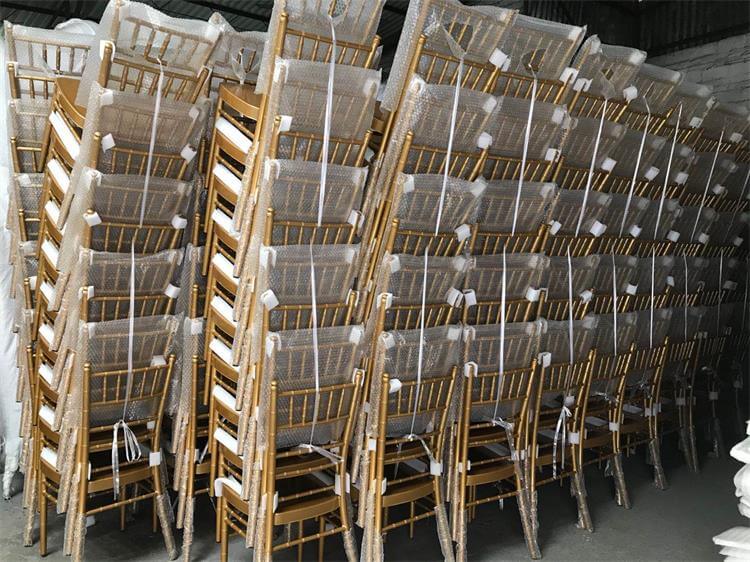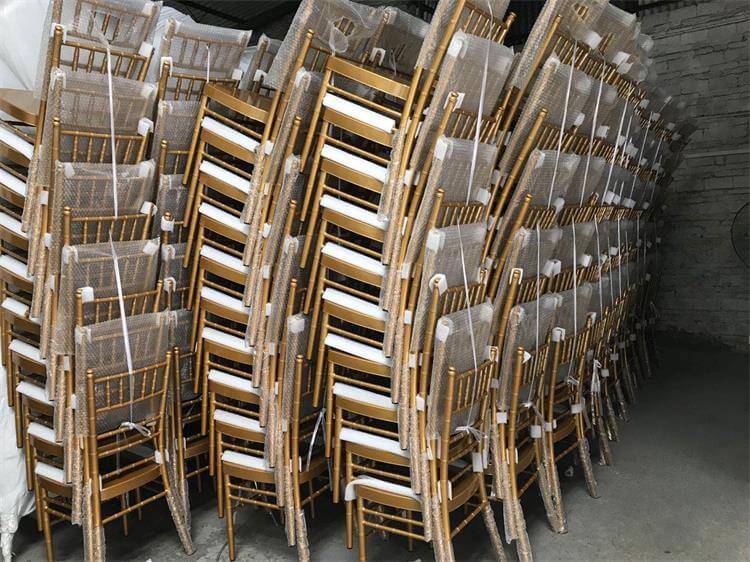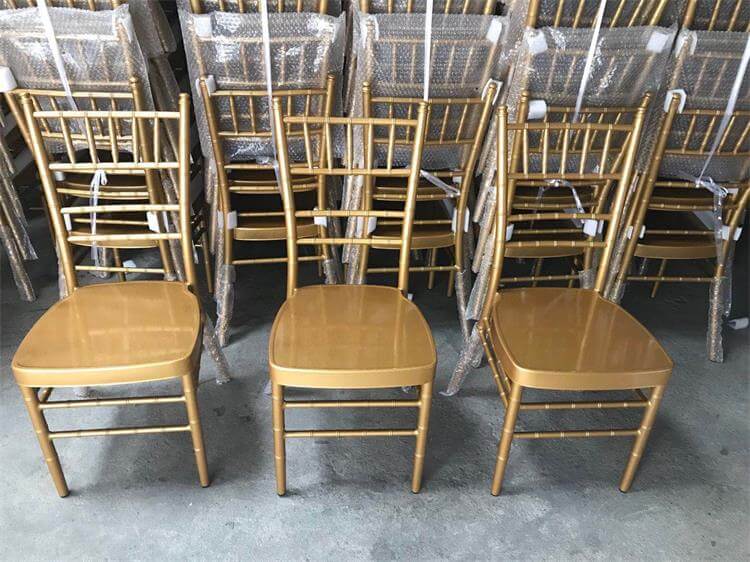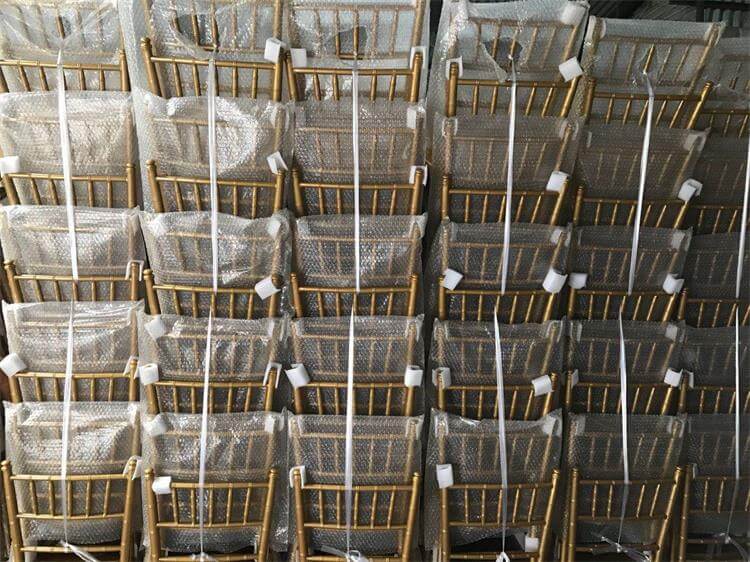 Aluminum Chiavari Chair Package
Foam sponges are used to separate the chairs from each other to prevent the friction between chairs from
damaging the finish, and then the outside is packed and tied with thick woven bags to ensure that the chairs
do not shake or tip during transportation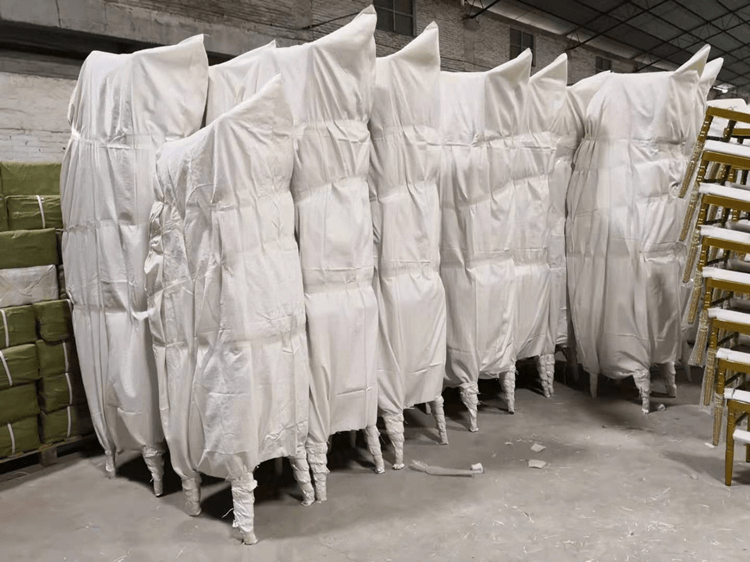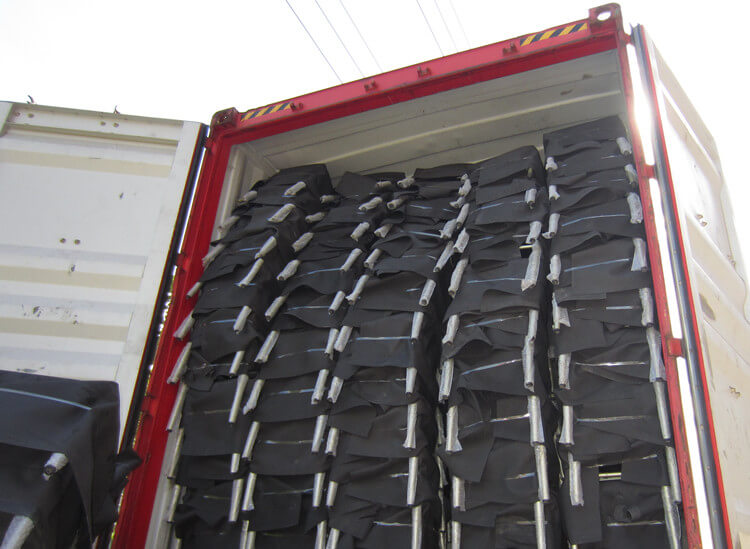 Feedback from our customers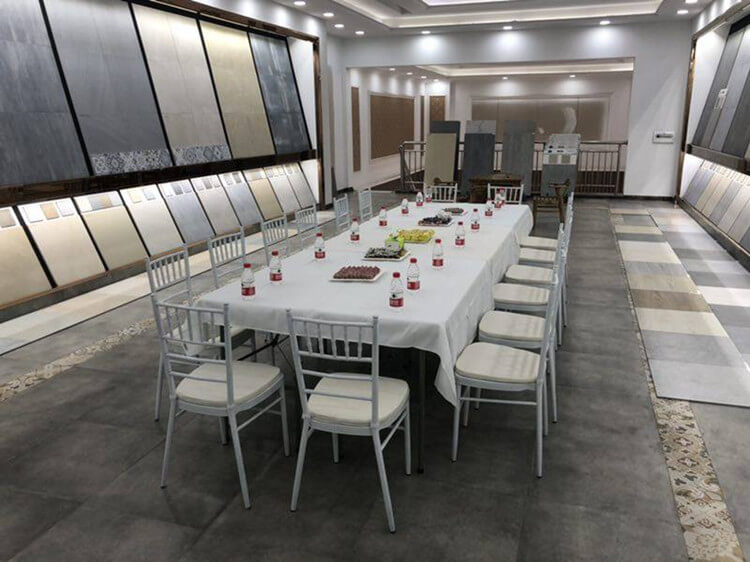 The biggest advantage of the aluminum tiffany chair is its lightness, which is particularly easy to carry, and it does
not rust even if it is placed outdoors.