Resin Louis Chairs C
As one Black Resin Chairs Manufacturer in China, we do business with Louis Style Dining Chairs Wholesale for more than 15 years, the Resin Louis chairs with Clear back is so popular in the event furniture market. This transparent back is made by one-time moulding. Its shape exactly matches the bent back of the chair. It is installed with appropriate screws and does not deform.
Advantage of our Clear Back Resin Louis Chairs:
1.  Quality standard: Pass the test of BIFMA & EN 12520
2. Chair material: Virgin UV stabilized polypropylene
3. Metal Core or not: Metalcore piping throughout the frame
4. Spare parts service: 3% Screws free to avoid wobble
5. Waterproof or not: Yes, Waterproof and stain resistant
6. High stacking capacity to save space
7. Weight Capacity:  More than 450kgs (992 LBS)
8. Cushions and covers available
9. Quality Guarantee: 3 years guarantee
10. Using place: Elegant for both indoor and outdoor events
11. Color options: white, black, gold, silver, mahogany, metallic, crystal, etc.
12.  Monoblock design available
13. Package size: 78*50*149 CM ( 4 pieces) 616 pieces will be one 40 HQ container
Description
Black is also a more and more popular color. No matter in wedding or funeral events, black chairs are leisurely and
dignified. So as one Black Resin Chairs Manufacturer, we producing lots of Louis Style Dining Chairs in black color. So
from the seat and back, you can see, we not only produce Wooden Louis Chair Rattan Back and Fabric Seat, but also
we produce these Clear Back and leather seat.
Show you our Black Resin Chairs Manufacturer
We spent more than a year researching and developing this transparent back chair, repeatedly improving and
experimenting on the mold, and finally found the most suitable shape and installation method. The back curve and
size of the chair are extremely strict.
And the back of the quick disposable acrylic chair is also very strong and impact resistant. Although it looks
transparent, it is actually very strong because it is made of high-quality resin material.

The three colors shown in the picture, black, gold and white, are the most popular colors for customers. According to
statistics, the sales volume of white accounts for about 40%, followed by gold and black with almost the same
proportion.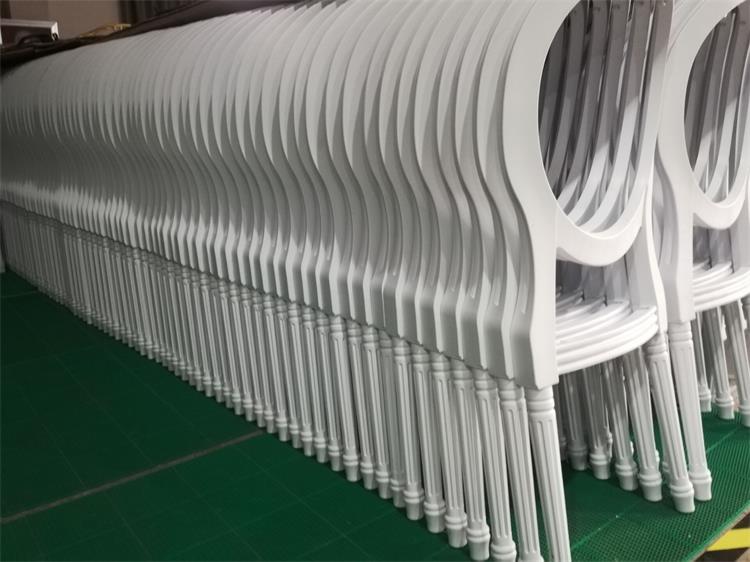 Resin Louis chair has many advantages, among which water-proof and scratch proof are the main features, especially
easy to clean. You can do daily cleaning, so these chairs are generally equipped with leather and cloth that are easy to
clean. The back of transparent chair is clean and tidy, which is also easy to clean.

The chair frame made in advance is helpful for quick delivery. Usually we will prepare a lot of white, gold and black
chair frames, about 2000 for each color. Then the transparent back can be produced after receiving the customer's
order, and the chair cushion will be produced by our branch factory, so the division of labor is clear and professional,
so we can ensure the timely delivery of the order.