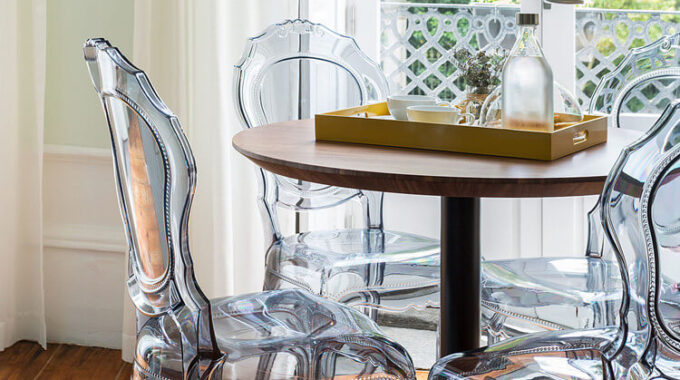 Belle Epoque Chairs: A Comprehensive Guide
Belle Epoque chairs may seem enigmatic to many with their intricate elegance. Get ready for this enchanting exploration if you've ever been entranced by their beauty or curious about their history. Belle Epoque chairs offer an undeniable charm in a world increasingly focused on modernity. They effortlessly capture the essence of a bygone era when opulence, luxury, and artistry reigned supreme. What's even more remarkable is their enduring relevance and cherished status in the present day.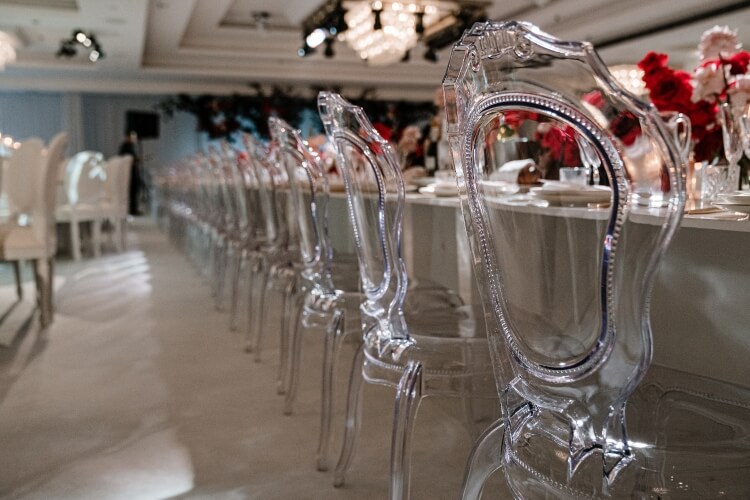 Qingdao Blossom Furnishings takes pride in being your trusted source for Belle Epoque chairs. As a leading manufacturer of event chairs with years of experience, our unwavering commitment to quality and design excellence has made us the preferred choice for those seeking timeless elegance in their seating arrangements.  
This comprehensive guide will unravel the story of Belle Epoque chairs, exploring everything from the historical context to their different designs and uses.      
History and Origin of Belle Epoque Style
The Belle Époque, meaning Beautiful Era in French, is an era from the late 19th century to the early 20th century in European history. It was marked by optimism, cultural flourishing, and artistic innovation, with primary ties to France while influencing other parts of Europe.   
The iconic chairs we know today as Belle Époque furniture took shape during that era. They encapsulate the artistic and design trends of the time, mirroring that richness and creative spirit. Influential designers and artists of that time worked closely with skilled and meticulous workers to craft one-of-a-kind and exquisite pieces of furniture.  
These chairs were a symbol of opulence and luxury synonymous with the era. Beyond mere functionality, they were esteemed as works of art, gracing high-society salons and drawing rooms.  
At present, these chairs are highly coveted by collectors and antique furniture enthusiasts, offering a window into the refined and artistic tastes of a bygone era.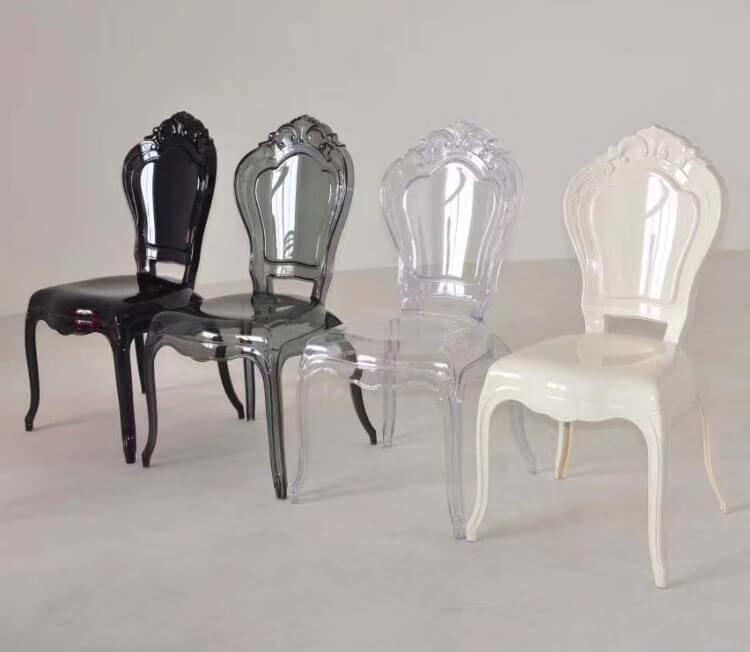 Types OF Belle Epoque Chairs
Bergère Chair 
Bergère chairs, popular during the Belle Époque, were known for plush upholstery, padded armrests, and ornate woodwork, symbolizing luxury and comfort.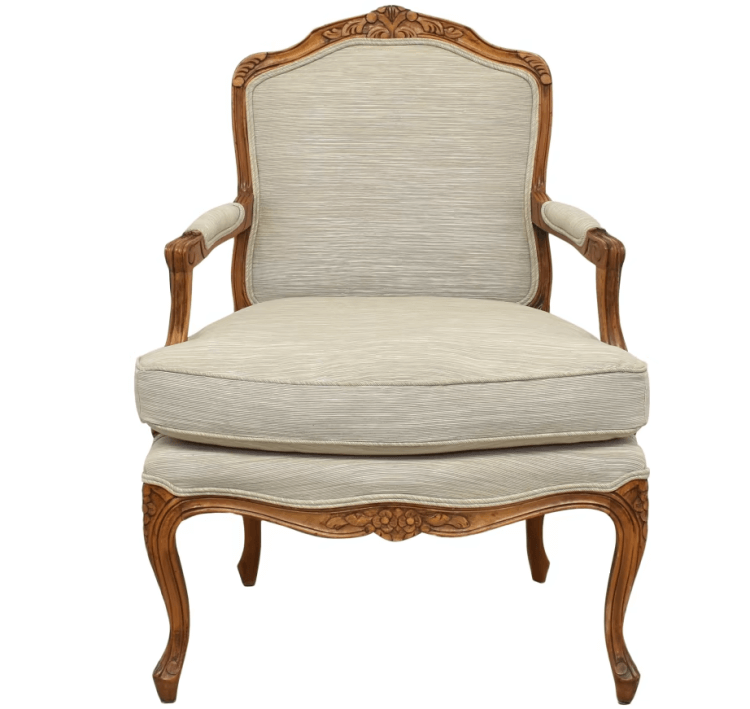 Fauteuil Chair
Another hallmark of the era, fauteuil chairs featured elegant designs with intricately carved wooden frames, upholstered seats, and occasional padded armrests, serving as stylish and comfortable additions to upscale living spaces.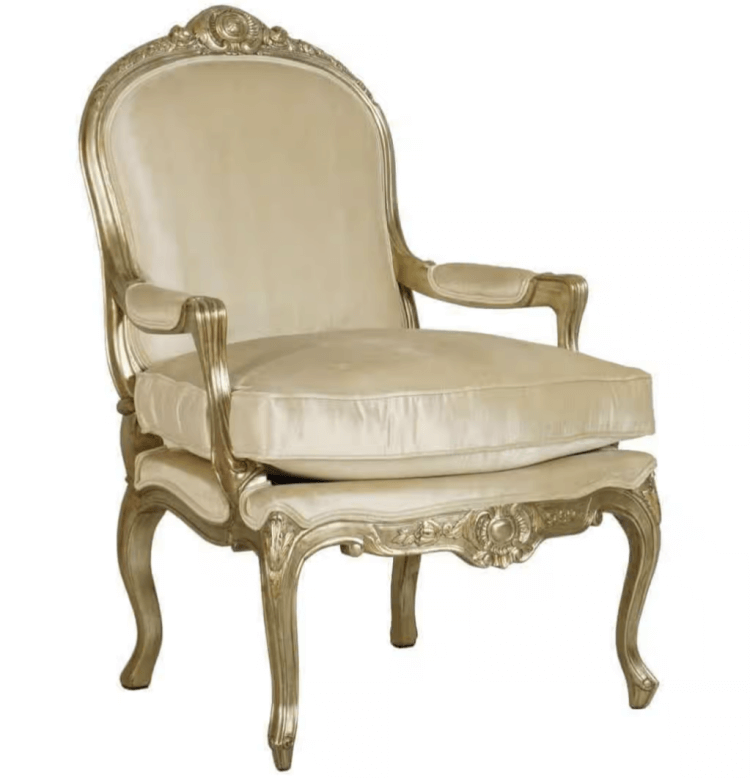 Louis XVI Chair
Inspired by late 18th-century neoclassical aesthetics, Louis XVI chairs were characterized by their clean lines and classic proportions and often embellished with delicate carvings. Typically made from wood, they were frequently upholstered with opulent fabrics, emphasizing refined design.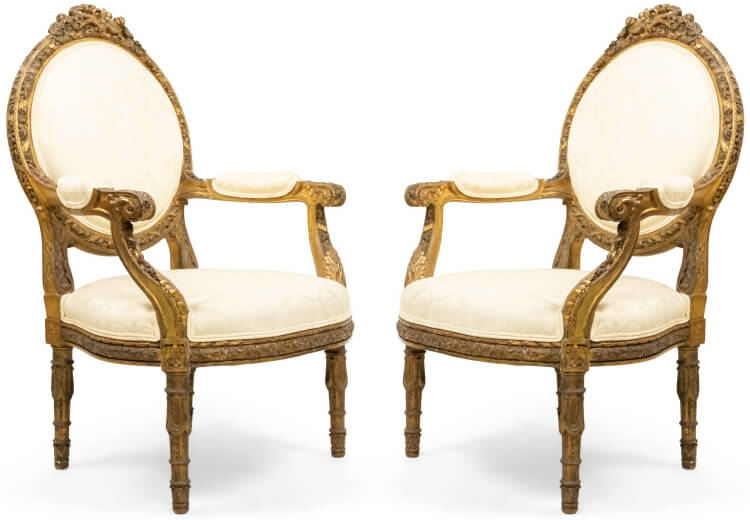 Art Nouveau Chair
As the Belle Époque era drew close, the Art Nouveau movement emerged, introducing chairs characterized by organic, flowing lines and intricate designs inspired by nature, like flowers and plants. Art Nouveau chairs boasted sinuous shapes, elaborated details, and showcased the craftsmanship and artistic sensibilities of the time.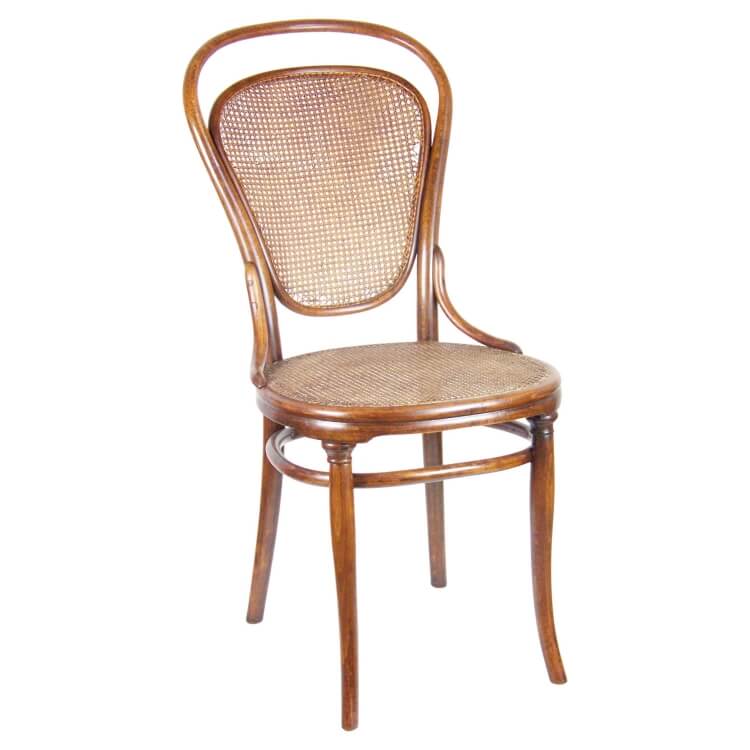 Boulle Chair
Boulle chairs, inspired by André-Charles Boulle, a renowned 17th-century French cabinetmaker, were distinguished by their ornate marquetry work, often featuring intricate inlaid designs and luxurious materials like tortoiseshell, brass, and exotic woods. These chairs were celebrated for their exceptional craftsmanship and were associated with opulence and grandeur.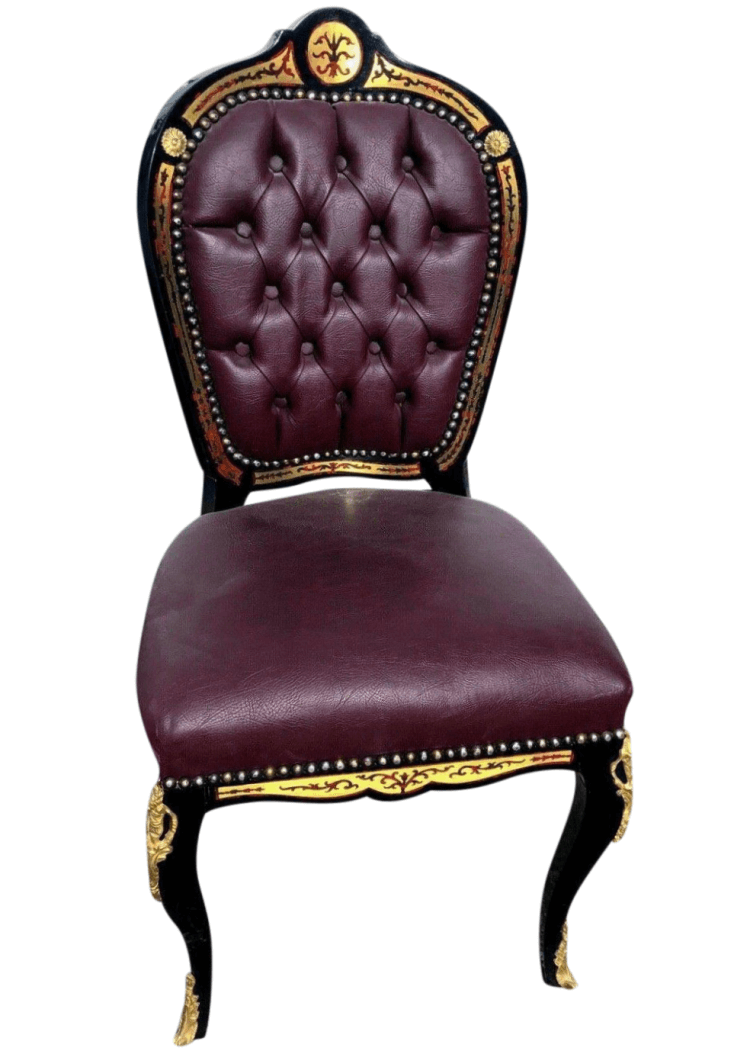 Belle Époque Chairs Materials
Furniture, including Belle Époque chairs, embodied the design trends and materials of its time.  
Wood
Woods, including walnut, mahogany, and rosewood, were preferred for their rich hues and intricate grains. Skilled artisans hand-carved these woods to craft detailed chair frames.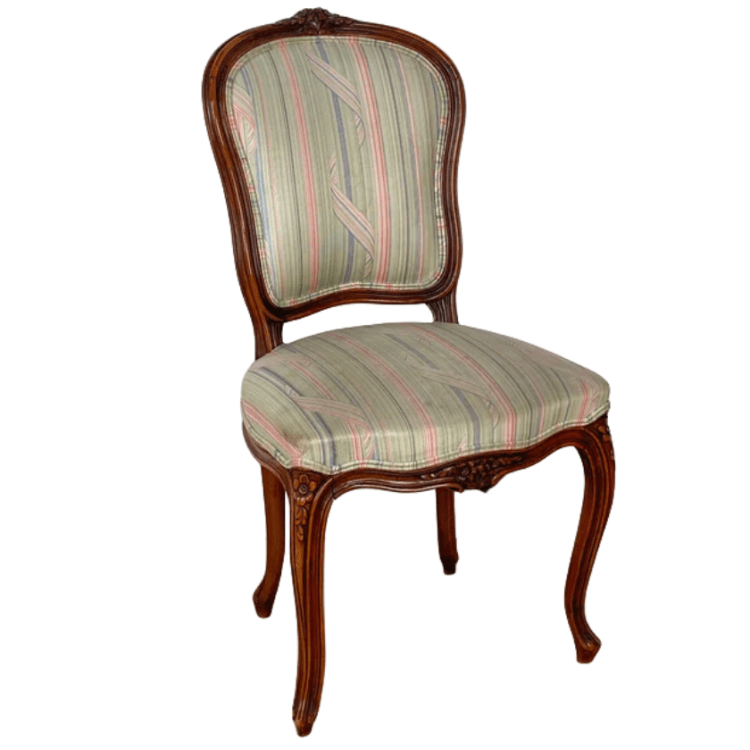 Gilded Metal
Brass and bronze were standard for decorative accents on Belle Époque chairs, adding opulence through ornate trims, handles, and other design features.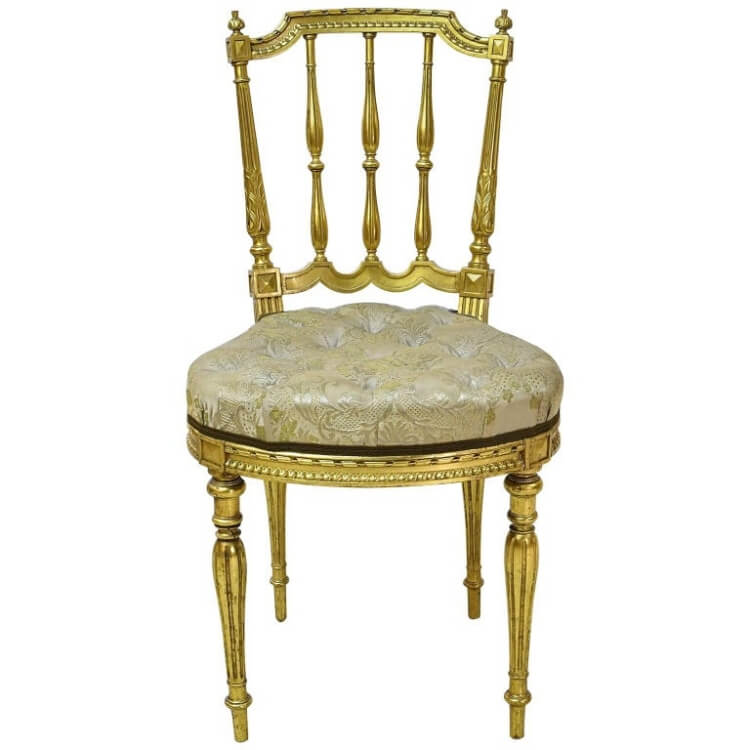 Upholstery
Comfort and aesthetics relied heavily on upholstery. Luxurious fabrics such as velvet, silk, and brocade adorned seat and back cushions, chosen for their sumptuous textures and vibrant colors. Tufting and fringing often added decorative flair.  
Inlays and Marquetry
Inlay and marquetry techniques involved various wood types to create intricate patterns and artistic motifs on chair surfaces, elevating their craftsmanship.  
Caning
The weaving of rattan or cane strips was a favored choice for chair seats and backrests during this era, offering a light, elegant appearance.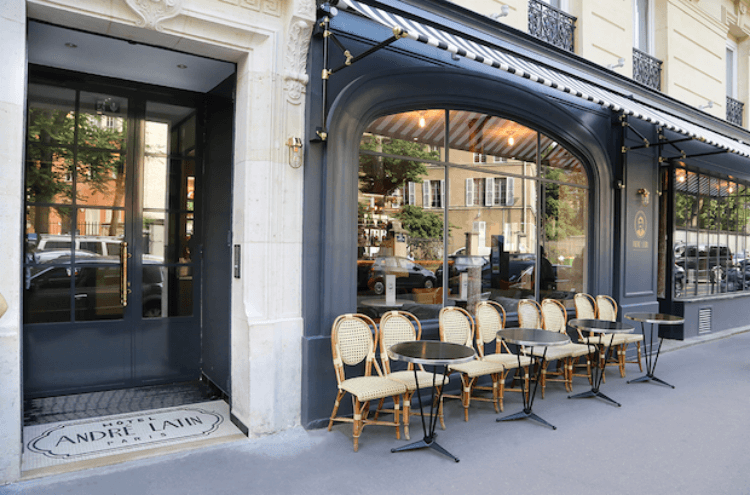 Mother-of-Pearl
Sometimes, mother-of-pearl inlays were added to chairs, lending a touch of opalescence and luxury, often gracing chair legs or backrests.  
Belle Époque chairs were not just functional but also artistic creations, reflecting the optimism and extravagance of the era.   
Belle Epoque Chair Design Features
The furniture designs of the Belle Époque era reflected the grandeur and sophistication of the time. Belle Époque chairs were no exception and featured several distinctive design features. 
1. Scrolled Arms
Belle Époque chairs were distinguished by gracefully curved, scrolled arms, contributing to their elegant aesthetic. The curves were gentle and pleasing to the eye, enhancing the overall design.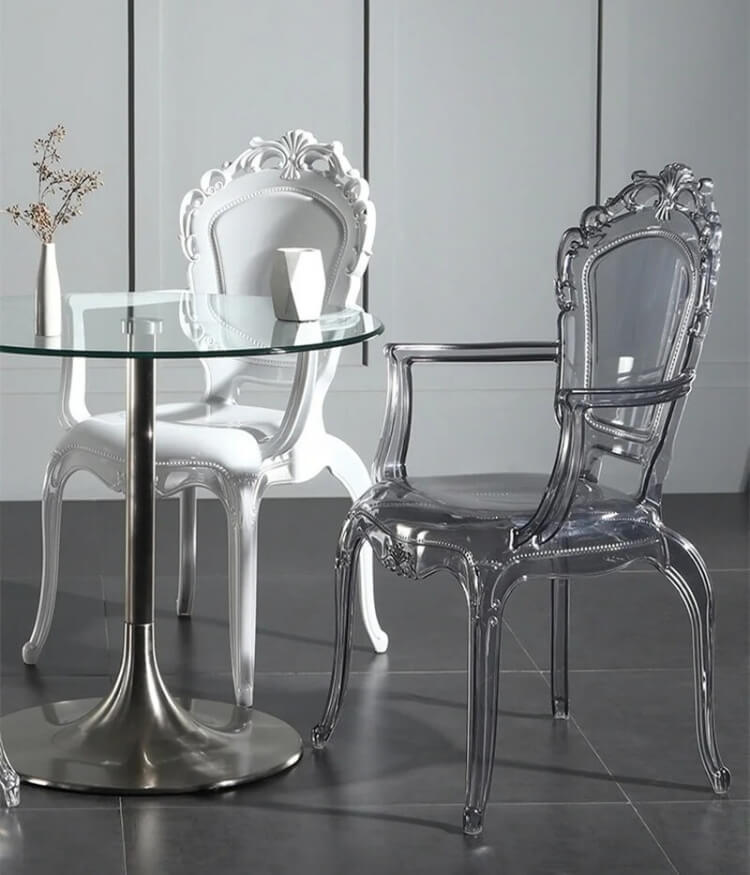 2. Carved Wood/Metal Accents
Ornate carved wood and metal accents were a hallmark of Belle Époque chair designs. Skilled artisans meticulously hand-carved intricate floral motifs, vines, and decorative patterns into the framework of the chairs. Metal accents, often brass or gilt bronze, added a touch of luxury and refinement.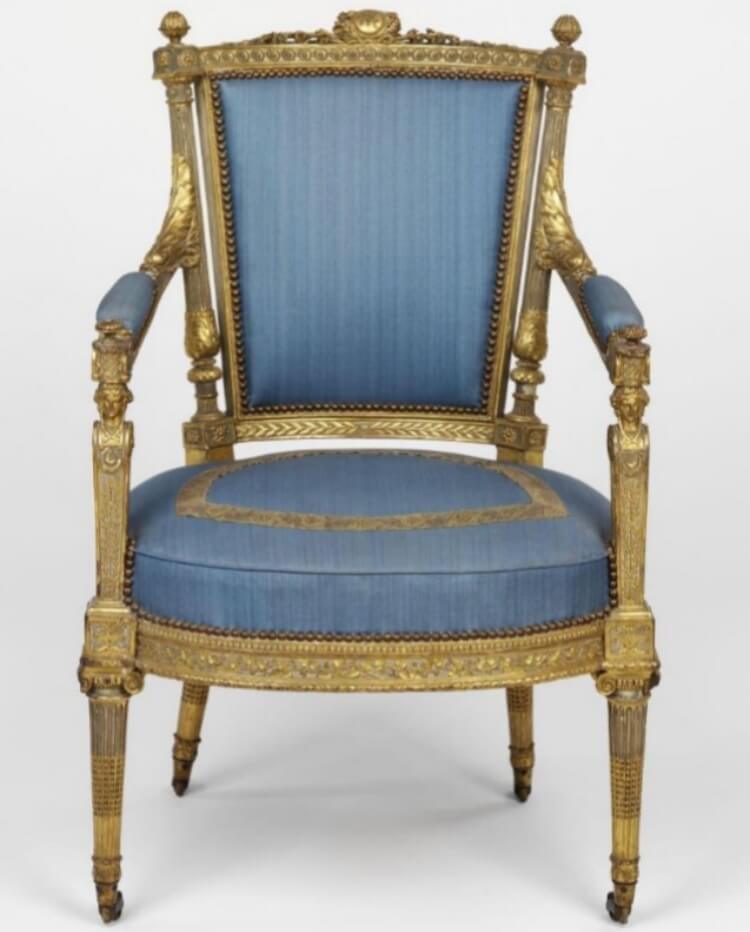 3. Cushioned Seats
Belle Époque chairs prioritized comfort. Cushioned seats were a standard feature, ensuring both style and comfort. Plush, padded cushions were frequently upholstered in rich fabrics.  
4. Upscale Materials
Belle Époque chairs were crafted using luxurious materials, including the following:
Mahogany:

Renowned for its durability and rich reddish-brown color, mahogany wood was preferred for chair frames, often polished to a high sheen.  

Gold Gilt:

Gilded accents, typically crafted with gold leaf or gold paint, highlighted the carvings, infusing an opulent touch.  

Brocade Fabrics:

Opulent upholstery fabrics often feature intricate brocade patterns, intricately woven with raised designs, adding to the chair's lavishness.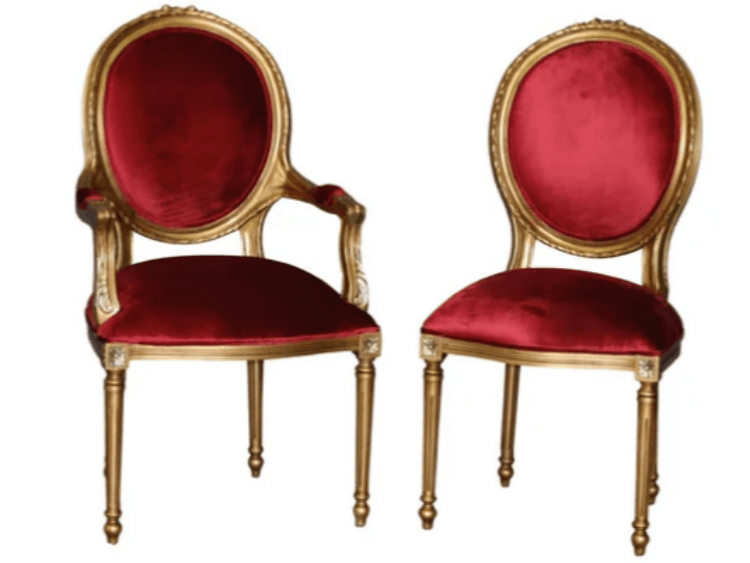 5.Back and Seat Styles
Belle Époque chairs came in various back and seat styles to suit different preferences and interior design needs.  
Balloon Back:

Featuring a curved backrest resembling a balloon, this style combines comfort with visual appeal.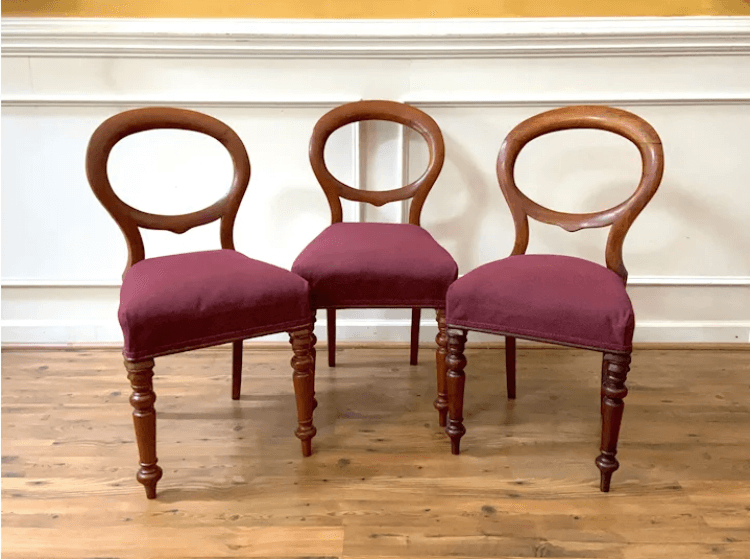 Shield Back:

Chairs with shield-like backrests often featured a decorative central motif, adorned with carved or gilded details.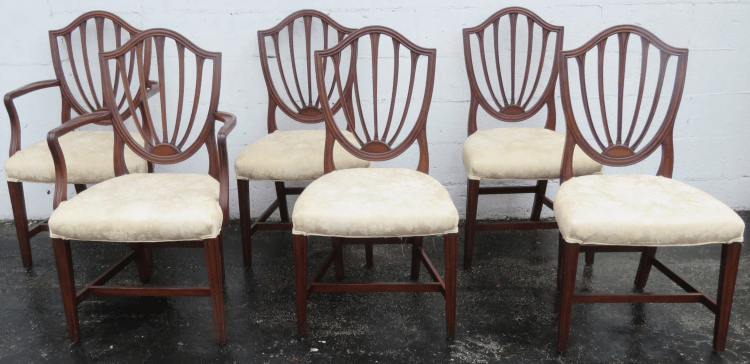 Open Back:

Some chairs had open-back designs with minimal or no upholstery, allowing the focus to remain on the decorative framework.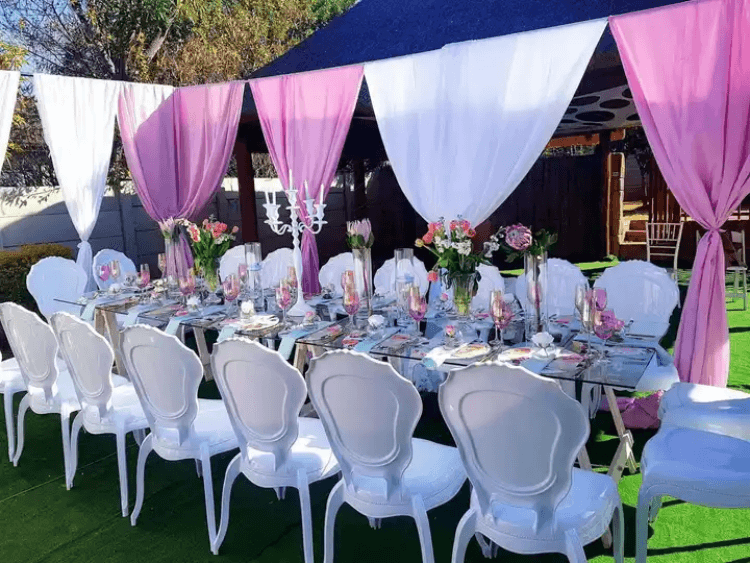 6. Wood Finishes
Wood finishes were carefully selected to complement the design. Dark finishes like deep mahogany or ebony emphasize a rich and luxurious appeal, while lighter finishes create an airy ambiance.   
In essence, Belle Époque chairs represented a fusion of art and function, embodying ornate details, sumptuous materials, and comfortable features. These chairs continue to be celebrated for their timeless elegance, remaining highly sought after by collectors and those seeking to infuse their interior spaces with vintage luxury.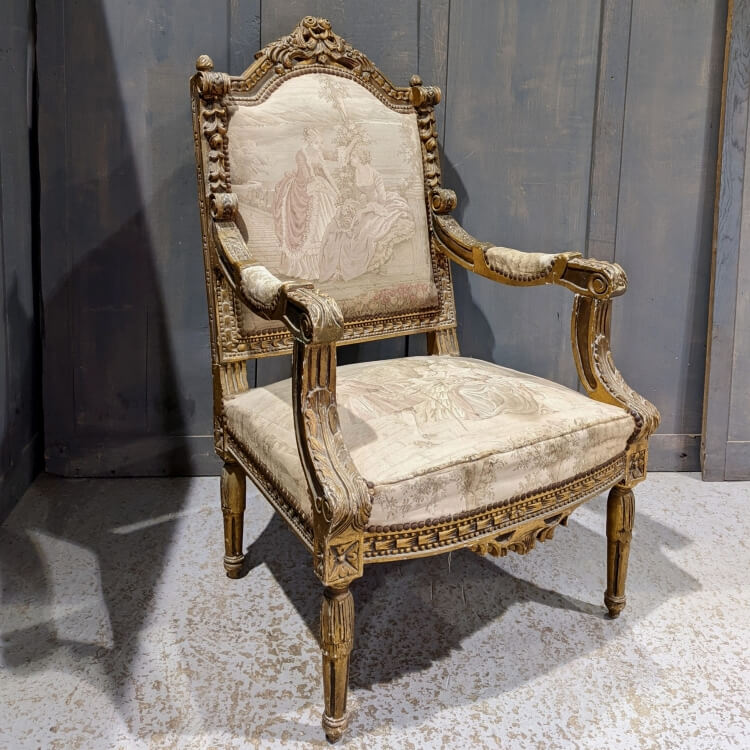 Versatility and Uses of Belle Epoque Chairs
Belle Époque chairs, stemming from an artistic movement, embody the era's essence and endure for their versatility and enduring charm.  
Aesthetic Elegance
These chairs boast intricate woodwork, graceful curves, and lavish upholstery, reflecting the opulence of the Belle Époque. They're prized by designers and homeowners aiming to infuse historical luxury into their decor.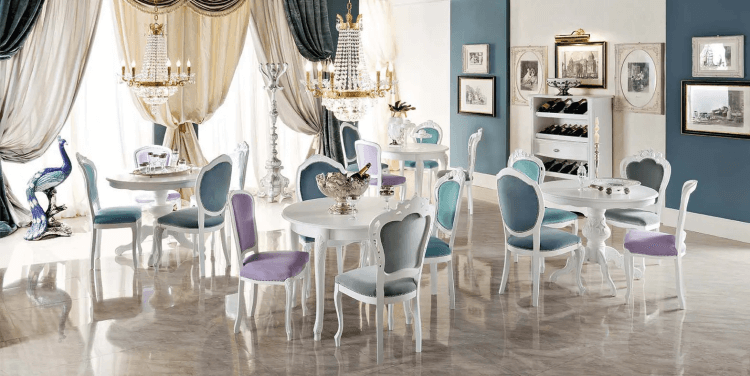 Versatility in Interior Design
Belle Époque chairs seamlessly fit traditional and contemporary styles, standing out in classic rooms and adding grace to modern spaces.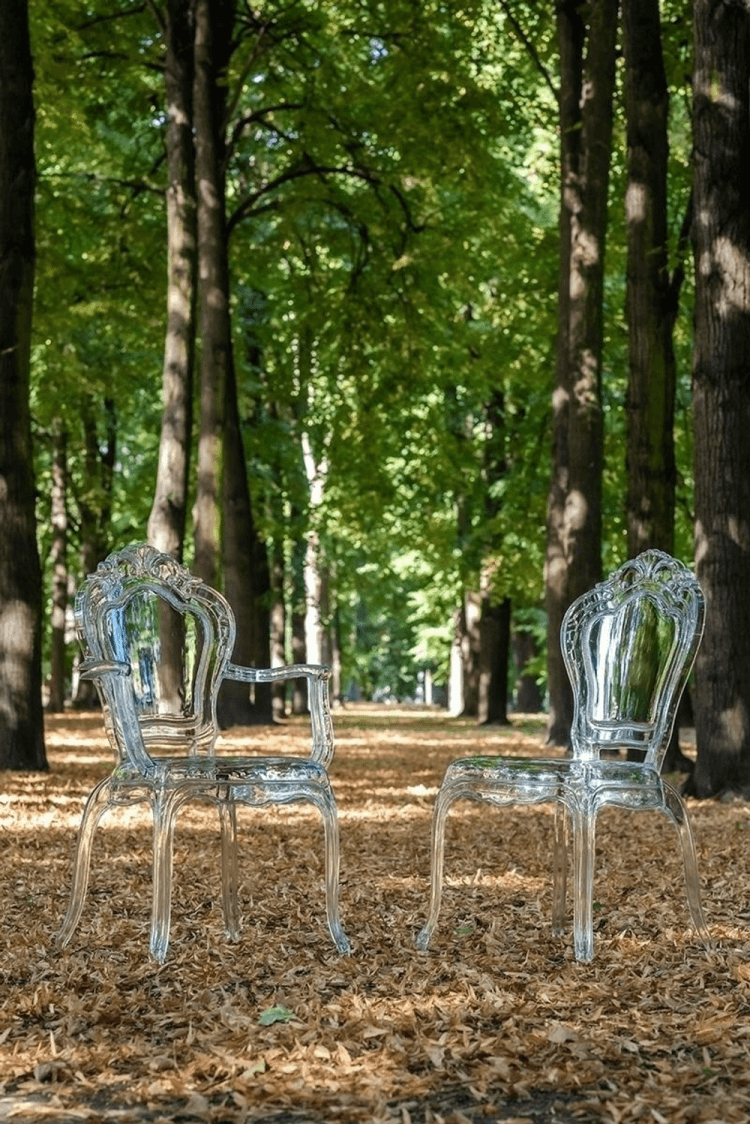 Occasional and Accent Furniture
These chairs lend sophistication and practical seating in living rooms, bedrooms, or hallways, often serving as eye-catching statement pieces.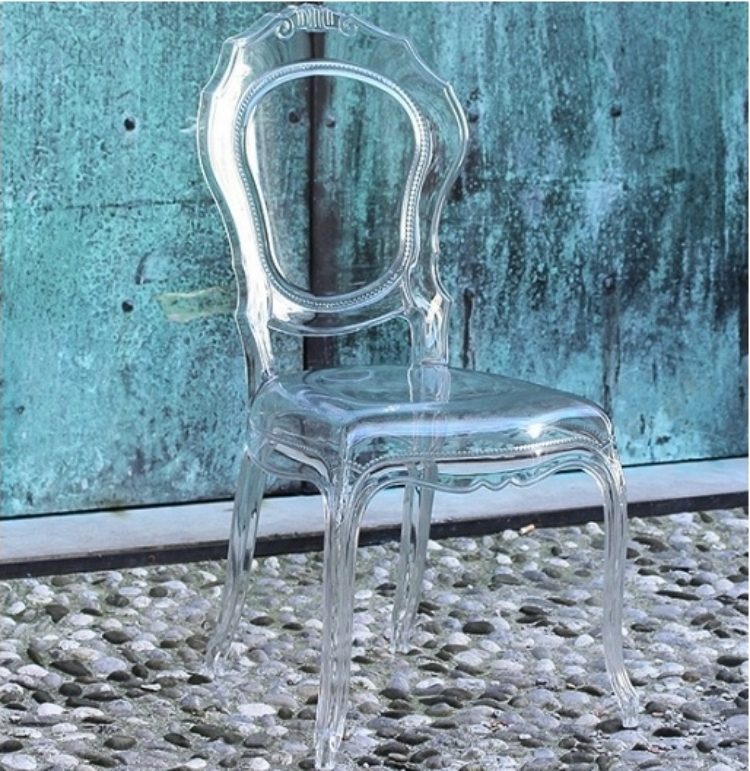 Event and Wedding Decor
Their vintage allure makes them popular for weddings, creating a charming atmosphere and adding to the venue's aesthetics.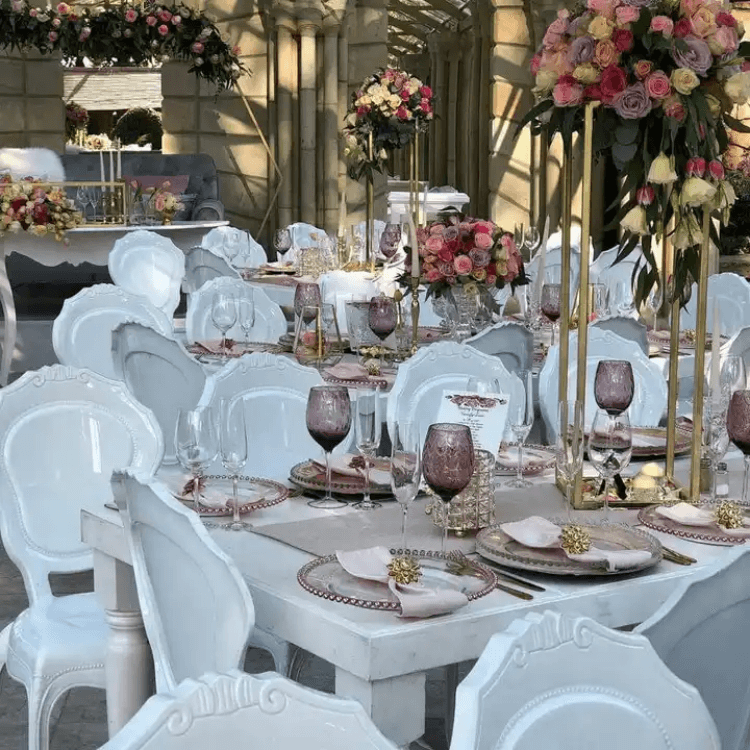 Theatrical and Film Productions
Their historical significance and ornate designs make them sought after for period productions, contributing to an authentic ambiance.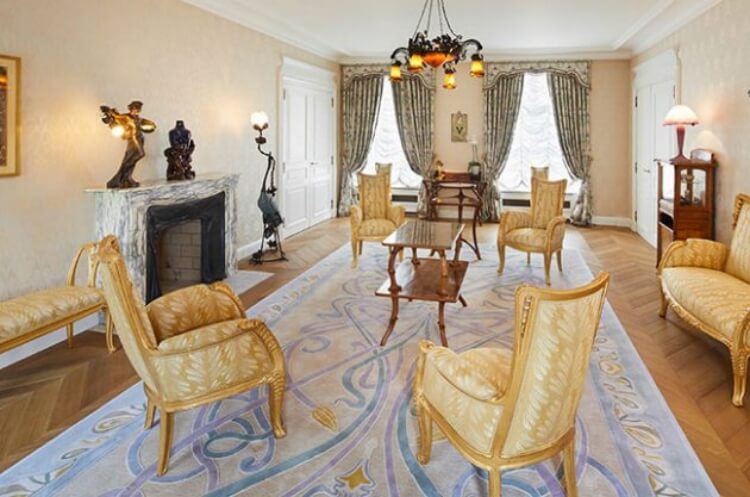 Collectible and Investment Pieces
Antique Belle Époque chairs, especially those from renowned designers, are valued as collectibles and sound investments.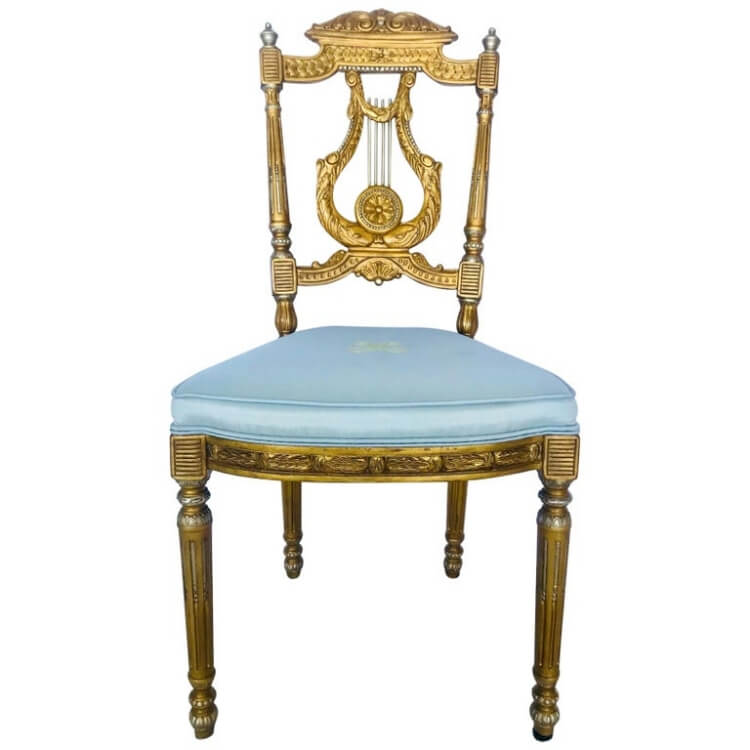 Appeal for Traditional Church and Ballroom Weddings
Their timeless design perfectly complements the grandeur of traditional venues, contributing to a romantic ambiance. 
Complement Various Decor Themes
They blend with various decor themes, providing a luxurious backdrop for floral arrangements and other elements.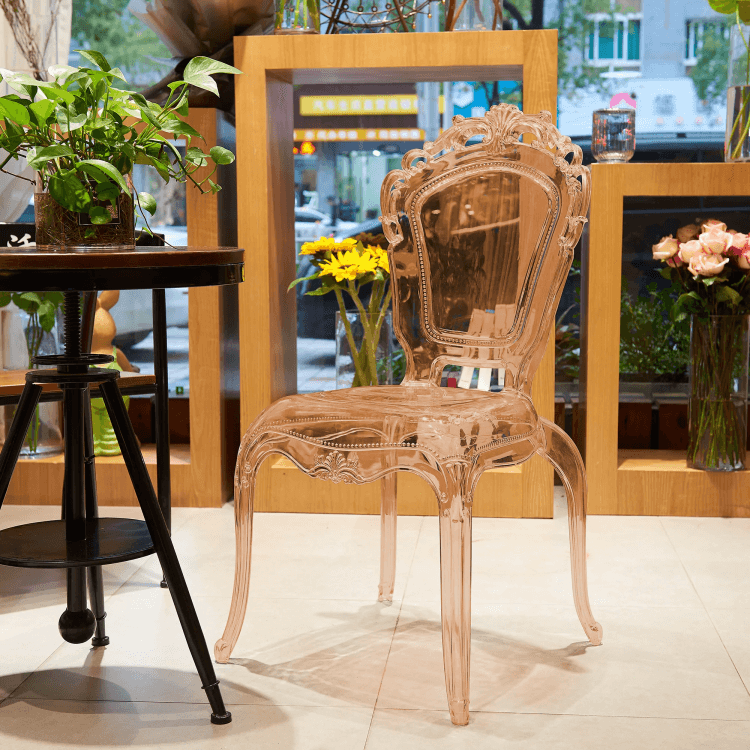 Stacking Ability and Options for Aisle or Ceremony Seating
Their practical design, with stackability, facilitates well-organized seating arrangements for various events.  
Customization and Seating Options
Color Coordination
For a cohesive look, match the fabric colors of your Belle Époque chairs with your wedding palette. This customization guarantees a perfect alignment of all your decor elements.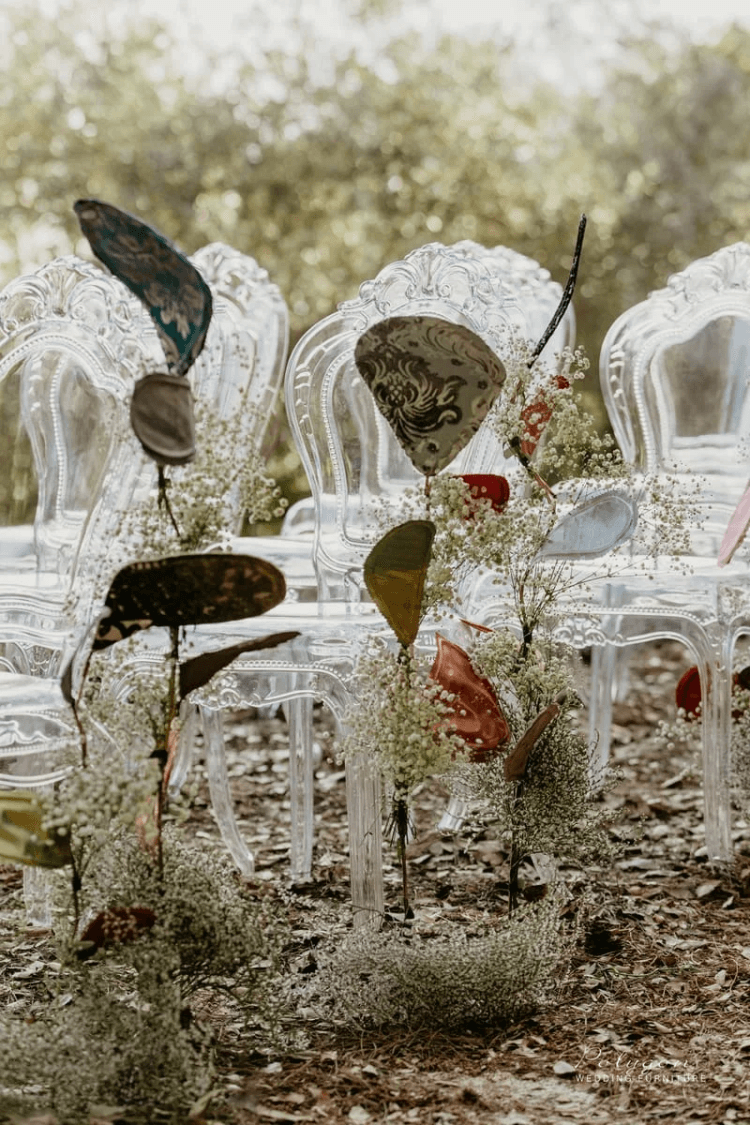 Personal Touch
Elevate your wedding by adding a personal touch to Belle Époque chairs. Monograms, names, or special dates can transform each chair into a unique part of your love story.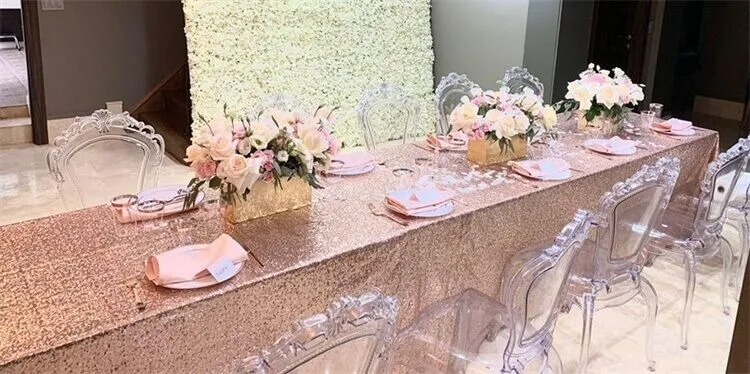 Complete Decor Packages
Streamline your wedding planning with complete decor packages. Bundling chair rentals with other decor elements ensure a unified and stylish setup.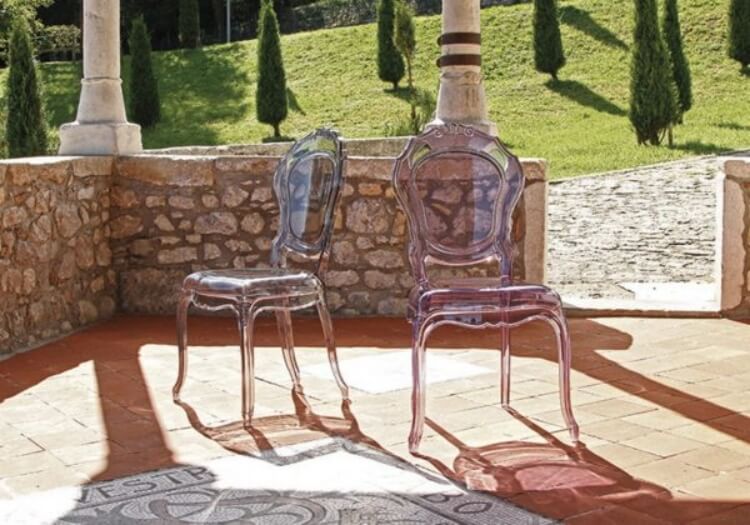 Most Popular Belle Epoque Chairs For Weddings: 2023 
Here are 10 of the best Belle Epoque chairs for your wedding in 2023: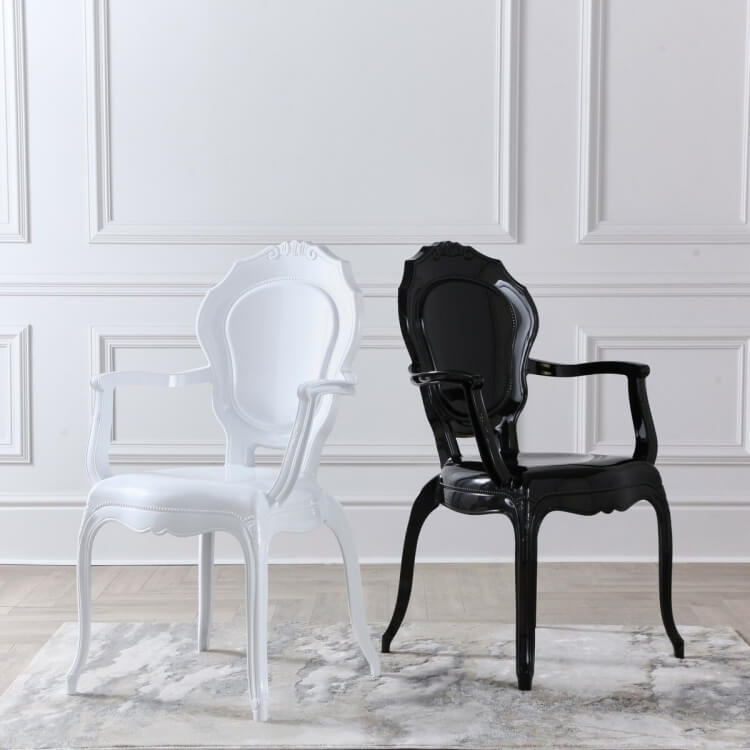 Beautiful Transparent Belle Epoque Chairs
Peacock Belle Epoque Chair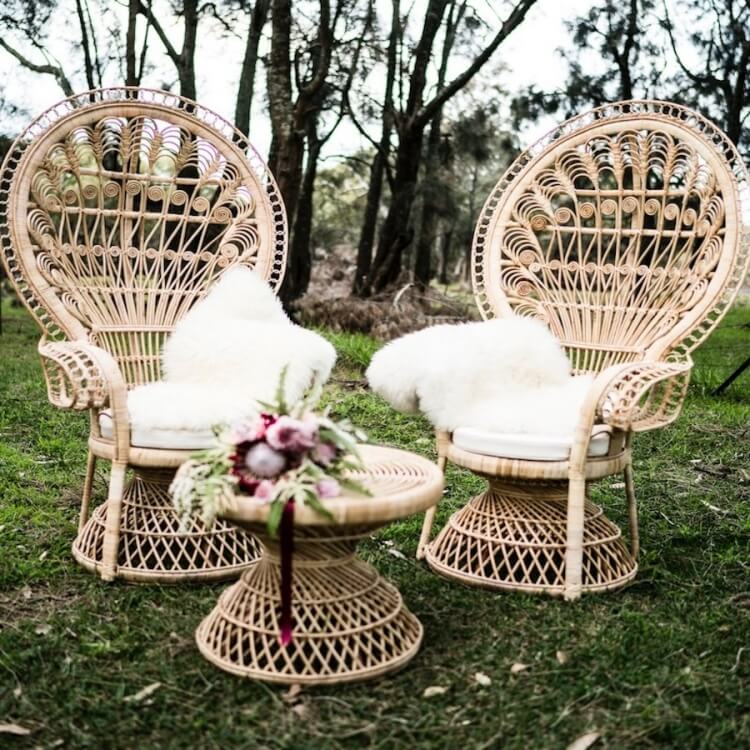 Louis XVI Belle Epoque Chair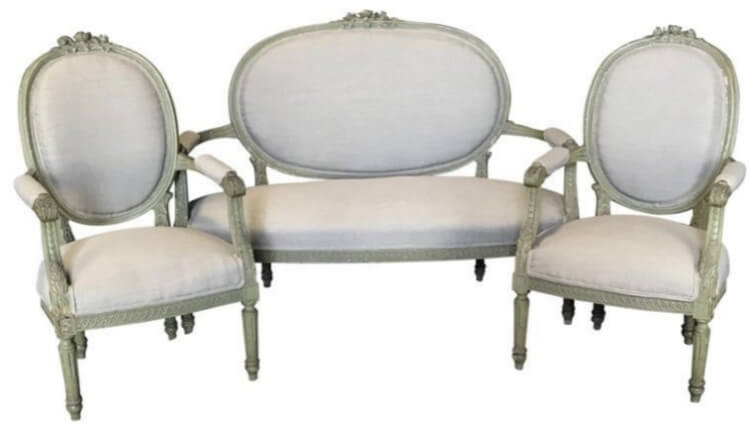 Cabriolet Belle Epoque Chair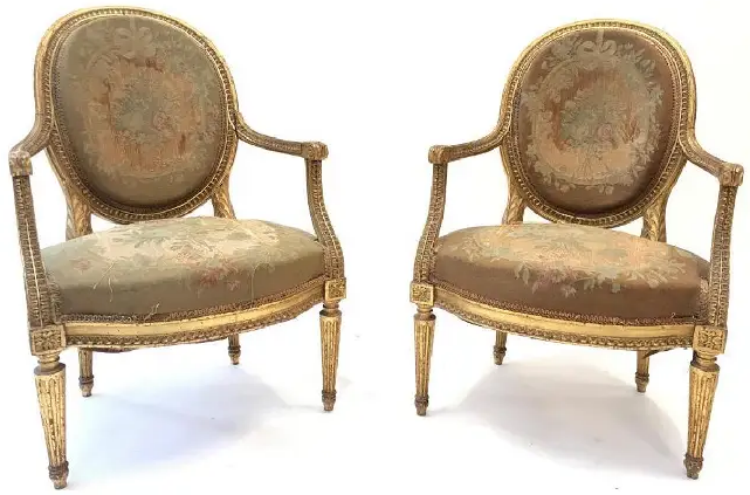 Bergère Belle Epoque Chair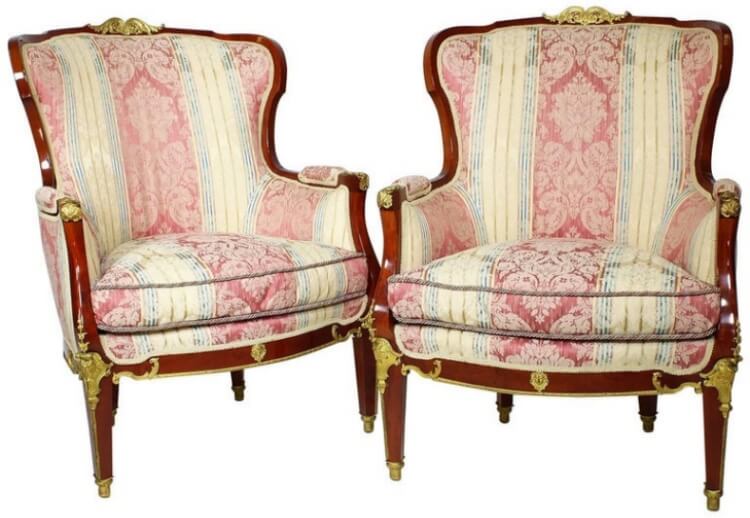 Chaise Longue Belle Epoque Chair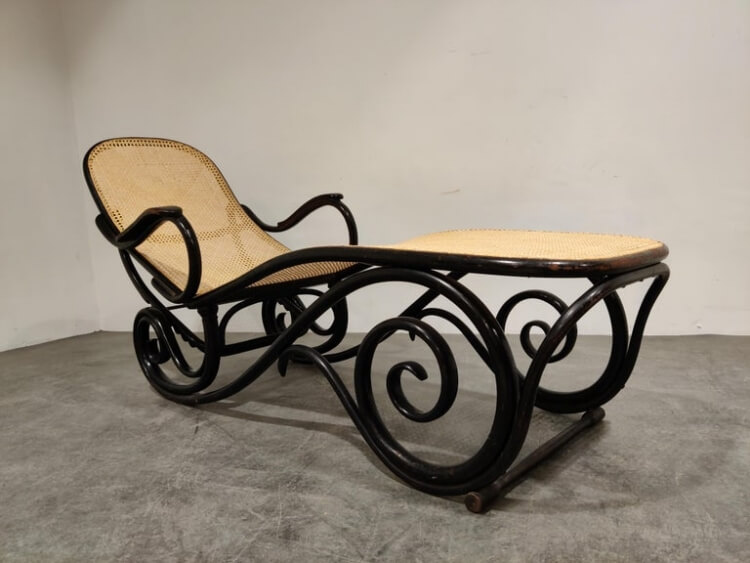 Fauteuil Belle Epoque Chair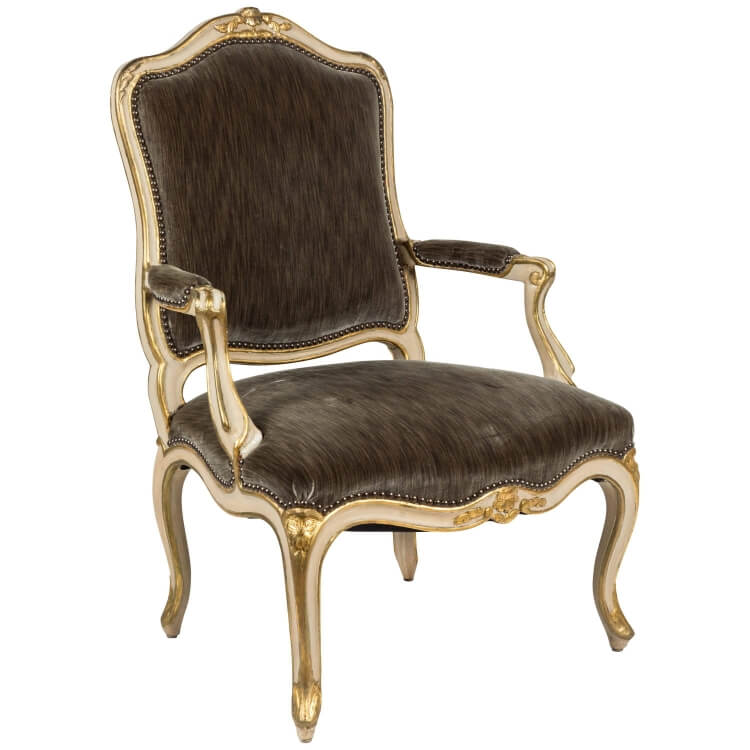 Napoleon III  Belle Epoque Chair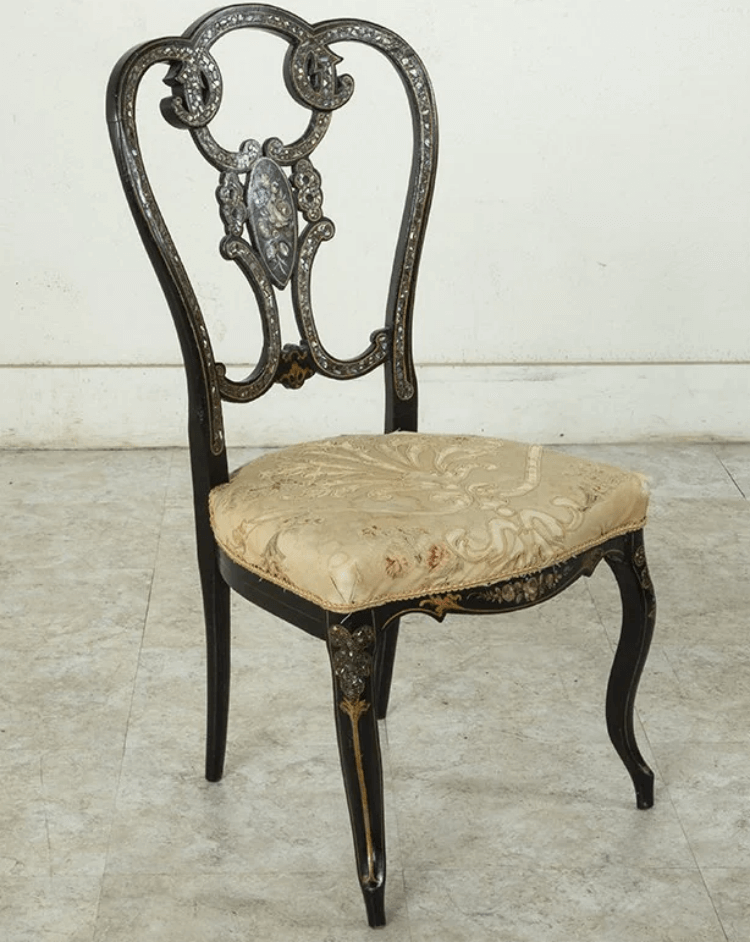 Rococo Revival  Belle Epoque Chair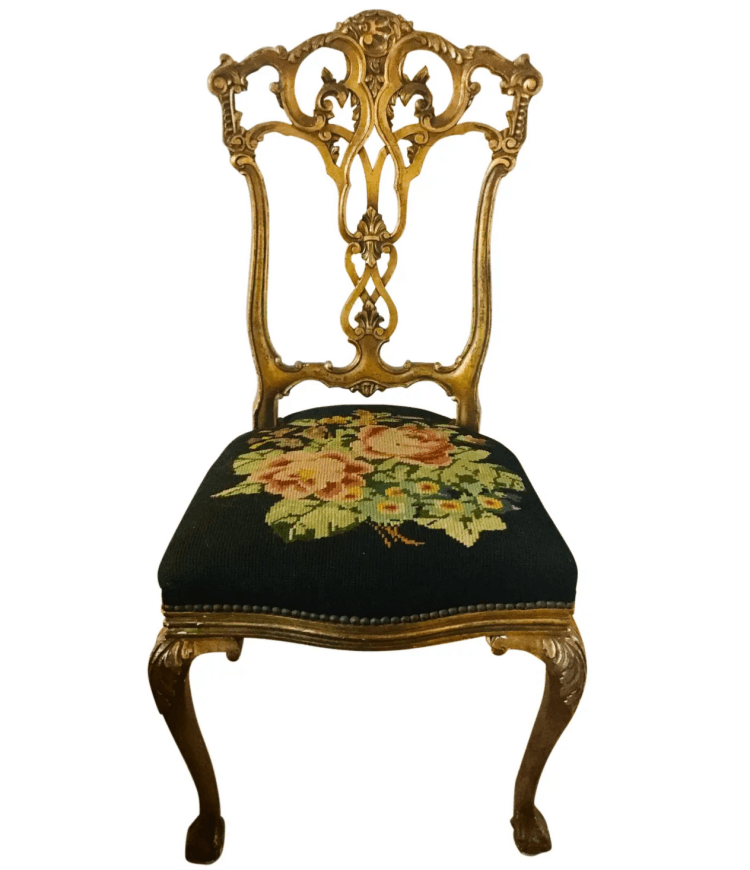 Blossom Furnishings' Belle Epoque Chairs Pricing and Availability
Budget-Friendly Options
Discover various Belle Epoque chair packages to suit different budgets. Luxury can be affordable, and we have choices for all couples.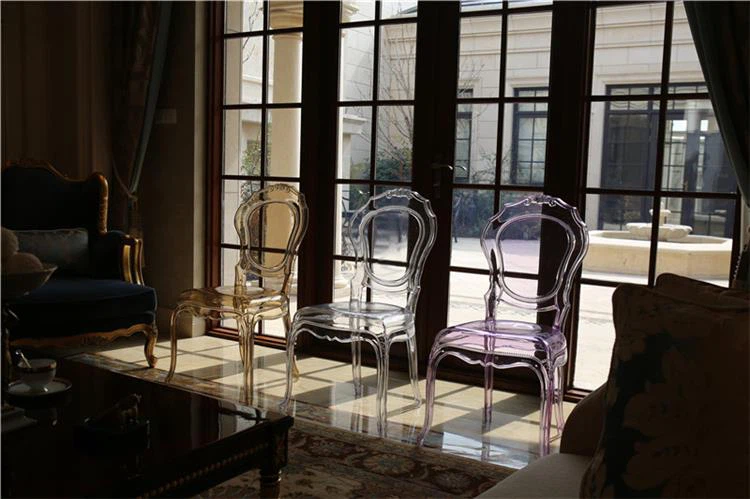 Delivery and Setup Services
The convenience of including delivery and setup services is invaluable. Our top priority is ensuring a seamless experience for couples planning their special day, allowing you to savor the moment.  
Maintenance and Caring for Belle Epoque Chairs
Here's how to keep Belle Époque chairs in top condition.  
Regular Cleaning
Dust chairs with a soft cloth or brush to prevent dirt buildup.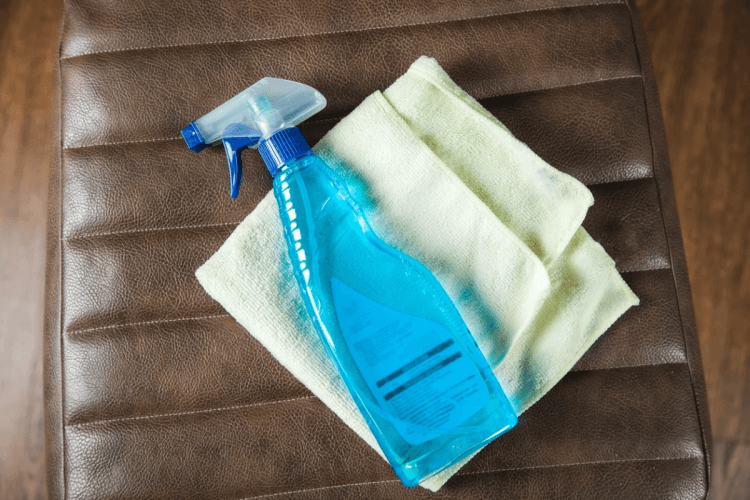 Wood Care
Clean wooden frames with a mild soap solution, and avoid abrasive cleaners.  

Polish the wood occasionally with suitable products following the instructions.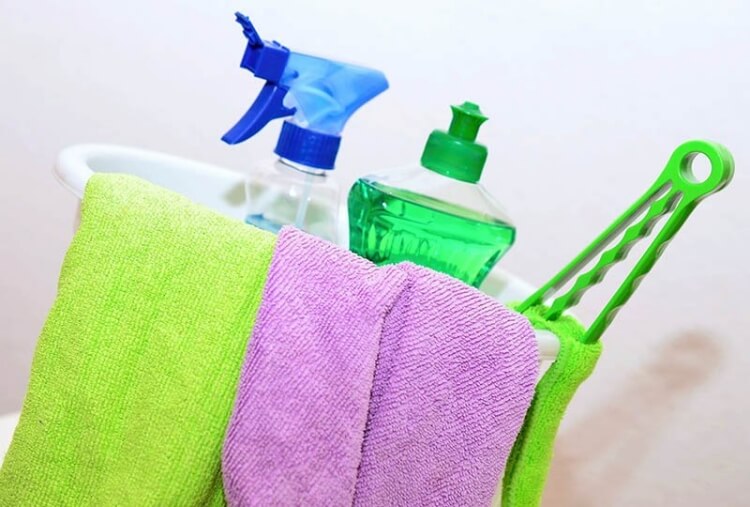 Upholstery Care
Vacuum fabric upholstery gently and wipe the leather with a damp cloth, using a leather conditioner if needed.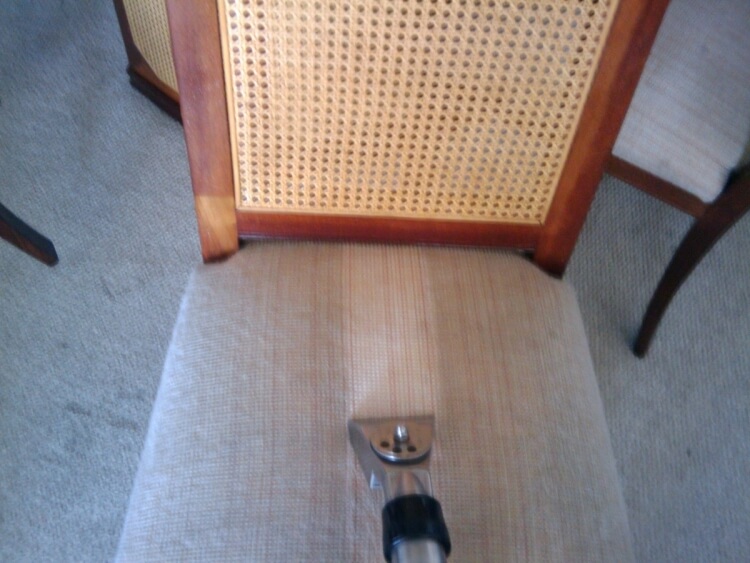 Avoid Direct Sunlight
Place chairs away from direct sunlight to preserve delicate details.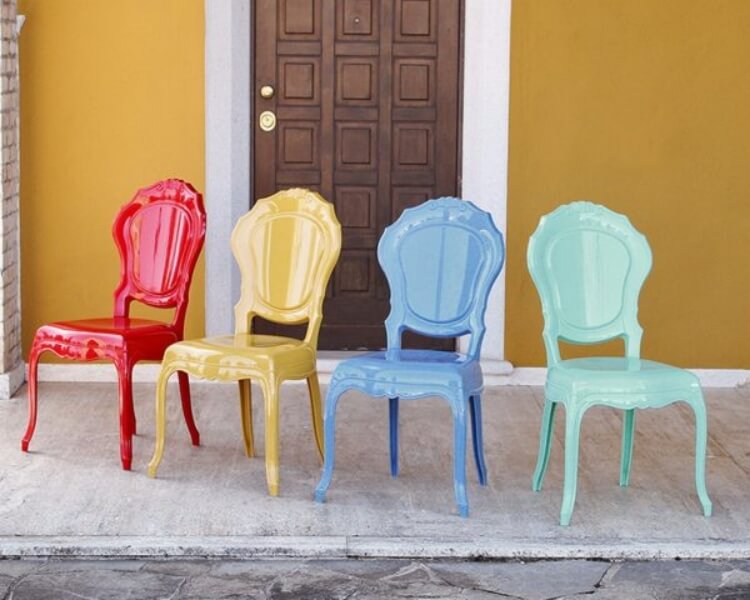 Protect from Moisture
Keep chairs dry to prevent warping and mold growth.  
Cushion Rotation
Rotate removable cushions regularly to maintain their shape.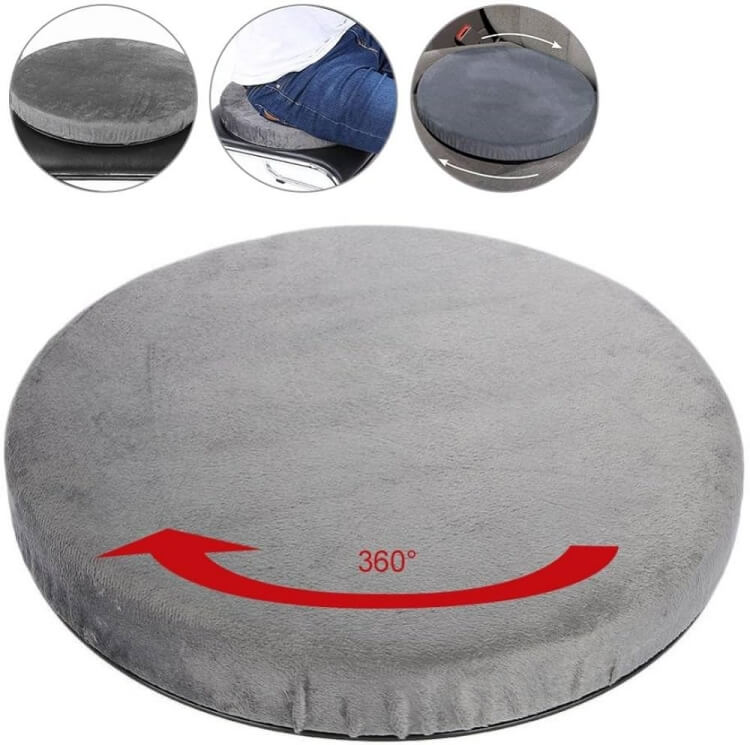 Repair and Restoration
Consult professionals for any significant damage or restoration needs.  
Environmental Control
Maintain stable temperature and humidity to preserve the wood and upholstery.  
Use Proper Protectors
Apply furniture protectors or felt pads on chair legs to prevent scratches.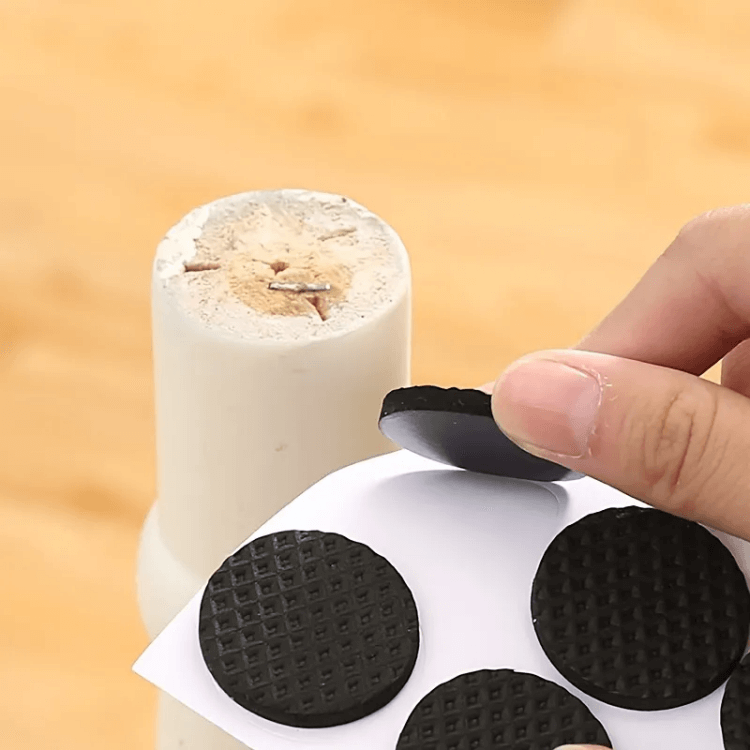 Professional Assessment
Have the chairs assessed periodically by experts to ensure long-term preservation and value.   
In short, consistent care and prompt attention to issues are vital for preserving the beauty and value of Belle Époque chairs for generations to come.   
Conclusion
In essence, Belle Epoque chairs transcend mere furniture; they embody art, history, and enduring lavishness. Opting for these chairs at your event, be it a wedding, a corporate function, or a personal celebration, ensures a heightened atmosphere and cherished memories. At Qingdao Blossom Furnishings, we take pride in being your reliable source for these exceptional chairs and eagerly expect the opportunity to enhance your event. Your voyage into the world of Belle Epoque elegance commences here.