Chameleon Chair B
We also have a medium-sized metal chair workshop to meet the needs of more customers while producing wooden and resin chairs. Similar to this chair, we have about ten kinds of chairs, which can be selected in different colors and cushions. We only accept wholesale business at present. A mixed container is popular. We also welcome customers to provide us with their own styles. If your quantity can be more than one container, we can develop mould separately for production.
Main Features of Chameleon Chair Model B:
1. Chair material: Iron
2. Chair size: 45x50x94 cm
3. Chair weight: 3.8 kgs around
4. Design: OEM
5. MOQ: 300 pieces
6. Using place: Hotel, ballroom, wedding, restaurant
7. Color available: Gold .silver.white .black .so on
8. Tube size: 25x25x1.5 mm
9. Cushion material: High Density Sponge
10. Guarantee:  2 years
11. Production time:  18 days to 20 days
12. Loading quantity:  Stacking, Without Cushion
20GP / 500pcs,   5pcs/stack      40HQ / 1350pcs, 5pcs/stack
Description
We are one famous Iron Dining Chairs Manufacturer in China, we do business for Wholesale Royal Infinity
Wedding Chameleon Chair. We are accept  Chameleon Chair Wholesale. If you like to Wholesale luxury stackable
cross back chameleon wedding decorative chairs, please choose Qingdao Blossom Furnishings. 
Check the details of our Chameleon Chair B, show you us our Iron Dining Chairs Manufacturer.
First of all, let's explain our style. At present, this chair in the market looks very similar, so we hope that the buyer
can determine the style, even if there is a small gap. If you don't have very special requirements for the details of
the style, then we will produce it according to our regular products and the styles we often export. Of course, we
can also adjust production according to your pictures and product proportion.

If you look at the above picture carefully, you will find that the seat plate and the chair frame are connected
together. We also have a production method of separating the seat plate and the chair frame, and some styles can
be overlapped, which depends on the customer's requirements and preferences.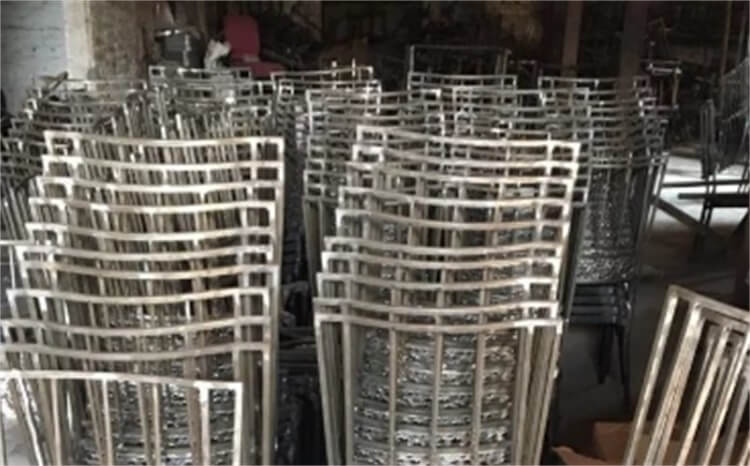 We have more than ten experienced welding workers, each of whom can weld more than 400 chairs per day,
providing strong guarantee for the next production, and the welding quality is perfect.

Flower back like this picture, have nice shape for the Chameleon Chairs, slim steel frame and perfectly design,
finished by spray painting, can choose different color for the chair frame.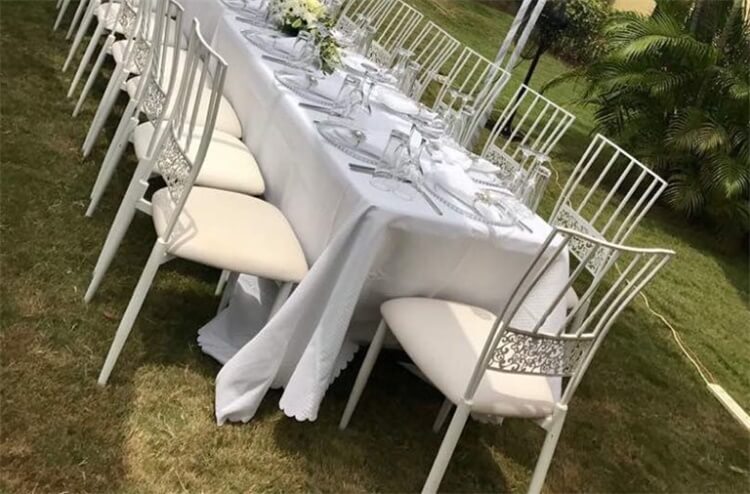 These metal chairs are widely used in outdoor weddings. In addition, they can be used in indoor hotels, restaurants
and dance halls.

Regarding to the cushions and pads
We can produce all-in-one chairs. The cushions and chairs are together. At the same time, many customers also
require split chairs. The chair is separated from the cushion for easy disassembly.