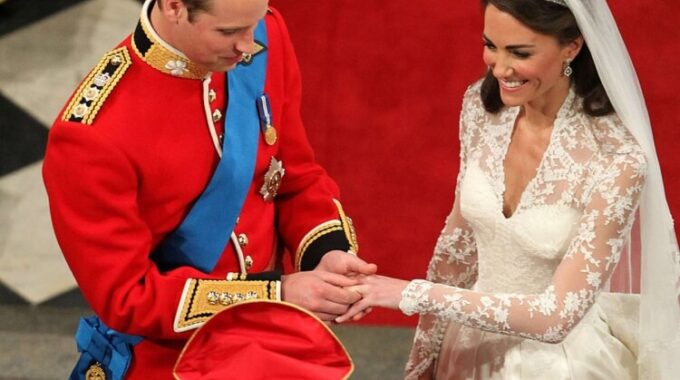 Top 10 Royal Wedding Rings We Love(2023 Updated)
Engagement rings are the type of jewelry that always stands out with their unique style, intricate design, and outstanding features. There are a plethora of options when it comes to royal wedding rings too, rings that were incredibly beautiful and designed to suit the royals very well. With that in mind, wedding rings created for royals are usually one-of-a-kind pieces. You will be impressed with their quality, but also their craftsmanship and materials and gemstones used.
There were plenty of incredible royal rings that still stand the test of time as some of the coolest and most creative weddings rings out there. We created a list with 10 of the most impressive, unique, and downright incredible royal wedding rings in history.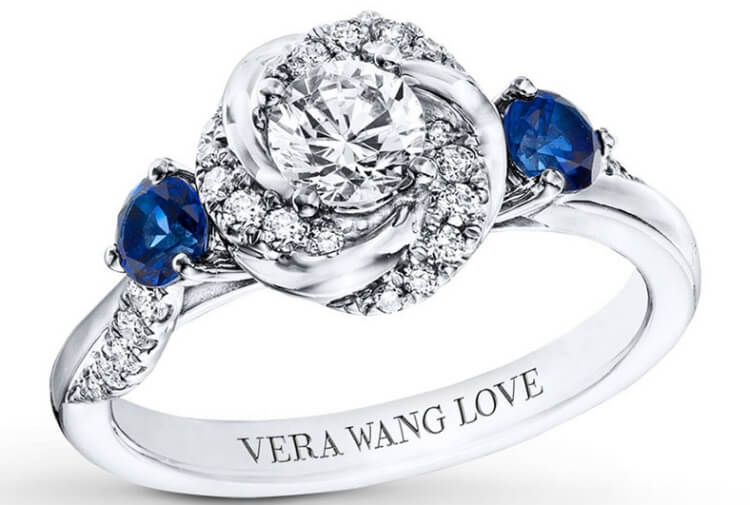 Top 10 Royal Wedding Rings We Love
Princess Beatrice
She married Edoardo Mapelli Mozzi in 2020 and they really wanted to create a very distinctive, beautiful wedding ring. Her proposal took place during a trip to Italy in 2019. With that in mind, there are some interesting features we can see in this ring:
It has a round center stone
The stone is flanked by 2 different diamond side stones
The band also has multiple diamonds
What's really nice about this royal wedding ring is not only its look but also the overall design. It's downright incredible and it truly stands out with its wonderful style and great attention to detail. Despite the fact that it has a wonderful large stone, it's not extremely heavy, which certainly adds to the appeal and style of the ring.
Not only that, but a lot of people will notice that it's really easy to take off and the numerous added stones make it stylish, not over-encumbered. Of course, this is not an inexpensive ring. The center stone is over $100000 since it has over 3.5 carats, but it all looks very well done and tasteful. That's what we would expect from royal wedding rings.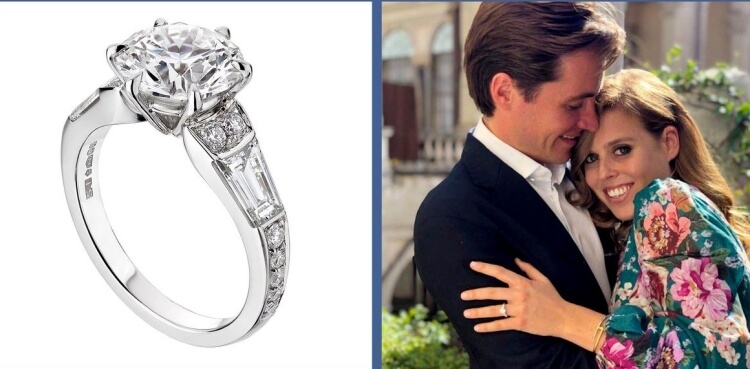 Queen Victoria
When it comes to creative royal wedding rings, Queen Victoria's wedding ring takes the cake. And it's easy to see why
because her ring had the shape of a serpent. At that time, it was very common to try out unique designs, especially when it came to a royal ring. So this one was actually crafted by people close to the queen, and it also had a very deep meaning.
At its core, the idea was to symbolize commitment, but also wisdom and loyalty. These were things that were extremely important from a royal standpoint. However, it also showed that this ring brought in a very specific range of ideas and features. The ring has a combination of diamonds, rubies, and emeralds.
What's interesting is that the ring came with a personal meaning to her. It had great colors, vibrancy, and all the features you would expect in a downright incredible and unique package. That's what most royal wedding rings bring to the table, a great and personal perspective and representation of the princess or queen wearing it.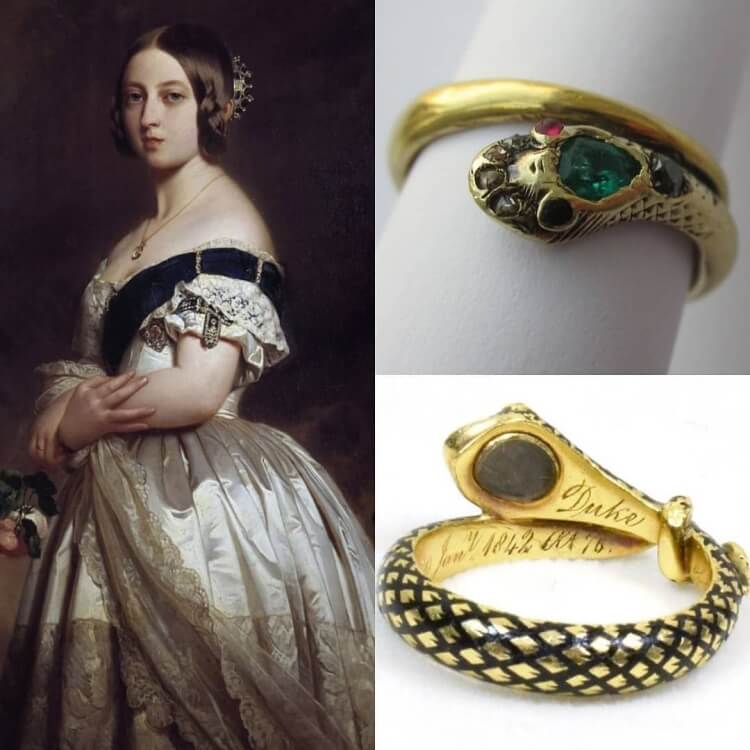 Princess Eugenie
Princess Eugenie is the sister of Beatrice and she got engaged to Jack Brooksbank at the beginning of the year in 2018. She chose to go with a ring that was inspired by her mother. With that in mind, the couple wanted to design the ring on their own and thus put their unique spin on the design. They decided to go with a padparadscha sapphire, a very rare stone as the centerpiece.
When it came to the inner band, was manufactured from gold. But it's the sapphire that truly stands out as a very distinctive and powerful stone. On top of that, the color she chose for the sapphire is interesting because it has a wonderful blend of yellow and pink, which results in a color similar to the one of a peach. The value of Princess Eugenie engaged ring was estimated to be around $100000 or more. With that in mind, the ring did have 10 round diamonds surrounding the sapphire, which certainly added a lot of style and appeal.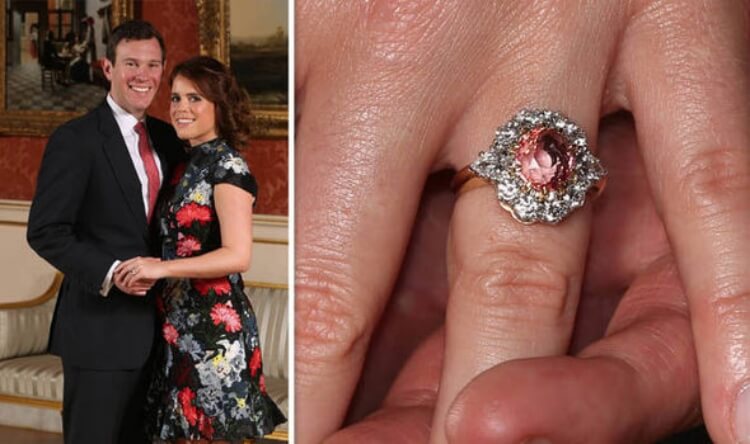 Wallis Simpson
Prince Edward chose to marry Wallis Simpson, an US actress in 1937. He did end up abdicating the throne and that caused a massive royal scandal. With that in mind, Wallis Simpson's ring was also a one-of-a-kind, rather interesting, and very exciting ring design. Like many other royal wedding rings, this one also had a substantial gemstone that really impressed everyone. The emerald used at the middle of the ring had 19.77 carats, quite a lot considering all the other rings at the time.
In addition, Edward chose to customize the ring even further. He added "we are ours now 27×36" inside the band. That became a very interesting thing and it showed the uniqueness of the ring, especially since he had the date of the proposal inscribed onto the ring. It was a massive ring and one of those incredible wedding rings that truly stand out. The green coloring of the emerald really stood out, among the impressive diamonds that were used as a set piece for the gemstone.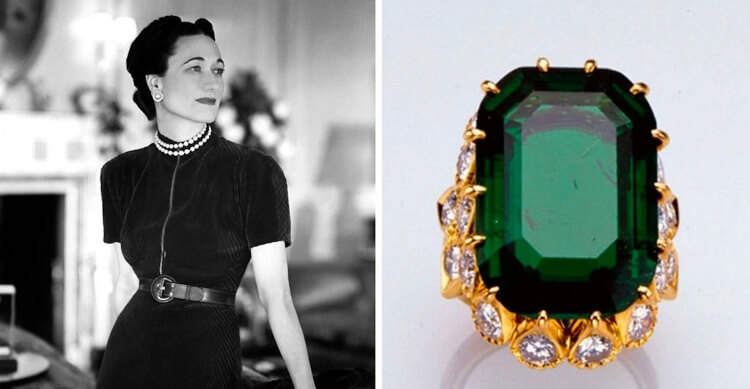 Queen Elizabeth II
Queen Elizabeth II got married in 1947 and obviously, a lot of people were interested in seeing the actual ring. What's cool about Queen Elizabeth II's wedding ring is definitely the fact that she used diamonds from his mother's tiara. It was quite normal to do so at the time, and it really showed the incredible style and appeal of the ring at that time.
Philip actually got to design the ring himself and it had a massive diamond in between many other side stones. The piece is also set in platinum, not in gold when compared to some of the other wedding rings in this list. When it comes to the price, at the time the wedding ring was roughly $150k, maybe even a bit more. That goes to show not only the extraordinary value of the ring but also the fact that despite its simpler design (when compared to other royal wedding rings), this one really showed the importance of who wore it, without standing out way more than it should. And that shows the character that Queen Elizabeth II had!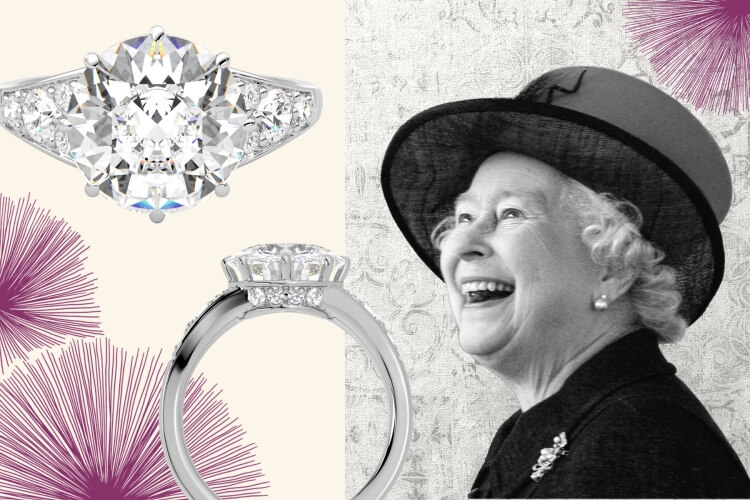 Princess Margaret
Princess Margaret's royal wedding ring was also quite spectacular and different when it came to all the other styles. She had rubies that were surrounded by classic, small diamonds. She opted for a ruby trilogy ring which managed to stand out when compared to any other ring.
The main traits here were:
The rubies had a vibrant, rich color
She did not opt for a large number of diamonds, but the ones that were used in between the rubies had a higher carat number when compared to regular secondary stones.
The visual style was distinctive and different when compared to the other options presented there.
Princess Margaret wanted her ring to make a statement and it really managed to do so. At the same time, she went with colors signifying passion and royalty, which goes in line with many of her predecessors.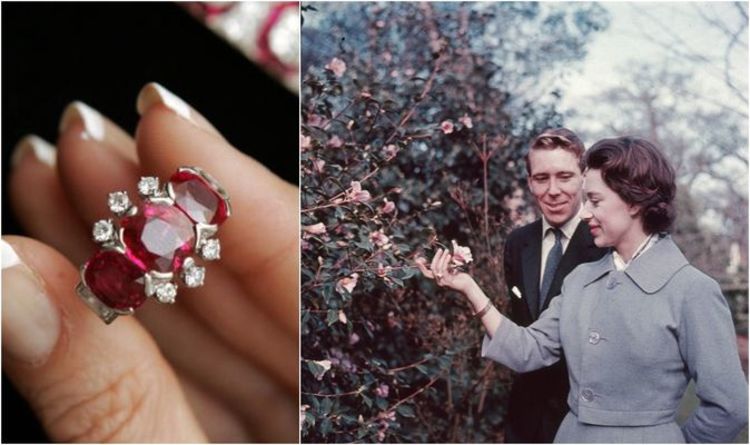 Meghan Markle
Although Meghan Markle's wedding with Prince Harry was quite controversial, there's no denying that it ended up being a very interesting event for the royals. And yes, her beautiful wedding ring truly stands out with its incredible style and impressive features. According to Harry, it took around 6 months to design the ring and bring it to life. The ring itself is a diamond trilogy one and it seems to cost around $150k to $200k.
The ring has a large stone at the center, and then it also features two smaller diamonds on each side. It's not as complex when compared to other royal wedding rings, but it does look amazing and it's definitely a very valuable ring too. It also comes in a yellow-gold setting. It doesn't have platinum or any other metal. The reason behind this choice seems to be that Meghan's favorite is indeed yellow gold. It's also a common setting for most royal diamonds, along with white gold.
The main stone is acquired from Botswana by the couple as they did charity work. With that in mind, Harry also wants to pay tribute to Diana, his mother, and the ring itself has 2 stones from her collection. As we know, this is common among royals.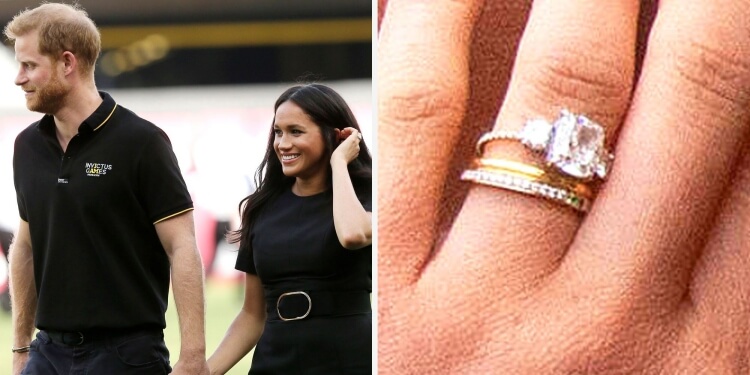 Camilla, Duchess of Cornwall
Camilla had an extraordinary engagement and wedding ring. It's a classic piece, it features an emerald-cut diamond. It also has baguette diamonds on both sides. And like other similar royal wedding rings, this one is set in platinum too. Needless to say, this was not an affordable diamond. It's said that it costs around $300k+.
Many consider her wedding ring to be one of the most valuable and also one of the largest wedding rings in there too. It's definitely a classic option, and it looks incredible. With that in mind, it's extremely interesting and the features that it brings to the table are among some of the best. Plus, it's eye-catching and it lacks any of the gemstones like sapphires or rubies that many princesses opted for in recent years. Yet it's a classy one and you will find it incredibly interesting once you see it.
Sarah Ferguson, Duchess of York
Sarah Ferguson also had a spectacular wedding ring too, when she ended up marrying Prince Andrew in 1985. Andrew chose to offer her a Burmese Ruby, which we all know is a very rare gemstone that you can't really find anywhere else. It was designed to match her hair, hence the red color. However, the red ruby was not alone.
Instead, this royal wedding ring also featured around 10 diamonds all put in a floral style, and they were all in a yellow gold setting. Again, the yellow gold setting was chosen by quite a lot of women when it came to royal wedding rings. For some, it was just their favorite color, while others found yellow gold to be a sign of abundance and royalty as well.
Having a ruby surrounded by diamonds was a great idea for this particular ring. Not only did the diamonds make this ruby stand out, but the visual style was incredibly appealing and interesting at the same time. Plus, this ring was and still is very durable a once-in-a-lifetime investment, and an heirloom quality piece.
Princess Diana
The ring of Princess Diana is a thing of beauty, and it's now in the possession of Kate Middleton after she married Prince William in 2012. The ring itself is said to be worth well over $300000. The idea when creating this ring was to bring in a design that was simple, yet still worthy of royalty.
It has a halo with 14 solitaire diamonds. However, the ring itself ended up being featured heavily by the press, which said it was more of a commoner's ring and not a royal one. That didn't stop her from bringing her unique perspective and ideas into the mix, which did end up being exactly what people wanted for her too. So her decision to not go extremely complex with the design was very popular among UK residents.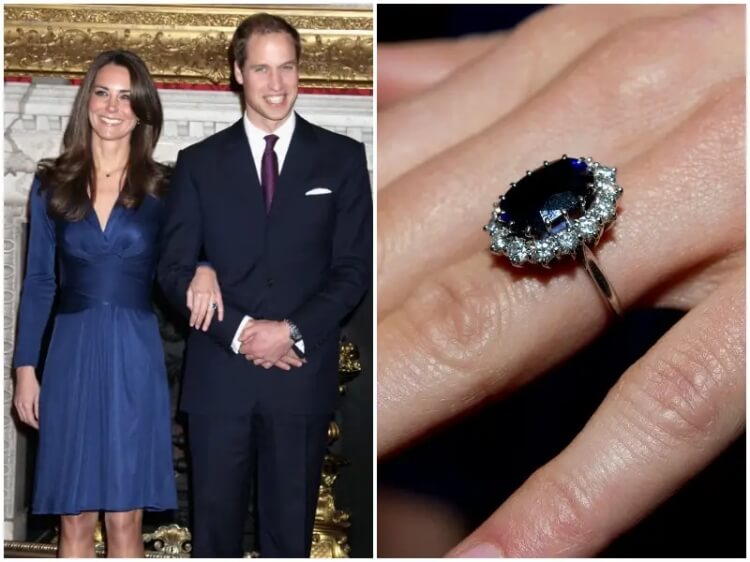 Conclusion
As we can see, there were plenty of great royal rings over the years. Some of them were rather simple, while others were bringing in a lot of complexity and unique ideas. It's always great to see all kinds of different features and items in the mix. That's why it was quite appealing to finally have all kinds of designs featured in royal rings.
Yet one thing is certain, these royal rings were always expensive pieces of jewelry with a deep meaning and outstanding visuals. Some of them were simpler than others, but it was always something of great taste, a wonderful jewelry item that was worthy of royalty. While sometimes these rings had only diamonds, in recent years these also started featuring other gemstones as centerpieces!