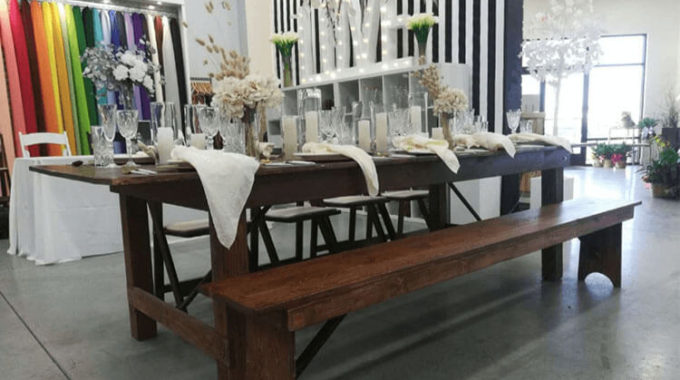 Event Tables And Chairs: The Ultimate Buying Guide For Event Rental Company
Want to start or expand your event tables and chairs rental business? It is very important for you to choose quality event tables and chairs at attractive prices. As a professional event tables and chairs manufacturer with more than 10 years of experience, we write a complete buying guide for choosing event tables and chairs for rental.
WHERE THE PARTY RENTAL COMPANIES BUY EVENT CHAIR AND TABLES FROM?
The US wedding party rental industry is super developed, there are currently more than 7800 medium-sized event rental companies providing good services for wedding venues such as ballrooms, hotels, barns, and ranches.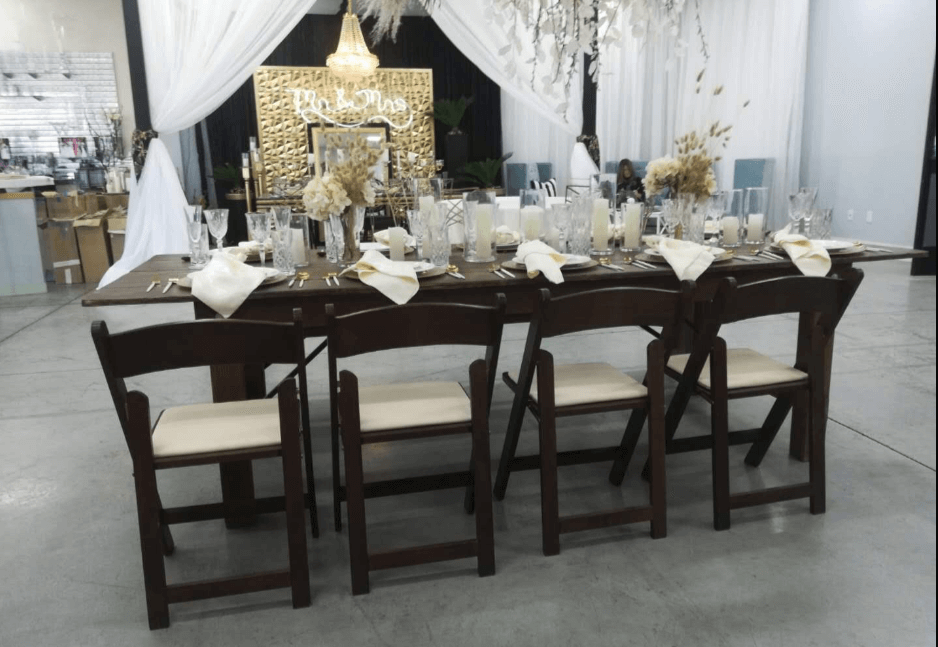 Competition in this industry is fierce; event rental companies need a large number of tables and chairs to maintain a certain inventory.  The majority of the event part rental companies tried to save money and bring the style up to date are import directly from the manufacturer instead of purchasing from the local distributor.
So whether to buy from a local wholesaler or directly from overseas?
WHY IMPORT EVENT CHAIRS AND TABLES WHOLESALE FROM MANUFACTURER IN CHINA DIRECTLY?
Importing wedding tables and chairs wholesale from other countries and reselling them for a profit can really turn your life around. At first, the process may seem complicated and risky, but once you get to know the basics, you will see it's actually easy.
The tables and chairs suppliers you currently purchase from may be convenient, easy to reach, and just a phone call away.  Besides, you don't have the time to really learn the jargon, the dangers, and the opportunities presented by the import challenge.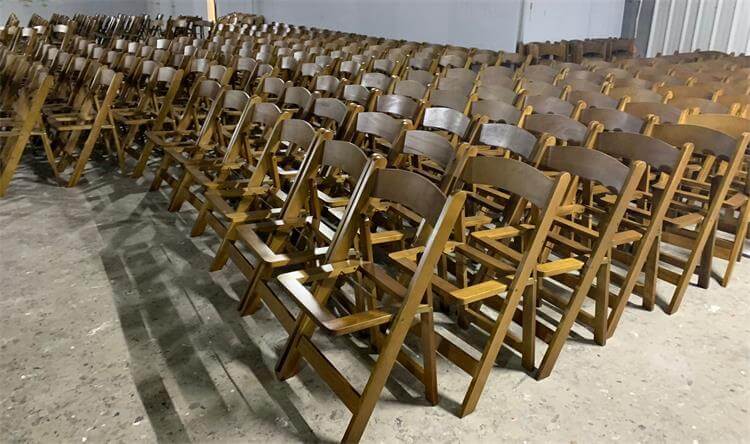 Maybe now is the time to take a few minutes to understand why wholesalers are buying products from China and other countries.  Price is certainly a major factor that turns into an immediate competitive advantage. But don't forget selection and exclusivity.  Sourcing from foreign suppliers is different than buying domestically.  It will take a little time to understand and master the process.  Here is an overview of some of the factors to consider.
. Check Out Foreign Manufacture.
The first thing you need to do is to find appropriate party rental supply products.  Then you need to get more detailed information about the quality and reputation of the supplier.  This is the same process you go through when sourcing domestically.  So where do you start?  Contact the wedding tables and chairs manufacturers, get their catalogs and pricing, visit them at an international trade show, and meet with wholesalers and manufacturing representatives.
. Shipping Services.
Any domestic or overseas supplier can miss the scheduled delivery date for your order.  For furnishings, the preferred method will be by the ocean.  Ocean takes longer than air but is from 3 to 10+ times less costly.  Importing a 20- or 40-foot container of event Furnishings from China to the East Coast Port, the total transit time is about 35 days, and to the West Coast, Port is about 30 days.
. Place And Order.
Once your bulk order has been confirmed, organize freight and make payment for both.  Make sure you talk to a certified customs broker to ensure you fill in the correct forms and all import requirements are addressed.
. Receive Goods.
Pay the necessary customs fee, get your items, and start making a profit!
WHAT ARE THE BENEFITS OF IMPORTING EVENT CHAIRS AND TABLES FROM CHINA?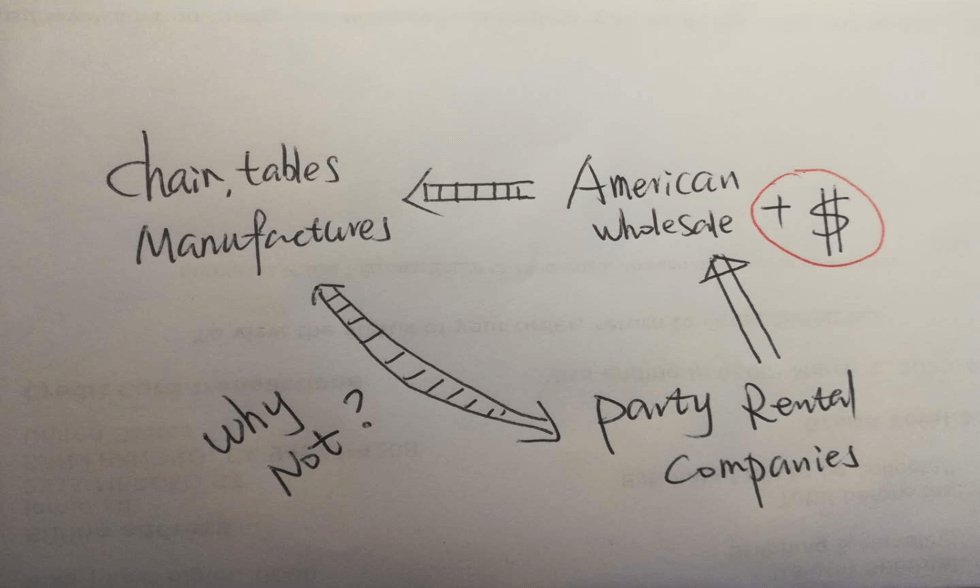 Affordable Prices.
Quality chairs and tables wholesale are at a relatively low price.
Buying your chairs in bulk might attract a higher discount rate and therefore you will end up cost-saving.
Huge Profit Margin.
You are bound to get huge profits if you purchase furnishings directly from the manufacturer.
3.  Quality Product&Fashion Design
We have a variety of designs to choose from and we are known to be experts in manufacturing chairs and tables.
Unique Products.
You can request custom-made event chairs and tables from us.
OUR SUGGESTION FOR EVENT CHAIRS AND TABLES WHOLESALE
Here are our recommendations on what you can buy from wholesalers:
The quantity is lower than the minimum order
You need to get these event chairs and tables in a short amount of time.
Other than that we suggest you choose and buy from the right manufacturer.  It is easy to put together a container with chairs and farm tables; you can budget in advance and get all the details of the production and shipping schedule to ensure you get the tables and chairs you want in advance or on time.
WHAT DO PARTY RENTAL INDUSTRY EXPERTS SAY?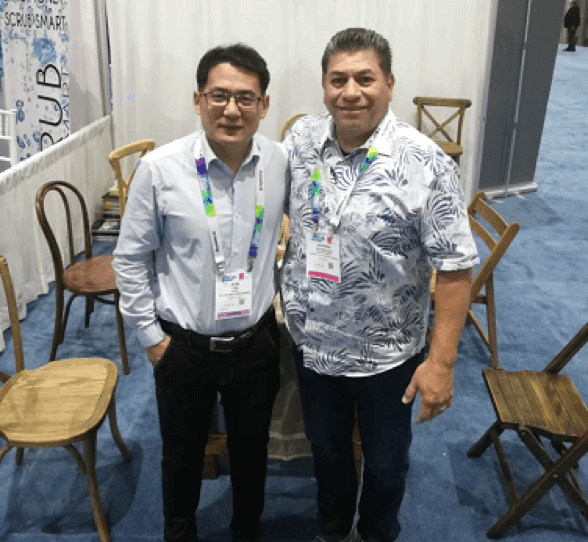 This is George; he owns one of the largest event party rentals located in Houston Texas.  He purchases tables and chairs from China at least two or three times a year based on their needs and storage.
This is what he said "This is obvious, although we are a medium-sized event party rental company, we have opened and direct imports from Chinese manufacturers 10 years ago, and we found the right supplier and asked them to place the seat covers and cushions inside the box with the chairs.  We do this every year and saves us a lot of money.  Import from overseas is very simple".
THINK ABOUT THE TYPE OF CHAIR AND TABLES YOU NEED FOR YOUR EVENT
In the coming season, we will have to plan these three months ahead. We need to know what kind of event chairs will be popular. How many inventories do you have in your warehouse? What kind of chair do you need and how much is needed?
The following chairs are popular this year: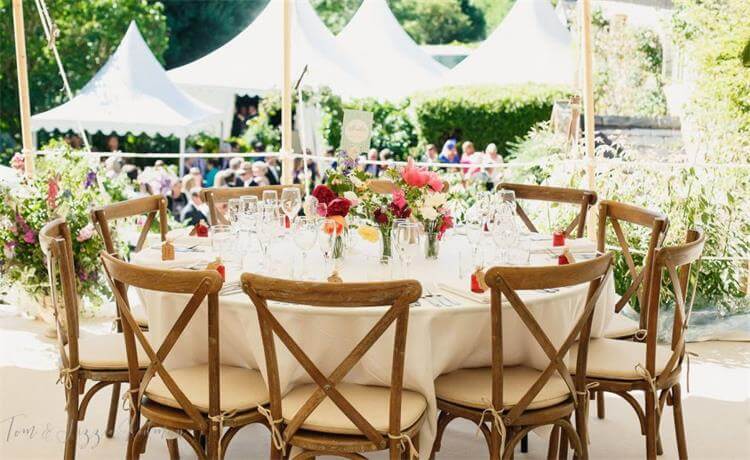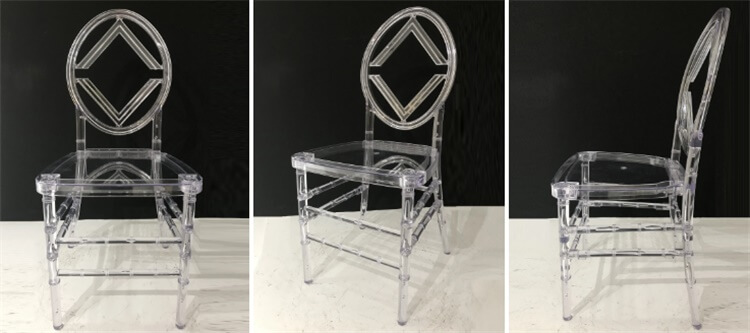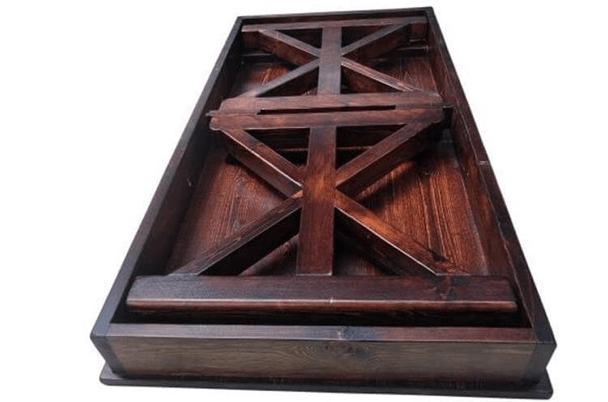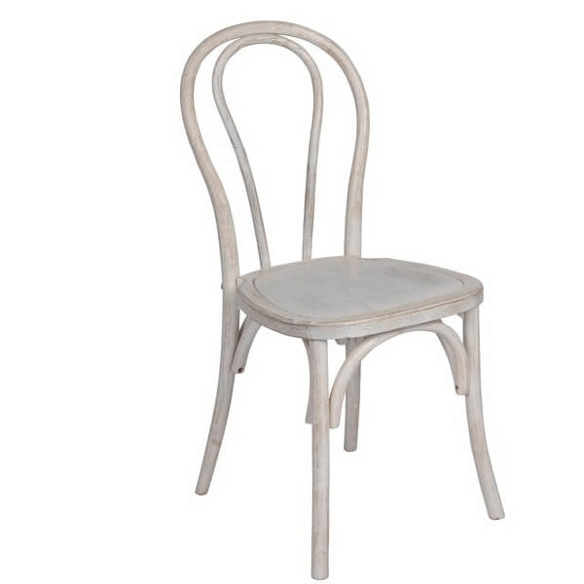 Conclusion
If you need small quantities of party tables and chairs for sale in a short time, we recommend that you buy tables and chairs directly from your local wholesaler. If you need to buy high-volume, stylish tables, and chairs at relatively low prices, it is recommended to buy from a professional China event tables and chairs manufacturer, like Blossom Furnishings.